One of the most popular decoration styles nowadays is the farmhouse style. You've probably heard of it on HGTV or unknowingly scrolled through some farmhouse décor inspiration online or while flipping through a magazine.
Once you recognize it, you'll realize you probably have a Pinterest board that is flooded with photos of beautiful farmhouse kitchens, living rooms, and bedrooms.
It is a favorite amongst interior designers. Why? Farmhouse design tends to be described as cozy, rustic, vintage and functional, like your grandma's house.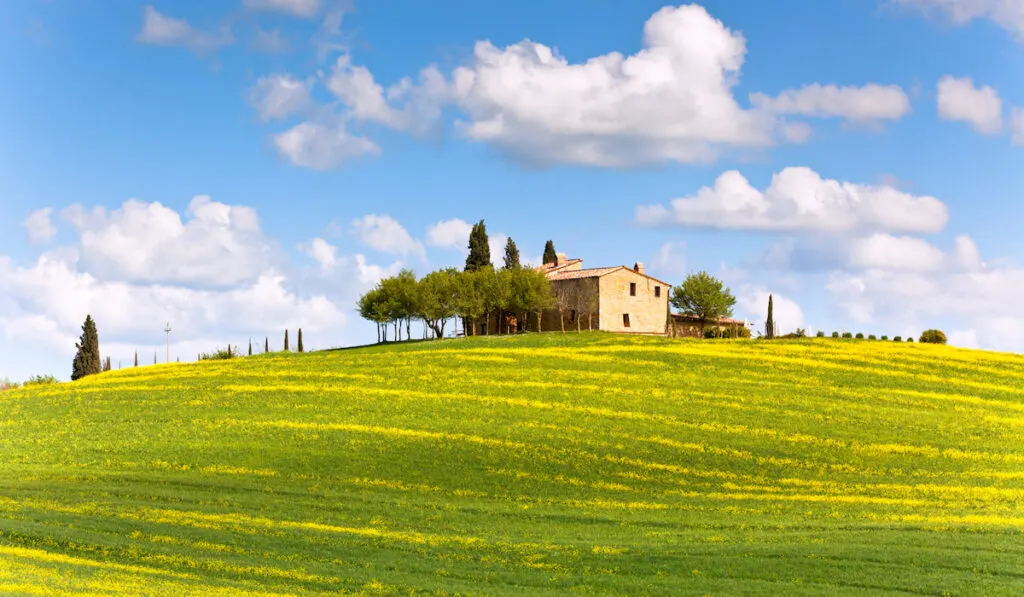 Didn't you just love going to grandma's and stealing cookies from her counter? People want to recreate that feeling at their own home now, adding their own personal touch.
The traditional farmhouse style varies according to the geography (like coastal farmhouse, or French farmhouse) and it has merged well with other modern tendencies, making it even more eclectic.
Today's styles are sophisticated and clean. Wait, did you say styles with an s at the end? Yes! There are plenty of farmhouse décor types. Let's have a look at some of the more common ones.
What are the different farmhouse décor styles?
Rustic Farmhouse
This is the quintessential All-American style: completely unpretentious, with lots of rustic furnishing and vintage accents. The rooms are filled with large, time-tested, sturdy chairs, tables, cabinetry and more, made of distressed natural wood.
Unstained wood is popular for this style too, although you can also use darker woods like mahogany and cherry. The main purpose is to connect with nature, hence, the use of lumber everywhere.
There should be an abundance of sturdy materials like steel, and fabrics in age-worn finishes, like linen and cotton to achieve the relaxed, low-maintenance, more masculine look.
Don't forget about adding mismatched seating, rugged beams, ample windows, neutral-colored walls with shiplap, and warm-toned wooden floors. The feminine touch comes with burlap and jute rugs, pillows and throws in vintage knits to add charm.
The kitchen and dining room are the most important rooms in the house. Choose apron sinks, overhead lighting, painted glass-fronts cabinets and open shelving for easy access, subway tile backsplash and butcher block islands or counters. Provide the final touch with small details like mason jars, chicken wire, antique dishware, fresh flowers, and fruit.
The color palette is dominated by neutrals like white, gray, creams and browns. Blend them with muted colors like navy, sage, slate, fawn, light green, and bright navy.
If you want a more western vibe, opt for ranch-style adornments like corrugated tin, animal heads and antlers on the walls, windmills, saddles spurs, and other western gear. Furs can complete the look, but be careful to choose only farm animal-inspired themes, or it can end up looking like an African safari.
Colonial Farmhouse
This is a very patriotic approach as well. The Colonial farmhouse style mixes the same elements as a traditional farmhouse but adds elegant details, rustic but with refined charm. Remember, colonialism encompasses customs from the arrival of Columbus in America in 1763 to anything before the revolutionary period.
If you want to follow this trend, consider adding crown molding and casements around doors and windows, chair rails and lots of wainscoting. Think of old-world accents, colonial grid windows and cabinet doors, brick fireplaces, brick flooring, exposed wood beams, and a muted color scheme.
Select furniture built with mahogany, walnut and cherry hardwood. The wooden floors can be decorated with braided or hooked rugs if you prefer the early Colonial vibe. Persian or oriental rugs go best if you want a more 18th-century feel. The fabrics and tapestry you use should be sophisticated, like brocade, velveteen, and tapestry.
Cottage Farmhouse
Choose this style if you want the old, rugged farmhouse look but with bright, fun colors. Start with a cream or gray base palette with pops of bright green, yellow, mint. There are other differences, such as slate instead of wooden floors, or marble instead of butcher block on your kitchen counters.
The vintage elements of the cottage farmhouse mix perfectly with industrial lighting, very eclectic and with subtle contrasts. The ambiance created should feel cozy, but with lots of personality and a slight feminine touch.
French Farmhouse
When you think of the French countryside you imagine old chateaux, fields of lavender, and lots of green grass. If you want to apply this style to your home, consider colorful palettes of yellow, gold, reds, burn rust, teal, cobalt blue, bright and dark green, and pastels, harmonizing with cold and dull grays, white and black.
Popular elements for this style are hardwood floors, lighting fixtures, rusted metal furniture, wooden furniture with a dull waxed finish and curved details, hefty beamed ceilings and walls with carved wood details, irregular plaster walls, and natural stone, clay or brick floors decorated with wool rugs.
The stone fireplace is a must, lined on each side with iron and copper pieces. You also need to have an armoire, to store the kitchen's pots and pans, or in the bedroom, for linens and clothing.
When it comes to fabrics, think of toile designs on yellow, white or cream linen or cotton, with bright colored motifs, or Provencal prints in greens, bright orange, and lavender, or plaids, checks and stripes.
For decoration, consider including glass vases, roosters, sunflowers, grapes, olives, beetles, woven baskets, colorful tiles, ceramics, carved wood pieces, chinoiserie pottery, dark paintings, natural flowers like geraniums and lavender in pitchers or copper pots. Plus belle!
Scandinavian Farmhouse
This decor approach is minimalist, simple and comfortable, in white and other neutral colors like beige, gray and light brown. The Scandinavian farmhouse décor blends the rustic appeal with simple, clean lines, resulting in rooms full of warmth, comfort, simplicity, and charm. You can't help but fall in love with the modern atmosphere.
The main elements here are the wall to wall white walls, with rustic elements like the mandatory wooden floor and huge windows. For decoration, opt for lots of warm, light-toned wood pieces and greenery. Keep all embellishment to a minimum.
Kitchens should have simple, open shelving, blonde butcher block countertops, white cupboards, stainless steel appliances and wooden cutting boards with handles.
Modern Farmhouse
Modern and farmhouse? It sounds like a full paradox, right? Well, you'd be surprised by how amazing this contradiction looks. The minimalist modern touch combines sleek lines with the farmhouse aesthetic, providing sophistication to the rustic touch.
Smooth lines, glossy accents, neutral or monochromatic color schemes with pops of bright bold hues like red, dominate, creating a contemporary, cozy vibe. The natural textures, the simplicity of the materials used, the monochromatic palette, the clean lines and the abundance of metals makes this a super chic style.
Do not add soft pieces of floral or paisley prints, they will spoil the modern-day vibe.
Industrial Farmhouse
Just like the modern style, forget about feminine prints, or anything fussy or fancy. If you choose this style, consider industrial elements will dominate as accessories, like stainless steel appliances, metal carts, metal lighting, and furniture like a wood table with industrial legs. The stainless steel, galvanized steel, and black or brushed silver metal will look amazing contrasting with the natural wood.
For decoration, add a metal kitchen scale, metal clock, vintage metal signs, and hooks, retro cans, Edison bulb pendants, metal railings, etc. Instead of marble or butcher block, think of concrete countertops for your kitchen, as well as an under mount sink, raised panel cabinets, etc.
Coastal Farmhouse
Get inspired by the ocean! Take advantage of all the nature surrounding and imitate that beach aesthetic. Everything should look bright, airy and casual, with light and bright colors dominating like teals, blues, greens, beige, white and cream. To achieve the look, use elements from the beach like sea glass, shells, dried starfish, etc.
Choose painted furnishings in distressed wood, rolled arms, furniture pieces with simple or metal legs, especially low sheen metals. Gold or brass pairs perfectly with this style.
The architectural details and embellishments on the walls used can be wide shiplap, a beadboard for the backsplash or on the ceiling, natural hardwood floors, driftwood details, wood beams, etc.
Go for area rugs in hemp, sisal, and jute over painted flooring, all in neutral colors and simple patterns.
Chose textiles with patterns and textures for drapery, pillows and bedding, tablecloths and throws, slipcovers and overstuffed cushions. For lighting, anything from pendant lights, to wall mount lighting, table, and floor lamps looks great.
Finally, choose accents made with jute rope, wicker, rattan, as well as seagrass baskets and bins, driftwood, hurricane lamps, glass bowls, wreaths, and wind chimes. The result should be completely laidback and not formal. Just like relaxing on the beach.
Farmhouse Chic
Farmhouse chic is farmhouse decor with a shabby chic twist. Most people have heard of using furnishings and decorative elements that are purposefully designed to look old and slightly worn. This type of decor is perfect to incorporate into farmhouse chic decor.
Farmhouse chic usually starts with the rustic farmhouse or coastal farmhouse styles in mind and then, migrates into farmhouse chic as individual pieces are selected and added to the mix.
The effect can be minimal with only one or two pieces to accent a room, or you can go all out and make the farmhouse chic elements the focal point.
With farmhouse chic, feel free to combine many different fabric textures and colors. Keep in mind that, as with most farmhouse decor styles, muted colors are most typical like whites, creams, beiges and pastel pinks, blues and yellows.
One hallmark feature of farmhouse chic is the incorporation of some kind of shiny, feminine decor element. This might be a pretty glass chandelier or clear glass knobs on a drawer. Perhaps a silver lamp on a nightstand. The idea is to add an "upscale" element to an otherwise rustic design.
Now that we have learned the basics, let's go into detail with the different styles of the farmhouse decoration style. Depending on your preference, just adding a few elements of the farmhouse variations to the traditional ornamentation you already read about will have you all set.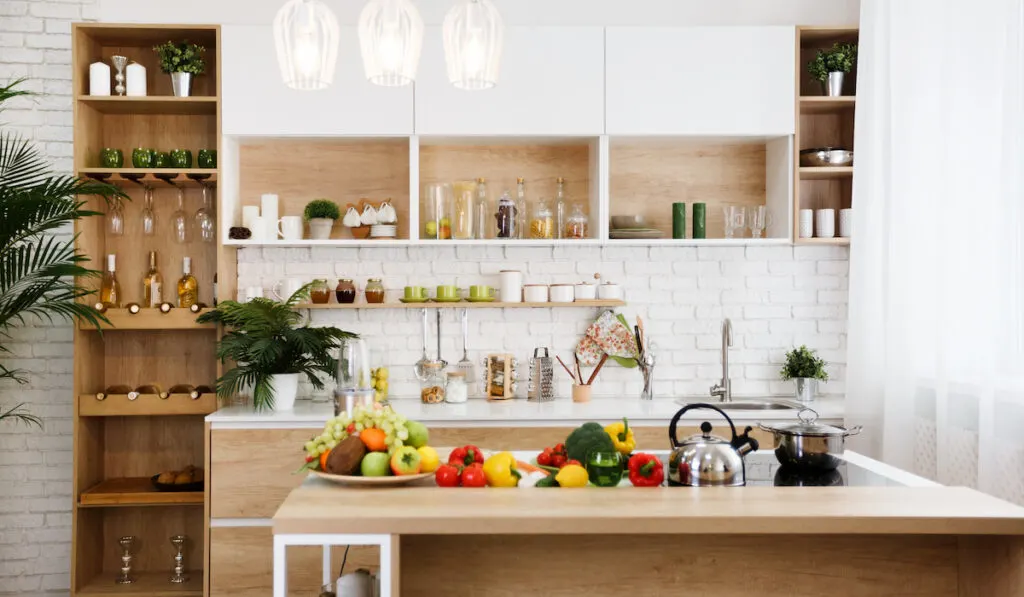 What Makes Something Farmhouse Style?
The farmhouse flair is inspired by the agricultural way of life, based on necessity and location. Farmers' daily work schedules are always packed, start at dawn and end late at night. Their lifestyle demands a dwelling and resting space that is comfortable and functional, meaning work and play coexist.
To build such spaces, ranchers took advantage of the elements found on their land and other goods in the area. This resulted in rural homes with practical and well-designed porches and inside spaces, surrounded by barns and animals. Imagine simple, rugged, cozy rooms, filled with old, reused or renovated furniture, in a welcoming, unpretentious environment.
The farmhouse design and ornamentation vary depending on location. Local customs and the rural lifestyle can influence the elements found in these homes.
For example, American farmhouses typically have a rectangular floor plan and a central fireplace that works for both cooking and providing heat.
Scandinavian farmhouses give much more importance to large, curtainless windows to take advantage of the sunshine coming in, considering they spend most of the time in darkness.
How to Imitate This Style?
The warm, relaxing and inviting atmosphere of farmhouse décor comes from every element in the room.
Each piece of furniture or adornment has a past. Every scratch on the natural wooden table has a history, like wrinkles on a face reflecting the many joys and perils one endures through life. The rooms are full of character.
Nothing inside a farmhouse goes without use. Everything is practical and has a specific function. Original farmhouses are decorated with practical pieces that would come in handy if ever necessary. But practicality does not mean decoration and good taste are not considered.
You don't have to be a farmer living in the country to bring this vibe to your home. Bringing the farmhouse charm to the city is simple, even if your house does not look like a barn house at all.
To recreate this style, just add the basic farmhouse elements to what you already own.
Mix them up with a touch of chic (clean lines, neutral colors) or a modern, sophisticated twist with newer elements (monochromatic tones, metallic details).
Consider purchasing old, inexpensive pieces from a flea market or refurbishing and repurposing things you own. Incorporate them with newer fixtures, like an old, natural wood dining table paired with stainless steel appliances and modern lighting.
A modern-day living room sofa paired with a rustic chest that can double up as a coffee table. The old trunk gives the new sofa a touch of charm, while the sofa gives the vintage piece a touch of sophistication.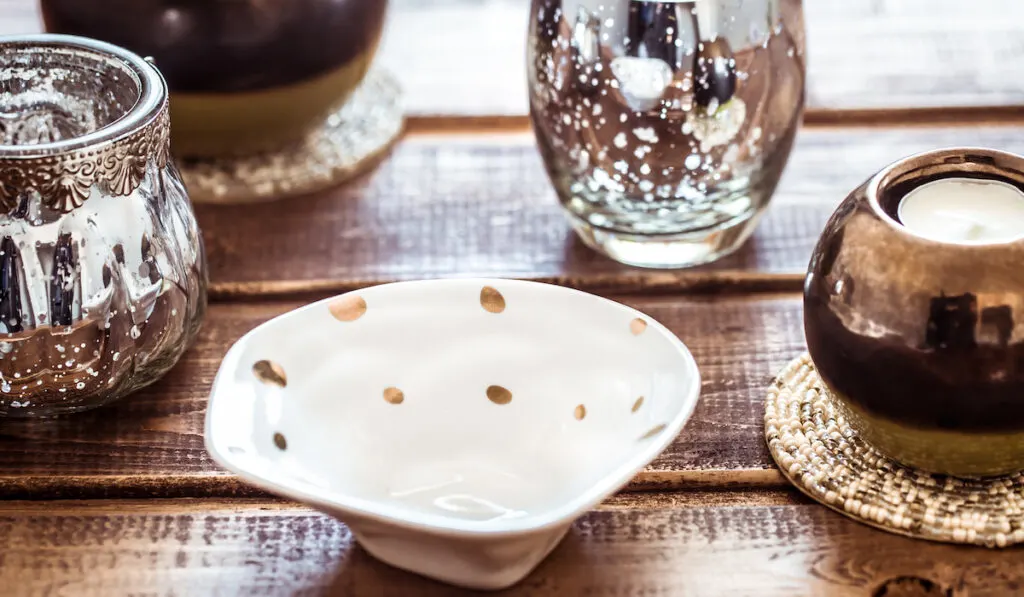 Follow these other tips to give your house a distinct and unique character:
This style is effortless.
A regular farmer could care less about how pretty their house looks. All they care about is practicality and having a cozy place to rest after a hard day's work.
Don't fret too much while planning the interior design. Instead, focus on the function of each piece. For example, cabinetry that has multiple storages can have double perks: it looks nice and you can keep things inside. Smart and simple! Don't forget practicality is key.
Furnish your home using simple, wooden furniture.
Choose rustic, hand-me-down pieces, if possible, inherited from other family members so that you know the history and appeal. Which takes us to…
Appreciate the value and meaning of things.
Shopping for the joy of it has no space in farmhouse décor. Furniture and embellishment pieces are valued because of their meaning, their history, and their functionality. Focus on the story behind it and its character, give every element its much-deserved importance.
A brand-new chair adds no value for the farmhouse style, it has no backstory other than coming from the factory to the store and being transported to your home. What makes it special other than the fact that you liked it enough to spend money on it?
On the other hand, that wooden chest that belonged to your great-grandmother has a story, since she used it to store the love letters she received from your great-grandpa during the war. Its significance is greater and it's a piece you would enjoy looking at while sitting on the couch and talking about it to your guests.
Nothing should be too delicate or matchy-matchy.
If you buy too many country-style elements, the room might end up looking corny and lose its nostalgic charm. Choose rugged features, different patterned upholstery, furniture pieces from different collections, you name it!
An eclectic, effortless decoration is appreciated, so mix it up. Some styles, like the rugged or the industrial farmhouse, are super masculine, but others like the cottage or French farmhouse are dominated by more feminine elements. Chose whichever goes best with your personality and style.
Cherish Old Furniture and Weathered Wood
Do you have old ornaments, storage or furniture that look a little weathered? Were you considering repainting them or giving them some treatment? Don't.
These can give the room a farmhouse flair in a zap. Remember, according to the farmers' way of life, things should look old and with character, not too polished. Reclaimed barn wood can have plenty of uses and will add some character to your room. Use it on your floors, like furniture, shelving, you name it!
Exposed Wood Beams
Exposed wood beams bring the much-wanted nature look inside and it's a lovely detail that will give charm to any room. If your house already has them, take advantage of them! If not, consider installing them or try to find a wooden alternative to recreate the feel.
Fabrics can be easily changed to revamp a room.
Purchase slipcovers to achieve a softer look (plus you can easily wash them if they get dirty). Baskets or chairs in wicker and rattan can effortlessly add the country feeling for just a few bucks. These are sturdy materials that can go a long way, even if you place them outdoors.
Other important elements you can add to create the look:
A butcher block looks amazing in a farmhouse style kitchen. Try adding this to your kitchen island if you want a small touch or to your counters if you can't get enough. Just remember to treat them regularly so they can stay in good shape.
Add a rocker or a swing to your porch or patio and plant your own food around it. Surround yourself with vegetables, fruits, and other crops, or if you lack the space, choose herbs, since they grow well in small pots. Add some potted flowers to enjoy as well.
What is more farmhouse-y than a soapstone sink and shaker-style cabinets? These two elements could have you all set if you just want a quick makeover of your kitchen. Don't forget about these: White kitchen cabinets and beadboard, painted wood-planked walls, mason jars, burlap, white ironstone, planed wood floors, glass front cabinets, aprons, galvanized metals, wire baskets, wooden spoons, open shelves, plate racks, etc.
The traditional farmhouse approach should include simple cabinets and lighting, mixed metals, soapstone sinks, and countertops, repurposed wood, and/or shiplap on the ceiling or walls. Look for bright whites to contrast with darker elements, like baskets or stained wood, and add wreaths or fresh flowers. Functional, practical, clean, warm and welcoming.
The Bottom Line
The farmhouse décor style is versatile and easy to imitate. People love it because it's warm, inviting and completely unpretentious, and since everything in it is functional and made to last, the investment will last a lifetime. Plus, it takes advantage of things you already own, and values objects that were inherited or acquired at a vintage store.
The kitchen and dining rooms, the most important spaces for the ranch lifestyle, are built to spend quality time with your loved ones. Imagine yourself enjoying a delicious dinner surrounded by furniture and decoration pieces that have a backstory you can share with your guests.
You and your family will look forward to coming back to a home that will give them a clear, relaxing space to live, work and play. The farmhouse decoration style values people and their needs, and isn't simplicity the biggest joy we are all looking for in life?