*This post may have affiliate links, which means I may receive commissions if you choose to purchase through links I provide (at no extra cost to you). As an Amazon Associate I earn from qualifying purchases. Please read my disclaimer for additional details.
It wasn't until I started looking at lighting options that I started to realize how economical they are. If you take into consideration how much time you spend in your own home, I'm kind of lamenting the fact that I settled for "builder grade" fixtures for so long.
Lighting makes such a huge statement in a home and, as this list will show, it isn't that expensive to upgrade your fixtures. Start with one room and slowly expand to the others. Heck, even adding a light a month will get you 12 amazing fixtures over the course of a year!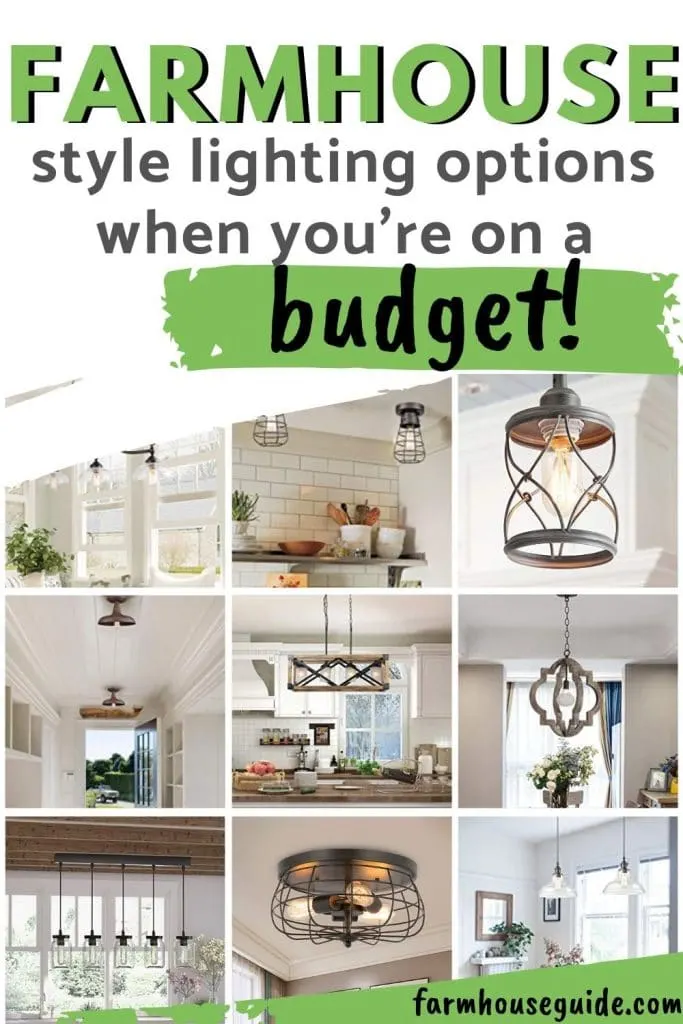 In this post I've compiled some of my favorite finds. All of them are surprisingly easy on the pocket book!
There is something about seeing a light in a space that can really help you visualize it's overall feel so be sure and check out customer photos in the reviews on Amazon.com when available.
1. Log Barn Kitchen Fixture
Sale
LOG BARN Dining Room Light Fixture Hanging, Farmhouse Chandelier
⭐️ [DINING ROOM LIGHTING FIXTURES HANGING] – Simple linear chandelier, especially designed to illuminate the heart of your bedroom, dining room or industrial styled places. Crafted of metal in a rusty black finish, this hanging light features 3 bowl-shaped clear glass shades dropping from a triangle base with 2 sloping chains and 1 curved rod.
⭐️ [FREE SIMPLE INSTALLATION of PENDANT LIGHT] – The pendant lighting for kitchen island package includes all the necessary assembling and installation parts along with clearly marked cords. Having a previous experience and some electrical knowledge should be enough to qualify you for doing the installation by yourself instead of hiring an electrician and spending more money.
This absolutely gorgeous 3 light fixture would be perfect over an island or dining room table of any house but it is perfectly suited to compliment farmhouse style decor.
I love the rusty black finish and the height is adjustable which is a huge plus. The lights are dimmable too which can help provide just enough light when you need it. Pair with your favorite bulb and you are ready to go!
2. Retro Style Industrial Cage Pendant Light
DANSEER Retro Cage Ceiling Light Fixture
Industrial Design:Boasting oil rubbed bronze finish, the flush mount ceiling light sends out a retro industrial vibe to your home.
Metal Wire Shade:The mini light fixture showcases a loft cage look that allows the lights to shine through freely with an exposed bulbs.
Bulb Requirement: Compatible with 1* E26 based bulbs (NOT included). Fully dimmable with compatible dimmer switch(NOT included).
Simple yet elegant looking, these cage-style pendant lights could be a great accent piece for any room of the house. Especially so for rooms that might normally have recessed or "can" lighting that would throw off the farmhouse style you are going for.
For an awesome look, use a light bulb like this one. If you need a hanging lamp, like over a kitchen island or dining table, consider pairing this with an antique style light bulb .
3. Vintage Look Wooden Farmhouse Chandelier
Vintage Orb Chandeliers Wood Indoor Chandeliers
UNIQUE CLASSICAL DESIGN: Rustic iron and distressed wood spherical frame complement each other in this rustic globe chandelier. The weathered wood finish and rustic iron accents complement as well as contrast on one another classical retro style.
PROPERLY SPECIFICATIONS: Voltage: 0-265 V, 1-100W bulbs (not included), 1XE26 lamp base. Chandelier globe shade diameter: 13.8 inch (35cm); Adjustable mount ceiling light chain/wire length: 60 inch (150 cm); Packing Size19X19X6.2 inch (48*48*16cm); N.W: 3.4lb/1.5kg; G.W. 5.7lb/2.6kg
SAFTY & DURABILITY: With CE, ROHS, UL, VDE, IP20, 3C, SAA approved certifications. The wood chandelier orb light is made of quality Antique White Finished rustic wood and Dark Bronze Rust Iron, it is durable remain fresh after decades.
This wooden, chandelier style light comes in a couple different colors and light fixture options. You can choose from a single bulb look as shown above or a candelabra type fixture.
Wood choices are this weathered gray or a weathered white. Both look exceptional. If you aren't too keen on having too many metal fixtures around the house but still want that farmhouse style, this fixture will help soften things up a bit!
4. Newhouse Lighting Metal Wire Lamp Guard
Sale
Newhouse Lighting Metal Wire Lamp Guard
STYLISH DECOR: Our pendant light lamp guard is made from an all metal construction finished with a black vinyl coating for an industrial yet classic look that is perfect for any living space.
SPECIFICATIONS: The light cover measures 5 inches wide and 6 inches tall. Perfectly sized for a pendant lamp shade, ceiling light cover, fan light cover or used as small lamp shades. Sturdy 16-guage metal wiring ensures a rustic industrial look with the added benefit of impact protection.
These lamp "shades" look excellent on pendant lights or side table lights but where they really excel is adding an industrial farmhouse type feel to otherwise not very farmhouse style ceiling fans.
We need to stay cool in summer, that much is true. With these metal lamp guards, you can do so in style! I think this would look excellent on a white fan as well.
Keep in mind this is just the shades you are buying, not the whole ceiling fan. You can even outfit your pendant lights or possibly even bathroom vanity depending on the attachment style and base size.
Remember, if your ceiling fan is a putrid brass or other shade from the 80's. With a little time and a few cans of spray paint, you can get this look without paying a designer price!
5. Vintage Industrial Rustic Metal Barn Light
DANSEER Lighting Vintage Retro Metal Barn Light
Vintage Vibes: The semi flush mount ceiling light exudes a vintage charm to your aesthetics with its rust finish.
Metal Barn Shade:Its durable rustic finish and barn shade give your home a bit of old-world elements.
Product Size: Diameter of globe is 11.02 inch, 7.59 inches in Height, 2.64 Pounds in Weight.
While red certainly isn't my color, and rusty red even less so, there is something about this light that suits my fancy. It's just the right amount of aged yet stylish.
I have to admit, I could totally go for this light in my laundry room!
6. Industrial Pendant Light
LALUZ Pendant Lighting Cage Hanging Fixture
RUSTIC STYLE: Featuring a sleek and fresh geometric silver-brushed finish metal cage, this mini pendant light is a unique must-have trend that could be used in both farmhouse and vintage styled decors.
EASY INSTALLATION: For easy basic installation. Just need to do some electrical wiring and hang it up.
MINI PENDANT LIGHTING FOR VARIOUS AREAS: It is a small light fixture. Fixture size: 4. 7" D x 7. 9" Height, cord: 59". Round Canopy: 4. 7" diameter. Perfect for the kitchen, foyer, hallway, and entryway, also above the kitchen island or sink. Wherever you end up hanging it, it will make a difference for sure!
This pendant light is kind of the best of both worlds versus some of the others I've shown. The curved metal "cage" gives the fixture a softer feel while still maintaining the industrial, farmhouse feel.
I love that the height can be adjusted. There are some excellent customer images showing variations which is great if you are considering a non-traditional application.
7. Wood Kitchen Island Hanging Fixture
Sale
LALUZ Farmhouse Chandelier Wood Kitchen Island Lighting
Featuring a rustic aged wooden frame with modern industrial metal crossed accents, this hanging light keeps sturdy and durable, provides the perfect balance of style and functionality. As updated dining room light, frosted shades cast a softer glow comparing with clear glass, no doubt is a great choice to avoid harsh glow and add more chic details.
Large in size and crafted in a farmhouse style. Wood frame dimensions: 8″ width x 18″ length, canopy: 1″ Height x 9.5″ length, with adjustable 59" chain, gives an easier way to adjust the height.
The chandeliers for dining room come with a pre-assembled chandelier frame and parts along with clearly marked cords. Install it by following the instruction, easy to get beautiful dining room lighting fixtures.
Here is another gorgeous hanging fixture for a dining room table or kitchen island. This light features a great combination of wood and metal for a rustic farmhouse look that isn't too harsh.
Once again, happy customer photos don't disappoint. Whether they used one or two of these fixtures, the look is amazing!
8. Farmhouse Chandelier
Modern Farmhouse Chandelier
💡【Unique Retro Design】: Our black farmhouse chandelier with a painted wood design element accommodates retro Edison bulbs (not included), adding vintage charm to any space. The linear chandelier design provides a modern twist on a classic style, ideal as a rectangular chandelier for rustic dining rooms or a farmhouse dining room light fixture.
💡【Adjustable and Versatile】: Our pendant light fixture is adjustable and versatile, perfect for use as kitchen island lighting, dining room chandelier, or living room statement piece. Measuring 36 x 7.87 x 10.4 inches, it comes with adjustable mounting rods for a customized height.
By now you are surely sensing a theme with these lighting choices. Once again we have a nice, metal industrial farmhouse style fixture. This time with just a hint of wood.
The rectangular black iron frame is criss crossed with smaller metal rods adding a bit of elegance and visual interest.
9. Ecopower Industrial Edison Vintage Style Glass Pendant Light
CLAXY Ecopower Industrial Vintage Style Pendant Lighting
Industrial and Retro Style: clear handblown glass dome shade with oil rubbed bronze finish pendant light creates an industrial yet vintage accent; suitable for the kitchen island, coffee shop, bar or dining room and office
Adjustable Height: comes with a 47.2 inch length black cord, can easily shorten it to your lighting need
ETL listed for dry locations, this pendant light is hardwired, compatible with lower sloped ceilings, all hardware parts included for easy installation; shade can be removed for cleaning
If some of the choices I've shown are too industrial for your liking, you may love these glass style pendant lights. More elegant, and slightly more modern they are still a perfect match for your farmhouse style decor.
These pendant lights come in antique-bronze, brushed nickel or, my favorite, oil rubbed bronze. The cord is 47.2 inches but can be shortened if need be. While I think these look amazing in a dining room or kitchen, I have my eye on this one to add next to my reading chair!
10. Mason Jar Pendant Lights
EDISLIVE 5-Lights Mason Jar Pendant Light
Special Design: This 5-Light Cluster Jar Pendant features a concise rectangular wooden ceiling canopy, accented with black cables and 5 fresh clear glass mason jar, fully demonstrate the characteristics of rustic style and Minimalism.
This five-light kitchen island pendant is adding romantic atmosphere to your home. From dining room tables in need of a little illumination to kitchen islands searching for some shine, this one is the perfect pick for any decoration style.
Dimesion of Canopy Base: 33.07″/84cm*5.51″/14cm Cable Length: 39.37″/100cm Glass Shade Dimensions : width (3.54″) x high (6.69″). bulb requirements: 5x 60W max E26 bulb(Note:Bulb NOT Included)(LED,CFL,Incandescent or halogen).
Do you love the mason jar pendant lights you see all over Pinterest but have no desire or time to DIY the project? This light is the perfect mix of both worlds.
Professionally crafted and absolutely gorgeous. It fights right in with the farmhouse style vibe and is perfectly at home in a kitchen or dining room.
11. Industrial 3-Light Vintage Flush Mount Ceiling Light
VONLUCE Industrial 3-Light Vintage Flush Mount Ceiling Light
INDUSTRIAL DESIGN: This Vonluce flush mount ceiling light features a cage inspired shade decorated in a retro bronze finish, blending seamlessly with home decors from modern minimalist to rustic farmhouse
FLATTERING LIGHT: The uniquely designed shade ensconces 3 standard E26 LED, CFL, or incandescent light bulbs (not incl.) rated up to 60W to offer inviting warmth for your bedroom, living room, entryway, or any other space
STURDY CONSTRUCTION: Crafted from premium metal, our reinforced ceiling mount with its attractive protective finish provides superior stability and corrosion resistance for years of eye-catching and reliable use
There is a time and a place for a pendant light or chandelier type fixture. Sometimes, though, you need just a standard light fixture. The ones available at the big department stores are just too cookie cutter for your farmhouse style decor.
Instead, something like this gorgeous oil-rubbed bronze finish light is exactly what you need. It would look great in a bedroom, bathroom or office. It is absolutely beautiful and the reviews speak for themselves!