*This post may have affiliate links, which means I may receive commissions if you choose to purchase through links I provide (at no extra cost to you). As an Amazon Associate I earn from qualifying purchases. Please read my disclaimer for additional details.
It wasn't until I started looking at lighting options that I started to realize how economical they are. If you take into consideration how much time you spend in your own home, I'm kind of lamenting the fact that I settled for "builder grade" fixtures for so long.
Lighting makes such a huge statement in a home and, as this list will show, it isn't that expensive to upgrade your fixtures. Start with one room and slowly expand to the others. Heck, even adding a light a month will get you 12 amazing fixtures over the course of a year!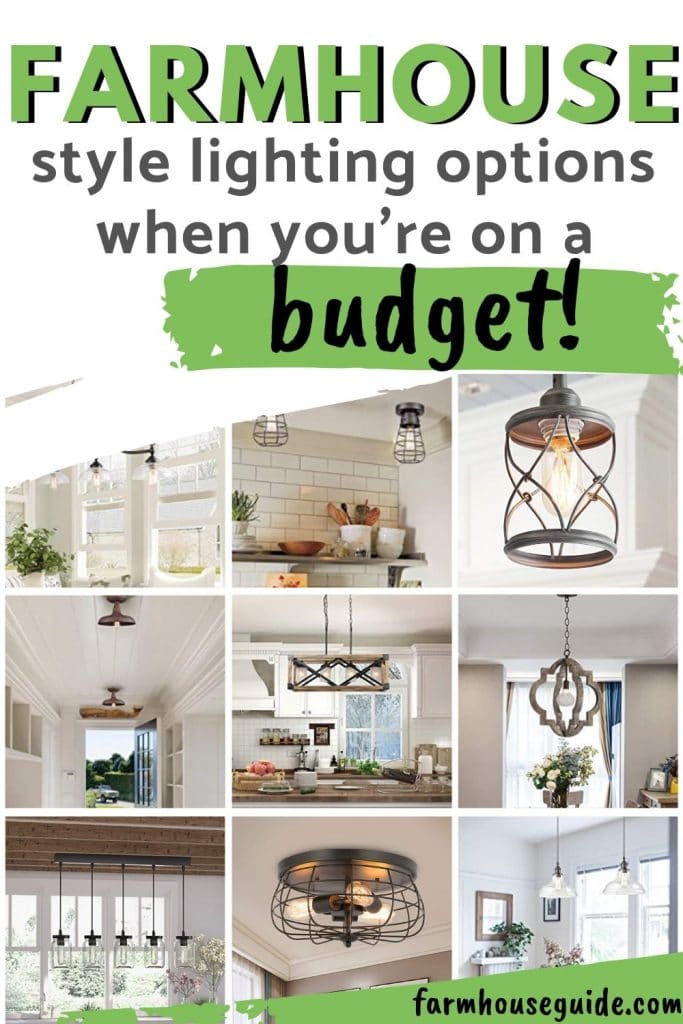 In this post I've compiled some of my favorite finds. All of them are surprisingly easy on the pocket book!
There is something about seeing a light in a space that can really help you visualize it's overall feel so be sure and check out customer photos in the reviews on Amazon.com when available.
1. Log Barn Kitchen Fixture
This absolutely gorgeous 3 light fixture would be perfect over an island or dining room table of any house but it is perfectly suited to compliment farmhouse style decor.
I love the rusty black finish and the height is adjustable which is a huge plus. The lights are dimmable too which can help provide just enough light when you need it. Pair with your favorite bulb and you are ready to go!
Click here to view on Amazon.com
2. Retro Style Industrial Cage Pendant Light
Simple yet elegant looking, these cage-style pendant lights could be a great accent piece for any room of the house. Especially so for rooms that might normally have recessed or "can" lighting that would throw off the farmhouse style you are going for.
For an awesome look, use a light bulb like this one. If you need a hanging lamp, like over a kitchen island or dining table, consider pairing this with an antique style light bulb.
Click here to view this item on Amazon.com.
3. Vintage Look Wooden Farmhouse Chandelier
This wooden, chandelier style light comes in a couple different colors and light fixture options. You can choose from a single bulb look as shown above or a candelabra type fixture.
Wood choices are this weathered gray or a weathered white. Both look exceptional. If you aren't too keen on having too many metal fixtures around the house but still want that farmhouse style, this fixture will help soften things up a bit!
Click here to view this item on Amazon.com
4. Newhouse Lighting Metal Wire Lamp Guard
These lamp "shades" look excellent on pendant lights or side table lights but where they really excel is adding an industrial farmhouse type feel to otherwise not very farmhouse style ceiling fans.
We need to stay cool in summer, that much is true. With these metal lamp guards, you can do so in style! I think this would look excellent on a white fan as well.
Keep in mind this is just the shades you are buying, not the whole ceiling fan. You can even outfit your pendant lights or possibly even bathroom vanity depending on the attachment style and base size.
Remember, if your ceiling fan is a putrid brass or other shade from the 80's. With a little time and a few cans of spray paint, you can get this look without paying a designer price!
Click here to view on Amazon.com
5. Vintage Industrial Rustic Metal Barn Light
While red certainly isn't my color, and rusty red even less so, there is something about this light that suits my fancy. It's just the right amount of aged yet stylish.
I have to admit, I could totally go for this light in my laundry room!
Click here to view on Amazon.com
6. Industrial Pendant Light
This pendant light is kind of the best of both worlds versus some of the others I've shown. The curved metal "cage" gives the fixture a softer feel while still maintaining the industrial, farmhouse feel.
I love that the height can be adjusted. There are some excellent customer images showing variations which is great if you are considering a non-traditional application.
Click here to view on Amazon.com
7. Wood Kitchen Island Hanging Fixture
Here is another gorgeous hanging fixture for a dining room table or kitchen island. This light features a great combination of wood and metal for a rustic farmhouse look that isn't too harsh.
Once again, happy customer photos don't disappoint. Whether they used one or two of these fixtures, the look is amazing!
Click here to view on Amazon.com
8. Farmhouse Chandelier
By now you are surely sensing a theme with these lighting choices. Once again we have a nice, metal industrial farmhouse style fixture. This time with just a hint of wood.
The rectangular black iron frame is criss crossed with smaller metal rods adding a bit of elegance and visual interest.
Click here to view on Amazon.com
9. Ecopower Industrial Edison Vintage Style Glass Pendant Light
If some of the choices I've shown are too industrial for your liking, you may love these glass style pendant lights. More elegant, and slightly more modern they are still a perfect match for your farmhouse style decor.
These pendant lights come in antique-bronze, brushed nickel or, my favorite, oil rubbed bronze. The cord is 47.2 inches but can be shortened if need be. While I think these look amazing in a dining room or kitchen, I have my eye on this one to add next to my reading chair!
Click here to view on Amazon.com
10. Mason Jar Pendant Lights
Do you love the mason jar pendant lights you see all over Pinterest but have no desire or time to DIY the project? This light is the perfect mix of both worlds.
Professionally crafted and absolutely gorgeous. It fights right in with the farmhouse style vibe and is perfectly at home in a kitchen or dining room.
Click here to view on Amazon.com
11. Industrial 3-Light Vintage Flush Mount Ceiling Light
There is a time and a place for a pendant light or chandelier type fixture. Sometimes, though, you need just a standard light fixture. The ones available at the big department stores are just too cookie cutter for your farmhouse style decor.
Instead, something like this gorgeous oil-rubbed bronze finish light is exactly what you need. It would look great in a bedroom, bathroom or office. It is absolutely beautiful and the reviews speak for themselves!