*This post may have affiliate links, which means I may receive commissions if you choose to purchase through links I provide (at no extra cost to you). As an Amazon Associate I earn from qualifying purchases. Please read my disclaimer for additional details.
Love for homemade bread is increasing as many households embrace new recipes for soft dough bread. In addition to the freshly baked bread aroma that fills the air, you can enrich your bread's nutritional value and taste.
Teflon-coated pans are common in home and commercial bakeries. And if you love baking, you probably have a Teflon appliance.
But how safe are Teflon-coated pans in your bread machine?
Health-conscious individuals have raised concerns about the potential risks of using Teflon bread makers, especially at high temperatures.
If this worries you and you are looking for alternative bread makers, this is for you.
This post explores five modern Teflon-free bread makers for your bakery and their features.
Read to the end and pick one that meets your baking needs.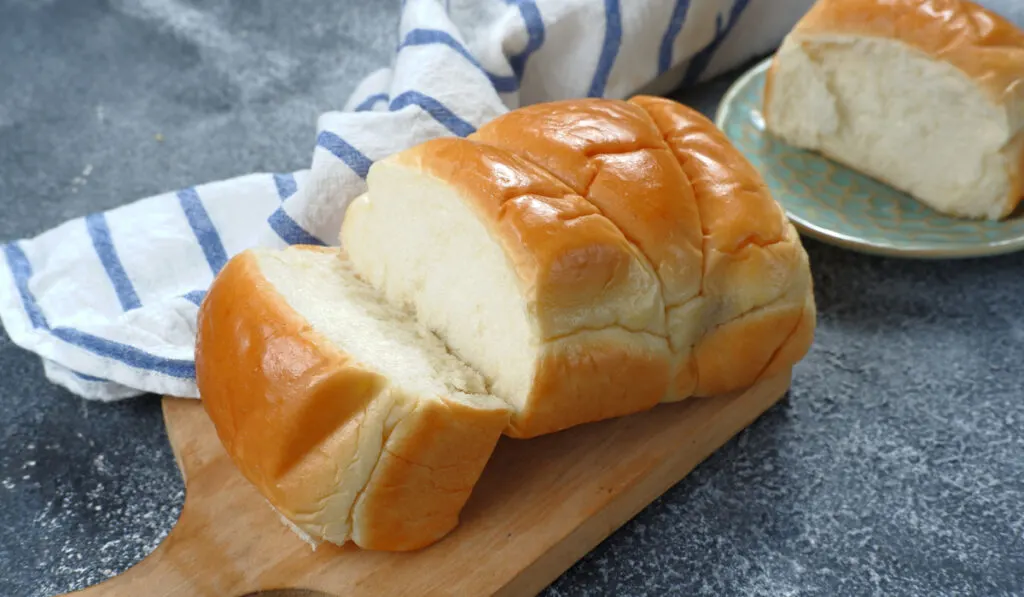 Bread Makers Without Teflon
Bread makers without Teflon are rare in the market. But you can find the below in stock on Amazon.
The following models are also Teflon-free but currently unavailable on Amazon
1. Sana Smart Bread Maker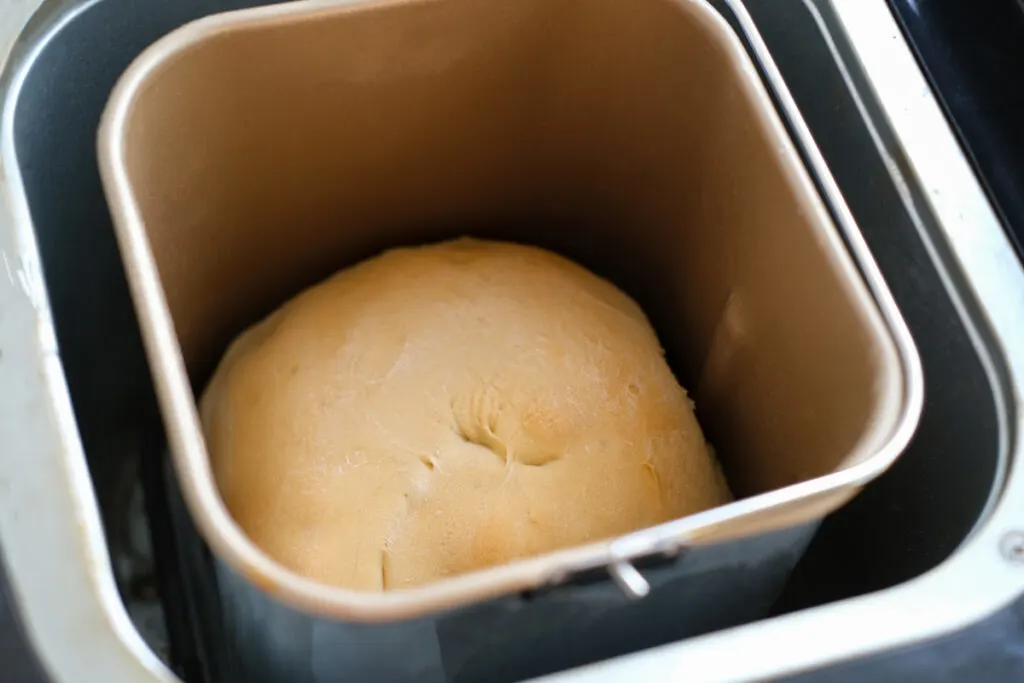 Sana Smart is a multi-functional alternative to chemically coated pans. The stainless steel-pan bread maker is flexible, enabling you to try different recipes.
The features of Sana Smart include:
Lower temperature baking cycles and glass lids to enable you to use the steel pan flawlessly
Access to all baking phases (high-temperature short rise cycle and lower temperature long rise cycle)
High-speed kneading with stainless sandblasted kneaders
Fully programmable to allow you to cook different foods such as juicy meat and fish.
Compact with glass lids, making them portable.
The Sana Smart bread machine comes in three models: basic, standard, and exclusive.
2. Breville Custom Loaf Bread Maker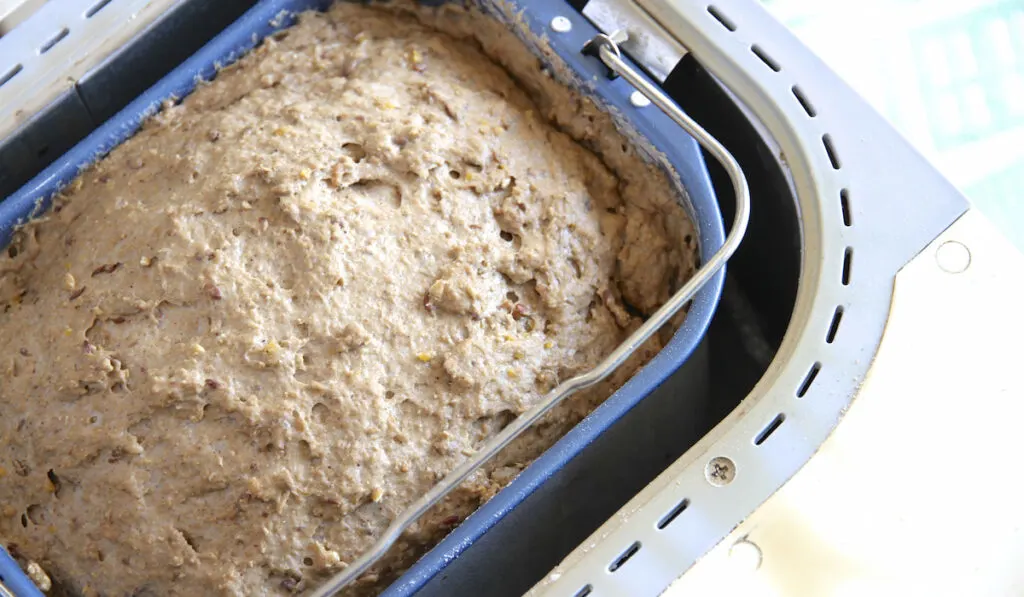 A blend of functionality and style is what you get in the Breville Custom Loaf Bread Maker . In addition to its sleek design, the following features will make your baking journey fascinating.
13 automatic settings
3 crust color options
8 custom settings
Smart LCD display panel
Collapsible kneading blade
Automatic fruit and nut dispenser
Power protection function that stores 60 minutes of backup power
This Breville bread maker has all you need for your daily baking needs. Sweet bread for breakfast, gluten-free delicacies, or pizza dough for your visitors–Breville does it all.
The smart LCD helps you observe the baking process while its collapsible kneading blade saves you from manual kneading.
You can also enhance your bread's taste and nutritional value using nuts and fruits. The dispenser comes in handy for this.
This bread maker is ideal for customizable bread sizes and a flawless baking experience.
3. KBS Large 17-in-1 Bread Machine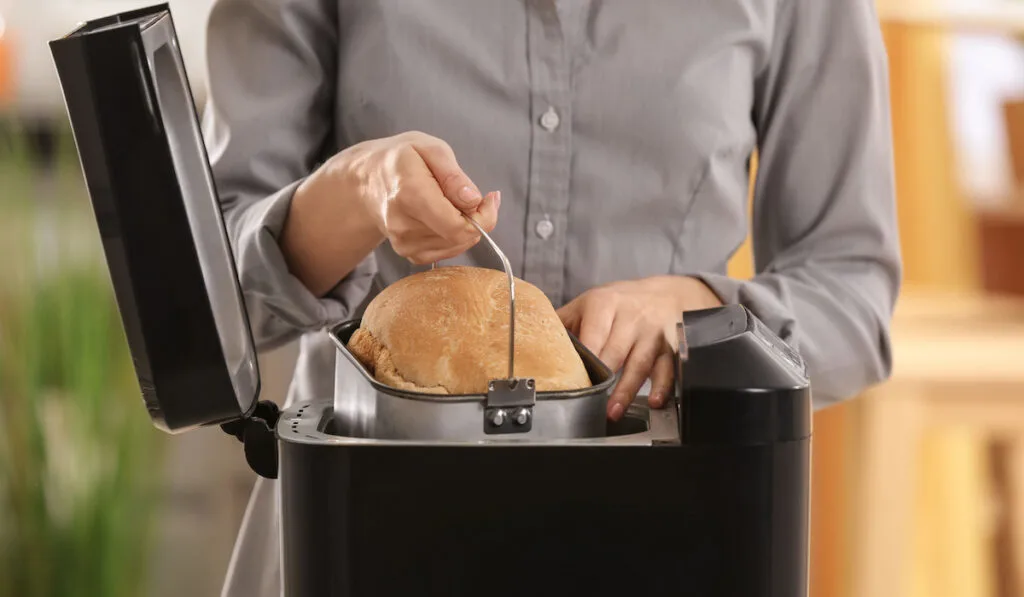 You can bake anything in this advanced baking machine. Equipped with 17 cooking functions, KBS Large 17-in-1 bread machine has an oven mitt, ceramic bread pan, measuring cup, and a nut and fruit dispenser.
Its features include:
Healthy non-stick ceramic pan with a 710W powerful motor
Fruit and nut dispenser
15-hour appointment feature and 1-hour automatic insulation function
Digital touch panel control with a large window for viewing
Different loaf sizes, crust colors, and cycle
15-minute power interruption recovery
Customized to wash using a dishwasher hence easy to clean.
KBS Large bread maker does more than bake bread. You can use it for kneading, fermentation, yogurt, and pizza dough setting.
If you want a multifunctional, easy-to-clean, and advanced bread maker, consider KBS Large 17-in-1 Bread Maker.
4. SAKI Bread Maker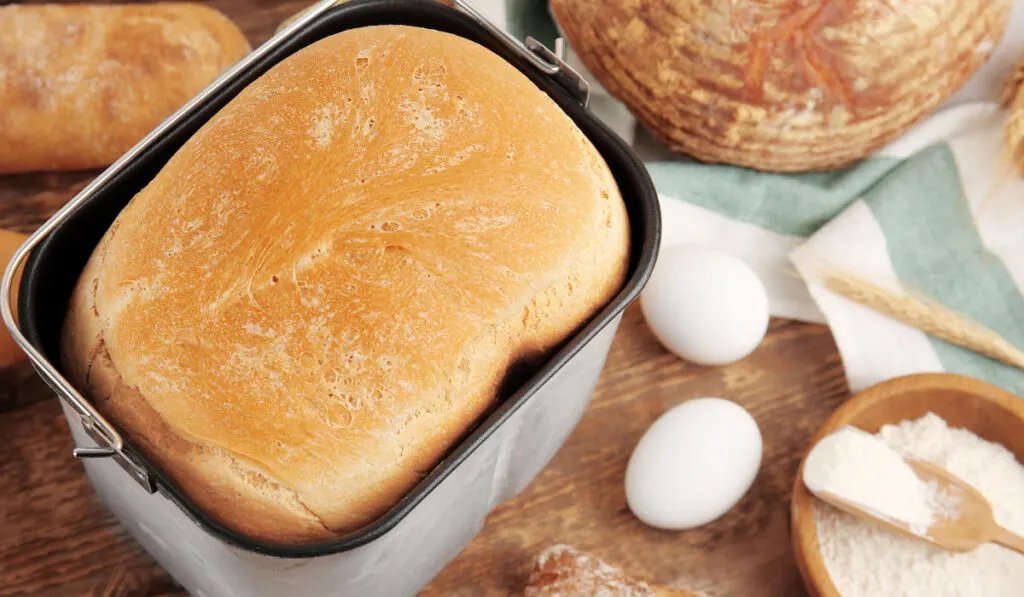 The SAKI Bread Maker has a sleek, compact design that fits any kitchen space. You can use it for baking different bread types and sizes. Its body is made of stainless steel while the pan and kneading paddles are ceramic-coated aluminum.
Its features include:
Three crust options (light, medium, and dark).
Easy-to-clean ceramic-coated pan with a large transparent window to enable you to monitor the baking process.
Control panel for large LCD display
Screen with touch type keys and a self-locking function to prevent error operation
High-power AC motor with automatic control
15-hour appointment function, 10-minute power off memory function, and 1-hour automatic insulation to keep your bread warm
Three baking capacity sizes (2.2lb, 2.75lb, and 3.3lb)
This bread maker has an advanced heating element that endures even heat distribution.
What's more? It is versatile, and you can use it for different bread types such as wholemeal, white bread, and gluten-free loaves.
This bread maker is currently out of stock on Amazon.
5. Beem 5-in-1 Bread Maker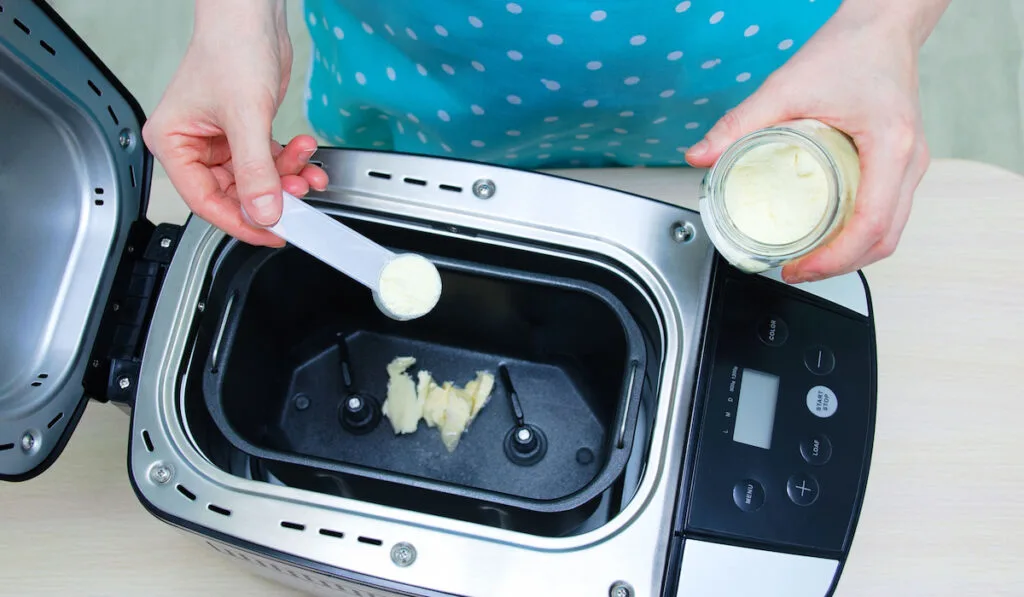 BEEM 5-in-1 multifunctional bread maker does more than baking. You can use it to cook rice, pasta, cake, and jam.
This Teflon-free bread maker is made of ceramic and comes with a round cake baking pan, ingredient dispenser, stirring rod, measuring cup, and spoon.
Other features include:
High-quality casing made of stainless steel, aluminum, and bio-ceramic coating
Electronic control panel with backlit LCD display and a lid with cool touch handles
Dough molds and dough hooks made of bio-ceramic non-stick coating
Powered by a 650W motor.
One downside of the Beem 5-in-1 bread maker is limited availability in areas outside the UK. However, you can order it from online stores.
If you are ordering from outside, remember to acquire an adapter since the machine will come with a UK plug.
This bread maker is currently out of stock on Amazon.
Availability of Teflon Free Bread Makers
If you compare the bread-making machines in the market without Teflon and the demand, there is a huge shortage. Besides, the machines are expensive.
But this should not worry you. Many bread machines in the market with Teflon pans have adjustable settings. You can manually set the temperature within the 'safe temperature settings' to avoid the harmful effects of Teflon.
Alternatively, you can use the bread machine with Teflon to knead the dough, but bake it in an oven. Although this requires extra effort, you can have peace of mind baking in your Teflon-free oven.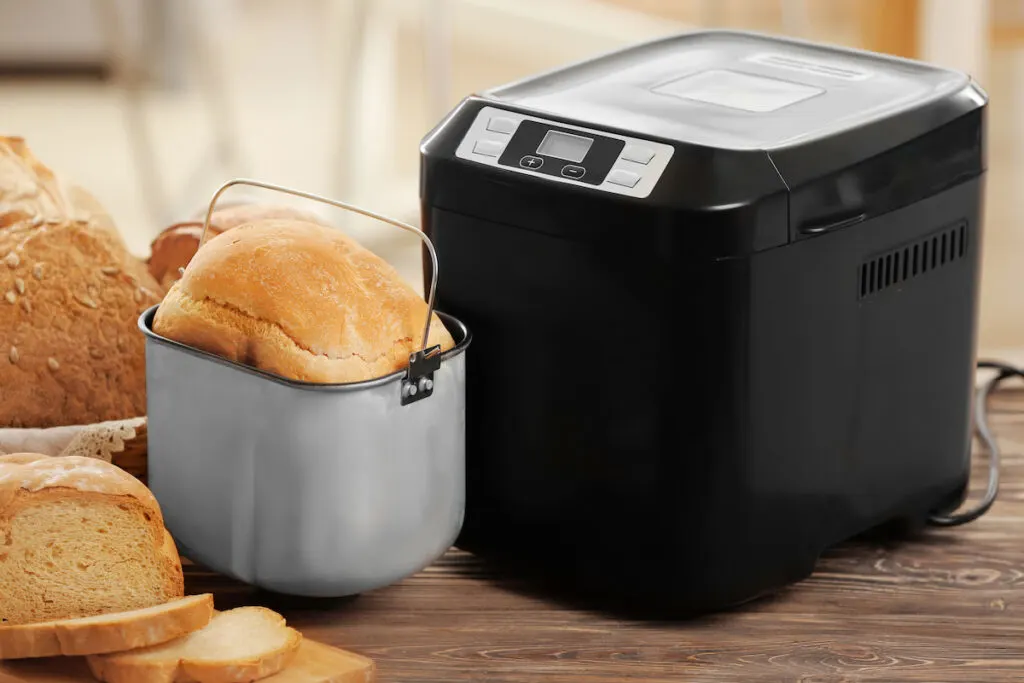 Key Takeaways
Home baking accessories are changing as people prefer healthier delicacies.
But Teflon-containing pans are not the best, especially when baking at high temperatures.
Fortunately, there are baking machines in the market made of stainless steel and ceramic. Some come with many recipes and you can use them for cooking other dishes in addition to bread.
Unlike Teflon-coated pans which expose you to health risks, these new bread-making models are chemical-free.
You can choose your ideal machine from the above list and let your family enjoy homemade bread from different recipes.
Resources