Over the past couple of months, I've been pretty diligent about looking for vacant land in Los Angeles County, CA for my homesteading project. Finding acreage in Los Angeles County is easy. Finding something that has road access, power and the potential for well water is a whole different issue. All that aside, the search has to start somewhere. I use various different resources to find raw land for sale so I wanted to share those with you.
The best websites to look for vacant land in Los Angeles are:
eBay
Zillow
LandWatch
Land and Farm
Craigslist
Keep in mind that some of these websites are great no matter where in the country you want to buy land.
Best Websites to find Vacant Land for Sale in Los Angeles county
Los Angeles County Tax Auction
This has to be my favorite site. This is probably how I am going to wind up purchasing my property. Since the tax auction is only twice a year, August and October, I have quite some time before the next auction. In the meantime, I'll search the other resources below but I know that I probably won't be able to beat the deals that can be had on the Tax Auction.
I did a "dry run" with the auction booklet and property information last year and almost registered for the October sale. I'm glad I didn't because I think it is important to take the time to learn the nuances of building on land in Los Angeles County before I buy.
The Los Angeles County Treasurer and Tax Collector website can be accessed with this link: https://ttc.lacounty.gov/auction-general-information/
The 2018 Los Angeles County Tax Auction was held online in August and then an in-person auction for other properties was held in Pomona, CA in October 2018. I will most likely be bidding in the 2019 Los Angeles County Tax Auction.
Searching for Property on eBay
OK, I know what you are thinking. eBay to buy a property? YES! You can buy property on eBay. Here is the deal though. Be sure to still do the same investigations on the property as you would if you were buying it elsewhere.
I would never, ever consider buying land without actually visiting the property. Period. To do so would be ridiculous no matter how cheap the piece of land is.
On Ebay, you also need to be careful to fully read the ad. Sometimes your bid is for the full purchase price of the property. That is great!
Usually, they tell you that they will tack on a document recording fee of some kind. All the auctions I have seen have that amount fully disclosed. Other times, the bid is for a down payment and the actual purchase price is fixed where the owner will carry over xx months. I guess what you do there really depends on your financial situation.
I, myself, would be very leery of entering a real estate transaction for payments with a private party. It doesn't mean that there is any reason to worry but, again, do your due diligence.
Vacant Land Search on Zillow
I like Zillow a lot for a few reasons:
Easy to use interface
You can sign up for alerts based on your search preferences
It has an acreage filter
My favorite setting is to leave everything at default and just look at lot size like this: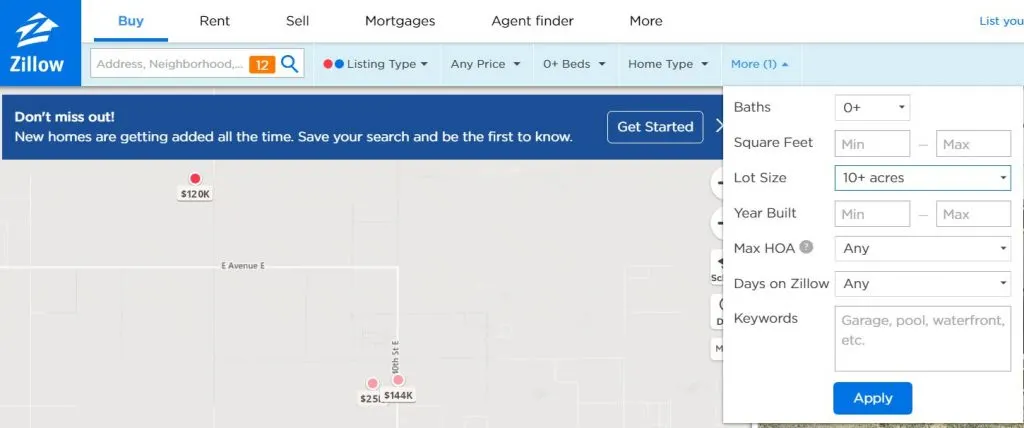 Searching for Property using LandWatch
Landwatch is another good tool. I like to start out with an initial basic search but what is great with them is that you can easily narrow by city, price, etc. Here is my "advanced search" criteria for Los Angeles County Properties.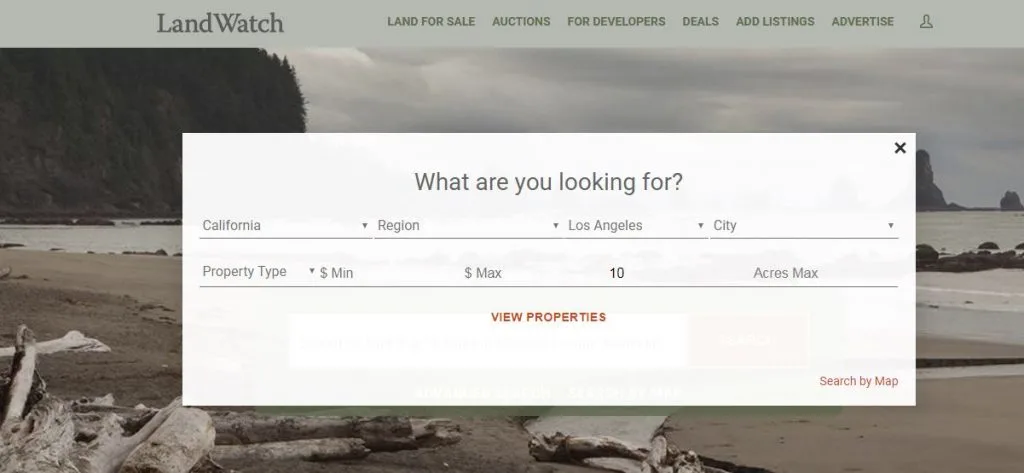 The only disadvantage of LandWatch for me is that it doesn't have a map view like Zillow does. Since I am very familiar with the area I am looking for property in, the Zillow map helps me visualize how remote the property is. On the other hand, the LandWatch site is nice because it gives everything in a linear format. It also sometimes has data that Zillow doesn't have and that is why I use both.
Finding Vacant Property with Land and Farm
Land and Farm is the only other site that I use to when looking for land in Los Angeles. This website specializes in rural land in America so it is great for my needs. After my initial search was complete, I sort their properties by recently added for subsequent searches.
Finding Land For Sale By Owner On Craigslist
The great thing about Craigslist is that you can often find land for sale by owner. For land owners that are thinking about selling their land and don't want to pay realtor commissions, Craigslist is a great place to advertise.
That also means that assessing land on Craigslist will require more work on your side. Often times there is no address or APN, so you'll have to reach out to the land owner to look that up. It may be harder to find property history on Zillow so you'll have to sort through the county website.
The great thing about Craigslist is that you can sometimes find some really good deals. While many landowners price their land above the going rate for land in the area (something a realtor would be able to provide advice on) they are much easier to negotiate with if you have time and patience.
The best situation to be in when buying land is for you, as the buyer, to have funds, and find a for sale by owner property where the owner needs cash quick. It can be as easy as making a reasonable cash offer, have them reject it and then waiting a few weeks when they reconsider.
Of course, that is an ideal scenario but, if you have the time and the funds, it could help you secure the perfect piece of property for a nice deal!

Best Search Practices for Vacant Land
Searching for vacant land is way different than searching for a house to buy. Especially so when you are trying to buy vacant land in Los Angeles County, CA but I imagine the same is true most anywhere. I want to cover a few things you should be aware of when you search for vacant land:
Mobile Home Parks
In Los Angeles, we have quite a few mobile home parks. The problem with that during your land search is that mobile home parks report the acreage of the entire complex, not the amount of land YOU will have access to when you purchase.
When they show pictures of the 32-acre lot, can you see mobile homes in the background? Does the listing talk about HOA fees? These are some things to keep an eye out for.
APN Number
Zoning is key in Los Angeles County. Whether you need an agriculturally zoned property like I do or even if you just need something residential for you, the kids and the dog. The APN number or "Assessors Parcel Number" allows you to lookup zoning online.
While you would, of course, do a thorough review of zoning for any property you were seriously considering, being able to quickly and easily look up zoning information will allow you to either add the property to the list or exclude it.
Using Search Filters
I played with filters a lot when I was initially starting my property search. I've now refined it and only look at a couple different options when searching. Keep in mind that I, personally, do at least a couple different filter searches. For example, sometimes I'll exclude anything with a house and other times I'll search for acreage with houses. Although my budget and preference is for purchasing vacant land, I don't exclude the possibility of finding land with a house.
The most common filters I use are:
Filter for vacant land by selecting home type of Lots/Land where applicable.
Deselect Manufactured homes, condos, apartments and townhomes from any searches. Set bedroom minimum to 2 bedrooms 1 bathroom.
Set acreage filter to my minimum level. I really want 20+ acres but I usually set this filter at 10. The reason is that if the right 15 acre, or 12 acre deal came along I could make smaller property work. Especially if it already had a house on it for a good deal.
Related Questions
How to find the owner of vacant land? This is typically public information and available for free at the county assessors office. Online lookup is also available for a fee.
The Los Angeles County Assessor's website has more information available for online property database access.
How to find the address of a vacant lot? The easiest way to find the address of a vacant lot is to search a neighboring house in the county assessors website, find the APN of that house and then use the parcel map to find the APN map of the property in question. Once you have that you can lookup that parcel by APN and, if it has an address, the county assessor page should display it for you. Keep in mind that not all vacant lots have addresses assigned.
I hope this article gave you some good insight on how to search for land that fits your needs. Do you use a different strategy? Do you have any recommendations? Be sure to leave a comment below and signup for our newsletter if you would like awesome blog content delivered straight to your inbox.