Adding decoration pieces made with fabric to your décor is the easiest, most budget-friendly way of renovating your home. Just think about it: you have a beautiful solid couch in a neutral tone, and your decoration style is mostly modern, but now you want the flair and charm of the farmhouse style.
You don't have much to spend, and you also don't want to start with a clean canvas. And you certainly don't need to. So, what to do? Get some new decorative pillowcases and a throw in a checkered pattern, maybe add a few inexpensive vintage accessories around the room, like pictures of farm animals, wicker baskets, and voila! You have a whole new living room.
The farmhouse look is very trendy right now, and we mentioned, it's incredibly easy to achieve. The style is inspired by the rural and agricultural areas in the U.S., its farmhouse buildings, including its interior and exterior decoration. Its rustic vibe gives a warm and cozy feeling that people love.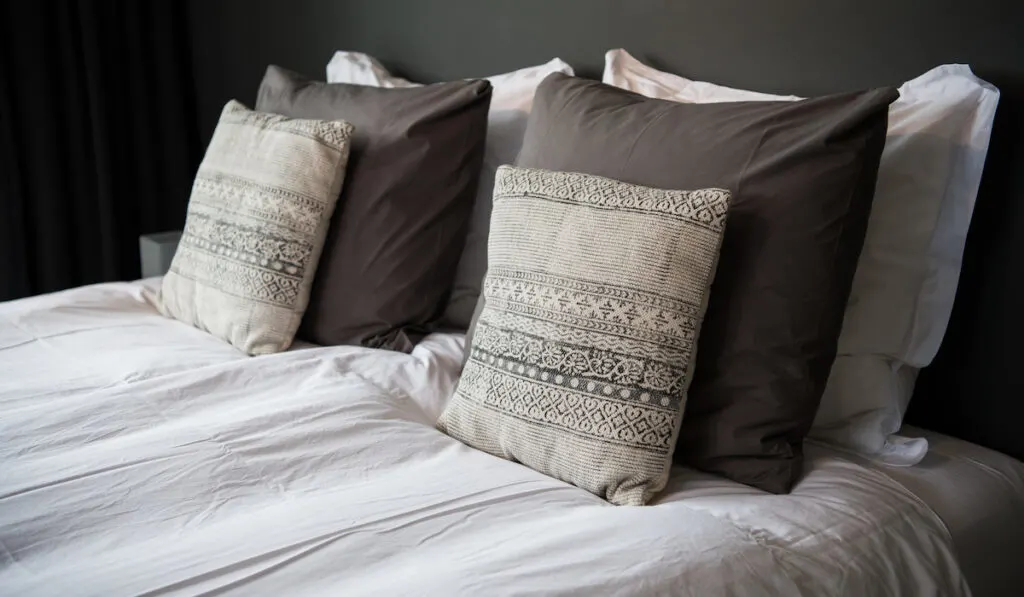 This style's color palette is mostly based on neutrals like whites, grays, and taupe. Think of monochromatic tones and muted, traditional patterns, as well as high-contrast color combinations in textiles and fabric.
The materials are also characterized by their countrified associations, hand-stitched details, and touchable textures. Other details are repurposed items like grain sacks, wood, etc.
If you like this form, consider adding purposeful elements, such as towels, tablecloths, aprons, throw pillows, bed skirts, quilts, etc. to your home. Choose those made of the comfortable and durable textiles used on a farm.
Are you ready to start your decoration project on a budget? Check out these different traditional farmhouse style patterns, fabrics, and textiles to decorate your living room, bedroom, kitchen, heck! Your entire home! Read on!
Buffalo Check
This pattern is for someone who wants to make a bold statement. The over-scaled patterns and its bright, high-contrast palette make it very popular. You have probably seen them everywhere, especially in variations of black and white, navy, and ivory. Go for fabrics such as gingham and toile, they give the farmhouse feel a very chic vibe.
Gingham
This cotton fabric is lightweight and very cheerful. It has a very unique quality of working as a neutral base for other farmhouse-style fabrics and patterns. Use it at home in your curtains, valances, pillow covers, and table cloths. You can find it in white with a touch of colored checks.
Plaid
Plaid is timeless and internationally popular. Just like gingham and checks, and it goes beautifully anywhere, with anything. Plaid goes excellent during any season, and it looks incredible when mixed with other patterns, solids, or on its own. It's similar to checks, but the design is more intricate.
It is fabricated using an extensive palette (unlike the patterns as mentioned earlier, which are usually monochromatic). Country plaids are mostly navy and white and look beautiful on your bed, on decorative pillows, even as a rug for your kitchen or laundry room.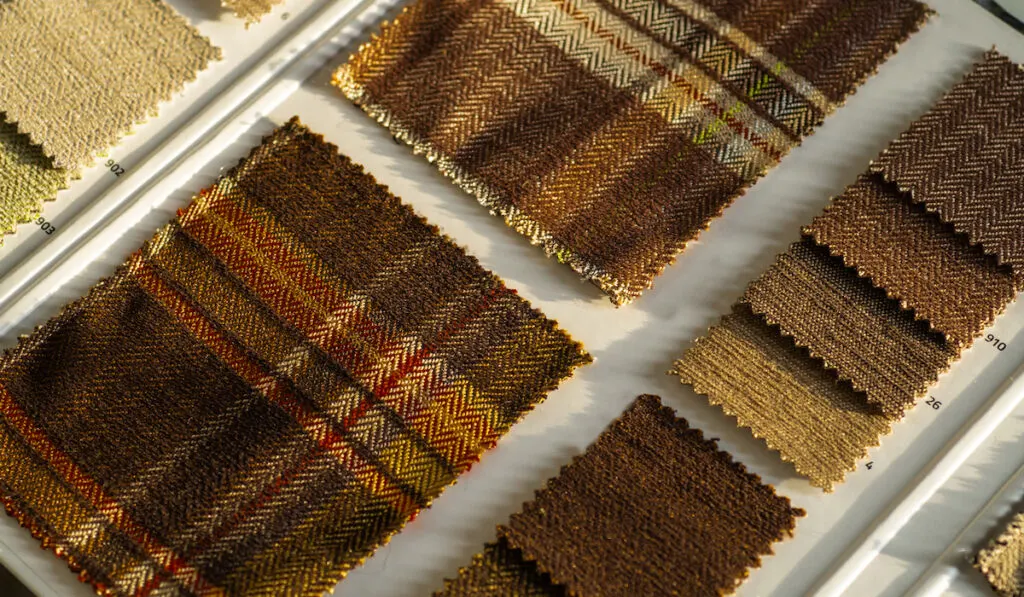 Ticking & Stripes
Ticking fabrics are the staple of farmhouse decor. It has a specific stripe pattern that is commonly used for mattresses and pillows. Although the most popular tones are red or blue, other colors are accessible online or at any store. It's a fresh and breezy textile that can be used to create covers or as upholstery.
Grain Sack
The other epitome of farmhouse decor. Grain sacks are not easy to find at the store or malls. The best way to find them can be online. They are super cute and can be easily repurposed into pillow covers or table runners.
Grain sacks also look great as a layer, like on a table under a tray, hanging from a cute ladder, or maybe at the back of a chair to cover seat cushions.
Mangle Cloth
This is probably the least popular, but still very charming. It's not easily found at the store, so try to purchase it online. Consider mangle cloth for a decorative item for the dining room as a table runner or maybe a table cloth.
Toile
Choose toile fabrics if you want to add some French country style to your home. The cotton-textile is decorated with pastoral scenes and botanical imagery and will look amazing in drapery panels, chair covers, and valances.
Linen
Of all the fabrics, linen is the most versatile of all. It's effortless to mix and match since it's the most neutral tone and texture of all. Tip: the more you wash linen, the softer it becomes. Consider it for window panels, pillow covers, napkins, table runners, towels, etc
Burlap
This is a coarsely woven fabric that is inexpensive and can be found anywhere. The list of items you can create using burlap is endless, and also, there are many no-sew things you can create for your home, just check that it is prepared correctly. Add it to give your home some rustic flare. Use it for valances, curtains, cover pillows, skirt sinks, and dressing tables.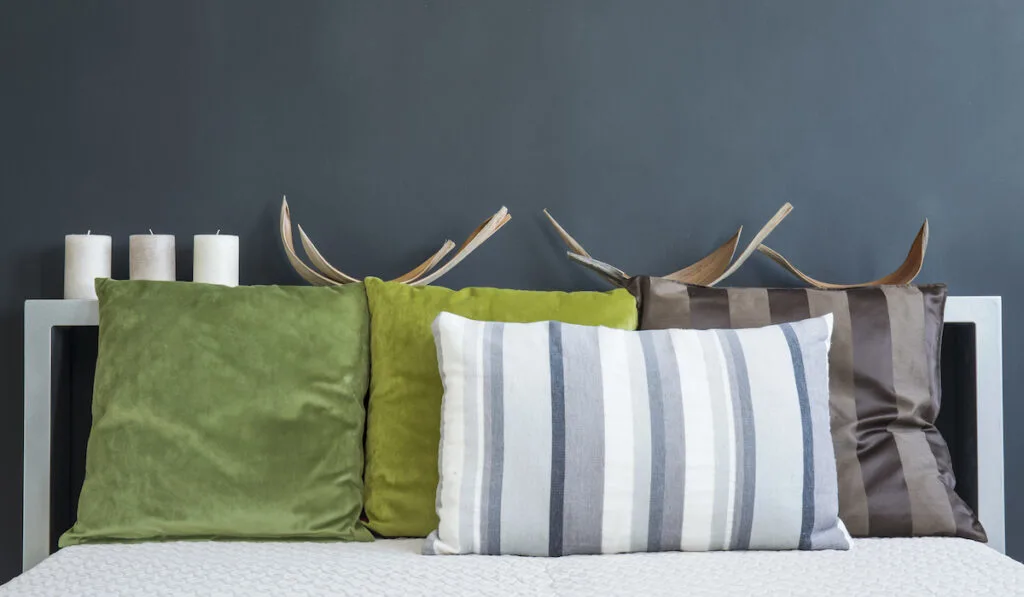 Rural Prints
The final touch in your farmhouse in the city is barnyard décor. How to do it with textiles? Buy printed pillows, curtains, or any form of fabric with pictures of roosters, cattle, or any rural scene.
The Bottom Line
You don't have to spend a ton of money to get the farmhouse charm to your home. Stick to adding a few accessories, but most of all, accessories made of fabric, like pillow covers, table runners, curtains, etc. Revamping your home according to your mood and what inspires you will make it your favorite space to spend quality time with yourself or with your loved ones.
The farmhouse style is simple to emulate because it is simplistic to its core. This pairs well with the modern, minimalist trends that dominate with clean lines, monochromatic palettes, and some metal elements. Besides adding the textiles mentioned above, add inexpensive items such as wire baskets, wooden spoons, mason jars, etc. to give the finishing touches. If you want to invest a Little more, leather materials, especially distressed leather, goes perfectly with this style. Happy decorating!