*This post may have affiliate links, which means I may receive commissions if you choose to purchase through links I provide (at no extra cost to you). As an Amazon Associate I earn from qualifying purchases. Please read my disclaimer for additional details.
Tired of staying indoors during the winter months?
Enjoy the outdoors with your friends and family and make the most out of your outdoor spaces any time of the year with patio heaters.
Patio heaters are a wonderful addition to your backyard and outdoor needs.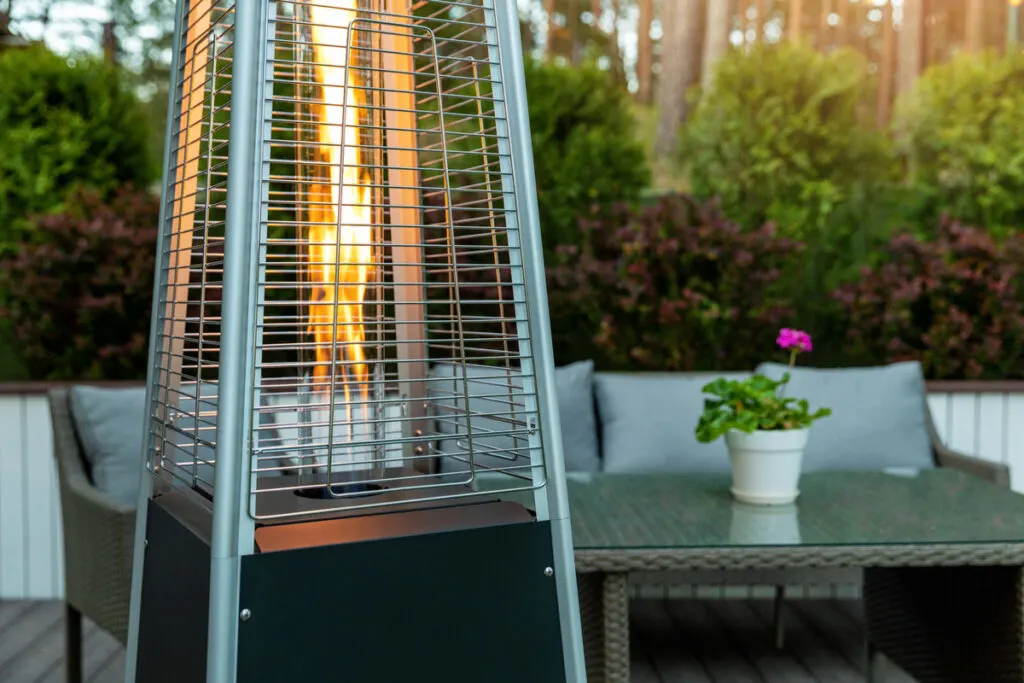 This heating appliance is great for generating heat for outdoor use especially during those chilly months of the year.
Patio heaters generate radiant heat and are perfect to warm up your porch.
Patio heaters are generally used in an outdoor space but a lot of people are inquiring whether they can also be used in a certain setting.
Can a patio heater be used in a covered porch or a screened porch?
Certain types of patio heaters can be used in a covered porch or screened porch setting.
Here is some information on which patio heaters can and cannot be used in a screened and covered porch, as well as the different types of patio heaters and power types out there.
Plus, I've added some safety and care tips for your patio heaters to make your outdoor porch experience safe as well as fun.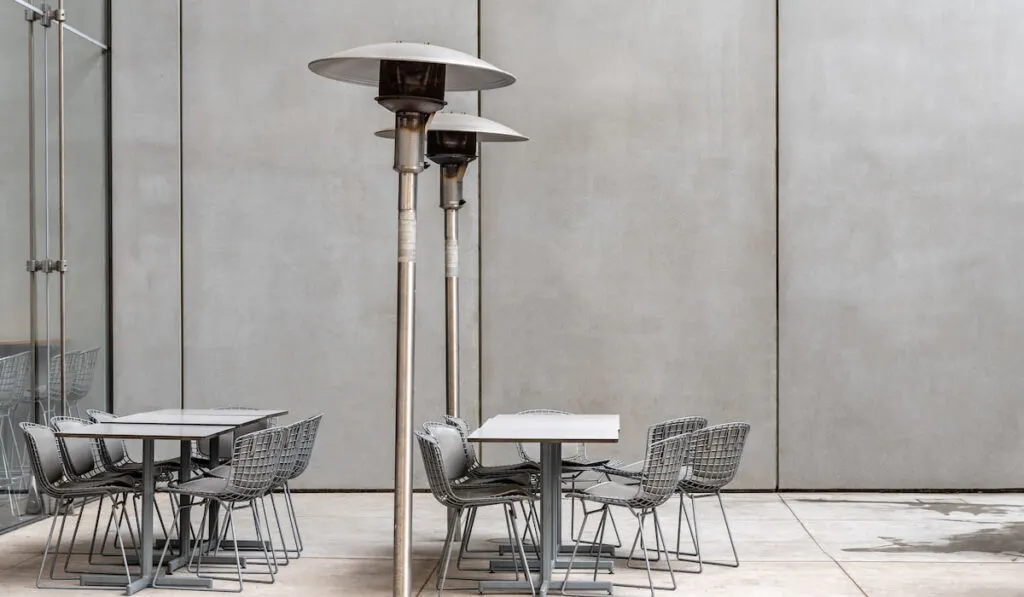 What Are the Different Fuel Types for Outdoor Heaters?
1. Propane
Propane is one of the most popular and commonly used fuel types for outdoor heaters. They are portable, convenient and versatile.
Propane heaters heat quickly and have a higher heat range that can heat a large area.
The heater is supplied from a metal propane tank which can be refilled in accessible locations such as grocery stores, convenience stores or gas stations.
Gas tanks should be replaced from time to time.
Propane patio heaters are generally not recommended in covered or enclosed spaces and require a larger clearance.
2. Natural Gas
If you already have an existing natural gas line at home, you can attach it to your patio heater.
You should ask a professional to install it and the upfront fees can be costly.
Once installed, natural gas heaters are the least expensive to operate and require little maintenance.
Natural gas heaters burn cleaner than wood and need a large clearance to operate.
This is good for decks and patios that have good ventilation and a big space.
That being said, it is not advisable to use a natural gas patio heater for screened or covered porches.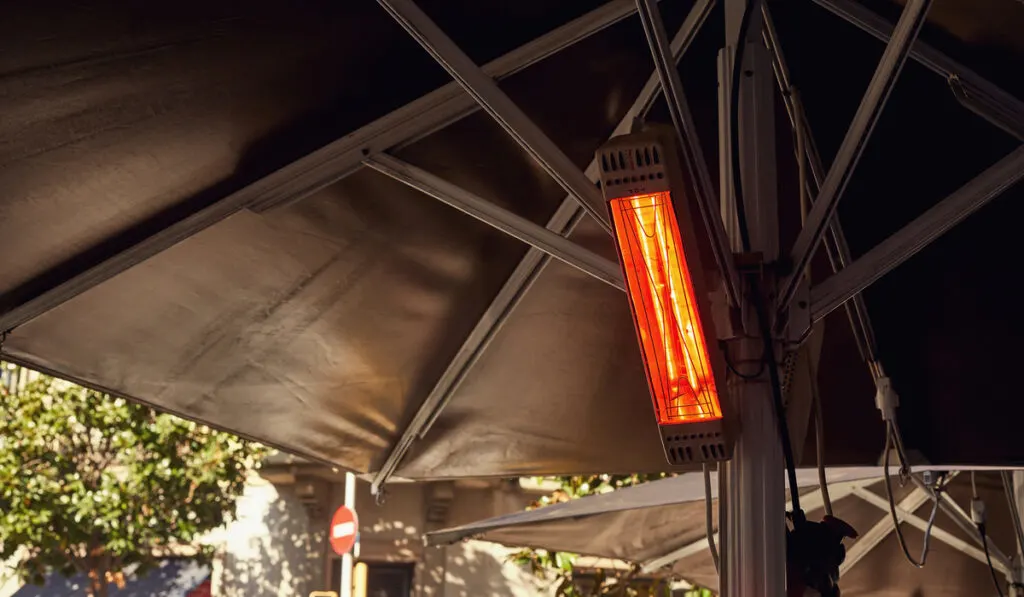 3. Electric
If you don't have access to natural gas, this is a good option for you.
Electric heaters require smaller clearances and are safe to use in enclosed spaces. They are easy to set up and there is no installation required.
You just need to plug it into a standard electrical outlet and it can start heating your outdoor space.
Electric heaters are slower to heat up than propane or natural gas heaters and have a weaker heat capacity.
This is good for smaller groups and intimate outdoor areas.
A non-gas option, electric heaters have no flames and do not generate harmful carbon emissions, odors, and toxic smoke.
This is the best heater type to use for screened and covered porches.
4. Wood-Burning
Another type of power source for heating your patios, these burn wood instead of gas.
This is one of the most affordable options but requires frequent maintenance.
You will need to continually add wood to keep the fire going and clean up the ashes after each use.
It is also harder to ignite especially if it's windy, and it shouldn't be left unattended.
You will need good access to wood, so it is not really recommended if you live in the city center.
It does create a great atmosphere, especially for those chilly nights outdoors with your friends and family.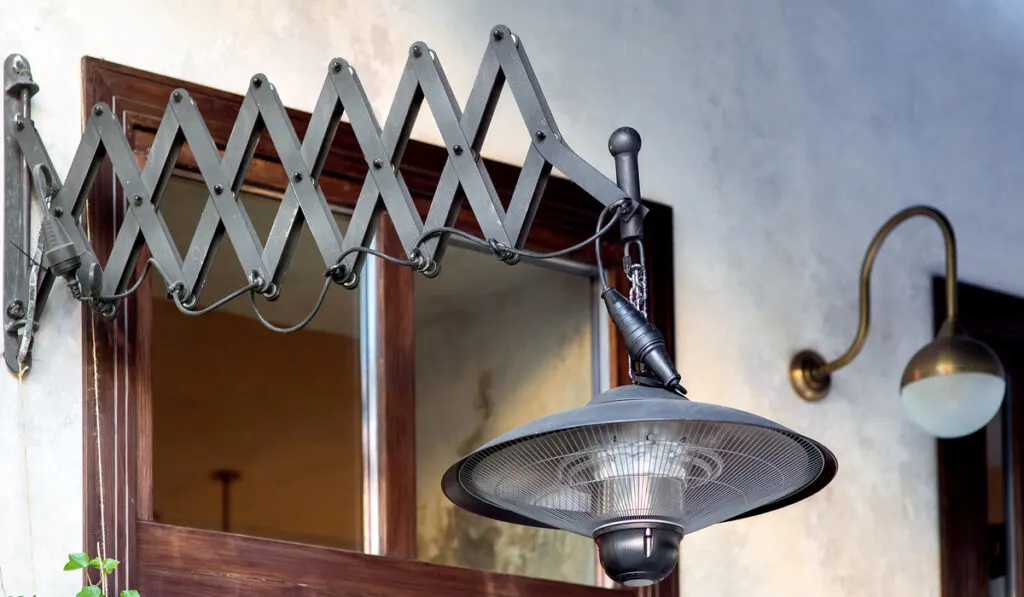 What Are the Different Types of Patio Heaters?
1. Wall-Mounted Patio Heater
These are placed in a wall or structure for permanent installation.
Wall-mounted patio heaters use infrared heat to warm up the space. Infrared heaters warm whatever they are directed at and use direct radiant heat.
Wall-mounted patio heaters are available for propane, natural gas and electric fuel types but the most common use is the electric type.
Portable and electric, this saves floor space on your porch and usually comes with wall mount brackets.
It can be angled up or down to direct the heat whichever way you want and requires installation.
This is great for smaller covered space or screened porches as it doesn't take up much space (as long as it uses an electric power source).
2. Hanging Patio Heater
This is similar to the wall-mounted patio heater and can use different fuel types such as electric, propane or natural gas.
These are hung from the ceiling and require installation.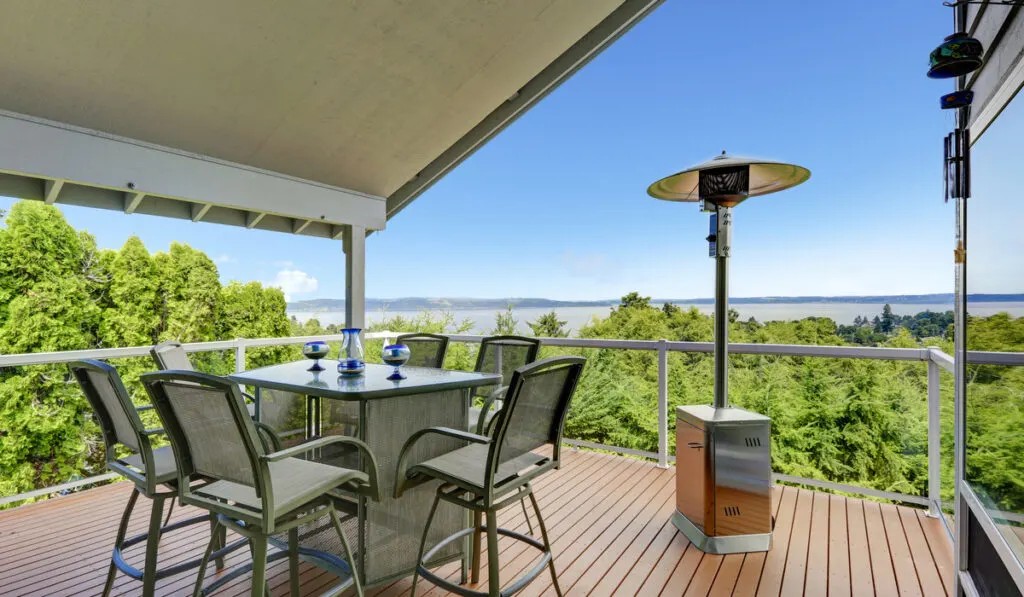 3. Free-Standing Patio Heater
This is the most popular type of patio heater and is usually seen on outdoor restaurants and bars. It is easy to set up anywhere and is very portable, perfect for heating a large space.
Free-standing patio heaters are usually tall and thin with parts such as the base, pole, heat source, and reflector.
The common types of this patio heater use propane as its fuel source but it can also be fueled by natural gas and electricity.
The propane tank is often hidden in the base of the heater.
Mushroom patio heaters are one of the most common types of the free-standing heaters.
4. Tabletop Patio Heater
This looks like a miniature version of the free-standing patio heater.
The smallest heater type, it is portable and generates smaller heat capacity than the other patio heaters.
Some designs of the tabletop patio heater look like lamps so it's a good decorative addition to your porch.
This is fueled by propane or electricity but the most common fuel type for this heater is electric.
This would be suitable for screened and covered porches when used with an electric power source.
5. Fire pits and Chimineas
Fire pits and chimineas are best for your wood-burning heater types.
They are a good heating source great for outdoors and give a good ambient feel.
Chimineas are a free-standing oven type which has an opening at the front for loading fuel.
There is a vertical opening which allows the smoke to release and vent upward.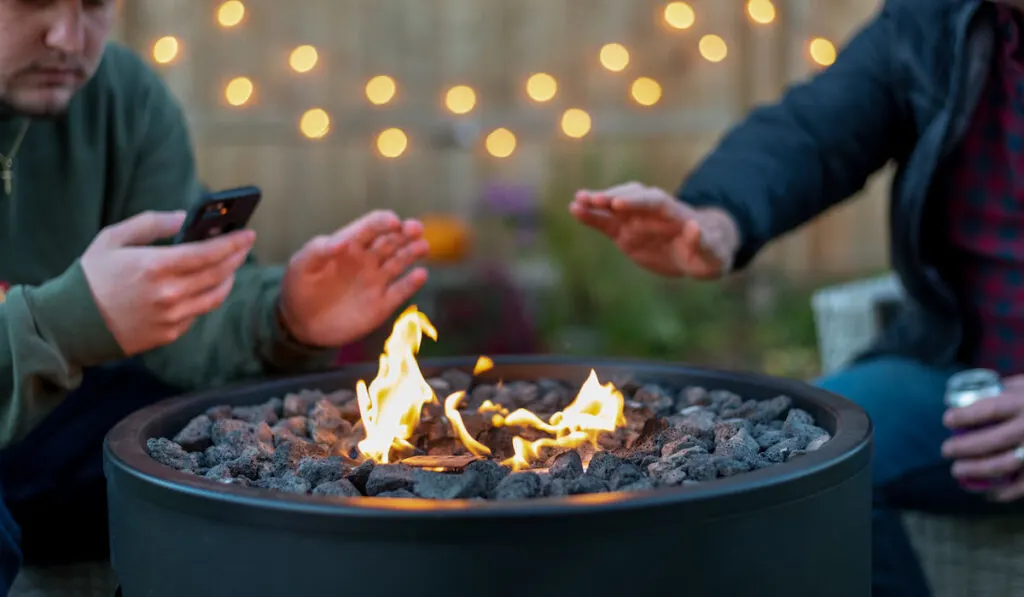 How Much Clearance Do You Need for a Patio Heater?
The clearance needed for patio heaters are the specific allowances set for a particular heater to ensure the safety of the appliance.
Clearances vary depending on which fuel type you will be using and what type of patio heater you have.
The general recommended clearance around your heaters is three feet above the heater and two feet on either side of it.
For specifications on this, it is still best to consult and study the manufacturer's instructions and safety guidelines pertaining to your specific heater.
Are Patio Heaters Safe?
Patio heaters are generally safe to use but you also have to take precautions when using a heater.
Create a safe, fire hazard-free space on your porch.
Be knowledgeable about the safety guidelines and requirements for your specific heater as well as its long-term use.
Make sure to read the manufacturer's instructions thoroughly before using it.
Give the patio heaters an ample amount of empty space around it and avoid direct contact.
Keep a distance from flammable materials such as wood or lattice at least six feet.
When not in use, place the patio heaters indoors or cover it to protect from the outside elements.
It should be cleaned at least once a year to remove dust or debris.
Propane and natural gas patio heaters are usually used outdoors and are not recommended for enclosed space without proper ventilation.
The best patio heaters for a screened or covered porch are the electric patio heaters.
With all of these different types of patio heaters and safety recommendations, keep warm and enjoy your time outdoors any time of the year.
Resources: