Buying land isn't something that can usually be done inexpensively in Los Angeles. There are many places in the country where buying a few acres of land to build your dream house is relatively inexpensive. Los Angeles isn't one of those places.
Buying land at the Los Angeles County Tax Assessor's auction is a great way to purchase land at a decent price. The auction is held twice a year and minimum bids can be quite low.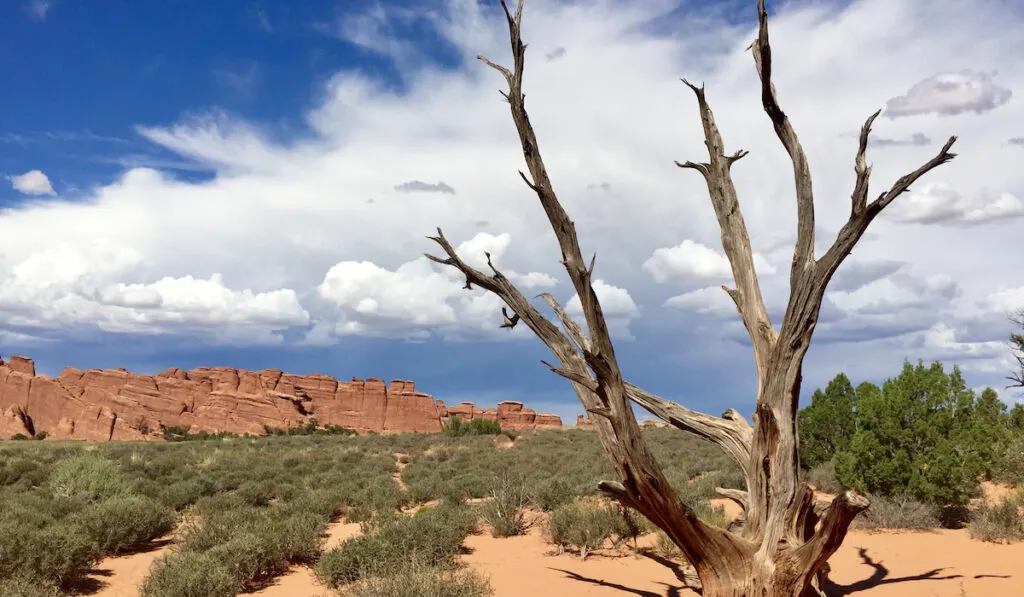 There is a trade-off of course. You have to really do your due diligence. Unlike a traditional purchase, there is no realtor on either side to represent you. There are no disclosures that must be made. All research on the property is left completely up to you.
Let's take a look at some of the things you should be sure to consider when buying land at auction.
Information You Need to Start Your Research
As the LA County Tax Auction date draws near, the assessors office will release a list of properties eligible to be auctioned. This list will typically include the auction ID number, the APN of the property number and the minimum bid amount at a minimum.
Here is a screenshot of a June 2019 online auction (this was a Special Auction).

You can see the properties start at a minimum bid amount of $1,426.00. There was quite a range in this auction. I saw some properties for $190.00 (100′ x 40′ assorted lots in Chatsworth) and at least one property for $2.6 million (76 Acres of raw land in Malibu, CA).
The APN is all you need to get started doing research on a property in a land auction.
Once you have the APN you can start to seriously look at some other pieces of data.
When looking at properties in the Los Angeles County auction, your new favorite website is going to be the Assessors portal. Here is the link: http://maps.assessor.lacounty.gov
Zoning
Zoning and size are the two most important pieces of information you need on each property in the auction to determine whether to proceed with researching the property.
With these two pieces of information, it is easy to exclude certain properties from your list.
If you are looking for property to build a house, you can exclude all commercial zoned properties. Not only are they not what you want, they will probably sell for more than a residential property.
In addition, there are various types of zoning where residences are permitted. In my case, I would prefer commercial agriculture zoning (A1). I would settle for A2 zoning if I had to but I really don't want RA zoning.
The difference, in Los Angeles County, is that A1 zoning allows me to run an agricultural business on the property. That means I can breed and sell chickens or run a horse adoption or sales program. I could even breed goats if I wanted.
When you think about living the true farmhouse lifestyle, zoning is very important. But, if you just want a few animals on your farmhouse, RA (Residential Agriculture) is perfect. If you don't want any farm animals, and just want the farmhouse style home, any of the residential zones should be fine.
I have found this document on the LA City planning department website to be a great, quick resource, as to the zoning in Los Angeles City. Los Angeles County zoning will be similiar but different so as you continue to narrow down your list, you'll need to further verify zoning.
Size & Shape
Size is the next thing to consider. The property needs to be large enough to accommodate your dream home and property layout with hopefully a little bit to spare.
Land shape matters too. This is where looking at the Assessor Map is very important. In my example in the intro, a 40′ wide x 100′ long property isn't going to accommodate much other than a Mobile Home. And that is going to be a pretty tight fit.
Speaking of which, when you check size and shape of a property at the assessors website, be sure to check the property in the satellite view. In this case the property seems to straddle a gorge. A $190 bid on this property might make you a property owner but if it does, your hiking boots and weed eater will be your new best friend as you figure out how to clear brush each year.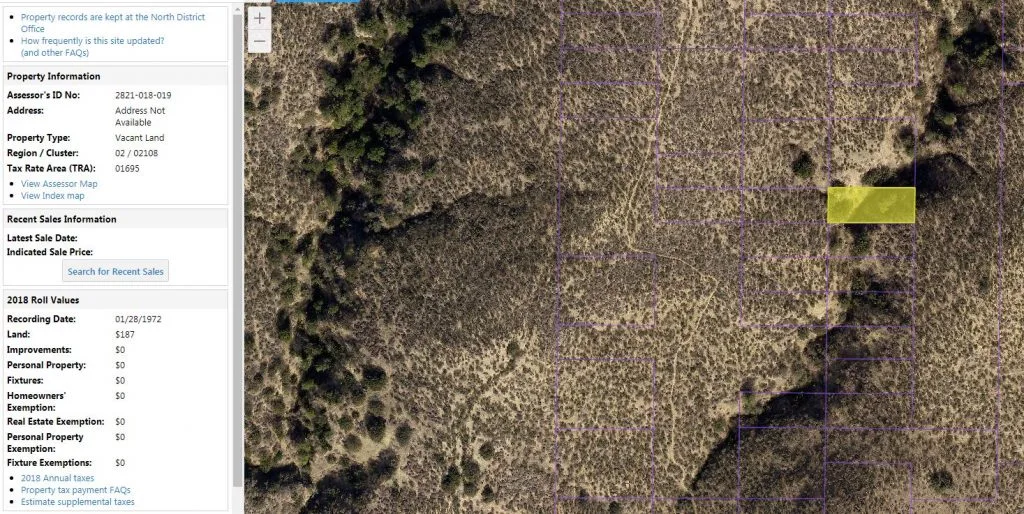 Maybe the property is 14 acres but it's got a long narrow entry segment and the house is set back 800′ from the fence line. This may not seem like a big deal, since you have road accessibility, but think about how much it's going to cost to get utilities back that far, for example.
Most properties are going to have square footage listed on the assessor map book, the shape of the property and the dimensions of each side may be listed as well.
When evaluating properties I typically create a column in my spreadsheet for property shape and use square, rectangle or irregular as my descripters.
Square, in my case, is the best option. I'm looking for 5 acres or more and I want to fully fence the property, it can be quite a bit cheaper to fence a square property than a rectangular one.
Accessibility
Do you have legal access to the property? The last thing you need is to purchase a land-locked property.
As you look at the assessors map, take note of whether you have road frontage. If you don't, is there a clearly marked easement for access? If not you will want to flag that property to ensure you triple check access before proceeding.
Sometimes there will be several lots entered into the auction that are side by side. This is good except when the street side lost is listed after the interior lots.
You don't want to go into an auction thinking you'll get all three only to get outbid on the street facing property and have the potential to have no access to your interior lots.
For accessibility, I typically make a column in my spreadsheet that says "Access" with a Y, N or RN (research needed).
Easements
We've talked about accessibility above but, on the other side of the coin, you will want to check if the property has any easements allowing OTHERS to go through your property.
If you are interested in properties with road frontage, for example, the properties behind you may have legal right to pass through your property to access yours. This easement could restrict fences, gates, etc you may want to add to the property.
Easements are pretty common and aren't necessarily a bad thing. An easement off to one side of your property, for example, is not difficult to deal with. You could just set your fence inside the easement and then you have your secure property and the neighbor has their access.
Where an easement might be an issue is if it goes through the middle of your property. Not only is this a possible issue for securing the property, it could also limit where you can build your dream home.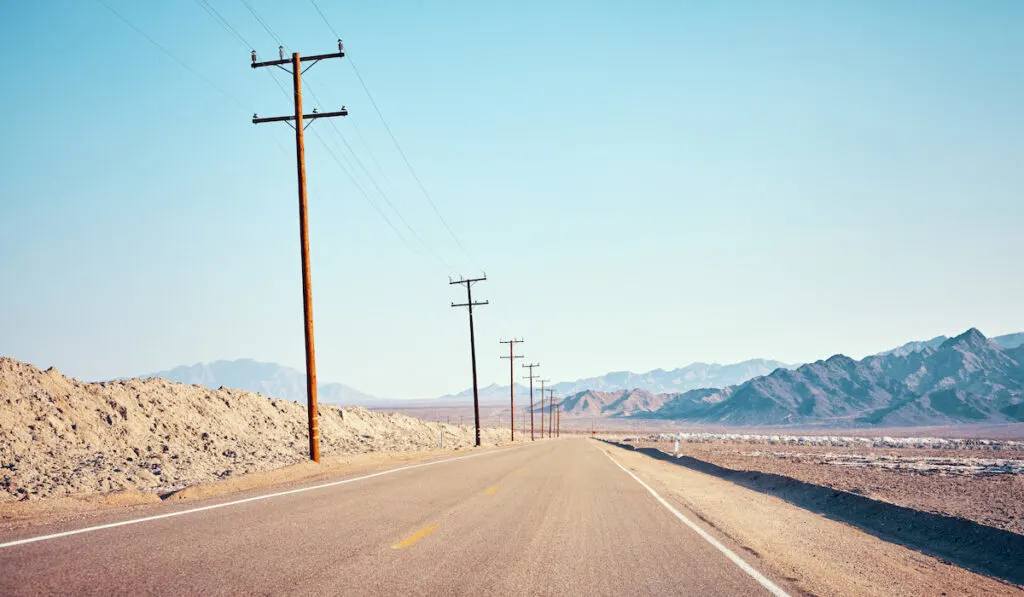 Utilities
Utilities are the next area of concern. How concerned you need to be with this depends on your actual timeline for building.
If you plan on building your dream farmhouse within the next couple of years, you will want to make sure major utilities are accessible. If you are using a spreadsheet, you might want to consider categories for the following:
Power
Water
Gas
Internet
Cable
Sewer
The big mistake I made when purchasing my first home was not looking into what internet was available. The answer to that, I discovered, was that it wasn't. My only option was very expensive, very slow satellite internet.
Power lines at or close to the property line are a good sign, but it's best to check what those are actually comprised of once you narrow down your list to your top picks.
Figure out what utilities are important and how important they are. I know people who lived for a decade or more off of solar and a generator. In rural LA County, Septic is the way to go and no one cares really about Sewer.
Water is a whole different element. If water isn't available, can you dig a well? The problem with buying land at auction is that you can't have test wells dug on a property before you buy it.
You can look at whether or not neighboring properties have wells. Also, you need to verify you have the right to dig a well. In some areas, several parcels must share one well. All of this is important to determine.
Condition of Property
In the 2018 auction there was a piece of property I was very interested in. It was right behind my friends horse ranch and I thought, awesome, that would be convenient.
I talked to her a bit about it. I wanted to make sure she knew the property was in the auction and also gauge whether she had any interest in it before I researched it further.
She knew all about the property. She knew for years big trucking companies dumped asphalt and concrete on that property illegally. She had called the city and county many times and they did nothing. The result is that the small, 2.5 acre property, would probably cost tens of thousands to clean up before you could build a home on it.
On the surface the property looked great, for anybody in the auction that just checked online, the zoning was good, size was good, utilities were in place already at a neighboring house. There were really no red flags on this property and the minimum bid on the auction site was a heck of a good deal.
Only, it wasn't. The condition of the property would have been easily assessed by anybody who physically visited it. Google satellite photos still only show small piles of debris that look like bushes on first glance.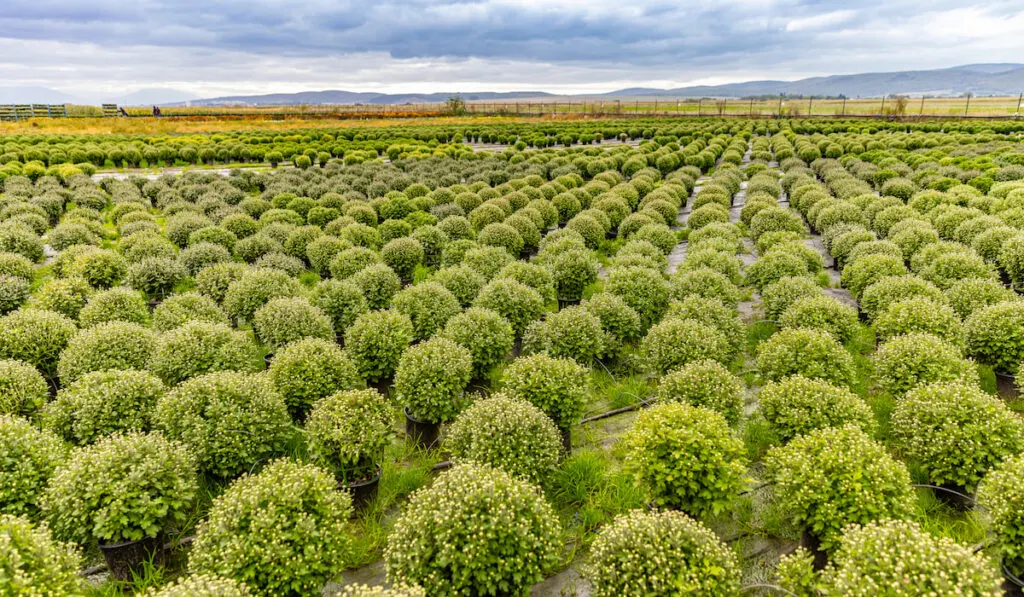 Attachments/Fees Owed
When you buy a piece of property at the Los Angeles County Tax Auction, you won't owe any back taxes for the property. You will be paid current on property taxes. But, you could still be liable for other fees the property incurred by the previous owner.
You will want to do a search with various agencies to find out if any liens or back fees are due on the property. The most common are fees for brush clearance which will become your responsibility to pay if you purchase the property.
For the right auction property, fees of even a few thousand dollars that may scare other bidders, may be reasonable if it fits all of your criteria. There are other types of issues, though, that could impact your ability to build.
If, for example, the property ever had illegal toxic materials disposed on site the property could be flagged for needing environmental cleanup and assessment before you can build.
Vacant properties are especially susceptible to illegal dumping and something like this could cost you quite a bit to clean up depending on the scale of the issue and the remediation needed.
Usually there will be a document available that lists parcels with known issues but, it is your responsibility to do your own due diligence on a property even if they don't list issues with it.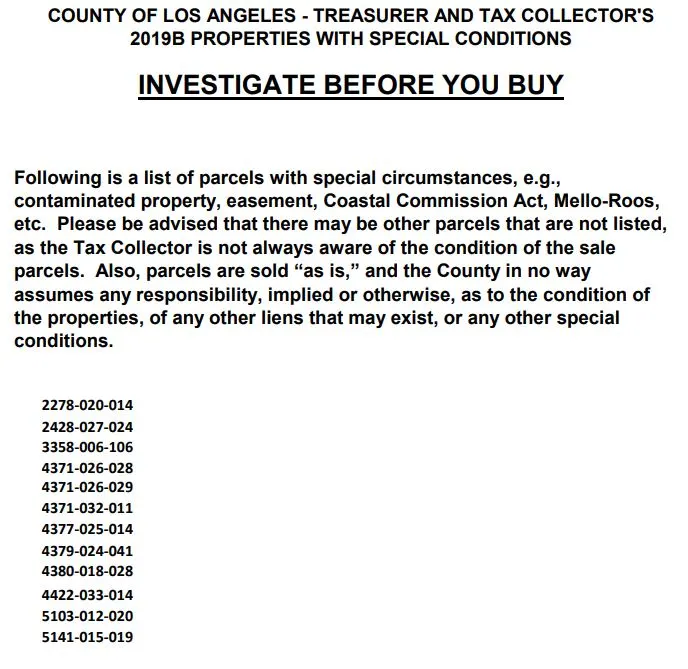 Final Thoughts
Buying land from the Los Angeles County Tax auction can be fun and rewarding. Remember to keep an eye on the site or sign up for notifications and start researching properties early.
The research stage is the most important part of buying properties at a tax auction. The auction prices may seem low but the last thing you want is to wind up with a headache instead of land to build your dream home.
Do your research before you buy and you could potentially end up with a quality gem for a very reasonable budget.