*This post may have affiliate links, which means I may receive commissions if you choose to purchase through links I provide (at no extra cost to you). As an Amazon Associate I earn from qualifying purchases. Please read my disclaimer for additional details.
My current ceramic sink frustrates the heck out of me. When I first moved in I thought it was cute. The reality is, 3 years later, it is annoying. The biggest fault it has is not being big enough to fit my bigger pans which means I wind up with water all over the place when washing them. I want a farmhouse sink but I need one with a top mount.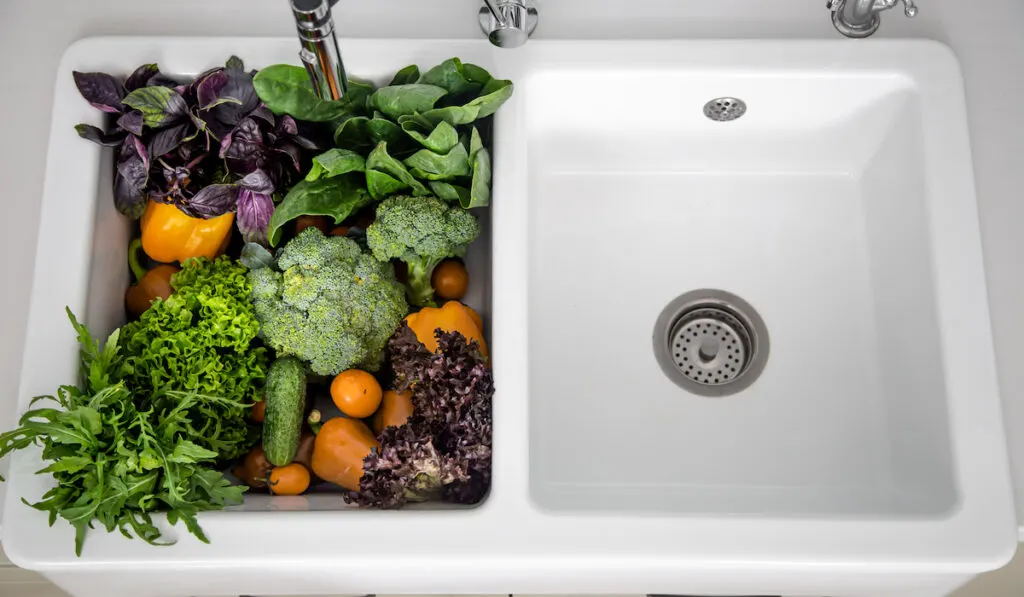 So the search began to see what my options are for a top mount farmhouse sink. I found some promising ones on Amazon.com that I decided to share here.
Mostly because they were a pain to find and it will help me find them again when I am ready to commit to a purchase!
Things to Consider
Before we get into the sinks, it is important to think through how you want your new sink to look / mount. Here are some things you need to think about before you even start shopping.
What Type of Sink Do You Have Now?
Chances are, you are looking at a top-mount sink because you want to replace your existing top mount sink. It makes sense if your current sink is top-mount, your new one should be too. This is especially true if you aren't replacing your countertop.
What do YOU consider a Farmhouse Sink?
What is it about a farmhouse style sink that gets your heart racing with excitement? With today's design and style, the apron front sink has become synonymous with farmhouse style.
The truth is, farmhouse sinks were often top mount drop ins with no apron. Some even had a "drainboard" attachment which is really neat like this one:
Do You Want to Switch To An Apron Sink?
Switching a top-mount sink to a top-mount apron sink is fairly easy. A few cuts to remove the countertops lip will allow you to drop your new sink into place.
Keep in mind that, in order to prevent damage or cracks to your existing countertop, you'll want to be sure to hire a professional to make the necessary cuts.
Your countertop guy can probably also install your new farmhouse sink while he is there as well!
Readily Available Commercial Options
Bocchi Classic Apron Front Farmhouse Sink
Bocchi Classic Apron Front Farmhouse Sink
100% NATURAL and ORGANIC fine fireclay construction for an authentic and highest quality sink with unmatched durability. PROPRIETY GLAZING provides a SUPER-SMOOTH and HIGH-GLOSS finish and enhances the beauty and shine of the fireclay sink with a totally NON-POROUS surface for easy cleaning and protection against stains. Proudly crafted in the birthplace of fine fireclay using state-of-the-art production technology which adds a touch of MEDITERRANEAN ELEGANCE to your home while preserving the traditional art of fireclay; resulting in a FUSION of tradition and innovation, delivering a product of EXCEPTIONAL BEAUTY and DURABILITY.
GUARANTEED FINISH that is UV-safe with our TRUE-TONE COLOR in classic white high-gloss that withstands indoor or outdoor exposure to preserve its color and beauty for a LONG-LASTING look. ULTRA-DEEP single-bowl provides ample depth while the LARGE BASIN makes it easy to fit pots, pans and more with ease. Soft interior edges and superior glazing make for EASY-CLEANING and maintenance. HEAT SAFE material that is THERMAL SHOCK RESISTANT and safe for hot pots and pans that won't age, crack or craze over time.
I love the look of this white, farmhouse style apron front sink. One single bowl, reasonable price, designed for top mount and a style that screams "farmhouse".
It also includes the dish grid which, intrigues me. I have seen them before and haven't decided if they would be more of a pain than they are worth or actually useful.
Don't let the product images fool you, if you read the manufacturer description this is a top mount sink that CAN be used as an under mount sink if your installer is comfortable with it not having a lip.
The great thing about this sink is that you could adjust the height, push the sink ba and have more of a choice on how elevated above the counter level it is.
This is especially true if you have a laminate countertop. I go into detail about this in my article about installing a farmhouse sink with a laminate countertop.
Dekor Sinks Single Bowl Kitchen Sink
This single bowl kitchen sink by Dekor is easy on the budget and has a nice, big basin that is 9″ deep. Truth be told, because I am in a rental (albeit one that allows me to make this kind of change), this is the sink I am leaning towards.
While the product image shows the sink as an under mount, it can also be mounted as a top-mount. They also have a nice selection of colors and sizes.
Sinkology Copper Sink
Sale
Sinkology Adams Handmade Antique Copper Kitchen Sink
33″ single-bowl basin with center drain
Equipped with sound-dampening pads
16-gauge solid copper
Easy to maintain: simply wash with gentle soap and water
Can be installed as either a drop-in or undermount kitchen sink
WOW is this sink beautiful! Truthfully, I hadn't considered a copper sink for my kitchen but I love the hammered look and beautiful color of this sink. It is absolutely beautiful.
There were a couple of options for this brand but, because I already feel like I don't have enough sink space, I like this one that bows out to give more room in the basin.
If you prefer a straight, apron style farmhouse sink , they have that as well in the same beautiful finish.
The great thing is I love how the hammered copper lip looks. I mean, if you are going to have a top-mount farmhouse sink, do it right! Though, I'll be honest, the price tag on this one is a little out of my range for this project.
Kraus Granite Sink
Sale
Kraus Quarza Kitchen Sink Black Granite
SINK DIMENSIONS: 33" L x 22" W x 10 5/8" D / MIN. CABINET SIZE required for installation: 36" Undermount / 36" Top mount
PREMIUM GRANITE COMPOSITE: Ultra-durable material made from 80% natural quartz for the look and feel of real stone
RICH NON-FADING COLOR: UV-stable material offers a rich and consistent hue that will not discolor over time
Rather than going with the traditional white or beige sink, this black sink by Kraus would definitely draw attention set in with my white tiled counter.
Of course, if you had dark granite or tiles, it would blend which is perfect if you don't want to draw attention to your sink.
The price is right on this one and it might be just the answer to still have a place to rinse vegetables while gaining a larger space for washing my bigger pots and pans. Definitely something to think about.
This sink comes in a few different colors as well.
Vintage Finds
Sometimes you just have to keep your eyes peeled on Craigslist and hit the flea markets. People who prefer modern decor, for example, are likely to discard or offer up for sale beautiful vintage sinks.
Sure, there are companies that make reacreations, but if you aren't in a hurry, keep an eye out on craigslist in your area, and nearby ones as well. You never know when you might find a gorgeous vintage sink.
Here are a few examples of vintage inspired sinks from Instagram that are absolutely breathtaking!
Unfortunately I don't have a source for any of these but they are awe inspiring.
Basin Style Farmhouse Sink
This is super cute! It kind of reminds me of the old drinking fountains at public school when I was a kid.
For me, personally, this is the type of sink I would traditionally think of having in the laundry room vs. the kitchen but this picture makes me reconsider that!
Farmhouse Sink with Drainboard
I love this style! I think it is super cute with the built in back splash too. At one point I believe Ikea carried something similiar though I couldn't find anything in their current lineup.
Holy Grail of Farmhouse Sinks
I truthfully don't know much about farmhouse sinks but Grampa's Antique Kitchen seems to think this is the holy grail when it comes to farmhouse sinks.
I have to admit, I like it, A LOT.
Tips for Finding Vintage Top Mount Farmhouse Sinks
If you do decide to go the route of finding a vintage sink vs. purchasing one new, here are a few terms you can use. I typically start with Craigslist but Ebay and OfferUp are options as well. In fact, if you use the NextDoor app you could put an ISO (in search of) post up as well.
I use the following search terms when I am browsing craigslist:
vintage sink
cast iron sink
castiron sink (because sometimes people run the two words together)
farmhouse sink
farm house sink
farm sink
If you find the perfect sink, remember that even if it is slightly chipped, stained or the wrong color, you can often have it spruced up professionally and still spend less than you would if you purchased one new.
For example, I once found a beautiful vintage ceramic sink but it was pink. A few videos later and I was confident I could re-glaze the sink myself.
Unfortunately the measurements meant it wouldn't work for my space but, it is still a good thing to keep in mind.