No matter how big or small your farm is, once you have your perfect piece of paradise it is only natural to want to give it a name. Giving your farm or farmhouse its own name helps to establish personality and even a little bit of permanence.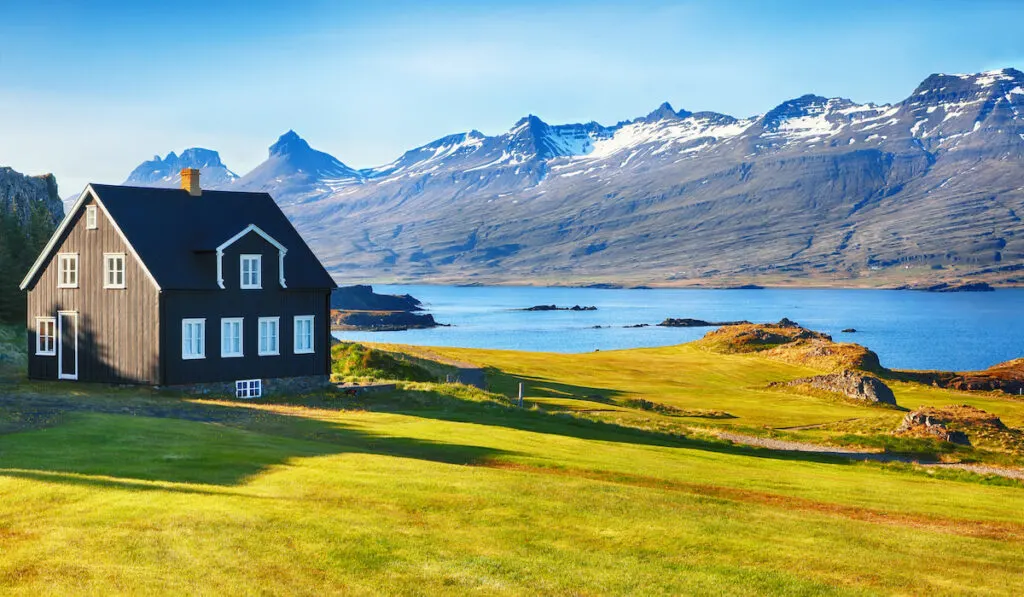 For me, choosing a farm name was super important because I knew it was the first step towards ordering or making my very own driveway sign!
There are several things you want to consider when naming your farm. Let's look at some of the things you should consider.
What Type of Farm Is It?
Are you running a dairy? A horse farm? Just a family farm or homestead? The type of farm can help you start the process of figuring out a name.
Are you going to sell goods or animals locally (or nationally)? If so, do you want your name to be generic so that you are not tied to one line of products? Conversely, would you rather niche down and let everybody know your specialty is rare chickens (for example).
Either one is OK. If you aren't sure, choose a more general name that could accommodate different types of family farm activities.
Alternatively, if you are just looking for a name for your farmhouse, which isn't a farm at all, that is OK too. Houses can have names even if they aren't a farm!
The type of farm usually comes at the end of the name. Some words that you can consider using include:
Acres
Barn
Cattle Co. (if you raise cows, could be Goat Co. or Chicken Co. too!)
Cottage
Dairy
Farm
Farmhouse
Farms
Grove
Homestead
Inn
Manor
Orchard
Plantation
Ranch
Roost
Vineyard
Consider Features of the Land or Town
Are there any unique or interesting features on your property? What about your town? Is there anything they are known for?
There are several considerations you can use here. Again, typically geographic features are used at the end of a farm name but, they can go at the beginning too. Some to consider are:
Alpine
Banks
Bay
Bluff
Brook
Butte
Cliff
Creek
Crest
Dry
Dusty
Animals Everywhere
Animal names are great to incorporate as well. Are you going to raise a specific type of animal? Maybe you are going to do organic honey? Or dream of having a herd of goats. Is your land or area full of a specific type of wildlife that you particularly love?
Here are some animals commonly incorporated into farm and farmhouse names:
Antelope
Bear
Bee
Butterfly
Chicken
Cow / Cattle
Deer
Fox
Goat
Honey Bee
Horse
Ladybug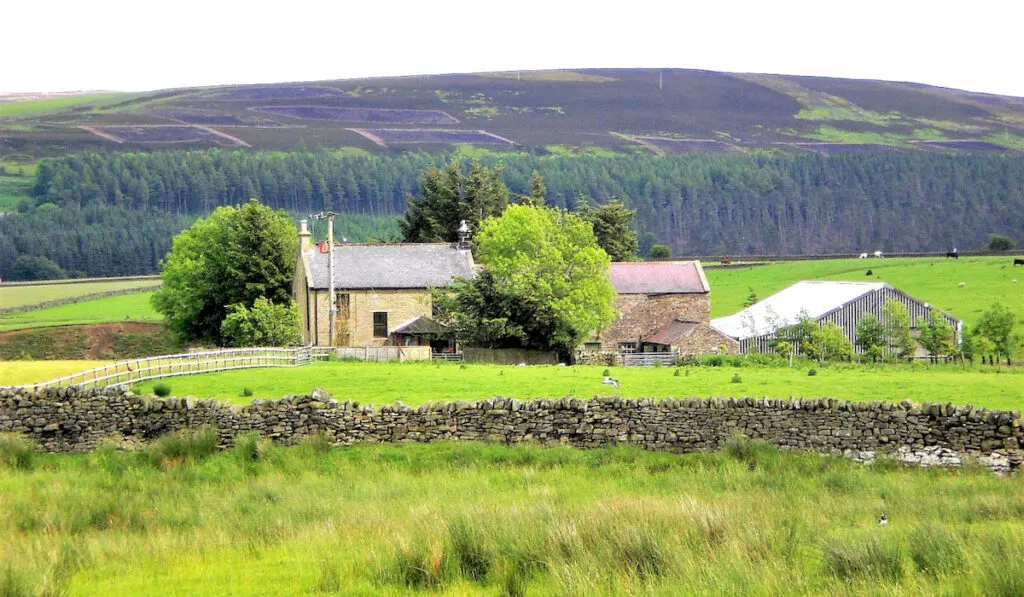 Describing Paradise
To round everything out consider a descriptor. There are so many words to choose from that can round out how you want guests and visitors to feel about your farm or farmhouse.
These can describe a mood or further describe the environment, animals, or purpose of your farm. There are some great descriptors that are common, but feel free to think of your own as well!
Here are some of my favorite descriptors you can consider. I categorized them as they made sense to me, more figurative / general categories.
Colors: red, orange, yellow, green, blue, purple, indigo, teal, white, black, emerald, ruby, etc.
Weather Patterns: gusty, rushing, shady, windy, babbling, snowy, breezy, stormy, raging, fresh, sunny, moonlit, night
Size: little, big, tiny
Position: upper, higher, middle, lower, first, second, corner, end, behind, front
Street Type: lane, road, drive, avenue, street
Emotions: happy, cheerful, blissful, dream, discover, explore, joy, glee, jolly
Actions: whispering, running, climbing, singing, milking, laughing, dreaming, sleeping, flowing, rearing, bucking, playing, howling,
Adjectives: agreeable, cheerful, sunny, chipper, perky, crowning, above
Other: destiny, curious, perfect, gentle, peaceful, quiet, tranquil, friendly, serene, broke, rough, wild, raw, cozy, rustic, simple, clear, hollow
Putting It All Together
As you can see, there are an endless number of words in the English language that could be used to come up with that perfect, and unique, farm name for your farm or farmhouse.
Keep It Simple
It is easy enough to just keep things simple. You could do this by using your surname and a type word at the end. Here are some examples:
Adamsville Acres
Ashley Farm
Harcourt Homestead
Corbin Vineyard
James Ranch
The Johnson Homestead
Parker Pond
Smith Family Farms
Stanley Manor
The Gardner Roost
Mix Up The Ending
Acres
Allison Acres
Shady Tree Acres
Long Ears Acres
Almosta Acre
Baker Acres
Farm
Black Dog Farm
Country Lane Farm
Johnson Valley Farm
Larsen's Fruit Farm
Bailey's Bee Farm
Stonefield Farm
Stoney Point Farm
Four Acres Farm
Fountain Valley Farm
Fair Ridge Farm
Ranch
Bella Vista Ranch
The Parson Ranch
Sutter Creek Ranch
Big Meadow Ranch
Wild Flower Ranch
Dusty Bottoms Ranch
High Meadow Ranch
Three Creeks Ranch
Middle Creek Ranch
Gusty Goat Ranch
Try Alliteration
You may notice that I like when the names start with the same letters, sometimes they rhyme, sometimes they don't.
Did you know this has a name? Alliteration is the term for a string words together that have the same starting sounds or letters.
Take any two, three (or even four) words you like from any of the lists above and combine them. Here are some ideas:
Andersen's Agreeable Acres
Valley View Farm
Babbling Brook Ranch
Whispering Winds Manor
Dairy Dream Farms
Fox Farmhouse
Roughhouse Ranch
The Whispering Window
Charlie's Chicken Cottage
Mountain Meadow Farm
Mix Random Words Together
I ran a few of these words through a farm name generator. Here is what it came up with!
Blue Creek Cottage
Deer Banks Cottage
Deer Butte Farm
Gentle Brook Ranch
Mountain Bay Ranch
River Banks Farm
River Bay Ranch
River Brook Ranch
Rocky Creek Cottage
Rustic Banks Vineyard
Sunny Brook Dairy Farm
Sunny Cliff Cottage
Turkey Trot Farm
Valley Bluff Farm
Wild Bluff Ranch
Cozy Cottage Cattle Co.
Considerations for Naming Farms that Operate As A Business
The first thing you want to consider is whether or not you are going to be operating your farm as a business. If you plan to sell products or services, or even think you might want to in the future, this is something you should take into consideration now.
Make Sure Your Chosen Name is Available to Use
You see, as a business, your farm name needs to not only be catchy and recognizable, it also needs to be legal for you to use. For example, you can't go around calling your farm Hidden Valley Farms if you are going to sell homemade salad dressings made from farm fresh ingredients.
You see, that is a violation of the registered trademark for the Hidden Valley line of dressings. Now, I am not an attorney and I can't give you legal advice for choosing a name for your farm business.
What I can tell you, is to be unique. You should be the best you, and the only you. It will avoid brand confusion.
Do Your Research
Start off by googling the name. What comes up? Are there other businesses? Are they local, national etc.
Is your domain name available? It may not be important to you now but it will be if you ever want to have any type of business. At around $10 per year, a domain name is a good thing to have just in case.
If your domain name isn't available, why not? Is it parked by some big domain aggregator (a company that buys a lot of domains to resell them at a huge profit down the road)? Is their a business or farm already using your desired name?
Make It Legal
Once you finalize a name, check with your local business department to see what steps you need to take to get that legalized. In some states you can just do a fictitious business name registration.
Your accountant can give you advice on whether something more is required such as an LLC or a corporation. For new farm owners, the name is hard enough to come up with!
Final Thoughts
Coming up with a name for your farm, ranch, homestead or farmhouse is an exciting project. Don't get too overwhelmed with the perfect name. While it is reasonable to spend some time thinking about a name, remember that you don't have to do it alone.
Brainstorm with friends and family over a nice dinner. Above all remember that you and your family, the people inside the farm or farmhouse, who will leave the impact on others and cause them to remember whatever name you choose.