*This post may have affiliate links, which means I may receive commissions if you choose to purchase through links I provide (at no extra cost to you). As an Amazon Associate I earn from qualifying purchases. Please read my disclaimer for additional details.
Linen is a popular fabric often used in Farmhouse decor, especially in kitchens. That is not the only place linen can look amazing though! Any room of the house can get a linen touch when you choose linen as curtain material. These are some of my favorite linen curtains that would look great to complement any farmhouse style decor.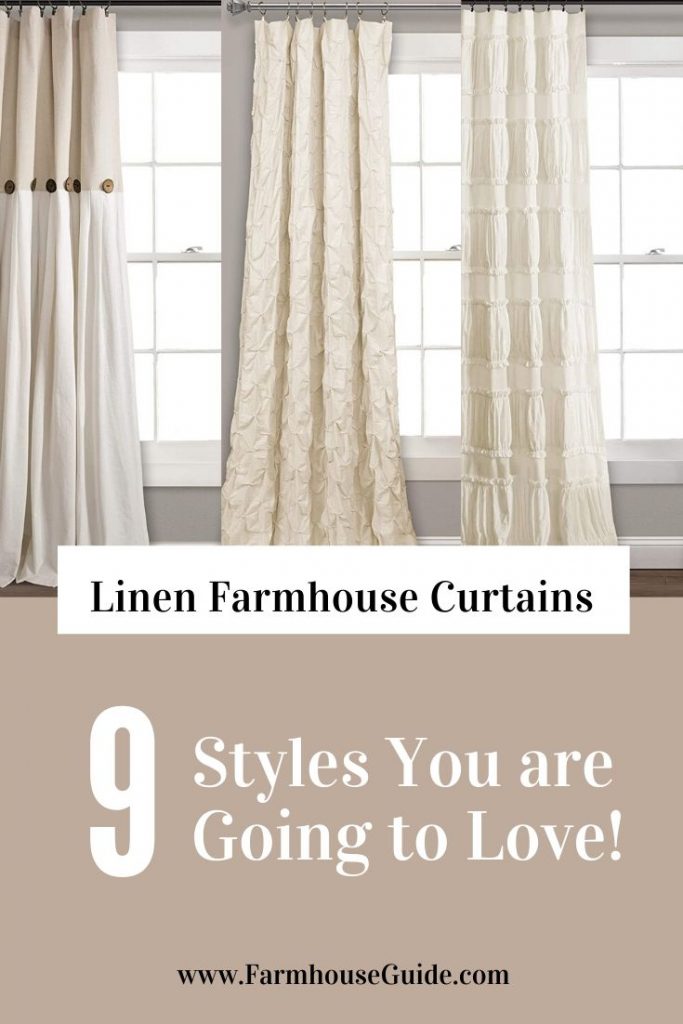 Keep in mind that while I tried to find as many pure linen options as possible, the curtains listed here are made of a variety of materials. In addition, some are sold as individual panels and others in pairs. Please be sure to read the product descriptions before purchasing.
1. Lush Decor Linen Button Window Curtain
I may have fallen a little bit in love with this gorgeous curtain which is why it is first on the list. I love the two-toned look which gives the curtains visual interest without being too bold.
The buttons are the icing on the cake here. Large and rustic looking yet compliment the curtains perfectly. Especially nice are the color options. The pink and blue options would go great in a farmhouse style nursery.
Customer images show these curtains allow in a fair amount of light when drawn. For me that is a plus, privacy without darkness, but keep that in mind in case you need a liner as well. Just remember, these are sold by the panel so most windows will need at least two!
Click here to view on Amazon.com
2. Lush Decor Rosalie Window Curtains
What I love most about these curtains is the slightly feminine decorative edging on an otherwise plain linen curtain. It adds a nice hint of visual interest while still being understated.
As with many of the curtains on this list, these linen panels provide privacy while still allowing light in. This set is sold in a pair and is sure to complement any farmhouse style decor!
Click here to view on Amazon.com.
3. Home Brilliant Super Soft Linen Curtains
These gorgeous linen curtains are wider and taller for use on larger windows and sliding glass doors. They would make an excellent compliment to existing farmhouse style design.
Plain, simple, yet elegant.
Click here to view on Amazon.com.
4. Jinchan Ivory Linen Curtains
If you like a curtain with a grommeted top for ease of opening and closing, yet still want that farmhouse feel, this is a great option. They have a slight burlap texture and are made of a heavier material than some of the other options on this list.
That means that they block more light but are also less susceptible to wrinkling. In fact, people that have purchased them rave about the amazing quality and high end feel.
Click here to view on Amazon.com.
5. Lush Decor, Ivory Ravello Pintuck Window Curtain Panel
If you are looking for a linen style curtain with a little bit more texture and eye appeal, you may love these pintuck curtains as much as I do.
Linen curtains are often naturally lightweight and need to be ironed or steamed before hanging. These curtains can look amazing right out of the package.
There is a matching duvet available as well which is great if you are considering these for the bedroom. These are sold as a single panel so remember you probably need at least 2. Be sure and check out the closeup photo on Amazon to view the detail.
Click here to view on Amazon.com.
6. Lush Decor Ivory Nova Ruffle Window Curtain Panel
This curtain is just about as gorgeous as it is unique looking. I love that it comes in ivory for a linen look or pure white if you want a lighter feel.
The striped textural element repeats throughout the length of the curtain adding visual interest while the tone on tone color ensures the pattern isn't too distracting.
These curtains are sure to be a talking point for visitors to your home!
Click here to view on Amazon.com.
7. Lush Decor, Ivory Ruffle Diamond Curtains
This is another great farmhouse style curtain design featuring a beautiful diamond pattern. Customers who purchased these curtains rave about how much they love them!
If you are looking for a textured curtain to compliment your space while still maintaining a farmhouse feel, these may be ones to consider!
Click here to view on Amazon.com.
8. jinchan Linen Textured Curtains with Embroidery
While my personal preference is for single color curtains (white or ivory) in my home, these two toned linen curtains are beautiful.
The accent embroidery color is available in a few options. I have shown the gold version above which I think is elegant but they offer a few other colors like blue, green, beige and gray. This could work very nicely to add a subtle tie-in to the other colors used in your decor.
Grommet tops make these curtains easy to open and close. They are also offered in short and long lengths and are sold in pairs.
Click here to view on Amazon.com.
9. Half Price Drapes Faux Linen Blackout Room Darkening Curtain
These linen look curtains nicely round out this list by giving you a farmhouse style option with room darkening properties.
While the curtain description describes these as blackout curtains, reviewers seem to agree that they are more like room darkening curtains. They may not completely eliminate light but they do a great job at blocking it.
This makes these curtains a great option especially if you are trying to keep the house cool during the heat of summer by blocking the suns rays. Once again, keep in mind that this curtain is sold by the panel so most windows will need at least 2.
Click here to view on Amazon.com.
Final Thoughts
Choosing the perfect curtain to match your decor can be difficult. I think the best advice I can offer is to go with your gut. Most people will have an immediate reaction to a specific style of curtain and think "wow" that is beautiful.
I 100% believe that if you have that gut reaction to a certain style, you should buy it and try it in at least one room in your house. At the end of the day, you spend the most time looking at your windows, they should make you smile when you do!