*This post may have affiliate links, which means I may receive commissions if you choose to purchase through links I provide (at no extra cost to you). As an Amazon Associate I earn from qualifying purchases. Please read my disclaimer for additional details.
So you've decided you're finally ready to tackle a temperature blanket for 2023! Deciding to make a blanket like this is exciting. It lets you make an afghan slowly over the year and the best part is, you won't know for sure what the final result will be until the year is up.
Choosing a pattern for your temperature blanket is a whole other obstacle. I know this year when I started looking for patterns it was daunting. Luckily, I was able to find a few and I've linked them here for you as well as how I would "modify" the pattern to make it a temperature blanket.
Each of these patterns and related modifications assumes you are doing one color per day. The more colors in your temperature blanket color palette, the more colorful your blanket will be.
Check out our temperature blanket planner if you need help planning your temperature blanket.
1. Vintage Arches Blanket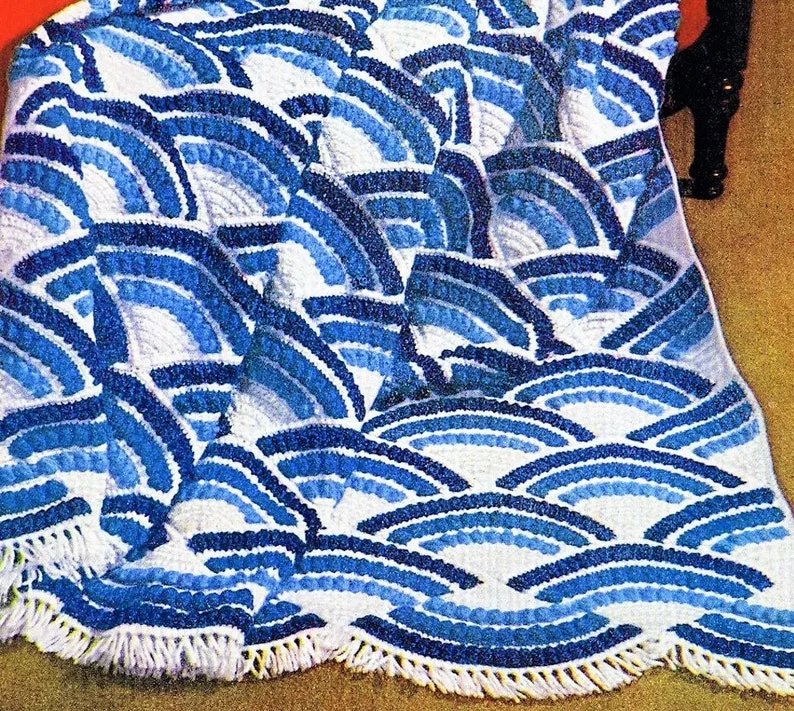 I was going to do this blanket for my 2022 blanket and fell way behind so I may try it again for 2023. I love that it is a vintage pattern and the rainbow type motifs are a great fit for the color changes throughout the year.
This pattern will have 99 full motifs and 22 half motifs. That's 121 total motifs. Each motif has a white base and three colored arches.
To modify this pattern to be a temperature blanket you'll change the color of each arch to that day's color. 1 bobble arch = 1 day.
If you do one arch per day, 3 colored arches per motif, you would wind up with 363 total arches. Add two rows of border for the last two days of the year and that makes this a perfect temperature blanket for 2022.
2. Holiday Granny Square Temperature Blanket
Probably one of the easier temperature blankets to complete would be a traditional Granny Square. For this, my recommendation would be to make one 7 round block per week. Then, you can either join them as you go or decide on a layout at the end of the year.
Once you have the first few blocks made you should have a good idea of your gauge. Here is a layout I designed for a 2022 Holiday Granny Square Temperature Blanket. This could be easily adapted for 2023!
In this design, I've chosen a few months where I'll add in a "holiday" block. This helps to even out the temperature blanket a bit. It is up to you where you place the block, before the holiday, after, etc. You could even make them align on the left of the afghan.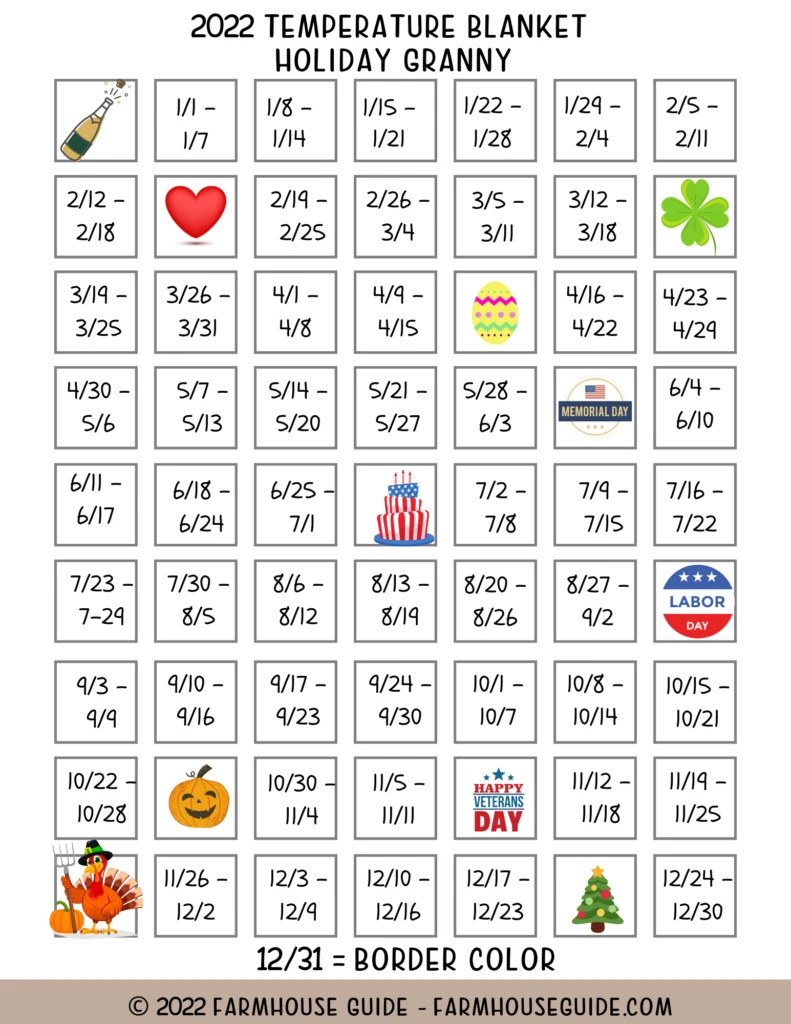 An alternative to adding in holidays would be to pick 11 important events in the year. Maybe it's birthdays, weddings, pregnancy announcements, family trips, a cruise, etc. Any fun reminder of 2023 could have its own special block.
I recommend using Ravelry's pattern search to find Afghan block patterns to fit the event. You could also just crochet a regular granny square in all one color and then add a cute applique as well. Just keep in mind that you'll want to make sure the square is the same size as your other ones.
3. Diagonal Granny Temperature Blanket
Another "spin" on the granny square temperature blanket is to arrange the blocks diagonally. This takes a bit more planning, especially if you want straight edges.
My inspiration for this layout was the Spin Your Granny pattern I recently purchased on Ravelry. It conveniently has the patterns for the full granny square, half squares and 1/4 squares.
You could, of course, find one of the myriad of free resources for each size square as well. Here is how I would lay out a diagonal granny temperature blanket for 2022, which again could easily be used for 2023.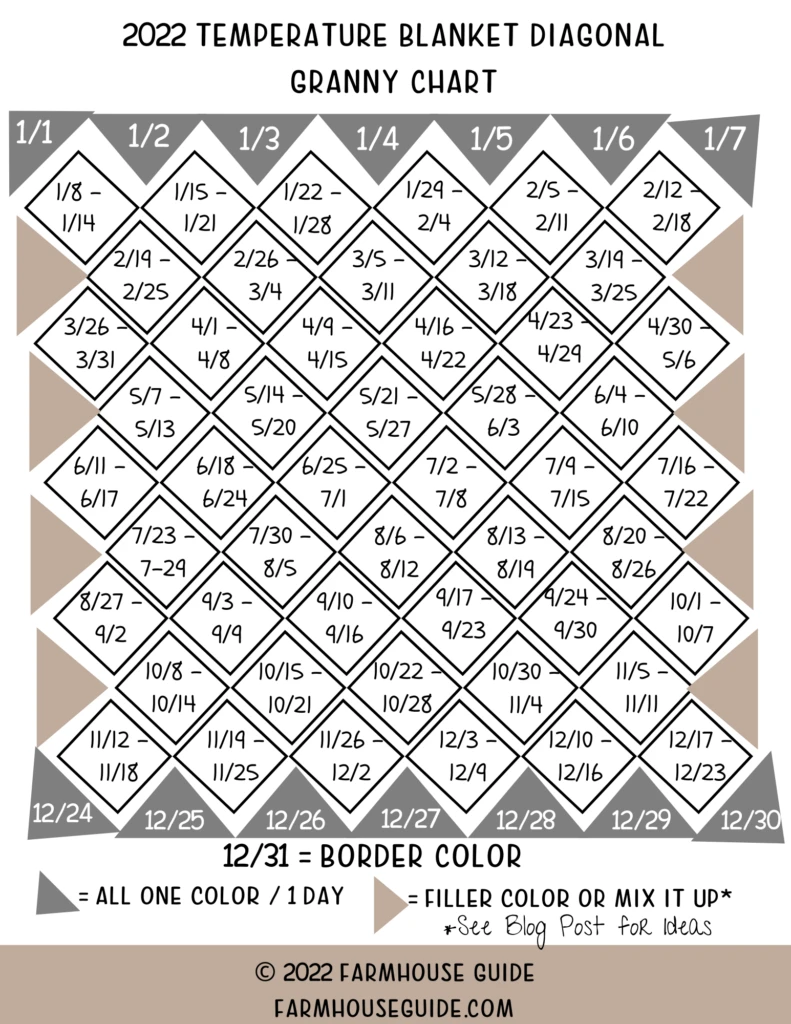 4. Battenberg Blanket
This blanket, designed by Sandra over at Cherry Heart, has been on my to do list for a long time. I LOVE the way the various squares come together for a simply beautiful end result.
This free pattern, as written, is for 1020 total squares and measures 70 x 62″ when done. To modify this pattern for a temperature blanket, I'd do 728 squares for an estimated total finished size of 56″ x 52″.
Each day you would work one square of you main color and one square of your temperature color. In this case, so you don't lose track of where you are, I'd definitely recommend a join as you go method.
You may have done the math, you'll be two colors short for your temperature blanket. I'd finish off the piece using those colors for the border.
5. Crochet Roses & Daisies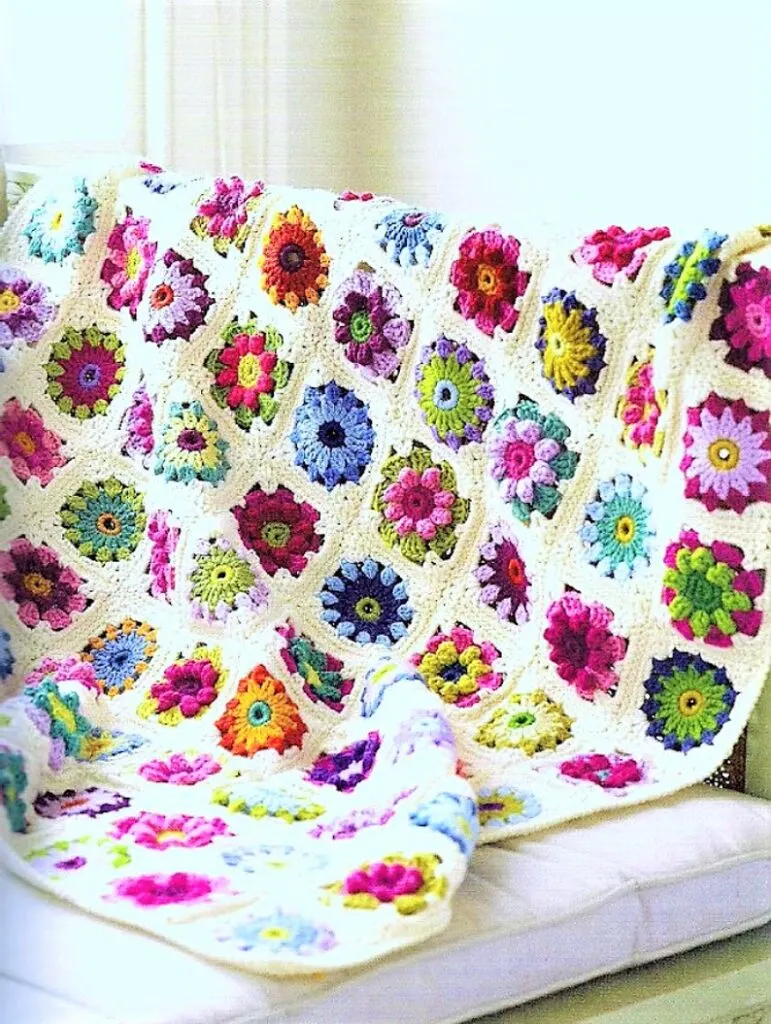 I found this beautiful vintage pattern on Etsy. If you do buy it, keep in mind that the pattern is written in UK terms and will need to be translated into US terms. If you've done that before you should have no problem with this blanket.
Each square is made up of three different colors. The pattern calls for 99 total squares. In order to make our blanket we'll need 120 squares.
If we stay on gauge at 3.5″ each our temperature blanket will be 35″ x 42″. We'll be five colors/days short if we are doing one color per day so those last five days can easily be used for a colorful border.
Because of the floral nature of this pattern, I recommend a larger color palette for a truly colorful blanket.
6. Starfish Motif Blanket
Another great Etsy find this blanket gives you several different options. Using 4-ply yarn, you could easily design temperature blankets using this pattern with each square having 3, 4 or 5 colors.
3 Colors – 11 x 11 – Approximately 46″ x 46″ + use the last two days colors for the border
4 Colors – 9 x 10 – Approximately 38″ x 42″ + use the last five days colors for the border
5 Colors – 8 x 9 – Approximately 34″ x 48″ + use the last five days colors for the border
In any case, your starfish should always be one color, followed by the circle, then the first square. If you have a lot of days where the temperature is relatively the same, consider doing the starfish as your color for the day, then white (or your main color) for the circle, then the following colors for each day. Here are some sample square layouts to inspire you.
You could use black as your main color. I think I would choose white but it just wouldn't show up well in the graphic.

If you are looking for a larger blanket you could simply add extra rows of the main color or alter the type of yarn or hook size.
7. Moss Stitch In A Square Afghan
The Moss Stitch is a great option for a temperature blanket. It is a simple and compact stitch that can easily accommodate 365 rows to make a decent sized blanket.
This blanket, however, takes the moss stitch and puts a spin on it, literally. Sarah at Repeat Crafter Me has created a beautiful square pattern (and video tutorial as well).
To modify this pattern for a temperature blanket, I would have each "side" be one day. Kind of like the layout below. In this case you would need ~91 rounds.
Depending on your gauge and type of yarn, you could go bigger and do two sides per day for ~182 rounds.

8. Interlocking Hearts Afghan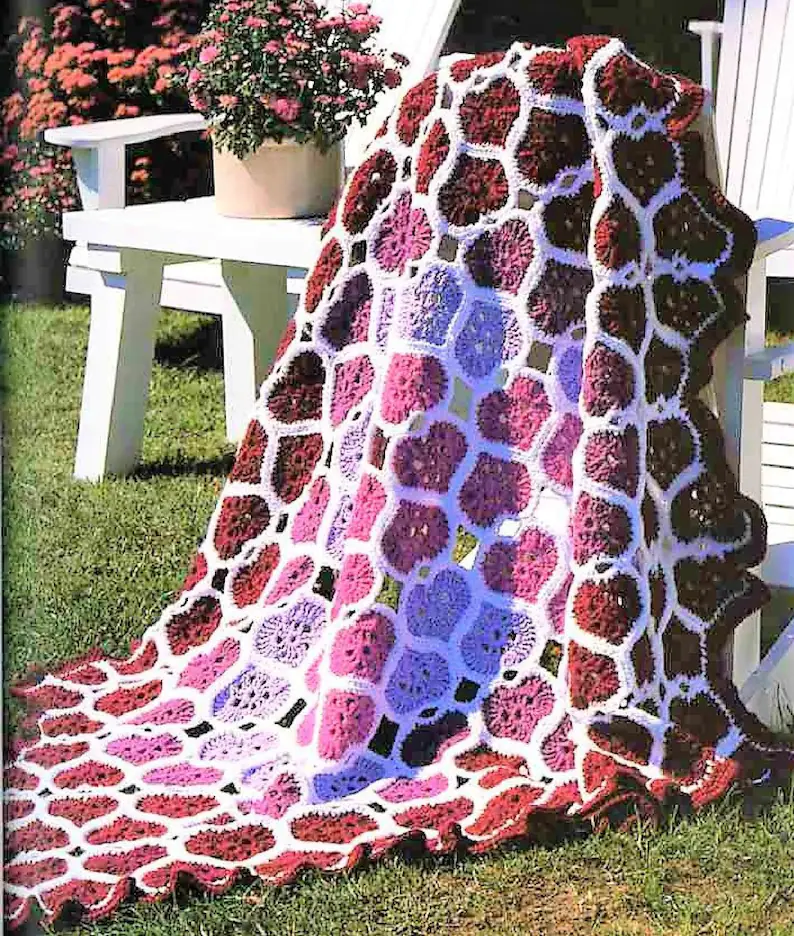 This gorgeous vintage pattern consists of a series of interlocking hearts. The pattern as written calls for 184 total heart motifs to be created. Each heart motif has two rounds of color and one round of white border.
For our temperature blanket modification, we'll do 182 motifs. This will give us 364 total colors and the final color will be used for the border.
Due to the way this pattern is pieced together, it won't add on much to the blanket vs. the original pattern.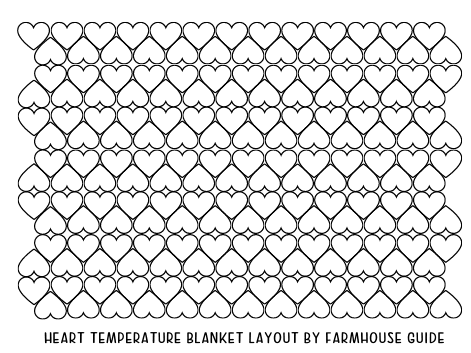 Keep in mind that the actual placement of each motif can be mixed up as well. Here is an example with the heart blanket above but you could plan out any blanket from granny squares to motifs using similar layouts.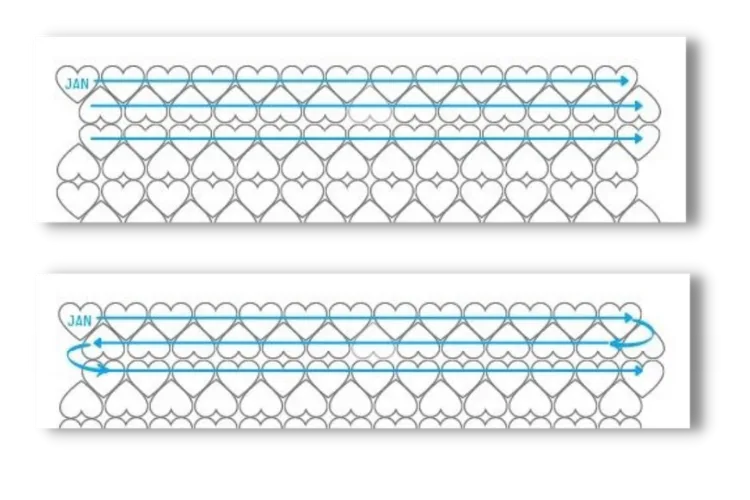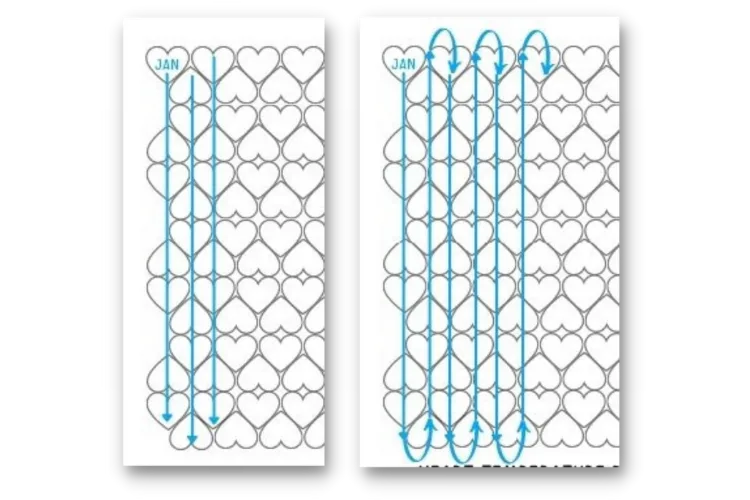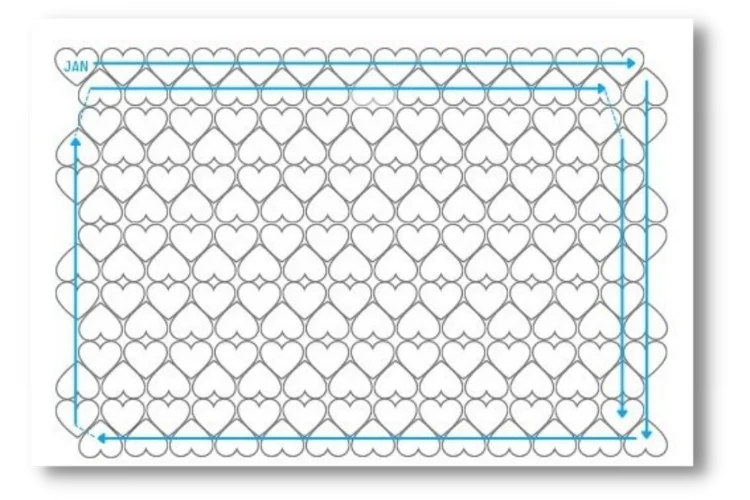 9. Summer Flower Garden Blanket
I am currently working on a baby blanket with this pattern and I think it is a beautiful pattern that makes sense to include here.
I'm personally using a size H hook for this and, in my baby blanket, a mix of Lion Brand Mandala Sparkle and Caron Party. Each octagon is measuring 3.25 inches for me.
There are two ways I can see easily modifying this pattern into a temperature blanket.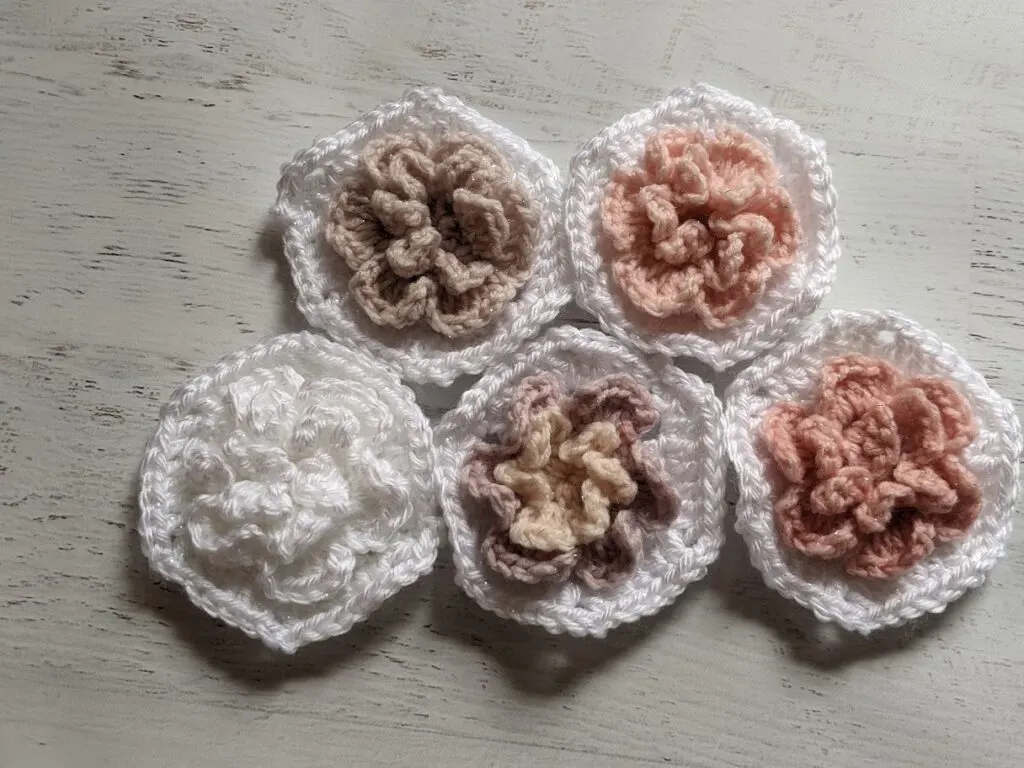 These are the blocks I'm currently working on for a baby blanket. The bottom middle is a two color flower, the others are all single color.
1 Day = 1 Flower Block
Make 1 flower per day for a total of 365 total flowers. You can choose to do as the pattern writer has done and fill in the octagon to be the same color as the flower. Alternatively, you could have the flower one color and the rest of the octagon a neutral color that will be carried through the whole blanket.
With my gauge, this blanket would be ~ 63″ x 73.5″ before the border.
2 Days = 1 Flower Block
If you decide to make each flower represent 2 days of temperatures, this will need you ~182 flowers (+ 1 extra). This should result in a nice sized throw blanket.
This variation will have the added benefit of giving you many two toned flowers, as well as the standard single color flower, which could be really fun!
With my gauge, this blanket would be ~ 42″ x 49″ before the border.
For the modification:
If you are doing the first round of petals, don't finish off until you know the following days temperature because it may be the same color, in which case you would continue with the pattern as normal.
If the color does change, then at Round 3 – Finish off after last ss. Weave in ends. Start round 4 by doing a ss into any of the ch3 spaces.
When you join a new color in any row, try to be careful about working over the tail in order to minimize the number of ends you have to weave in. In the picture below I've joined the second color with a slip stitch, chained 3, and will now start the double crochets over that tail sticking out to the left.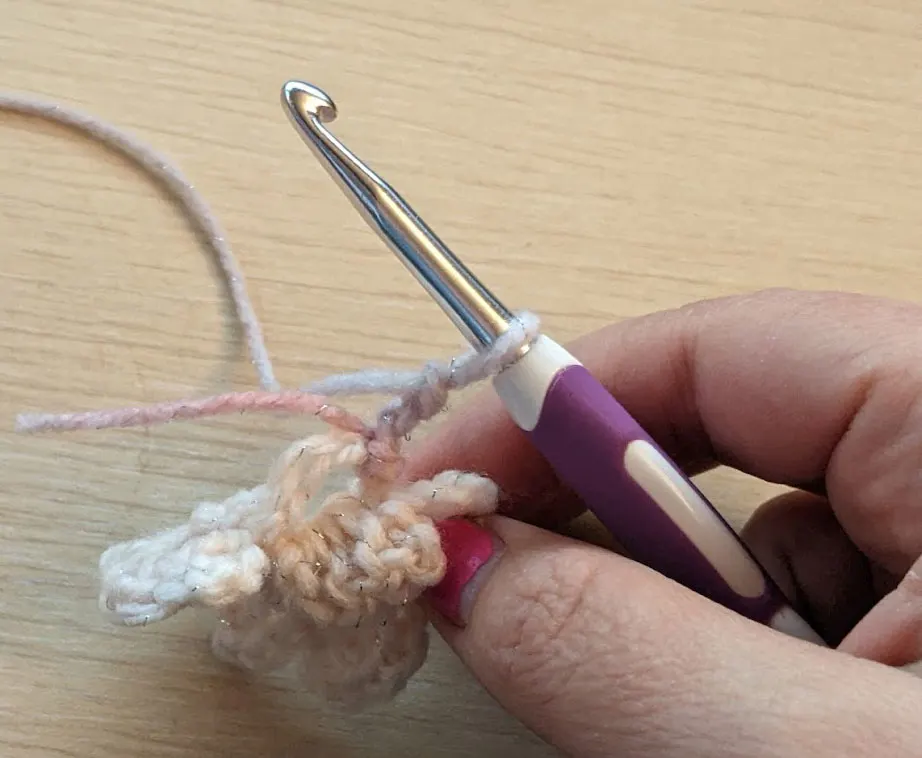 Modifying Crochet Patterns to Make Temperature Blankets
Modifying other crochet patterns to make them temperature blankets isn't too hard. Keep in mind that if you are modifying floral or motif patterns, you may wind up with several rows or sections of the same color close together.
In patterns where that might make a difference, like the floral pattern above, using more colors in your palette will help give your blanket variety.
In patterns where each motif or square will be the same color, this variety isn't as important.
Based on the examples above, you can see how I've taken traditional crochet afghan patterns and converted them to be temperature blankets. As a general rule of thumb, here are some common numbers across all patterns:
5 Colors per Motif/Squares

Blanket Size 8 x 9 Squares
5 "days"/rows as the border.

4 Colors per Motif / Square

Blanket Size 9 x 10 Squares
5 "days"/rows as the border.

3 Colors per Motif / Square

Blanket Size 11 x 11 Squares
2 "days"/rows as the border

2 Colors per Motif / Square

Square 13 x 14
182 Squares = 364 days, use Last Color as the border
Octagon 13 x 15
First row 13 long, second row 12, third row, 13, etc. 15 rows needed
188 Octagons = ~5.5 placeholders on the last row

1 Color per Motif / Square

Using Octagons Blanket Size – 18 x 21
First row 18 long, second row 17, third row 18, etc. 21 rows needed + last row would have 3 "placeholders".
Crochet Temperature Blanket Size
The finished size of your temperature blanket project will depend on the pattern, your gauge and the type of yarn used. It's best to create one starter motif to figure out your gauge as well as determine if you think this is a pattern you're willing to work on for the next year.
Based on the color breakdowns above we can estimate the size of our finished blanket.
If we had 5″ squares our temperature blanket sizes would be:
5 Colors – 45″ x 40″ + Border
4 Colors – 45″ x 50″ + Border
3 Colors – 55″ x 50″ + Border
Placeholder Ideas for Temperature Blanket
Depending on how you design your 2023 crochet temperature blanket, you may need placeholder squares or motifs. These can be just a solid neutral color or, you can make them fancy. If you have at least 4 placeholders, for example, you can work up blocks with the year.
As you go through the year you should get pretty handy with your chosen pattern. There are many ways to make numbers in a blanket, bobbles are my favorite. This page on Ravelry has a base pattern you can download for free.
FAQ About Temperature Blankets
What is a temperature blanket?
A temperature blanket relies on the temperature on a given day to determine the colors used. These blankets are usually crocheted or knitted but can also be quilted.
A pre-determined color palette is used, with each color assigned a unique temperature range. Each day a new piece of the blanket is added with a color that corresponds to that days temperature.
How much yarn do I need for a temperature blanket?
The amount of yarn for a temperature blanket is determined by the number of colors in the color palette, the temperature ranges of a given area, the pattern being used and the gauge.
It is recommended to start with at least 1-2 skeins per color. Because of the range in color, dye lots aren't as critical and additional yarn skeins can be purchased as needed.
How many colors should a temperature blanket have?
A temperature blanket should have at least 7 colors and typically no more than 15. 10 – 12 colors is a typical range for most US cities.
What is the best crochet stitch for a temperature blanket?
Crochet stitches for temperature blankets should be small if the idea is to accommodate one row per day. Stitches that work well for this include single crochet, moss stitch, half double crochet and griddle stitch.
How big are temperature blankets?
Temperature blankets range from 40″ x 40″ and up. It is essential to check your gauge before starting a temperature blanket to ensure your blanket will not be too large. These projects can get very long if you are not following a pattern.
When to start a temperature blanket?
You can start a temperature blanket any time of year. Most people start these in January as a year-long crochet project. Thanks to the power of the internet, you can start at any time and get historical temperature blanket if you like.
In addition to a January through December blanket, you can also make seasonal temperature blankets like January – June and July – December.
Temperature blankets also make a great baby's first birthday present. In this case you would start recording temperatures on the baby's birthday and continue building the blanket throughout babies first year. The end result would be a truly unique blanket for that child.
Final Thoughts
I love the whole idea behind temperature blankets. It's almost like planned randomness. You don't know what the colors will be when you start but, you have a color plan and have to just trust that it will all work out.
Do you have any other ideas for patterns that could be modified to temperature blankets? I'd love to hear about them! Just leave a comment below.
Resources:
https://www.etsy.com/listing/670928748/vintage-crochet-pattern-popcorn-stitch
https://www.etsy.com/listing/640734889/vintage-crochet-pattern-popcorn-roses
https://www.etsy.com/listing/588628852/vintage-crochet-pattern-interlocking
https://www.etsy.com/shop/PastPatternsPalooza
https://www.etsy.com/listing/588628852/vintage-crochet-pattern-interlocking?awc=6220_1640901692_c2d2d1df14d09aca2f45ee8aa66aa2e5
https://www.etsy.com/listing/670928748/vintage-crochet-pattern-popcorn-stitch