*This post may have affiliate links, which means I may receive commissions if you choose to purchase through links I provide (at no extra cost to you). As an Amazon Associate I earn from qualifying purchases. Please read my disclaimer for additional details.
Whether you are making a blanket for your own baby or to give to a friend, finding the right yarn for a baby blanket can be hard. With so many options, how do you know you will make the right choices?
The best yarns for baby blanket are those made naturally soft. Many yarns are specifically labeled for baby though any yarn with the right texture will do.
Choosing a color palette can be much harder than choosing the brand of yarn itself. Though, if you're shopping at a store that sells fabric, I have a few ideas for picking your color palette.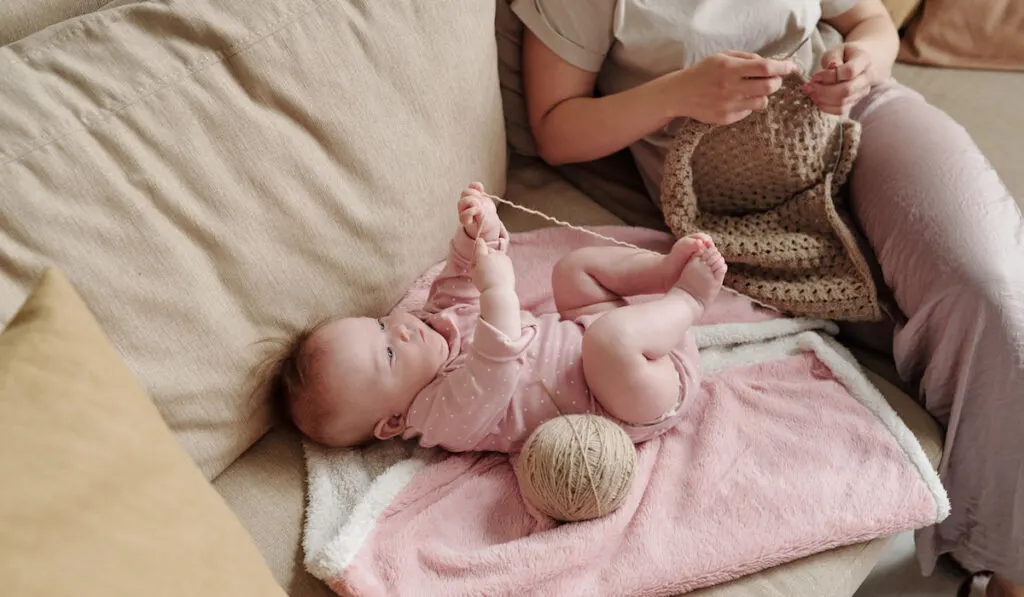 Choosing A Baby Blanket Yarn
1. Pick a Pattern
Before you head down to the yarn store, the first thing you should do is pick one or two patterns you are considering. My two favorite places to look are Ravelry and Etsy.
You see, finding a pattern is half the battle. There are so many amazing designs it's natural to want to do them all. The more projects you start though, the fewer you finish, so before you pick your yarn you should always pick your pattern.
2. Figure Out Your Yarn Weight
Your yarn pattern will give you the recommended type of yarn to use whether that's a #4 worsted weight or a lighter #3 yarn. Keep in mind that this is just a guideline. If you want your blanket to resemble the sample as closely as possible, go with a similar weight yarn.
On the other hand, most patterns that call for a #3 can work with a #4 yarn and vice versa. The key thing for any project is to establish your gauge.
When moving up in size you will probably need slightly less yarn, when moving down in size, slightly more yarn, so be sure to plan accordingly.
3. Pick A Color Scheme
This is where you can take an already fun project and make it even more fun. Depending on the type of yarn needed for your project, the sky is the limit here as far as color schemes go.
If you're still a beginner, it's easiest to keep with the same number of colors as used in the pattern. That being said, feel free let your heart guide you toward the perfect color palette.
Once you have an idea of a rough color scheme, head to the store, pattern in hand if possible.
Having trouble picking out a color scheme?
My favorite tip is to buy your yarn anywhere that sells fabric too. First, pick out an amazing baby fabric and then, use that as your base to find a color scheme.
I picked Caron Simply Soft in Soft Pink, Feathered Gray and White based on this gorgeous sheep fabric I found.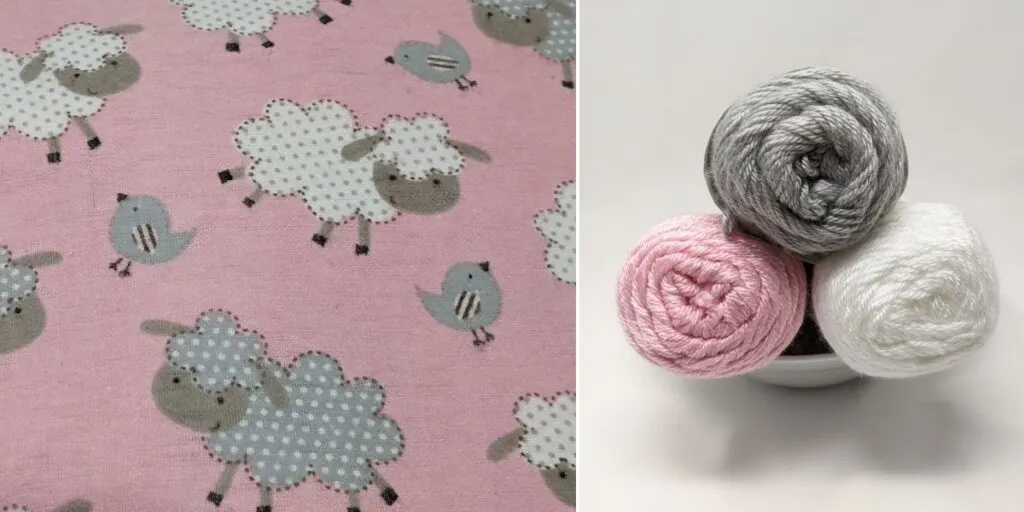 4. Feel the Yarns
I'm going to come right out and say it…the best way to shop for baby yarn is to feel it. Touch it, squeeze it, pet it. I don't know how normal people can go down the baby yarn aisle and not touch the yarns. It's a natural process of yarn shopping (and a big reason why we wash the blankets before giving them to baby).
Think about how the yarn feels on your skin, how it may feel on baby's skin. Look at the color options available. Put a few in your cart as your looking around.
Remember, there are no rules when it comes to picking out the right yarn or combinations of yarn, and your yarn most certainly doesn't need to say "baby" on the package or label.
It is OK to:
Mix Brands
Mix Colors
Mix Textures
Use "regular" yarn
5. Get Enough Yarn
Most of the yarns you'll use for a baby blanket project are going to have "dye lots". That just means that they dye the yarn in batches so, you'll want to purchase all of the yarn you need for your project in one trip.
The color saturation can vary from dye lot to dye lot and if you don't get enough and have to buy an extra skein or two to finish your project, there may be a noticeable difference.
And don't worry, if you buy too much yarn you have two options:
Return any completely unused skeins to the store.
Add the unused yarn to your "stash"
I've never actually returned yarn but, you could do it. But…if you don't have a stash yet, assuming you enjoyed making your project, might as well start one now. After all, you'll need "scraps" for your scrapghan project!
10 Best Yarn Brands for Baby Blankets
When it comes to baby blankets, there are so many brands to choose from it can be hard to know which one to pick. Listed in no particular order, here are my favorite baby blanket yarns to crochet with.
1. Caron Simply Soft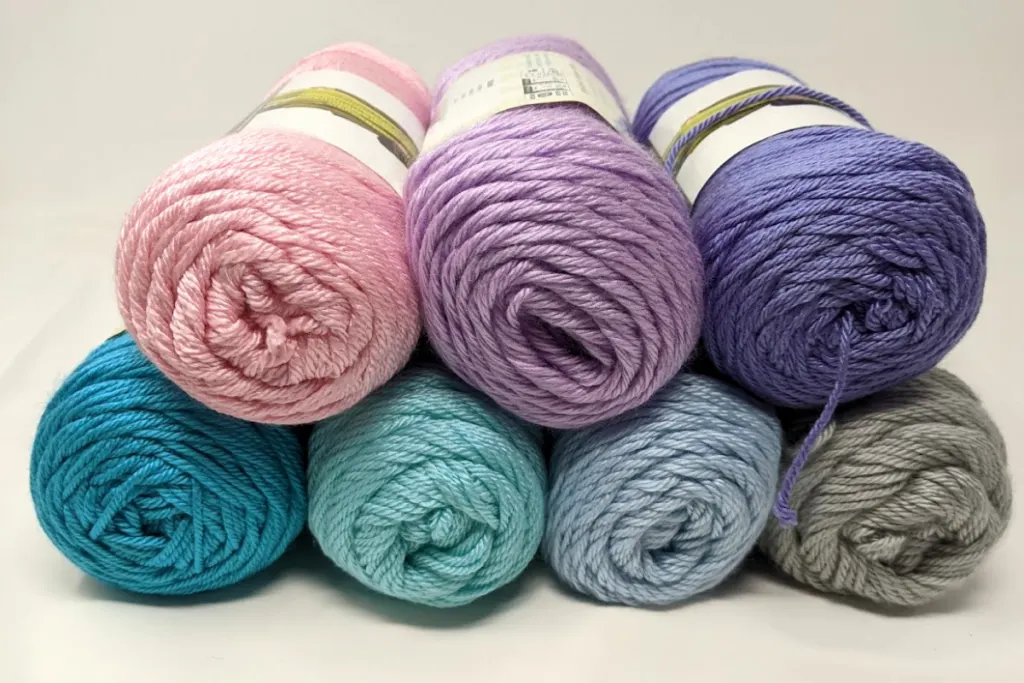 What I love about Caron Simply Soft is that, like its name, it is very soft. This yarn works great in any blanket project but I especially love it for baby blankets.
Aside from being soft, it is also available in a ton of colors. That means you should be able to find the perfect color combination, and your blanket can be as unique or colorful as you want it to be. In fact, in just solids there are over 50 colors of Simply Soft available, not to mention the tweeds and ombres.
The picture above are some skeins I pulled out of my stash to work on a mermaid inspired color palette. I haven't decided if I need a few more colors though!
2. Bernat Bundle Up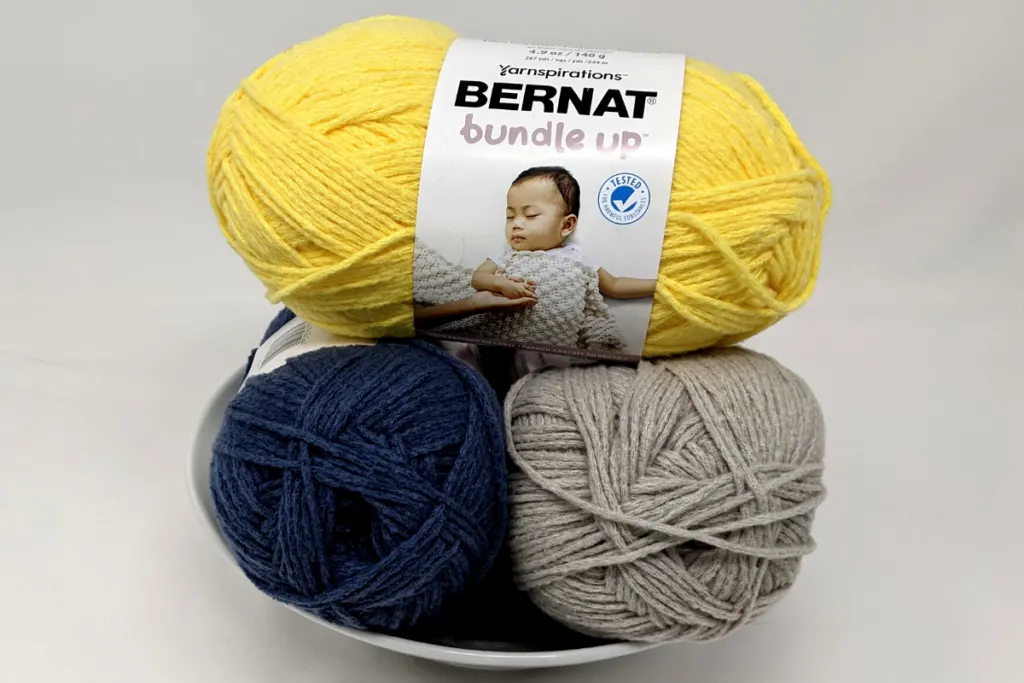 The first time I found this yarn I knew I had to buy a few balls. I didn't have a baby in mind for the project so I chose Duckling (Yellow), Beluga (Blue), and Pigeon (Gray).
The texture of this yarn is smooth and butter soft. It isn't fuzzy like a lot of other baby yarns. I love that it has a more matte feel to it in both sheen (or lack thereof) and texture.
Bernat Bundle Up is a #4 medium weight yarn. There are lots of colors available. You can check them out on Amazon but watch your local craft store for sales on this one.
3. Lion Brand Ice Cream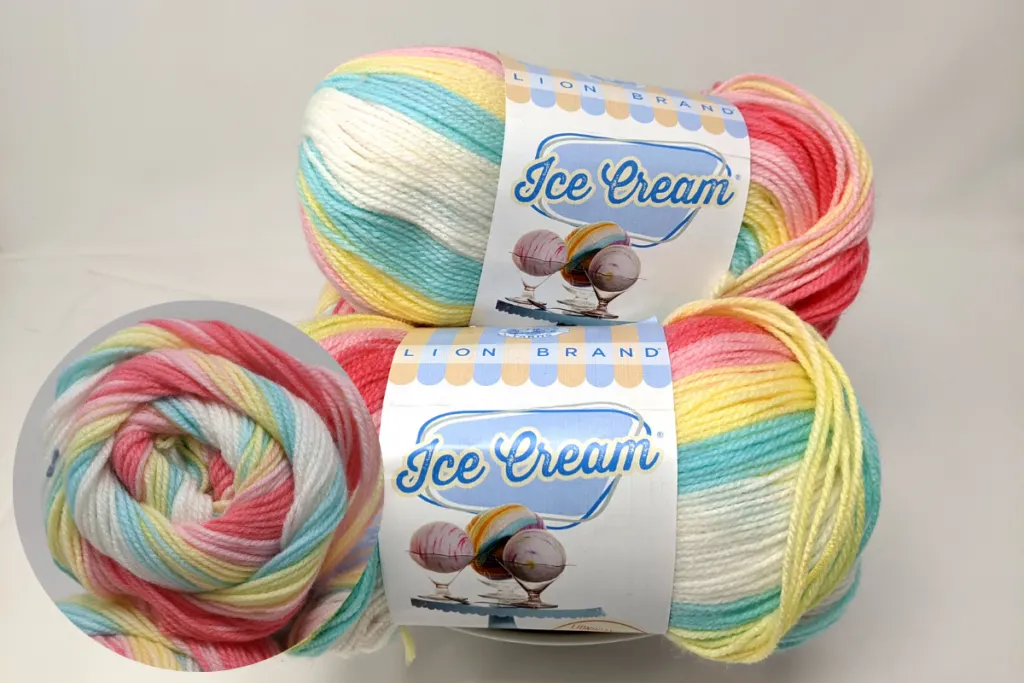 Oh my gosh the colors on these! I love a good ombre yarn and Lion Brand sure delivers with their Ice Cream line. I picked up 3 skeins of the Tutti Frutti colorway and I can't wait to find the perfect pattern to use it on.
This is a #3, lightweight Acrylic yarn. Its definitely soft to the touch. There are several colorways available, including a couple that would be suitable for a gender neutral blanket or for a boy.
Since these yarns come only in ombre colors , my plan is to combine them with other #3 yarns in matching solids to make a really gorgeous baby blanket.
4. Lion Brand Baby Soft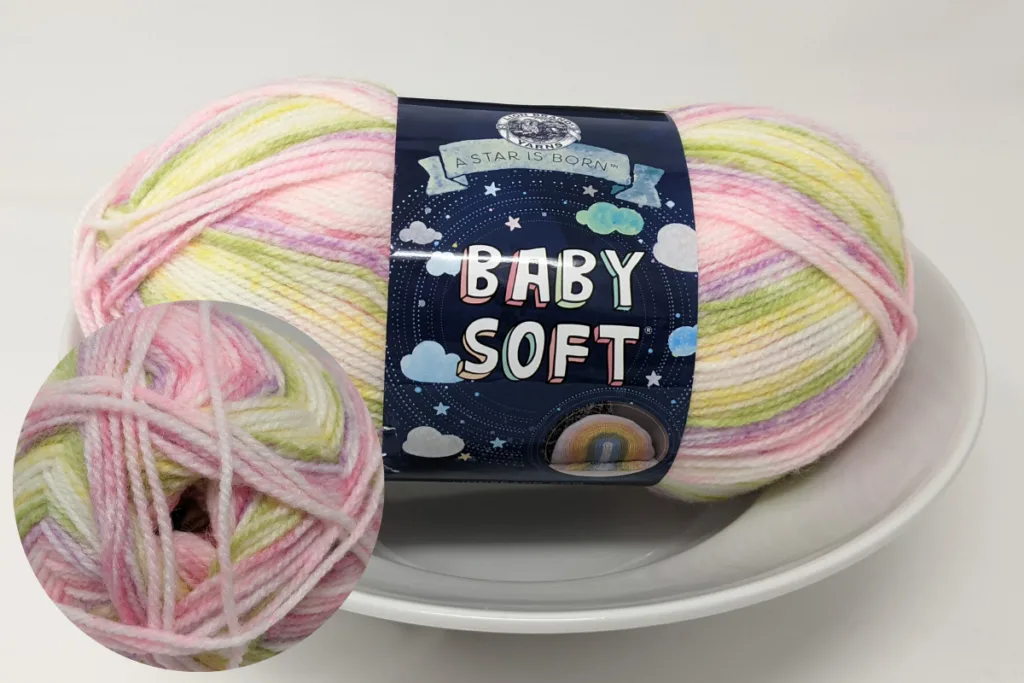 If your looking for a beautiful, soft yarn, Lion Brand's Baby Soft Yarn has you covered.
This #3, lightweight yarn is soft to the touch and easy to work with. My absolute favorite color in this line is Circus Print. It has beautiful shades of pink, green, yellow, purple and white. The way the colors are incorporated are almost like some of the watercolor yarns I've seen on store shelves.
Baby Soft also comes in traditional pastel baby colors as well as some gorgeous brighter tones. There is also a gorgeous almost tweed looking baby print available called twinkle that I may have to pick up!
5. Red Heart Soft Baby Steps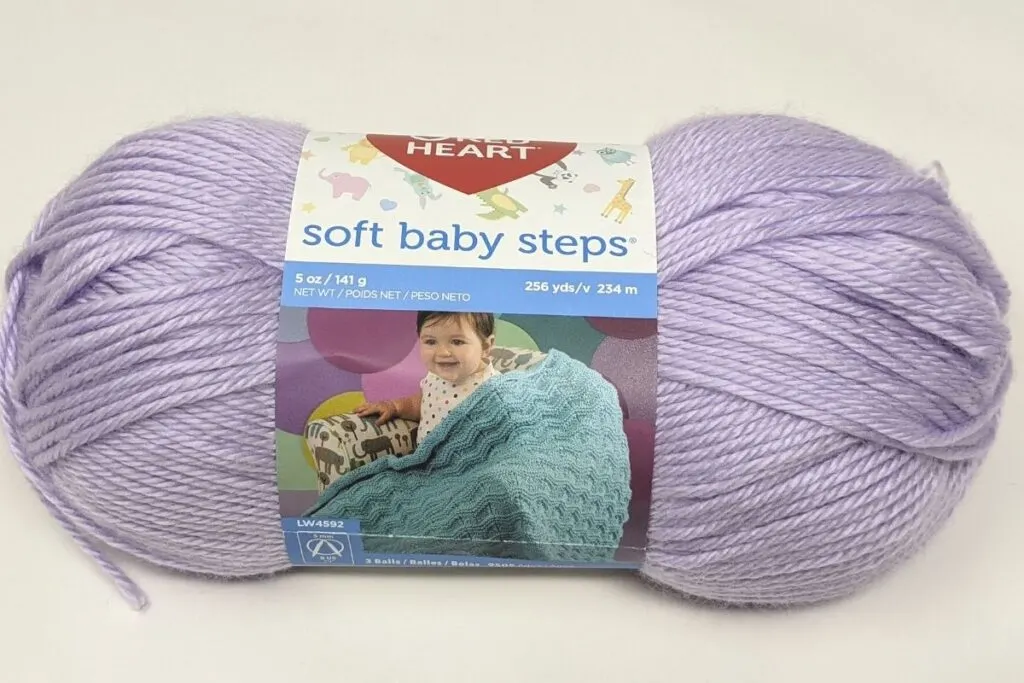 Another soft baby yarn, this time from Red Heart. Soft Baby Steps is their #4, medium weight baby yarn. The variety available makes it fun to pair this yarn with other baby yarns of the same weight for a fun, colorful baby blanket.
I picked up Lavender for a project I'm working on but they have several colors available .
6. Bernat Baby Blanket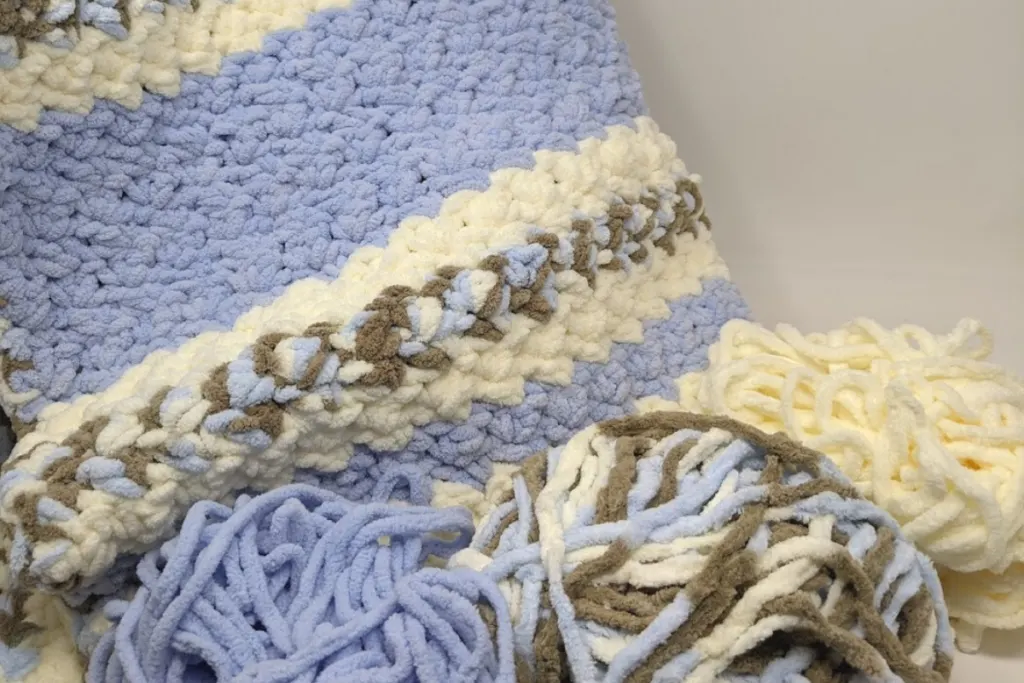 I just finished the Marshmallow Baby Blanket using Bernat Baby Blanket and I absolutely love how soft the yarn is and how fast the project worked up. Its a nice thick yarn so if you need to make a blanket quick as a last minute gift, this would definitely be my pick.
I used Baby Blue , Little Cosmos, and Vanilla for my project. One ball each was plenty even though I accidentally added a few rows.
The pattern was super easy and this yarn was super fun to play with. I have two more balls in my stash in yellow and white and I can't wait to plan something out for them.
7. Bernat Pipsqueak Stripes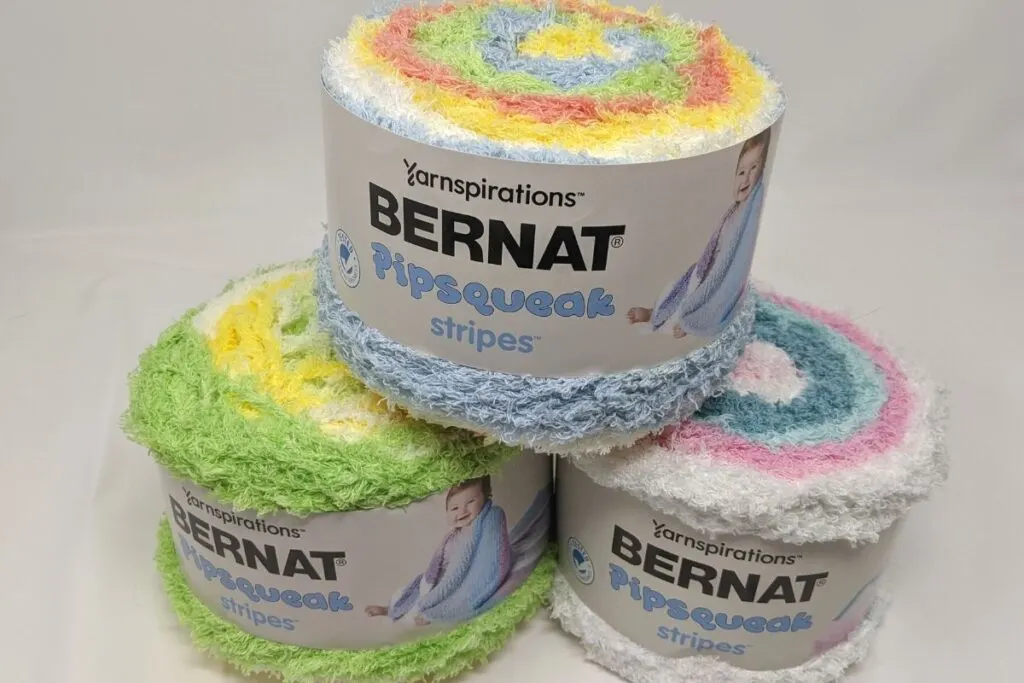 Oh my word how cute are these! I came across these on a great sale at Joanne's and picked up probably way more cakes than I should have. Super soft and crazy cute colors make these my favorite yarn of the group.
The only caveat is they can be a little difficult to work with if you aren't used to using a textured yarn. I've played around with a few projects for these but haven't been completely happy. Still trying to work out what pattern to use them in.
I'm kind of thinking of pairing them with some Bernat Bundle Up just to get some awesome texture variation but still maintain that super soft feel.
Is it wrong that when I see all of the other colorways available I want to buy them all just so I can have one of each in my collection? I feel like that has to be a normal thing.
8. Bernat Baby Sport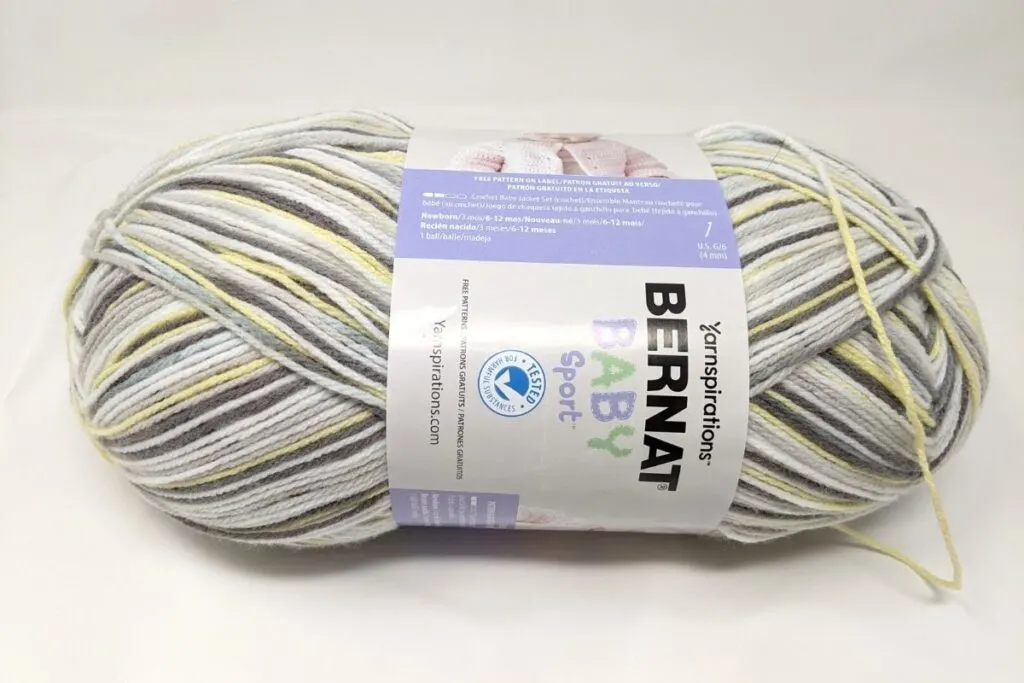 I think of all the baby yarns I have, this one seems the least "soft" to me. Not that it isn't soft, it is, it just feels more sturdy if that makes sense.
Maybe that's why they call it "sport". This is definitely something I could see making cute little outfits out of. I haven't actually tried this yarn yet. I do have a blanket planned for this ball so I'm interested to see how it works out.
I love how this ball, Baby Lemon Ombre, has a gorgeous mixture of grays, yellows and white to make it a perfect base for a gender neutral crochet baby blanket.
9. Mandala Sparkle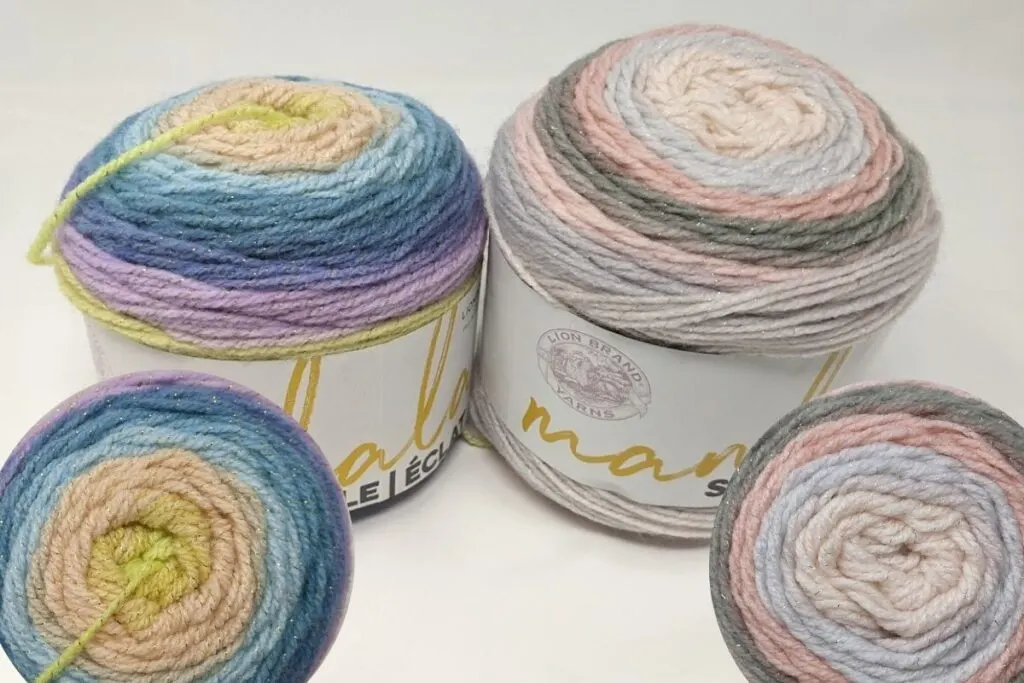 Color is my thing, sparkles even more so. Lion Brand has knocked it out of the park for me with their whole Mandala line but when I saw the sparkle cakes I knew I had to pick some up. I found these two beauties in my stash. They are soft, and I love the colors. I have another colorway is super fun.
The muted rose tones palette is called Nova and the more rainbow one is called Orion. I also have a beautiful blue one laying around somewhere that I can't wait to turn into a baby boy blanket. The deep blue colors and sparkle threads woven throughout remind me of the twinkling stars in space.
You can see a few of their color options . Whether using this as the only color, main color or contrasting color in your baby blanket, you're sure to create something special with this one.
Final Thoughts
There are no right or wrong answers when it comes to crochet. Each and every project you make will be made with love. I've been crocheting for over 30 years and I'm still learning new tips and tricks when it comes to crochet.
Don't get too caught up in picking the perfect yarn. Find some colors you like, an amazing pattern, pick some yarn and get started. As you work with different brands of yarn you'll be able to find the ones that suit you best in both texture and ease of working with them.