*This post may have affiliate links, which means I may receive commissions if you choose to purchase through links I provide (at no extra cost to you). As an Amazon Associate I earn from qualifying purchases. Please read my disclaimer for additional details.
Not too long ago I built one of Ana White's plans and it came out great. The next thing on my list is to make a Farmhouse Table. I love these DIY projects but it had me wondering what type of wood is best to use?
What Type of Wood To Use For A DIY Farmhouse Table?
Most farmhouse tables are made out of pine. Pine is inexpensive, absorbs stain well and easy to find at big box stores. In addition, because it is a softer wood, it is easier for beginner woodworkers to drill into and work with.
Pine is an easy choice. That is what I used for my shoe rack and I have to say, I am very happy with it but what other woods should you consider when building a farmhouse table?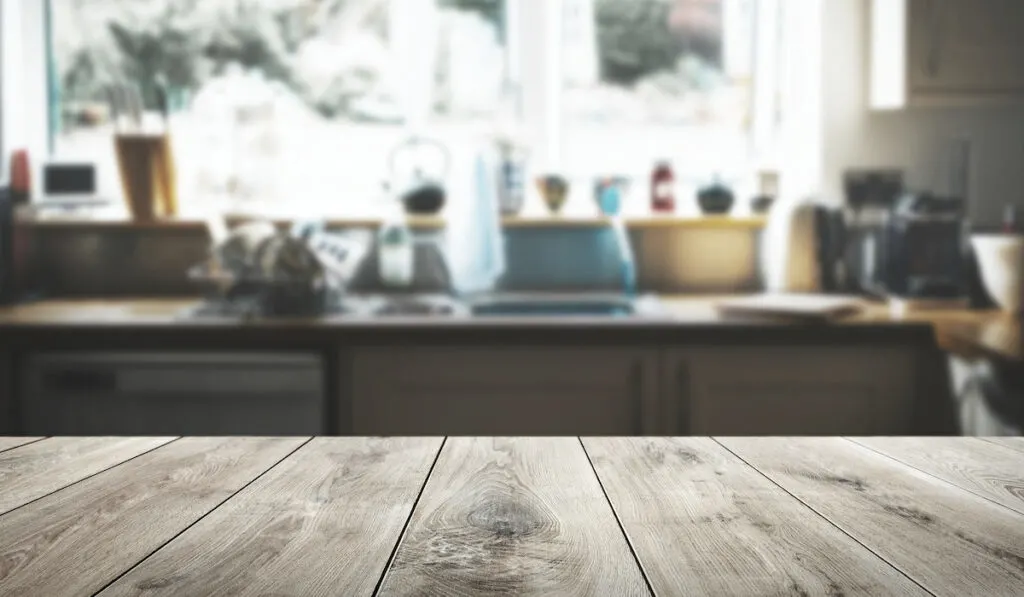 Wood Choices When Building a Farmhouse Table
Construction grade pine is the most commonly used material for farmhouse tables built by DIYers. But that doesn't mean it is the only option. There are other, higher grade woods, that would be equally suited to the task. Let's take a look at some.
White Oak
White oak wood is an excellent choice for a farmhouse table. It is a hard, durable wood that will still give the table a rustic feel. You can get standard sized boards for the construction of the table base and if you really want to mix things up, look at using a live edge for the table top.
Cypress
Cypress wood ranges in color from light although there is a variety called pecky cypress which has scattered pockets of darker wood. In swampy areas like Louisiana, sinker cypress can sometimes be found and turned into very beautiful table tops.
Hickory
Hickory wood is a nice, stiff hardwood. It is one of the strongest woods native to the United States. Because of its durability, it is able to resist dents and damage. For any other table that is a good thing but, for a farmhouse table, remember that the dents and dings add character.
Walnut
Did you know that the sapwood of walnut is almost white? As the tree ages, the wood darkens ending up in a light brown to a chocolate color. Because it is a slow grower, walnut is also one of the more expensive woods.
Maple
Maple is a light, creamy colored wood and very common in the United States. Maple trees are often grown for their sap which is used to make Maple Syrup. One of the best things about maple wood is that, because it is farmed, it is very eco-friendly and sustainable.
Cherry
Most of the time when you see a red or reddish brown wood your first thought will be cherry. All though a beautiful color, keep in mind your vision for your farmhouse table and make sure that cherry is going to be an OK color for you.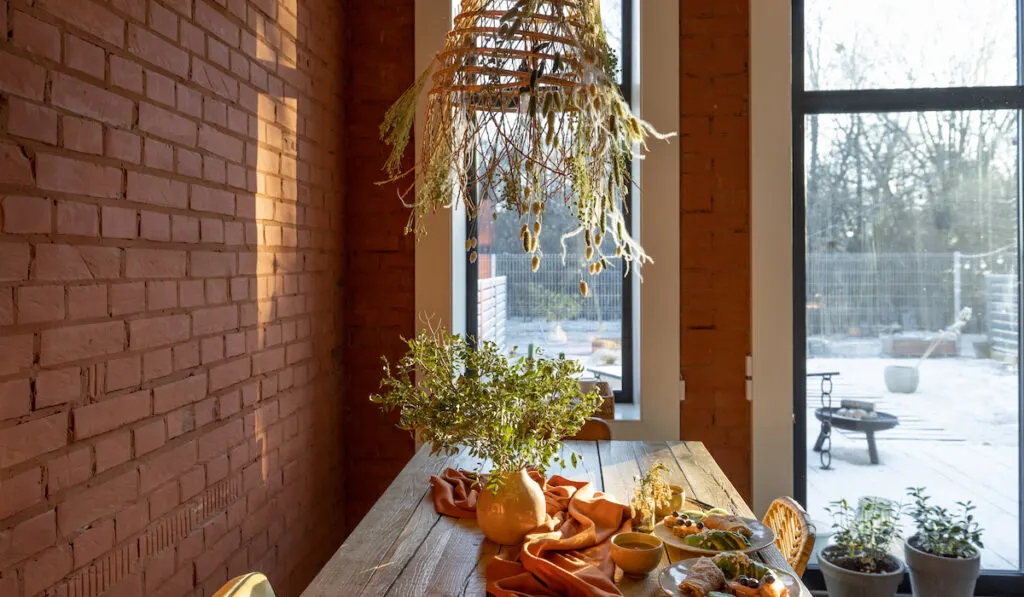 Mixing Wood Types In A Farmhouse Table
As you are looking at wood types for your farmhouse table, one thing to take into serious consideration is mixing wood types for the construction of the table.
If you are really wanting a nice hardwood for the table top, you could still use lower cost pine or poplar for the table's base. This is especially true if you plan on having a two-toned table with the base white or black and the top a beautiful stain or natural wood color.
Mixing the wood types has the positive benefit of being easier on your pocketbook than going with a more expensive hardwood for the base and the top.
One thing to be wary of though is that, if you are going to stain the table all one color, it may be much more difficult to get a consistent color. Each type of wood absorbs stain differently so getting two types of wood to match may prove to be quite an undertaking.
Choosing Colors For Your Farmhouse Table
This is a big one, especially if you decide to go with pine. There are so many different color options to go with. Here are a few to consider. The great thing about all of these is there are tons of examples on Pinterest.
All One Color
White Base and Stained Top
Black Base and Stained Top
Completely Painted
Each has its own pros and cons. I love the contrasting look with a white base and a darker top. I've also seen some tables with navy or even light robins egg blue legs that look fabulous! The blue base, in particular, can give the table a very cool farmhouse chic look.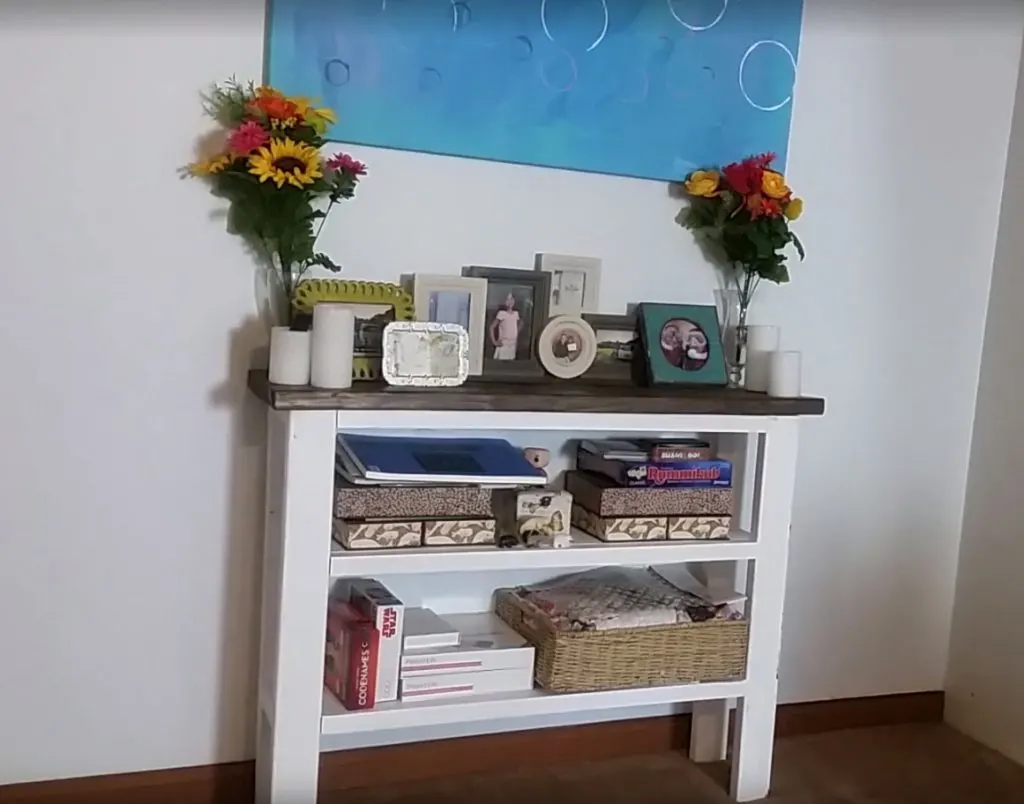 Whatever colors you choose remember that it is always easier to go darker than to go lighter. Try any stain out on a test piece of wood before committing to it. You'll be glad you took this extra step to ensure your table comes out perfect.
What Type of Chairs Go With A Farmhouse Table?
You really do have a lot of different options when it comes to the actual seating around your table. Most images you see will have at least one bench seat and sometimes two.
When chairs are used around a farmhouse table, the type of chair selected is really a way for the homeowner to select their desired focal point and express their creativity.
If you want the focal point to be a glorious table centerpiece and a color-coordinated table setting, choose chairs or benches that match the table. This will allow the eye to be drawn to what is different, in this case, the table top.
On the other hand, your seating really can make a statement. Maybe you will choose a bench seat for one side but accent the opposite side with beautiful antique metal chairs. Maybe you want that farmhouse chic look and you will add different chairs around the table.
Your seating choice can be as bold or as plain as you want it to be!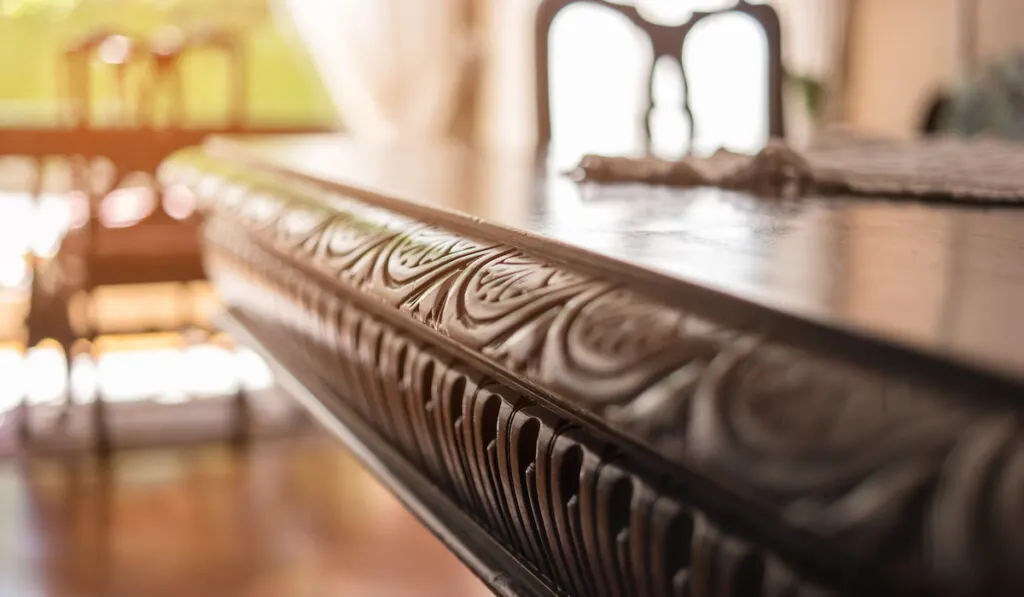 Related Questions
How much does it cost to build a farmhouse table? The answer here depends on a variety of different factors including the table size, lumber type and whether or not you already have the tools on hand to complete the project. The cost of building a farmhouse table will generally be $100 and up depending on these factors.
Is it possible to DIY an extendable farmhouse table? Absolutely! There are several plans available online. This is an excellent video I found on YouTube that covers the topic.