*This post may have affiliate links, which means I may receive commissions if you choose to purchase through links I provide (at no extra cost to you). As an Amazon Associate I earn from qualifying purchases. Please read my disclaimer for additional details.
Canning your own soup is a great way to preserve the bounty of the season and have a ready supply of chicken, vegetable, or tomato soup for the cooler months.
Soups made from vegetables or different types of meat are all suitable candidates for home canning.
Processing in a pressure canner renders food poisoning and botulism-causing microbes harmless.
Are you interested in learning about the best soups for canning? Stay with me!
Potato Soup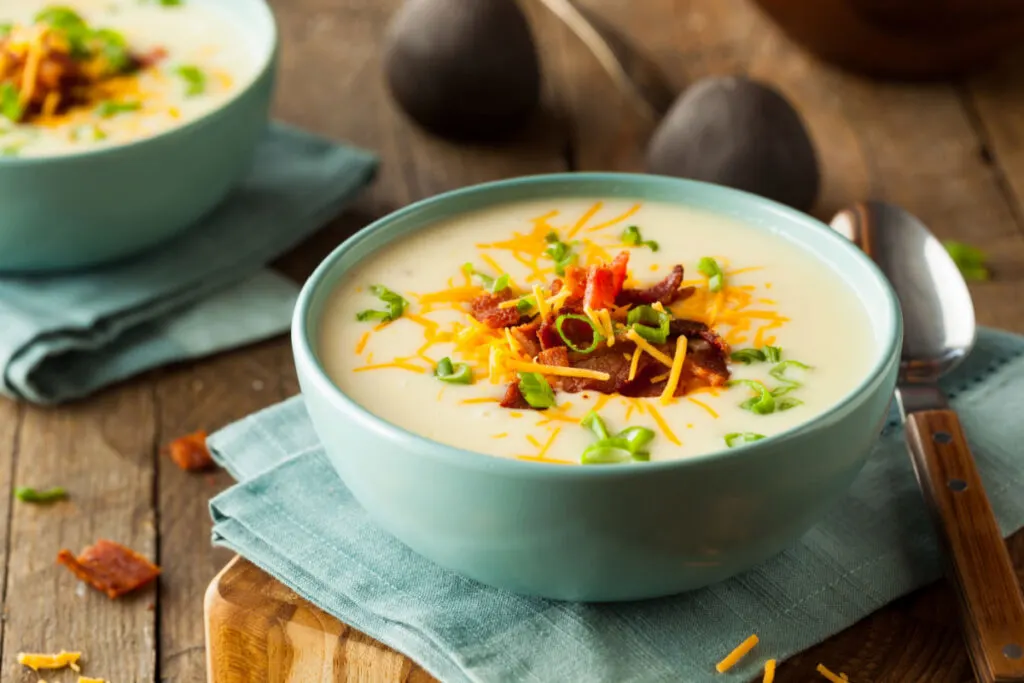 One of my go-to comfort foods is a simple, tasty, one-pot creamy potato soup recipe loaded with all the nutrients of vegetables.
Naturally, potatoes are the star of this show, but you'll also need a few other things to make this soup. Vegetables, bacon, and tasty spices fill this lovely, creamy potato soup. And it is superb when canned.
Ingredients
Recipe
12 ounces of bacon.
1 yellow onion.
6 cloves of garlic.
1/2 cup of chopped celery.
16 cups of peeled and diced potatoes.
9 cups of chicken bone broth.
1 cup of red bell pepper.
1 teaspoon of chopped chives.
1 teaspoon of paprika.
1 teaspoon of salt.
1/2 teaspoon of pepper.
1/4 teaspoon of cayenne pepper.
1/8 teaspoon of dried sage.
1 cup of water.
1/4 cup Cornaby's thick gel or clear gel.
View Recipe
Minestrone Soup
This particular minestrone soup recipe is not only delicious but also nutritious and soothing.
It is a flavorful tomato soup with herbs that have starchy beans to thicken it and onions, carrots, and cabbage to add depth.
Minestrone soup is a healthy and inexpensive alternative because you can use any vegetables you have on hand.
Ingredients
Recipe
1 center-cut beef shin bone.
2 large potatoes.
3 carrots.
1/4 of a head of cabbage.
5-6 escarole leaves.
1 large onion.
4 cloves of garlic.
1 teaspoon of basil.
1-8 ounces of tomato sauce.
1 or 2 boneless skinless thighs per person.
8 ounces of frozen peas.
1 large Stewart's shelled beans.
Salt and Pepper.
View Recipe
Kentucky Burgoo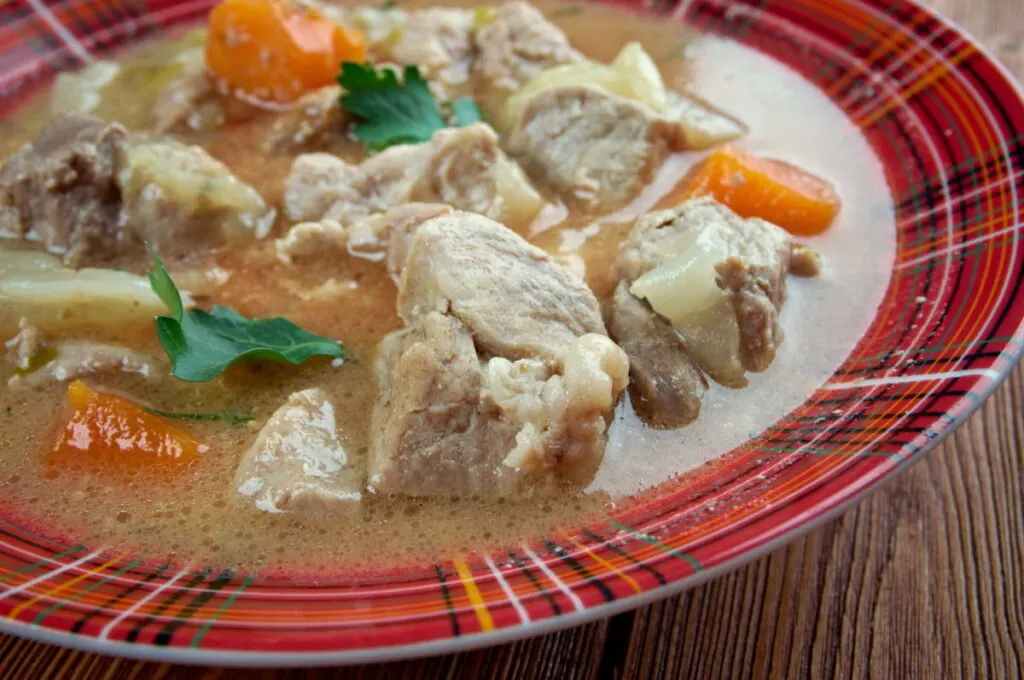 Kentucky Burgoo is a hearty and healthy crowd-pleaser that can easily be modified with any vegetables you have on hand.
The dish's origins can be traced back to the Civil War when it was required to feed large numbers of troops and their families.
Ingredients
Recipe
1 chicken breast.
12.5 pounds of pork bone.
3 pounds of beef steak.
A single lamb shank.
40 ounces (dry) of mixed beans.
1 small bag of carrots.
2 small heads of cabbage.
8 stalks of celery.
3 green bell peppers.
1 yellow bell pepper.
1 orange bell pepper.
7 small onions.
6 jalapenos (seeded).
4-5 pounds of potatoes.
Garlic
1 bag of frozen okra.
4-ounce bottle of lemon juice.
2 large cans of diced tomatoes.
4 cups of corn.
Cayenne pepper.
Red pepper flakes.
Ketchup
8-ounce apple cider vinegar.
8-ounce Worcestershire.
12.5-ounce molasses.
View Recipe
Creamy Chicken Soup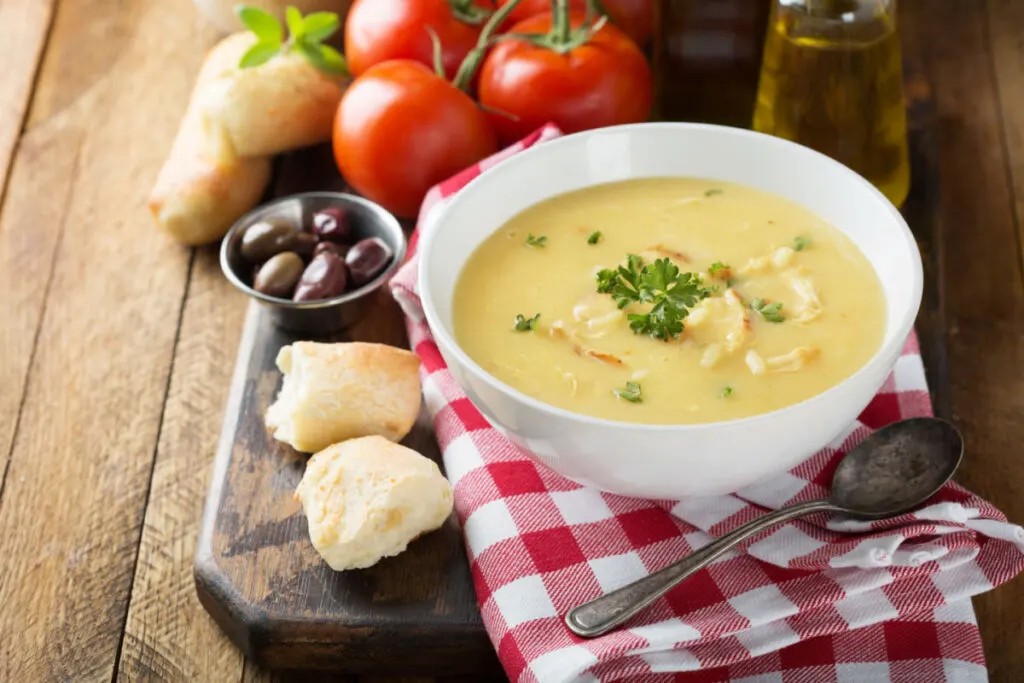 What makes this chicken soup so special? It's rich and creamy, and the extra taste of the milk is simply great.
This chicken soup is the perfect combination of quick and easy, healthy, and filling. I like making a good amount of this recipe when I have the time and preserving it in jars for later.
This is the perfect dish to have on hand for unexpected guests, a lazy evening, or as a warm and fuzzy present for a friend or neighbor.
Ingredients
Recipe
1 1/2 cups of chicken stock.
3/4 cup of milk.
1/2 cup of all-purpose flour.
1/4 teaspoon of garlic powder.
1/4 teaspoon of freshly ground black pepper.
1/4 teaspoon of powdered onion.
1/8 teaspoon of celery seed.
1/8 teaspoon of dried thyme.
1/4 cup of cooked chicken.
View Recipe
Traditional Ukrainian Borscht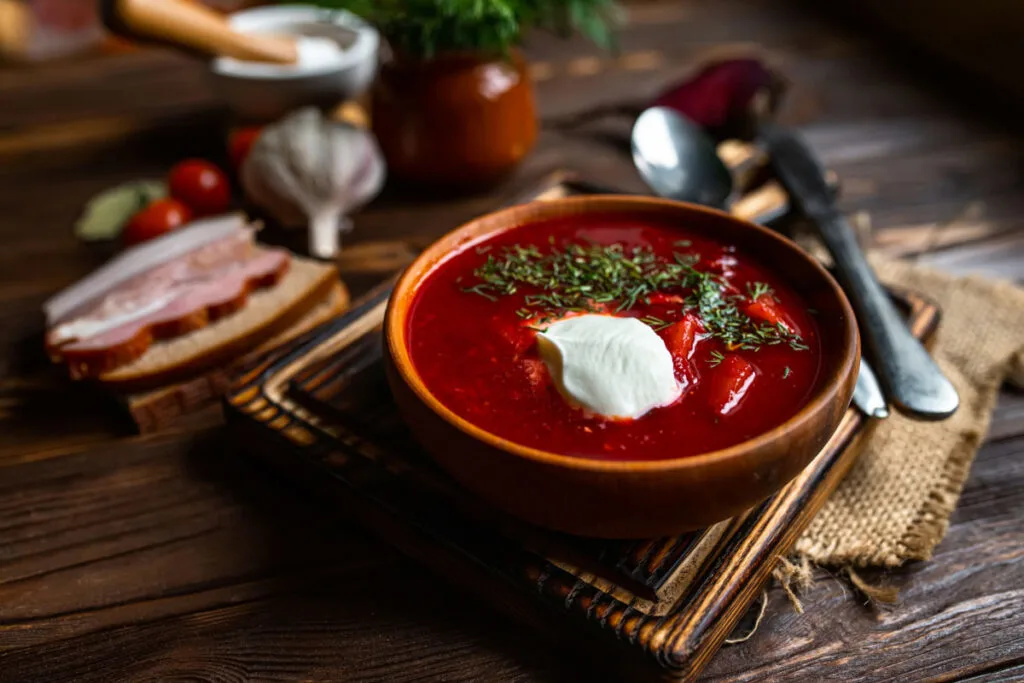 Whether you're Ukrainian or not, you should have a recipe for borscht in your kitchen. Why?
In this traditional Ukrainian recipe, the freshness of the dill and other vegetables balances the earthiness of the beets, and borscht gets its signature deep red color from the beets, which also contributes to the dish's high iron content.
Ingredients
Recipe
1 (1 1/4 pound) section bone-in beef shank with a lot of meat, or 1 pound beef stew. Meat, excess fat trimmed.
1 large onion.
8 cups beef broth or beef stock.
4 large beets.
4 carrots.
1 large russet potato.
2 cups of thinly sliced cabbage.
3/4 cup of chopped fresh dill.
3 tablespoons of red wine vinegar.
1 cup of sour cream.
3 teaspoons of extra virgin olive oil or vegetable oil.
Salt and freshly ground black pepper to taste.
View Recipe
Vegetable Soup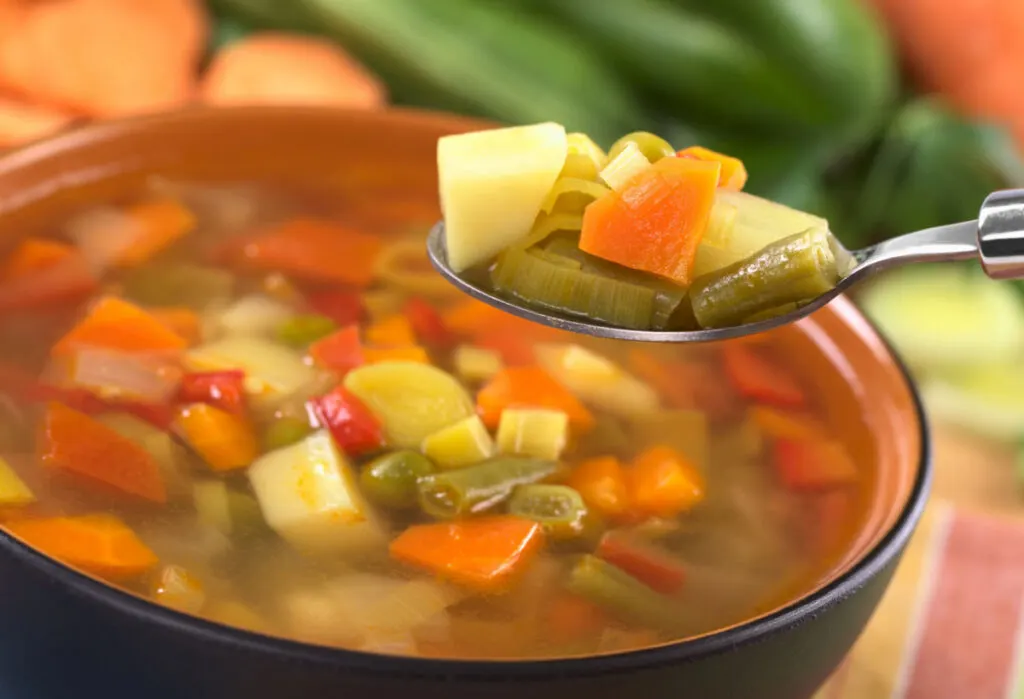 Vegetable soup is a nutritious, budget-friendly option for using up the last of the season's harvest and keeping the family fed all winter.
A few simple additions from your cupboard, like vegetable broth, canned tomatoes, dry herbs, and vinegar, will turn this veggie mishmash into a delicious soup.
Ingredients
Recipe
8 cups of tomatoes, peeled, cored, and chopped.
6 cups of potatoes.
6 cups of chopped carrots.
4 cups of Lima beans, par-cooked or 2 cans store-bought.
4 cups of corn kernels, fresh or frozen.
2 cups of green beans.
2 cups of chopped celery.
2 cups of chopped onions.
2 teaspoons of dried or fresh parsley.
2 teaspoons garlic, minced.
1 bay leaf.
6 ½ cups of water.
Salt and pepper.
View Recipe
Carrot Ginger Soup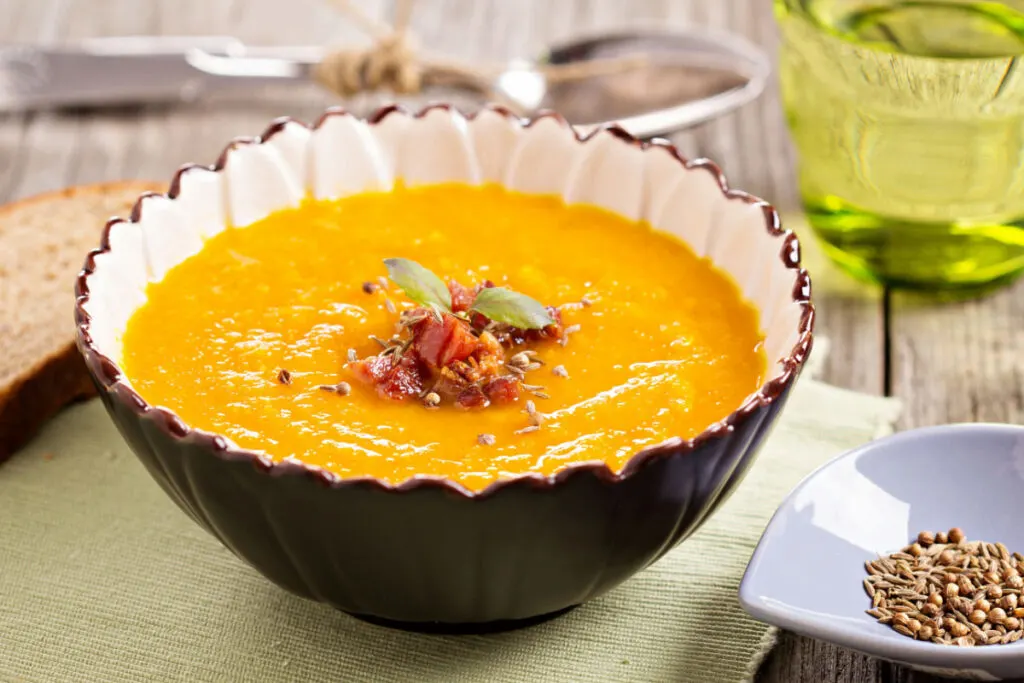 The healthiest meals are often the easiest to prepare. Carrot-ginger soup is just what you need.
Carrot soup is low in fat and an excellent option for a nutritious lunch or dinner or multiple meals if you have the time and ingredients to can it.
Ingredients
Recipe
3 tablespoons of butter.
2 whole cloves of garlic.
1 large Spanish onion.
2 ribs celery.
3 pounds of carrots.
3 tablespoons of peeled and chopped fresh ginger.
8 cups chicken or vegetable stock.
1 teaspoon of ground coriander.
1 teaspoon of ground ginger.
1/2 cup of honey.
Salt and freshly ground black pepper.
View Recipe
Summer Squash Soup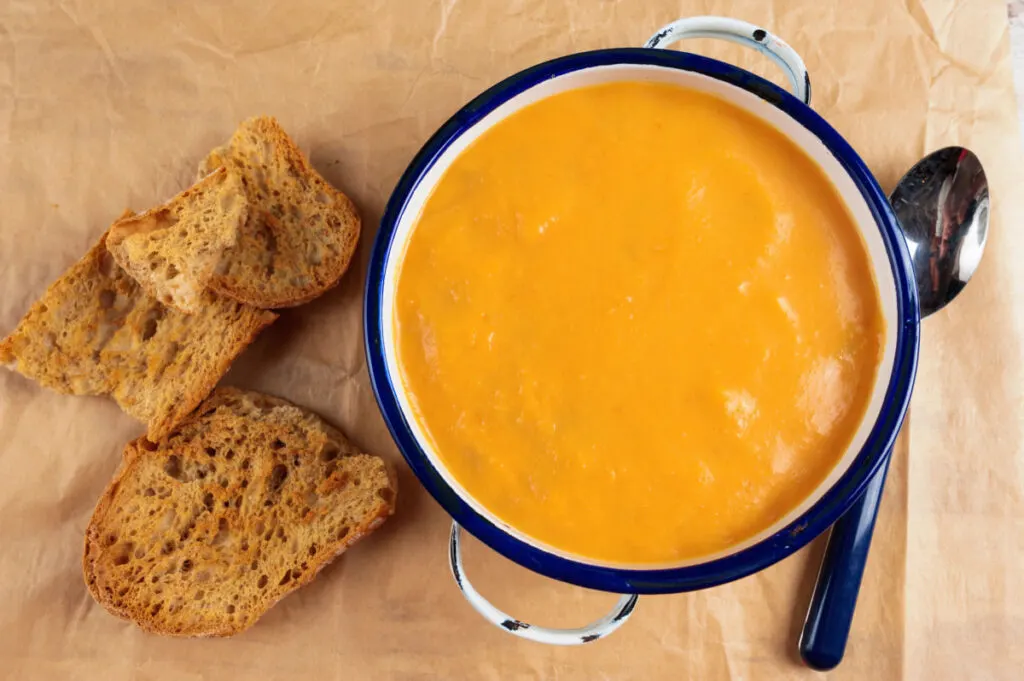 If you have an abundance of summer squash, this soup is a wonderful way to put it to good use, and if you can, you can enjoy it all year round.
You can have this delicious soup ready in only 30 minutes, making it ideal as a light lunch or starter for an elegant dinner.
Ingredients
Recipe
3 onions.
5 cups of chicken broth.
5 cups of water.
4 medium potatoes.
4 medium carrots.
4 pounds of yellow squash.
Salt and pepper
View Recipe
Tomato Soup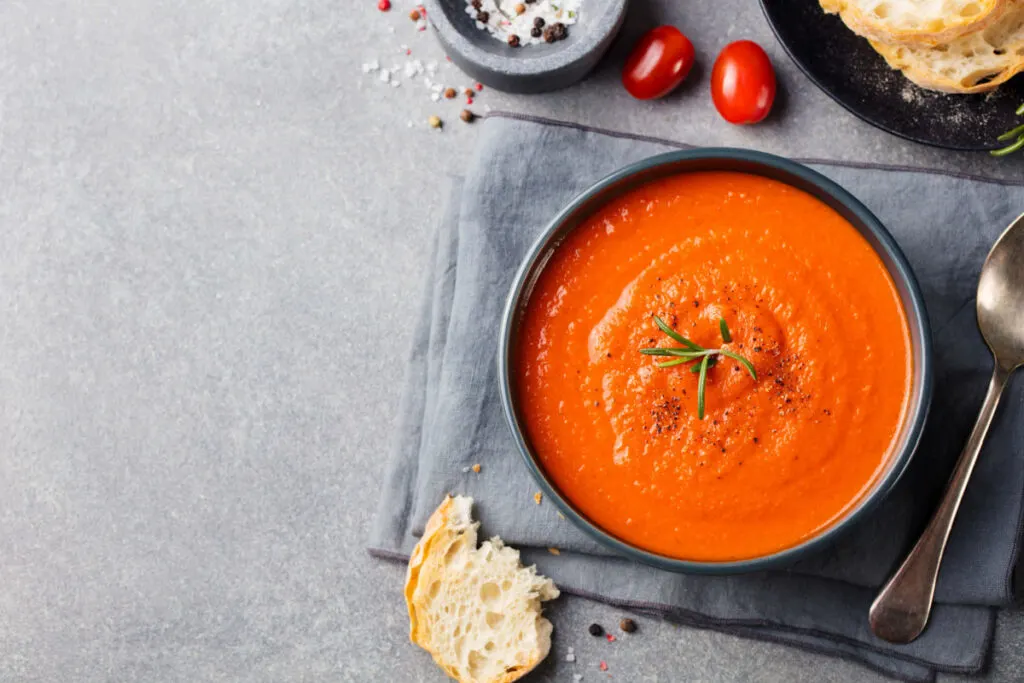 Every household needs a reliable tomato soup recipe for the winter, and the cans of tomato soup should take pride of place in the pantry come fall. It's really easy to put together, and you probably already have most of the ingredients you need on hand.
What's more, it is the perfect version of tomato soup, in my opinion. It's loaded with incredible tomato flavor and manages to be both thick and creamy without weighing you down.
Ingredients
Recipe
8 quarts of fresh tomatoes.
1 bunch of celery.
3 onions.
1 cup of white sugar.
1/4 cup of salt.
1 cup of butter.
1 cup of all-purpose flour.
2 cups of chilled tomato juice.
View Recipe
When Home Canning Goes Wrong
The Difficulty in Properly Implementing a Canning Procedure
Successful home canning results in delicious food that can be stored at room temperature in jars.
But if you do it improperly, not only will you lose a lot of time making jars that won't seal, but even worse, you run the chance of suffering from botulism.
In order to safely can, make sure to follow the canning instructions correctly.
The most typical errors made when canning are:
Using a pressure canner instead of a boiling water bath.
Not adding enough water to a bath of boiling water.
Not adjusting the pressure or timing of the canning process for altitude.
The use of worn-out, damaged canning lids.
Using canning jars that are cracked or chipped.
Overfilling the jars.
Disturbing the jars while they cool.
Using improper ingredients.
Ingredients of Canned Soup
Avoid using flour or other thickeners
Thickening agents should never be used in home canning. Do not add flour, cornstarch, or any other thickening agent until just before serving.
Flour and other thickeners used in home canning prevent safe heat from reaching the center of the jar, which can lead to botulism.
Dairy goods such as butter, milk, cream, and cheese are all low-acid foods that shouldn't be added to soups during home canning.
Starch-rich foods cause problems during the cooking process
Avoid bulking canned soups with noodles, pasta, rice, barley, etc.
Follow recommended canning recipes
If you're just starting out in the canning world, you really shouldn't try to create your own recipes. For safe food preservation, refer to tried-and-true canning recipes.
Final Thoughts
If you can your food properly, you will have delicious food that will keep well at room temperature. As an added bonus, being self-sufficient allows you to save time by allowing you to quickly heat up a container of soup or sauce in a pinch.
Using a pressure canner, you can safely preserve chicken soup and other meat-based soups for up to a year. Just make sure the meat is thoroughly cooked.
Thickening agents like rice, pasta, and cornstarch absorb liquid during canning and should be avoided when preserving homemade soup. These can be prepared separately and added to the soup just before serving.
Resources