*This post may have affiliate links, which means I may receive commissions if you choose to purchase through links I provide (at no extra cost to you). As an Amazon Associate I earn from qualifying purchases. Please read my disclaimer for additional details.
After coming in from the rain and cold, nothing says warming up like a hearty bowl of winter soup. Those comforting soups are like a cozy hug served in a bowl.
But don't limit yourself to just winter classics. Some recipes worth trying feature a fresh take on traditional comfort foods, updated with interesting ingredients and techniques to deliver a deep, smoky flavor.
This selection of winter soup recipes will not only fill your stomach but also warm your soul.
1. Creamy Roasted Pumpkin Soup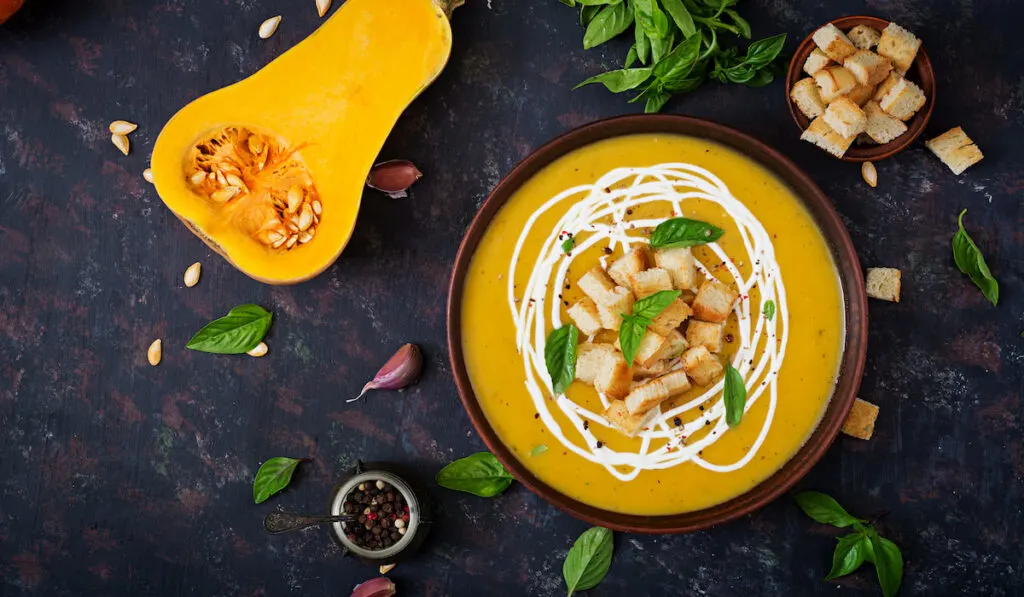 Here's my go-to recipe for pumpkin soup. The pumpkin is primarily responsible for its velvety smoothness while adding coconut milk or cream only enhances the effect. It has a subtle heat, but the pumpkin taste really stands out.
Don't let the long list of ingredients scare you away; you probably already have everything you need to make a delicious soup in your cupboards.
This soup is wonderful in the cooler months and goes well with a hearty sandwich.
Ingredients
Recipe
About 2 pounds of Hokkaido pumpkin.
3 tablespoons of olive oil.
5 garlic cloves.
2 potatoes.
1 big onion.
1 carrot.
4 to 6 cups of vegetable broth.
100 ml cream or coconut cream.
1/2 teaspoon cinnamon.
1/4 fresh nutmeg.
1 cup of fresh parsley.
A little bit of hot pepper.
Salt and black pepper.
Croutons made from a piece of rustic bread.
View Recipe
2. Healthy Chicken Noodle Soup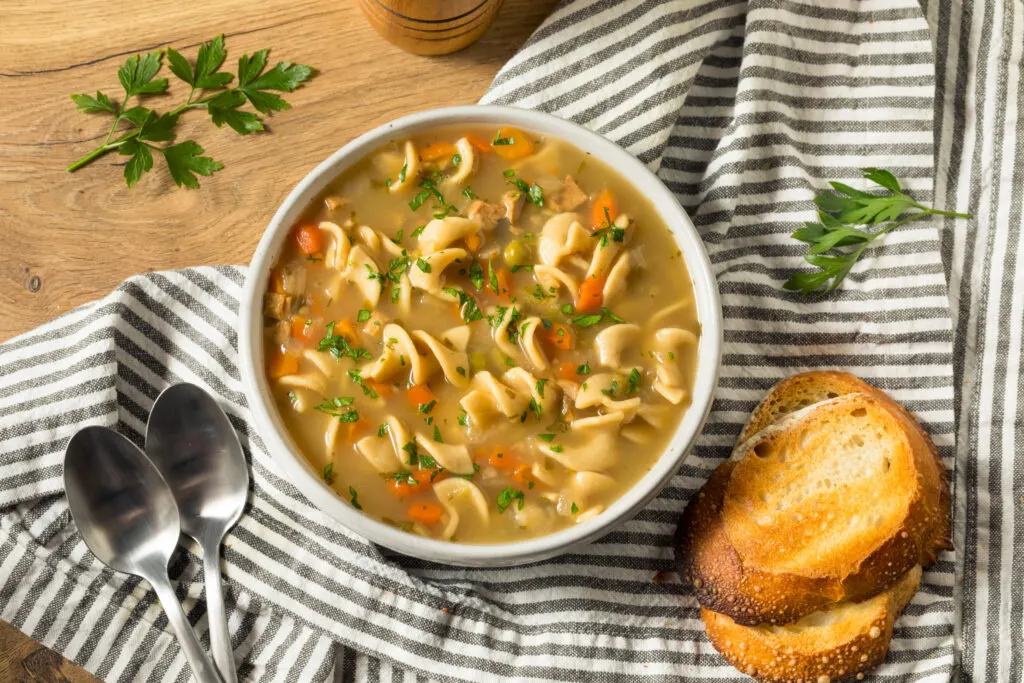 This recipe is one of my wintertime favorites because it's easy to make, requires no unusual ingredients, and always helps me feel better when the weather outside is gloomy.
Although I am not a medical professional, I agree that homemade chicken soup is a fantastic way to stay healthy.
The protein in the chicken and the vitamins and minerals in the vegetables strengthen the immune system.
Also, chicken noodle soup and other broth-based soups are incredibly hydrating and can help clear stuffy noses and coughs.
Ingredients
Recipe
2 tablespoons of extra-virgin olive oil.
1 pound of chicken breasts with no bones and no skin.
1 large chopped onion.
3 large peeled and chopped carrots.
3 chopped celery stalks.
2 chopped garlic cloves.
1 bunch of stemmed and chopped kale.
Chicken broth, 5 cups.
Water, 3 cups.
Salt and black pepper.
1 teaspoon of dried oregano.
Thyme, a small bunch.
1 bay leaf.
1 lemon, juiced.
Pack of noodles.
View Recipe
3. Saffron Tomato Soup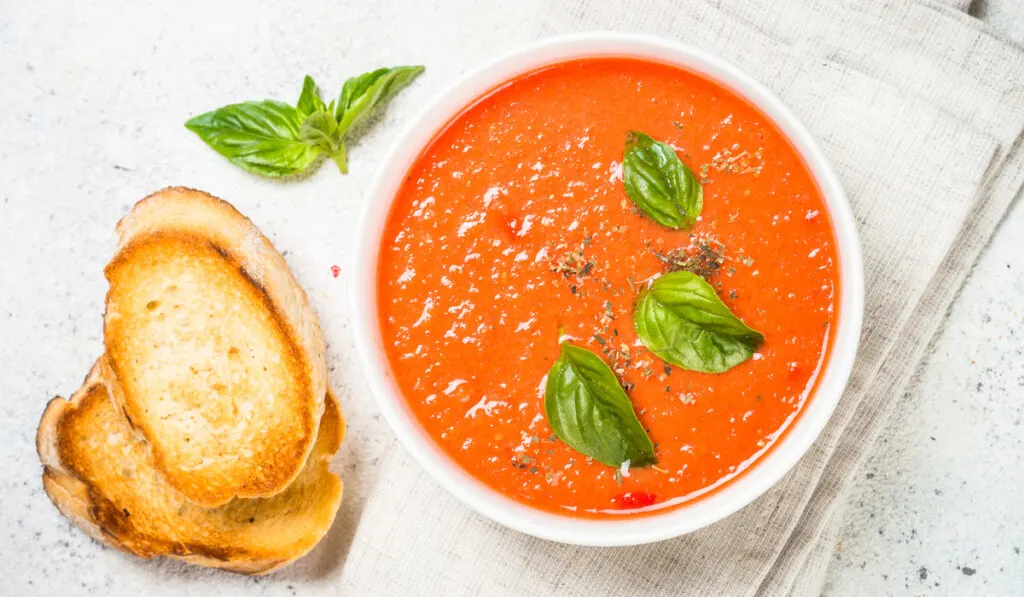 When it is cold outside, and you want a big bowl of warm, velvety tomato soup. But the season for tomatoes is unfortunately over.
As a result, when it comes to cooking wonderful tomato soup in the winter, the best-tinned tomatoes are vital.
By sprinkling it with Italian spice and a pinch of saffron, you will make it a step up from the standard fare.
Finally, stir in the cream, and you'll have a velvety tomato soup that's great for serving on chilly evenings.
Ingredients
Recipe
2 tablespoons extra virgin olive oil.
1 – 2 tablespoons butter.
1 large onion.
1 large shallot.
2 garlic cloves.
1 cup chopped leeks.
1/2 teaspoon (packed) saffron threads.
1 tablespoon crushed red pepper flakes.
1/2 cup thick cream.
1 can (28 oz.) Italian peeled or crushed tomatoes.
1/2 cup 2% fat milk.
1/2 teaspoon salt.
Fresh cracked black pepper.
View Recipe
4. Spicy Carrot Soup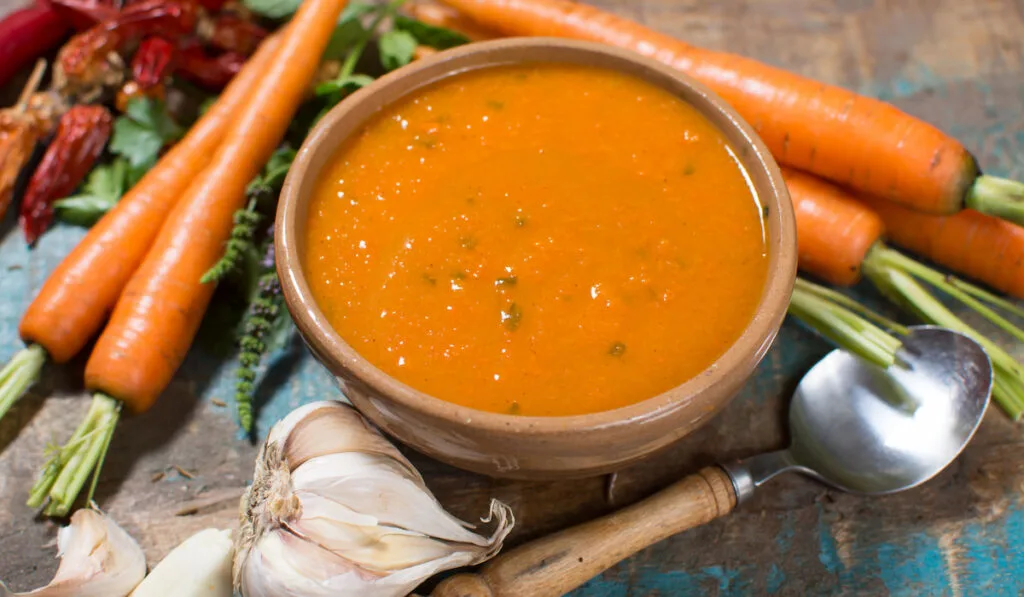 If you're short of time but still want to eat well, this spicy carrot soup is an excellent choice. It's quick, straightforward, and simple, and you probably already have everything you need in your kitchen.
A hearty bowl of winter soup made with just one staple vegetable, like carrots, will warm you right up. This soup may look simple, but the combination of curry and cayenne pepper gives it quite a kick.
Ingredients
Recipe
2 pounds peeled and sliced carrots.
2 tablespoons extra-virgin olive oil.
1 peeled and sliced onion.
4 chopped garlic cloves.
1/8 teaspoon cayenne red pepper.
1 teaspoon sea salt.
1 teaspoon of curry powder.
3 cups of vegetable broth.
2 cups of water.
Optional:
Sour cream or Greek yogurt.
1 tablespoon of fresh chopped parsley.
View Recipe
5. Harira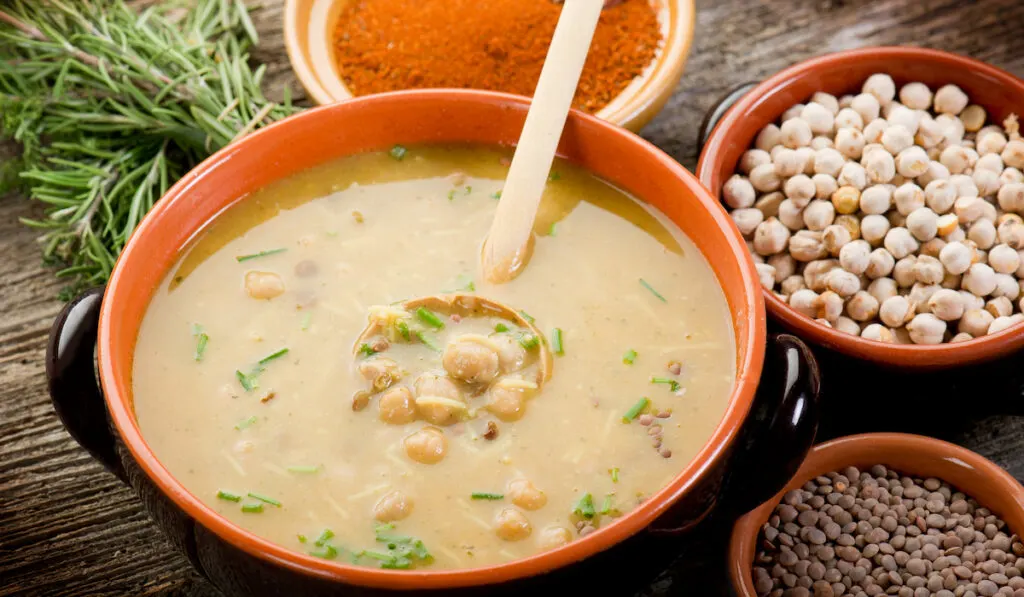 The name Harira, which comes from the Arabic word for silk, describes the soup's silky texture once it's been thickened with egg yolks or flour.
As with many other typical Moroccan foods, there may be regional variations in how Harira is prepared.
Stock is typically flavored with beef, lamb, or chicken; however, these meats can be left out if a vegetarian option is preferred.
In addition to the fragrant spices of ginger, pepper, and cinnamon, an abundance of fresh herbs—including cilantro, parsley, celery, and onion provide additional flavor and texture.
As a filler, you can use rice or vermicelli.
Ingredients
Recipe
8 ounces of chopped lamb, beef, or chicken.
3 tablespoons of olive or vegetable oil.
6 big soft, ripe tomatoes.
1 handful of soaked and peeled dry chickpeas.
2 handfuls dry green or brown lentils.
1 big onion.
1 celery stem with leaves.
1 small bunch of flat-leaf parsley.
1 small bunch of cilantros.
1 tablespoon of salt.
1 tablespoon of ginger.
1 teaspoon of cinnamon powder black pepper.
1/2 teaspoon of turmeric.
3 tablespoons of tomato paste plus 1 or 2 cups water.
3 tablespoons of uncooked rice or broken vermicelli.
2 cups of water and 1 cup of flour.
View Recipe
6. Chorizo, Potato, and Kale Soup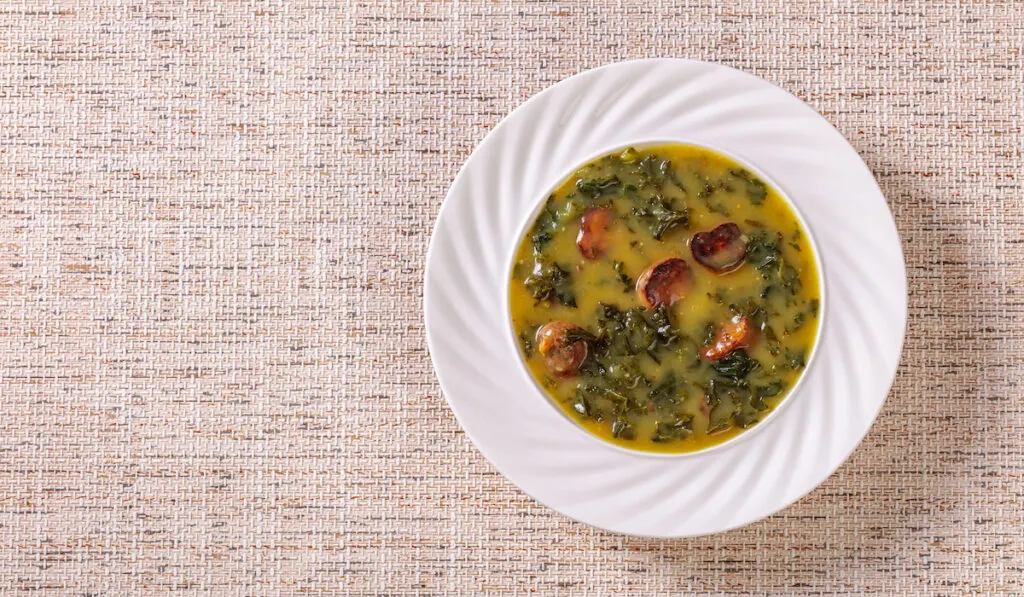 This hearty soup takes its cues from caldo verde, a soup popular in Portugal and often eaten with cornbread.
This recipe can be prepared on the stovetop or in the oven using a cast iron pot. Both methods provide delicious results.
Some potatoes can be pureed or mashed with a fork to thicken the soup. It's not required, but mashing the potatoes will make the soup creamier.
You can finish each bowl with a sprinkling of sharp Manchego cheese and fresh oregano. Neither is found in the classic version of this soup, but both are delicious additions.
Crusty bread is ideal for dipping into the soup.
Ingredients
Recipe
2 tablespoons of extra-virgin olive oil.
3/4 pound smoked Spanish chorizo, regular chorizo, or smoked sausage.
1 yellow onion.
6 cloves of garlic.
2 teaspoons of smoked paprika.
1/4- 1/2 teaspoon of cayenne pepper.
4 small gold or russet potatoes.
6-8 cups chicken broth.
Juice of 1 lemon.
Salt and black pepper.
4-6 cups Tuscan or curly kale.
1/4 cup heavy cream or coconut milk.
1/4 cup grated Manchego cheese, sharp cheddar, or parmesan.
Fresh oregano.
View Recipe
7. French Onion Soup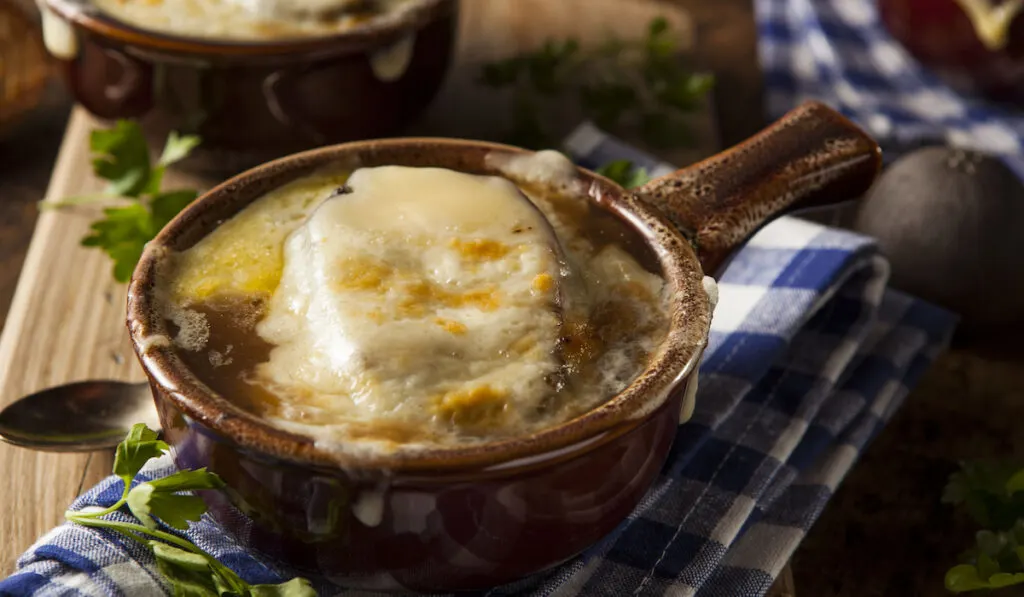 A classic French onion soup never goes out of style, so if the winter blues are biting hard, just turn to this delicious soup to lift your spirits.
This is not a diet food, nor are there any fast cuts to making it, but it is well worth it.
Among all soups, French onion soup is my top pick. When I do indulge, I want it to be worthwhile because I don't do it frequently.
The luxurious topping of bubbling, melting cheese is what elevates this traditional dish to the next level.
With flawlessly melted Gruyère cheese and crunchy pieces of bread on top, this soup is a culinary masterpiece that will help you get through the long, bitter winter.
Ingredients
Recipe
3 tablespoons of unsalted butter.
4 yellow onions.
¾ teaspoon of salt.
1 cup of dry white wine.
1 tablespoon of dry sherry.
8 cups of beef stock.
1 tablespoon of flour.
1/2 teaspoon of black pepper.
French bread
2 cups of grated Gruyère cheese.
View Recipe
Final Thoughts
What's the best part about soup when it's cold outside? That heat! Even if it's below zero outside, a hot bowl of soup can make you feel instantly warmer and cozier.
However, there are a lot of additional benefits to eating soup in the winter.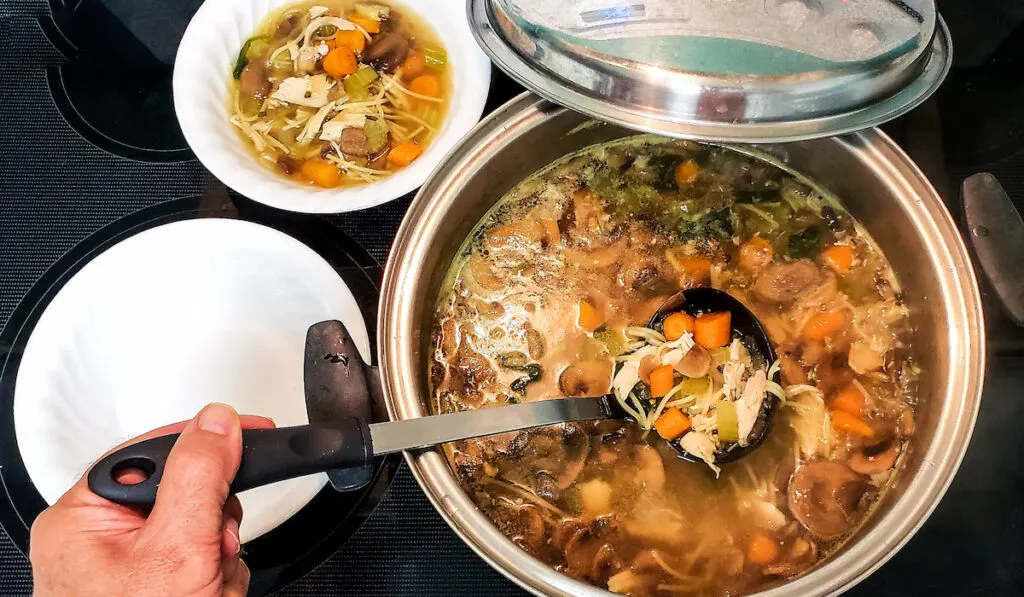 1. Assistance in Overcoming the Seasonal Virus
There are many reasons why soup can help when you're sick. The heat will help open your nasal passages, and the spices and other ingredients can also help relieve stuffiness, throat pain, pressure, and more.
Soup is a common go-to when you're feeling under the weather since it is warming and soothing.
When served hot, chicken soup can help clear the nasal passages, reduce inflammation, and stimulate mucus production.
2. Fill You Up with Minerals and Vitamins
Vegetables are well-known for their beneficial effects on health due to their vitamin content, fiber content, and anti-inflammatory characteristics.
3. Help with Hydration
When you're unwell, your body needs more fluids. Because of its high-water content, soup is an excellent choice for maintaining hydration.
Resources