*This post may have affiliate links, which means I may receive commissions if you choose to purchase through links I provide (at no extra cost to you). As an Amazon Associate I earn from qualifying purchases. Please read my disclaimer for additional details.
Soup is not just one of the most comforting foods ever, but it also has an impressive shelf life if stored properly.
You shouldn't cook a ton of soup all at once and eat it over the following days. It's not fun to eat the same dish every day, but cooking in bulk and freezing it can help you save time and avoid monotony.
This way, you will always have a healthy, satisfying meal on hand, even if you are too busy to prepare it.
But what are the best soups for freezing? The truth is that there aren't many soups that don't do well when frozen. Because of their high liquid content, soups freeze exceptionally well.
When liquid freezes, it creates a barrier that prevents the other ingredients from drying out or suffering harm from the extreme cold.
According to the USDA, frozen soups can be safely consumed for up to three months if kept in an airtight container below freezing.
So, if you're looking to shave some minutes off your weeknight meal prep, try your hand at making one (or more) of the nine tasty, well-freezable soups listed here.
1. Homemade Chicken Soup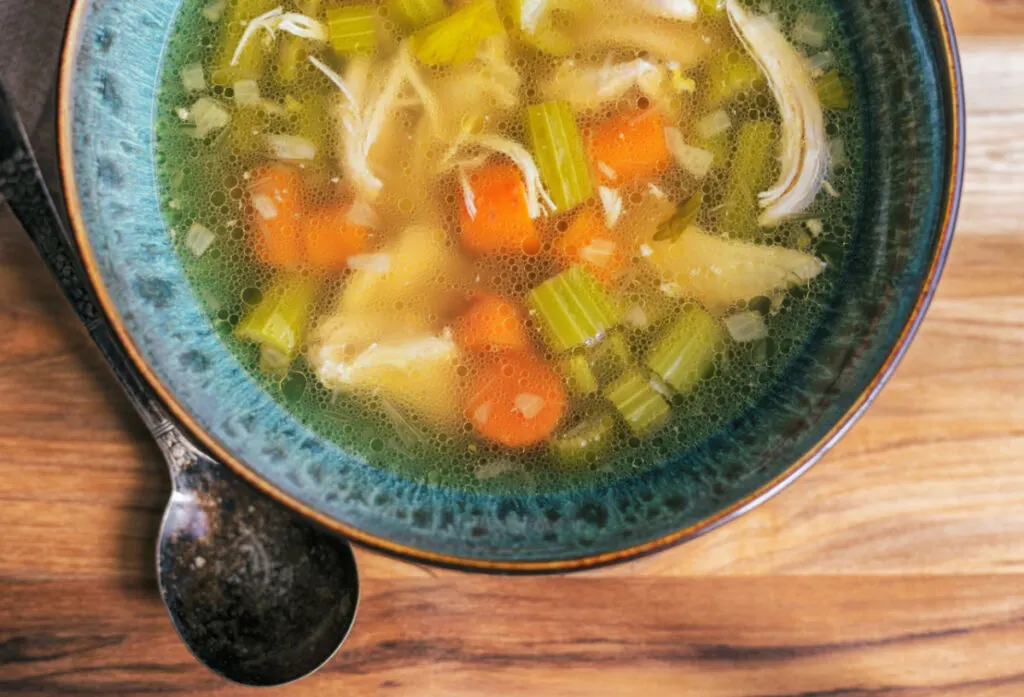 On a chilly day or after a long day at the office, nothing beats a steaming bowl of comforting homemade chicken noodle soup.
Make a big amount and store it in the freezer if you don't have time to stand over a simmering pot every night. Everyone in your family will be so appreciative.
Ingredients
Recipe
2 tablespoons of extra-virgin olive oil
1 pound of chicken breasts with no bones and no skin
1 large chopped onion
3 large peeled and chopped carrots
3 chopped celery stalks
2 chopped garlic cloves
1 bunch of stemmed and chopped kale
chicken broth, 5 cups
water, 3 cups
salt and black pepper
1 teaspoon of dried oregano
thyme, a small bunch
1 bay leaf
1 lemon juiced
View Recipe
2. Broccoli-Spinach Soup with Crispy Broccoli Florets and Croutons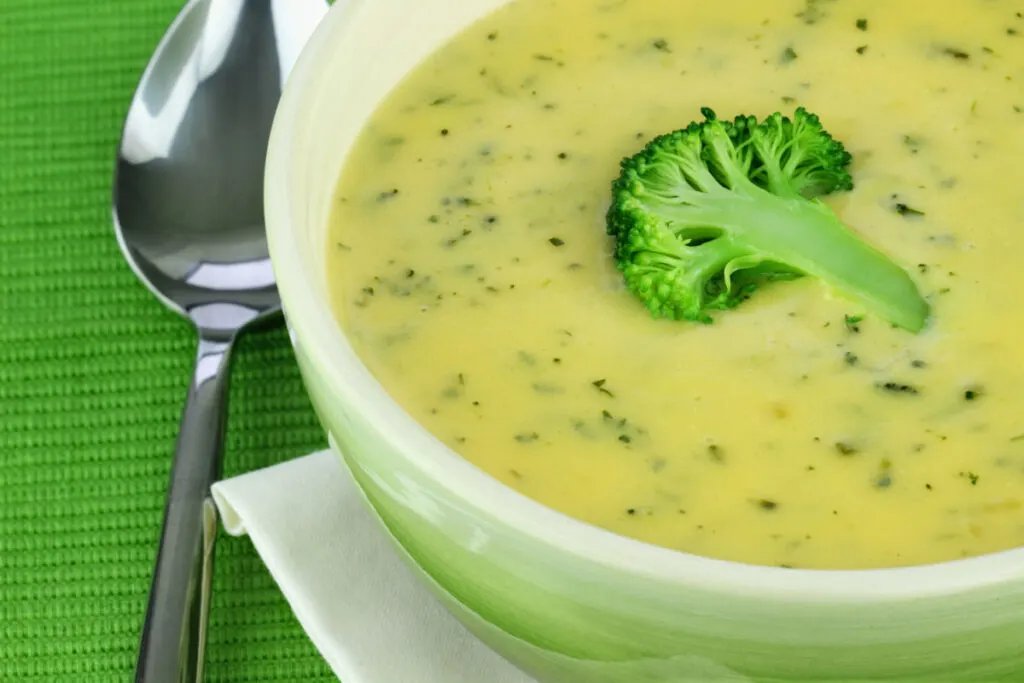 This recipe is a light and healthy variation of the traditional broccoli and spinach soup.
You might assume that cream was used to achieve the velvety smoothness of this soup, but the secret ingredient is actually a potato mashed into the broth.
Once the veggies have been blanched, they should be chilled in ice water to retain their vibrant color before blending.
Ingredients
Recipe
1/4 cup plus 2 tablespoons extra-virgin olive oil
1 medium yellow onion, finely chopped
2 large garlic cloves
pepper and salt
2 cups chicken broth
one 8-ounce baking potato peeled and cut into 1-inch pieces
2 pounds of broccoli stems
5-ounce package of baby spinach
4-ounce sourdough or ciabatta bread
1 tablespoon red wine vinegar
snipped chives, for garnish
View Recipe
3. Chorizo and Chickpea Soup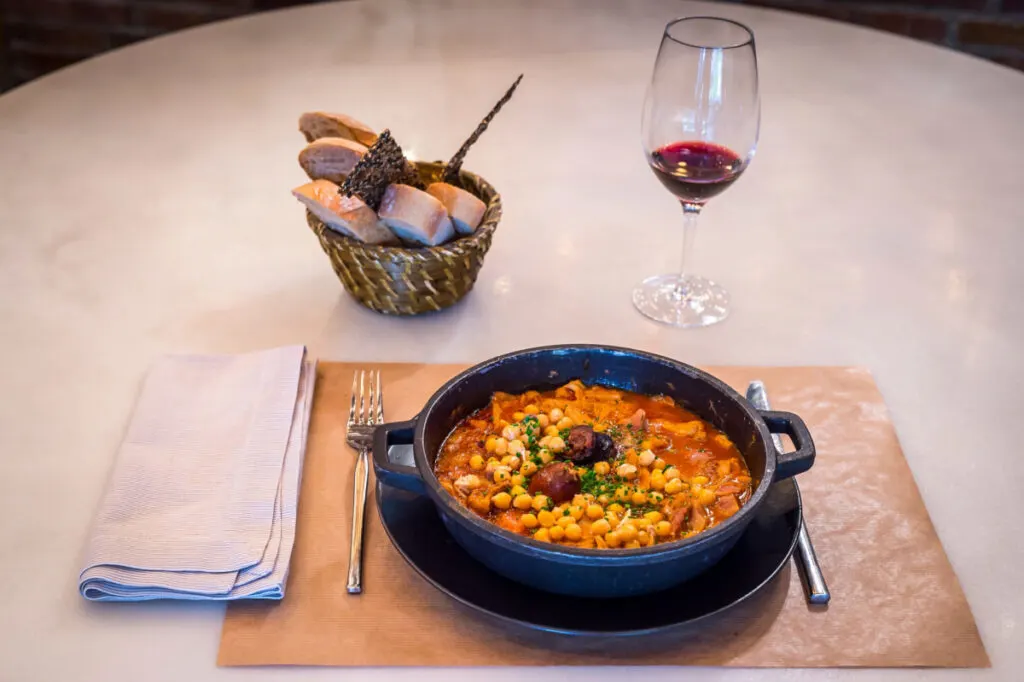 This flavorful chickpea soup will warm you up on a cold night. One bowl and thirty minutes are all you need to make this filling and flavorful soup for dinner.
Make it with the chorizo of your choice, whether it be animal or vegetarian, and round out the dish with some couscous or pasta.
Ingredients
Recipe
3 cups water
2 celery ribs
2 links of fully cooked Spanish chorizo, each weighing in at 3 ounces
1/2 cup dried chickpeas or garbanzo beans
small chopped tomatoes from a can
1/2 cup of small pasta
salt
View Recipe
4. Butternut Squash Soup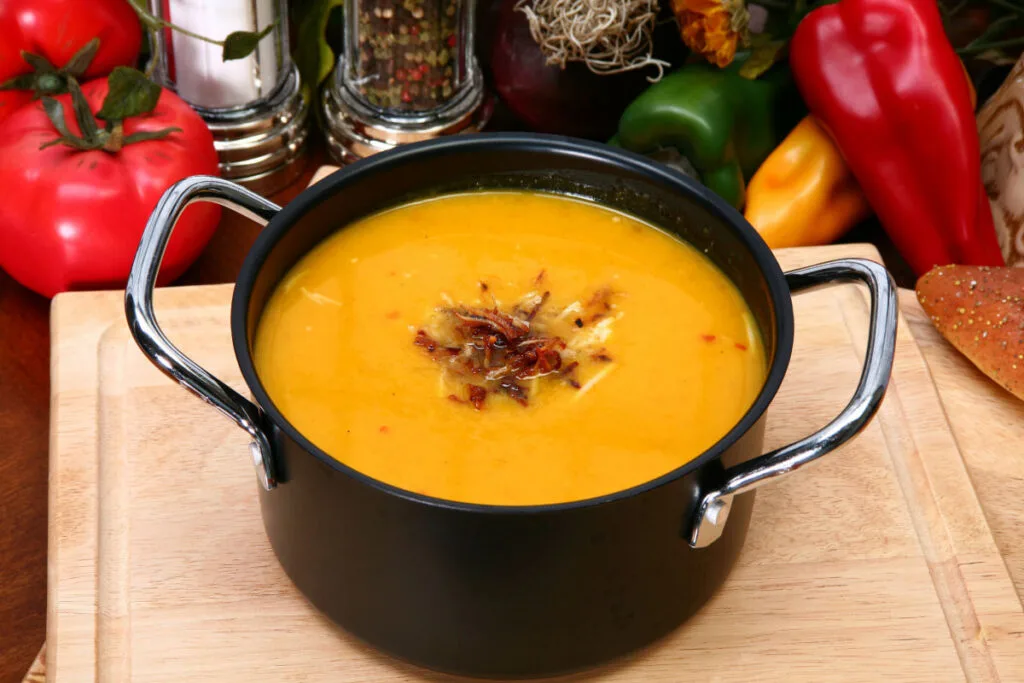 My favorite way to spend a chilly afternoon in the fall or winter is with a bowl of butternut squash soup.
A warm aroma of butternut squash fills your home as you prepare the soup, and your efforts are rewarded with steaming cups of the lovely dish.
I always keep this one on hand in the freezer so that I can grab something to eat even if I don't have any time to prepare.
Ingredients
Recipe
1 large butternut squash (about 3 pounds)
1 tablespoon olive oil, plus more for drizzling
1 large shallot bulb
1 teaspoon salt
4 garlic cloves
1 teaspoon maple syrup
1/8 teaspoon ground nutmeg
3 to 4 cups vegetable broth
1 to 2 tablespoons butter
salt and pepper
View Recipe
5. Sweet Potato Soup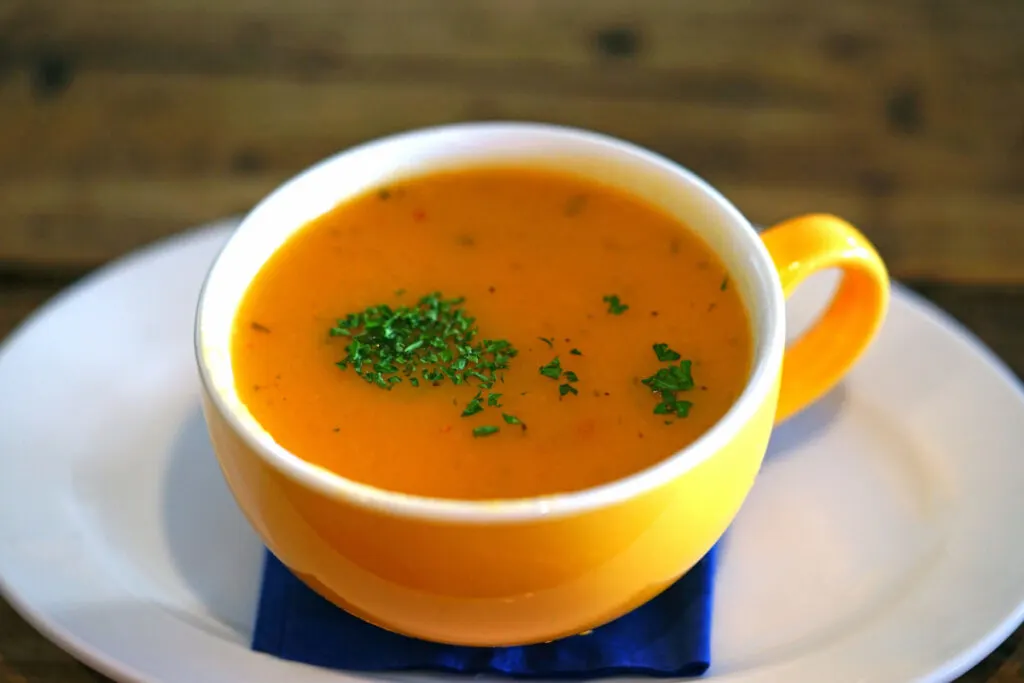 Nothing beats a bowl of comforting sweet potato soup in the cooler months. Sweet potatoes, carrots, and freshly cut ginger with a touch of spice come together in this luxurious dish.
Coconut cream, watercress, and crushed pistachios swirled on top make a hearty and satisfying meal for the whole family.
If you want to keep this soup for a later date in the week, you can simply store it in the fridge. This soup will keep in the fridge for up to 5 days and even longer in the freezer.
Ingredients
Recipe
2 tablespoons olive oil
3 carrots
1 yellow onion
1 1/2 pound sweet potatoes
2 garlic cloves
1 tablespoon fresh ginger
1/4 teaspoon red pepper flakes
1/4 teaspoon paprika
4 cups vegetable broth

Garnish:
watercress
pistachios
coconut cream or yogurt
red pepper flakes
cracked black pepper
View Recipe
6. Italian Bean Soup with Tomatoes
If you're looking for a simple, hearty, and comforting soup, go no further than this fine white bean soup recipe. This delicious soup can be on the table in just 30 minutes.
Some of the essentials of an Italian kitchen that go into making this dish are cannellini beans, tinned tomatoes, dried pasta, and aromatic herbs.
Quick and easy to prepare, this rich soup will fill your home with its enticing scent while it simmers.
Ingredients
Recipe
1 small onion
3 large garlic cloves
3 large fresh tomatoes
1 medium fresh carrot
2 teaspoons tomato paste
3 cups chicken or vegetable stock
10 ounces canned white beans
2 handfuls fresh basil
3 teaspoons olive oil
pepper
salt
View Recipe
7. Pea Soup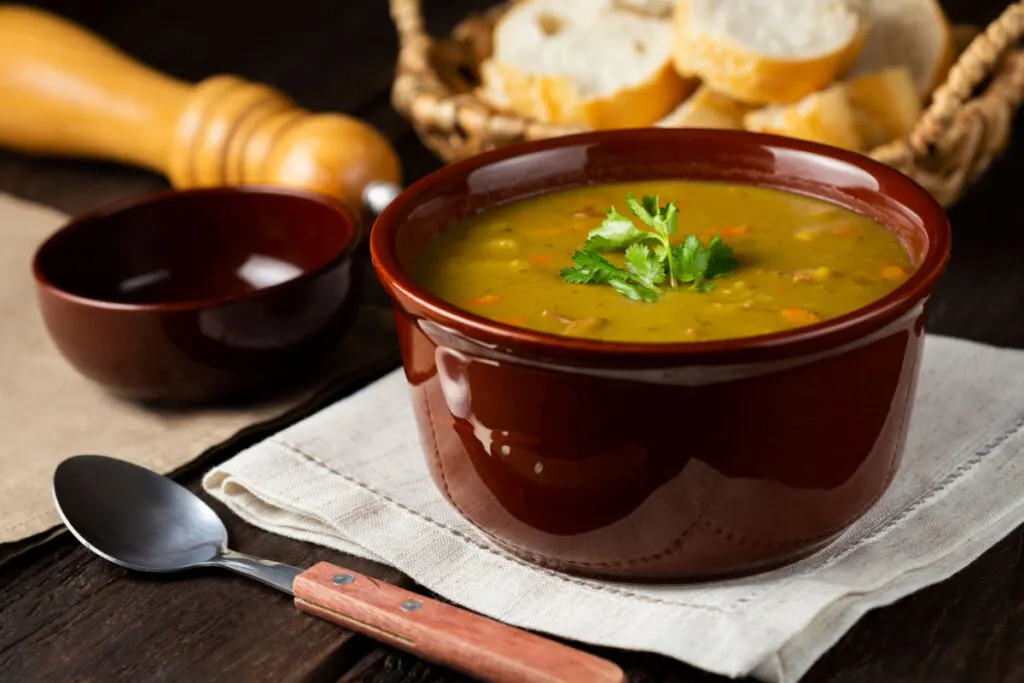 This easy-to-make pea soup is the perfect springtime starter.
Peas, either fresh or frozen, work great in this recipe. You won't be let down if you make an effort to shuck yourself fresh peas or get them already shucked when they are in season.
In a pinch, you can always rely on this quick and simple pea soup. The recipe can easily be multiplied, and the extra portions can be stored in the freezer for later use.
Ingredients
Recipe
1 tablespoon olive oil
1 garlic clove
1/2 onion
7 ounces fresh or frozen peas
10 ounces of chicken stock
salt and freshly ground black pepper
mint leaf, to garnish
View Recipe
8. Caribbean Black Bean Soup
Caribbean black bean soup is among my all-time favorite soups. This soup is loaded with nourishing ingredients.
The soup may be made with either dried or canned black beans, so you can compare the two and discover which you prefer.
Personally, I prefer using dried beans because they soak up the soup's flavor more thoroughly. However, in a pinch, canned beans can do the trick.
Ingredients
Recipe
2 cups black beans soaked overnight
or 3 cans black beans drained and rinsed
3 tablespoons olive oil
1 small red onion
1 red bell pepper
1 yellow or orange bell pepper
1 green jalapeno seeded
1 red chill seeded
3 cloves garlic
1/4 cup cilantro
1 bay leaf
1 curry leaf
1.5 quarts water or stock from vegetables
1 teaspoon ground coriander
1/2 teaspoon cayenne pepper
salt and pepper
View Recipe
9. Lentil Sausage Soup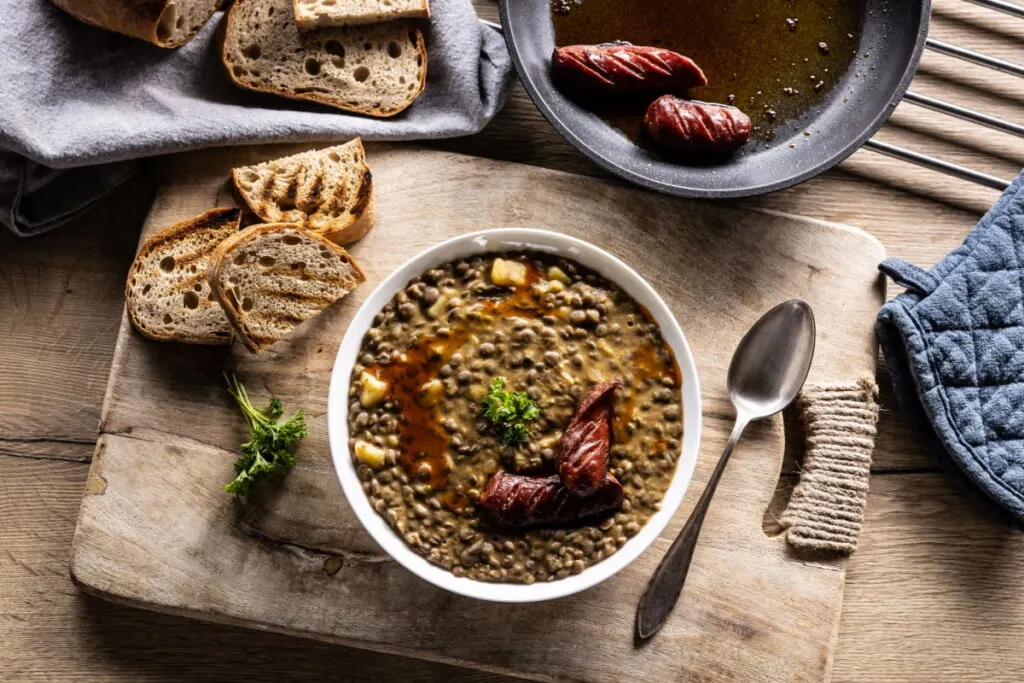 Featuring savory sausage, lentils, and vegetables in a tasty broth, this hearty lentil sausage soup has the greatest homemade flavor. It takes less than an hour to prepare and is a low-cost, highly satisfying supper.
With its high protein content and abundance of tasty vegetables, this dish will satisfy you for hours.
In an airtight container, lentil sausage soup can be refrigerated for up to three days or frozen for up to three months. For future dinners, this soup freezes beautifully.
Ingredients
Recipe
1 pound of either hot or mild ground sausage
1 yellow onion
1 cup carrots, diced
1/2 cup celery, diced
2 spoons of butter
3 minced garlic cloves
2 tablespoons flour
1 tablespoon tomato sauce
6 cups chicken stock
1 teaspoon of Worcestershire sauce
1 drop of hot sauce
1 cup of cleaned dry brown lentils
1 can of diced, drained tomatoes

Seasonings:
1 teaspoon dried basil
1/2 teaspoon dried parsley
1/2 teaspoon oregano
1/2 teaspoon mustard powder
1/2 teaspoon pepper
View Recipe
Final Thoughts
The majority of the soups you make can be refrigerated and eaten at a later time. In fact, there are only a few basic rules to remember:
Soups containing starchy ingredients such as rice, quinoa, or pasta shouldn't be frozen.
While sweet potato soup freezes well, ordinary potato chunk soup tends to become gummy when kept frozen.
When frozen, soups with significant amounts of dairy (cream or milk) are likely to change texture, become gritty, and separate.
When frozen seafood soups are defrosted, they can develop odd smells.
Soup thickened with flour or eggs may become thin and liquid when defrosted.
Toppings such as fresh herbs or cheese should be kept separate from the soups and only added before eating.
Resources