*This post may have affiliate links, which means I may receive commissions if you choose to purchase through links I provide (at no extra cost to you). As an Amazon Associate I earn from qualifying purchases. Please read my disclaimer for additional details.
It seems that there are always too many dining chairs cluttering up your dining room. Luckily, we have researched some of the most effective tips and tricks for storing your extra dining chairs.
If you have extra dining chairs, store them in a closet, use them to provide extra seating in other rooms, or use them for alternative purposes and decorations. With these ideas, you get to store the extra chairs while upgrading your décor and saving money.
To learn more about styling your home with extra dining chairs, read on.
9 Ways to Store Extra Dining Chairs
Place Them In A Closet
If you have extra closets that are unused, you can always store extra dining chairs there. This will keep the chairs out of the way and safe for when you need extra seating.
Of course, not everyone has an extra closet with enough room for large dining seats. If that sounds like you, there are tons of other options to choose from.
Create Entryway Seating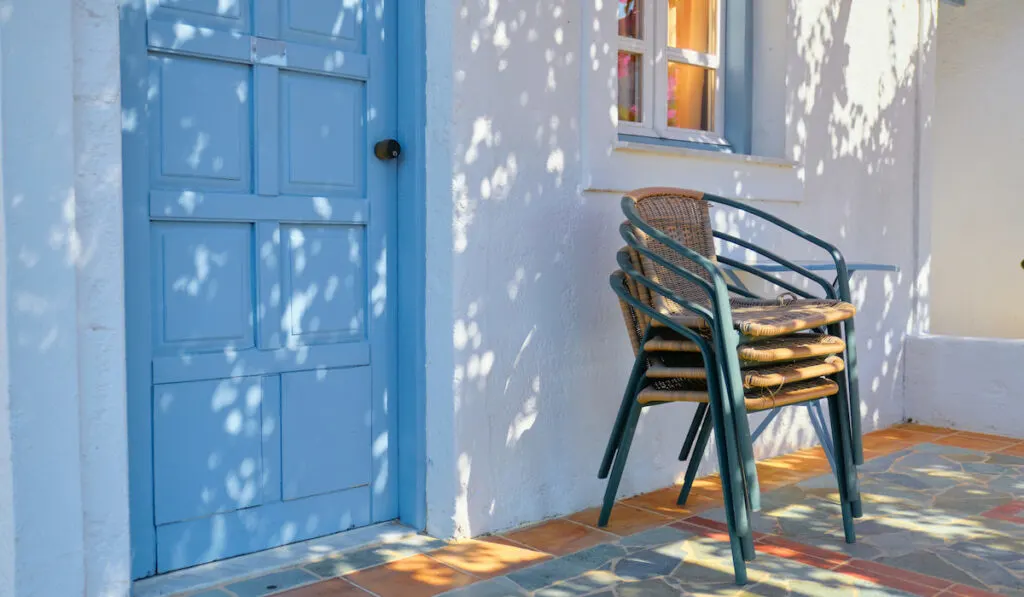 One of the best ways to use extra dining chairs is to create an entryway seating area. Most entryways are relatively barren, but you should spruce the area up since it is the first impression of your home. One way that you can make your home look classier is by providing extra seats in the entryway.
Placing a small table in between two chairs is the perfect way to store two chairs at your entrance. If your entryway is not large enough for two separate chairs, using one chair and a fluffy blanket or pillow will get the job done.
Use an Extra Chair at a Work Desk
If you want something a bit more functional than entryway seating, you can use the extra chair at your work desk. After all, everyone has a desk for work, writing, or other activities. You will need a seat to sit at the desk.
By using your extra dining chairs at your work desk, you get to kill two birds with one stone. You provide perfect storage for your extra dining chair and provide yourself with a place to sit at the desk. Not to mention, you don't have to expend more money on another desk chair.
If you decide to use an extra chair at your work desk, be sure to invest in a comfortable cushion. After all, most dining chairs are not designed for comfort. When you need to use the dining chair at the dining room table, simply remove the cushion so it matches the rest of your set.
Create a Bistro Seating Area in Your Kitchen
Many homes with a dining room end up having relatively barren kitchens. After all, what's the point in having a large kitchen table if you already have a large dining room table in the other room?
One way that you can take up that barren space while using your extra dining chairs is to set up a kitchen Bistro table. A Bistro table is much smaller than a traditional table. It typically only has space for two or three people. This is the perfect size for kitchens and provides just a little extra seating.
When you create the Bistro seating, use the extra dining chairs in your Bistro area. That way, the only thing you need to buy is a little Bistro table that matches your chairs.
Place an Extra Chair in Empty Corners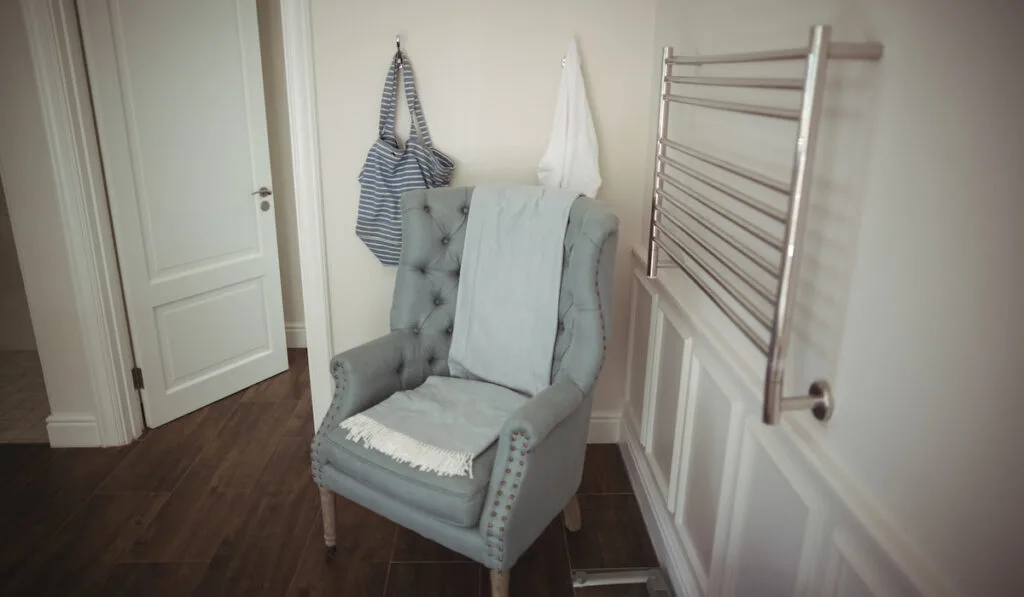 It can be hard to decorate extra corners in bedrooms, living rooms, and even hallways. Add a little bit more life and texture to these corners by placing chairs in them. If you also add blankets, pillows, or mirrors around the chair, it will look even more comfortable and cozy.
Use an Extra Chair as a Makeshift Bedside Table
If you have a guest room, there's no point in buying an extra bedside table if you already have extra dining chairs. All you need to do is place the extra chair beside the bed, and you have a makeshift bedside table.
Make sure that you style the extra chair so that it matches the decor of the guest bedroom. Something as simple as a throw placed over the top of the chair is a great way to make it match the room while subtly offering extra storage and saving you money.
Add Extra Seats In Your Living Room
Nearly any living room could do with more seating. Make sure your living room always has enough chairs for your family and guests by adding extra seats with the leftover dining chairs. All you need to do is place the chairs around your other seating areas, and they are perfectly disguised as extra seating in your living room.
Store Them On The Wall
If you have a ton of extra space in your home, you can even turn your extra dining chairs into a statement piece. Just by using a few extra tools, you can mount the extra chairs on the wall. Simply pull them down whenever they are needed.
Create A Reading Nook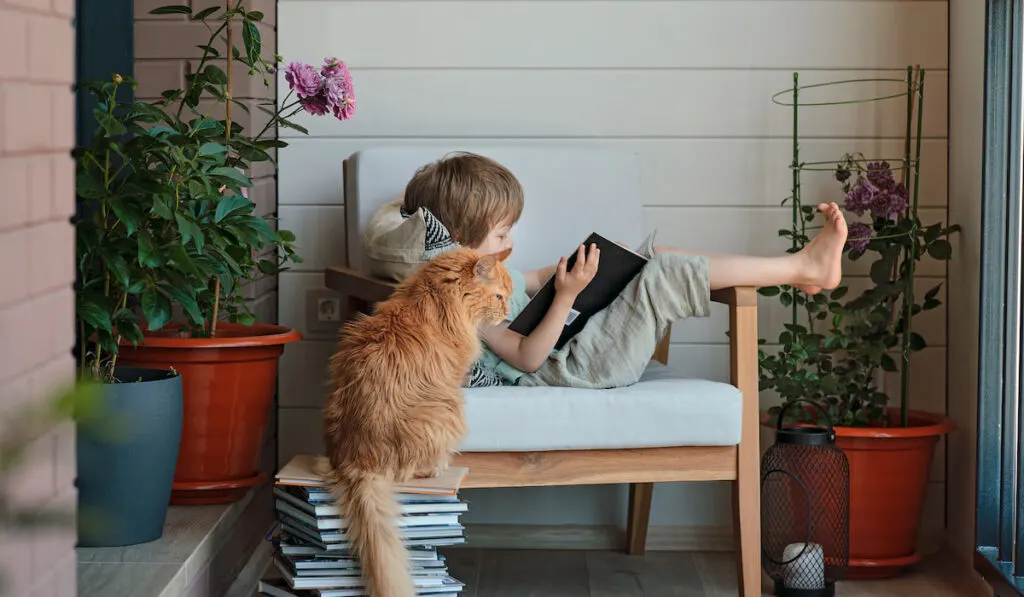 If you love reading, create the perfect reading nook using your extra dining chairs . This tip will provide you extra storage space for your chairs, but it can also transform your home into a hygge paradise.
For the reading nook to be as comfy and cozy as possible, make sure there are tons of pillows and blankets around. You might also want to add a mini bookshelf or table so that you can light a candle and drink some tea while reading.
Summary
If you have extra dining room chairs, you are not without options for storage.
You can use a basic tip like storing them in an empty closet, or you can add them to different parts of your home in order to offer more seating, amp up your decor, or even create a comfy area for you and your guests.
Resources