*This post may have affiliate links, which means I may receive commissions if you choose to purchase through links I provide (at no extra cost to you). As an Amazon Associate I earn from qualifying purchases. Please read my disclaimer for additional details.
One of the biggest kitchen design trends is pot filler faucets. People who love cooking want to recreate the restaurant feel at home, especially with all the rage on the farm-to-table eating craze. The new designs are sleek, practical, don't get in the way and are seamlessly incorporated into the kitchen. There are some pros and cons you should consider before deciding whether to install a pot filler faucet.
What is a pot filler faucet? A pot-filler faucet is a kitchen device that attaches to the wall over the stove, or any other place where you need water, and folds out of the way when it's not in use.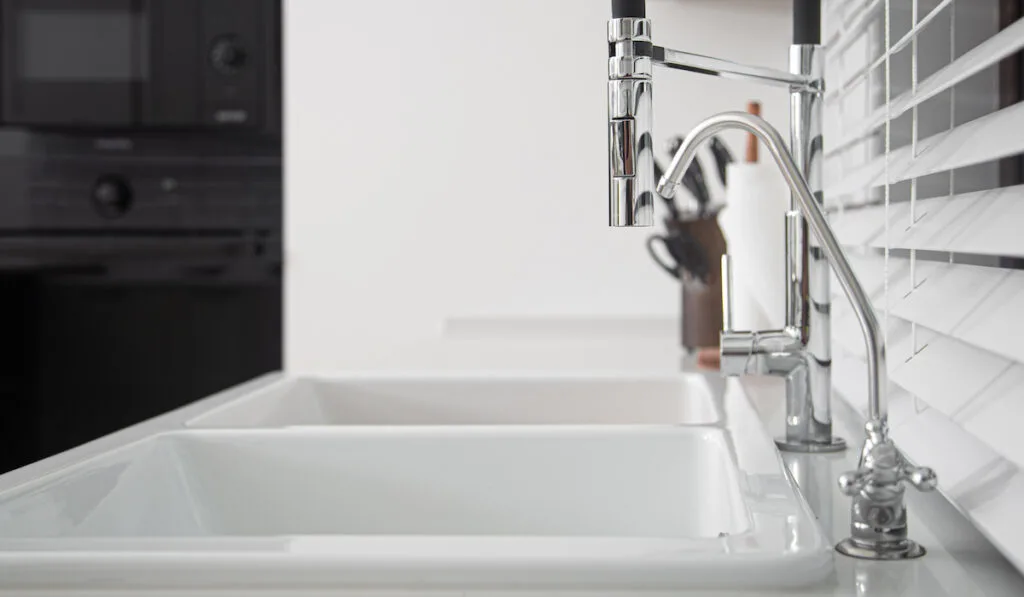 Several manufacturers produce them, and they all have different designs and features, so it's essential to read the instructions that come with yours before you do the rough-in plumbing (or have a professional do it for you).
Form and Function
A pot filler faucet can look beautiful in the backsplash of your kitchen. The modern designs are especially elegant and are available in a wide variety of styles and finishes.
What is great is that you can coordinate them with your kitchen design, matching it or mixing it with the existing decor and fixtures.
These faucets can be swung out when the pot is on the burner. Turn the nozzle and fill your pot. Once it's full, just swing it back to place and out of the way. You will probably dazzle your guests with your sous-chef skills.
But before you go out and get one for your kitchen, you need to consider if it is a practical and convenient option.
Benefits of a Pot Filler Faucet
Eliminate Heavy Lifting
If you do a lot of cooking, you can save all the heavy lifting associated with carrying full pots of water from the sink to the stove.
Your back will thank you! Why? Consider one gallon of this liquid weighs almost nine pounds; a cubic foot of water weighs 62.4 pounds.
To prepare certain dishes, like pasta, you will need a pot full of water. Imagine how convenient it is to have a faucet on top of your cooktop. You can now forget about carrying heavy pots back and forth!
Installing One is Effortless.
OK well not really but this is probably not a DIY task which means all you need to do is schedule installation. You can hire a contractor or a plumber and have it placed in 30 minutes or less, or if you prefer, with the right tools, you can always do it yourself.
To DIY an install, you'll want to follow the manufacturer recommendations for the specific faucet you buy. At a minimum, you'll need at least a single one-half inch cold water supply line, and of course, all the technical notes, dimensions, and instructions from the manufacturers.
Keep in mind that if you do it yourself, there is probably going to be some amount of drywall and backsplash patching to be done.
It's Efficient
This kitchen device is best described as efficient. Water from it flows at a rate of 4.0 gallons per minute.
On a standard faucet, water runs at 1.5 gallons per minute. Your work will be finished three times faster.
Safety First
Pot filler faucets are safe and convenient. Most have dual joints to make them easy to reach, as well as dual shut-off valves.
You can forget about burning yourself on the cooktop just because you were trying to reach the taps.
Keep Things Clean
Don't you just love less clutter on the sink? Having a pot filler faucet leaves more free space in your basin. This means you can fill the pots while washing dishes without being annoyed by the clutter.
Potential Cons to Having A Pot Filler
Installation can be costly depending on where you want the faucet and how finished your kitchen is when you decide to put it in.
Be careful with leaks and slow drips that can damage the flooring and cabinetry around them. Make sure the faucet is installed correctly.
You still have to take the pot from the cooktop to the sink. At least it's just one trip. Just be careful when you're carrying a hot liquid.
If you walk away from it and your pot overflows, there is no sink there to catch it. You'll wind up with a mess all over your stove, countertops, and floor.
You may not use it as often as you think. Take a look at a normal month of cooking, it looks nice but how often would it actually get used?
Pot Filler Faucet Tips
Before the installation, consider that you must have the right location and height of the pipe projecting out from the wall to fill the pots. Keep in mind the height of the containers and tools you intend to use, as well as your cooking needs.
Be careful of installing it too low and make sure that it folds back entirely to the wall when not in use. A double-jointed faucet is a tad more expensive, but it's better for larger stovetops.
Consider other dimensions such as the height of the cooktop burners above the finished height of the countertop. And always add an extra inch to be safe.
To avoid those pesky slow drips, consider a faucet with two separate on and off valves. There's a cooktop underneath that can be damaged by water; there is no sink. The second valve will help you minimize the damage caused by any dripping water.
Ask your plumber to install it for emergency shut-offs. This way, you'll be able to shut off the h2O coming from this faucet without interrupting the supply elsewhere at home.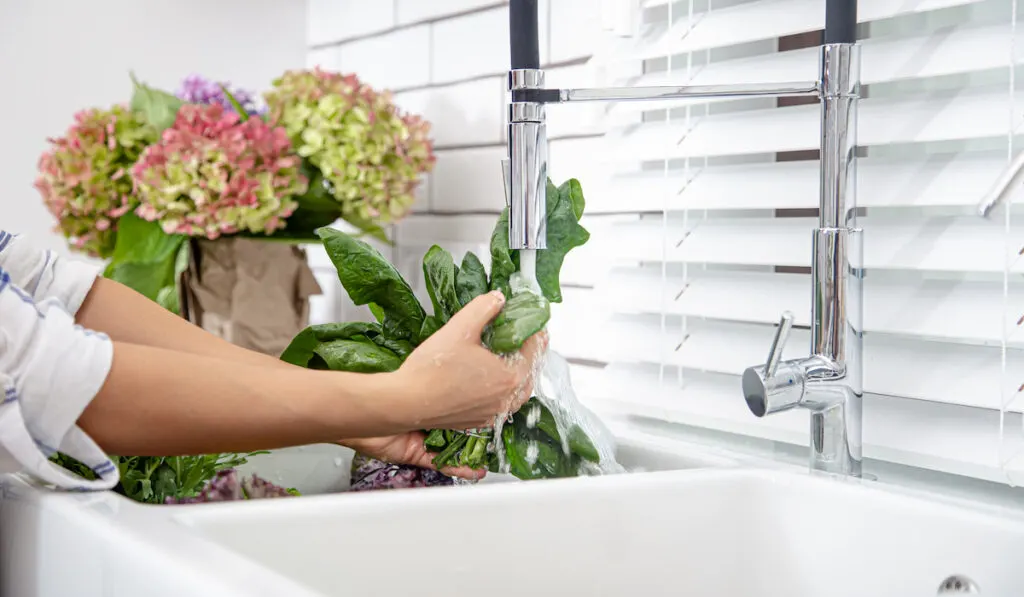 Make sure the pot filler faucet has a spout with a 360-degree rotation and is extended at least 22-inches to reach every burner on the cooktop. You don't want to limit yourself to one burner, right? And who knows? One day you might want to use all of them at the same time if you're entertaining.
If the pot filler faucet is included in the design stage, it will make the installation process much more manageable. Be sure the specific faucet you choose fits your desired kitchen style, your cooking habits, and the functionality of the room. If you are adding it once the kitchen is done, speak to a professional before making any changes yourself.
When it comes to style, there are many contemporary, traditional, and vintage models to choose from. The first pot fillers followed a contemporary line, but their popularity made manufacturers reach out for other design alternatives. Finding the right design will be super simple. Don't be afraid to mix and match, regardless of your kitchen style.
If you are doing the installation yourself, avoid tightening the faucet to the nipple using adjustable pliers or a wrench to avoid damaging the faucet finish.
The Bottom Line
A pot filler can be a stylish and useful accessory in the kitchen. Style and convenience are not opposites. Regardless if you see this device as just a helpful gadget or a design statement for your favorite space at home, make the most out of it and feel free to take the necessary time to find the right model that fulfills your cooking needs. You won't regret it.