*This post may have affiliate links, which means I may receive commissions if you choose to purchase through links I provide (at no extra cost to you). As an Amazon Associate I earn from qualifying purchases. Please read my disclaimer for additional details.
Did you know that a warm, steaming bowl of traditional Japanese ramen is a comfort for most ailments?
According to the Japanese, ramen drives away a chilly wind and can even ease a cold.
This article discusses various types and flavors of ramen and the creative ways to make them healthier, tastier, and enjoyable. Please keep reading to find out more!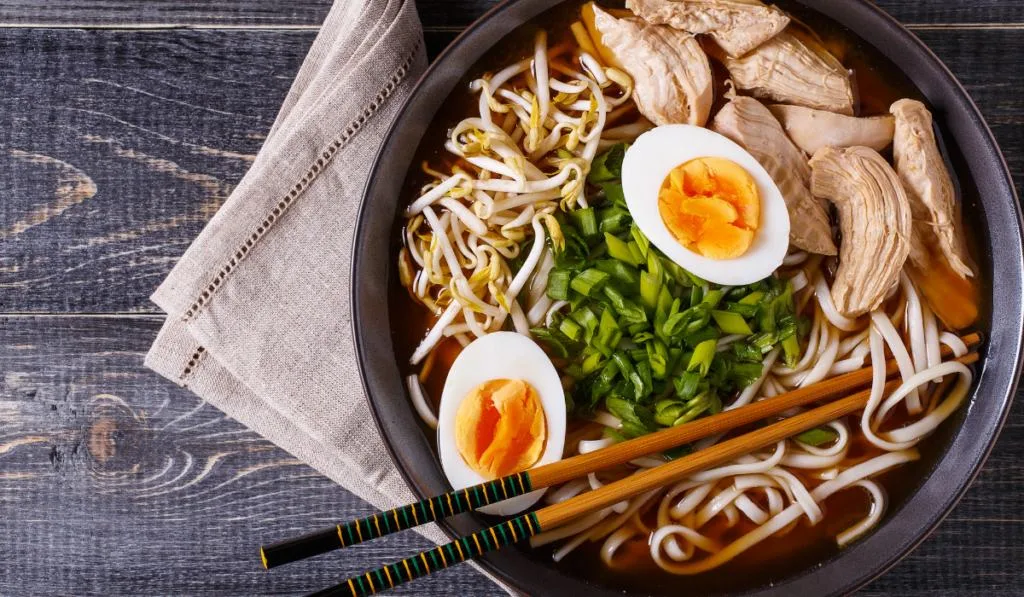 What Is Ramen?
Ramen, or shina soba, is a popular Japanese noodle meal originating in China. The dishes comprise a variety of wheat-based noodles and pleasantly flavored broths.
Ramen is a product of four essential ingredients:
Wheat flour
Salt
Water
Kansui, which is mineral alkaline water that adds hardiness, elasticity, and yellow color to the dough
Ramen is one of Japan's staple foods, available at gas stations, grocery stores, and online stores. It is the meal of choice for many college students and low-income earners.
The noodles have a long shelf life (up to two years). Thus, you can buy and store them in bulk, making them a perfect food choice for emergencies.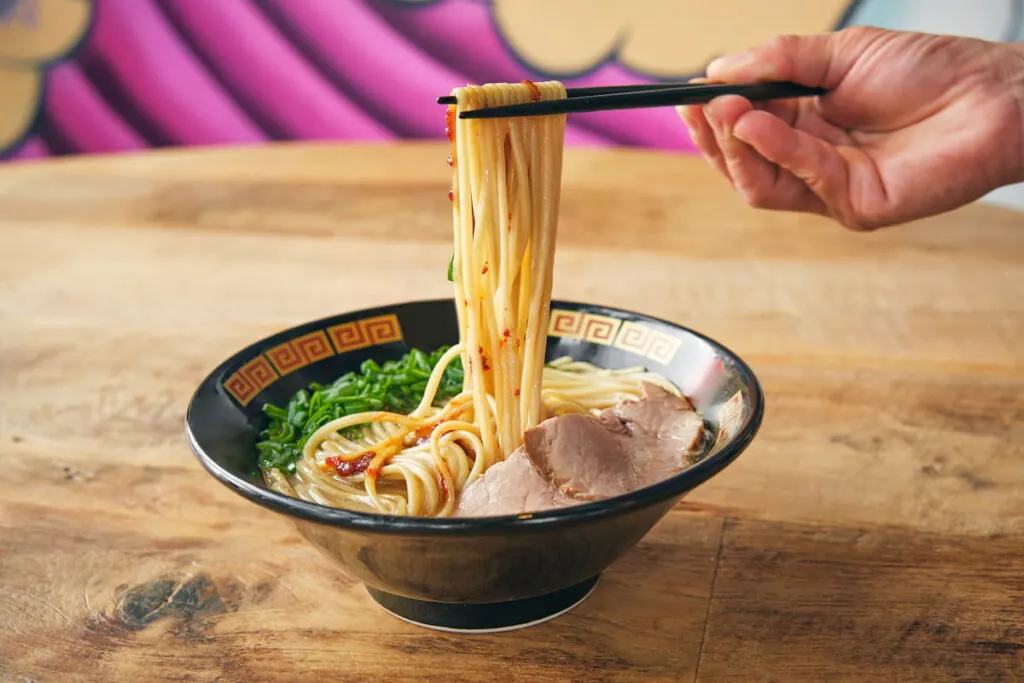 Is Ramen Healthy?
Ramen noodles contain less nutrients than other carbohydrates, but they are not unhealthy. However, their flavoring packets contain preservatives and additives that may be unhealthy.
A good example is tertiary-butyl hydroquinone (TBHQ), an additive that prolongs shelf life.
Therefore, it would be best to consider your nutritionist's advice before including it in your diet. The noodles are low in essential nutrients that your body needs.
Moreover, they have high quantities of the following:
Calories
Sodium
Saturated fat
The table below shows the nutritional composition of ramen.
| Nutrient | Amount per 100g of ramen |
| --- | --- |
| Protein | 10.2g |
| Dietary fiber | 2.9g |
| Calcium | 21mg |
| Magnesium | 25mg |
| Potassium | 181mg |
| Sodium | 1,860mg |
| Vitamin C | 0.3mg |
| Manganese | 0.63mg |
| Vitamin B-6 | 0.038mg |
| Vitamin B-12 | 0.25µg |
| Thiamin | 0.44mg |
| Folic acid | 70µg |
| Copper | 0.126mg |
| Zinc | 0.6mg |
| Energy | 440 kcal |
| Iron | 4.11mg |
| Saturated fat | 8.12g |
Even though ramen is low in essential nutrients, it remains the best mid-afternoon pick-me-up or quick and easy meal.
The good news is that there are plenty of ways to enjoy ramen more healthily. Also, there are healthy ramen options on the market.
You can make ramen more healthy by doing the following:
Adding vegetables or protein
Choosing a low-fat or baked ramen
Making traditional instant ramen that is healthy and guilt-free
The Most Popular Japanese Ramen Varieties
Ramen is classified depending on broth flavor.
The common categories include:
Miso
Shio (salt)
Shoyu (soy sauce)
Tonkotsu (This category is classified according to the broth's ingredients rather than flavor.)
Let us explore more!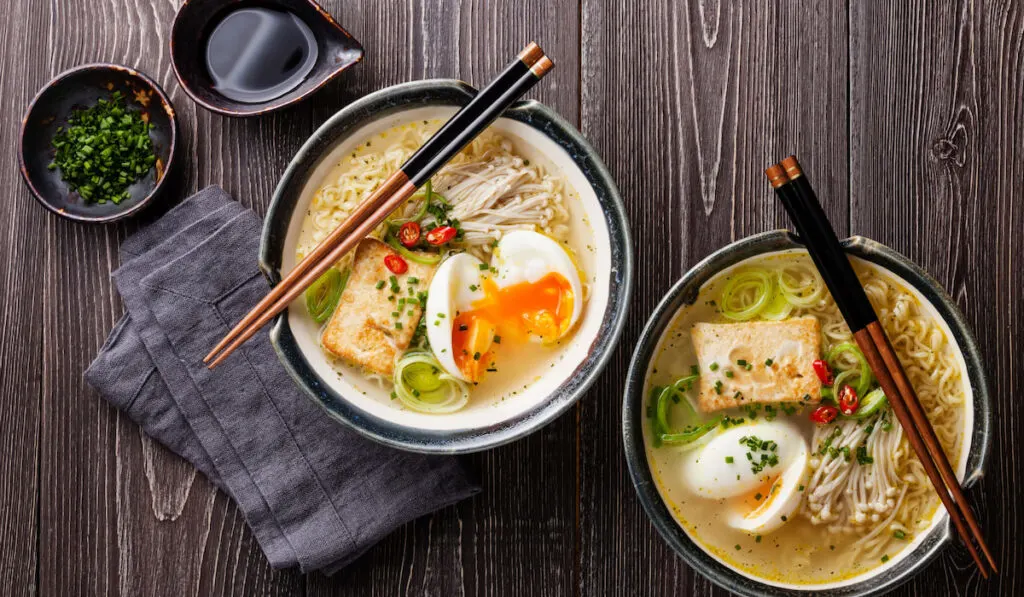 Miso (Sapporo Ramen)
Miso ramen contains fermented soybean, hence the name, Miso, which means soybean in Japanese. The paste is either red or white and made from any of the following:
Shio
Shio means salt in Japanese. This type has a light flavor and little fat and oils, with the highest salt content compared to other varieties.
However, it can also be from seafood or pork.
Shoyu (Tokyo Ramen)
Did you know soy sauce is called "shoyu" in Japanese? As the name suggests, shoyu ramen contains soy sauce.
Shoyu can either be cloudy or clear brown. Japanese chefs don't use the soy sauce we buy at the store.
They combine dried ingredients like mushrooms and seafood with chicken broth to make their shoyu sauce.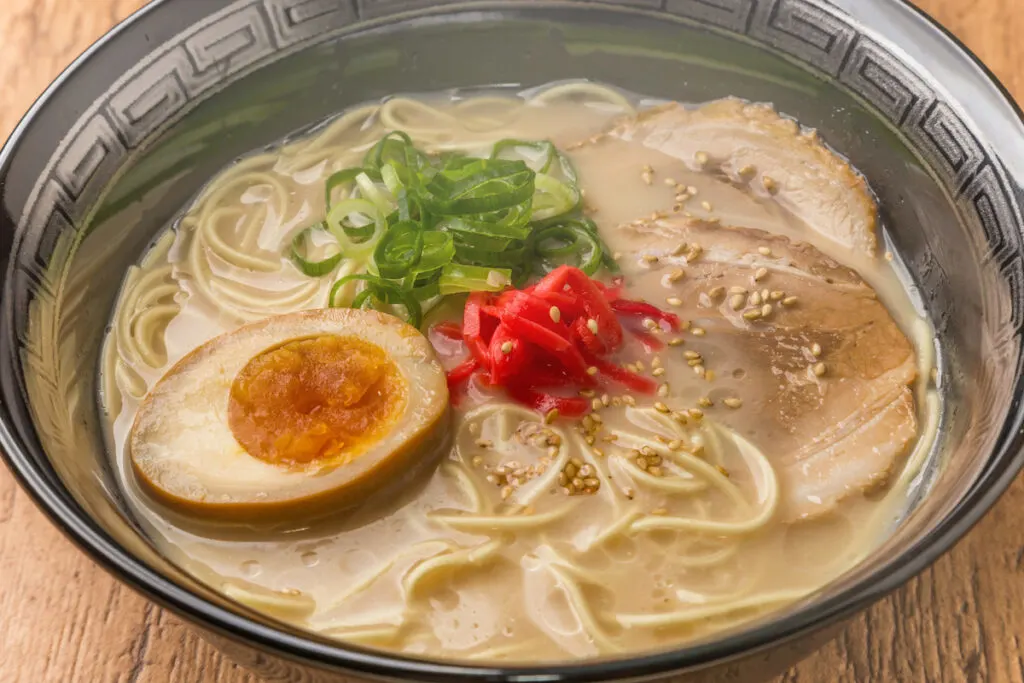 Tonkotsu (Hakata Ramen)
Tonkotsu ramen originated in the prefecture of Fukuoka on Kyushu Island. This ramen has since become popular across Japan, with each region creating its own version of this dish.
What Are the Different Flavors of Ramen?
Here is a list of some of the most popular flavors of ramen:
Picante Chicken
Creamy Chicken
Roast Chicken
Chicken
Lime Chilli Shrimp
Chilli
Hot and Spicy Shrimp
Shrimp
Roast Beef
Beef
Pork
Soy Sauce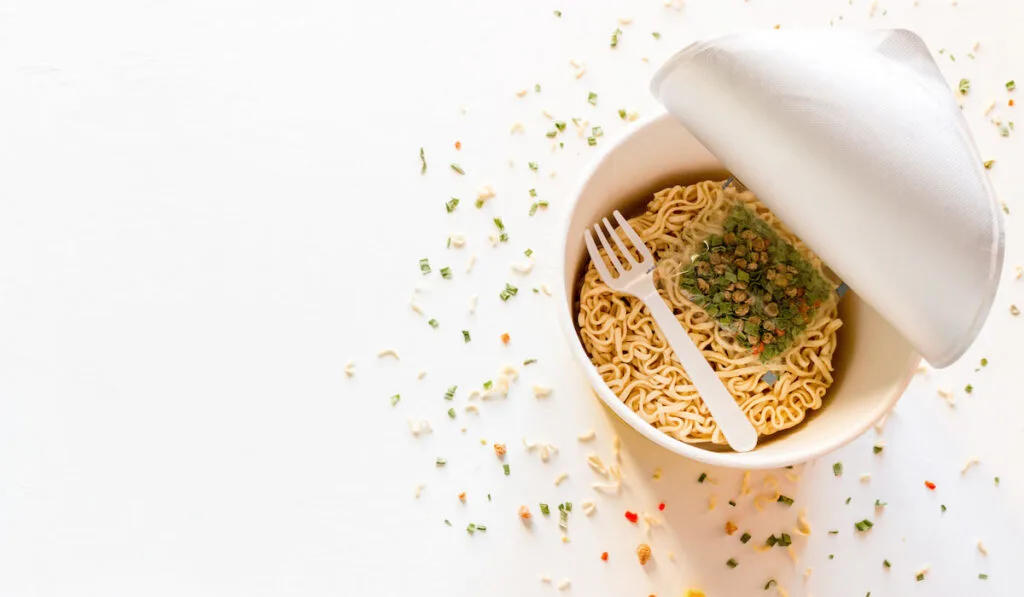 The Most Common Brands of Ramen
Ramen is one of the most popular snacks. Ramen brands vary in nutritional value, taste, quality, and price.
Here are some of the leading brands for your selection:
Nissin Ramen
Nissin is amongst the best ramen brands. This brand produces the famous Cup Noodles.
Nissin also produces many other popular instant ramens noodles. A good example is the Demae Ramen Instant Noodle. This variety comes in various flavors, including:
Sesame oil
Roasted beef
Seafood
Tonkotsu
Nongshim Ramen
Nongshim's Shin Ramyun is a popular spicy ramen. The shiny red packaging claims it "can make a grown man cry."
These noodles are an ideal, quick fix when you are hungry. Their spiciness can help clear your sinuses or help you feel better after a long, tiresome day.
Nongshim prepares their broth from a beef base containing the following ingredients:
Mushrooms
Peppers
Carrots
Samyang Foods
If you are a spice lover, try this Korean brand.
Besides their special spicy flavors, Samyang Foods has a unique approach to ramen manufacturing.
They own a farm where they raise dairy and beef cattle. Thus, they get their ingredients in-house, including beef and dairy products like cheese.
Paldo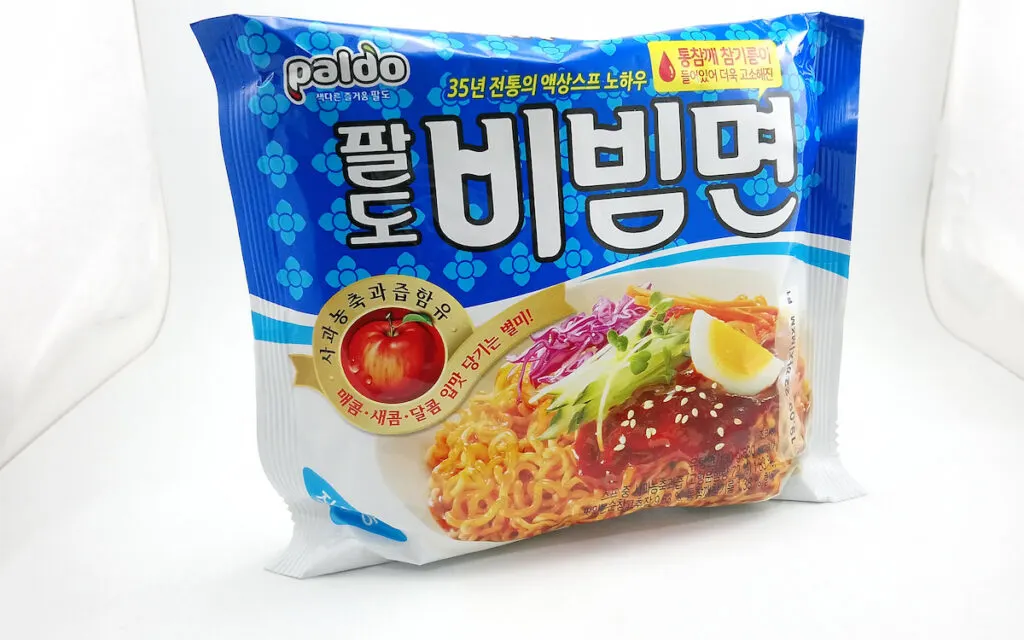 Paldo is a traditional Korean ramen noodle brand. They produce instant, spicier, and punchier ramen.
One of their best flavors is the Volcano Extremely Hot & Spicy Stir Fried Chicken Instant Noodles.
This flavor contains no soup — the perfect choice if you dislike broth.
Sapporo Ichiban
Did you know that "ichiban" in Japanese means number one?
They make their broth by combining chicken and soy sauce.
This fantastic brand from Sanyo Foods also produces a popular flavor that has over 1,500 reviews and a 4.8-star rating on Amazon.
Myojo Ramen
Myojo is a Singaporean noodle brand that is high in sodium but tasty. These noodles are soft and springy.
With the high calories per serving, they won't leave you hungry but may leave you wanting more.
Immi Ramen
The distinguishing characteristic of this brand is its low carbs, only 0.2 ounces (6 grams) per serving.
Immi noodles come in bright, friendly packaging with unique flavors, including:
Black Garlic Chicken
Tom Yum Shrimp
Spicy Beef
Thanks to their protein level, this ramen is healthy, filling, and tasty enough.
A-Sha Ramen
A-Sha is famous for its fancy Crazy Rich Ramen. Their noodles have a unique shape, known as "meteor noodles."
Currently, they boast that the Spicy Mala Ramen is their customers' favorite flavor.
Daisho Ramen
Daisho ramen is purely vegan, and the founder was inspired to promote vegetable consumption. The broth is umami flavored and comprises sesame oil and garlic.
This brand contains a high amount of sodium, 0.07 ounces (2,000 mg).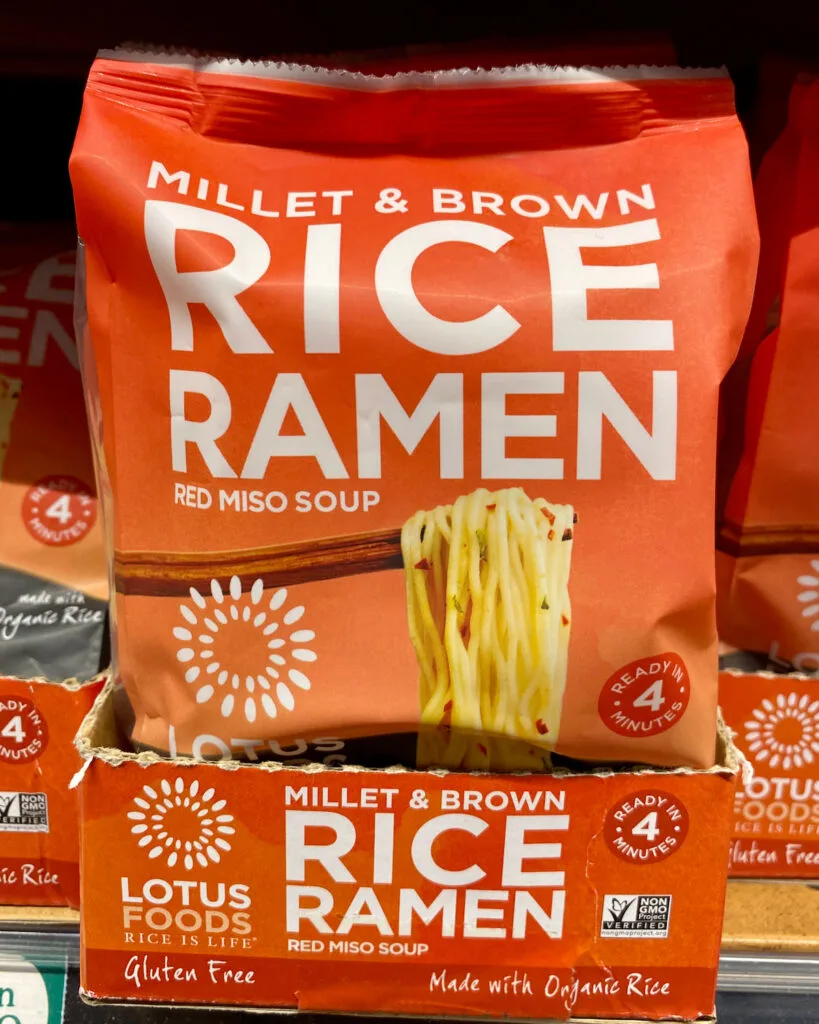 Lotus Foods Ramen
If you are a gluten-free eater or fighting Celiac disease, the Lotus Foods brand is the one for you!
Thus, they are a healthier choice. But they have fewer flavors for your selection; they include:
Red miso ramen
Wakame ramen
MAMA Ramen
MAMA offers many spicy noodles. Their ramen comes in unique Thai flavors, such as:
Green curry
Basil
Tom yum
The brand also has more unique flavors, including:
Chilli Crab Flavor
Spicy Cheese Flavor
Hot Korean Flavor
Mike's Mighty Good Ramen
Instead of the traditional fried noodles in instant ramen, Mike's Mighty Good utilizes:
Steamed organic noodles
Organic ingredients
No GMOs
They make their ramen from scratch in a California-based solar-powered facility, making it eco-friendly.
This brand comes in handy cup packaging for ease of preparation. Mike's Mighty Good ramen is a perfect choice if you love meat but are health-conscious.
Their flavors include:
Chicken
Spicy beef
Pork tonkotsu
Miso
McDougall's
If you are a vegan or on a diet fighting a chronic condition, Mc Dougall's ramen is the right choice. Dr. McDougall made this ramen to promote healthy living, free of GMOs or added oils.
This brand is one of the most nutritious and economical noodles. For instance, preparing it is easy; you only need boiling water.
Annie Chun's Ramen
Annie Chun's ramen is one of the easiest to prepare; it takes less than five minutes. Moreover, this brand contains lower amounts of sodium and fat than most brands.
Thus, it is an ideal choice if you are health-conscious.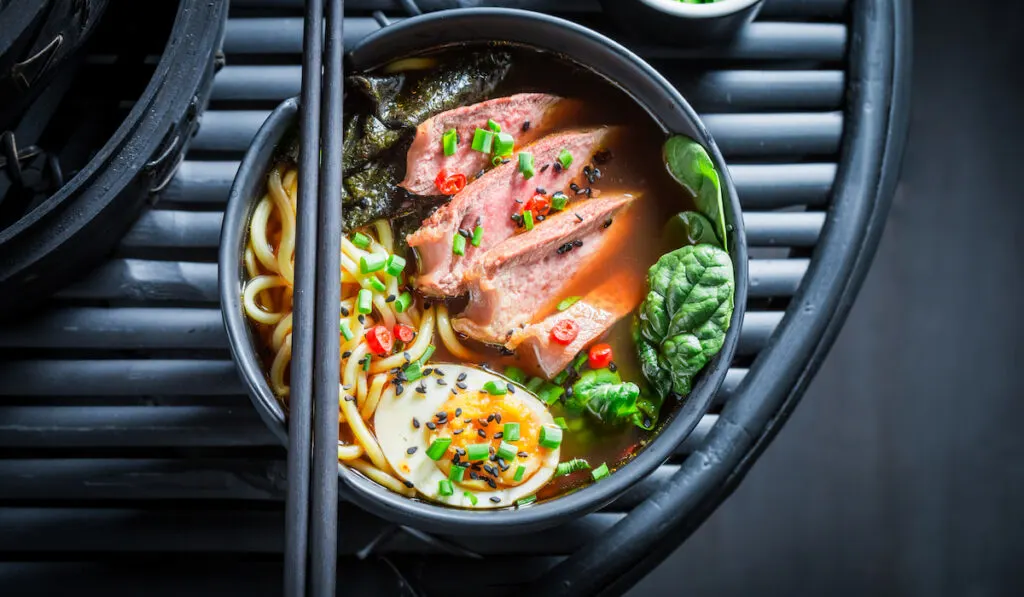 Creative Ways to Make Ramen Noodles Healthier and Tastier
Did you know you can improve the taste of your ramen and make it healthier?
Many delicious and creative add-ons can help boost the nutritional value of the noodles to meet your dietary needs.
Try adding something from all parts of the food pyramid.
Here are some of the best ways to make your ramen more nutritious and delicious.
Add More Vegetables for Extra Vitamins
Ramen noodles always need more nutrients. Adding colorful veggies to your dish adds vitamins to your noodles.
Choose any vegetable of your liking.
Consider iron-rich vegetables like kale or spinach.
Moreover, purple vegetables such as red cabbage and eggplant contain anthocyanins. Anthocyanins help prevent cell damage and improve lung and heart health.
Red pepper or red cherry tomatoes also provide potent antioxidants that help keep the heart healthy.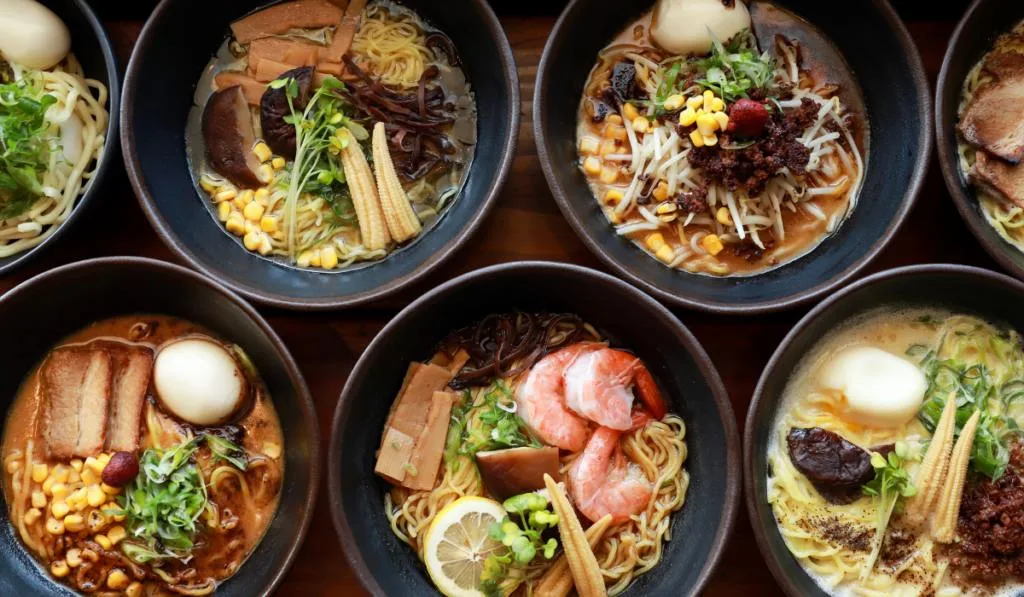 Choose Healthy Toppings
If you are trying to lose weight, choose healthy toppings like vegetables, lean meat, or tofu. Ramen often has toppings of eggs, cheese, and pork, which may add more calories and fat to your meal.
Consider adding fiber to your daily ramen since they are usually relatively low in fiber. Fiber benefits us in so many ways, especially our digestive system.
Fiber helps keep our gut bacteria healthy, reducing bloating and constipation. Also, it promotes fat loss by helping us feel fuller for longer.
Avoid Deep-Fried Ramen
Did you know that fried ramen has more fat, approximately 0.7 ounces (20g) per serving, than non-fried ramen?
Some ramen noodles are deep fried, making them high in calories and unhealthy.
Consider baked ramen. It is springier in texture, making it delicious and guilt-free.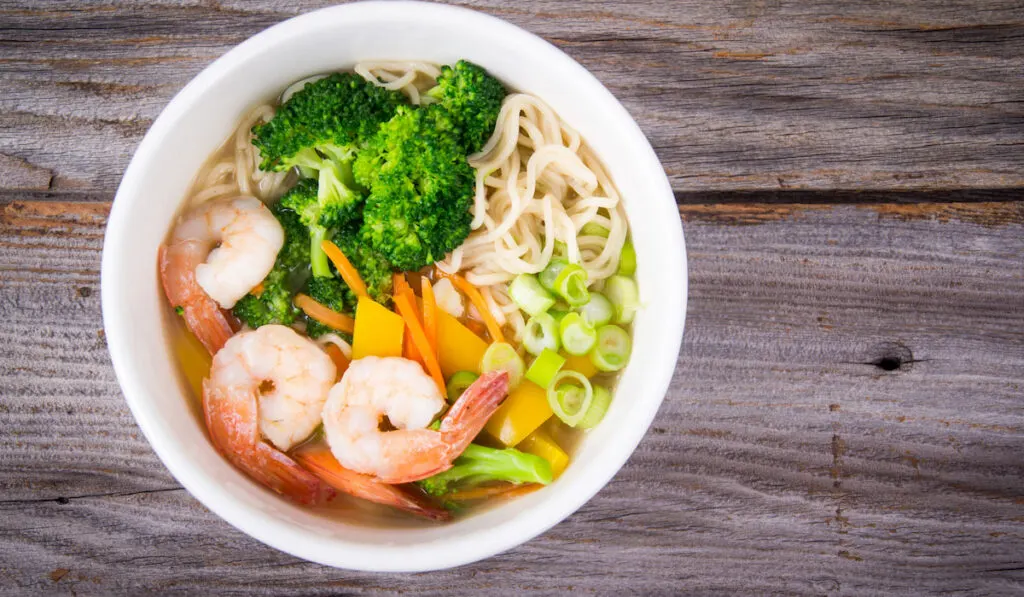 Consider Adding Steamed Veggies
Instead of using boiled, stir-fried, or raw veggies, consider steaming your vegetables. Steaming helps maintain their nutrient content, flavor, and color.
What does this mean? A more healthy and tasty meal!
You can steam so many vegetables of your choice. However, we recommend broccoli and carrots.
Add Proteins and Dairy
Consider incorporating protein and dairy.
Sprinkle your ramen with the following:
Beans
Grated cheese
Sesame seeds
Lentils
Adding a boiled, sliced egg or canned tuna can also help boost your protein intake.
Tofu is another excellent ramen topping; it has many nutritional benefits, including:
Protein
Copper
Magnesium
Vitamin B1
Zinc
Baked tofu adds unique taste and texture to your ramen for a genuinely satisfying dish.
Add Some Crunch
Most Ramen noodles come packed with flavor and toppings sachets for boosting taste. If these are insufficient and you need more seasoning, consider adding more flavors to your satisfaction.
Since ramen noodles are smooth and silky, add crispy or crunchy toppings:
Pork crackle or pork belly
Cashew nuts
Raw julienned honey-glazed carrots
Make Healthy Sauces and Pastes
Most famous ramen noodle pairing sauces contain additives that are rich in sodium. They include:
Sweet chili sauce
Soy sauce
Fish sauce
Miso paste
Consider adding sweet vegetables instead of these unhealthy sauces for a tasty topping.
Alternatively, you can mix ramen with butternut squash or sliced cabbage. If you prefer paste or sauce, add fresh spices and herbs and mix your unique concoction.
Herbs like coriander leaves, basil, and mint add sweetness and freshness. Chopped chili, garlic, sesame oil, shrimp paste, and ginger can intensify the flavor and add heat.
Also, consider adding fresh lime juice to enhance flavor and taste.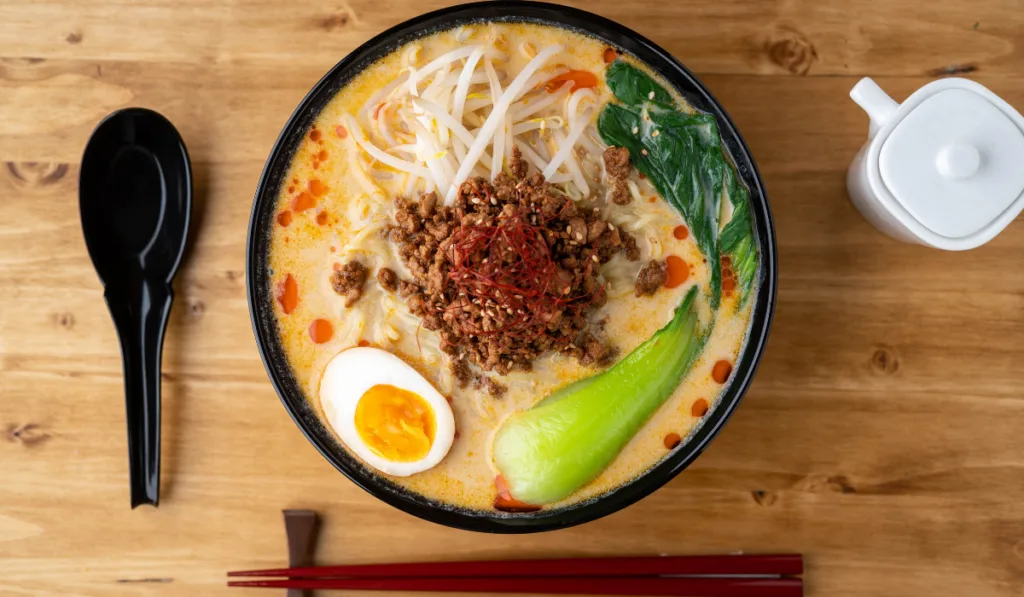 Final Thoughts
Although ramen is low in essential nutrients, it is a favorite snack for many. This popular Japanese dish comes in various brands and flavors for your choice.
As you can see, there are many ways to improve the nutritional value of these noodles if they are your preferred meal. This guide will help you add nutrients and flavor and enjoy your favorite ramen noodles!
Resources
I wrote this article from my experience preparing noodles and the following sources: