*This post may have affiliate links, which means I may receive commissions if you choose to purchase through links I provide (at no extra cost to you). As an Amazon Associate I earn from qualifying purchases. Please read my disclaimer for additional details.
When you are looking at building a house or remodeling an existing one, one of the last things on your mind might be electrical outlet heights. In doing the research for my farmhouse project, not only do I need to know the number of outlets I want in each room but also the outlet height. I'm not at the stage where I am ready to hire an electrician yet so I wanted to get a grasp on some of this.
What is the correct bathroom outlet height? Most home bathrooms will place the bathroom outlet 2-4″ above the back splash for the vanity. The NEC does not specify a height requirement only that one receptacle outlet must be placed within 3 ft of the outside edge of each vanity basin [210.52(D)].
Height is only one consideration when thinking about bathroom outlets. The number of bathroom outlet receptacles to add should be considered as well.
How Many Outlets Should I Add in a Bathroom?
The NEC code only specifies a minimum number of outlets based on the number of wash basins you will be installing. If you have one sink, you need at least one outlet. If you have two sinks, they can share a single outlet so long as the outlet is placed within 36 of the outer edge of both wash basins.
But what about additional outlets? Should you add more? How many should be added?
I'm not an electrician so that is definitely a question I thought about during my search. What is the standard? What is overboard? In order to answer these questions, you need to think about what you do in your bathroom and what plans you have for it in the future.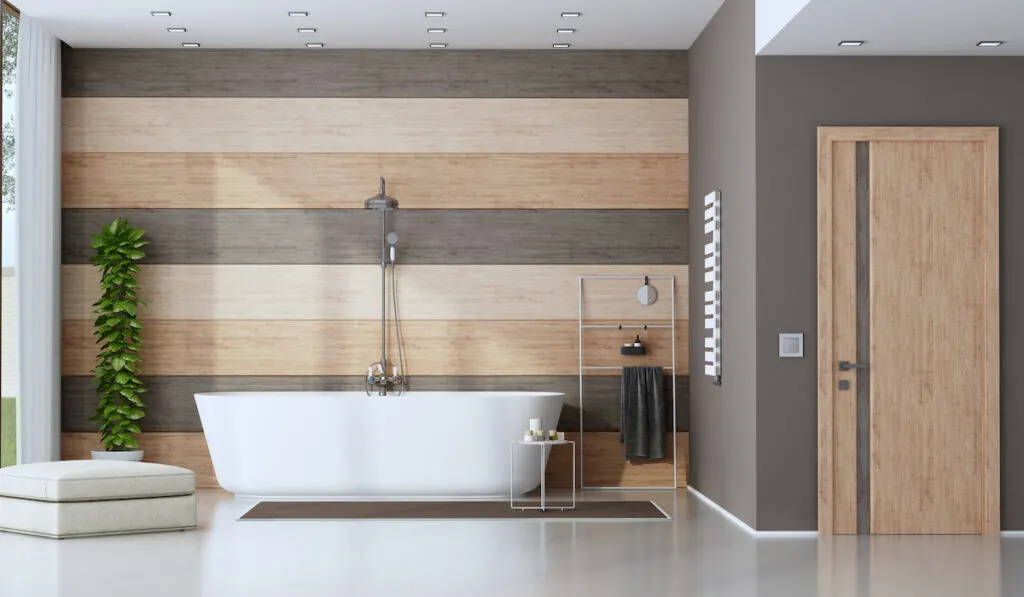 Instances Where You Would Need More Than Just the Bathroom Vanity Outlet
Picture yourself lying back in a tub full of bubbles. Guy or girl, it can be super relaxing. Even better? Being able to listen to music or even watch TV.
Adding a recessed outlet towards the ceiling might be a good option if you ever plan on adding a television in your bathroom. If you want to keep your options open for the future, place it somewhere that can easily be concealed with art work or shelving.
Sound is another consideration. I don't know about you but I love listening to music in the bathroom. You could add sound by hardwiring waterproof speakers at appropriate spots in the bathroom. This certainly would be the most integrated application.
Typically, I use my Amazon Echo plugged into my vanity outlet. In my current bathroom, the vanity outlet is kind of far from the bathtub. For my future bathroom, I'll definitely consider at least one outlet closer. That device can be USB powered or use a standard outlet which got me thinking about the amount of time some people spend in a bathroom.
Considerations for USB Outlets In Your Bathroom
It isn't uncommon for the bathroom outlets to be used to charge cell phones. Whether you place them there at night before you go to bed or you use them during the day as you get ready, sometimes it is convenient to charge your phone in the bathroom.
If you are in the process of adding or changing outlets in your bathroom, one thing you may want to seriously consider is adding USB charging capability to your vanity outlets. GFCI outlets are not available with USB ports.
This means if you want to add USB wall outlet to your bathroom your best bet may be to install it downstream of a GFCI protected outlet . Your electrician should be able to help you brainstorm this as well as make sure your bathroom conforms to local code.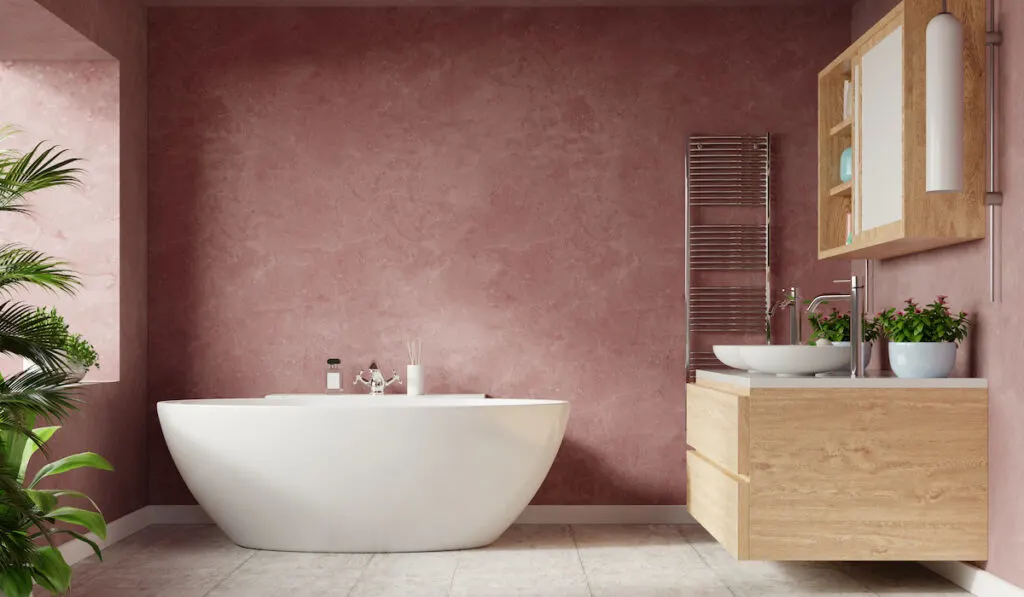 How Many Switches Should You Have in A Bathroom?
We have reached the point where we've considered all of the possible options for outlet placement and height in our bathroom. What about bathroom switches?
My first house had a total of five switches in the bathroom. They were laid out as follows:
One in the hallway leading to the bathroom.
Two on the wall by the sink controlling the light over the vanity and the light over the tub.
One by the shower.
One in the toilet closet.
Before purchasing that house, I'd only ever had two switches in my bathrooms. One for the light and one for the fan. Moving up to five was definitely a big change but absolutely convenient. I didn't use all of the lights all of the time but it was nice to have them.
In my particular case, the tub light was used least frequently. Who wants to relax in the tub with a light glaring down at you? What it was great for is providing extra light to clean the tub. Maybe excessive to put one in just for that though.
What Height Should Bathroom Switches Be?
If placed on a blank wall, bathroom switches should be the same height as every other switch in your house. When being placed above a vanity, height is at your discretion. The NEC doesn't regulate switch height. In my case, the switches were level with the height of the vanity outlets and that worked out great.
Related Questions
What is the location of GFCI outlets in the bathroom? According to NEC code [210.8(A)(1)] all bathroom outlets must be GFCI-protected. (source)
Is there a minimum height for bathroom outlets? The NEC code does not specify a minimum height but does specify that vanity outlets cannot be placed more than 12″ below the counter unless you have another outlet that meets the 3′ rule for each wash basin.
Can I have floor level bathroom outlets? You can have standard floor level outlets in a bathroom so long as they are in addition to the required vanity outlet. Wall outlets are typically placed at a height of 12 to 16″. These outlets still need to be GFCI-protected.