*This post may have affiliate links, which means I may receive commissions if you choose to purchase through links I provide (at no extra cost to you). As an Amazon Associate I earn from qualifying purchases. Please read my disclaimer for additional details.
The journey to a healthy diet is a tough one. It means replacing all of your go-to comfort foods such as chips, pizza, or Kraft mac and cheese, and desserts such as Hostess cupcakes, cookies, and ice cream. To accomplish any long-lasting change, you need to be able to replace those comfort foods with healthier options that still leave you full and satisfied, but without any of the repercussions of eating junk foods.
Perhaps you're just starting your refined-sugar-free journey and are trying to find sweet snacks that are naturally sweetened. You turn to cream cheese snacks because cream cheese is mildly sweet in and of itself, and can be sweet depending on what you pair it with. The texture is thick and creamy as well, which gives a luxurious texture similar to that of many desserts.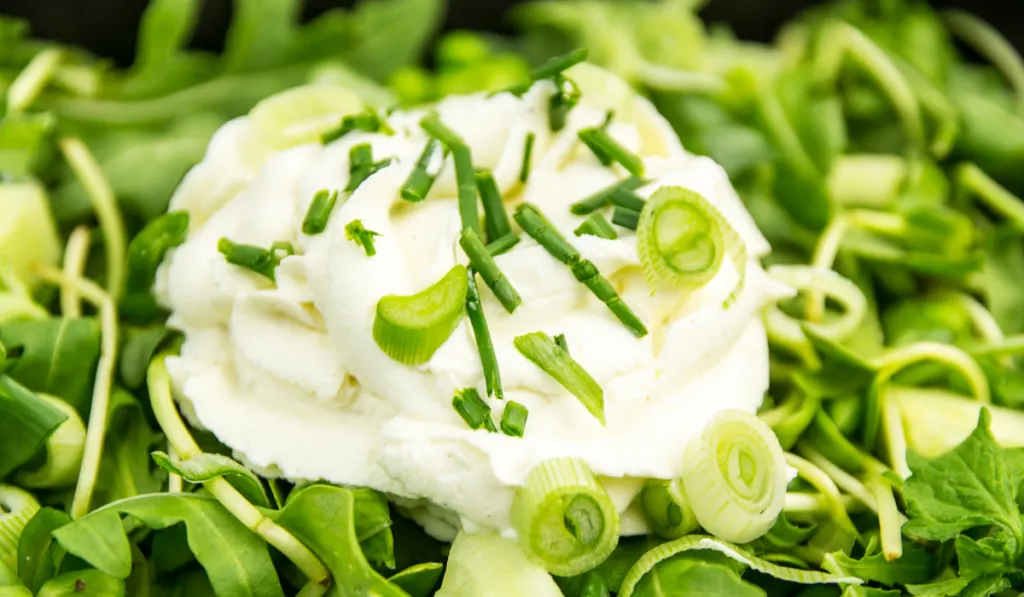 Or, perhaps you weren't looking to avoid unnatural sugars (you are now!) but are trying to find healthy snack options for a more balanced diet. Cream cheese is a great, nutritious option, full of calcium, protein, and healthy fats. You love eating it on your morning bagels, but you feel there must be some other options that are more filling and healthier for you to eat than a bagel every morning.
Maybe you're even tired of your daily bagel, and you want to try something different and exciting, but you don't want to lose your cream cheese. You love the health benefits, the taste, and the texture, and you know there must be other foods you can put cream cheese on that will shake up your morning routine, and expand your horizons for what you can make for breakfast!
Well, get ready to be inspired, because if you read on you'll find tons of refined-sugar-free, healthy, whole food ideas for crave-curbing snacks and filling breakfasts!
1. Cucumber Sandwiches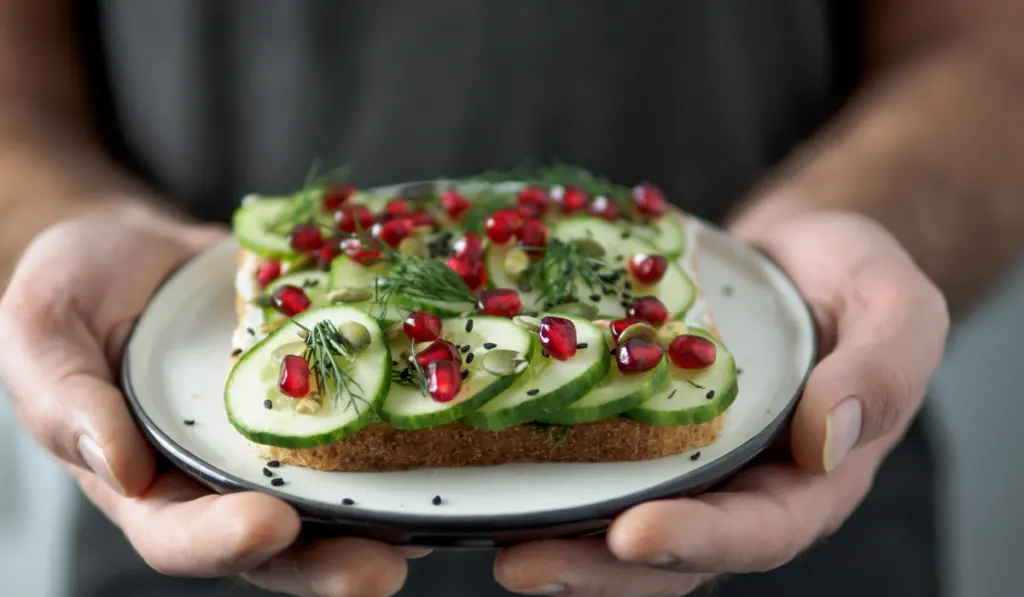 You all know them– they're popular in Regency-era shows and portrayed in the media as a symbol of wealth and status. "Fetch some more cucumber sandwiches, please!" But have you ever tried one? You may instantly back away from the idea, but let me assure you from first-hand experience– cucumber sandwiches are actually quite tasty.
Made with a cream cheese dill dip, cucumber sandwiches have a strong flavor that pairs well with the mild, watery taste of cucumber.
Take two slices of whole wheat bread (cut off the crusts if you're feeling luxurious!) and spread your cream cheese dip on both sides. Cut thin cucumber slices and add them to one side of the sandwich, and put the top on. For added protein, you can put salmon on your sandwich as well– it goes great with the dip's flavor!
And there ya go! You can cut your sandwiches into triangles or small squares, and recline on your chez lounge enjoying your fancy snack!
2. Strawberry and Cream Sandwiches
Want another addition to your afternoon tea party? You've got the savory cucumber, now get the sweet version of a finger sandwich, the strawberry and cream cheese sandwich!
To make the spread, soften cream cheese in a bowl, then mix in some raw honey to taste. Spread on two pieces of bread, and put thinly sliced strawberries on one slice, and the other slice on top!
While cucumber and salmon sandwiches can hold the protein to fill you up, the strawberry and cream sandwiches can curb those sugar cravings with a much healthier option. You can use whatever bread you'd like, but we'd recommend whole wheat or whole grain.
If you want, you can use this recipe to jazz up your morning bagels! Spread your honey and cream cheese spread, then put sliced strawberries, bananas, or any other fruits on top. Now you've got a whole new territory to explore with exciting bagel and bread options!
3. Stuffed Cream Cheese Turkey Rolls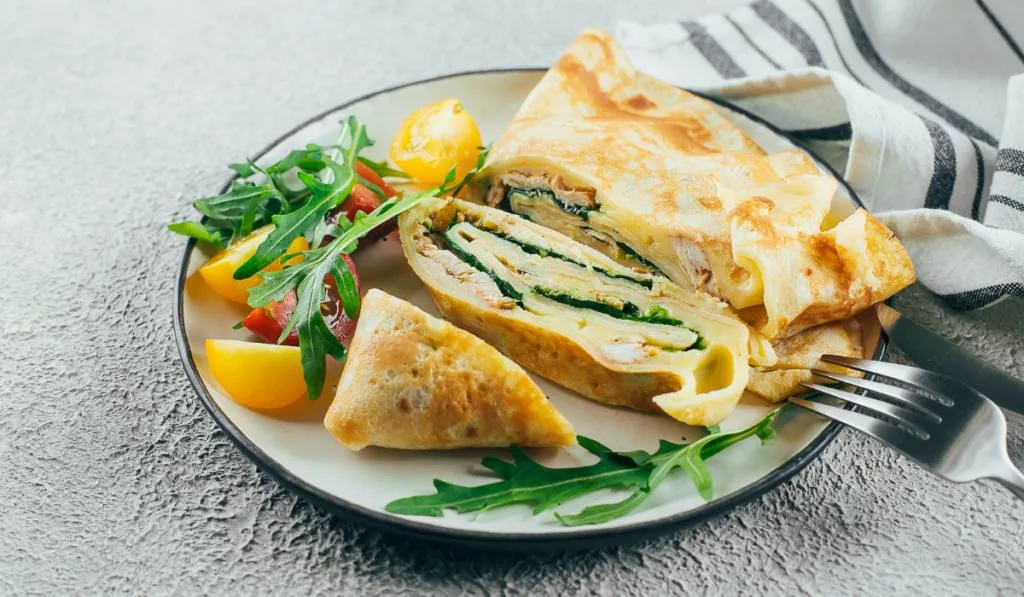 Want a satisfying savory side dish or snack that'll fill you up? Try these healthy, filled rolls!
Make a batch of your favorite bread roll dough. You can also buy some premade dough from the store, but homemade is always the healthiest.
Soften cream cheese in a bowl and add shredded turkey to it, with salt and pepper to taste.
Divide your dough into individual balls. Roll each ball out into a flat circle, and add the filling to the middle.
Pinch the sides to close around the filling, and roll the ball until smooth and spherical again, this time stuffed with filling.
Bake until browned, and serve!
This filling achieves its aim—thick cream cheese mixed with the turkey's protein? You'll be happily stuffed after a few bites!
4. Avocado Toast with Cream Cheese
Another new spin on a beloved breakfast food—why not make avocado toast even tastier by adding cream cheese to it? Adding cream cheese brings a whole other layer of nutrients, proteins, and healthy fats to the meal.
Soften your cream cheese and mix in some chopped green onions, garlic, dill, and pepper. Toast a slice of whole-grain bread, and spread your cream cheese mixture on top. Slice half an avocado and spread it out on top of the cream cheese, and sprinkle any extra salt, pepper, or paprika to taste!
You can even add a sliced or crumbled hard-boiled egg for even more protein. Reinventing old breakfast foods makes them exciting again, but twice as delicious!
5. Ham and Cream Cheese Pinwheels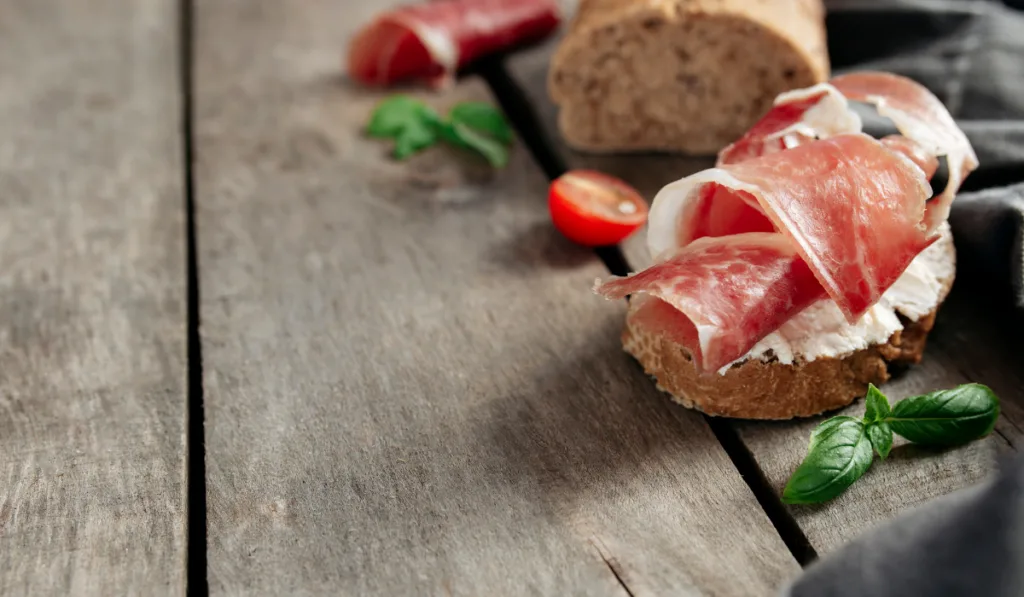 A great option for a quick lunch or an afternoon snack, these pinwheels take only minutes to make but many more to sit back and enjoy.
Take a whole wheat tortilla and spread cream cheese to cover it on one side. Then, add slices of deli ham to cover the cream cheese. Finally, add spinach leaves on top of the ham.
Start on one side and tuck the tortilla into itself, rolling until you've rolled up the entire tortilla. Using a knife, slice the tortilla width-wise to make little pinwheels of swirled ham, cream cheese, and spinach. They're a great source of protein and a very filling meal with simple ingredients and quick prep time!
These are a perfect, spontaneous, filling snack in the middle of the day when those hunger pangs start and you need food fast.
6. Creamy Cucumber Bites
These are amazing as healthy appetizers if you're hosting a party, or as a low-carb snack on your own. So many cream cheese-related foods rely on bread as part of the deal, but with these cucumber bites, you use cucumber as the base, avoiding bread entirely.
Slice cucumbers into thick slices and set them down flat on a tray. Combine softened cream cheese with dill, ranch seasoning, mayonnaise, and salt and pepper to taste. Place the mixture into a piping bag you'd use for cupcakes. Pipe a small tuft on top of each cucumber slice like frosting, and top these tufts with sliced tomato.
Mentally, it will feel like a dessert, associating it with frosting, except it'll be much more beneficial to your body than a cupcake.
7. Cream Cheese Dip and Crackers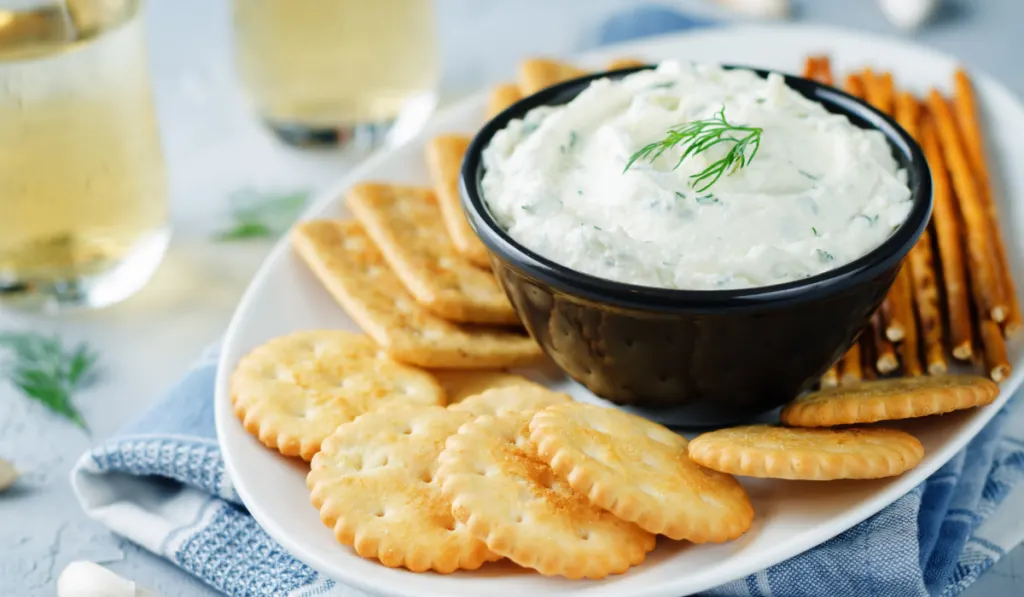 Ever thought of using cream cheese as a dip instead of a spread? Do you prefer the cool, creamy texture of cream cheese to a cheese slice? Well, cream cheese can be another tasty and filling replacement for regular cheese when wanting cheese and crackers as an afternoon snack or a tray for a party.
For a sweet, sugar-craving solution and a satisfying snack, try making cranberry cream cheese to dip your favorite crackers in.
Sautee the cranberries in a pot with some water, raw honey, and salt to taste. Add them to the cream cheese, creating a soft, sweet mixture, and put in a pretty bowl on a tray arranged with your go-to assortment of crackers. Time for you and your guests to enjoy!
8. Stuffed Strawberries
Just like you can take the bread out of the cucumber sandwich, you can take the bread out of the strawberry and cream sandwich!
Buy large strawberries and hollow out the centers. Simply make the same cream cheese and raw honey mixture as before, instead of spreading it on pieces of bread, pipe it into the hole. You'll get a sweet, creamy experience with every bite! Another great option for when sugar cravings come around.
9. Homemade Mac and Cheese
We know you've been waiting for something that tasted closer to home. You can make mac and cheese, just try to find healthier alternatives to Kraft! Use whole wheat, chickpea, or soybean pasta noodles instead of white pasta.
In place of fake cheese, to get the same thick, creamy cheesy texture that makes mac and cheese amazing, melt in cream cheese and any other cheese to taste.
Add some more protein by mixing in crumbled sausage or chicken, and enjoy your childhood favorite with its full potential of nutrients!
Resources
https://www.cookinglight.com/food/recipe-finder/cream-cheese-recipes