*This post may have affiliate links, which means I may receive commissions if you choose to purchase through links I provide (at no extra cost to you). As an Amazon Associate I earn from qualifying purchases. Please read my disclaimer for additional details.
Bagels are a sweet deal. With their appearance taking after a donut—a circular shape, and a hole through the middle—they give off the feeling of a savory dessert. Isn't that weird? Some are sweet too, so they can be a sweet dessert as well!
Bagels are one of the best quick, go-to breakfasts for a busy person who's always rushing in the mornings, or as a backup in case you need to grab something on the go.
Only this morning, my ride to my dance class had to pull out due to sickness, and all of a sudden I needed to be twenty minutes faster to be able to make the bus on time and get to my dance class. Typically, I make a breakfast burrito with whole wheat tortilla and eggs to take with me, but today I had no time to cook all that on the stove.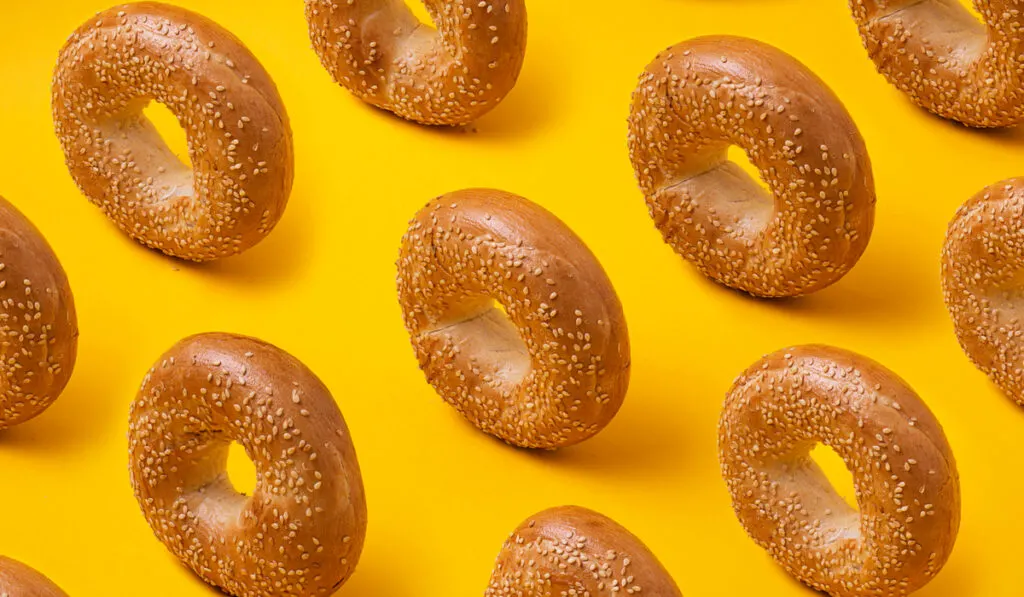 Instead, I ripped open the fridge and looked around desperately for something I could just grab and eat. And low and behold, I saw… bagels! A bag of unopened bagels on the top shelf. Perfect! I grabbed one, and even though it was onion flavored I didn't care too much– I needed something. Plus it's a bagel, so how bad can it taste?
Looking around the fridge I discovered I didn't have any cream cheese. Good, because a cream cheese bagel isn't the most protein-rich option. I quickly grabbed out some deli cheese and meat and put it on top of my bagel and made a sandwich, put it in a container, and shipped it and myself off to catch the bus in time (which I did!) and be able to make it to my class.
Why are bagels such fast options?
Because bagels are always pre-made– you can make homemade bagels yourself, but even then they're already baked and ready to go. All you have to do is grab one, cut it open, and then add whatever topping you want.
They take only minutes to assemble, making them the perfect food for a day when you're running behind. Bagels don't even need to be used as a breakfast item alone!
Bagels are most famous for being eaten with flavors of cream cheese at breakfast, but they can also be eaten at lunchtime too. You can make sandwiches out of bagels, including breakfast sandwiches, with ingredients such as eggs, cheese, bacon, sausage, or ham, or lunch sandwiches with deli meat and cheese, tomatoes, pickles, and lettuce.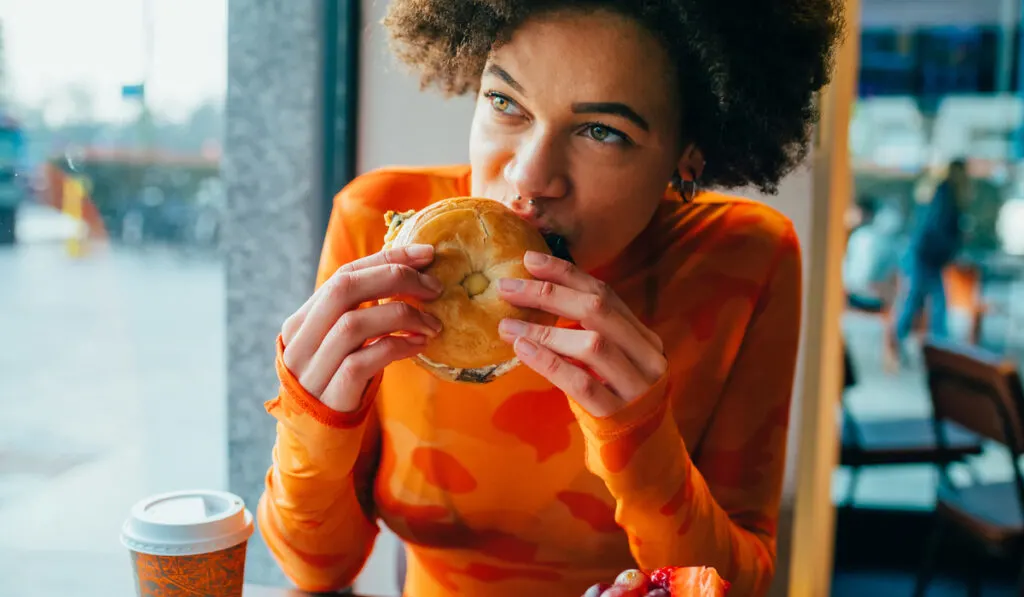 Bagels start as just a piece of bread, which means they are a blank slate to do whatever you desire with. You're interested in trying out bagels as a regular part of your diet, but you don't love plain bagels. There must be other flavors– there must be a variety of other flavors, seeing as bagels are so popular! Humans simply can't resist taking staple foods and experimenting with other flavors.
Or, perhaps you're planning a big bagel party and you want to get as many types of bagels as possible. It could even be a bagel-testing party, and you want to know the different kinds of bagels so you can choose which ones to include in your party and hunt them down.
Maybe you're a bagel enthusiast who's just tired of your signature bagel and you want to try something new. Exposing yourself to all the different types of bagels there are out there will help you expand your bagel horizon and learn of new bagel options to try!
You want to learn about all the bagels out there to possibly enjoy! Here's the great thing: we've gathered all the options, all the different types, and flavors right here in this article! Read on to discover the extent of the bagel ingeniousness we have available to us today!
1. Plain Bagel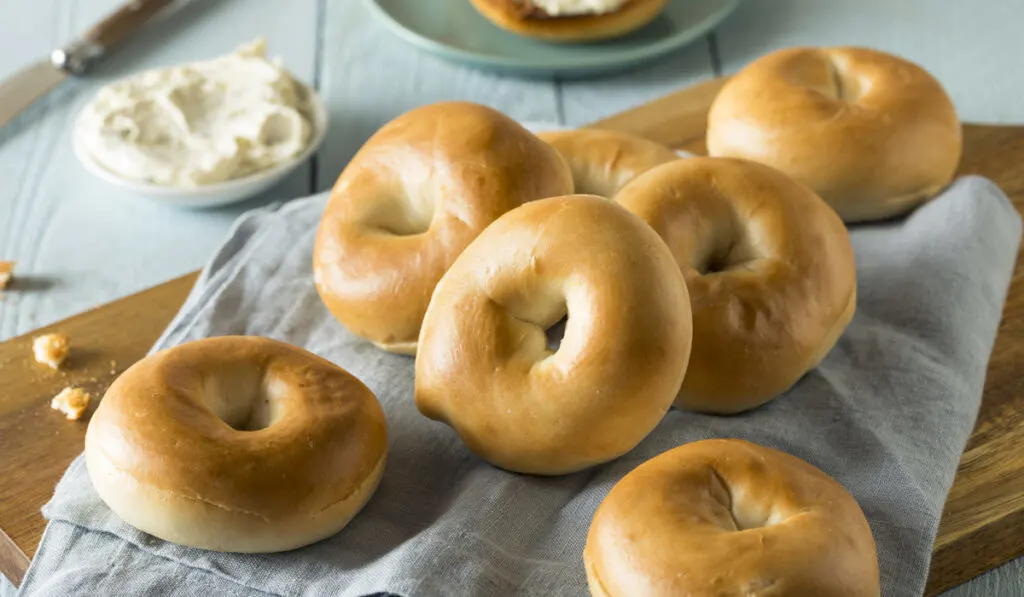 Plain bagels are simply the basic bagel bread recipe. Known for its crusty, crispy outside and its soft, chewy middle, plain bagels are the best at displaying what bagels are famous and adored for.
Plus, the original bagel leaves you open to flavor your bagel any way you like. Having a flavored bagel, only specific pairings will taste good with it. Those are good for when you're in the mood for a specific bagel experience, but when you want to be available to follow the feelings of the day, choose a plain bagel. You can have them sweet with jam or cream cheese, or savory with cheese and meats.
2. Everything Bagel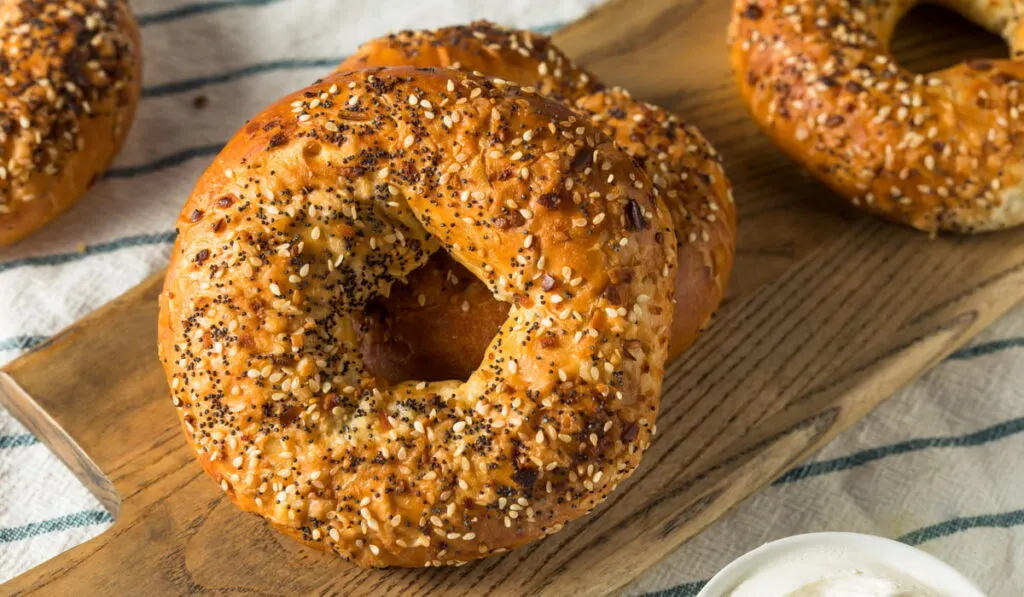 Everything bagels are named for having a dump of different seeds and seasonings on top, including chia seeds, sesame, garlic, and onion.
Everything bagels taste best sweet with cream cheese and strawberry jam, or savory toasted with melted butter soaked in. Everything bagels also make great sandwiches, because the seeds and seasonings make the sandwich heartier with more flavor and crunchy texture.
3. Salt
Salted bagels are essentially the bagel version of a theme park soft pretzel, even with the same crunchy outside and soft middle. A plain bagel covered in salt is certainly a bagel where you'd want to have a drink nearby for all the sodium. Salt bagels have a much more limited scope of what you can eat with them.
You can slather it in butter, or eat it with cheese or nacho cheese if you want the full pretzel experience. For sweetness, salt bagels could taste good drizzled in caramel. They are most likely too salty to be made into a sandwich and taste good with only a few types of cream cheese.
4. Poppyseed
Poppyseed bagels are plain bagels covered in poppy seeds! The poppy seeds add some great texture and flavor to your bagel. Poppyseed bagels taste best with butter or with cream cheese and jam.
As great as poppyseed bagels are, the seeds do get stuck in your teeth, so make sure to flash yourself a quick smile in the mirror after breakfast before you go out to start your day.
5. Cinnamon Raisin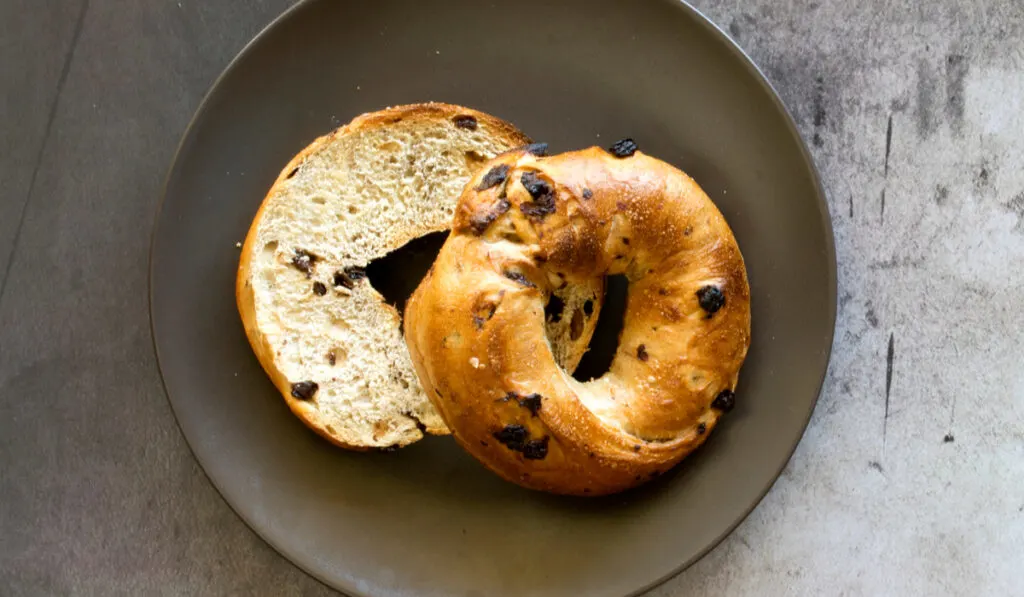 Cinnamon raisin bagels are the bagel version of cinnamon raisin toast! If you love the flavor of the toast and love the texture of a bagel, then this is the one for you. Cinnamon raisin bagels have periodic implants of raisins into the bread, with veins of cinnamon sugar throughout.
These bagels only taste good with sweet toppings– anything savory would taste so weird! You can top these bagels with butter, cream cheese, more cinnamon sugar, jam, and peanut butter.
6. Spinach
Spinach bagels are made from a plain bagel recipe, with spinach mixed into the dough and baked into bagel form. Spinach bagels have a bit of a stringy texture from the spinach, and the spinach flavor is mostly lost.
Veggie bagels like these pair very well with plain cream cheese, or with garden herb cream cheese, but with nothing sweet.
7. Blueberry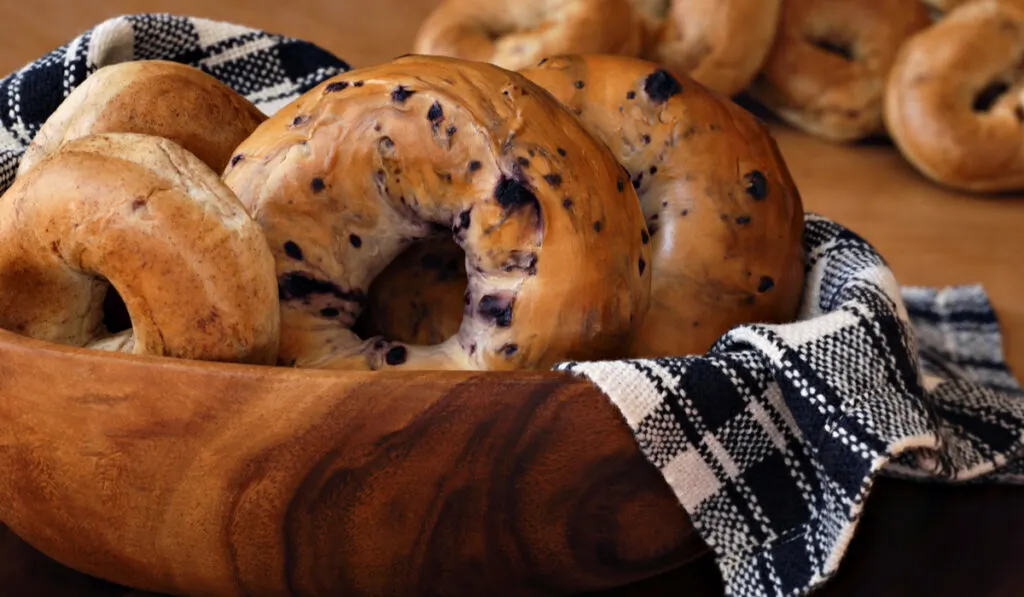 Blueberry bagels have whole blueberries mixed into the dough, interspersed throughout the bagel. These bagels give a sweet burst of berry flavor when you bite into them, and pair well with sweet options such as plain cream cheese, berry cream cheese, jam, and butter.
These bagels also have antioxidants and vitamin K due to the blueberries, which are essential nutrients to get into your diet! Pair the bagel with a serving of berries on the side as well, and you'll be set for the day!
8. Onion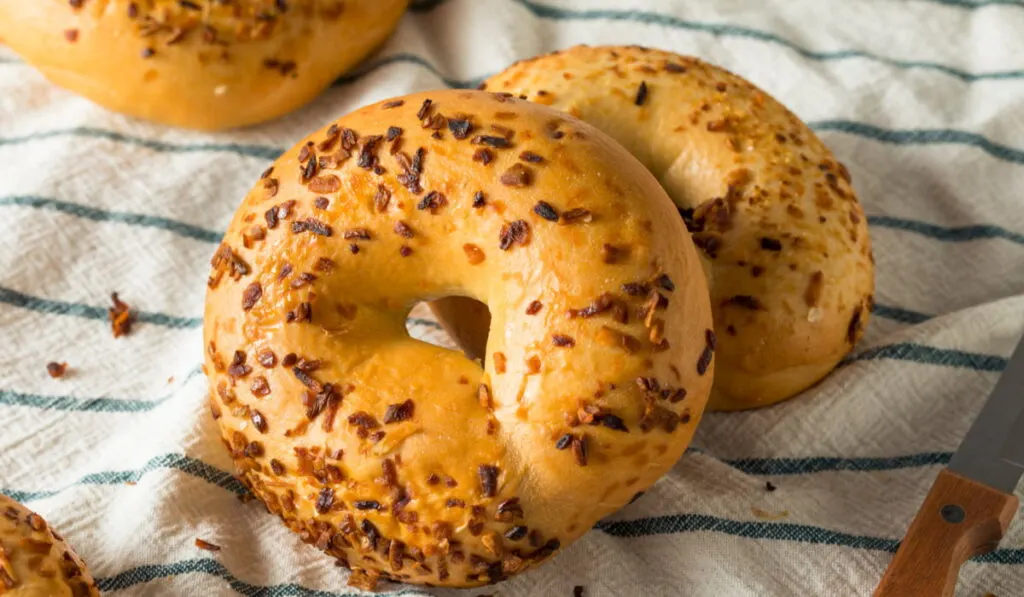 Onion bagels give you some of the essential nutrients vegetables provide, but also the strong, pungent flavor you love! You use onions in cooking to get more flavor– so who says you can't flavor bagels with onion to get more flavor? Someone must have thought about it and decided to add onion the next time they made bagels. And it worked!
Onion bagels are sweet and savory at the same time and go great with cream cheese and as a sandwich with regular cheese and meat.
9. Oat Bran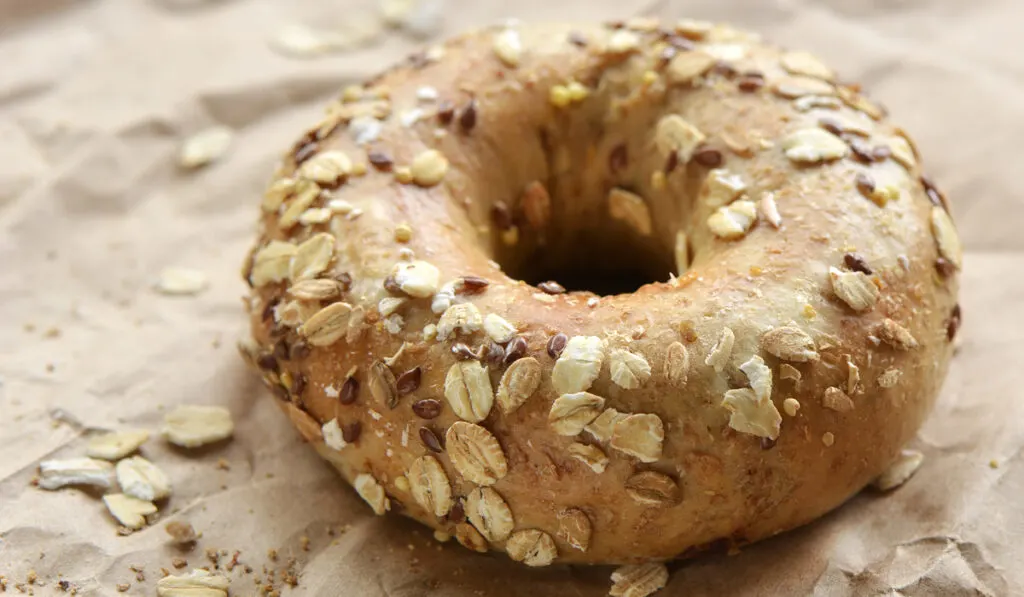 Oat bran bagels are plain bagels that have oats on the top. Oats are a rich source of fiber, so eating an oat bagel will fill you with much more nutrients than plain or sweet bagels made with white flour.
Oat bran bagels taste good with butter, fruit spread, or as a breakfast sandwich.
10. Garlic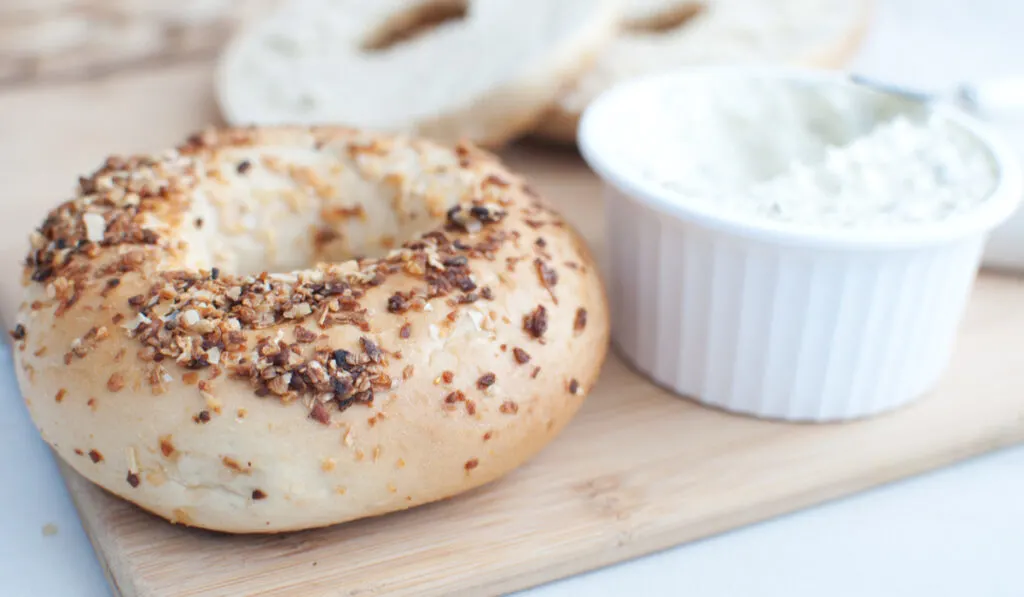 Something that I've started buying is garlic salt to flavor my food with rather than just regular salt. Why? Because just like an onion bagel, garlic has a strong flavor that heightens the taste of the food it's on, making it so much more enjoyable! The same goes for this bagel– garlic bagels give a burst of tangy flavor, heightening the bagel's flavor and the flavor of its toppings.
Garlic bagels taste good with savory options such as butter, cream cheese, and garden herb spread, and as lunch sandwiches with mayo, tomato, lettuce, and pickles.
11. Marble Rye
Marble rye bagels are made by twisting together half plain bagel dough and half rye dough, then baking. If you like the sour, acidic taste of rye bread, you'll love this! If you don't love the taste of rye bread, you may want to give this one a pass.
Due to this strong flavoring, rye bagels are not great everyday options. They may not be the best with just simple cream cheese or butter on them, but they do taste amazing as a sandwich!
Rye bread contains a lot more fiber and protein than regular bread, however, so if you're looking for a lower-carb option rye bagels would be your pick!
12. Chocolate Chip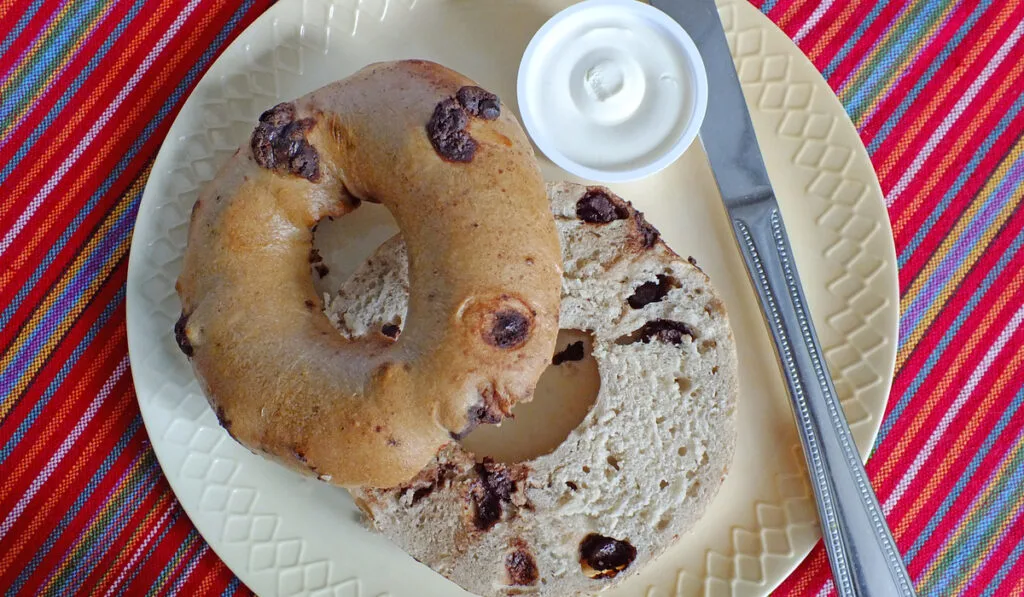 Chocolate chip bagels are just what they say on the can: plain bagels with chocolate chips sprinkled throughout the dough. As wonderful as everything sounds when it starts with "chocolate chip," it may feel a little weird to eat a bagel that is so sweet but still stubbornly a bagel rather than a donut or another dessert.
Chocolate chip bagels are known to be especially sweet and go well with butter and cinnamon sugar, or chocolate spread such as Nutella. A great option for a breakfast on days you have a sweet tooth!
However, cream cheese, jam, and other toppings will taste weird on it due to the flavor and sweetness of chocolate chips. It's not a good sandwich bagel either unless you like chocolate chips with your lettuce!
13. Pumpernickel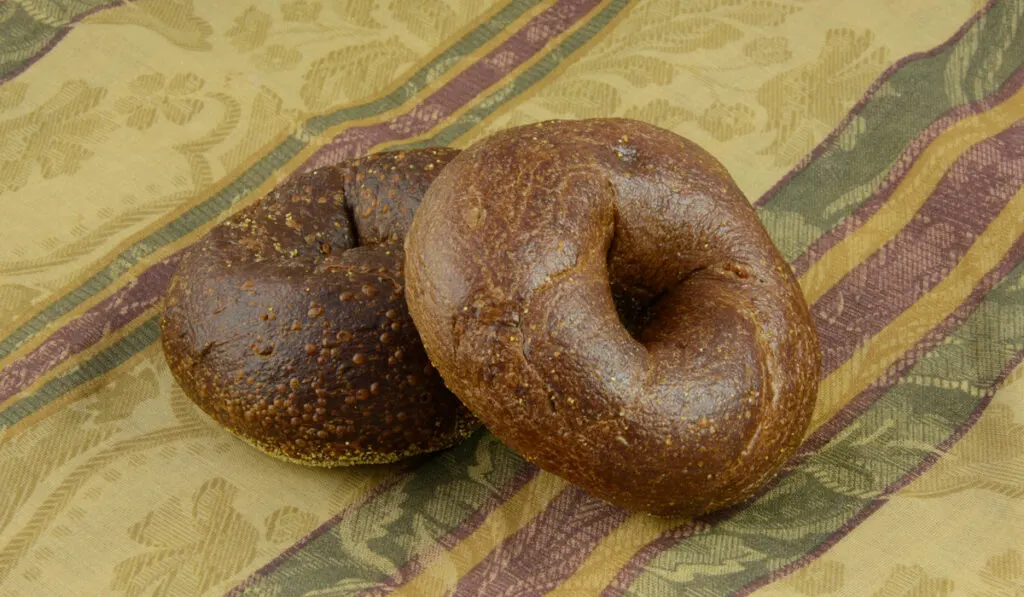 Pumpernickel bread is known for its confusing combination of sour flavor with the barest hint of sweetness. And that's what you get in a pumpernickel bagel!
Known for their deep brown color, pumpernickel bagels go best with lots of cream cheese of any flavor! As pumpernickel tends to be savory, you can amp up the sweetness with jam as well to bring out that hint of sweetness in the bread. If not, pumpernickel makes an amazing sandwich bread.
14. Whole Wheat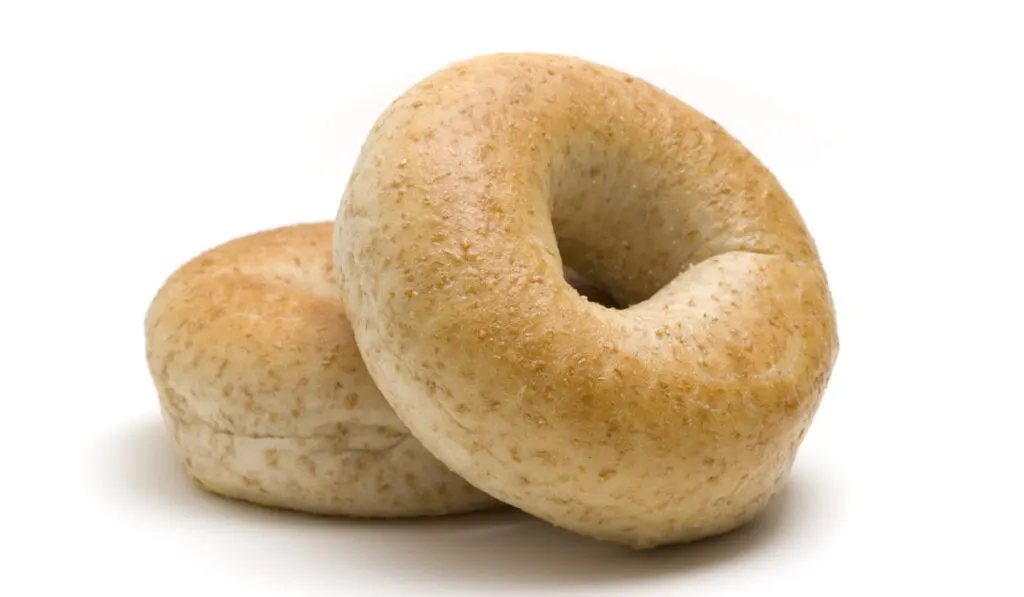 Hoping to add more nutrients to your diet than a white flour bagel, but still want the quick and pleasurable experience of eating a bagel? Go whole wheat!
Whole wheat bagels have significantly more fiber than plain bagels, along with antioxidants and vitamins such as vitamin E. Whole wheat bagels can be enjoyed in the same way as plain– anything goes! Cream cheeses, jams, butter, sandwiches– but especially if you melt it with butter or slather it in peanut butter and then add honey to the top. It's an experience to die for.
15. Pumpkin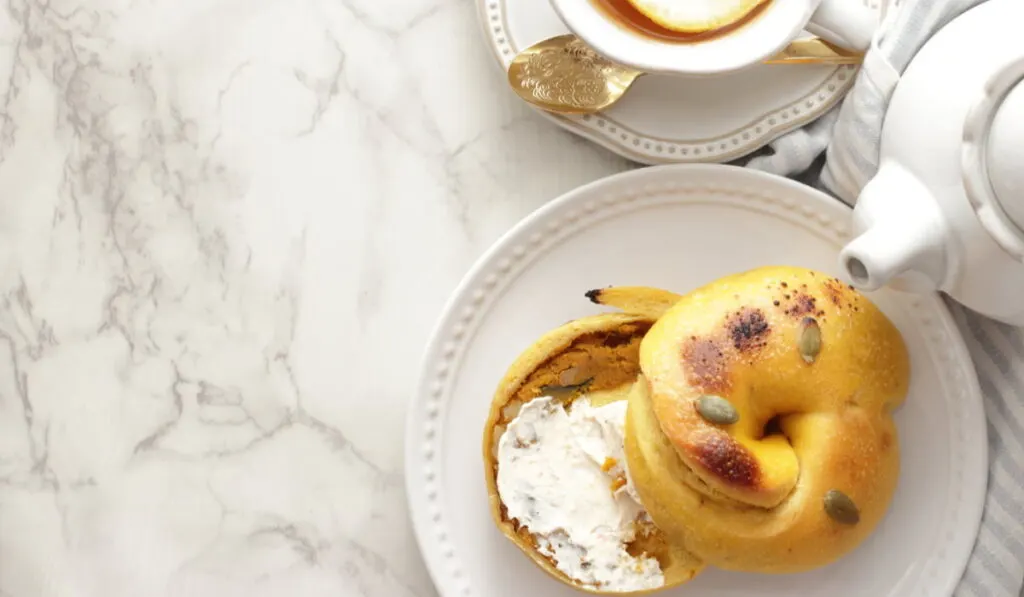 The best part about fall in my opinion is all of the delicious pumpkin-flavored foods! The best of which being pumpkin bread, so naturally they needed to make pumpkin bagels, too!
Pumpkin bagels will give you that delicious seasonal flavor that you crave. These bagels are best paired with spices of the season, such as cream cheese flavored with cinnamon or pumpkin spice, or butter sprinkled with cinnamon sugar.
16. Rainbow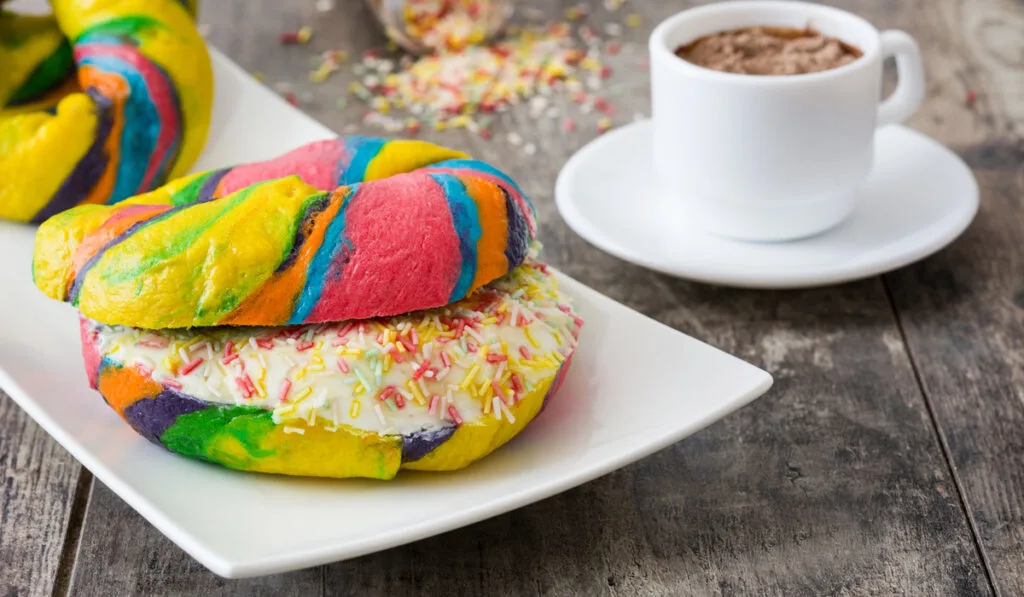 What does a rainbow bagel taste like? You look at one, the brightest thing in the bagel shop, with pink, blue, red, and yellow all swirled together. What does a rainbow taste like? Well, essentially like a plain bagel.
Rainbow bagels are made from dyed plain bagel dough, then twisted together to get the rainbow effect. Due to this fact, rainbow bagels have the freedom to be topped with anything, just like plain bagels! Including sandwiches.
Just imagine you eating a sandwich with lettuce, tomato, pickle, everything on a rainbow bagel. Everyone would freak out, yet your bagel would taste no different than if you used a regular one!
17. Sesame Bagel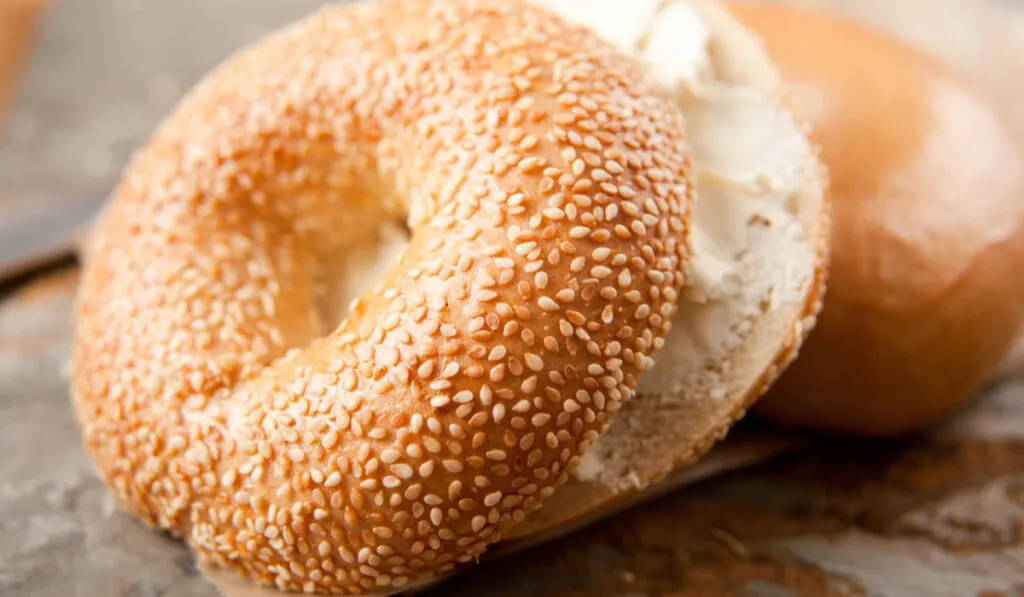 Sesame bagels are a savory catch-all bagel. A plain bagel with sesame seeds added on top, these bagels have a little extra flavor and crunch that makes them extremely satisfying.
Sesame doesn't pair well with sweet, but you can use it for any savory topping, including cream cheese and butter. And these bagels are the bagel version of hamburger buns when used to hold breakfast sandwiches and lunch sandwiches. In fact, you can use one as a hamburger bun as well if you like!
18. Jalapeno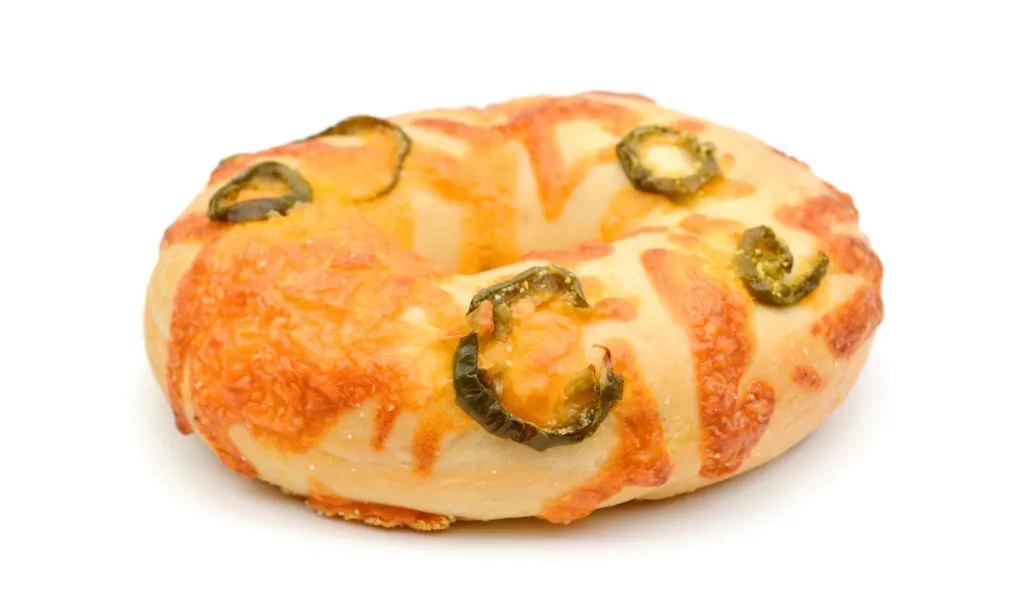 Jalapeno bagels are best for those who like a little kick of spice to their food! Jalapeno bagels are made with crushed jalapenos mixed into plain bagel dough. These bagels have lots of flavors and would taste best as a kick to a breakfast sandwich, especially if you made some kind of Southwestern omelet, but also work with plain cream cheese too.
19. Cheese Bagels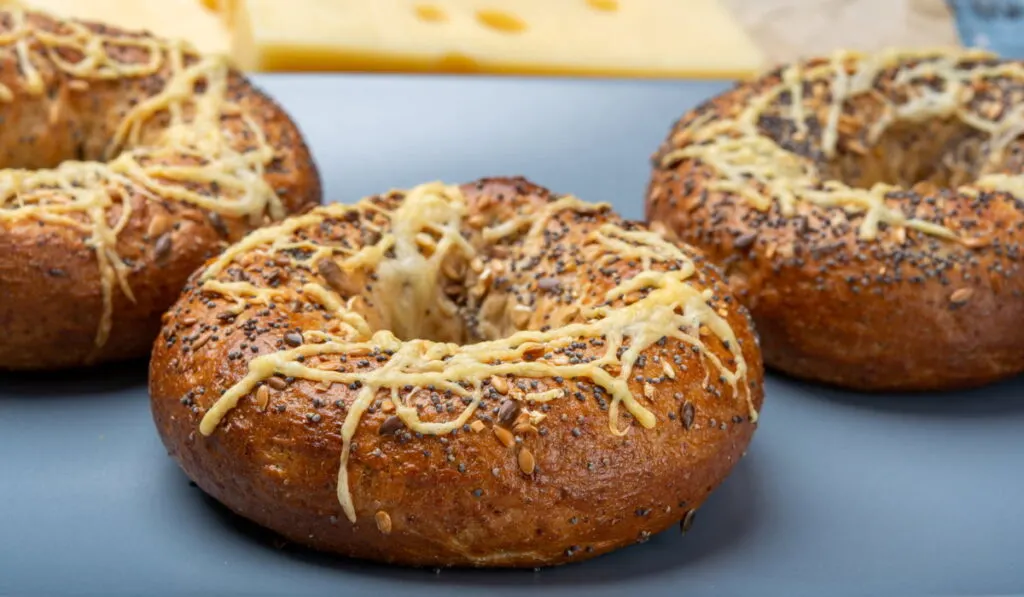 There are many types of cheese bagels made, including cheddar, parmesan, and asiago. Essentially, a plain bagel has shredded cheese broiled on the top and bottom to create dry melted cheese that has an incredible flavor and crispy texture.
These bagels taste great simply with melted butter, with cream cheese, or as the bread for any type of sandwich.
20. Hash Brown Bagels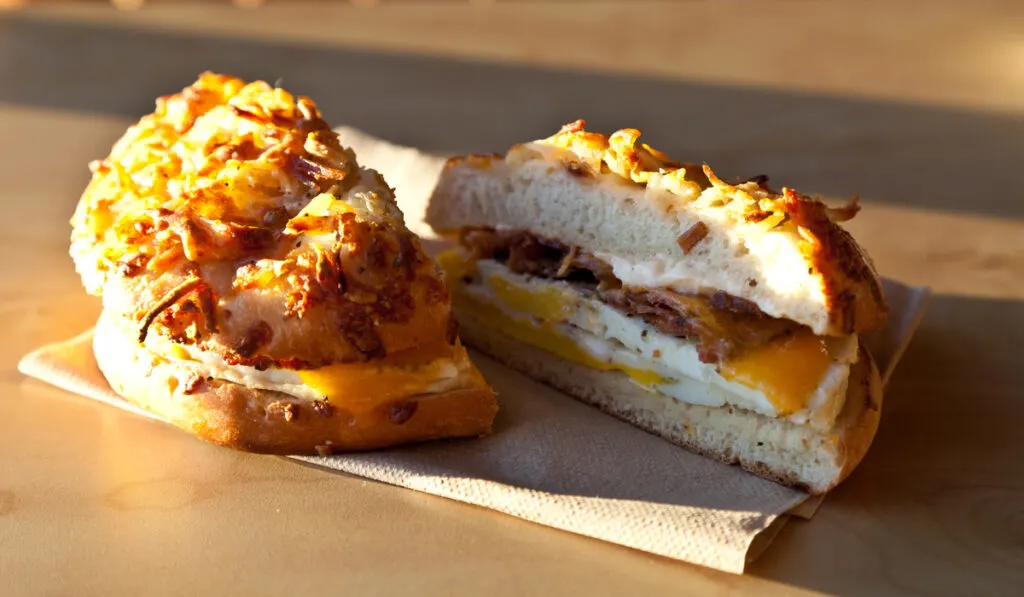 Hash brown bagels are no joke. Similar to the cheese bagel, they make hash browns and then forge them into the top and bottom of the bagel bread. It is crispy and satisfying and flavorful and tastes amazing as the bread for a breakfast sandwich.
Otherwise, you can enjoy it with butter and cream cheese as well. Due to the hash browns, it does not work well as a sweet bagel, but most savory toppings would complement the bread wonderfully.
21. Cranberry Raisin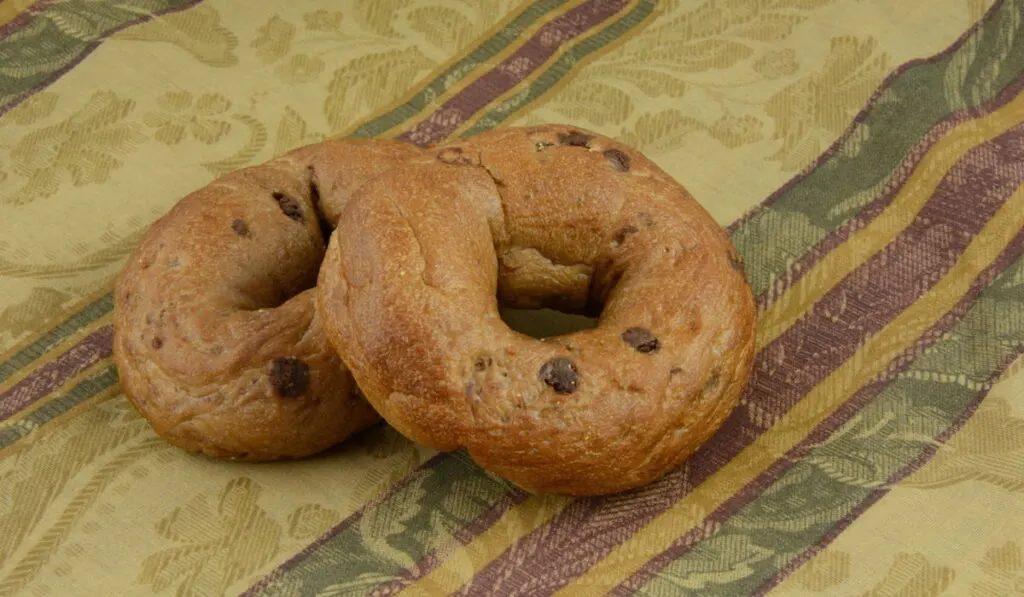 An interesting, Thanksgiving-themed flavor for a bagel, cranberry raisin bagels are sweet and sticky with interspersed bits of raisin and cranberry in the dough. These bagels work best with toppings that go well with sweetness, including butter, cream cheese, peanut butter, and honey, but we wouldn't recommend chocolate!
22. Chocolate Vanilla Bean
Speaking of chocolate– we have the chocolate-vanilla bagel! These bagels have a more subtle chocolate and vanilla flavor due to their status as a bagel rather than a donut, but their sweetness is brought out when paired with the right toppings. Use butter, honey, or chocolate spread on top to bring out the sweetness!
23. Egg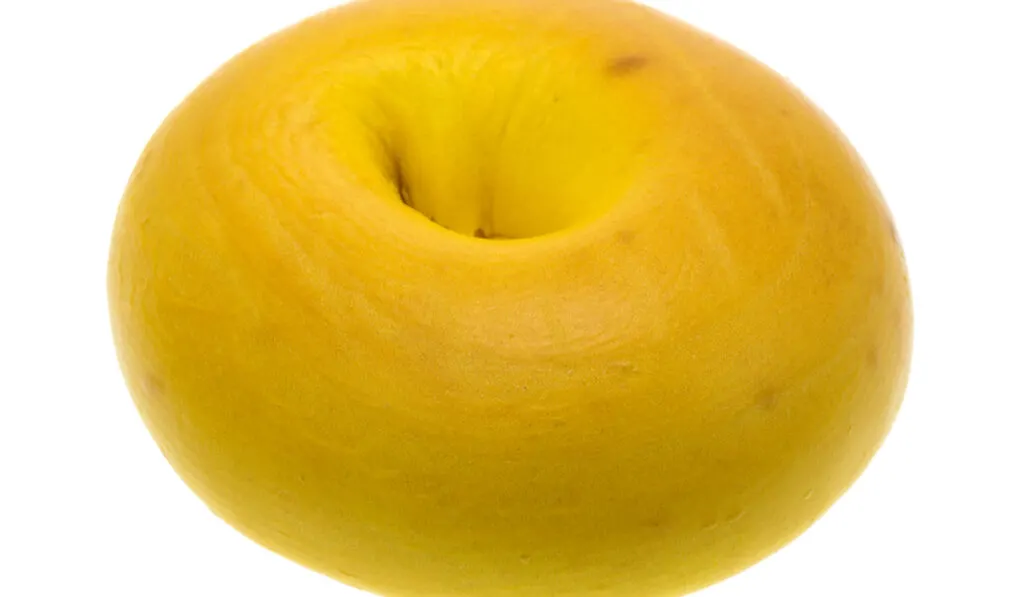 Egg bagels are made with an added egg or two to the recipe, giving it a bright yellow color and making it more flavorful.
Along with this, egg bagels have more protein due to the extra egg and are a little softer in texture. These bagels make amazing bread for breakfast sandwiches of cheese, bacon, and egg. Yes, more eggs! Just keep adding eggs!
24. French Toast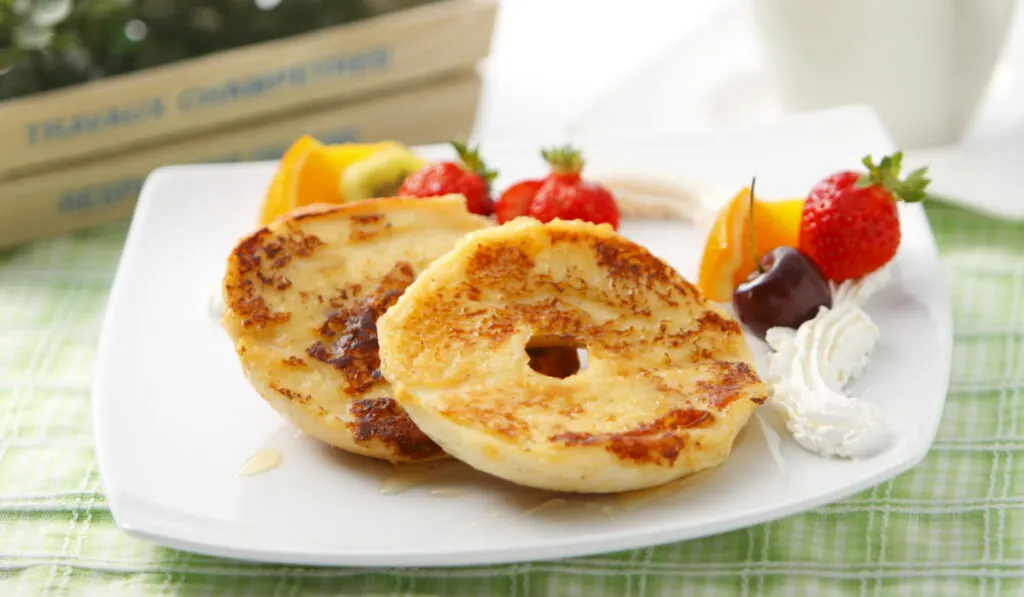 French toast bagels are also softer, which aids their flavor. You wouldn't want to bite into a crusty piece of French toast, would you? Due to this, and the sweet flavor, French toast bagels give off a bit more dessert energy. They are amazing toasted with butter, topped with honey or chocolate, or as the bread for a breakfast sandwich.
25. Bialy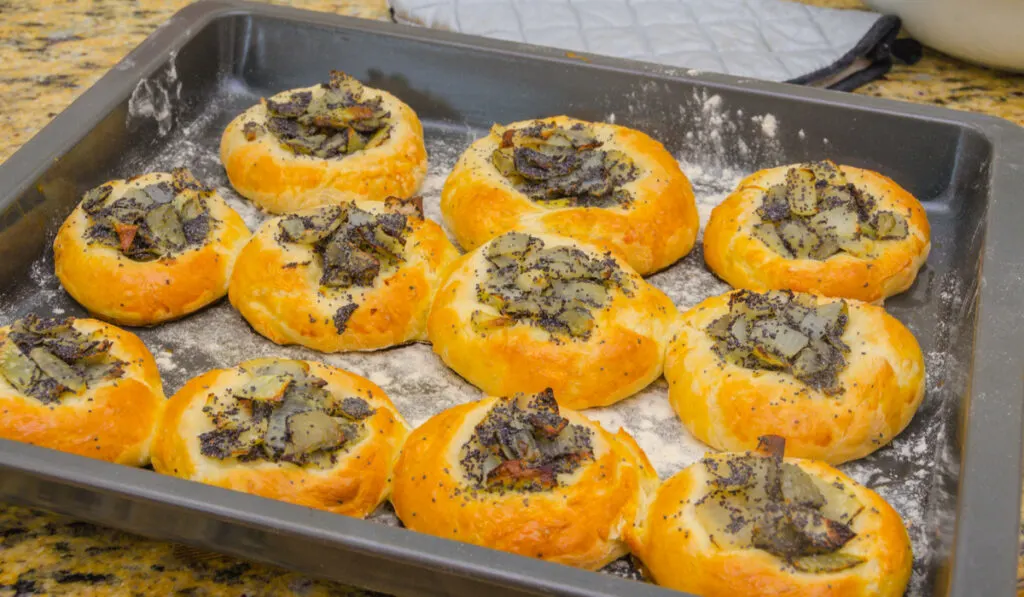 Bialy bagels are the most unique form of bagel because they don't have a hole! Instead, there is a dent in the center that is filled with seasoning including buttery garlic, onion, and poppy seed.
These bagels hardly need any toppings if it's too much of a hassle to put them on– they have so much rich flavor on their own! However, if you do want to cut one and top it, we recommend butter, cream cheese, or to use as sandwich bread.
The Bottom Line
Well, now you know the basics. What?? Well, these are the basic flavors for bagels. Many people will take two of these flavors and mix them together, or take one and make a bagel from that.
You can make your own flavor bagels too! If you found yourself thinking that a certain type of bagel sounds great, if only it had this other thing— try it! Maybe your flavor will end up on a post like this someday.
In the meantime, my friends, try new flavors from here that you've never had before, and enjoy your bagel eating experiences!
Resources
https://thehomesimple.com/types-of-bagels/