*This post may have affiliate links, which means I may receive commissions if you choose to purchase through links I provide (at no extra cost to you). As an Amazon Associate I earn from qualifying purchases. Please read my disclaimer for additional details.
Ride-on toys are great toys for toddlers; every youngster likes them. Once they can hop on and sit confidently on the ride-on toys, your toddler will always have a good time riding the toy, whether on their own or if you are lending a hand and pushing them around.
When the youngster comes of age and their feet can touch the ground, they can safely propel themselves.
Regardless of the weather or season, ride-on toys are the best for toddler exercise. However, if you let your toddler use these toys in the house, ensure the tires are clean to avoid having tire marks appear all over the place.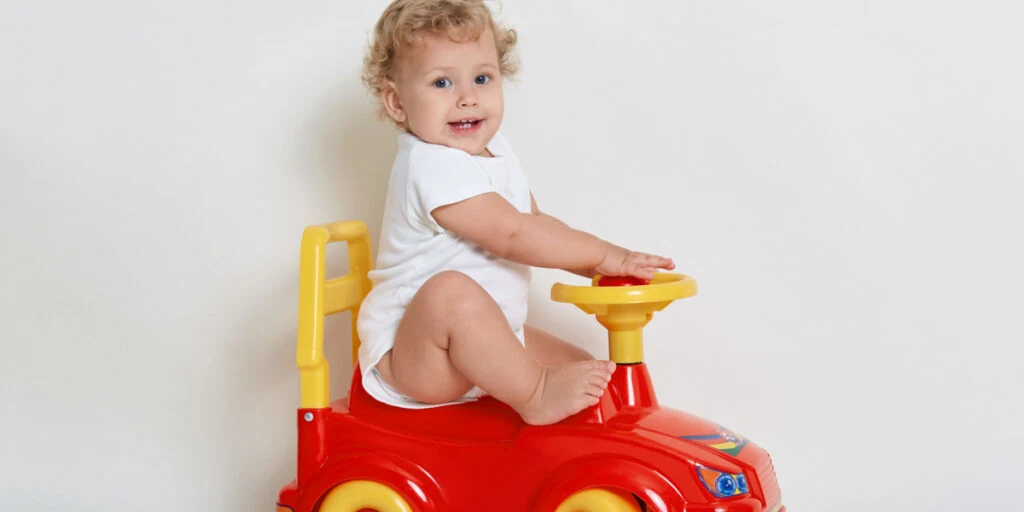 Varieties of Ride-on Toys
Ride-on toys exist in a couple of varieties, all aimed at nurturing and developing gross and fine motor skills, balance, and helping the toddler achieve better coordination. Below are the varieties of ride-on toys:
Push ride-on toys – These are ride-on with handles that enable parents or guardians to push their toddlers around.
Foot-to-floor models – These are the advanced ride-on models that enable the toddlers to push and propel the toys forward with their legs, thereby learning balance and coordination.
Pedal-powered toys – These include toys like bikes and trikes and are best fit for toddlers who have mastered the art of balance.
Motorized toys – These are power-assisted toys such as electric-powered or battery-powered toys. They are especially good for older kids who have the intellectual capacity to handle such toys.
Is Your Child Ready for a Ride-On Toy?
Before you purchase a ride-on toy for your toddler, you should first check to see if your toddler can safely handle the toy. Will your toddler's feet touch the ground? Will the toy handle the weight of your toddler? Will the toy appeal to your toddler?
Can a Ride-on Be Used as a Walker Too?
Yes. Ride-on toys can be switched into walkers by the toddlers. For a fact, it is often very interesting whenever a kid realizes that they can use their ride-on toys as walkers too.
Choosing the Best Ride on Toy for Your Toddler
Whenever you go out to purchase a ride-on toy for your kid, there are a few things to look out for. But remember, regardless of how safe the toy is, parental supervision is always needed, especially for motorized toys.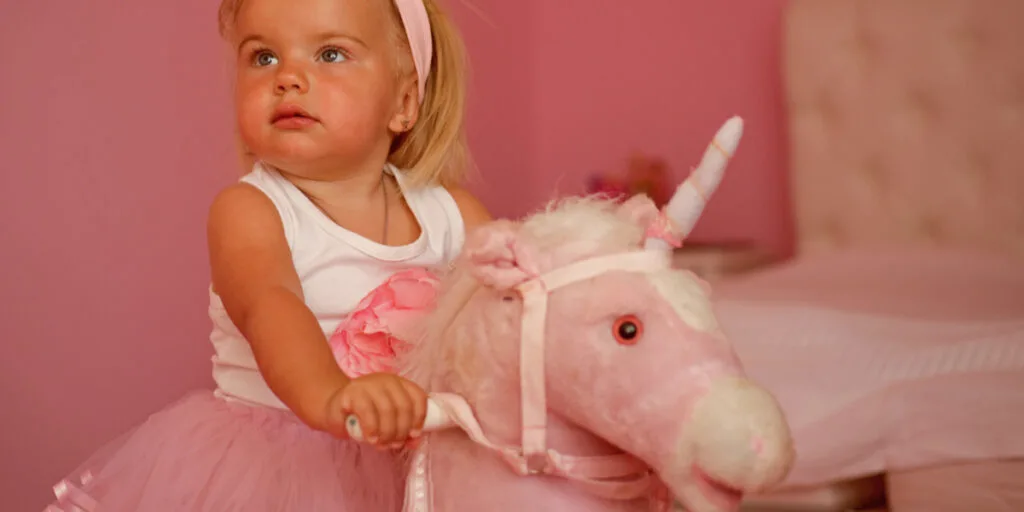 Safety Validation
Toys should have safety validations set forth and reviewed by both the manufacturers and regulatory authorities. These include specific checks to ensure the elimination of sharp edges, pinch points, and other potentially unsafe aspects. Kids should also wear protective gear when using toys such as bikes and trikes.
Cross-check the Specifications
Toys will always have specifications such as the weight limit, height limit, and age limit of toddlers allowed to use the toy. This information will help you decide if the toy is safe for your child.
Consider Your Toddler's Capabilities
Your toddler's height, weight, and age are crucial in identifying the best ride-on toy for them. However, you also need to be aware of your child's abilities, such as balance and coordination, to be able to pick something that would be safe and appealing for your child to ride.
Durability
Since ride-on toys are meant to be used outdoors, you need to get toys that are hardy enough to withstand the outdoors. Every parent understands that toys will often be left out from time to time, so if you choose a durable toy, you don't have to worry about the toy's durability.
Longevity
Since your child's motor skills are rapidly developing, and since these toys can be quite expensive, get a ride-on toy that will still be fun when your child is bigger. A scooter with an adjustable seat to accommodate various heights is one such option.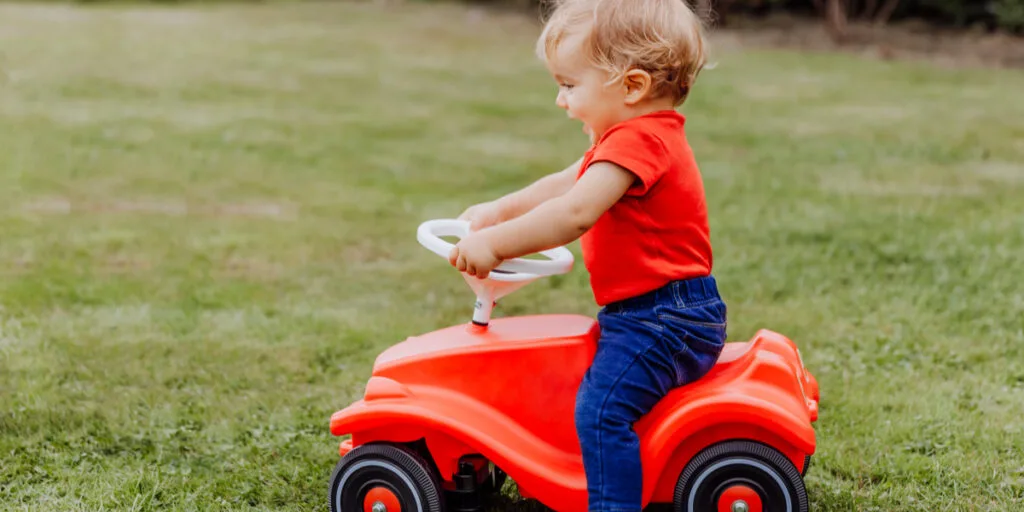 Best Ride on Toys for Toddlers
1. B Toys Buggly Wuggly Ride
The Buggly Wuggly is a safe ride-on toy for any kid between 1 to 3 years old. These toys are fitted with ergonomic seats to give a comfortable and smooth ride. They have vibrant colors, eyes that light up when a button is pressed, and two squeaky horns. Plus, there is a secret storage chamber beneath the seat to store belongings in.
Although this toy might not be as colorful or have lots of whistles and bells as other ride-on toys do, it is very safe and easy for toddlers to handle.
They can be found on Smyths Toys.
This ride-on toy is not fitted with tires but is rather a bounce-away toy. It is very easy to handle since it only needs to be inflated, and then the toy is ready to go. The toy comes with a pump specifically for this task.
This toy is suitable for kids between 3 and 5 years old, is easy to balance, and is suitable for both indoor and outdoor environments. However, depending on the toddler's height, the height of the toy might be inappropriate.
AppleRound Blue Horse Hopper
Stable 4-legged Space Hopper, Bouncy Horse. Inflated size approx. Length: 55cm/22in from nose to tail; Seat height: 28cm/11in; Body height: 50cm/20in from ear to floor.
Age group 3 yrs and up. Competent adult supervision is required at all times.
It is delivered deflated. A two-way hand pump is included for pumping up the space hopper.
Lab tested, conforms to the toy safety requirements, durable and safe.
Easy inflation: Take out the inserted white plug (air stopper) from the hole on the horse belly; insert the tip of the pump and inflate the hopper to good size, and then replace the white plug back into the hole quickly. Bounce!
3. Micro Ride-On Air Hopper
Micro Air Hopper (Pink)
Micro's ​newes​t innovation on wheels, your children will enjoy the Hopper's two modes: With wheels' offers a rolling kind of fun and greater maneuverability. Fun for open spaces, indoors or out. 'Without wheels' offers pure hopping, bouncing fun as children propel themselves around the room
The base conveniently removes to transform from a smooth-gliding ride-on to a stationary bouncing toy
Easy assembly​ – ready to ride in minute​s – just use hand pump included​.​
Designed and safety tested for ages 18 months​ +, ​supporting up to 55 lbs
This ride-on toy has a dual-play feature for scooting and hopping. This toy is fitted with four polyurethane non-marking wheels that turn 360 degrees to facilitate smooth pushes. The wheel chassis can also be removed to make the toy a hopper.
This elegant toy is most suitable for kids between 1 ½ years to 6 years. It is made from very durable materials, mainly wood, metal, and PVC, thereby eliminating any doubts about the longevity of the toy.
4. Wheely Bug Ride-On Toy
Wheelybug ride-on toys have unique designs, often taking up the shape of animals, ladybugs, and bumblebees. These toys are specifically handcrafted and fitted with cushioning for comfortability.
Wheely Bug ride-on toys are available in two sizes, small and large. Kids between the ages of 1 and 3 years can comfortably play on the small size, while the larger size is more suitable for kids above the age of 3.
As your child plays with the toy, they will get good exercise as well as build balance. The toy is also very safe for your child and is made of durable materials.
Prince Lionheart Wheely Bug, Ladybug, Small
It goes backwards, forwards, sideways, and round and round
Helps promote gross motor skills and balance like no other toy
Its bodies have a padded layer of sponge which is covered with a tough layer of polyurethane.
Great to use on smooth level floors and ideal for indoors or outdoors
Cushioned, comfy body can be easily wiped clean
5. Little Tikes Rocking Horse
Who said the best ride-on toys need to be mobile to be fun? The Little Tikes Rocking Horse is a stationary ride-on toy that is fitted with easy-to-grip handles and a comfortable seat that makes it enjoyable for toddlers to ride.
This ride-on is best suited for toddlers between the ages of 12 to 36 months. The rocking horse is also made of a durable plastic material and comes fully assembled so that you won't have any set-up issues.
Little Tikes Rocking Horse Magenta Small
One of Little Tikes' classic items is back.
Small size
Perfect for small indoor or outdoor play areas
Seat is designed to keep kids from falling forward or back
Easy grip handles; Made in USA
6. Joyrides Peacock Rocker
The Joyrides Peacock Rocker is one of the best toys for toddlers. Suitable for toddlers above 18 months old, this rocker is fitted with easy-grip handles and a soft, luxurious chair with a high back.
This rocker has a wooden frame, so you don't have to worry about your child's safety or the longevity of the toy.
Soft Landing | Joyrides | Sit-in Character Rocker – Peacock
Soft sit-in seat and sturdy design for hours of safe playtime fun
Comes fully assembled (so kids can jump right on and into their imaginative play)
Additional characters (so everyone can be the hit at the baby shower or first birthday – no matter the theme!)
The perfect size (28"L x 12"W x 22"H) and super cushy
Ride in seat: withstands a maximum weight of 75 lbs
7. VTech Gallop and Rock Learning Pony
Suitable for toddlers between the ages of 18 to 36 months, the VTech Gallop and Rock Learning Pony is a magical toy. Your child will enjoy riding while singing along to the tunes and joyous melodies for kids.
While your kid enjoys the ride, this toy develops their mobility and balance, not to mention their curiosity.
VTech Gallop and Rock Learning Pony
VTech's 2-in-1 Gallop and Rock Learning Pony, grows with your child and transforms from a rocking horse to a ride-on toy; rock or roll on the 2-in-1 pony
Brightly colored buttons introduce colors and animals; light-up roller bar flashes along with the sounds
Plays realistic horse sounds and fun phrases for imaginative play; features 60+ songs, melodies, sounds and phrases
Motion sensor detects your child's movement and encourages them to rock and ride; hop in the saddle and go for a ride on the Gallop and Rock Learning Pony by VTech
Requires 2 AA batteries (batteries included for demo purposes only; new batteries recommended for regular use); intended for ages 1 to 3 years
8. Peg Perego John Deere Ground Force Tractor with Trailer
This toy tractor is a dream toy for every little boy out there. With this machine, kids will plow away the good times in the mini John Deere Tractor since it is easy to handle.
The tractor steers easily and is versatile, suitable for grass, dirt, gravel, and paved surfaces. It is also controlled by foot pedals, just like a car, and is even fitted with a working FM radio.
However, since a rechargeable battery powers it, this toy is most suitable for kids above 3 years. The radio battery might also need to be replaced often.
Sale
Peg Perego John Deere Ground Force Tractor with Trailer
2 speeds plus reverse; 2¼ & 4½ mph. (4½ mph lockout for beginners)
Accelerator pedal with automatic brakes
Farm tractor wheels provide traction on grass, dirt, gravel or pavement.
Extra large stake-side trailer
Working FM radio
9. Beehive Toys Bumblebee Ride-On
Little Tikes bee Pillow Racer
QUICK and EASY TURNING, Four caster wheels allow kids to make easy, quick turns while they ride
EASY TO HOLD HANDLE, The easy-grip handle attaches to the base to provide extra stability
REMOVABLE, WASHABLE PLUSH. The cuddly fabric cover easily detaches from the base and can be hand washed
Maximum weight limit: up to 50 lbs
Assembly Required, Ages 1.5 Years and Up
This toy features a yellow and black toy with a seat height of about 14 inches. It is also fitted with rounded handlebars and caster wheels that allow your little one to turn and zoom.
This toy is stable but you'll probably want to limit its use to indoors only due to the plush fabric. It is most appropriate for toddlers above 1.5 years old.
10. Bounce and Spin Puppy
This toy is more of a bouncing toy than a ride-on toy, so it promotes your child's balance and mobility. The Bounce and Spin Puppy is also fitted with different playing modes, so your toddler can comfortably switch between the 123s and the ABCs or learn about colors from the projecting lights.
This toy is fitted with handlebars that are easy for kids to grab, it spins 360 degrees, and it plays melodies and music suitable for toddlers. This toy is best suited for kids above a year old.
Sale
Fisher-Price Bounce and Spin Puppy
Dog-themed ride-on learning toy lets babies bounce and spin 360 degrees with 2 musical play modes
100 plus songs, sounds and phrases teach numbers and counting, colors, the alphabet and first words
Bounce, spin the light-up rattle roller or press the ABC and 123 buttons for lights, songs and sounds
Easy-grip handles, sturdy base, and comfy saddle helps baby feel secure as they play
Helps build balance and coordination skills for babies and toddlers ages 12 months and older, max. weight 55 lb (25 kg)
11. Ladybird Balance Bug
This is a wooden ride-on ladybird (ladybug) toy is fitted with a wipe-clean padded seat. It is similar to the Wheely Bug toy, but it has easy-to-grip handlebars. The seat is fixed on a 360-degree rotating castor wheel, so your toddler can ride it in whichever direction he desires, greatly aiding in mobility.
These toys are best suited for toddlers above a year old. The toy is also available in panda, lion, and bumblebee figures. However, unlike most compact toys, this toy does require some assembly.
View the product on Beehive Toy Factory. Note: This toy ships from the UK.
12. Tender Leaf Rabbit Ride-On
Coming in a sweet bunny design, the Tender Leaf Rabbit Ride-On is a sturdy and sustainable toy that can even be customized with your child's name. It features a smooth finish and non-slip rubber wheels. This toy provides an elegant way of teaching mobility and coordination basics to your toddler.
It is most suitable for kids above 18 months old.
Running Rabbit Ride On
ENCOURAGES LEARNING – Getting your baby to stand is more than just teaching them a new physical milestone. Standing stimulates the brain by providing a change to their environment, so offer mental stimulation too. By seeing things from a different level, they are encouraged to learn.
ENHANCE LEG STRENGTH – Aids in teaching your child how to maintain balance by pushing with their feet. Develops balance and confidence at an early age.
SLEEK CLASSIC DESIGN – This cute rabbit balance bicycle is perfect for any child's first birthday. It can be used indoors and outdoors so your child could enjoy hanging out with the family while learning how to walk. Dimensions: 22.6" x 12.9" x 17.7" 10.80 lbs
13. Little Tikes Princess Horse and Carriage
This Little Tikes toy offers your kid the experience of riding in a horse and a carriage. It can be controlled by both kids and adults. As the toy is being steered, the horse in the front seamlessly turns and glides and even makes the real clip-clop sound of a trotting horse.
This toy is durable and fitted with floorboards that are easy to remove. This toy is most suited for kids above 18 months old. Also, the toy requires some assembling.
Little Tikes Princess Horse & Carriage, Multicolor Large
Parents can pull from the reins or push from the roof handle.
Includes floor board to protect little ones' feet, removable floor board and child can take the reins and drive themselves, horse clopping sound, parent and child cup holders, parent console on roof
Driver's door opens and closes
Weight limit up to 50 lbs.
Assembly required
Conclusion
Whether they are designed to be manually propelled or electrically powered, ride-on toys are excellent for nurturing the hand-eye coordination and motor skills of toddlers. In addition to that, toys fitted with extra features like knobs, switches, and levers, will help kids grasp the basics of cause and effect faster.
Have you found the right toy for your toddler? I hope this article guides you to find the best animal-themed toy for your kid's adventures.
Resources