*This post may have affiliate links, which means I may receive commissions if you choose to purchase through links I provide (at no extra cost to you). As an Amazon Associate I earn from qualifying purchases. Please read my disclaimer for additional details.
Kids adore horse toys, especially kids that are still in that endearing toddler stage of life. Finding the best horse toy for toddlers can be time-consuming, however, because not all horse toys are made for their specific age range.
Toddlers need horse toys that are safe, yet still have a lot of potential for fun.
Few people, especially those with young kids, have time to research the ins and outs of toddler-safe horse toys, so we have done all the work for you.
Here are the 13 best horse toys for toddlers that you can buy.
Crochet Stuffed Horse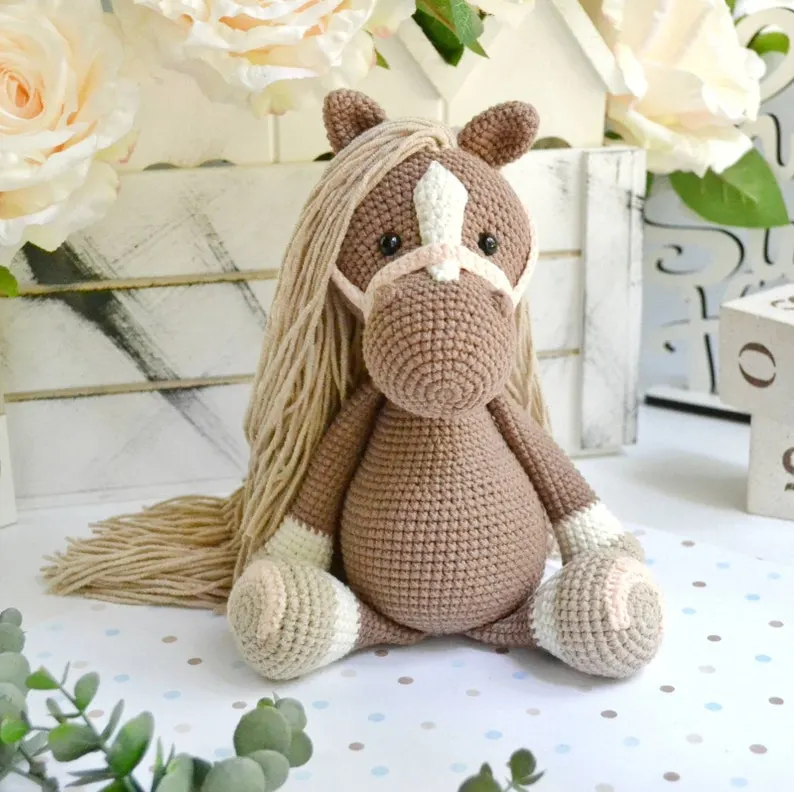 This utterly adorable crochet stuffed horse is one of the best horse toys for toddlers because it is well-made and can stand the test of time. If you are looking for that perfect, toddler-safe keepsake toy, this is it.
This cute little horse is a real handcrafted stuffed horse that is crocheted out of cotton and acrylic yarn. This horse toy can be customized by body color, mane, and tail color, as well as the color of the bridle, horseshoes, and stripes.
It stands about 9 inches tall and is the ideal size for toddlers. This will be the precious toy they talk about reminiscently when they are grown.
Plush Creations Plush Horse Toy Playset
Talking Plush Creations Plush Horse Toys for Kids
🐴 WHAT'S INCLUDED: Plush Creations brings you a new cool adorable toy set, "My Horse Stable." Our beautifully designed classic Plush horse stall comes with 4 assorted cute plush horses that talk and neigh! The plush horse barn carrier has a great design and color to help broaden your child's imagination. It is also used to store all the horses after your kids are done playing! Get your lucky child smiling and animated by hugging or squeezing these fluffy and squishy plush animal dolls.
🐴INTERACTIVE & EDUCATIONAL: Squeeze or hug the super-soft plush horses to hear the cutest realistic horse sound! The horses each say "I am a Horse," followed by the coolest real-life neighing sounds! Turn playtime into a learning moment, promote fine motor skills, engage them in creative, pretend, and imaginative play, and help your kids learn about farm animals! Help your kids achieve better hand to eye coordination, boost their confidence, and facilitate their sensory recognition.
The Plush Creations Plush Horse Playset is made especially for toddlers and is interactive. The soft playset comes with four different stuffed horses and a plush carrying stable.
The horses are not just soft and cuddly, they also make noise. When kids press on one of the horse's stomachs, it actually neighs and speaks.
This is one of the absolute best horse toys that you can buy for a toddler because it is safe, fun, super soft, and educational.
My First Puppet- Horse Hand Puppet
This cute little horse hand puppet is made for young kids, especially toddlers. It is extra soft and is made of non-toxic materials so it is safe for toddlers and kids of all ages.
Puppets are great toys for kids to play with and be entertained by. This horse hand puppet is made to fit both the hands of adults and kids.
This is one of the best and least expensive horse toys for toddlers that you can buy. There is no doubt that any toddler would absolutely love this toy.
Qaba Ride-On Rocking Horse Toys
Sale
Qaba Kids Ride-On Rocking Horse Toy Rocker
Fun Shape and Bright Colors: what a fun rocking horse! This horse model is soft and fun, with soft fabric and beautiful colors to stimulate them while they play. Plus, the rocking back and forth helps your sweetie strengthen their core and arms muscles, plus improve their balance.
Soothing Sing Along Option: a lullaby is included with this kid rocking chair; all you need to do is squeeze the button on its ear to add some extra fun to playtime.
Comfortable and Calming: the plush fabric and gentle rocking of this rocking kids chair will calm and comfort your child assisting in pre-nap or post-activity relaxation.
The Qaba Ride-On Rocking Horse toy is not the average rocking horse that most of us grew up with.
There are handles on both sides of the rocking horse's neck for kids to hang onto. This rocking horse toy is ideal for toddlers between the ages of 18 months and 3 years, although it can safely hold kids up to 66 pounds.
It comes with an adorable little horse hand puppet as an added treat. This toy has a lot of potential for hours of safe fun, making it one of the best horse toys that you can buy for a toddler.
Wooden Horse Toy Family Set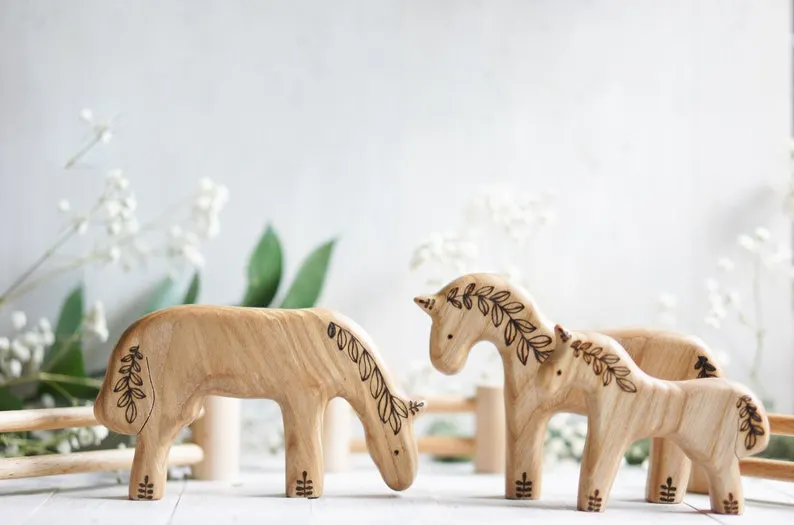 This wooden horse toy family set is absolutely breathtaking in its simplistic design and it makes a fantastic toy for toddlers. This set is hand-carved, made of ash wood, and does not contain any toxic materials.
This set comes with two adult horses that are 3.54 inches tall and a baby horse that is 2.75 inches tall. These horses do not have any of the usual bells and whistles that other horse toys do, but they are just as fun.
Toddlers will love playing with these horses just as much as they would any other toy. This wooden toy set is definitely one of the best and most unique horse toys that you can find today.
Walking Pony Toy Horse With Leash
Walking Pony Toy Musical Singing Dancing Plush
[Walking Singing Dancing ] Twisting the buttocks, Making horse calls, horseshoe sound, leash design, Kids can hold the pony when going out to play
[The Best Playmate for Kids Growth]Interactive plush pony is the best gift for kids, enlighten the child's intelligence, let the kids learn to care for his companions while playing; no matter the birthday party, school event or holiday celebration can be used.
[Safety and Environmental Protection Materials]Soft plush material, skin-friendly and safe, filled with PP cotton, good resilience, and fine workmanship, please rest assured to use
This walking pony toy horse comes with a leash and is not just the cutest little horse you have ever seen, it is also one of the best horse toys that are made for toddlers. It is safe for toddlers and allows them to take their new pet horse for a walk.
The horse walks, twists its behind, makes horseshoe sounds, and neighs as kids walk it around on its lead. It is a fun, interactive horse toy that is educational for toddlers.
It is made of a soft, plushy, non-toxic material and it stands 10.24 inches tall. This is an amazing toy and one of the absolute best horse toys for toddlers.
Stick horses can be a little dangerous for younger kids, therefore, the Papap Pony company came up with this perfect handsfree hobby horse for toddlers. Instead of a stick, this toy has a safe waist attachment to allow toddlers to play cowboy or cowgirl safely.
This handsfree hobby horse comes with a bridle and reins for toddlers to 'steer' their horse as they play. These are perfect toys for birthday parties or sleepovers.
This toy is made with non-toxic materials and is safe for toddlers to play with. This is one of the most innovative and best horse toys that is made for toddlers specifically.
Bouncy Horse Hopper
Sale
WALIKI Bouncy Horse Hopper | Inflatable Hopping Horse
★ INFLATABLE & BOUNCY: Mr Jones is perfect for ages 3-5, soft & cuddly plush cover, bouncy inflatable inside bladder
★ EASY TO INFLATE: A convenient Double-Action Hand Pump is included. Get bouncing in 5 minutes!
★ INFLATED SIZE: Inflatable Jumping Horse, floor to saddle 12 inches. 18" x 12" x 12" Yeeeehhaaaa!
★ LEARN BALANCE & COORDINATION: More than fun, children sit on the Hopping Horse, find their balance and quickly, the Riding Horse for Kids becomes their preferred method of transportation. Jealous of their Hopper Horse? Try an Adult Size Hop Ball
★ WALIKI TOYS: Since 2005 smart parents trust our glorious bouncing toys that MAKE EXERCISE FUN
This bouncy horse hopper is made by the Waliki company and provides hours of physical activity for youngsters. Made primarily for toddlers, this is an inflatable horse that kids can bounce around the house on.
It comes with an air pump and a soft cover that is washable. Bouncing on this toy allows toddlers to develop and expand on their balance and coordination skills as they grow.
This bouncy horse hopper is one of the best horse toys for toddlers if you are looking for a toy to help keep them physically active and entertained.
Sparkling Big Eyed Stuffed Horse
This stuffed horse has gorgeous large, sparkly eyes that are simply irresistible. Kids, especially toddlers, love these horses because they are just so cute and cuddly.
It is made with safe, non-toxic polyester materials and is easy to clean. It is extra soft for cuddles and measures 8 inches tall from its ears to its hooves.
Any toddler will absolutely love this toy and you will see that it is by far one of the best horse toys you can get for a toddler. You cannot go wrong with purchasing this horse toy for the toddler in your life.
Melissa & Doug Giddy-Up and Play Horse
Sale
Melissa & Doug Giddy-Up and Play Baby Activity Toy – Multi-Sensory Horse
ENTERTAINING HORSE ACTIVITY TOY: Melissa & Doug Giddy-Up & Play Baby Activity Toy features many textures and sounds, including a rubber horseshoe that clicks and turns, rattling reins, and a crinkling mane and ears. Squeeze the ear to hear neighing and galloping sounds.
HELPS DEVELOPS MULTIPLE SKILLS: Giddy Up & Play's multiple textures and noise-making details build fine motor and auditory processing skills. Rattles, a button, and other easy-to-grasp pieces encourage hands-on exploration. A mirror engages a baby's interest in faces and light.
CRAFTED WITH CARE: With durable construction and quality materials, this horse activity toy is washable and made to last for years of play.
This Giddy-Up and Play Horse toy is the perfect combination of stuffed animal and interactive features. Made for kids nine months and older, it is possibly the best introductory horse toy for toddlers that checks all the boxes on your list.
It is large, soft, cuddly, safe, and has hands-on interactive features like rubber horseshoes, rattles, noisy reins, sounds, and various textures. It allows toddlers to explore and expand their fine motor skills as they grow.
It weighs about three pounds and measures almost 20 inches in length. This would be the perfect horse toy for young ones that are just entering their toddler stage.
Spirit Pillow Pets Stuffed Animal Toy
Pillow Pets NBCUniversal Spirit Riding Plush Toy
RIDE FREE: Gallop across the plains with this Spirit Pillow Pet! Fans of Spirit Riding Free will love playing with their favorite horse. You can be just like Lucky and her friends and save the day.
COMFORTABLE COMPANION: Pillow Pets presents super soft, cute, & adorable stuffed animals that unfold into fuzzy pillows. Kids, teens, & adults love these classic & collectible comfy critters.
COMFORT: This plush is a pal by day, then unfasten its belly to make a pillow by night! Comforting travel friend for any child on road trips & airplanes. Also use as boy & girl bedroom decoration.
BEST BUDDY: Children of all ages will love this original toy for play & as a large pillow for reading, watching television, studying, and sleepy nap time. Youth love to read with this cozy creature.
Toddlers love soft, cuddly toys and this Pillow Pet horse does not disappoint. It is both a fun stuffed animal to cuddle with and it opens into a pillow as well.
This horse toy measures 16 inches long when used as a pillow. It is made out of a high-quality chenille fabric that is safe for kids.
The Spirit Stuffed Horse toy by Pillow Pets is one of the best horse toys made for toddlers because of its soft material and versatility. Most toddlers would be more than happy to get this toy as a gift.
Rockin' Rider Legacy Grow-With-Me Pony
Rockin' Rider Legacy Grow-with-Me Pony, Large
Grows with your child from a bouncer, to a rocker, to a spring horse.
Press ears to hear the exclusive "I'm a Little Pony" song, 6 talking phrases, and sound effects
Talks and sings with a synchronized moving mouth
Converts in minutes from rocker to spring horse without tools
Soft huggable plush, detailed saddle, and embroidered eyes
The Rockin' Rider Legacy Grow-With-Me Pony horse toy takes the spring horse ideal to a whole new level. This toy has a safety seat so it can grow with infants into and throughout the toddler stage.
This horse toy is set up to be a bouncer for an infant, a rocker for a 12-month-old, and a spring horse when the child reaches about two years of age. It even sings a song and talks when its ears are pressed!
This interactive toy provides tons of fun for toddlers and can be used when they are still just infants, as long as they are at least 9 months old.
It is one of the most versatile as well as one of the best horse toys that toddlers can play with.
Wooden Horse Pull Toy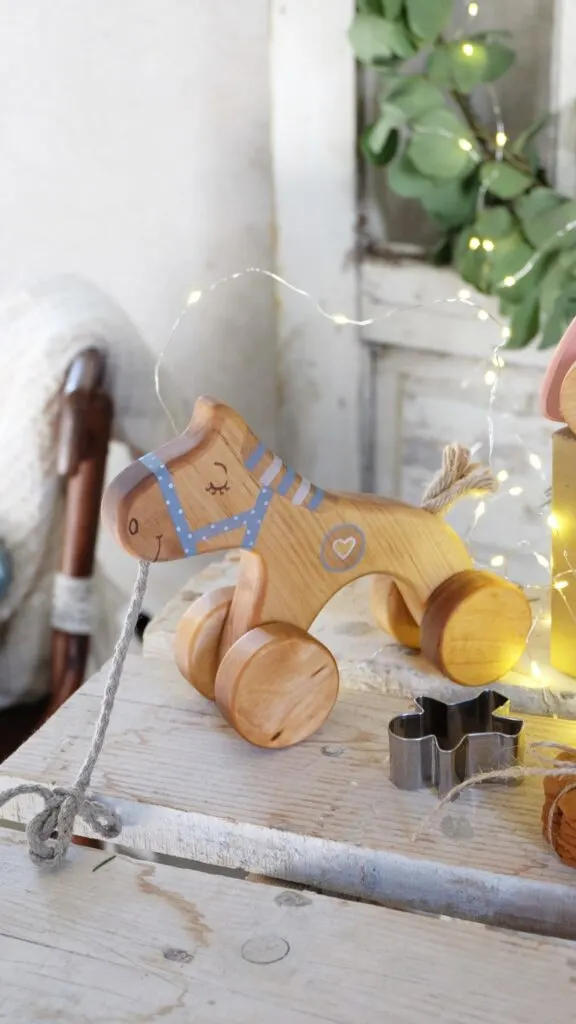 If you want to get back to basics when it comes to purchasing a new toy for a toddler, this wooden horse pull toy made just be the ticket. It is handmade out of safe, non-toxic materials.
Sometimes the best and most fun toys are the most basic ones. Any toddler would love to play with this fun wooden pull toy and it really is one of the best horse toys you can get for them.
Final Thoughts
Finding the best horse toy for the toddler in your life just got a whole lot easier thanks to this list. There is no doubt that any toddler would love most of the horse toys on this list. You really cannot go wrong with any of the horse toys discussed here.
The trick is narrowing it down to that one horse toy on this list that you think is the absolute best horse toy for your toddler.