*This post may have affiliate links, which means I may receive commissions if you choose to purchase through links I provide (at no extra cost to you). As an Amazon Associate I earn from qualifying purchases. Please read my disclaimer for additional details.
These absolutely adorable patriotic sugar cookie cups are the perfect Fourth of July treat for your next party. As a single mom with a busy schedule, it's nice to have an idea to whip up and throw in the oven for a school party or backyard bar-b-que.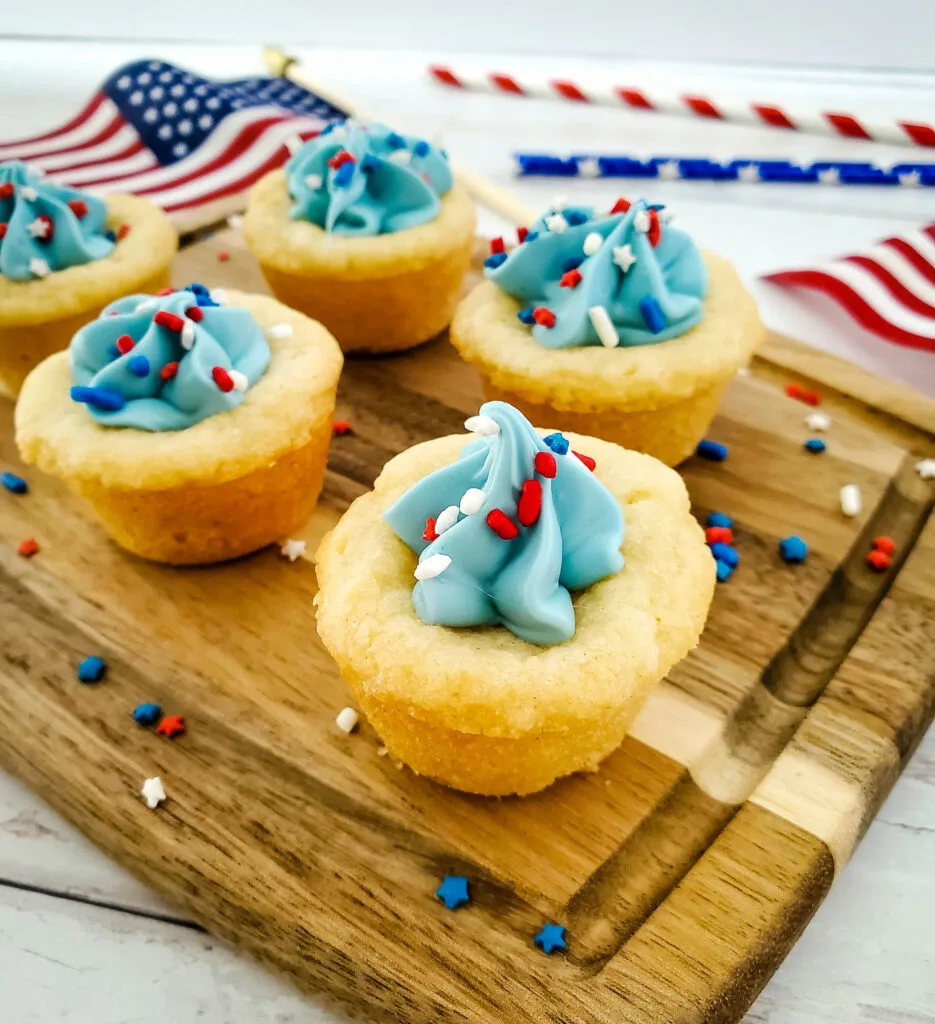 What I love most about these Sugar Cookie cups are that they use pre-made sugar cookie dough. Just plop them into your mini-cupcake pan and voila, this delicious treat is ready.
Ingredients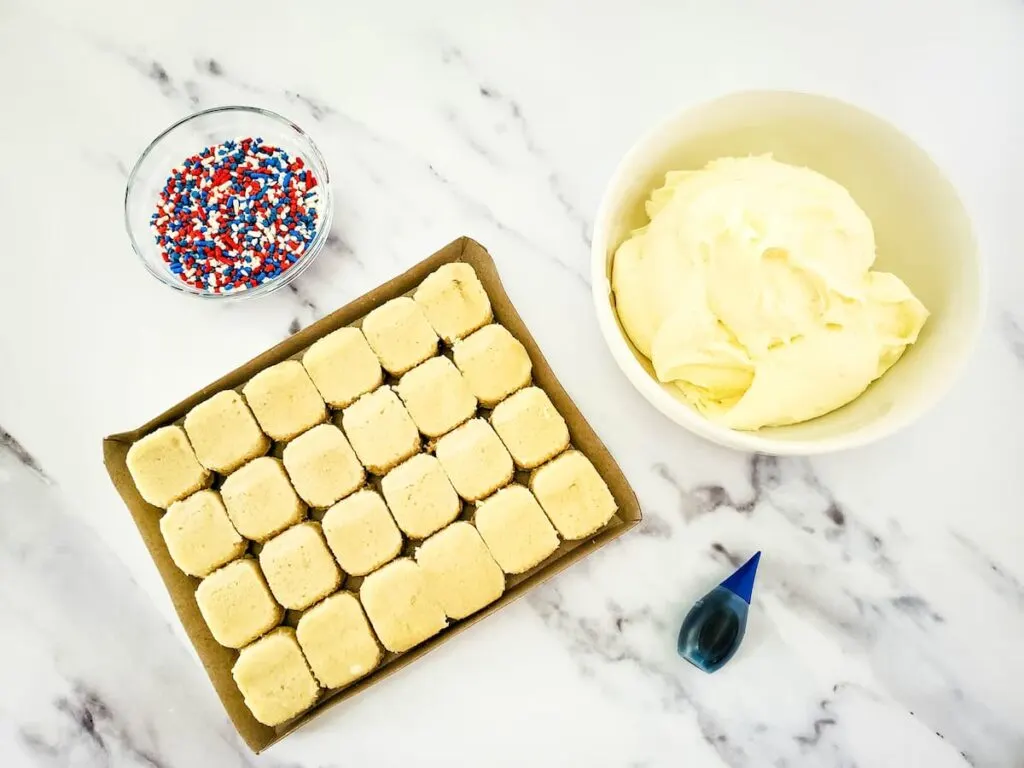 Directions
Step 1: Preheat your oven to 350 F
Step2: Grease your mini muffin tin (optional).
This will help them slide out of the muffin tray much faster once baked.
Step 3: Place one piece of cookie dough into each section of your muffin tin.
I've used pre-made sugar cookie dough but, for this step, you absolutely could use your favorite homemade sugar cookie recipe as well.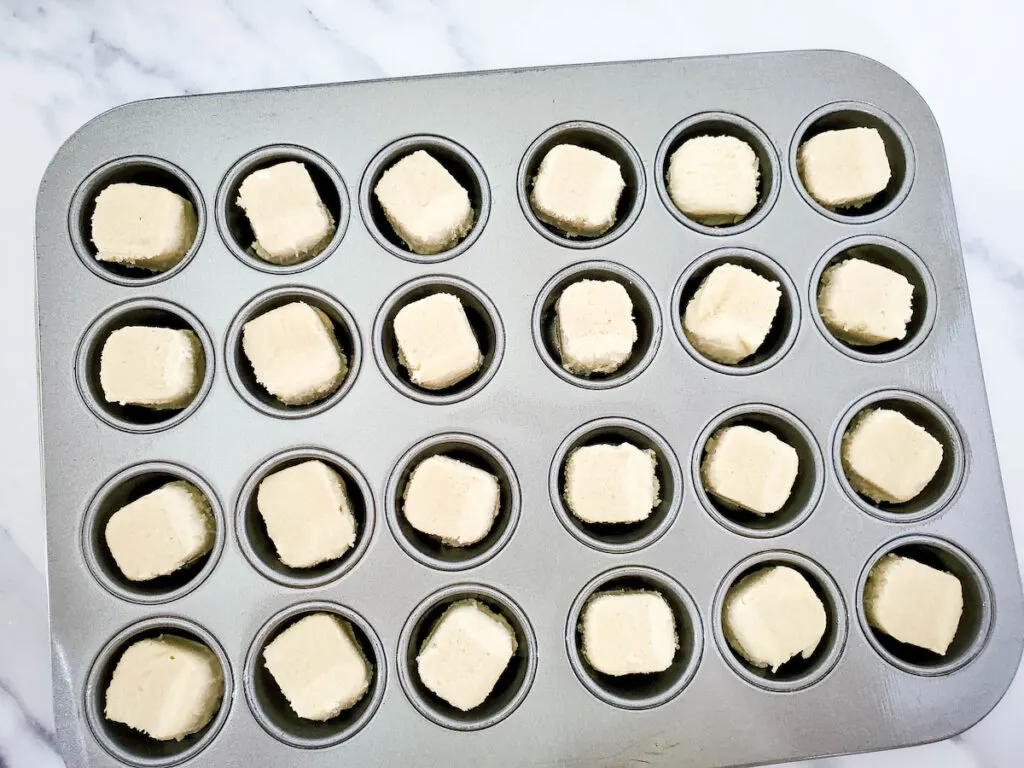 Step 4: Bake for 12 – 15 minutes
Step 5: Allow to cool.
Remove your cookies from the oven and set on a cooling rack to cool. A crater should form in the center once cooled (but if not, don't worry, your frosting will still work fine).
Step 6: Remove Cookies from muffin tin
Once cooled, remove your sugar cookies from the muffin tin and arrange on a tray lined with parchment paper.
You could also use a super cute cake stand or decorative plate at this stage.
Step 7: Add frosting
Use the steps below to make super pretty blue frosting. Then, add the frosting to the center of the cookie cups.
I've used a star piping tip in my examples but, if you don't have any piping tips you could use a spoon or improvise with by cutting an "x" into the end of a sandwich bag and using that to pipe your frosting instead.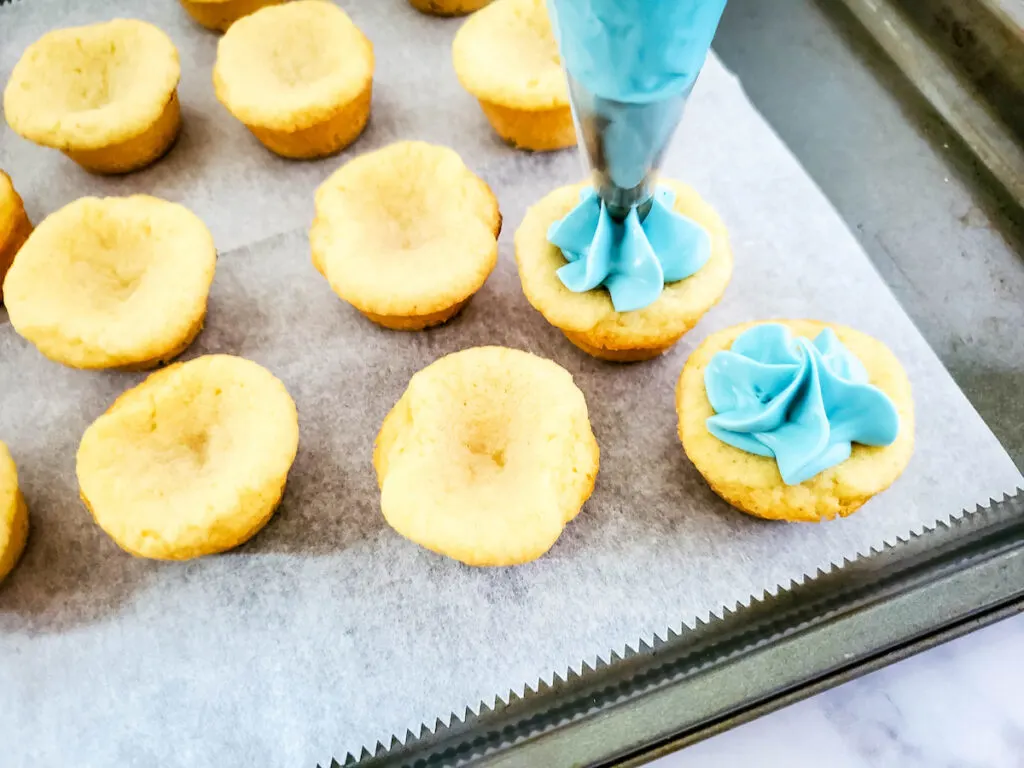 Step 8: Add sprinkles
Sprinkles are the best part right! I've chosen red, white and blue star sprinkles.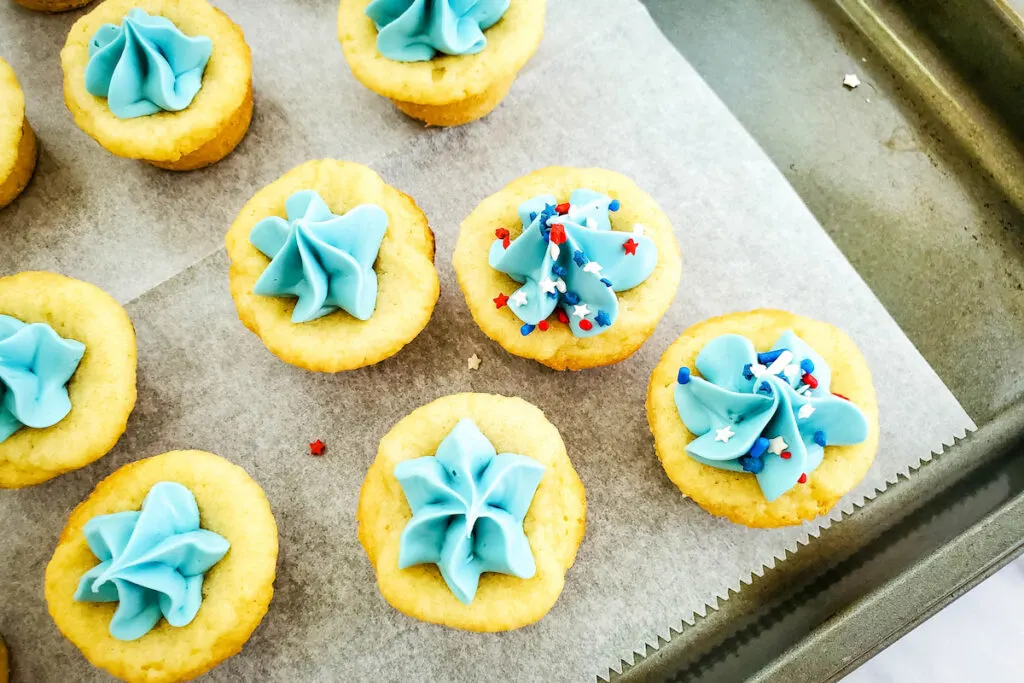 Preparing the Frosting
Whipping up colored frosting is super easy, especially when you're starting with premade vanilla frosting as I'm doing here.
To get started, place your frosting in a bowl. Keep in mind, you can alter the amount of frosting used depending on how many sugar cookie cups you make.
In this case, I'm using 8 oz of frosting and I added 11 drops of blue food coloring.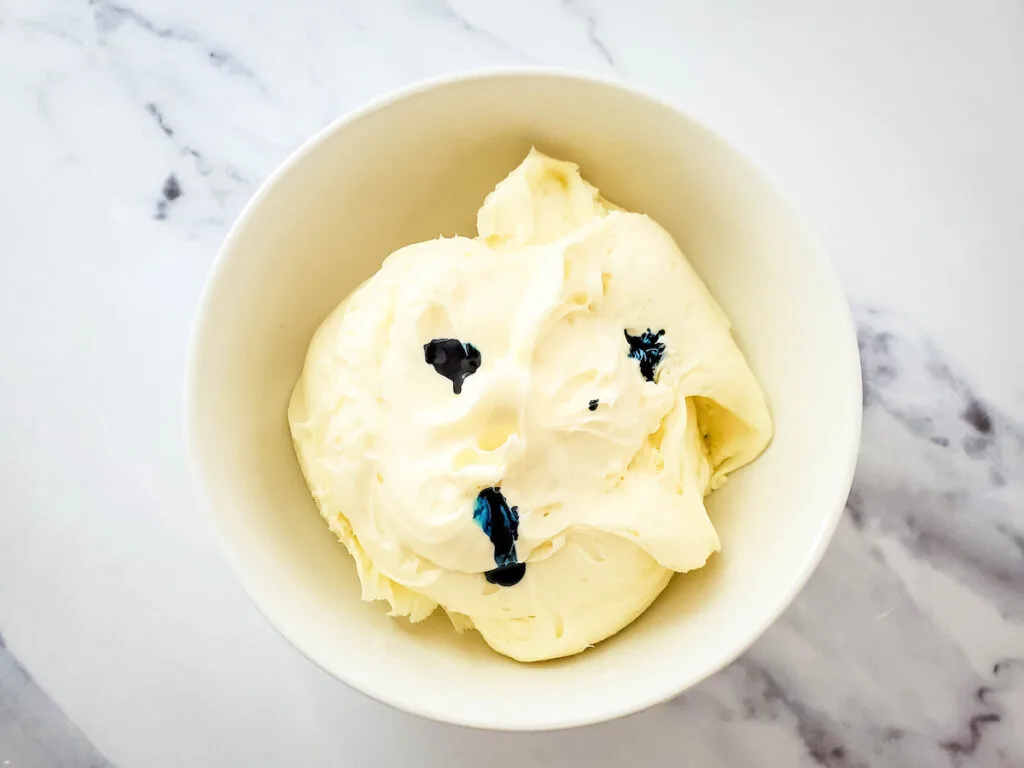 Once your food coloring is fully mixed in, you should have a nice blue shade.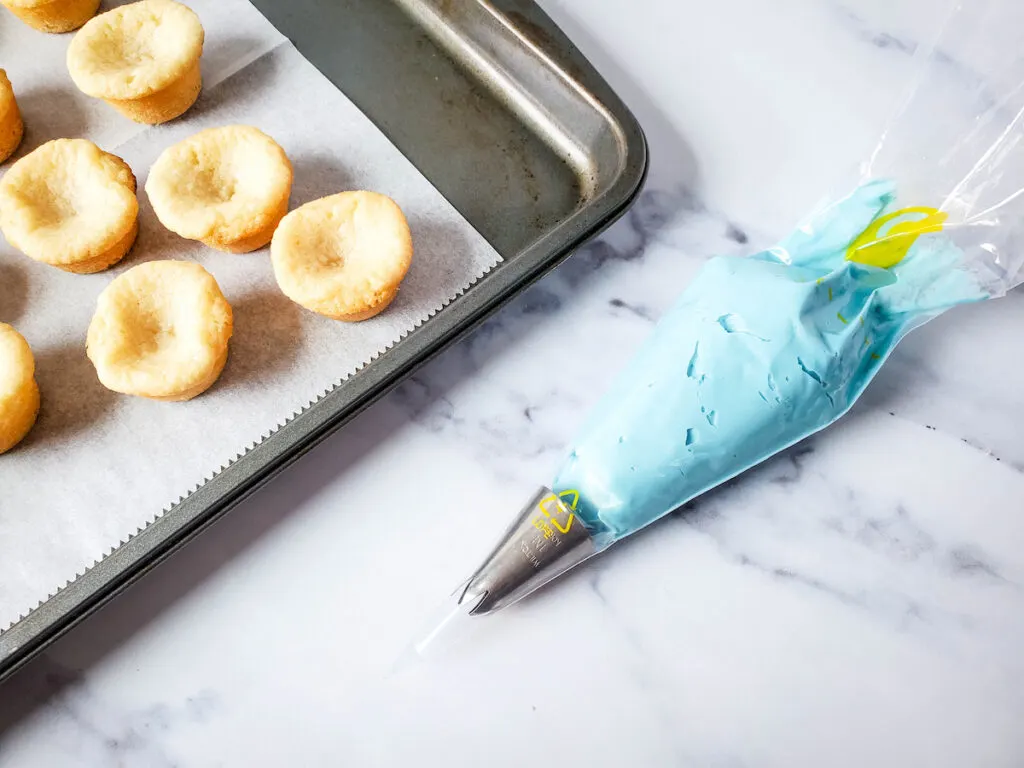 The star tip really makes these look great but, you could also try your hand at using a grass tip to simulate fireworks!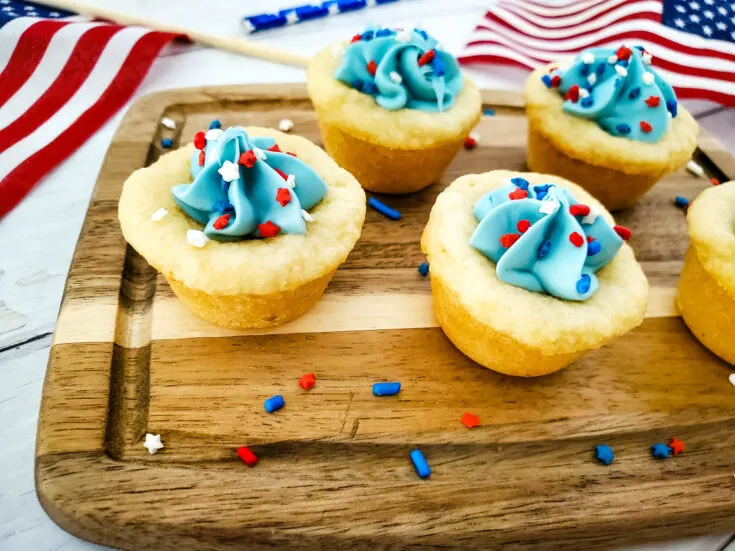 Yield:

24
Patriotic Sugar Cookie Cups
Additional Time:
10 minutes
Super easy red, white, and blue treat made with pre-packaged sugar cookies, a can of frosting, and patriotic sprinkles. This delicious treat is ready in no time, and perfect for those patriotic summer holidays!
Ingredients
16 oz package of pre cut sugar cookie dough, 24 ct
8 oz vanilla frosting
11 drops blue food coloring
Instructions
Preheat the oven to 350 degrees.
Grease a mini muffin tin to make the cookies easier to slide out (optional)
Put one piece of cookie dough into each of the 24 mini muffin tin cavities.
Bake for 12-15 minutes, until golden.
Remove from the oven and set on a cooling rack to cool. The center will form a crater once cooled.
Once cooled, remove the cookies from the muffin tins and set them on a tray of baking sheet lined with parchment paper.
Add frosting to the center crater of the cookie cups. You can do this using a spoon, or by using the star piping tip if you want them to look exactly like these ones.
Top with sprinkles.