*This post may have affiliate links, which means I may receive commissions if you choose to purchase through links I provide (at no extra cost to you). As an Amazon Associate I earn from qualifying purchases. Please read my disclaimer for additional details.
Kitchen is the one thing that will help you in keeping your kitchen counter tops a little clutter free. No matter how big your counter is, having a little more space never hurt anyone.
If your pantry is well organized you do not need to cringe every time you open the doors of your pantry and rummage around looking for an ingredient.
Therefore, it is very important to make cleaning and organizing your pantry a top priority in your routine. The best news is, organizing your pantry is a relatively effortless job if you simply follow the below tips.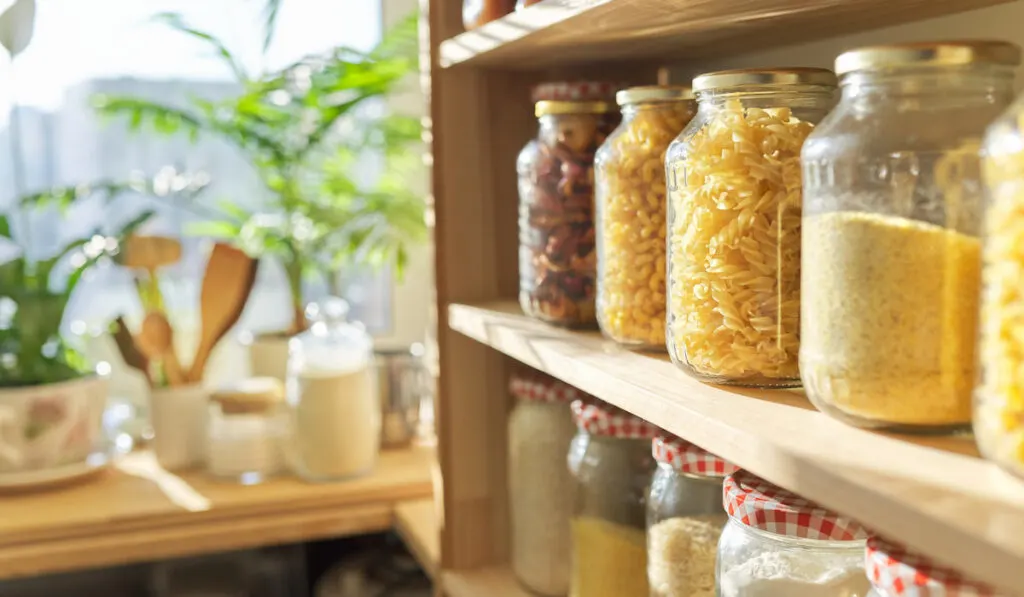 How to Organize a Pantry
1. Clean Your Pantry First
Before you do anything, start by taking everything out of your pantry and clean it thoroughly before putting anything back inside. It is very important to clean your pantry before the organization process begins. When you begin fresh, you will keep your things organized for a longer time.
Have a trash bin handy to discard items that are open or stale. Additionally, set aside any canned goods or other unopened pantry items your family won't realistically use. These can be donated to your local food bank or shelter.
According to MoveforHunger.org canned goods past their expiration date can even be donated and are often safe to consume for up to 18 months after the date stamped on the can.
This step alone can start to free up much needed space in a crowded pantry.
2. Make a Pantry Inventory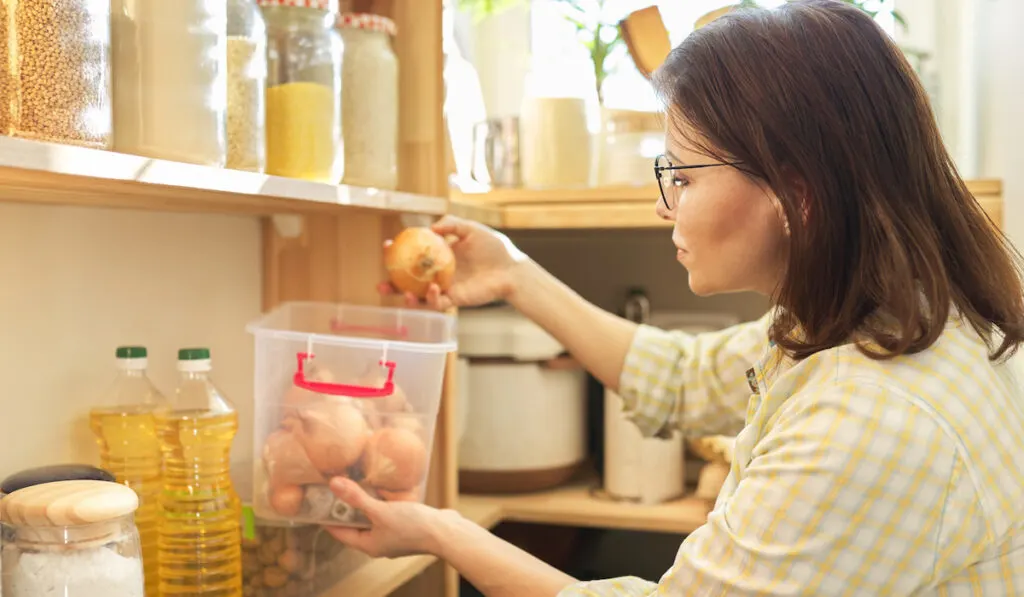 After you have taken everything out, make an inventory of all your staples, and try to keep updating your list. Of course, the first step is easier than the second but it gives you a place to start!
The next time you go grocery shopping, carry this list with you so that you save unnecessary trips to the grocery shop later. There are a number of inventory lists that are available online. You can download any one of them and use it for making your life and your pantry more organized.
3. Categorize
Try keeping like items together in the same area or shelf in your pantry. Doing this can make finding things much easier.
If you have a label maker, you can even label the shelves so that kids (and husbands) have a little extra help when figuring out how to put things back where they go.
4. Use Containers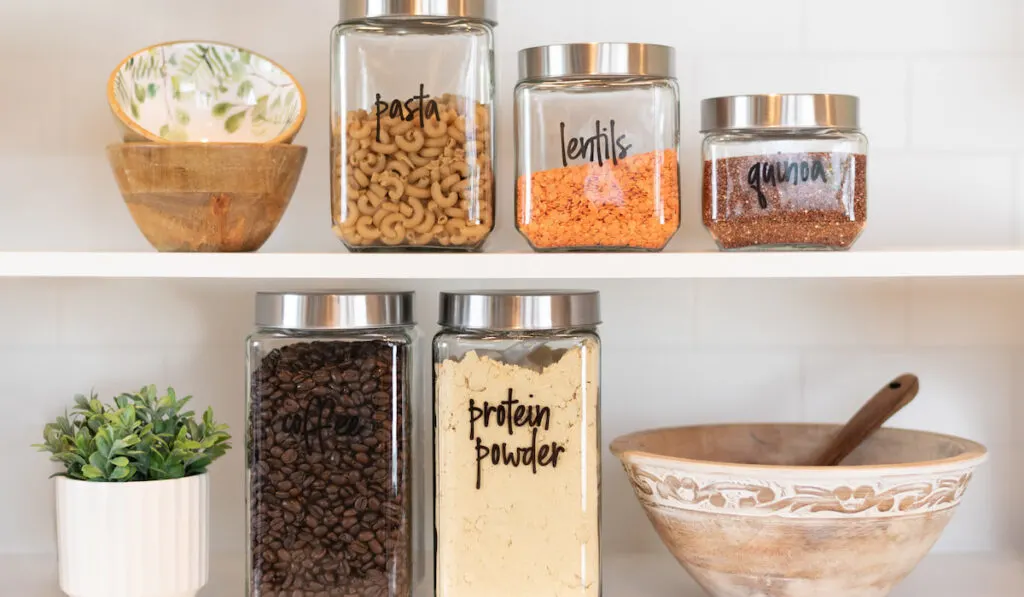 The best way to keep your pantry organized is to make the maximum use of containers. By making use of containers, you save a lot of space. When you use odd-shaped packages for storing your food items, they fit better in your storage cabinets.
There are all types of containers available online. I have two absolute favorites:
These glass jars are absolutely beautiful and look great on a pantry shelf or, in my case, right on the counter. The bigger ones are the 1.5 gallon size and the smaller ones are 1/2 gallon size .
5. Label Your Containers
One of the best ways by which you can organize your pantry is by labelling your containers. You can label your shelves and also the containers. For labelling, you can use a chalkboard labels or a label maker. When you use a chalkboard label, you can easily erase the writing and rewrite over it.
I love these chalkboard labels for jars, and these ones for baskets and bins.
20+1 pcs Wood Mini Chalkboard Sign
🌟 Mini Chalkboard signs with stand, you just put chalkboard signs on the base the removable stands allow the chalkboards to stand upright on a table or flat surface
🌟 Mini chalkboard sign 3×4 in board provides charming space for writing and drawing with the removable stands allow the chalkboards to stand upright on a table or flat surface
🌟 Easy using You just have to follow the steps that are shown in the 4th image first, combine the two legs, which come complete with each sign, in a triangle shape and put the board on the stand; You can fold it for easy storing, carrying and extra space
4. Organize
a. Make Every Inch of Your Cabinet Count
One of the key points of organizing your kitchen is that you get to use each and every corner of your pantry. However, when you try to use each and every inch of your pantry, you should make sure that everything you put in the pantry is easily visible.
You can keep the smaller items like small cans and spice bottles into a basket or place them on the door rack. You can double your pantry space by making use of a riser shelf . This will help you in finding your things much more quickly and keep your things stacked up together.
In fact, this is my favorite door-mountable pantry organizer because each shelf is separate which means you can mix and match them to different areas. Keep in mind that it doesn't have to be a door either, anywhere you can pop in a couple of screws can have one of these nifty shelves.
They are small though, so keep that in mind but the design is elegant so it is sure to look great!
Hanging Seasoning Organizer for Kitchen Cabinet
4 Single-Tier Spice Holder: Hang the spices organizer together or individually and adjust the distance freely
Reasonable Dimension: 2.5 x 3.15 x 11.5 inch, fit for cabinet, cupboard, pantry door, over the stove or wall mounted; Each rack provides space for standard sized spice jars (up to 2″)
Easy Mounted: All hanging hardware are provided. Even a person can complete in 5 minutes; 2 different sized screws, 0.5″ for cabinet door and 1″ for wall mounted
You can make use of the doors of your pantry for storing stuff. There are specific hang organizers designed especially for pantry doors so that that you can make use of the doors as well. You can store spice, canned goods, jars, and oils easily in these organizers.
You can also make use of command hooks that can be stuck on a wall space. These are very helpful for putting bags in a bag dispenser or store reusable shopping bags.
b. Embrace FIFO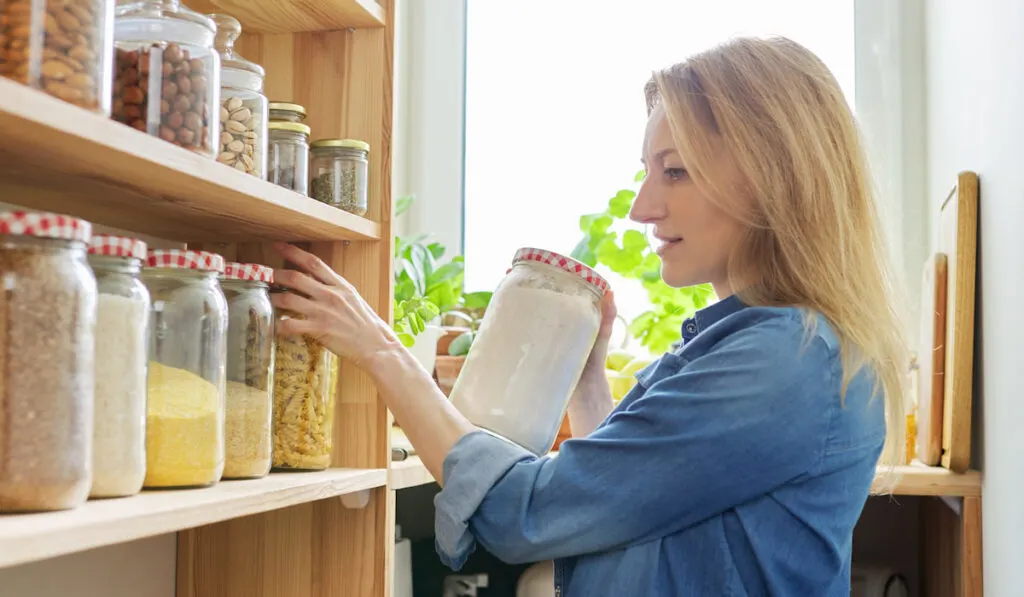 FIFO stands for First In First Out, which you can apply in your pantry items as well. Try to make it a habit to place your newer items in the back and finish the earlier bought items first.
In this way, you will avoid having items in your pantry so long that they go bad. Whenever you finish up a container, write it down on your grocery list and pick it up the next time you visit a grocery store.
If you keep your pantry inventory up to date, you'll never have to second guess what you have and what you don't. This alone can help cut down on grocery bills by making sure you aren't buying things unnecessarily.
c. Customize Your Pantry
A pantry of a household is a very personal thing and no two homes can have the same list. When you are planning your pantry, make sure you consider the needs of your hungry crew.
You can either arrange your bottles according to each person's needs or the purpose of the container like they have sweets, snacks, or ingredients.
You could even arrange the pantry by food type i.e. Mediterranean, Italian, American, etc. The choice is yours but be sure to choose a way that makes sense for the people in your household.
d. Create a Kid Friendly Spot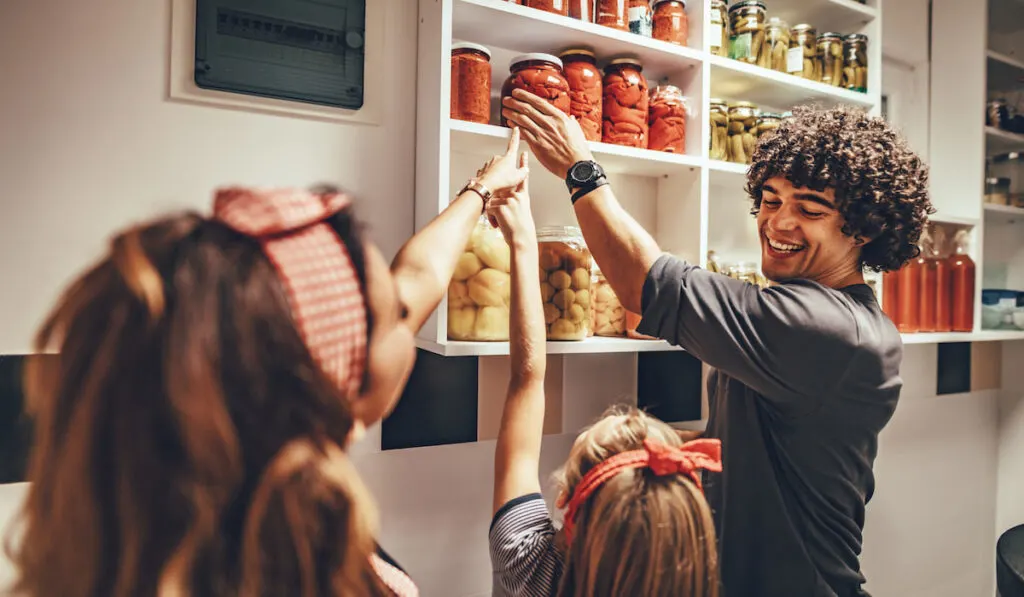 If you want to teach your kids to be more responsible, you can make a kid friendly spot in your pantry where your child can store his own pantry items and take them out whenever he wants.
This could be a basket for each child, with their name on it, with healthy age-appropriate snacks they are allowed to eat. Depending on age, get your child involved in the grocery process by having them make their own pantry list every month so that he knows how to manage his pantry in an effective manner.
Often kids want to emulate us so it's a great way to get them interested in keeping things organized!
e. Add Plastic Shelf Liners
Another thing that you can add in your pantry is a plastic shelf liner. These liners are very user friendly, make you cabinets look attractive, do not let the shelves get dirty from food stains and also protect the containers from falling down.
Of course, there are all kinds of shelf liners, including the pretty, adhesive contact-paper type, but my personal preference is plastic for the simple ease of cleaning.
Once a year I like to wipe down my pantry shelves and do a deep clean and organize. These plastic liners are great because they can be wiped down when needed and cut to size to go in drawers or on shelves.
f. Keep It Up
If you want to keep your pantry organized all the time, you need to make some efforts to re-organize it from time to time.
You do not need to go all the way every week but a little effort can go a long way in keeping your pantry organized.
Often, while I'm in the kitchen waiting for water to boil or to start the next step in a recipe, I'll take a moment and just tidy up one shelf in the pantry. Every little bit helps to keep things nice and organized.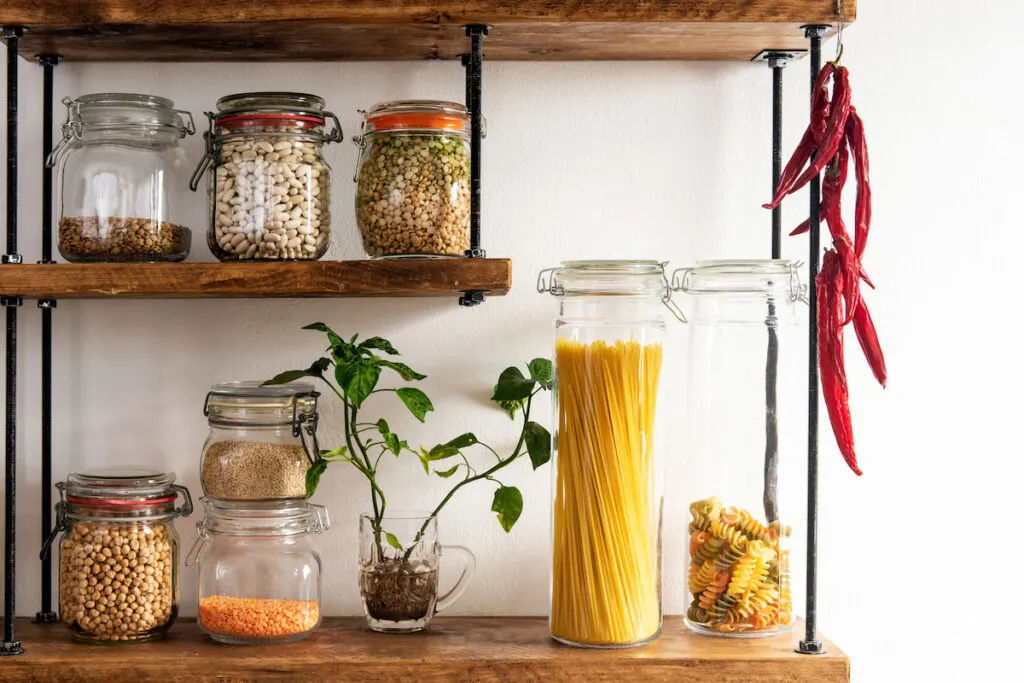 Choosing Pantry Containers
When you are choosing the pantry containers, there are a number of things that you need to consider, but the most important thing is that they are airtight. However, there are other factors to look into as well, which we have listed down for you.
a. Oxygen
Oxygen is known to increase the degradation process of food items and therefore, it is important to store them in oxygen free environment. You can go for airtight containers that have moisture absorbing properties for storing your pantry items.
b. Light
If you make it a habit to rotate the stocks in your pantry, light will not be a problem. Light is known to speed up the degradation process of food items, therefore, it is important to keep them away from direct sunlight. Most of the storage jars that we use in our pantry are transparent.
Therefore, you need to store them in dark cupboards to protect them from light. However, if you are planning on storing light sensitive food items for a long time in storage that does not block the light completely, you need to go for dark opaque or dark colored containers.
c. Material
If you want to avoid dangerous chemicals from leaching into your food, you need to use containers that are made from glass or food grade plastic or ceramic. There are a large variety of options available in the store from which you can a choice.
d. Shape
Square shaped containers take up less space than round ones but are difficult to find, especially if you want to avoid the plastic ones. Another factor you want to keep in mind while buying containers is their height. It will not be a good idea to choose a very tall container for something you only use very sparsely.
e. Size
While choosing a container, make sure that you select the one that contains the amount of food that will meet the needs of your family, while getting accommodated perfectly in your pantry space. If you like to buy your food in large quantities, you need bigger jars and bigger space in your pantry. But, if you do not have large size pantry, you can buy it in smaller portions and use smaller containers to store them.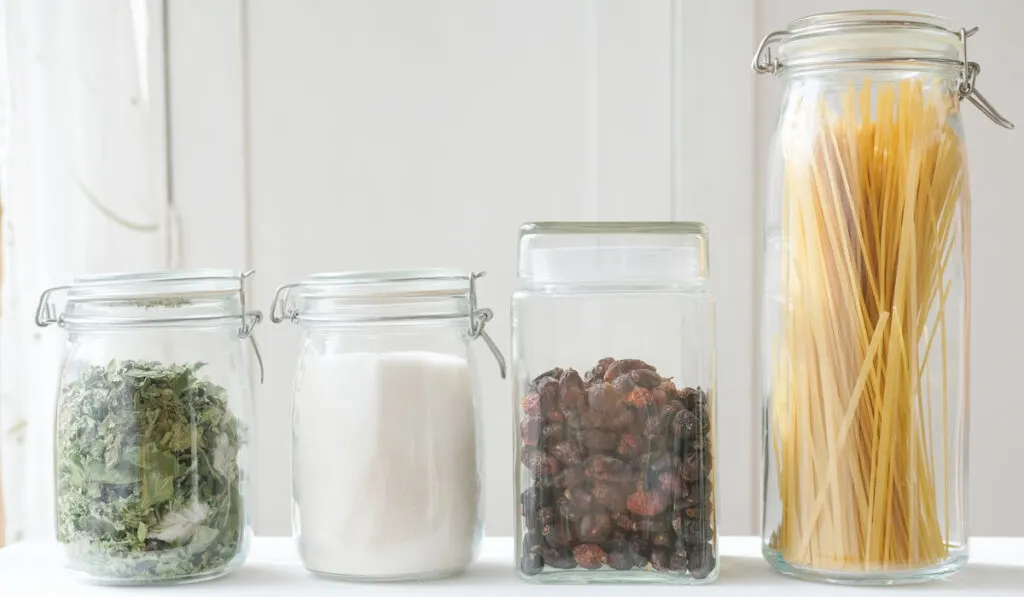 Which Pantry Items Should I Keep In Airtight Containers?
If you only have a few airtight containers and are struggling which food items could be kept in these containers and which ones could do without an airtight container, well, here are a few things that will help you solve this dilemma:
a. Flour
Make sure that you have specific containers set aside for your flour. These containers should be large in size so that they can hold the required amount. You can also use a plastic zip top bag for storing the original bag of flour.
b. Sugars
Sugar tends to absorb moisture from the surrounding and forms lumps. Therefore, it is important to keep your sugars in airtight container.
c. Spices
When you store your spices in airtight containers, you increase their shelf life substantially. This will also prevent strong smelling spices from spreading their flavour in the pantry.
d. Dried Fruits
Further drying and consequent hardening of dry fruits is avoided by making use of airtight containers for storing dried fruits.
e. Beans, Rice and Whole Grains
Airtight containers help in keeping the moisture, odours and outside flavours out of the whole grains and maintain their freshness.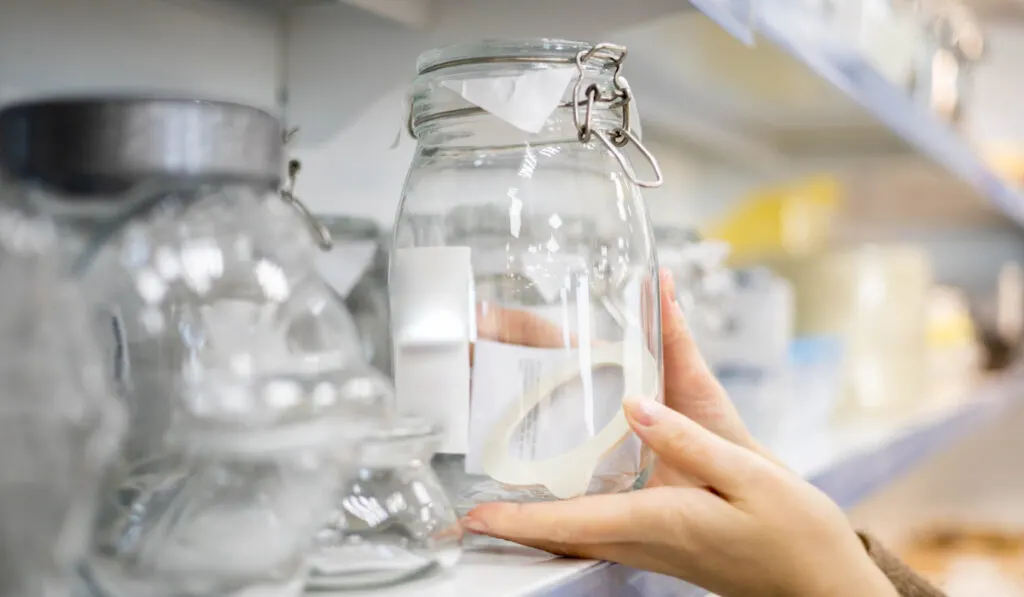 How Many Pantry Containers Do I Need (How to Figure it Out)
Types of Containers and What They Store
a. Glass Containers
Glass containers have glass, wooden or aluminium tops that can come in a number of shapes and sizes. The smaller ones can be sued for storing small quantities of food like flour or cereal, or the longer ones that can be used for storing pasta.
b. Acrylic Containers
Acrylic containers can have a number of designs, shapes and sizes. These containers are strong enough to withstand all kinds of environmental stresses and can be used for storing all varieties of food stuffs.
c. Brushed Stainless Steel Containers
Brushed stainless steel containers can be used for giving a very chic and sophisticated look to your pantry. These also come in a variety of shapes and sizes and can be put in a place from where they can easily attract the attention of your guests. Some of these containers can have a transparent lid on their top which will enable you to peek inside the containers. You can also use a marker to mark the contents inside the container or the expiry date of the contents.
d. Ceramic Food Storage Containers
Ceramic containers are tough but are breakable. They are the healthiest materials to store your food items in. The surfaces of these containers are impermeable and therefore, the food items remain safe from moisture, air and light.
e. Canisters
Canisters are made up from hard plastic pr acrylic and can be used for storing a number of food items, from sugar, to cookies and candies, rice as well as other whole grains.
f. Brushed Copper Food Storage Containers
These containers are sturdy and offer a one in a kind look that is unbeatable. These are made from stainless steel and then are coated with copper. They give a unique antique look to your pantry. They have a lid on the top that seals the container and keeps the food stuff fresh.
g. Unique Food Containers
We have some food containers that do not have the regular shape and can be used for giving a distinct look to your pantry.
What To Store in Pantry Drawers
You can organize your kitchen tools in your pantry drawers according to the type of cooking. Not all kitchen tools have the same dimensions. You might think that it would be easy to store all your tools in one drawer and save some space. Well, you are highly mistaken.
It will be much easy to segregate your tools and save your precious time rummaging across the drawer while cooking. You can segregate them according to your needs or the type of cooking. For example, you can keep all your grilling tools together like basting brush, tongs and meat thermometer.
On the other hand, you can keep your baking needs in one place like the silicon spatulas, wooden spoons, whisks and rolling pins. You can make use of dividers to keep your things organized in the drawer.
Final Thoughts
Depending on the size of your pantry and the amount of food contained within, organizing it can seem like an overwhelming process. Just remember that you don't have to do everything in a day. Take things one shelf at a time and you'll be well on your way to a clean and organized kitchen pantry!