Whether your own cow has given birth, or you are buying one or more cows to add to the farm, choosing a name can be tough. Your cow will have this name forever so it should be good right! There are various ways you can come up with the perfect name for your cow. In this post, I've compiled over 200 awesome cow names and sorted them into categories for you. Be sure to use the table of contents if you want to jump to a specific section.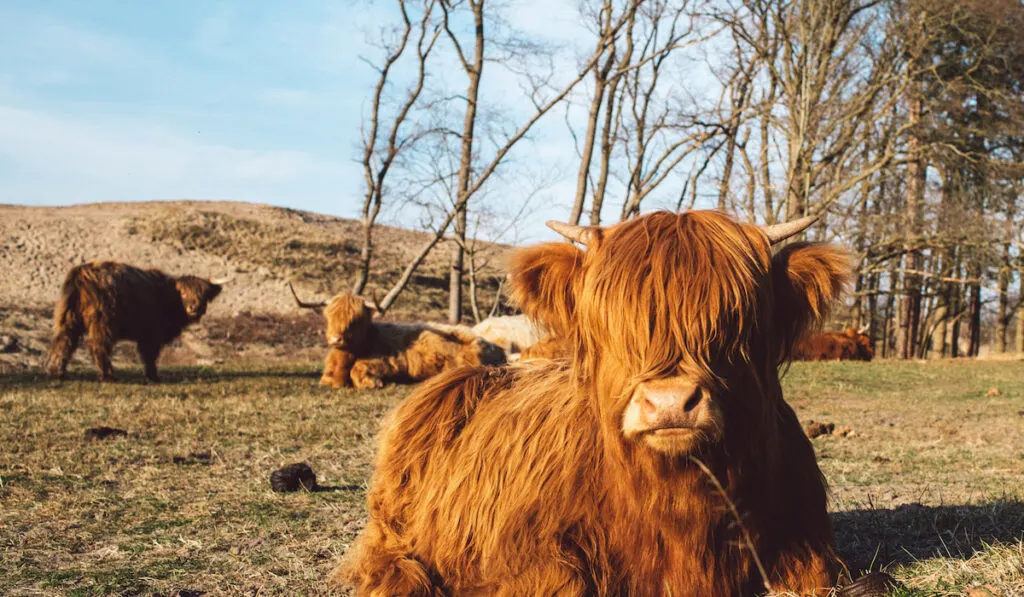 Top 10 Cow Names
Who knows why some cow names become popular. Typically it is because they remember a cow from their TV or in literature.
Sometimes cow names are just more popular than others. While the most common cow name is probably Bessie, there are quite a few just as popular.
Here are ten of the most popular cow names and where they originated.
Annabelle – this name comes from the movie "Annabelle's Wish" about a cow who wanted to be a reindeer.
Belle – Likely from the Bluebell ice cream cows commercial (see below)
Bessie – Likely altered from the Latin "Bos" which means cow
Betsy – Likely a version of "Bessie". There is even a song about it on YouTube.
Bossy – From the Latin "Bos" which means cow
Clarabelle – Clarabelle is a Disney cow introduced by Walt Disney in 1928
Clara – A shortened version of Clarabelle
Daisy – This one has been popular since I was a kid (too long ago) but there are also children's books featuring "Daisy the Cow"
Dixie – Likely popular because of it's southern feel.
Gertie – An old fashioned name that has become popular for cows.
Funny Cow Names
Some of the best cow names are good puns on "normal" words or the names of famous people. Here are a few great ideas:
Moochelle Obama
Moochelle Tanner
Moona Lisa
Mooriah Carey
Alyssa Moolano
Alanis Moorissette
Julie Moonves
John Mooolaney
Mooodonna
Matthew MooConaughey
Nicki Moonaj
Moolania Trump
Top Manly Bull Names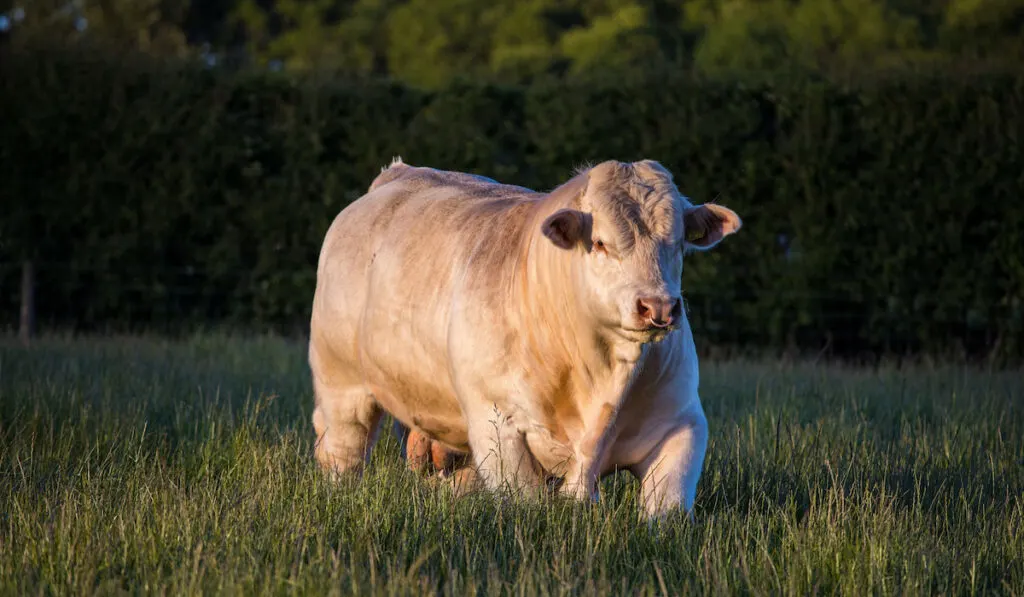 Finding the right name for your boy cows can be just as hard as it is for the girls. While this post includes names for male and female cattle, here are some of the best male cow names:
Harold
Sawyer
Leonard
Jeb
Jonah
Earl
Frisco
Diesel
Charger
Chase
Cowboy
Pard
Frank
Hunter
Batman
Bruce
Wrangler
Dodge
Winchester
Blaze
Deacon
West
Wyatt
Zane
Wylie
Waylon
Maverick
Ranger
Reno
Wilder
Walker
Houston
Bronco
Tex
Monster
Cow Names from Books and Movies
Ferdinand the Bull
In this category, we're going to start off with five cow names from the movies "Ferdinand and the Bull" and "Ferdinand". These are some of the most famous cow names. You see, this movie featured a cow as the lead, so it gets it's own sub-category!
Angus – A bull who is part of Ferdinand's escape plan.
Ferdinand – the main character
Bones – one of the bulls that picked on Ferdinand
Guapo – a bull from Casa Del Toro
Maquina – A cloned cow.
Valiente – Another bull from Casa Del Toro that picks on Ferdinand.
If you have seen the movie, you'll appreciate this awesome compilation of Ferdinand characters illustrated next to their real-life counterparts.
Cow Names from Children's Books
Children's books also tend to have some cute cow names. There are more than a few books that feature farmyard animals, including cows. Here are a few:
Cow Names in Other Languages
Sometimes, instead of going with an ordinary name in English, you may want to mix things up by naming your cow something more exotic.
Maybe you want to pay homage to the country from which your cows breed originates or, maybe, you want to give your precious pet a name from a country where all cows are treated like royalty. Here are some cow names in other languages to help get you started.
French Cow Names
Almost any word sounds better in french. I mean, after all, it is the language of love. Aside from being a beautiful place, did you know that many breeds of cow actually originated in France?
What better way to show how much we love our cow than by giving it a French name, especially if you have a French breed!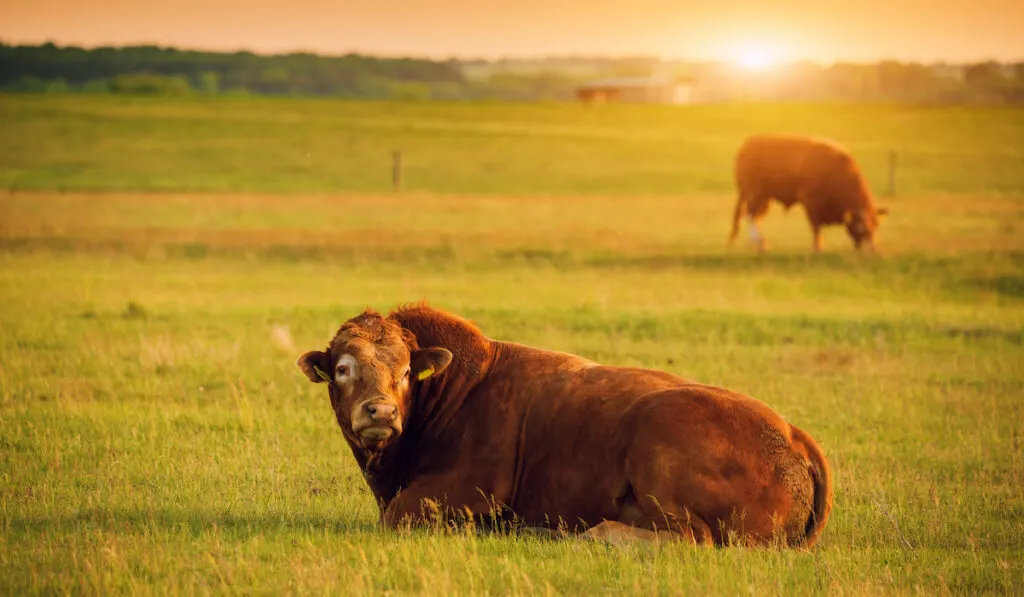 French Names for Female Cows
Alice – means truth
Antoinette – means praiseworthy
Audry – means noble strength
Belle – means beautiful
Blanche – means white
Bridgitte – means magnificent
Coraline – means coral
Charlotte – the diminutive of Charles meaning "petite"
Chloé – meaning blooming or fertility (origins of the name are Greek)
Elloise – means famous in war
Gabrielle – one of the angels
Jolene – means pretty
Juliette – meaning young and beautiful
Madeline – means magnificent
Noelle – means born on Christmas
French Names for Male Cows
Antoine – means praiseworthy or priceless
Armand – means an army soldier
Arthur – Means courageous or strong
Bryce – means speckled
Claude – means crippled or limping
François – means a man from France
Frederic – means peaceful ruler
Gaston – means from Gascony (a place in France)
Jacques – means the one that comes after, the replacement
Louis – meaning brave warrior
Marcel – means little warrior
Maurice – means dark skin
Orville – means from the gold town
Pascal – means born at Easter
Philippe – means friend of horses
Sacha – means defender of humans
Théo – means gift from God
Thomas – means Twin
Victor – means the winner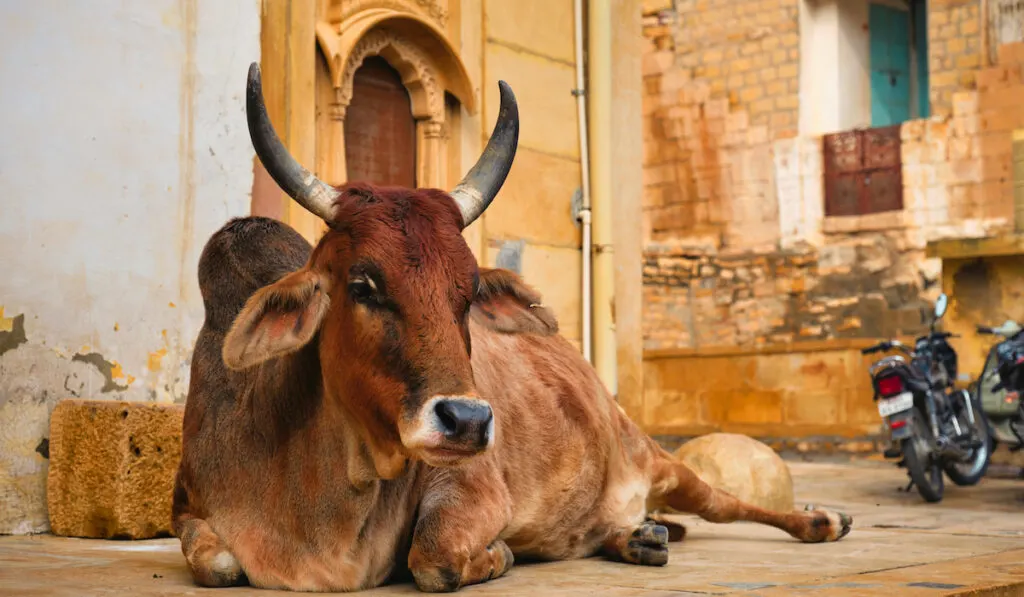 Sanskrit (Indian) Cow Names
According to Wikipedia, Sanskrit is the language of ancient India and the main language for the Hindu religion. It also plays a large role in the ancient texts for both Jainism and Buddhism.
The Hindu religion is known around the globe for their reference for cows. They consider the cow to be a sacred symbol of life. As vegetarians, they don't eat any meat. For those of us who have a pet cow, one that is never destined to be dinner, a Hindi name for that cow can help to signify the animal's place of honor on the farm.
The written language is comprised of scripts and, so, the names here are transliterated to appear in traditional Latin alphabet characters. Once you have found the perfect name for your cow, however, you can attempt to look up how the name would appear in the traditional script.
Amrita – means undead (that's a good thing for a cow!)
Dhenu – means cow
Gorasa – means cow-milk
Gavya – means cow-milk or "got from a cow"
NavanIta – means butter
Looking for something more traditional? Here are a few popular Sanskrit names perfect for a female cow:
Amata – means deathlessness
Basanti – means spring
Makara – means born in the sign of Capricorn
Maya – means dream
Sarayi – means princess
Sevita – means cherished
Shaila – means river
Shylah – means daughter of the mountain
Vanita – means woman
Vasanta – means spring
Looking for a Sanskrit name for your steer or bull instead? Here are a few traditional names to get you started:
Chetan – means life
Kumar – means male child
Mahatma – means great soul
Pritam – means lover
Ramos – means supreme
Roane – means red-haired
Shaan – means peaceful or pride
Taj – means crown
Udayan – means rising
Vanhi – means fire
Cow Names by Color
In this section, we've broken names down a little more simply. These names are all organized by color. As far as colors go, cows are pretty easy. Some of these names work perfectly for a steer, bull or cow, others are pretty distinctly male or female.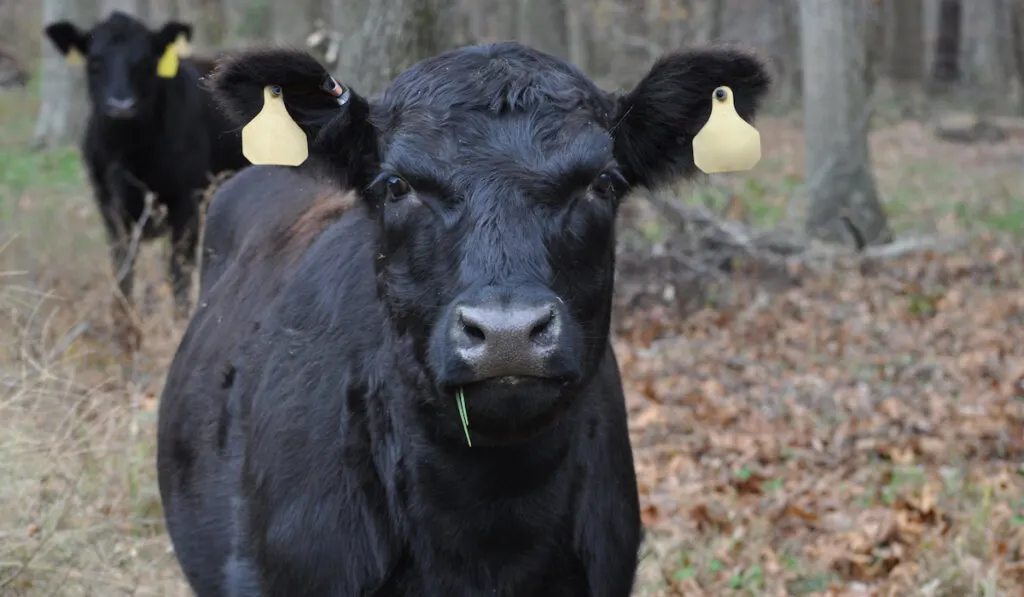 Black Cow Names
Just because your cow is a more traditional cow color, doesn't mean she needs a traditional cow name. Here are some unique cow names for black cows:
Ace
Angus
Ashley
Bear
Blackjack
Carbon
Cinderella
Coco
Cola
Cosmo
Dahlia
Dracula
Drogon
Ebony
Elvis
Ember
Galaxy
Guinness
Hershey
Magic
Magpie
Midnight
Morticia
Nebula
Nero
Noche (means night)
Pepper
Phantom
Raven
Vader
Voldemort
Wednesday
Winchester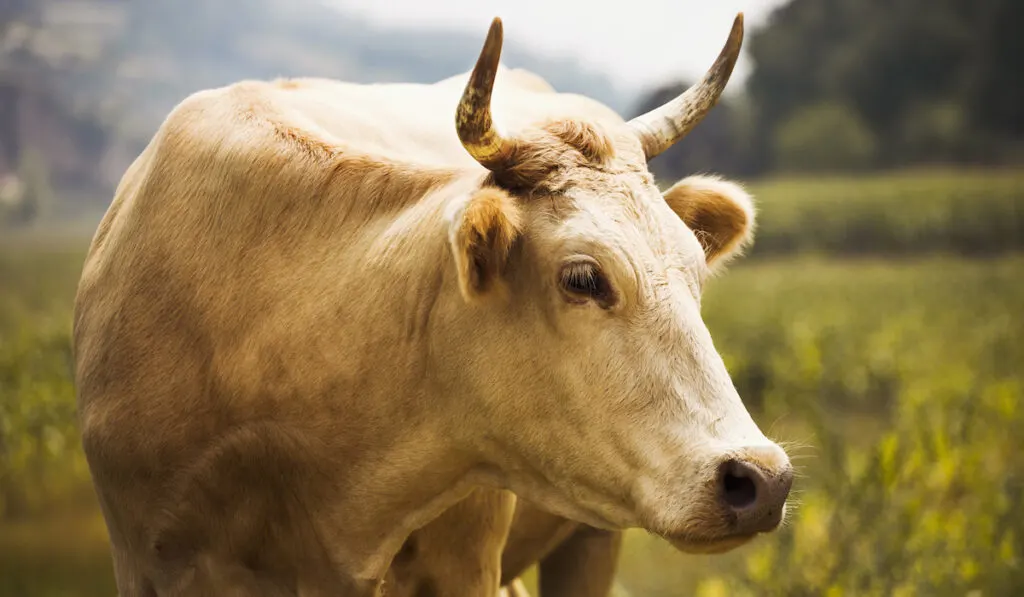 White Cow Names
Is your bovine friend nearly pure white? While not very common, white cows are certainly easy to pick out in a group. Here are some great names to consider:
Alaska
Angel
Bianca
Blizzard
Casper
Cloud
Coconut
Cotton
Crystal
Dazzle
Diamond
Gem
Ghost
Glacier
Ivory
Lily
Luna
Magnolia
Nimbus (like the cloud)
Nova
Opal
Pegasus
Powder
Princess
Puff
Shimmer
Siberia
Sirius
Snow
Snowball
Star
Starlight
Starshine
Storm
Sugar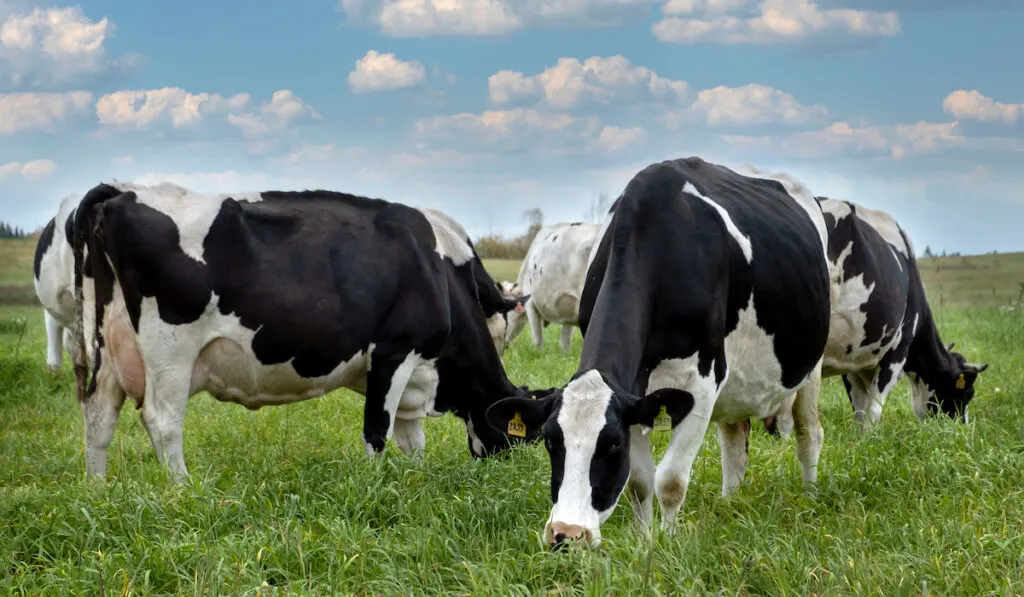 Black and White Cow Names
Dairy cows are often black and white. This is because the Holstein cow breed is most commonly used commercially for milk production. Did you know that other breeds have black and white cows too. These include Texas Longhorns and Belted Galloways.
Ace of Spades
Chaplain (for the famous black & white film star)
Chocolate Chip
Chocolate Milk
Cookie
DeVille (like Cruella)
Domino
Dotty
Frappe
Freckles
Hot Chocolate
Inkblot
Latte
Lemur
Libro (Book)
Magic
Magician
Magpie
Marble
Maverick
Mickey
Minney
Mittens
Oreo
Panda
Patches
Penguin
Perdita (from 101 Dalmations)
Pirate
Pongo (from 101 Dalmations)
Salt N Pepper
Shamu
Skunk
Smudge
Snoopy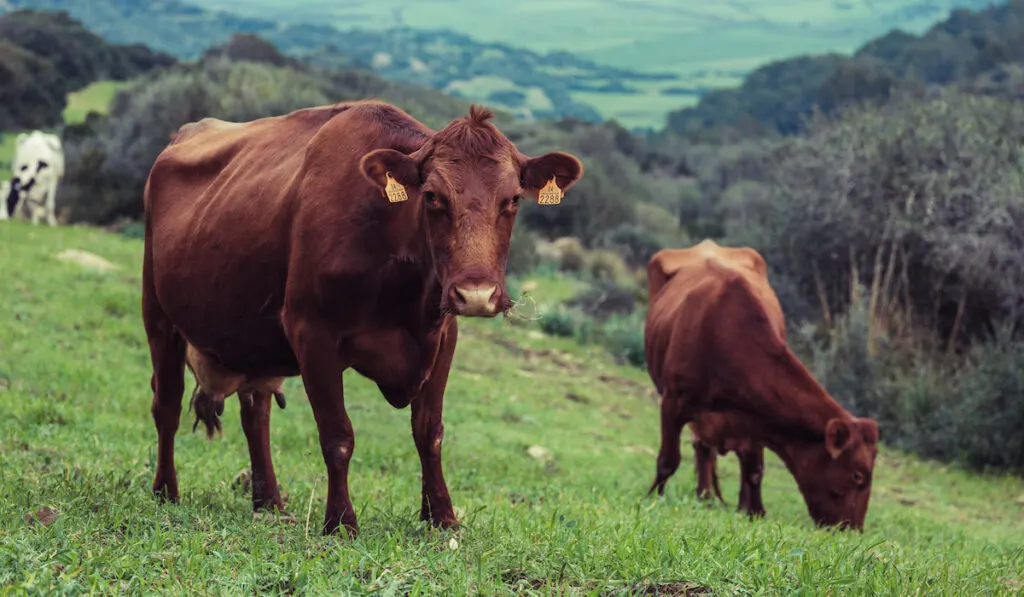 Red Cow Names
Red cows certainly stand out from the crowd. These beautiful bovine aren't as commonly seen as their black counterparts and they deserve an awesome name to match.
Amber
Ariel
Autumn
Cheyenne
Clifford
Crimson
Elmo
Ginger
Lady Bug
Red
Redford
Robin
Rowan – means "little red one
Ruby
Russet
Rusty
Scarlet
Sienna
Valentine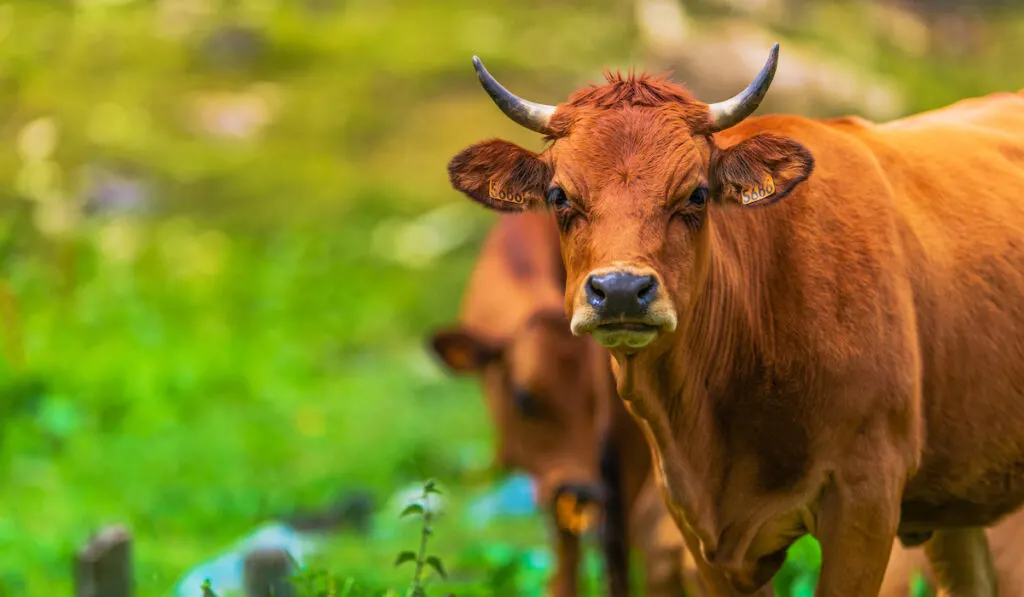 Brown Cow Names
How now brown cow? While I know there are lots of cattle breeds that are brown in color, ranging from a light creamy brown to rich, dark chocolate, my favorite are Jersey cows. While I have done a ton of work with black Angus cattle during college, my dream is to own a Jersey.
No matter what breed your brown cow is, you should be able to find the perfect name in this list to match your cow's color.
Bambi
Biscuit
Brownie
Buck (like buckskin)
Buckwheat
Buttercup
Buttermilk
Butterscotch
Caramel
Chewbacca
Cola
Cookie
Cornbread
Corona
Cracker Jack
Feline (Bambi's girlfriend)
Hazel
Honey
Mocha
Nestle
Sahara
Sandy
Skippy (Peanut Butter)
Snickers
Teddy Bear
Brindle Cow Names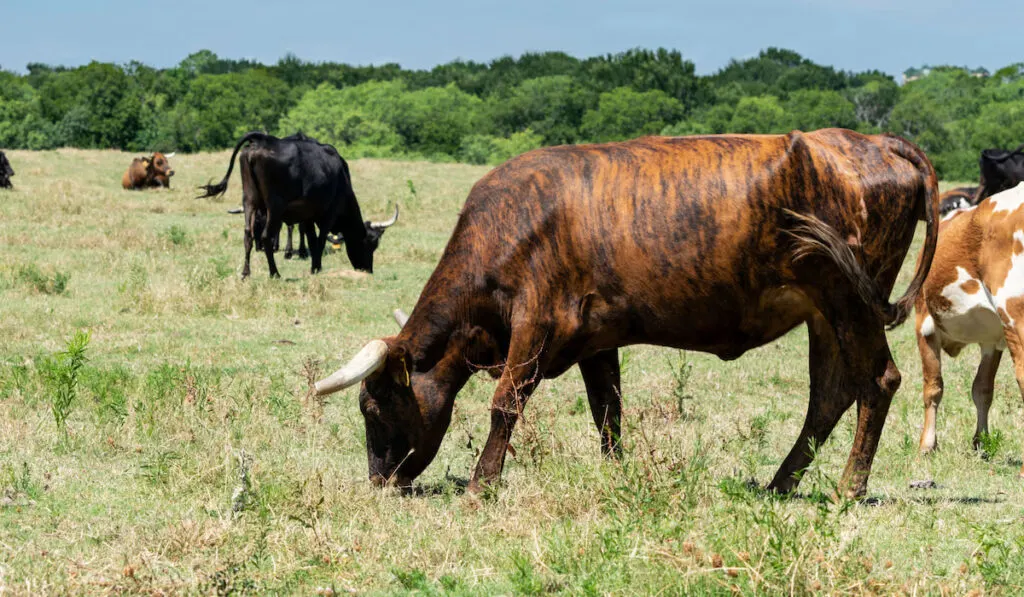 Have you ever looked into a herd of cows and seen one or more "cool cows"? Cows that are brown or white with stripes? Brindle can be a little bit of a harder color to find the best name but, here are a few ideas:
Camo
Mahogany
Marble
Mosaic
Streak
Stripes
Swirl
Tiger
Walnut
Zebra
How To Choose A Perfect Name for Your Cow
Choosing a name for your cow doesn't have to be a difficult process, but it should be one you put some thought into. After all, the word or words you choose will represent your cow for the rest of its life so you want to make sure it is the appropriate fit.
The perfect name for your cow should be something that you enjoy saying, a word that has meaning in some way or another.
Now, it doesn't necessarily have to be a "serious" name. Who am I to say anything if the name "Moodonna" calls to you for your cow!
These large creatures have their own unique personality and finding a great cow name can be a lot of pressure.
You've already started here by doing your own research but, if you are having trouble picking just one name, there are several things you can do including:
Ask friends what they think.
Have family members write down their favorite names and draw one from a jar.
Buy another cow to use the other name you like! (I'm just saying, there are options if you can't decide!)
I hope this awesome list of cow names helps get your creativity flowing so that you can find the perfect name for your cow, bull or steer!
If you enjoyed this post, consider checking out this related web story.