*This post may have affiliate links, which means I may receive commissions if you choose to purchase through links I provide (at no extra cost to you). As an Amazon Associate I earn from qualifying purchases. Please read my disclaimer for additional details.
Linens, which are the fabric household goods that are used regularly like towels or bedding, are some of the most important items in our homes. If you think about it, there's hardly a household task that can be completed without the help of some sort of linen! Whether you're sleeping or drying dishes, a linen item will be close at hand.
Unfortunately, not all homes are created equal when it comes to linen storage. While a lot of houses are built with linen closets, others are bereft of any specific place for bedding and towels.
To help keep your linens stored properly, we've collected 7 out-of-the-box ideas for storing linens without a linen closet!
Under the Bed Storage
Houses that are short on storage space force homeowners to come up with creative storage solutions, including searching for unused spaces they may have not considered before. One of these seldom-used storage spaces that is perfect for linens is under the bed!
The underside of your bed doesn't have to just be a place for lost socks and dust bunnies. Instead, consider using under the bed storage containers to keep your lesser-used linens in.
Storing under the bed is great for those linens that you may only need when guests are over, or maybe for beach towels that only come out during the summer months. This out-of-sight storage solution can free up precious closet space for other items that we like to have close at hand.
Above the Door Storage
If you've ever gotten out of the shower only to find that all the towels have been left beside the washing machine due to lack of space, you're going to love this storage solution that helps you have linens on hand at all times.
Mounting a floating shelf above your bathroom door will give you some much-needed space for towels while also keeping them out of the way.
Most floating shelves aren't wide enough for multiple classically folded towels, but if you roll your towels up into tight rolls, or only store washcloths or hand towels, floating shelves are an elegant, accessible place to store your linens when there isn't a closet in sight.
Decorative Baskets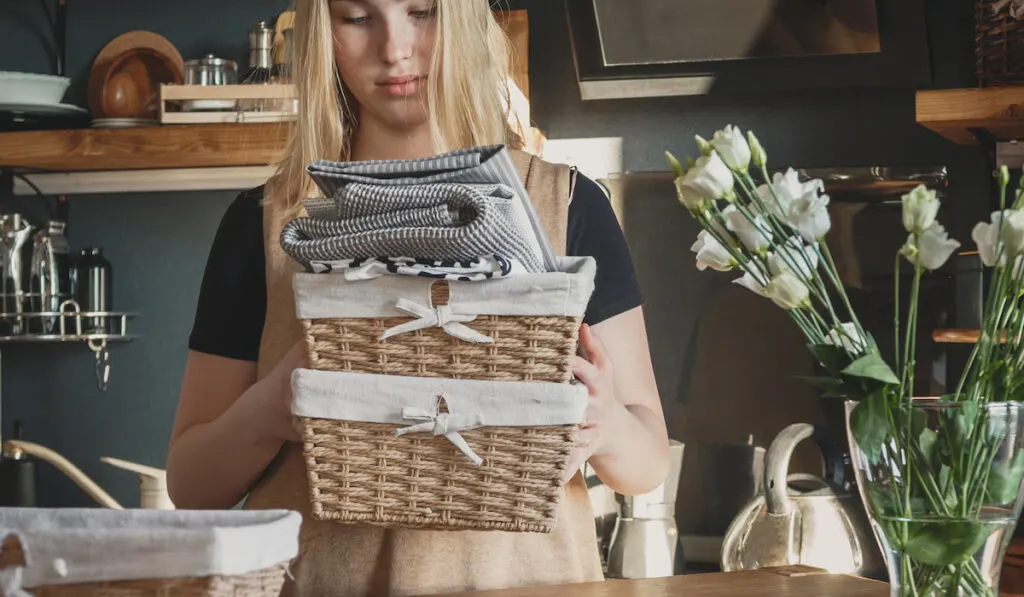 One of our favorite ways to store linens without a linen closet is decorative baskets. Decorative baskets don't just offer storage space, they also add a rustic, cozy look to spaces that need a homey touch.
When using decorative baskets, you can match them to whatever room you're using them in! There are dozens of different colors and designs, but our favorites are natural-looking rope baskets, both for their looks and flexibility.
These baskets are a great way to keep blankets on hand for those wintry nights on the couch. But when not in use, we recommend rolling the blankets instead of folding them for a cleaner, more purposeful appearance.
Repurpose Old Furniture
A lot of us have an old wardrobe or dresser that has long outstayed its welcome in our basements or bedrooms. Why not breathe new life into these pieces of furniture while also solving the issues that the lack of a linen closet can cause?
Removing drawers, sanding, and a fresh coat of paint can turn an outdated piece of furniture into the perfect shabby-chic linen holder.
Repurposing your old furniture for linen storage not only keeps a bulky piece of furniture out of the trash, but they can often turn out to be a beautiful addition to a room when done correctly.
Storage Ottomans
Ottomans are a must when you want to kick up your feet after a long day, but did you know some ottomans also double as linen storage?
Storage ottomans are one of the best ways to store linens without a linen closet. These clever space savers can be placed at the foot of your bed, or used as a footrest in front of a couch or recliner. Either way, you can store a large number of linens in a storage ottoman and none of your guests will even notice!
The best thing about using storage ottomans to keep your linens tucked away is that they are useful for so many other things beyond hiding away blankets or towels.
When space is tight in your home, every little thing needs to serve a purpose, and storage ottomans can serve multiple at the same time.
Open Shelving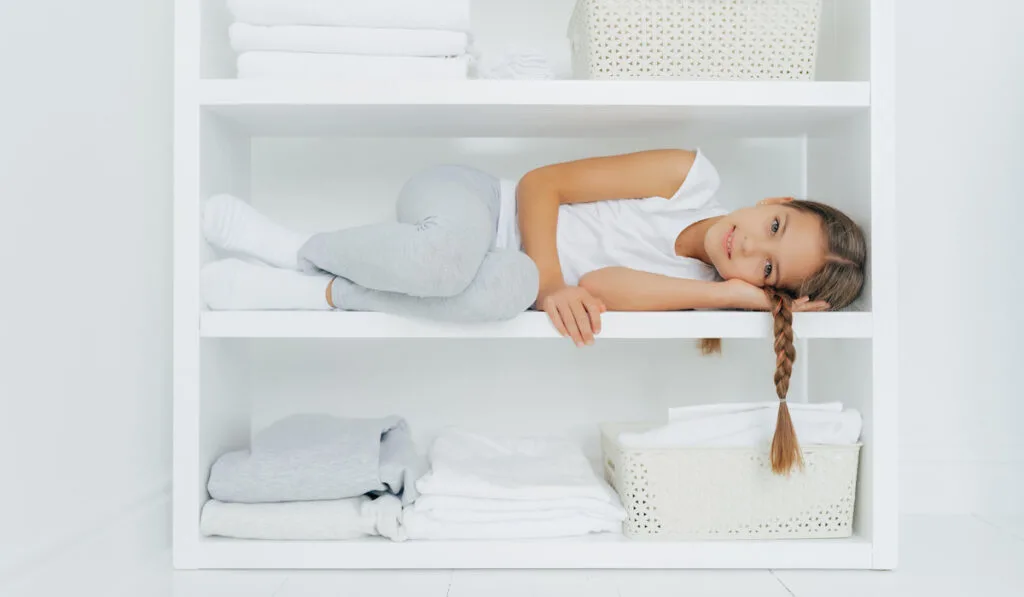 It might seem like a crazy idea to leave all your linens out in the open for everyone to see instead of storing them away, but if done correctly, open shelving can display your linens like art while also keeping them stored correctly.
When paired with perfectly folded or rolled linens, open shelving looks modern and unique. To give this storage solution an even more appealing look, store your linens by color and use empty shelves for plants or photographs.
Open shelving takes up less space than enclosed cabinets of equal sizes, and is often less expensive, too.
Back of Door Storage
Another space in your home that you may not have considered for storage is the back of your doors. Specifically, the back of your bathroom door if you're storing towels or the back of a bedroom door for spare bedding.
To utilize this space, you'll need a hanging organizer that hooks over the top of the door. Since not all doors are solid all the way through, mounting shelves directly to them is not recommended, but these hanging organizers can give you all the extra space you need without compromising the structure of your door.
A lot of these hanging organizers are made for shoes or jewelry, so they may not be large enough for linens. To avoid ordering an organizer that doesn't suit your needs, carefully check the measurements of your door and the organizer both before purchase.
In Summary
Not having a linen closet is inconvenient, but it doesn't mean that there aren't creative alternative methods for storing these necessary household fabrics.
Whether you choose to use a storage ottoman or repurpose an old bookcase, you can create your own linen storage space that may be even better than a closet.
Resources