Sugar scrubs are one of the most luxurious beauty products you can make at home for just a few bucks. There is actually no need to break the bank buying those expensive exfoliating products at department stores, beauty salons or spas. We know, your skin feels amazing after using them. Still, it will feel as smooth and silky, or even more, if you exfoliate using a homemade recipe based on natural ingredients. And you'll be especially thrilled about how you'd made a delicious beauty product at a fraction of the price of those sold by these beauty specialists.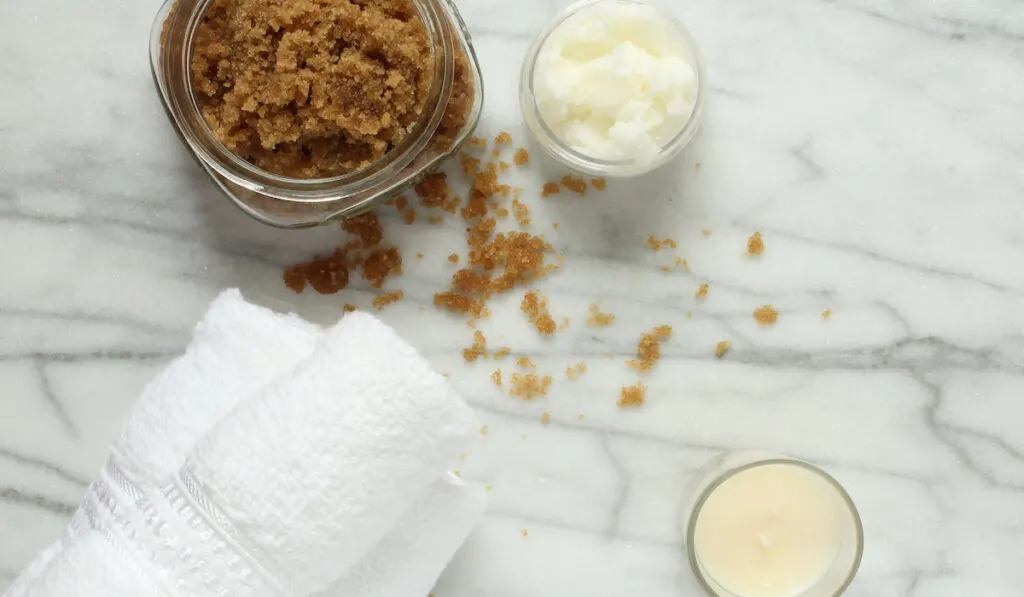 What are the benefits of using a homemade sugar scrub? Sugar scrubs help to exfoliate dirt and dead skin cells from your skin without drying it out. It has a moisturizing effect that helps to keep your skin smooth and hydrated.
Self-care is super important for your health. Treating yourself to some me-time guarantees that you will not only feel special and happy, but your emotional health will also thrive if you show your own self that you are worthy of pampering.
Even better if you use natural beauty products. And of course, your skin will also look healthy and free of imperfections like acne, blackheads, etc.
A natural skincare regime should be free of fragrance and other chemical substances in the ingredient list. The FDA does not require companies to disclose ingredients in their products labeled as a "fragrance."
This allows them to use inexpensive but harmful components in their products and get away with it. Since body scrub are so simple to make at home, why risk it?
So make your own sugar scrub and exfoliate all the dead skin on dry, coarse areas in your body like knees, elbows, and feet. Use a small amount to softly exfoliate your lips. Rub it gently on softer areas like stomach, arms, legs, and face. The result? Glowy, dewy, vigorous skin.
How to Make Homemade Sugar Scrub
There are many recipes to make delicious and luxurious sugar scrubs at home. Still, the basic one is as simple as this, and it's ready to use in less than 10 minutes.
Ingredients:
1 cup of granulated sugar, preferably organic (both white and brown sugar work)
½ cup of coconut or olive oil
That's it! You can also add essential oils if you wish.
Olive oil is excellent for your body, but coconut smells sweeter and goes wonderfully with sugar. It's thick and creamy, but it quickly melts when in contact with your hands. It's also inexpensive and extremely moisturizing.
If you store your coconut oil sugar scrub in a cool place, like a fridge, it can get hard, but don't worry. Whatever you scooped out and put in contact with your skin will melt right away and will be super easy to spread around your body.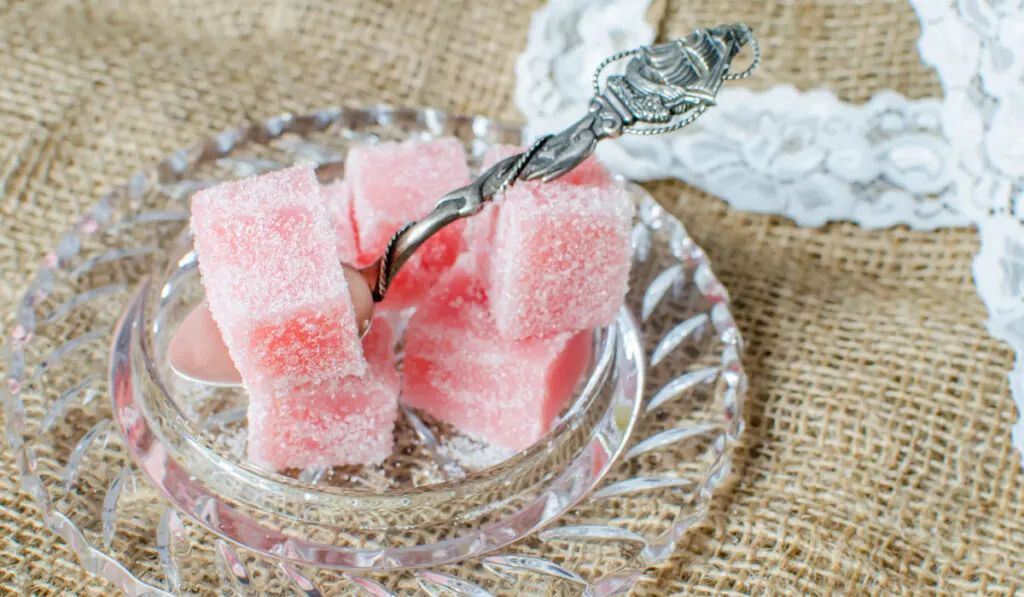 Choosing The Right Kind of Sugar for Your Scrub
When it comes to the sugar, the granulated kind is the best one for a body or lip scrub. If you are preparing a mix for your face, choose a more delicate type of sugar so you won't irritate the sensitive epidermis.
Both brown and white sugars can be used to prepare the homemade scrub. They're quite similar, but they do have a few differences you might want to consider when you are purchasing the ingredients.
Sugar is a natural humectant, and both kinds have glycolic acid, which promotes a youthful appearance by promoting skin cell regeneration.
The difference is that brown sugar is colored with molasses, which are high in vitamin B, an excellent antioxidant. Its grains are softer than the ones in white sugar.
The bottom line is that brown sugar is best for facial scrubs, while white sugar is ideal for body scrubs.
Mixing Ingredients
Now that you know why the ingredients work so well, mix them in an airtight container. There is the option of melting the coconut oil before mixing the sugar in. Still, it's not required, it just makes the incorporation of the ingredients more natural.
You can also use equal portions of coconut oil and sugar in your recipe, it all depends on what you prefer. Less coconut oil will result in a drier scrub, while more coconut oil will be much moisturizing and thicker to the touch.
When you're ready to use it, take a tablespoon or more to scrub your skin and rinse afterward. Au revoir, dry, dull skin!
Tips and tricks for your sugar scrub
If you want to create a colorful mix, food coloring can be a good idea. It's not a necessary ingredient, but it's a cool way to make a fun scrub. Just make sure you are not allergic to coloring, you don't want your skin to have a reaction. In that case, liquid food coloring can work as well.
Only use high-quality essential oils. Make sure they are not flammable and for topical use. Be wary of those inexpensive oils you find at regular stores. Young Living Essential Oils are an excellent option for your recipe.
It might seem like a simple mix you made at home, but actually, this is such a great beauty product that it makes an excellent gift for a loved one. Give them away as a cute present by using cute labeled mason jars. Just add a lovely ribbon or thread, a spoon, and treat your loved ones to something you made yourself.
You can also use other sugar alternatives for your scrub. For example, salt helps relax muscles, has minerals, and is kind to the skin. Just be careful and use finely ground salt, or you can be too rough on your skin while scrubbing. Ground coffee can help blood vessels to constrict, so it can be a great alternative to reduce varicose veins, rosacea and reduce cellulite. Oatmeal is a gentle emollient and helps dry, itchy skin to feel better. Consider using almond meal, ground linseeds, rice bran, even ground nutshells.
How to Store Homemade Sugar Scrub
Store your homemade scrub in an airtight container, such as a mason jar. This will let you store it for as long as 2 months, maybe more. Take care of your scrub, and don't let water get into the mix when you're in the shower. Water can make the sugar dissolve and ruin it.
Recipes and variations
If you wish, you can always customize your method according to the season or your taste. Try these recipes:
Make pumpkin pie scrub by mixing 1 cup of brown sugar, half a cup of coconut oil, half a teaspoon of vitamin E oil, and half a teaspoon of pumpkin pie spice or just cinnamon.
With 1 cup of brown sugar, half a cup of almond oil, half a cup of vitamin e oil, and 1 teaspoon of vanilla extract, you can create a delicious vanilla brown sugar scrub.
Mix 1 cup of white sugar, half a cup of olive oil, half a teaspoon of vitamin E oil, and 15 to 20 drops of lemon or orange essential oil for a citrusy hand scrub.
If you love lavender, prepare this recipe for a face exfoliant: 1 cup of white sugar, half a cup of almond essential oil, half a teaspoon of vitamin E oil, half a teaspoon of vanilla extract and 15 drops of lavender essential oil. It's a great option as a facial scrub.
To fight that pesky cellulite, use coffee! Mix 1 cup of coffee grounds, 1 cup of brown or white sugar, half a cup of coconut oil and 1 teaspoon of ginger, fresh our ground. Use on those tricky spots.
If you wish to use salt as the exfoliator, follow this recipe: mix 1 cup of finely ground salt, a third of a cup of coconut or almond oil, 8 drops of grapefruit essential oil, 8 of bergamot and 4 of peppermint. It's a stingy recipe, so be careful and do not use on sensitive skin or after shaving.
If you'd rather go for oatmeal as the exfoliant instead of sugar or salt, mix 1 cup of finely ground oatmeal, 8 drops of lavender essential oil, 8 drops of tangerine essential oil, 8 drops of rosewood tangerine essential oil and 4 drops of chamomile tangerine essential oil. Finally, add 1 tablespoon of dried lavender petals for an extra kick!