*This post may have affiliate links, which means I may receive commissions if you choose to purchase through links I provide (at no extra cost to you). As an Amazon Associate I earn from qualifying purchases. Please read my disclaimer for additional details.
A farmhouse command center is a great way to get started with home organization. If you're a mom nowadays, you probably feel very oriented (and maybe even pressured) to have a beautiful, well-organized life.
I think we all dream of a life in which you always look amazing, your house is squeaky-clean, your kids are always well-dressed and coordinated, your finances in order, etc. Everything is just running smoothly!
Where do we get that pressure from? Social media, most likely. These social platforms are part of our every-day routines.
Although we might incline to unhealthy pressure to achieve these "perfect" lifestyles (which, may we remind you, are extremely edited and curated), it's not all bad if you look at it as an inspiration to achieve a better version of yourself.
Farmhouse Command Center
Building a farmhouse style command center that matches your existing decor doesn't have to be hard. Thankfully, there are many commercially available elements that can come together for the perfectly organized home command center.
This project doesn't have to be a difficult (or expensive) one. In fact, a homes wall-mounted command center will likely go through several changes. Initially, it will take some adjustment to see what you really need to have ready at your fingertips.
Then, as your children age or your family grows, your needs will change and things will need to be adjusted. That's why I am a big fan of separate pieces that can be rearranged or swapped out with others when needed!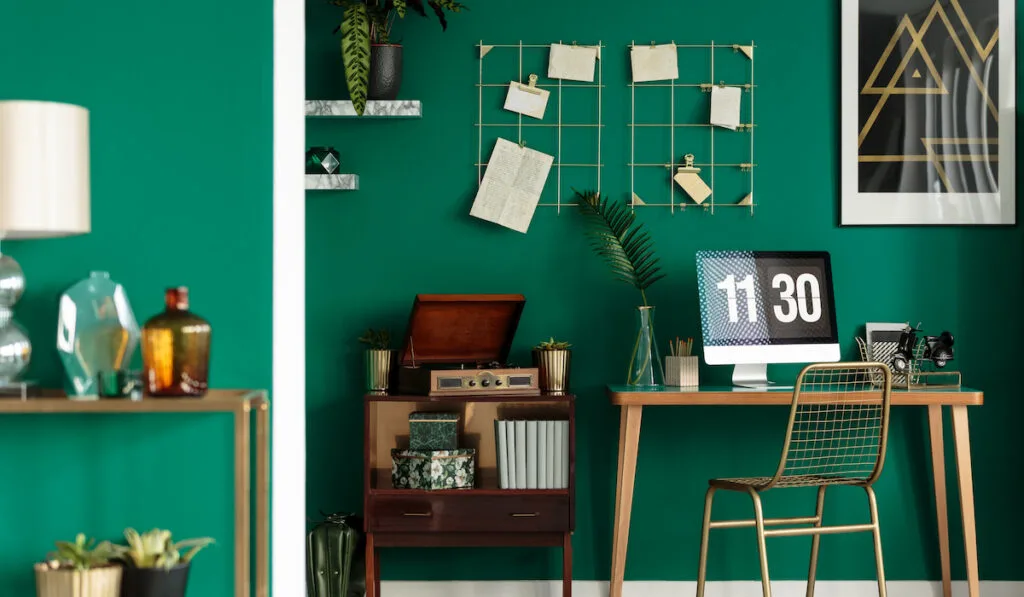 What Is A Family Command Center?
While the family command center is not a new concept generated by social media, it has been perfected by these new lifestyle and order gurus. Nowadays, you can find tips and personal experiences on the best ways to manage your command center at home, even printable templates for to-do lists on platforms like Pinterest.
What is a family command center in a home? A family command center is a small area, usually placed in an accessible part of the home, which has the only purpose of keeping all the essentials that help maintain an organized and clutter-free household.
In other words, it avoids chaos. No more unorganized mail, receipts lying around the house, etc. With it, your family can easily find their essentials and be reminded of their daily responsibilities, after-school or work activities, even their weekly goals.
Creating a family command center does not have to be complicated or expensive. You don't even need lots of space to have one. If you have decided to start your own family command center but don't know where to start, follow these useful tips.
Choosing the Right Location for Your Command Center
First, you need to find the right location for it. The best spot would definitely be next to your house's main entrance. Why? In most homes, that's exactly where the clutter tends to go.
This is also a very convenient place since everything you need to take with yourself when you leave home is at hand (keys, mail, cellphones, wallets, purses, backpacks, etc.). And you can also remind yourself of important errands as you walk out the door (like the exact date the utilities are due!).
Evaluate Your Habits
After finding the perfect location, evaluate your family's habits and consider what things you should be storing or keeping in your command center. What is usually left near the main entrance? Keys, wallets, mail, phones, newspaper, etc. Make room for them.
If you find other things lying around like backpacks, shoes, sports equipment, assess if this is the best area for them or find them a different spot.
Is it easier for you to ask your kids to put their school bags in the command center (they throw them off next to the door, anyways) or to have them in their rooms? It all depends on your family's habits and your flexibility to deal with clutter.
Create an Organization System
Now, you need to create your own organization system and stick to it. Don't forget each and every family member should have a space dedicated to them and their stuff in this center.
Make accessing it and maintaining its order as simple as possible. Give them their own bins and folders, their dry-erase charts, and assign a specific color to each family member.
Use labels so your kids and spouse are not guessing where things should go (and contribute to more mess). The method should be incredibly easy to follow, so there will be no excuses and can be held accountable if they cause some disorder.
What do you need to have in your own family command center?
Every family's needs are different. You might add or subtract elements depending on your lifestyle, but here are some of the basics for a command center.
A dry-erase calendar or board (or a wall calendar)
A file folder organizer
Storage bins or boxes
Individual charts for every family member (their daily chores, weekly cleaning schedule, etc.)
Hooks
Labels
Writing tools
A supply caddy
A magnetic board (or a corkboard)
A charging station
A paper shredder
A wastebasket
Decoration to make it feel home-y
Product / Design Ideas
While you can find TONS of inspiration on Pinterest, if you are looking for some quick and easy elements to install, here are a few of my favorites from Amazon.com.
Keep in mind that it is imperative you measure your space before ordering command center items online. This will ensure everything turns out the way you plan it!
All In One Solutions
As I mentioned, I prefer a wall mounted command center that is comprised of multiple, complimentary pieces, but I know that may be a bit much for some families.
These all in one solutions are great for a single person or couple with no kids. They are not quite robust enough to handle most busy families but, for one or two people, these can be a great decorative drop zone for mail, keys, and electronics.
The rustic feel is just the icing on the cake!
Rustic 2-Slot Mail Sorter Organizer for Wall with 3 Double Key Hooks
Rustic mail holder organizer: Keep your mail, magazines and keys organized with this gorgeous rustic wall mount organizer! Hang it in your entryway or hallway to give your home that edgy, modern farmhouse touch right from the start, and get rid of paper clutter once and for all. 8 x 2.5 x 16.75 inches.
Authentic paulownia wood: This vintage wall organizer, made of high-quality, solid paulownia wood, will last for a lifetime and the solid, metal double hooks will make sure that you never misplace your keys again. Our mail organizer wall mount is designed with your utmost convenience in mind to hold your mail, bills, letters, and cards neatly organized while easily knowing which one came in and which one went out.
Convenient chalkboard surface: This allows you to better organize your mail, or even leave funny messages for your family. The four double hooks on the bottom of the wall mount mail organizer allows you to hang your keys as well as car keys, sunglasses, and other lightweight accessories to keep them much more organized and in sight.
Sale
Spiretro Key Hooks Holder, Wall Mount Organizer
Great for entryway space organizing & house clearance and wall decorative. Features 3 chrome metal hooks for key holder, face mask, wallet, umbrella, dog leash Hanging, coat & hat Rack; 1 small shelf to display small succulent, sunglasses, accessories ornament; Mail Sorter with 1 slot to storage mails, letters, newspaper or more.
A creative blend of rich, handy craft farmhouse rustic torched wood and industrial metal hooks blends to create a country piece with a modern feel. ***Color maybe variance due to it's handy made by natural wood!
Perfect size to build on wall in Entrance, hallway, foyer, closet, mudroom. Approximate Dimensions: Large 16.5" W x 4.5" D x 9.75″ H inch.
Mix 'n Match Command Center Solutions
Dry Erase Calendar
Perfect for tracking up coming events, practices and schedules. There are so many different options. I don't have too many things to manage so one is enough for my daughter and I but, if you have lots to plan, two smaller dry erase calendars will allow you to showcase events coming up next month as well.
Look for one that is magnetic. It can be very convenient to stick tickets or other important papers right on the board.
This dry erase calendar by Quartet is magnetic and has a corkboard as well!
Paper Storage
These wire paper baskets embody the farmhouse style and come in a variety of finishes. There are both 2 tier and 3 tier options depending on your paper sorting needs.
Backpack Hooks
If your command center is going to be a drop zone for coats and backpacks, some decorative hooks can transform the space. I bought these Franklin Brass scroll hooks in a 5-pack for my command center and love them!
Something like this rustic arrow coat rack would be great for lighter items like dog leashes, hand bags and even keys.
Key Rack
Don't overlook the ability to make even simple things decorative. I love both of these key racks but, to be honest, this seems like a perfect DIY project to do later with some leftover wood!
Pen and Pencil Holder
Don't forget to add something to store pens and pencils in. If you have a table or shelf in your command center, any pencil cup (try a mason jar!) will work fine.
If not, a basket like this will hold quite a few odds and ends including pencils! In fact, I'd add a few pieces of wire to the inside to divide this into sections and store pencils, pens and highlighters!
Decorative Elements
For a decorative element, try something like this sign from the Hearthside Collection
A cute "Home" sign would look nice too. This one can be wall mounted or sit on a shelf for versatility. I love the sheet metal on wood look too!
Tips for Keeping Up With Your Home Command Center
Now follow these tips for keeping up with the command center: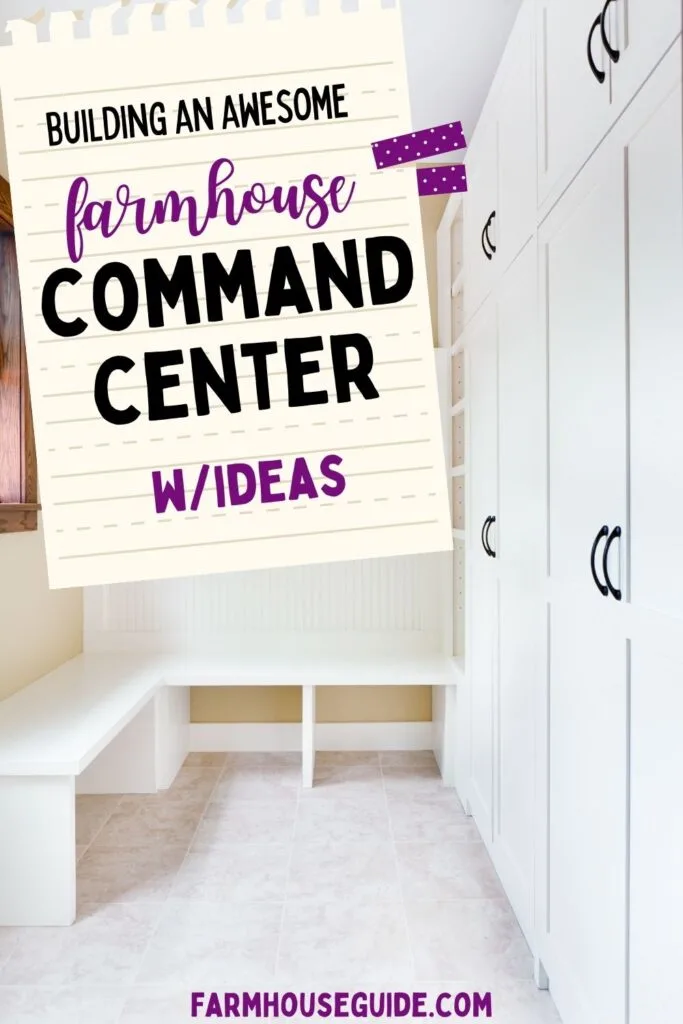 Create a mail system:
If old mail and papers that need immediate attention get mixed up, fix this problem by having Action Bins/In-Out trays to sort them out.
Categorize mail in three different groups: papers you need to store for a while and then discard, papers you need to act on right away, and papers you need to file and store for a longer amount of time or indefinitely.
Put bills, invitations, school notices, etc. in the action tray, and once the action has been completed or the date on the paper has expired, dispose of them by passing them through a paper shredder.
No more clutter! And remember: The key to staying on top of a mail de-clutter system is to open it as soon as it comes in and take action on it as soon as possible.
Take advantage of boards and calendars:
A magnetic board can help with reminders (like coupons, bills), holding things that you like looking at (like photos) or even keeping things accessible (like take-out menus).
Write down on the monthly calendar every important date for everyone to see.
Make getting rid of things no longer needed as simple as possible:
This is a no-brainer. Take advantage of that nifty paper shredder and keep the trashcan close by.
Build a charging station for the command center:
Make a rule at home for using cellphones and tablets only at designated times. Ask everyone to put their electronic devices in the charging station as soon as they get home.
Now you'll have quality time with the family (sans social media interruptions), your cell phone and tablets in hand and with the battery fully charged. Something very convenient if you suddenly need to leave the house.
Take advantage of the clutter-basket:
Aren't you just tired of toys, shoes and other stuff lying around the kitchen, living room, entrance, and asking your kids to pick them up and put them away constantly?
Save yourself from the stress by having a basket (or baskets) in the command center designated only to put in all the misplaced stuff. After the baskets are full, ask them to take everything out and put it in its place. It might take them a few days to fill In the baskets, but it will save you tons of arguments and resentment.
You can also create a backpack/purse/wallet drop spot. Shoes can be left there as well.
Make it your own:
Make it a pretty spot. Decorate it so that you and your loved ones enjoy looking at it and interacting with it.
Place flowers, family photos, use colors that match the palette in your house, add quotes, etc.
For the long run:
To maintain the order in your family command center set daily, weekly and monthly tasks. Comb through the incoming mail daily, put it where it belongs and get rid of the one you no longer need.
Go through the In-out trays/Action bins every week and take action, whether it's paying off the bills or signing a permission slip from school.
Update the chores lists and charts. Clean and order the larger baskets and bins and update the calendar every month.
Don't stress out if clutter still piles up. You'll get the hang of it sooner than later. Just make sure you keep the habit of regularly cleaning this area up. Get rid of things you no longer need and put the items back where they belong.
Life happens! Remember no family is perfect, you are not perfect, so lighten up it there's untidiness and disorder every once in a while. The command center's main purpose is to help you keep your household organized and tidy, but a little bit of chaos every now and then adds up to the fun of being a family.