*This post may have affiliate links, which means I may receive commissions if you choose to purchase through links I provide (at no extra cost to you). As an Amazon Associate I earn from qualifying purchases. Please read my disclaimer for additional details.
We all need to distract ourselves from work sometimes and find something fun for every time of the year. Decorating your house and outdoor spaces for separate occasions is a great idea to have fun for the entire year. It makes you feel alive and enlightened.
It also gives you the opportunity to add new charm to your house. However, sometimes it can be confusing figuring what to buy and when to start decorating.
Here is an easy guide that will help you decide when you should start decorating for different holidays or what to do when you have seasonal décor along with holiday décor.
Remember, there is no fixed rule regarding when to decorate your house and how to decorate it. At the end of the day, it's all about enjoying your holiday to the fullest.
Valentine's Day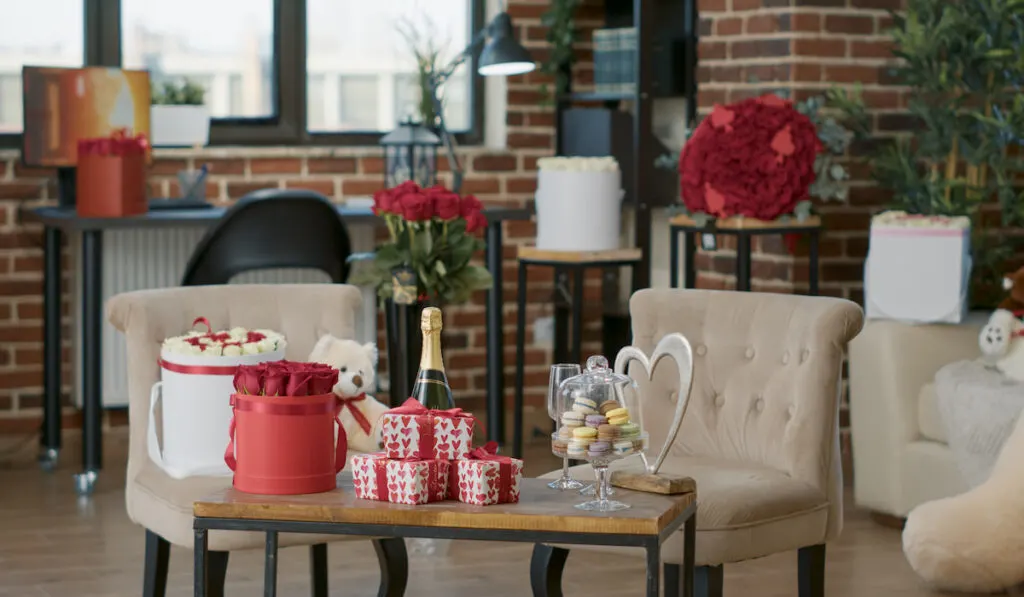 Valentine's Day is a day to celebrate love with bundles of flowers, balloons, candies, chocolates, and more. Every day can be a valentine's day for those who want to celebrate their love, however, this day unites all lovers to celebrate their love together.
When the first half of January passes, people start thinking about decorating their spaces for Valentine's Day. The best time to decorate for Valentine's Day is the second half of January or the first half of February. You can choose to decorate on 1st February for this day.
There are no strict rules about when to decorate for Valentine's Day. Some people even believe in the rule that it's never too early for Valentine's Day.
You could make some basic changes to your current décor and make it seem like Valentine's décor.
Adding Red against White
If you want to keep the decoration basic and not too heavy, adding little props against the white color would be a perfect option. You can use red mugs, heart-shaped trays, red boxes for chocolates, etc.
Printables
Printables are one of the most affordable props to use for Valentine's Day décor. You can display them anywhere. Hanging them outside the door is also a good idea.
Valentine's Day Throw Pillow
You can decorate your bedroom, living room, drawing room, etc. with a throw pillow without putting extra effort into decorations.
Flowers and Balloons
Decorating with red roses and red balloons is a traditional method employed by many people. Red roses are never too little or too much. From a single rose to a giant bouquet all would work for this day.
Easter/Spring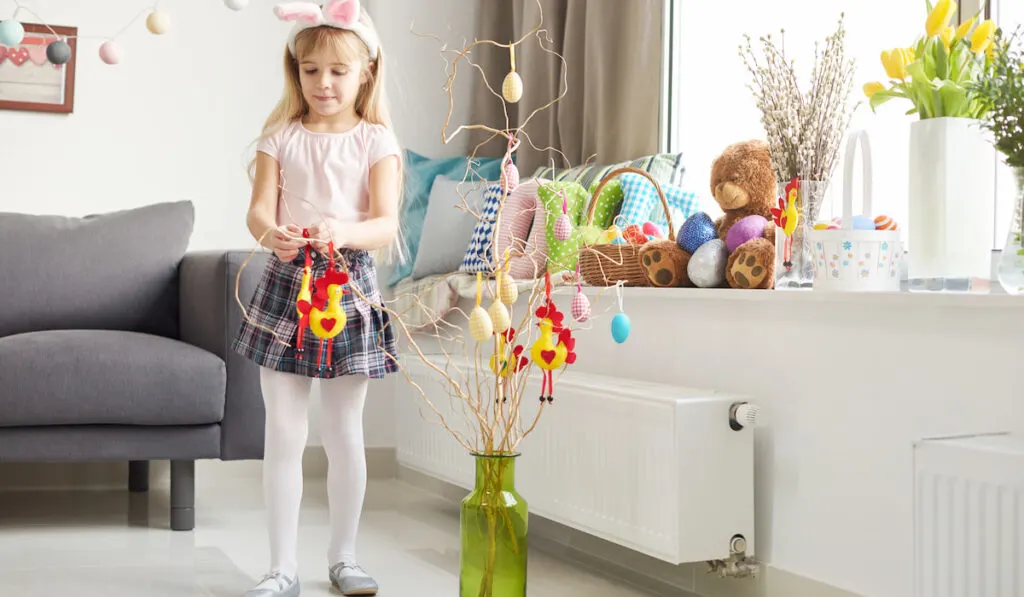 You should start decorating for spring on the 3rd of March or four weeks before Easter. As the event of seasonal décor of spring and Easter come together, you can just add Easter decorations into the mix.
About two weeks before Easter is a wonderful time to start adding Easter decorations into your spring decorations. Easter is celebrated on the first Sunday after the full moon.
Flowers
The best way to decorate your house for spring is to bring pastel-colored flowers to pop up the look of your house.
You can put daffodils, tulips, hyacinths, and many others in every room to feel the enchantment of spring. Wreaths or garlands are also a fantastic way to embellish the house.
Fruit bowls or baskets will also give you spring aesthetics.
Wreaths
When Easter arrives, hang Easter wreaths on the face of your house. You can also draw an Easter track with chalk, and place bunnies on the door to welcome guests with seasonal animals. Prepare bunny cookies or cakes.
Easter Eggs
Hang eggs on the trees or anywhere you want. For the interior, use Easter eggs on the table in glass bowls. You can buy the embellished eggs or decorate them yourself.
There are many ways to decorate the eggs for Easter. You can paint eggs with distinct colors or put beads or anything like that on them to suit your tastes.
St. Patrick's Day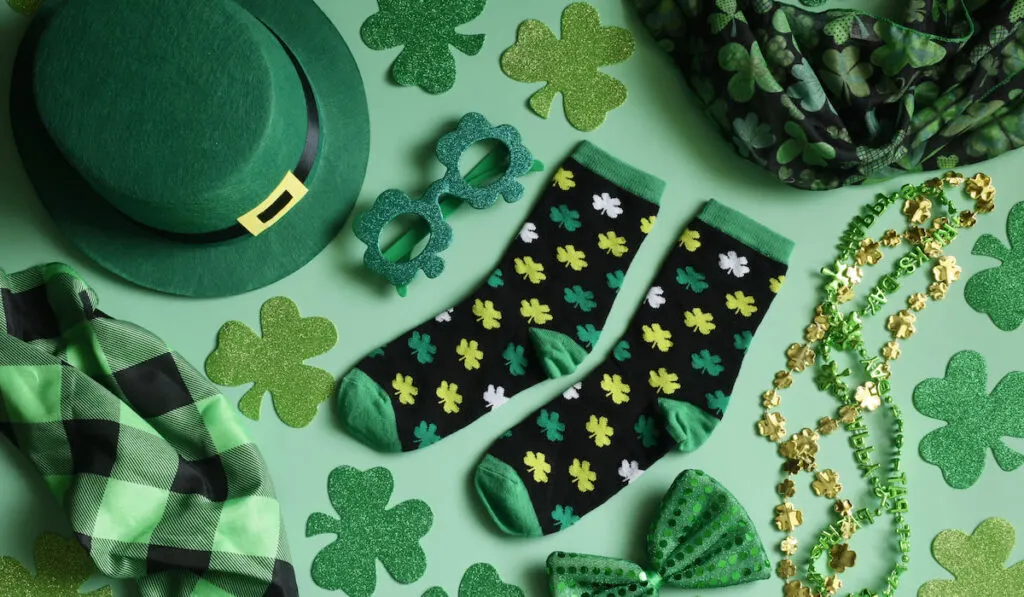 St. Patrick's Day is celebrated in honor of St. Patrick of Ireland who passed away on 17 March. People in the US celebrate this day with feasting and gaiety. After putting away their valentine's decorations, people start planning to decorate their homes for St. Patrick's Day.
The first week of March is the best time to start collecting things for decorations. People generally start decorating for St. Patrick's Day as they enter March, specifically on the 7th of March, and celebrate the day with full gaiety on 17th March.
Green Slipcover
For St. Patrick's Day, you can use green slip cloths on your couches, tables, counters, etc. A green slip cloth gives a St. Patrick's day look to the house. It will decorate the house with little to no effort from you.
Shamrocks
St. Patrick's Day is incomplete without shamrocks, a three-leaf clover that is the symbol of Patrick's day.
You can get different things related to shamrocks, for instance, confetti, garlands, stickers, etc. which you can put in glass pots or adhere on the walls.
Irish Maps
As you celebrate Ireland, you can put Irish maps and books on tables. Trying out some Irish food will also be a terrific way to get into the spirit of celebration of this day.
Rainbow Colored Props
Rainbow-colored props are also quite common among people. Rainbow doormats, garlands, and jewelry will help you with St. Patrick's Day decoration.
Summer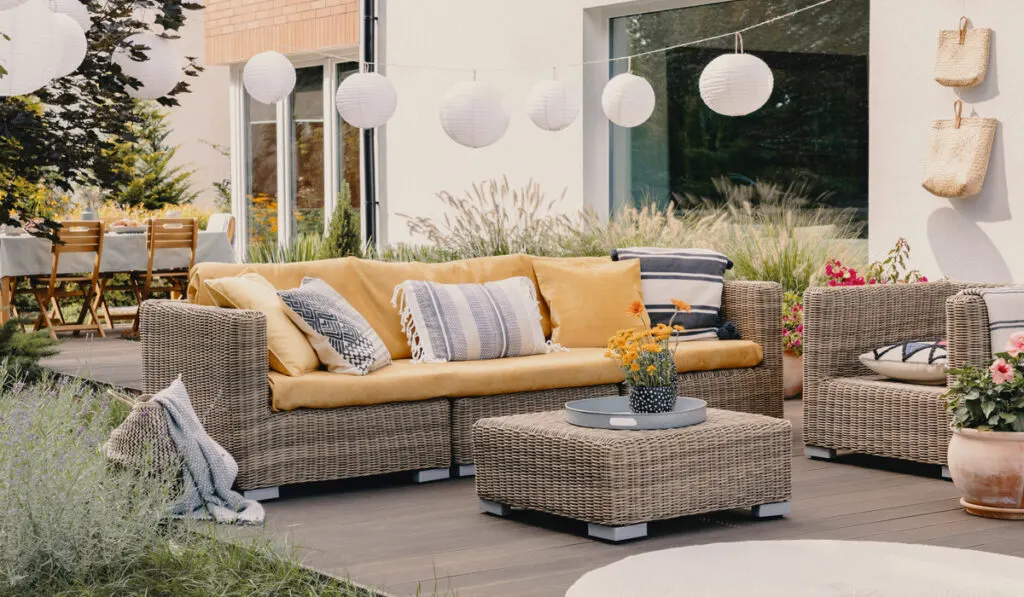 When the temperature starts rising, it's time to start decorating for summer. From early to mid-June is the perfect time to bring out the summer decorations from your stores. Particularly, you can start decorating on June 1st.
Throw Pillows and Rugs
In summer, everyone wants to have a space that is refreshing to the eyes. Consider using throw pillows, and beautiful rugs with accented colors.
White with bold colors will be most aesthetically pleasing and refreshing to the eyes. A rainbow theme will also be an amazing idea for summer decoration.
Flowers and Plants
Bright summer flowers like sunflowers, marigolds, and other bright-colored flowers are the best option for summer décor. Green plants make the space refreshing and charming. The best thing about using green plants is that you do not have to change them according to the seasons. They are perfect for every season and holiday.
4th of July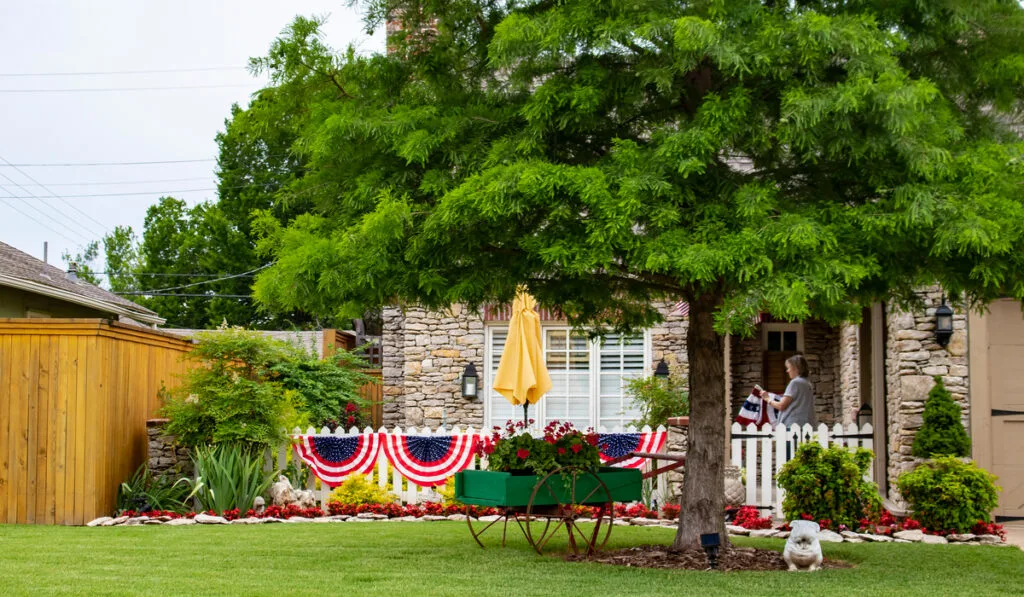 During summer, when Independence Day arrives, people usually start decorating in the second half of June or one week before the date. Putting up decorations a week before is not too early to demonstrate your patriotism. You could start putting up ornaments on 27th June.
Patriotic banners, buckets, paper lanterns, bar fans, mini flag banners, paper pinwheel wreaths, etc. are all the props you can use to decorate your place with.
Fall/Halloween/Thanksgiving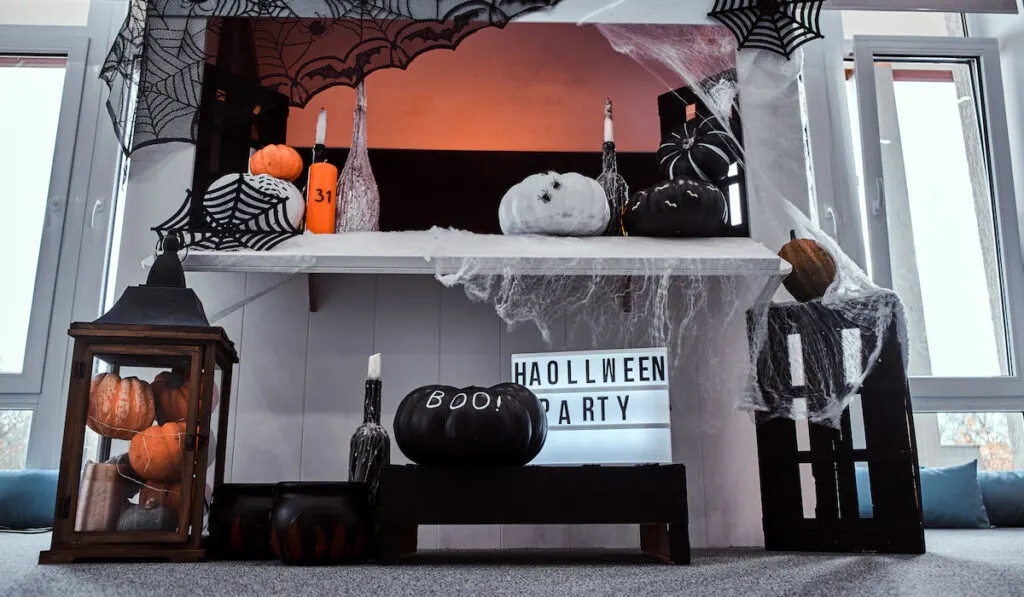 Decorating for fall can be a challenging task for many reasons. We have many upcoming occasions for which we will harmonize the same décor for all the occasions.
There is no specific time when the fall arrives. However, you can judge its arrival by the decrease in temperature, the colors of trees, and breezy air.
Do not start exceedingly early, because your décor must be in harmony with the season. However, September first is a suitable time to start decorating for autumn.
To welcome Halloween and Thanksgiving, start putting up decorations around the 24th of October. As there is not a huge gap between Halloween and Thanksgiving, it's ok to go for fall staples. Fall staples mean putting up the decoration in such a way that synchronizes with both the events.
Below are some of the décor tips to use that could synchronize with fall, Halloween, and Thanksgiving.
Pumpkins
Pumpkins give out strong fall vibes and they are also great for Halloween. You can purchase pumpkins of every size. Real pumpkins will also save you extra because with the arrival of Halloween, you can give them a Halloween theme by carving them.
Candles
Candles are necessary to bring fall vibes to your home. Beautifully scented candles with orange hues and different shapes will make your decorations aesthetically pleasing.
And you could use the same candles for Halloween and Thanksgiving dinner.
Flowers and Wreaths
Mums (flowers) and wreaths in outdoor spaces will enlighten your space with their beauty. Mums are a beautiful symbol to represent fall. They will also work for Thanksgiving.
You can hang wreaths at the door and give an autumnal look without making a lot of effort. Using wreaths and mums is quite an affordable option.
Lights
Mini fairy lights will brighten up your outdoor and indoor space. They are the best match for every kind of décor. You can also put them in glass jars and enjoy the beauty.
When Halloween arrives, you won't have to put away autumn decoration; you can just add other props to customize the Halloween decorations.
Jack-o-Lanterns, bats, and ghosts will complete the Halloween look. Jack-o-lanterns are so versatile, they can be decorated anywhere-be it kitchen, outdoor space, or living room.
Let these props stay up and prepare turkey for Thanksgiving dinner.
Christmas/Winters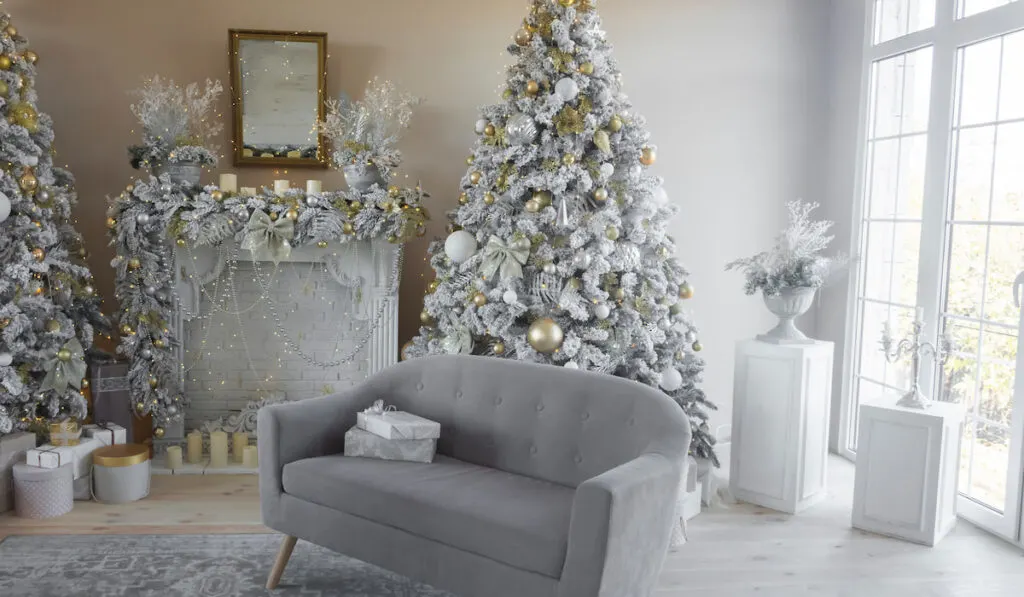 Some people get so excited about the arrival of Christmas that they want to decorate their homes before Thanksgiving. While you may be getting antsy, don't forget to enjoy your Thanksgiving holiday to the fullest before moving on to Christmas.
The best time to decorate homes for Christmas is after Thanksgiving. December 1st isn't too late for Christmas and winter. For winter you should focus on the fireplace and decorate tables with pinecones.
Christmas Tree
Christmas is not complete without the tree. Real or fake tree? It depends upon you which one you prefer.
If you buy a fake tree, you will not have to worry about it drying up. However, real trees need extra care to survive until Christmas day. Decorating a tree is an amazing way to exchange happiness with each other.
Hanging Christmas Lights
Hanging lights is the essence of the Christmas celebration. Some people tend to put them on way too early. If you hang them before Thanksgiving, try to avoid lighting them until after Thanksgiving. You need to take down the lights on January fourth or fifth.
Decorate Mantle
Decorating mantles with old pictures has been a tradition in many people's houses. It allows you to bring your old memories to life on Christmas day.
Outdoor Décor
For outdoor décor, you could hang Christmas wreaths along with cards.
One of the best ideas is to send beautiful notes and gifts for those who might feel alone on this occasion.
New Year's Eve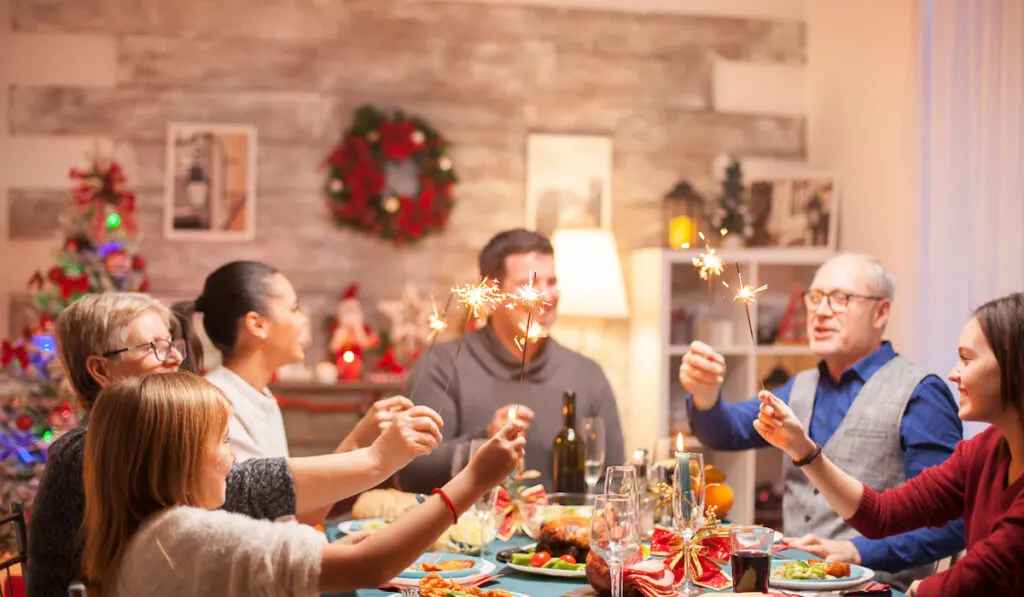 New Year's Eve is the celebration of the end of the calendar. You should decorate for New Year's Eve on December 20.
New Year's Eve is not a regular holiday. Some organizations do give a day off, while banks stay open. Usually, fireworks, feasts, and countdowns are the main things to perform on New Year's Eve.
Fringe Curtains
New Year's Eve demands pastel colors or black, white, and golden. Golden fringe curtains are a wonderful way to make a background for the New Year photo session. You can also get them in other pastel colors.
Confetti Balloons
Confetti Balloons are also quite common among people when it comes to New Year's Eve. They give the best look to interior and outdoor spaces for New Year.
Other props include headbands, foil balloons, cheers banners, sequin tablecloths, etc.
General Decor Ideas for the Whole Year
If you have strong aesthetics, you will certainly want to prepare yourself for the entire year's decoration. There are many items that one could buy beforehand so that they will be available to use at any point.
The best way to harmonize your props with your permanent furniture is to buy neutral-colored furniture. You should prepare a holiday schedule to keep yourself updated with the holiday.
Throw Pillows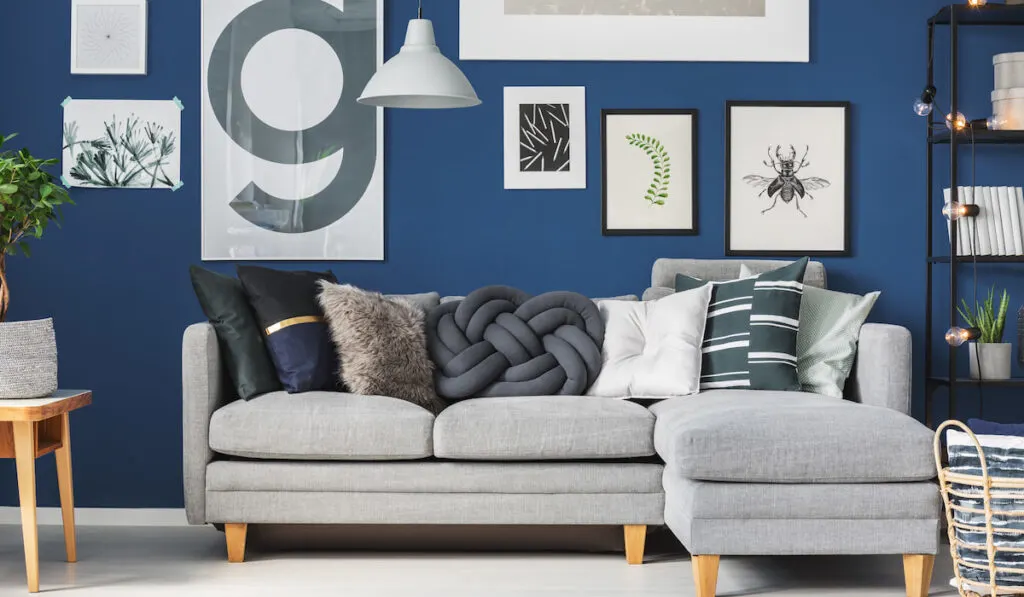 Throw pillows are a terrific way to decorate homes for every occasion. Christmas, New Year's Eve, St. Patrick's Day, Halloween, Thanksgiving, and many more are the events that demand the decoration of throw pillows.
The best thing about throw pillows is that they are quite affordable. You just have to change the covers according to the occasion. Like on Halloween you could cover them in pumpkin-colored covers that could go with your pastel furniture.
On Christmas or Valentine's Day, one could cover them in red and white cases.
Blankets/ Slip Clothes
Blankets or slip cloths are also the kind of accessories that you can buy beforehand. You can get them in black, white, green, and red to go with any light-colored furniture in your home. You can use and reuse them for any occasion.
White-colored slip cloths can go with the decorations of Valentine's Day, Christmas Day, New Year's Eve, seasonal, and many others. You can use them and save them for the next occasion. They can be used as covers for couches, tables, sheets, etc.
Wood and Wicker
Wood and wicker decoration is also a great option for any kind of occasion. Wicker baskets can be used to keep candies or pumpkins on Halloween.
They prove to be a versatile prop for seasonal décor. You can keep seashells in summer, pinecones in winters, turning leaves in fall, and fruits in spring.
The wooden basket is also good to give an intimate vibe to your place. Wooden baskets could be used to keep assorted products. They are also useful to organize your kid's books, toys, and any other stuff. It will be a practical decoration piece at your place.
Wreaths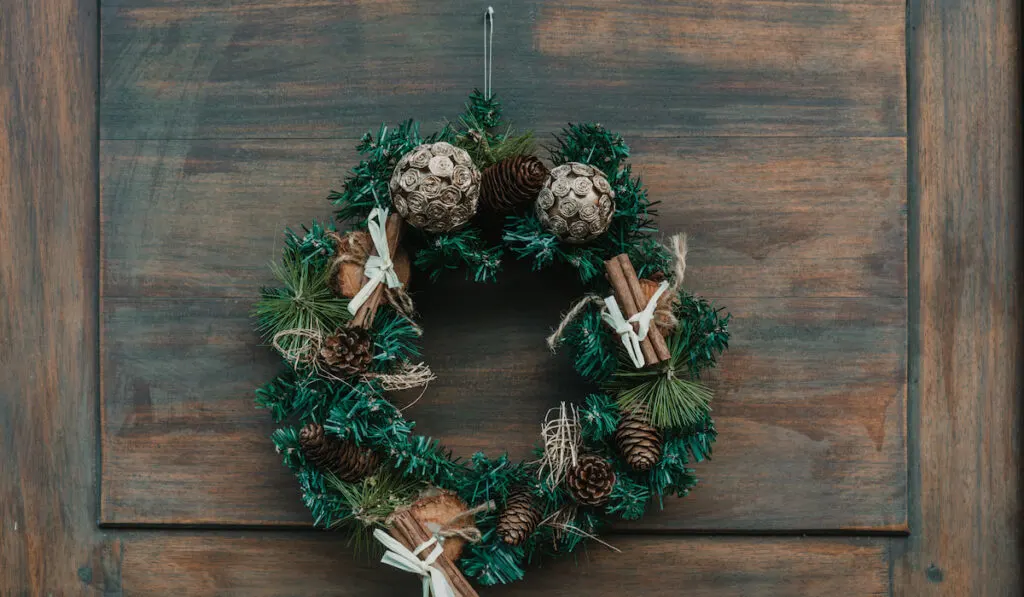 Wreaths and garlands are also decoration pieces that go with any occasion with little transition. They are amazing pieces to decorate for Thanksgiving, Valentine's Day, Halloween, St. Patrick's Day, or Christmas, etc.
Welcoming summer with beautiful colored wreaths will keep your mood elevated for the whole summer.
Wreaths come in assorted colors and types like dried leaf wreaths, seaside grass wreaths, lavender wreaths, and many others. You can decorate your room, main door, and garden with flower wreaths and garlands.
Flowers and Plants
Flowers and plants are also versatile options you can use to decorate for every occasion. A little bit of greenery always gives your surroundings a new life and charm. They give the most refreshing vibes during summer and spring.
During summer, you can enjoy the beauty of bold-colored flowers and spring will also bring a lot many flowers to give your place a fancy look.
If you want to put artificial plants because you can't take care of live plants, they will still help to enhance the beauty of your place.
Lights
LED lights are a great option for any kind of decoration. You can go with autumnal, spring, fall, or summer décor. You will see lights of every kind hanging on the walls, fences, living room, etc.
People also prefer buying electric candles to give a holiday spirit to the whole space. If you use them carefully, they can be by your side for the entire year.
Candles or Lanterns
Candles or lanterns could also go with any decor. You could keep them on dinner tables, in rooms, windows, thresholds, etc. The scented candle could increase the intimate vibe and holiday spirit.
Suggestions for Decorations
Here are some of the tips you could use to decorate your houses for various occasions. There are no strict boundaries to decorate for any occasion, however, if you use these tips, you might perform better while decorating.
Keep Everything Basic
You can decorate according to your taste and choice. However, the best option is to keep everything simple and basic. Try not to over-decorate for many reasons.
Over decoration can cost a lot and you might end up not have the desired vibe. The simpler you keep the décor, the easier it will be for you to make the transition for the next holiday.
Consider Colors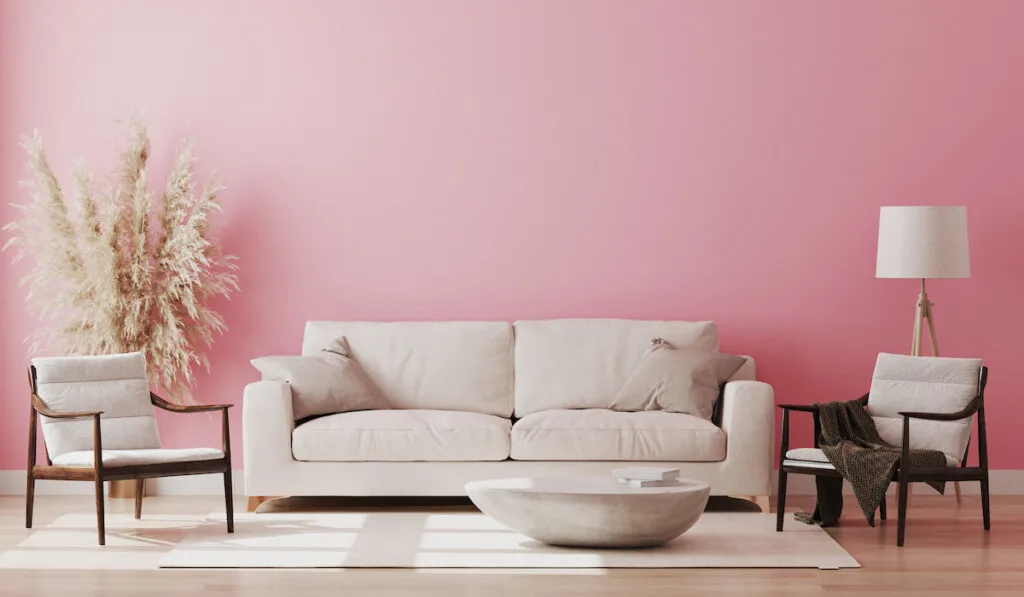 Colors have a huge influence on mood. They can be mood makers or breakers. They give meaning to design, so whenever, you shop for furniture think about buying neutral colors.
Neutral colors go with any color, so you won't have to be worried about harmonizing furniture with the décor.
It is Not Necessary to Focus on Every Holiday
When your budget is small you might choose to stick to one holiday. If you like seasonal décor more than holiday then you can do minimal decoration for the holiday and just focus on the seasonal décor.
Recycle Things
You should not discard things after using them one time. There are many holidays when you can use spare cardboard, papers, and other stuff to turn them into a different decoration piece.
Offseason Purchases
Buying decorations off-season can cost you a lot less as compared to when you buy in a season. When demand for something increases, stores tend to increase prices. However, in the off-season, you can buy them at lmuch lower prices.
Bottom Line
Holidays allow you to go a little extra when it comes to decorating the house. You can bring in bold colors, use different props, and do anything you want to do to give your house the best holiday vibe.
Indoor décor allows you to feel the seasonal charm and spirit even if you do not leave the house.
Candles, lanterns, flowers, plants, wreaths, and garlands permit you to enjoy the magic that holidays and changing seasons bring with them.
When you shop for the holiday décor, try to keep yourself considerate of the color scheme that will go with your home. You can also choose to focus on a different theme for each room or keep the one theme for the whole house.
You can decide to have a monochromatic theme, classical theme, or vintage. Preparing DIYs or crafty ornaments allows you to go into the holiday spirit even earlier.
Resources