*This post may have affiliate links, which means I may receive commissions if you choose to purchase through links I provide (at no extra cost to you). As an Amazon Associate I earn from qualifying purchases. Please read my disclaimer for additional details.
How about today we talk about some specialty baking pans suitable for many occasions? This type of bakeware is customized for some specific and rather unique cakes, cookies, pastries, custards, bread, and other baked goods.
They certainly come in handy when you want to prepare something different, unique, and a bit more personalized.
Your friend is celebrating a birthday and loves roses?
You've always wanted to prepare cookies you can bring as a Christmas present?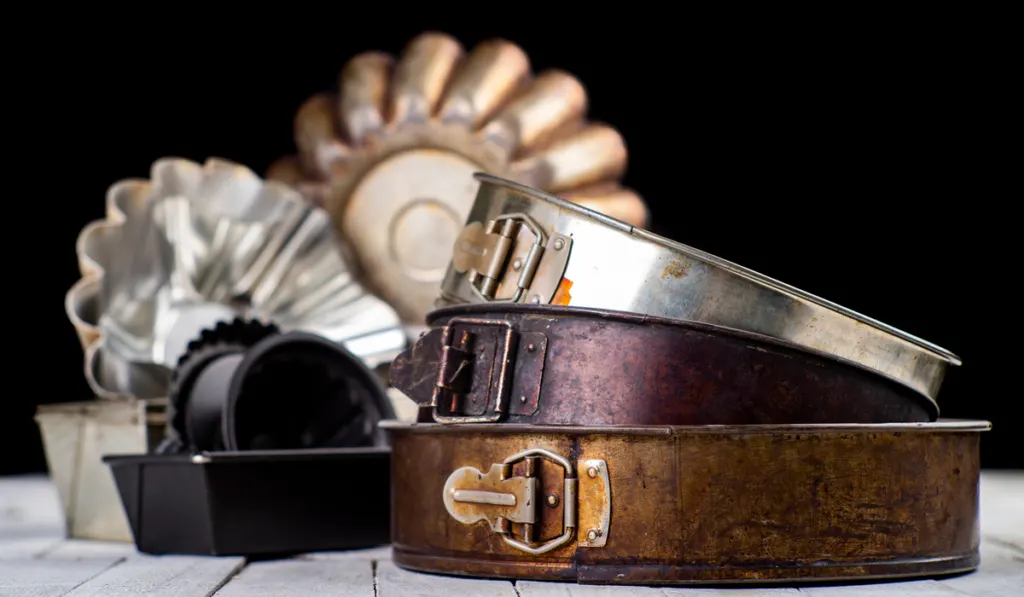 Do you dream of making those perfect three-tier wedding cakes you see in movies?
Let's find out exactly what you need to prepare these delicious creations!
Our 11 Top Baking Pan Picks
1. Round Silicone Cake Pans
SILIVO Round Cake Pans – Set of 4 Silicone Molds for Baking
Safety Material: The silicone cake pans set are made of 100 % pure food grade silicone. The silicone baking molds is high-quality and eco-friendly, conforms to the American quality standard.
Combination Kit: 4 Pieces silicone baking set with size: 3+5+7+9 inch/2 inch deep,Perfect for breads,pot pies, layer cake, cheesecake, rainbow cake, chocolate cake and banana cake and more.
Non-Stick Silicone Baking Pans: The flexible silicone cake molds for baking with non-stick finish allow to remove and quick release of baked goods and desserts.
So, someone's birthday is on the way? Your friend is celebrating a promotion, and you're trying to find a perfect present for her?
No worries. For either occasion, a cake is always a good way to say 'congratulations' or 'wish you all the best.'
With this round cake pan set, you actually get four different sizes: 3.5, 5.5, 7.5, and 9.5 inches wide, and 2 inches deep.
The material is 100% pure food-grade and flexible silicone of excellent quality. It's eco-friendly, long-lasting, and really easy to clean—a bit of warm soapy water will do.
They are oven and microwave safe and can be used at a wide temperature range of -20 to 450°F(-30 to 230°C).
The material is also great because of the non-stick finish that makes it easy to remove your dessert without ruining it.
So, up for a cheesecake? Bread? Rainbow or chocolate cake? This set is going to be useful whichever treat you decide to go for.
2. Silicone Heart Shaped Cake Pan & Mini Molds
Silicone Cake Pan(8-inch Heart Shaped) and 3D Mold(Mini LOVE Rose)
Say I LOVE YOU: Make heart-shaped cakes, pie or even pizzas for the one you love; Plus beautiful decoration, Perfect. (Gift idea for Mother's Day, Valentine's Day, Wedding, Birthday, Father's Day, Children's Day)
BPA-free, Non-toxic: Silicone is temperature resistant from -104℉ up to 446℉ (-40 °C to +230 °C). Safe for use in the Oven, refrigerator and microwave;
Non-stick and Long Lasting Durable: Our silicone molds are treated with special nonstick, So only need to apply a little butter or oil before first use to activate the nonstick properties. Easy release and quick cleanup; Withstands repeated use day after day, No deformation, no fading. Dishwasher safe;
Valentine's Day is getting closer or you simply feel more romantic than usual? Well, these heart-shaped pans are certainly going to help to cheer up your loved ones the way they deserve!
These BPA-free molds are also made of non-stick, durable, food-grade silicone that's ready for temperatures from -104 to 446°F (-40 to 230°C). That means it's safe to use them in the fridge, microwave, and oven.
Before you start baking, you can add a little bit of oil or butter to make it easier to remove the dessert later.
You can easily wash them, just don't rinse them with water right after you take them out of the oven. By doing this, you actually prolong their durability.
Coupled with that, avoid using a knife or other sharp object on them so you don't destroy your molds. Oh, and if you don't feel like doing the dishes this time, don't worry—these are completely dishwasher safe.
The package actually consists of a heart-shaped cake pan and one smaller 3D mini mold that says 'LOVE'.
3. Wilton 2-Piece Kids Birthday Train Cake Pan
Sale
Wilton Train Cake Pan, 2-Piece Kids Birthday Cake Pan
Two train cake pans snap together to create a three-dimensional train cake
Uses 6 cups of cake batter
Material: Aluminum
7 x 10.5 x 4.5 in. (17.7 x 26.6 x 11.4 cm)
Before first and after each use, wash in warm, soapy water for best results
It can sometimes be hard to come up with something new for your kid's birthday, but this cool train cake pan may be a fun addition this year.
To be precise, there are two train pans that snap together and create an incredible 3D train cake. When you're done with baking, there are numerous possibilities to decorate the cake and turn it into a colorful dessert your kids are simply going to love!
The pan is made of aluminum and comes in dimensions 7 x 10.5 x 4.5 inches (17.7 x 26.6 x 11.4 cm). Before you use it for the first time, wash it in warm, soapy water and do the same every time you bake with it.
Any other particular shaped baking pan you'd recommend for kids' birthdays?
4. Wilton American Football Cake Pan
Wilton First & Ten Football Game Night Aluminum Cake Pan
Ideal baking pan for birthday parties, bowl games, sports themed events, or homecoming celebrations
Includes football shaped cake mold and complete, easy-to-follow baking and decorating instructions
Football baking pan measures 12 x 7.75 x 3 inch; ideal for any cake decorating kit or baking kit
The durable aluminum construction of Wilton baking supplies ensure even heating and years of use
For an easy, clean release on all of your baked goods, grease the pan; do not put in dishwasher
Homecomings, birthdays, touchdowns, awards dinners and many other football-related things finally get a proper way to celebrate.
This amazing football-shaped cake pan will help you prepare a sweet chocolate dessert or even go for some big, tasty bread or sandwiches for game day!
It's an aluminum pan with dimensions of 12 x 7.75 x 3 inches. This is a valuable kitchen tool you're going to have for a long time—it will hold the original shape even after years of use.
P.S. If you're not sure how exactly you can decorate this cake, there are useful instructions that accompany this set. Worth a try, don't you think?
5. Wilton Ultimate Spiderman Cake Pan
Sale
Wilton Ultimate Spiderman Cake Pan, Silver, Aluminum
READY, SET, BAKE: Spin a web of sweetness for your child's next birthday party with a superhero cake using this Wilton Spiderman-shaped cake pan. Complete decorating instructions included
PERFORMANCE: The Wilton aluminum baking pans are unique for many reasons. Aluminum's uniform heat conduction makes for an even, light golden finish, while being warp and rust resistant for commercial-level performance
DURABILITY: This Wilton cake pan has a sturdy construction that ensures even heating and long wear. The wide, flat rim is also handy for keeping a secure hold on the pan while transporting or flipping
Have Spiderman fans in your house? Here's a perfect cake that will delight them or simply be an unexpected gift in the shape of his favorite superhero! This pan will take any 2-layer cake mix and turn it into a wonderful dessert.
Once again, we have a cake pan made of aluminum. This is actually the metal most commonly used when it comes to bakeware. Aluminum is durable, lightweight, as well as excellent for a wide variety of baked goods.
Aluminum is an excellent heat conductor, which is why your dessert will be evenly baked from all sides. When it comes to this pan, it's recommended to go with hand washing.
6. Rose Flower Cake Pan
Sale
Joyeee 11.8" Rose Flower Cake Mold Pan
HIGH-QUALITY SILICONE SHAPE WITH LARGE ROSE FLOWER – The baking pan is ideal for muffins, cupcakes, cakes and rolls. The long-lasting and reusable baking pan can also be used to make hearty meals in the oven, such as Quiche, tart or pizza awakening. For all DIY fans the shape is perfect for Daily Bread, Pie, Flan and Christmas cake.
THE MUFFIN BAKING FOR ALL LOVERS – For Valentine's Day, wedding or anniversary you would like to conjure something special. With the rose shape you will surprise your loved one. Even for the man who has less talent in baking, with this Cakeform conjured in a jiffy, a sweet surprise. Your loved one will not be able to believe your luck how beautiful the mini cakes have become.
NOT ONLY BEAUTIFUL FLOWER, BUT ALSO DEFINITELY CAN BAKE – The muffin mold is non-stick coated, so the flower can be easily removed from the cake pan. Simply place the dough in the muffin tray with the dimensions: Ø 30cm x 5cm/ 11.8" x 2"; weight: 160g. Maybe you do not like sweets like chocolate, cupcake etc. The non-stick shape is perfect for tarts and pizza.
Have you always wanted to prepare something like a rose-shaped cake, but had no idea how to do it? The solution is the proper bakeware – just like this one we have here!
Once again, it's a top-quality silicone that lasts long and is easy to clean. The pan is non-stick coated so you can easily take your delicacy out without ruining its unique shape. Dimensions are 11.8 x 2 inches (30 x 5cm).
Not only you can use it for preparing a tasty dessert, but it's also great for bread, tarts, pizzas, or other baked goods.
Maybe there's an anniversary coming or Valentine's Day? If you don't feel like going with a classic-shaped cake, this one can certainly be a pleasant surprise.
7. MineSign Number Cake Pans
MineSign Number Cake Pans for Baking Cake Molds
Dimension: 6.7×11.6 x2.0″, small squares size:1.7×2.5″
The cake mold is designed for baking beginners.Simply pour your cake mix around the square modules, plop the pan into the oven, and bake savory cakes into your unique shape.
The cake pan set is easy to make 0-9 numbers and A-Z letter design cakes.
Easy to clean and reusable. Can be used for wedding, birthday, Christmas, anniversary to make cakes as we want. Let the party be more memorable.
Please note that the edges cannot be round because of the square cake tins.
The design here is rather simple and has dimensions 6.7 x 11.6 x 2 inches (17 x 29.5 x 5.1 cm). The smaller inner squares are 1.7 x 2.5 inches (4.3 x 6.4 cm). The pieces are easy to clean and long-lasting.
Also, the entire bakeware set is suitable for beginners as well, so you don't have to worry if you're not skillful with cakes, but still want to prepare one to surprise that special person in your life.
To use, set the small squares into the pattern of the letter or number you want. Then pour your mix around those square modules, and put the pan into the oven.
The great thing about this bakeware is its versatility; you don't have to buy new specific molds every time someone is celebrating a birthday. Just set the smaller squares into the preferred shape and, voila, you're good to go!
8. Rose Flowers Silicone Pan & Molds
FVVMEED Rose Flowers Shape Silicone Molds
【Specifications】: The 3D Rose shape silicone mold overall size is 29.6*17.2*5.9cm/11.65*6.77*2.32inch. Each cavity mold size is 5.9*6.5cm/2.32*2.56inch, using multi-cavity silicone baking mold will make your cooking easier.(Adaptation temperature: 230 degrees Celsius, -40 degrees Celsius).
【Premium Material】: Made of High quality silicone material,tasteless, non-toxic, flexible, resuable, non-stick and easy to clean.Mousse mold is a essential tool for professional and beginner baker. Use the mold to create Pear shape mousse/dessert /cake more eariler and quicker.
【Rose Shape】: Rose shape: Our mold is a unique half-open rose shape, suitable for making rose-shaped pastries, chocolates, candles, resin jewelry, suitable for weddings, anniversaries, birthdays, this rose-shaped cake decoration will be very popular with all People.
Maybe you're up for a rose-shaped dessert but prefer cupcakes over the bigger cake? No problem, that's why there's also this lovely mold with smaller spots where you pour the mix to make wonderful delicacies that will surprise your loved ones!
Dimensions are 11.65 x 6.77 x 2.32 inches (29.6 x 17.2 x 5.9 cm), with each cavity mold of 2.32 x 2.56 inches ( 5.9 x 6.5 cm). The bakeware can adapt to temperatures from -40 to 446°F (-40 to 230°C). That means it's safe to use in the freezer, oven, and microwave.
This top-quality silicone is non-toxic, reusable, flexible, easy to clean, and non-stick.
It will certainly come in handy for various rose-shaped specialties such as chocolates, mini cheesecakes, jellies, puddings, ice cream, pastries, bar soaps, candles, and more.
9. Wilton Square Cake Baking Set
Wilton Performance Pans Square Cake Pans Set
Set includes 8 inch, 12 inch, 16 inch pans; each pan 2 Inch deep
Quality anodized aluminum construction
Even heating for exceptional baking performance
Hand washing recommended
Recipe included
You know those movies where there's a wedding, and people always have perfect cakes of 3 or 4-tiers? If you love to spend time in the kitchen and invent some new delicacies, this idea certainly could certainly be a challenge.
This set consists of three pieces: a 16-inch, 12-inch, and 8-inch pan, each of which is 2 inches deep.
We're talking about an excellent-quality aluminum design that will distribute the heat, ensuring your creation is baked evenly. It's recommended to wash these pans by hand rather than use a dishwasher.
In movies, cakes often seem too perfect to be true, so you may think you won't be able to prepare something like that.
Don't worry, together with this high-quality 3-piece set, you'll also get a recipe that will help you to achieve your goal. Let us know how it worked!
10. Christmas Tree Cake Pan
No products found.
Christmas season is simply the perfect time for all of us cake-lovers, don't you think?
The days are all about family events, nice food, and perfect desserts. This 2-piece Christmas tree cake pan set can definitely help with the third option.
It's a highly safe, flexible, and 100% BPA-free material with a non-stick coating that will help your cookies come out without ruining their shape.
It's safe to use in the freezer, oven, and microwave with a temperature range of -40 to 440°F (-40 to 230°C). Also, you can put it in the dishwasher too.
This bakeware will help you prepare plenty of desserts such as jellies, coffee cakes, chocolate cakes, sugar cookies, puddings, and many others.
11. Wilton Teddy Bear Aluminum Cake Pan
Wilton Teddy Bear Aluminum Cake Pan
Cake pan shaped like a teddy bear with a heart on one side of his chest
Color: Silver
Material: Aluminum
Pan dimensions: 13.5 x 12.25 x 2 in. (34.3 x 31 x 5 cm)
Before first and after each use, wash in warm, soapy water for best results
Maybe you have a friend that recently had a baby or your nephew is soon about to celebrate his 3rd birthday? Either way, a cute teddy bear cake is always a good option to surprise little ones!
Wilton offers another one of their specialties—an excellent-quality aluminum cake pan with a unique shape that will help you prepare something creative.
Dimensions are 13.5 x 12.25 x 2 inches (34.3 x 31 x 5 cm). Don't forget to wash it before first use. Also, warm, soapy water is recommended over the dishwasher.
Some Final Words
Any dessert you prepare for someone is a token of appreciation. But it somehow has a deeper meaning when has the unique shape you can get with some of the pan models from our list.
Of course, there are numerous other specialty pan options you can go for in order to create a perfect delicacy for your loved ones. So, any particular one you would like to add to our list?