*This post may have affiliate links, which means I may receive commissions if you choose to purchase through links I provide (at no extra cost to you). As an Amazon Associate I earn from qualifying purchases. Please read my disclaimer for additional details.
Most people who are familiar with edible mushrooms know of button mushrooms. But beyond button mushrooms, there are many types of mushrooms you can add to your diet or use for medicinal purposes.
In this article, we talk about 16 types of mushrooms. We discuss their uses, flavor, how to use them, and much more. Read on for all the details.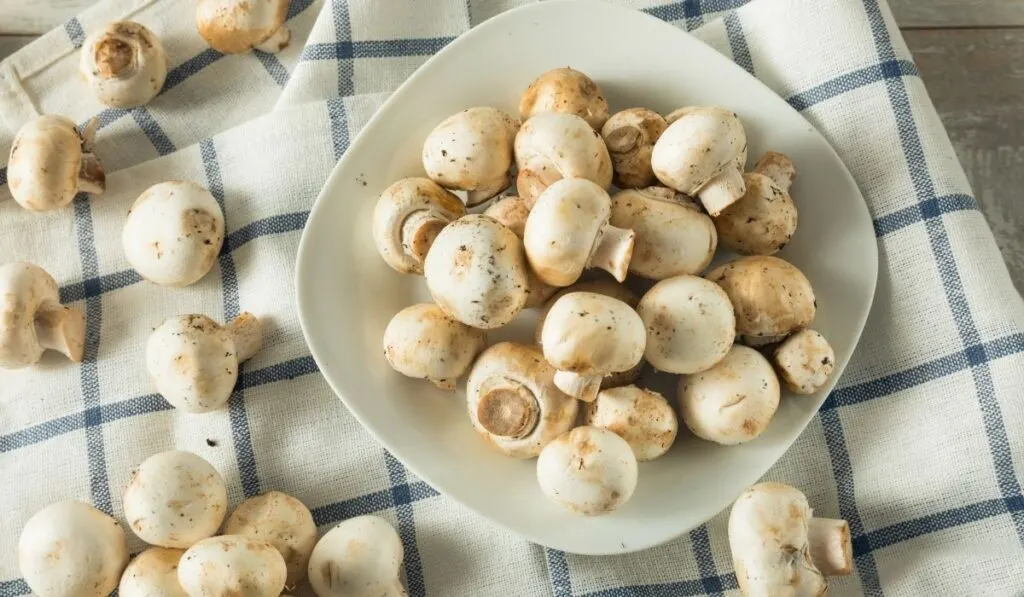 Button Mushrooms
As we said before, button mushrooms are perhaps the most popular mushroom in the US. You are almost sure to find them in stores.
Button mushrooms also go by the names white mushrooms or baby mushrooms. Their popularity is, in part, due to their mild yet savory flavor and taste.
The mild flavor of button mushrooms makes them blend well with various meals. You can use them in soups, spaghetti sauces, salads, and pizza toppings. You can also eat them raw. You could also use them as a side dish by sauteing them in butter and white wine.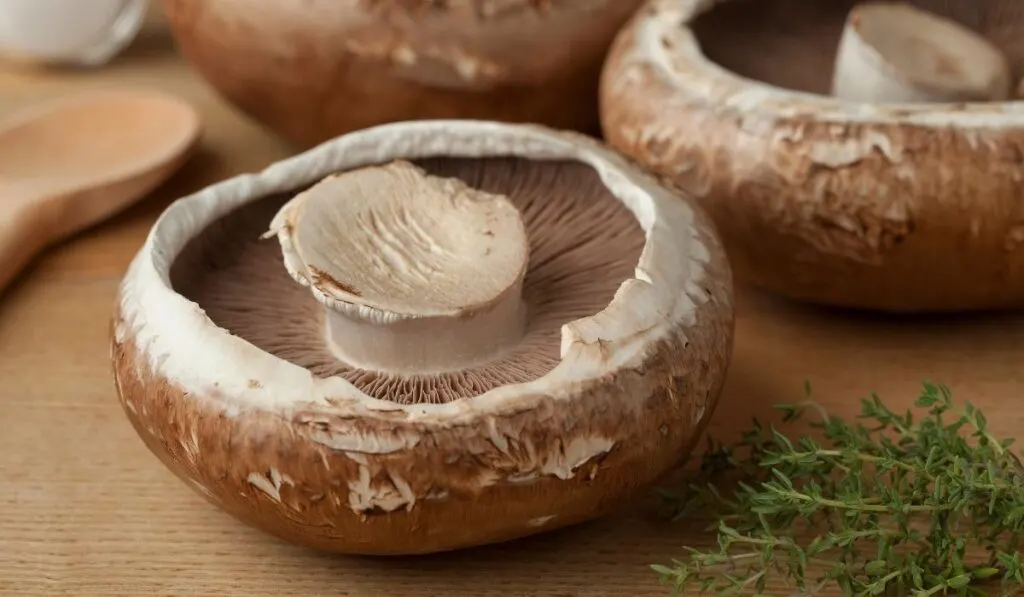 Portobello Mushrooms
Like button mushrooms, portobello mushrooms come from the fungus Agaricus bisporus. They are basically the final stage in the growth cycle of Agaricus bisporus. You may also refer to them as portobella mushroom, open cap mushroom, or field mushroom.
To begin with, portobello mushrooms only came into the US through imports from Italy. But these days, you can find them all over the US.
Unsurprisingly, portobello mushrooms are common in Italian cuisine. Thanks to their meaty flavor, they make for a perfect meat substitute. So, you can add them to pizzas, sandwiches, pasta, sauces, omelets, and more.
Because they are large, the caps of portobello mushrooms make for bun substitutes. It comes in handy, particularly for people who want to make vegan or vegetarian burgers. Thankfully, since portobello mushrooms are meaty, the cap can withstand baking, stuffing, and grilling.
Cremini Mushrooms
Cremini mushrooms come from the same fungus as portobello and button mushrooms. Now, you must be wondering what the difference between the 3 of them is. Well, the difference is their age.
Cremini mushrooms go by various names, including crimini mushrooms, baby bellas, and golden Italian mushrooms. They are browner than button mushrooms (which are typically white). However, they are not as brown as portobello mushrooms.
Cremini mushrooms have a deeper flavor and firmer texture than button mushrooms. However, you can use them as substitutes for one another.
Cremini mushrooms are perfect in soups and stews, thanks to their firmness.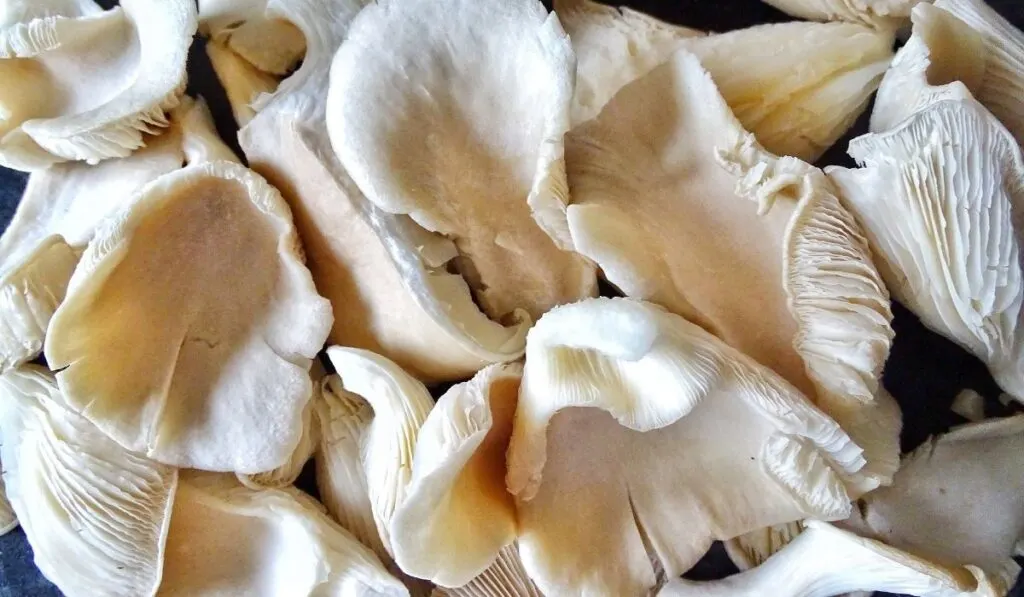 Oyster Mushrooms
Oyster mushrooms earned their name because they look like oysters. However, if seafood bothers you, you shouldn't worry because oyster mushrooms do not taste like oysters.
Oyster mushrooms also go by tree oysters, Shimeji, and angel's wings. They typically grow in the wild, on the side of trees.
Oyster mushrooms are whitish and fan-shaped – like oysters. They have a mild, sweet but delicate flavor. They are common in Japanese and Chinese cuisines, where you'd find them in stir-fries and soups.
Maitake Mushrooms
Maitake mushrooms go by many other names, including hen of the wood, dancing mushroom, and ram's head. Their name, maitake, is a Japanese word that means dancing mushroom. In a way, they do look like they are dancing.
Maitake mushrooms have the look of a cabbage head.
In the US, you can find them in the northwestern region. More specifically, you could check forest areas east of the Mississippi River between August and September.
A familiar presence in Japanese and Chinese cuisines, maitake mushrooms have an earthy and gamy flavor. You can use them on ramen, pizza, and similar meals as a meat alternative.
As maitake mushrooms grow, they can become quite tough to eat. So, in some cases, people use them for their medicinal properties. Maitake mushrooms may help boost the immune system. They can also help control blood sugar levels and blood cholesterol levels.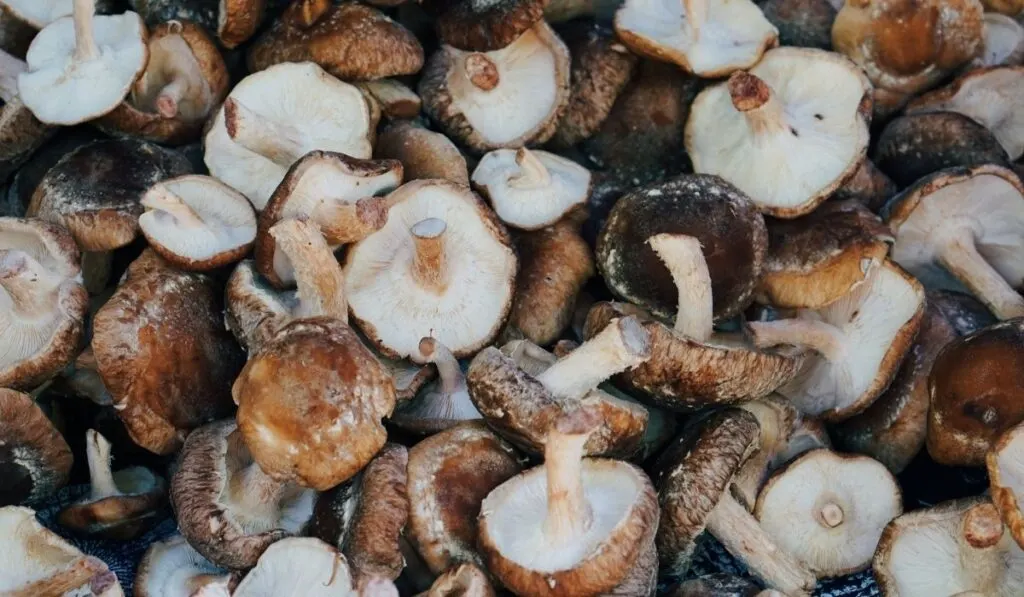 Shiitake Mushrooms
You may also call shiitake mushroom black winter, black forest, or shitake. Shiitake is a Japanese word that means oak fungus. As expected, you can find shiitake mushrooms around oak trees in the wild.
Shiitake mushrooms are a part of Asian cuisine. They have a brown umbrella-like cap attached to a long stem.
When fresh, shiitake mushrooms have a light, woody flavor. But when cooked or dried, the flavor becomes smoky, earthy, and intense.
Before cooking shiitake mushrooms, people sometimes remove the cap because it can be stringy.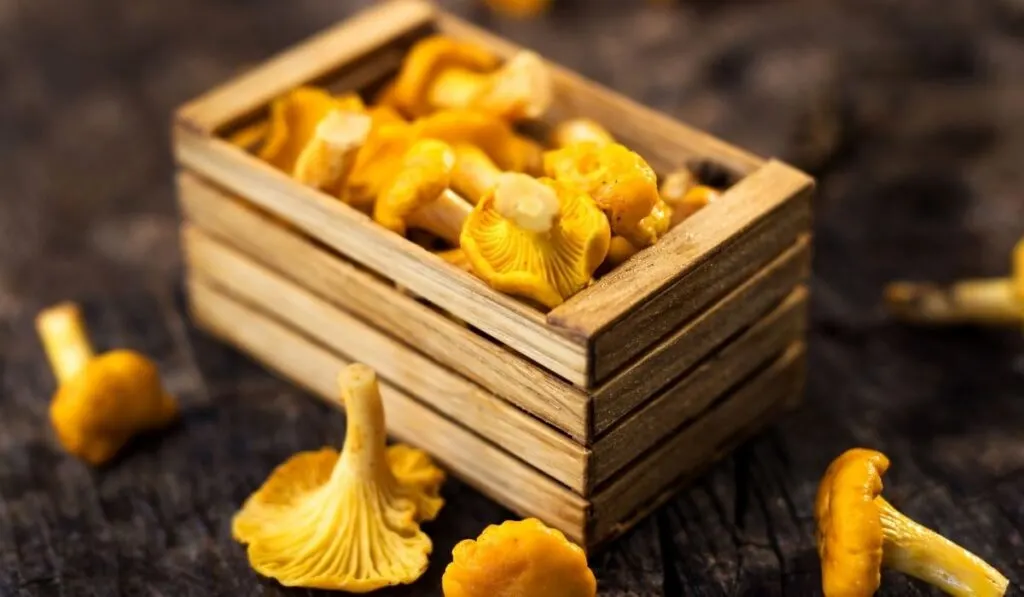 Chanterelle Mushrooms
Chanterelle mushrooms are also egg mushrooms or girolle. They have a trumpet-like appearance due to the depression at the center of their cap.
Chanterelle mushrooms have a unique bright-yellow color. But they may also come in orange or white. Chanterelle mushrooms are one of the most popular mushrooms in the wild. They are not so easy to cultivate. So, most times, people get them from the wild.
Chanterelle mushrooms have a firm, fleshy texture. They have a fruity, apricot-like flavor. Plus, a peppery, earthy taste that is perfect with eggs.
The chanterelle mushroom is perfect in soups and stews. But you could also sautee in butter and white wine and add it to pasta or eat it alone.
If you store chanterelle mushrooms in a refrigerator, it could last up to 10 days – longer than many mushroom varieties.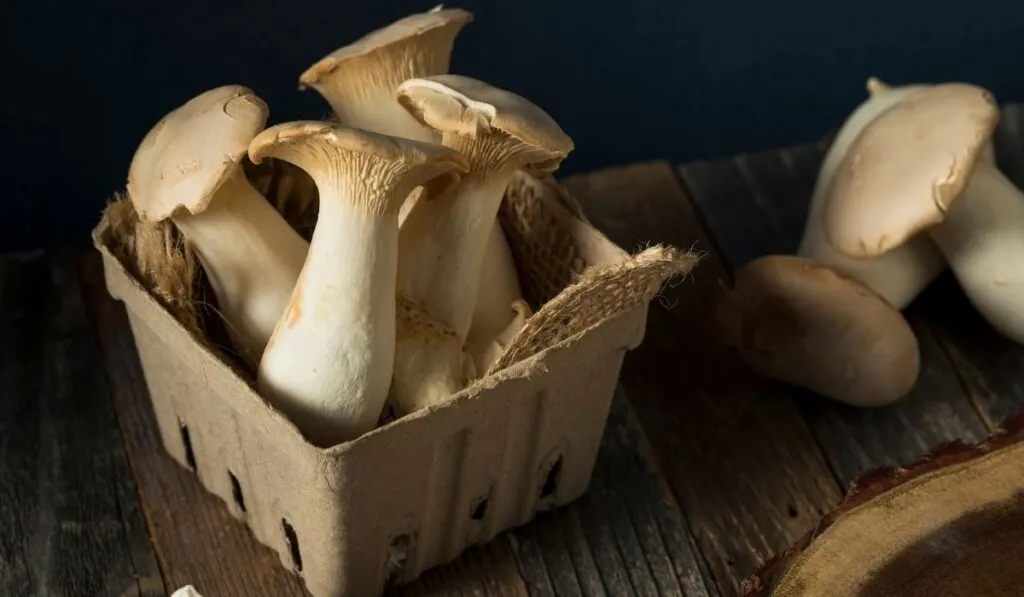 King Oyster Mushrooms
King oyster mushrooms may also go by king trumpet mushroom, trumpet royale, and king brown mushroom.
While they look like oyster mushrooms, king oyster mushrooms have a thick, white stem. They are generally large, presenting as 4-5 pieces per tray.
King oyster mushrooms are firm and meaty. They make for a great addition to vegan and vegetarian diets. However, they also offer some medicinal benefits.
Chicken of the Wood Mushrooms
Do not confuse the chicken of the wood mushrooms with maitake mushrooms (hen of the wood). They may have similar names but they are very different.
The chicken of the wood mushrooms tastes like chicken to many. Hence, the name. The chicken-like taste makes them an ideal option for vegans and vegetarians who crave chicken. Luckily, one can prepare chicken of the wood mushrooms in the same ways as chicken.
Morel Mushrooms
Morel mushrooms are wild mushrooms. You are unlikely to find them in stores or farms. So, if you want them, you have to go into the woods yourself.
Morel mushrooms are pretty easy to identify. Their conical, spongy appearance is hard to miss. However, be sure you know the difference between true morels and poisonous morels (false morels) before you go foraging.
Morel mushrooms have a nutty, earthy flavor and a meaty texture. However, they are tender.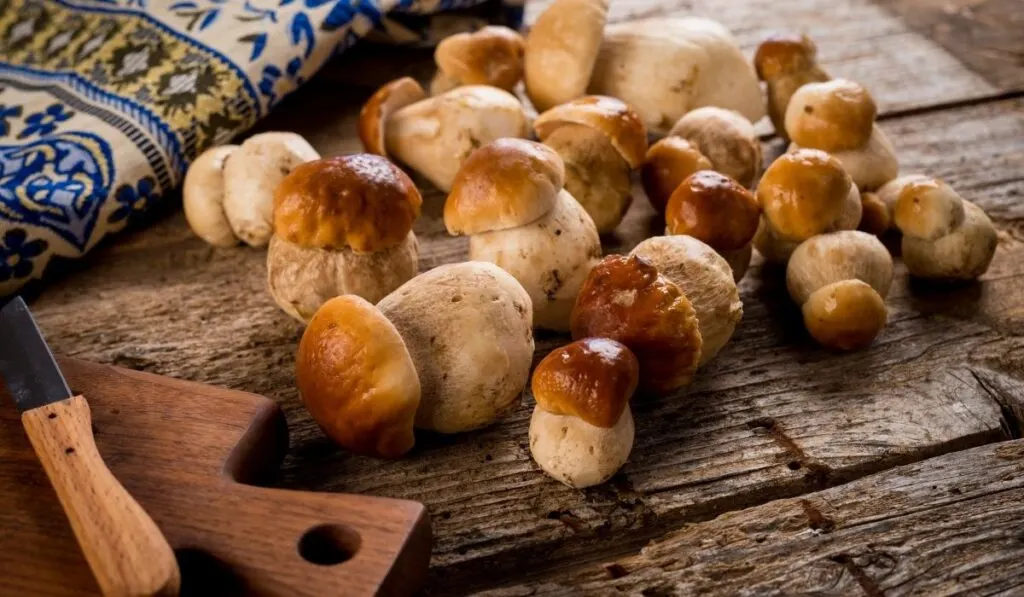 Porcini Mushrooms
Porcini mushrooms, also known as cep or bolete, are popular in Italian cuisines. They are slightly reddish-brown and are one of the more highly prized wild mushrooms.
Porcini mushrooms have a smooth texture with a creamy, aromatic, and nutty flavor. Some people even think they taste like sourdough bread.
You can get porcini mushrooms fresh or canned. However, the fresh ones are hard to come by in the United States. So, you may have to settle dried porcinis, which you will reconstitute in hot water.
Enoki Mushrooms
Enoki mushrooms, also known as winter mushrooms and enokitake, are native to Asian cuisine. They appear as a cluster of tiny white mushrooms with long stems and shiny white caps.
It is pretty easy to come by enoki mushrooms in supermarkets. But if you want to check in the wild, you will find them on ash trees, persimmon trees, Chinese huckleberry trees, and mulberry trees.
Black Trumpet Mushrooms
You may also call black trumpet mushrooms the horn of plenty or black chanterelle. These mushrooms have wavy edges, and while they do not look appealing, their flavor is quite pleasing.
Black trumpet mushrooms have a rich, smoky flavor when dry. They even imitate the flavor of black truffle mushrooms when dry.
Black trumpet mushrooms are pretty safe for beginners since they do not have poisonous lookalikes. However, they are not so easy to find.
You'd find black trumpet mushrooms in the east and the midwest US around late summer. But in the west, you may find them in winter.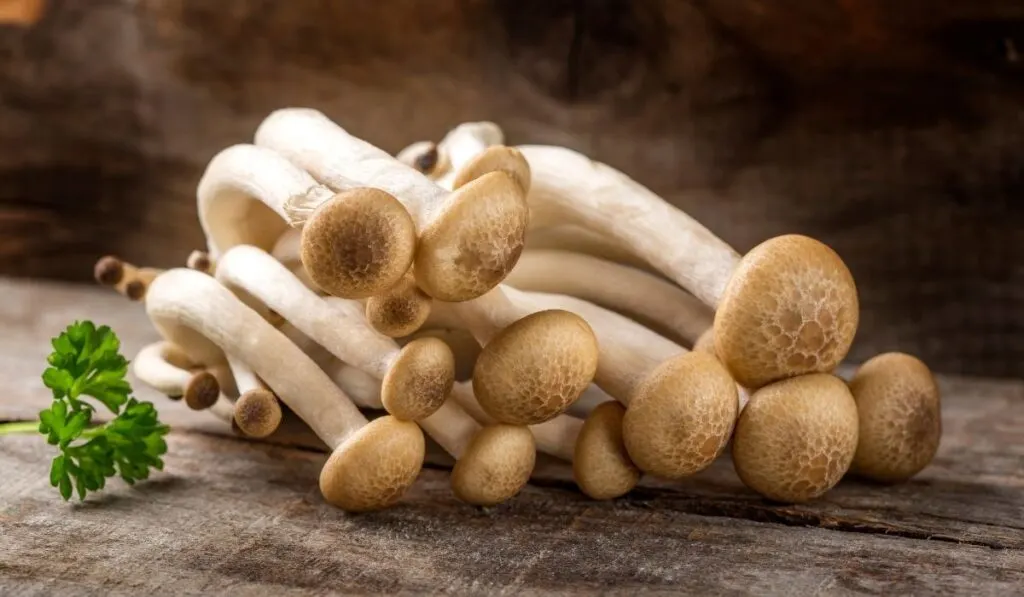 Beech Mushrooms
Beech mushrooms, also known as shimeji mushrooms, are a type of mushroom native to East Asia. You may also find them in Northern Europe.
Beech mushrooms come as a cluster of mushrooms with brown caps.
Beech mushrooms bring some crunchiness and umami flavor to meals. When cooked, they have a sweet, nutty flavor. However, they are bitter when raw. So, for the best experience, cook them.
You can add beech mushrooms to seafood, game, or stir-fries.
Hedgehog Mushrooms
The gill-like structures underneath the cap of hedgehog mushrooms earned them their name. The said structure project downwards like spikes, making them look like a hedgehog.
Hedgehog mushrooms are a safe option for beginners since there are no poisonous lookalikes. They have a sweet, nutty flavor and taste. This is why people also call them sweet tooth.
Hedgehog mushrooms have a crunchy and meaty texture. Their overall flavor profile is similar to that of chanterelle mushrooms. You can pickle, sautee, or simmer them in stock or milk.
Giant Puffball Mushrooms
Their name describes them perfectly; giant puffball mushrooms are large-sized and puffy. They can grow as heavy as 44 pounds but are typically harvested when small.
Giant puffball mushrooms are white when fresh. But as they become stale, they may turn brown or yellow. When they change color from white, they have started growing spores. So, if you eat them, you may have a stomach upset.
Some immature poisonous mushrooms look somewhat like giant puffball mushrooms. So, you may have to cut them open to verify if they are giant puffballs or not.
However, the interior of the poisonous lookalikes shows the silhouette of a cap-type mushroom or is yellowish.
Resources