*This post may have affiliate links, which means I may receive commissions if you choose to purchase through links I provide (at no extra cost to you). As an Amazon Associate I earn from qualifying purchases. Please read my disclaimer for additional details.
Cheese sandwiches are often the first meal kids learn to prepare themselves and something they never forget. However, some people limit themselves to specific types of cheese for their sandwiches and ultimately miss out on other tasty cheese recipes.
Therefore, you should consider diversifying your cheeses to sample the various cheese flavors in sandwich form.
In this article, I have prepared a list of some of the top cheeses that are best for the perfect delicious sandwich.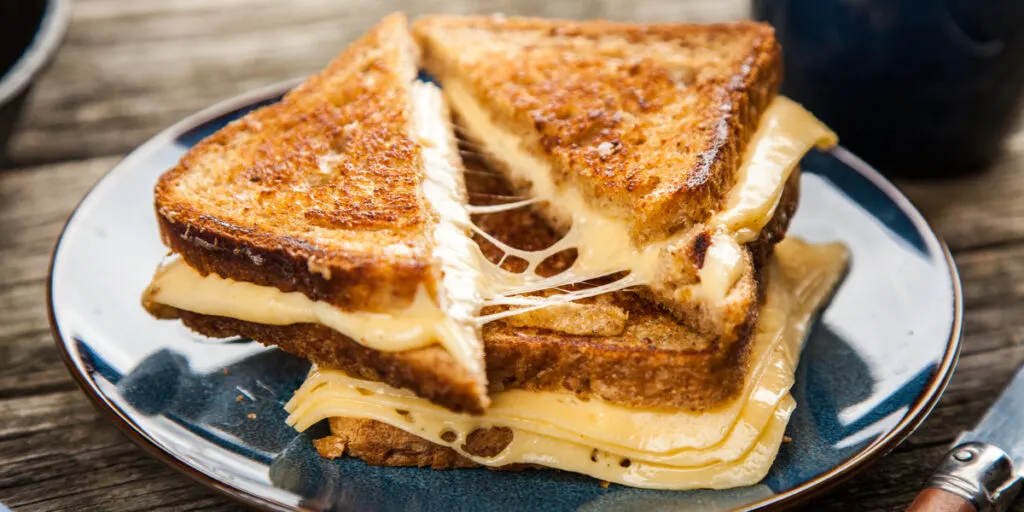 Tips for a Perfect Cheese Sandwich
Before focusing on the types of cheese in this list, you should know how to make a perfectly golden, crispy crust sandwich with molten insides. What are the basics?
Mayonnaise and butter – Evenly spread mayonnaise on the outer surface of each slice of bread, then cook it at low heat in butter until it assumes the familiar golden brown, crisp texture.
Shredded cheese – Thinner slices or shredded cheese slices often melt faster than slabs or chunks. However, it is advisable to purchase a block of cheese and then shred it yourself because many times, bags of shredded cheese have additives that aid in keeping the shredded cheese pieces separate but may affect their melting process.
The bread – Sturdier slices of bread are better for more complex grilled cheese sandwiches. Therefore, go for white bread slices with light and fluffy interiors but with a more crusty loaf to have a crunchier outer surface.
Low heat – Lower heating temperatures are often preferred for cheese sandwiches for a uniform cheese melting and browning of the exterior at the same rate.
Type of pan – Pans that conduct heat evenly like a cast-iron skillet or non-stick saute pans are best for perfectly toasting bread while simultaneously melting the cheese.
Maximize with steam – Once you have your sandwich in the pan ready for cooking, you will want to aim for uniform browning and melting. Unmonitored temperature can lead to uneven cooking vs. melting of the cheese. However, adding a few drops of water creates steam that can be trapped within the cooking space of the sandwich and can thereby help in uniform heat distribution and uniformly melting the cheese. Once molten, remember to give the outer surface the chance to crisp up once again without the lid.
Experiment with more ingredients – If you want the ultimate cheese sandwich, pair the melty cheese with something sweet and flavorful like tapenade, spread, or jam, whatever works best for your palette. You can also try blending two or more cheese types in one sandwich for a varied taste.
15 Types of Cheese for Amazing Sandwiches
Now that you have the tips for making a perfect cheese sandwich, which is the perfect cheese for a perfect sandwich? Let's have a look.
1. Cheddar Cheese
Cheddar cheese is one of the most common cheeses used in sandwiches and is available in various forms.
Therefore, you should grate, mix or blend the sharp and crumbly cheddar cheeses before cooking.
Taste-wise, mild and medium cheddar cheese offer a mild flavor, while the sharp cheese has a sharper flavor and isn't too melty, necessitating grating or slicing into smaller pieces.
Add chopped pimento peppers for a pimento and cheddar sandwich if you want to spice it up. You can also throw in slices of crisp bacon and tomatoes. Also, add pickles either on the side or in the sandwich to compliment the rich buttery taste.
2. Gouda Cheese
Gouda is a Dutch cheese natively pronounced as "how-da." It's a cow-milk cheese with a supple texture that flows when heated. It also has a mild, milky, nutty, caramel flavor, although aged Gouda cheese has a stronger, saltier flavor with a crystalline texture like Parmesan.
However, aged Gouda cheese doesn't melt as well compared to young, medium-aged, or smoked Gouda.
Therefore, you will want to avoid aged Goudas because they tend to be more firm unless you want to blend them with a younger and softer cheese for a balance in flavor and texture.
While it melts well on its own, Gouda also brings its great taste when mixed with other cheeses. You can also enhance your sandwich's taste by adding roasted red peppers, sliced ham, or roasted mushrooms.
3. Manchego Cheese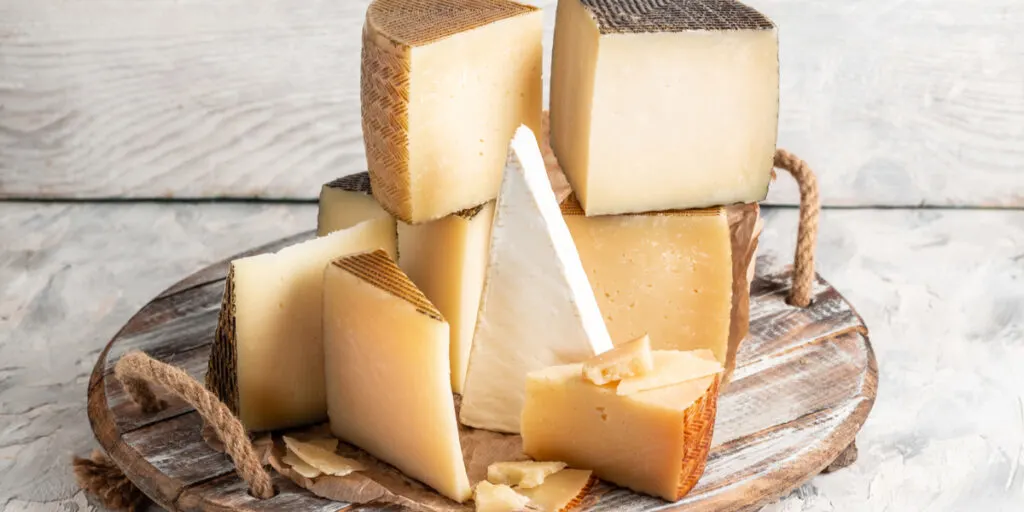 Manchego cheese is a Spanish cheese made from the Manchega sheep's milk. Although it might have a sharp and salty flavor, it melts perfectly without getting gooey. It is renowned for its sweet taste and is often the best cheese variety to go for if you are after a sweet sandwich.
Manchego cheese is well complemented by other additives, including onions, tomatoes, olive tapenade, ham, chorizo, spinach, quince paste, and mushrooms for sandwich fillings.
4. Blue Cheese
Blue cheese is also good for making sandwiches. Unlike the stretchy, melty cheese characteristics found in other cheese, blue cheese looks more like butter since it assumes a crumbly and open texture and doesn't melt when heated but instead melts on the tongue. Blue cheese also has a sharp, tangy, and salty flavor.
To use it for sandwiches, you need a spreadable blue cheese variety, or you can alternatively hold down a crumbled cheese on the first slice, then press a second slice on the cheese to keep it intact, then repeat the process once you flip it over.
Blue cheese also pairs well with other cheese types, such as grated cheddar cheese, which helps hold the sandwich intact while creating a gooey texture. You can also add apple slices, crisp bacon pieces, or fig jam to enhance the taste.
5. Mozzarella Cheese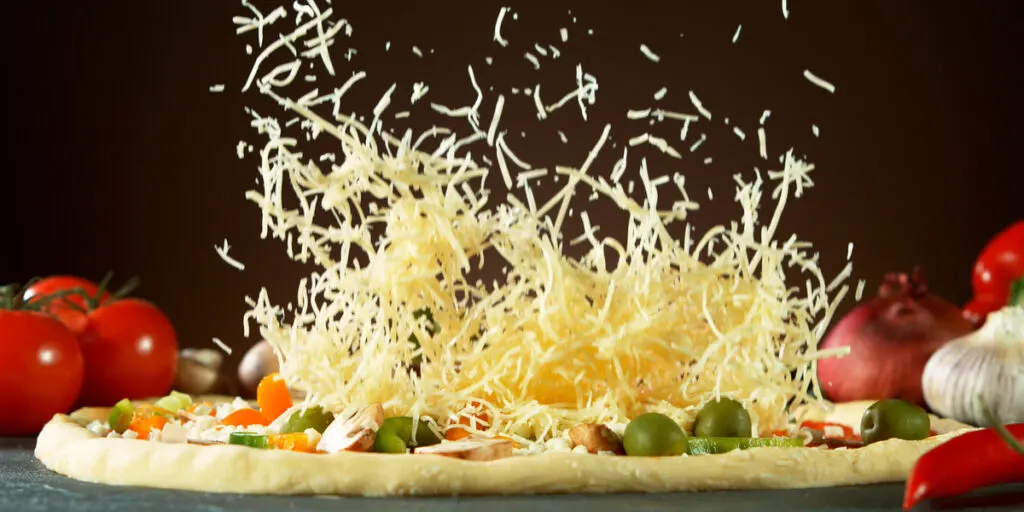 Mozzarella cheese is suitable for any cheese sandwich. Fresh mozzarella cheese has a soft, buttery texture with elevated water content, thereby becoming runny instead of gooey as the cheese melts.
However, regular mozzarella cheese has low moisture, and is quite dry, with a rubbery texture that melts better when exposed to heat.
Mozzarella cheese is complemented by and pairs well with fresh basil, tomato slices, and balsamic glaze.
6. American Cheese
American cheese is arguably a staple for cheese sandwiches. American cheese is perfect for any sandwich with a superior melting ability and a gooey texture. It has a mild flavor that complements any sandwich and is pre-packaged in slice portions for easy layering on any sandwich.
Cheese sandwiches with American cheese are best served on their own with a separate bowl of tomato soup or ketchup for dipping. You can also blend it with the Monterey Jack cheese or Cheddar cheese for more flavor.
7. Brie Cheese
Brie is a bloomy rind cheese that is just as luscious when melted as it is at normal temperature. Therefore, if you wish to use some for your sandwich, you will have to go for the firmer, younger varieties, which are firm enough for slicing.
Brie cheese and other bloomy rind cheeses like Camembert are very versatile, especially with bread slices. They also blend well with seasonal fresh fruit like peaches, chopped blackberries, pears, and plums, not to mention fruit preserves, tomatoes, fig jam, roasted mushrooms, charcuterie, and honey.
8. Monterey Jack Cheese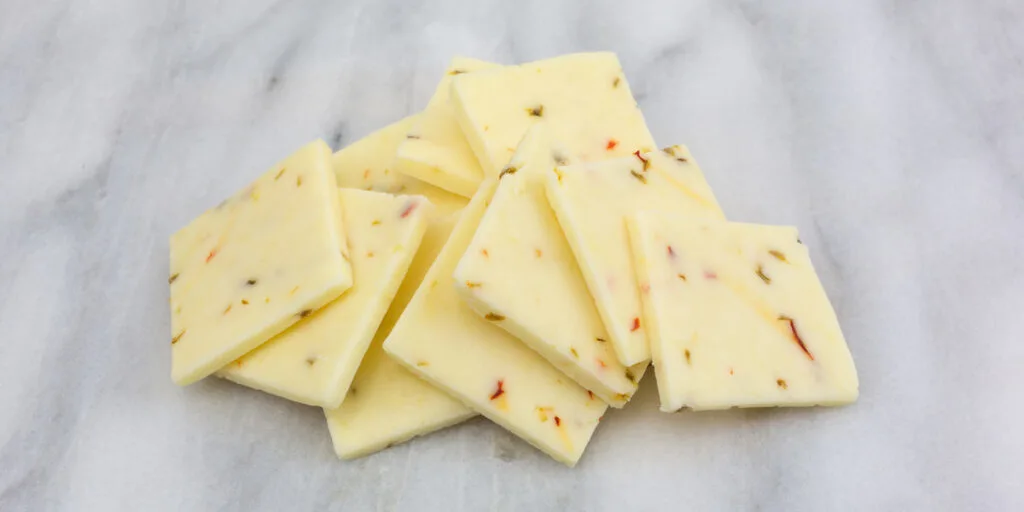 Monterey Jack cheese is a white cow milk cheese with a mild, buttery flavor and is hard in texture but melts well. It is often gooey and with a great cheese pull when stretched in half.
Monterey Jack cheese blends well with American cheese or Cheddar cheese to assume a great flavor and texture. It also goes well with pulled pork, buffalo chicken, and chopped kimchi for sandwich toppings and is complemented by pickled jalapenos for a spicy taste.
9. Pepper Jack Cheese
Pepper Jack cheese is primarily a Monterey Jack cheese with red pepper added. It has the profile of a creamy texture and buttery taste, just like the Monterey Jack, but is laced with a hot spice giving it a great flavor combination.
Pepper Jack cheese often blends well with grilled onions and peppers, pulled pork, crisp bacon slices, leftover chicken tinga, roasted corn, or braised meat.
10. Raclette Cheese
Raclette cheese is a Swiss cheese versatile enough to be melted over a wide range of foods, including crispy potatoes, crusty bread, or any other food, and works just fine when used for cheese sandwiches.
You can complement the rich taste of this washed-rind Alpine cheese with a swipe of whole-grain mustards and sliced cornichons.
11. Havarti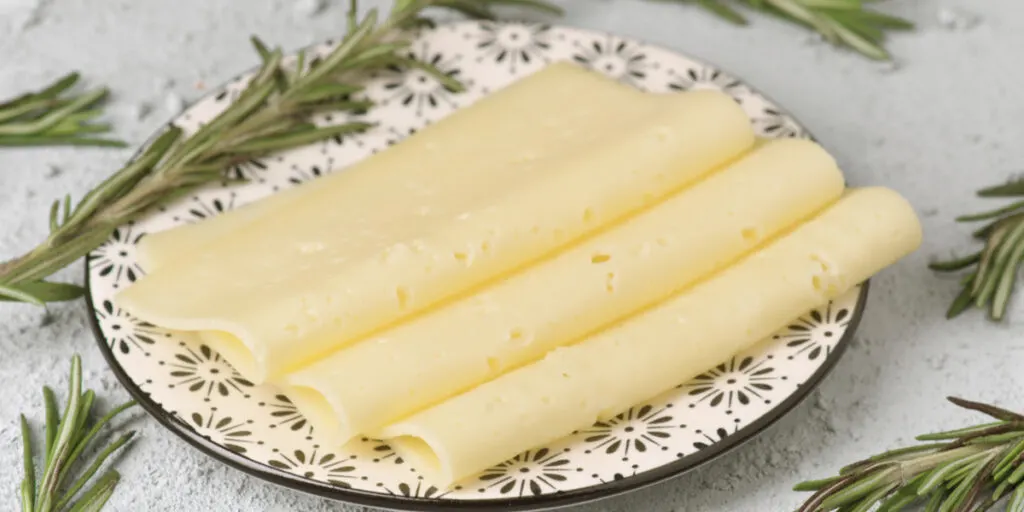 Havarti is a Danish cow milk cheese with a subtle flavor, fairly close to that of mild cheddar or provolone. It also has a semi-soft texture that shreds well and is versatile. It is one of the best varieties for cheese sandwiches.
Havarti cheese sandwich is well complemented by some sautéed and chopped broccoli rabe, artichoke hearts, or sautéed spinach.
12. Gruyere
Native to Switzerland, Gruyere is a hard cheese that boasts a nutty, sweet, and warm flavor. It is best used for cheese sandwiches because of its unique flavor and high water to oil ratio, which makes it melt well.
However, if Gruyere is unavailable, it can be substituted with other Swiss cheese such as Emmental in whichever recipe.
On the other hand, Gruyere can be blended with a softer cheese type like Cheddar to give it a softer texture. Gruyere's nutty flavor also lets it pair well with freshly chopped herbs, shaved meats like ham, pepper jelly, slices of tart apple, peppery arugula, and caramelized onions.
13. Taleggio Cheese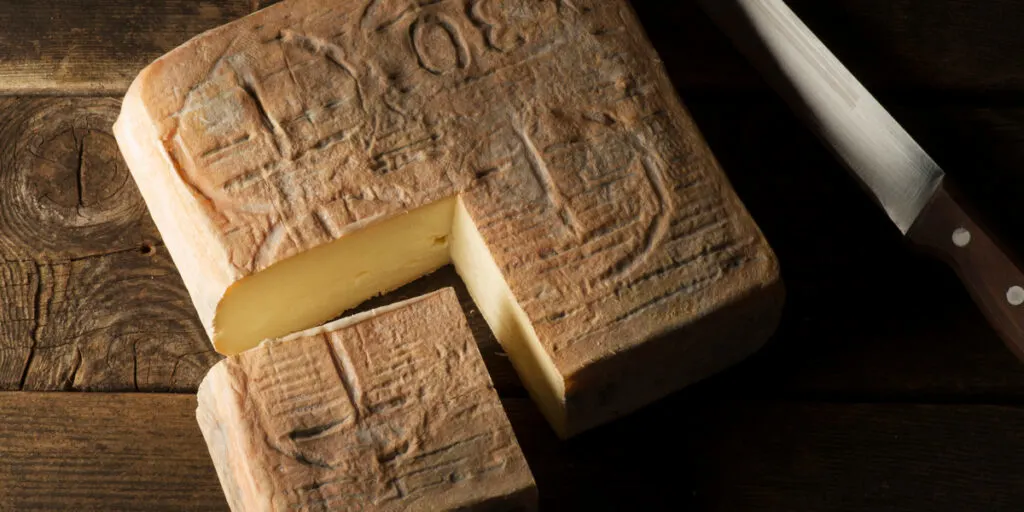 Taleggio cheese is another one on the list suitable for cheese sandwiches. Taleggio cheese has a balanced moisture to fat ratio profile, meaning it melts easily.
Taleggio also boasts an array of pungent aromas with a rich buttery flavor, making it the ideal foundation for any sandwich. It can also help you find the ultimate balance in flavor and texture while preparing a cheese sandwich.
When using taleggio cheese, go for the firm cheese that is hard enough to be sliced into thin pieces for layering. Once layered, they are complemented by apricot jam, slices of prosciutto, juicy ripe tomato, and pickled asparagus spears.
14. Provolone
Provolone is an Italian cheese with a mild taste and a smooth, creamy, and semi-hard texture. It has a taste similar to Fontina, and you can use both interchangeably in case of need for substitution. Its gooey consistency is also good for a melty and stringy sandwich.
Provolone sandwiches are best accompanied by tomato slices and a spoonful of homemade pesto, basil, or chopped oregano for a garlic-bread-inspired sandwich.
15. Fontina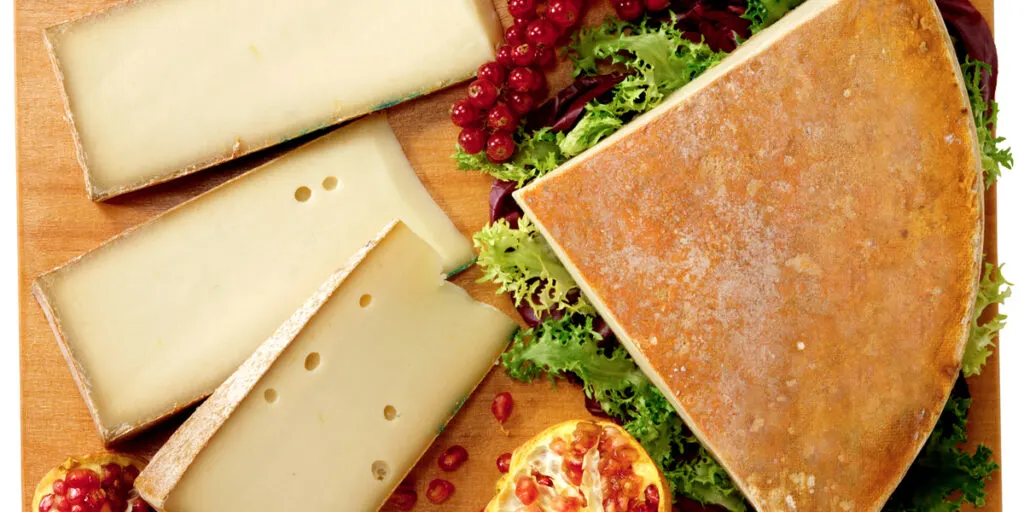 This is also an Italian cheese made of cow's milk. It is quite soft and melts well, perfect for a gooey and stringy cheese pull at the table. Alternatively, Gouda and provolone cheeses can be used in place of fontina cheese.
Fontina cheese is best complemented by arugula, sautéed mushrooms, and truffle oil. Either honey or hot honey seals the taste of this cheese.
Conclusion
The above list is just a shortlist of the common cheese types best for great sandwich recipes, but hundreds of cheese types are available and suitable for sandwiches.
I hope this article guides you to exploring new cheeses for your sandwiches, and I hope you find the one proper mouth-watering cheese sandwich combination as you explore.
Resources