*This post may have affiliate links, which means I may receive commissions if you choose to purchase through links I provide (at no extra cost to you). As an Amazon Associate I earn from qualifying purchases. Please read my disclaimer for additional details.
If you're looking to improve your diet and cut back on sugar, sausages may not be the first culprit you look at. However, many commercial sausages contain sugar in surprisingly high quantities.
There are quite a few sugar-free sausages available, including Aidells Chicken and Apple, Bilinski's (many flavors), US Wellness Pork Sausage, Teton Waters Beef Hot Links and Uncured Beef Polish Sausage, and 365 Whole Foods Brand Sausage.
Let's find out more about which brands and which flavors are appropriate for someone on a low-sugar diet to eat.
1. Tillamook Country Smoker
This brand's Original Smoked Sausages are totally sugar-free, which makes them ideal for someone on a low sugar or keto diet. They are also free from nitrates and nitrites, and they have a fabulously smoky flavor.
However, they are quite a pricey sausage; you will pay more than for most other sausages. Many people enjoy them enough to find the price acceptable, but make sure you like them before you buy a lot of them.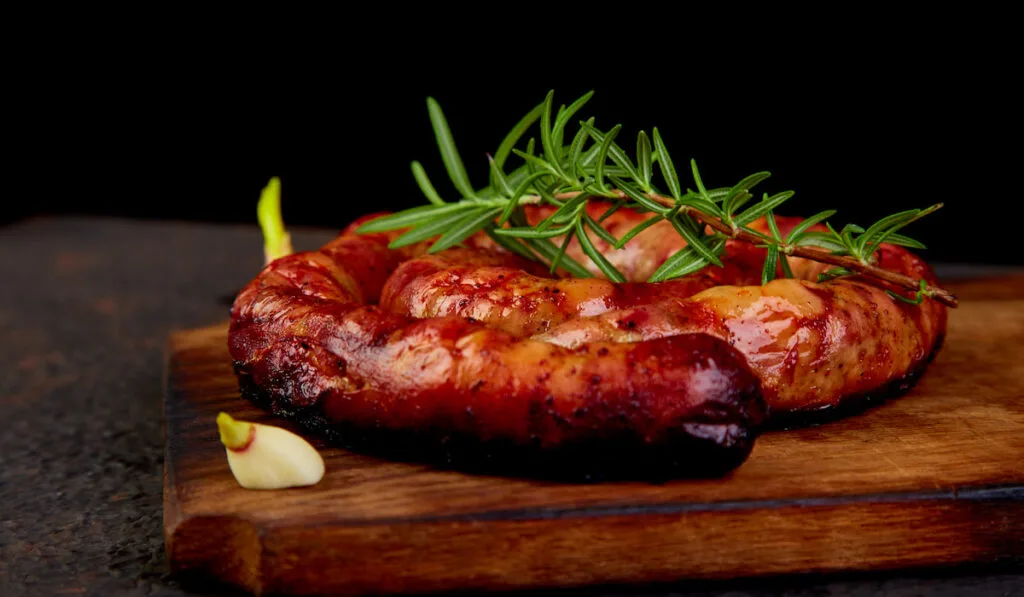 2. Duke's Hatch Shorty Sausage
The Green Chile Smoked Shorty Sausages are also sugar-free, and ultra-lean. They are made from pork, and they have a nice kick to them without being so spicy that they are unpleasant. Don't be put off by the chile; they are still a great sausage.
They are again an expensive choice, but if you're looking for sugar-free and very tasty sausages, they are a great option.
3. US Wellness Pork Sausage
This Pork Breakfast Sausage is another great sugar-free option, made by a brand called US Wellness. If you want to start your morning off well, these are a perfect breakfast option.
They are also gluten-free, nitrite and nitrate-free, antibiotic-free, hormone-free, and MSG-free, so you're getting much healthier meat with few additives or chemicals. When you're trying to improve your diet, these make for an excellent start.
They come in one-pound bags, so you can make patties, sausages, stir fry, or gravy with them.
4. Pederon's Natural Farms
This company makes a Whole30 Approved Kielbasa Sausage which is perfect for a sugar-free diet. The Whole30 diet (which the sausage takes its name from) is designed to help followers eliminate sugar, and this sausage complies with that diet.
It tastes great, and has very few ingredients, making it a "clean" option for those who want to simplify.
The company also makes a few other sausages that are free from sugar, so they are a great go-to brand if you're trying to reduce your sugar.
Look out for:
Spicy Ground Breakfast Sausage
Mild Breakfast Sausage Links
Beef Hot Dogs
Spicy Breakfast Sausage Patties
Ground Chorizo
Mild Breakfast Sausage Patties
Spicy Sausage Links
All of these should come under the title sugar-free sausages, which may help you to broaden your range of sausages and find something suitable for any occasion. Stick to their mild sausages if you prefer no spice, or try the spicy options for a bit of extra heat.
These sausages tend to be sold in Whole Foods, or you can try the Simple Grocer and Super Target.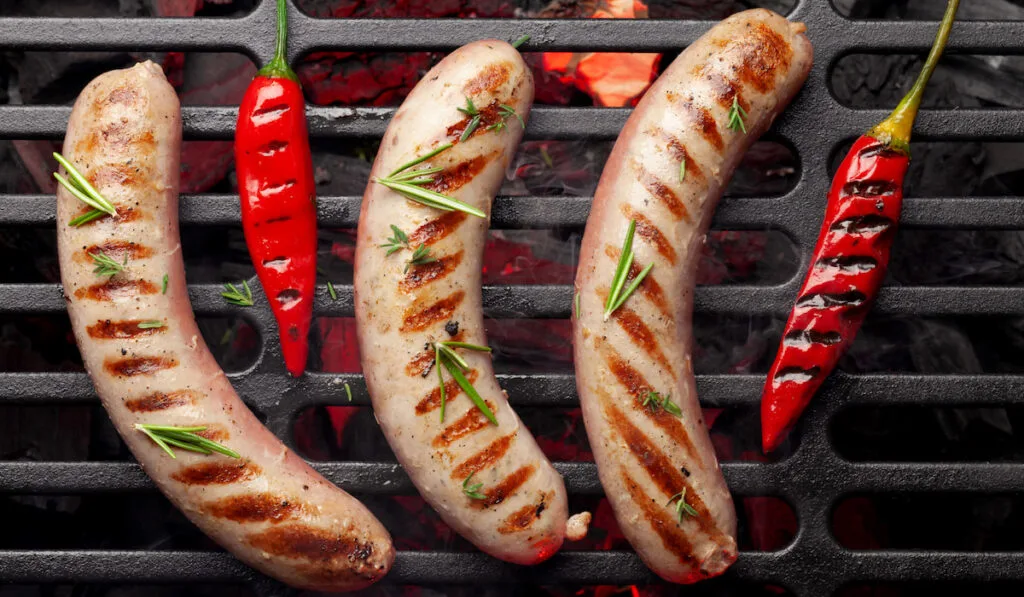 5. Applegate Naturals
If you're looking for an ultra-simple breakfast sausage that contains no sugar, the Applegate Naturals No Sugar Original Pork Breakfast Sausage may be a great option. It is also Whole30 approved, and it's gluten-free too, so it's very healthy.
Free from antibiotics and with few ingredients (just pork, water, and some seasoning), it's great for a really simple, straightforward meal. Enjoy it at breakfast or any other time of the day and feel reassured that you aren't consuming a heap of sugar.
If that one doesn't suit you, Applegate also sells some other sugar-free options that you might enjoy. These include:
Organic Sweet Italian Chicken Sausage
Organic Chicken And Apple Sausage
Organic Chicken Hot Dog
Organic Fire Roasted Red Pepper Chicken Sausage
Stadium Beef; Pork Hot Dog
Turkey Hot Dog
Organic Uncured Beef Hot Dog
This company is a great option for sugar-free sausages, so check out all their offerings until you find one that you like. Super Target and Whole Foods often stock this brand.
6. 365 Whole Foods Brand Sausage
You can buy either the Mild Italian Chicken Sausage or the Mild Italian Pork Sausage from this brand and enjoy sugar-free meat. These sausages are available in Whole Foods, and they are a great, simple option for the times when you just want a plain Italian sausage with minimal flavorings.
That said, they are not boring and they have plenty of seasoning in them. Try them in recipes as a good swap for normal Italian sausage that contains sugar.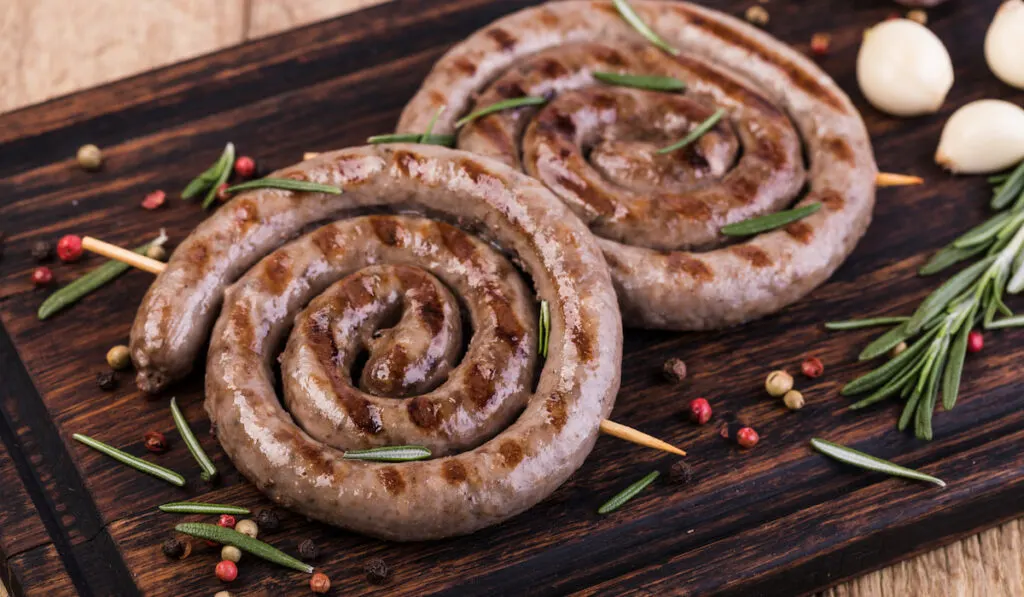 7. Bilinski's Sausages
Bilinski's offers a huge range of flavored sausages that are free from sugar, including:
Cilantro Lime Organic Chicken Sausage
Cajun with Cayenne Pepper, Herbs and Spices; Chicken Sausage
Wild Mushroom Organic Chicken Sausage
Spicy Mango Cajun Organic Chicken Sausage
Mild Italian Organic Chicken Sausage
Sun Dried Tomato with Basil and Garlic Chicken Sausage
Italian with Bell Peppers, Onions Chicken Sausage
Spinach with Greens Organic Chicken Sausage
Spinach, Garlic with Fennel chicken Sausage
If you enjoy chicken sausages, this is a fantastic brand to try, because they have so many sugar-free options, all packed with flavor.
8. Aidells Chicken Apple and Artichoke Garlic
You can get both full-size and mini sugar-free sausages from Aidells, but make sure you choose the Chicken Apple, or the Artichoke Garlic flavors, as others are not sugar-free. Both of these are full of seasoning and contain no added sugar.
9. Teton Waters Ranch
In this range, you have a few choices, including:
Uncured Beef Junior Franks Sausage
Uncured Beef Frankfurter Sausage
Uncured Beef Polish Sausage
Uncured Beef Andouille Sausage
Try any of these for a great, sugar-free beef sausage – plain and simple!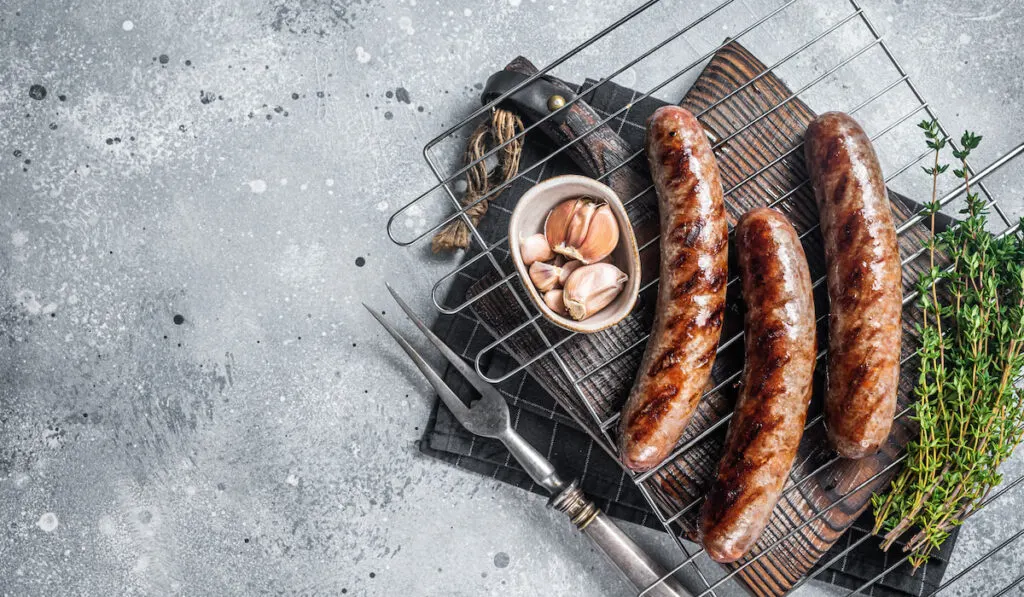 Conclusion
Sugar-free sausages are hard to find, but they are out there. Make sure you always read the ingredients before purchasing as manufacturers do update their lists and some options may change over time.
Resources