*This post may have affiliate links, which means I may receive commissions if you choose to purchase through links I provide (at no extra cost to you). As an Amazon Associate I earn from qualifying purchases. Please read my disclaimer for additional details.
According to The Huffington Post, you need to avoid clutter as it causes stress, anxiety, and other health issues.
But what exactly is clutter?
Often, we associate clutter with a hoarder's mess, such as overflowing closets, messy countertops, and unsightly floors.
The truth is clutter can take many forms. For example, the harmless accumulation of empty or unused items in your bathroom like medications, toiletries, makeup, skincare, and cleaning products.
However, by following these seven tips, you can start your decluttering journey easily and even be able to maintain a clean, organized bathroom for a longer time.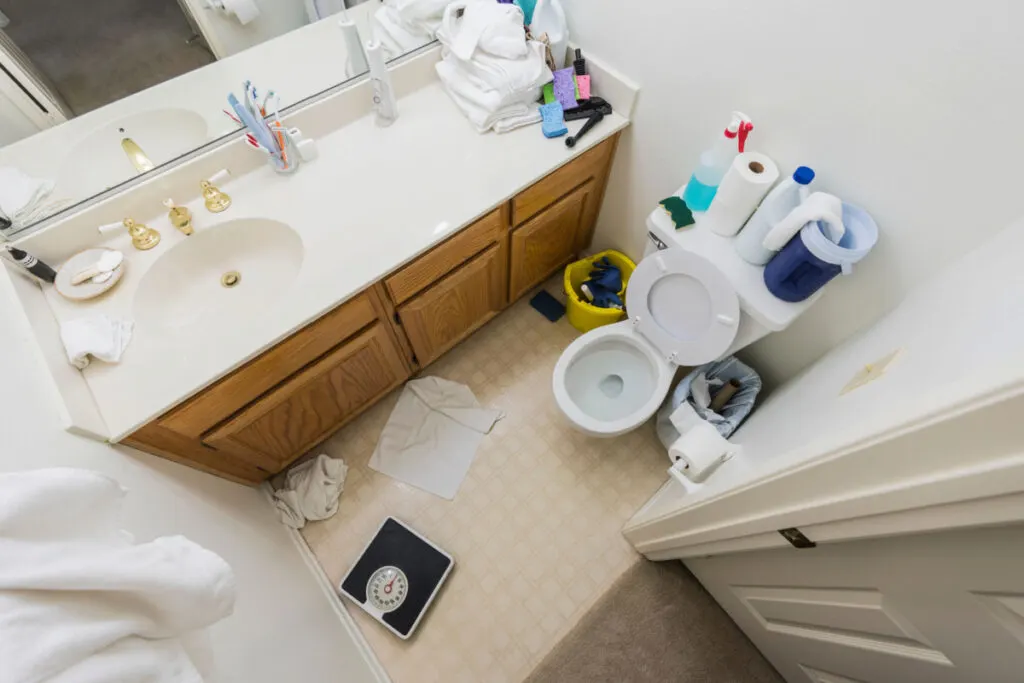 1. Getting Started: Plan and Prepare
Marie Kondo, in her Netflix show, "Tidying Up," states that before you declutter your items, hold the item and ask yourself if it brings joy to your life.
While that may be true for clothes, furniture, and appliances, when it comes to your bathroom, you need a different approach entirely.
Why?
Because some items in your bathroom may spark joy, like a sweet-smelling body scrub, but you cannot use them if they expire or run out.
Ensure you prioritize the areas that need the most attention—the messiest or those you use a lot—as this will help you stay focused and motivated.
Then get the supplies you need, like:
Cleaning supplies like an all-purpose cleaner, glass cleaner, and disinfectant wipes
Scrub brush
Microfiber cloths
Rubber gloves
Trash bags
Organizers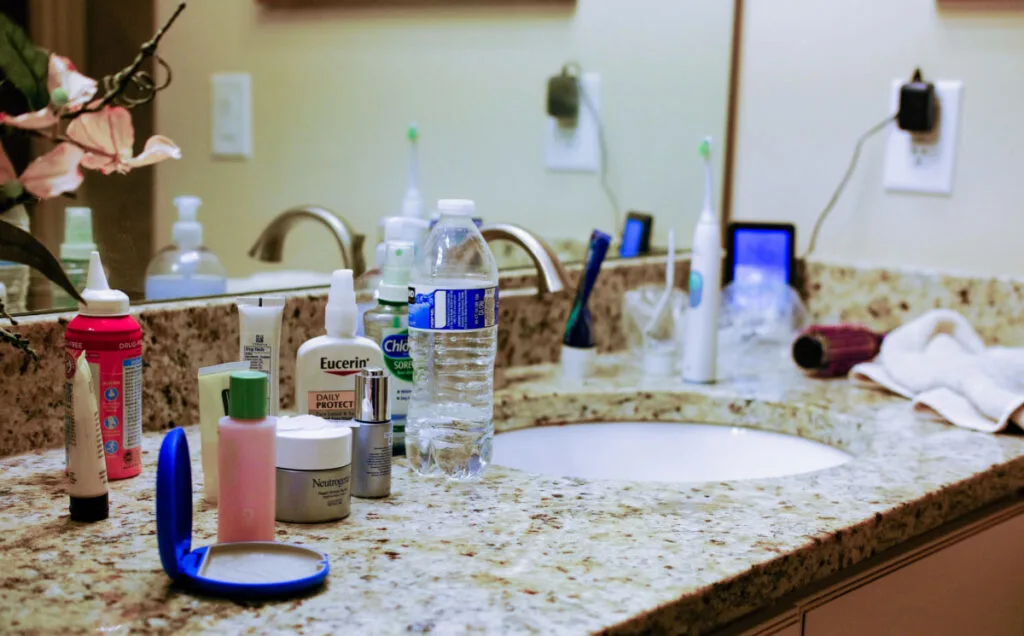 2. Managing Counter Space
The counter space is one of the most overused areas in a bathroom. This is where most people keep all their beauty and sanitary products.
And if you lack in the organizing department, the mess could get out of hand.
During decluttering, this is the first space you should tackle after creating a plan because you will be using this space a lot when cleaning the medicine cabinets, linen closets, drawers, and cabinets.
This is the perfect space to place all the items as you sort them one by one into those you intend to keep, donate, or trash.
Before you start decluttering other areas, ensure you have cleared out the counter space and given it a good scrub down to get rid of dust and stubborn stains.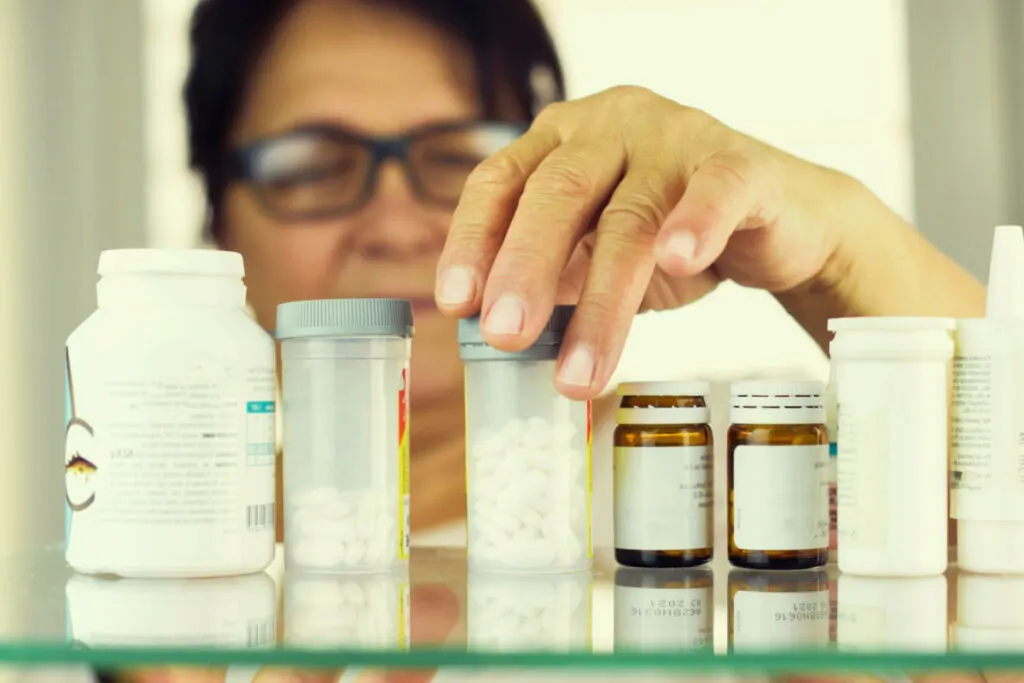 3. Clearing the Medicine Cabinet
The medicine cabinet is one of those problematic areas, especially if your household uses a lot of medications.
Therefore, you need to take out all the items in the medicine cabinet and place them on the bathroom counters.
Then give your medicine cabinet a good wipe down before you start sorting.
Yes, that bottle of cough syrup from 2020 needs to go. Or those expired painkillers, as they may end up causing more harm than good if you consume them by mistake.
However, do not just dispose of expired medications by tossing them in the trash.
Follow the guidelines set by your local pharmacy or health authority while disposing of medication to protect yourself, others, and the environment.
Next, wipe down any medication you intend to keep as you place it on the countertop.
Also, discard or donate all the beauty products you never use, irritate your skin, or whose smell you do not like.
Finally, get some organizers and neatly arrange the items you want to keep before putting them in the medicine cabinet.
Organizing your medicine cabinet will help you keep everything in its place and make it easier to find what you need.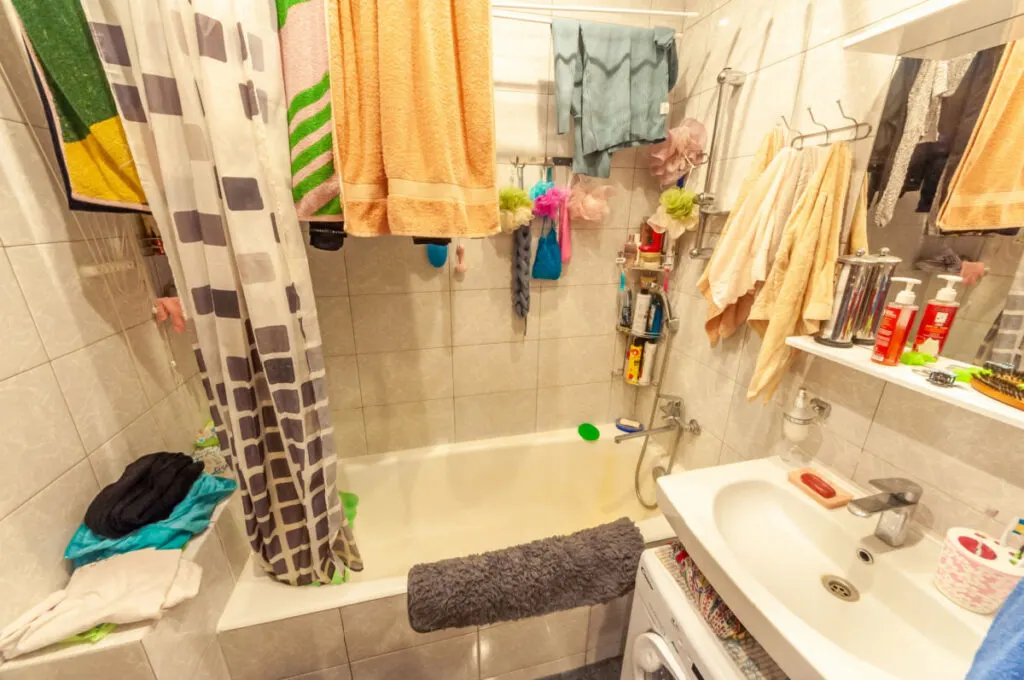 4. Conquering the Shower and Tub
The shower and tub are breeding grounds for clutter as this is where we place shower gels, conditioner, or loofahs—old and new.
But if you want an organized clutter-free bathroom, one study recommends regularly cleaning your loofah by diluting 10% bleach with water to reduce the risk of bacterial contamination.
Also, Cleveland Clinic recommends getting rid of the loofahs every 3 to 4 weeks.
Then, clear out the caddy or shelves and wipe them down with disinfectant wipes.
Keep the products that you are using at the moment while you discard empty bottles or expired items. Also, organize them in a way that pleases you, maybe by product, brand, size, or color.
Finally, give the shower and tub a good scrub, not forgetting the walls, nooks, and crannies, before rinsing and drying it out.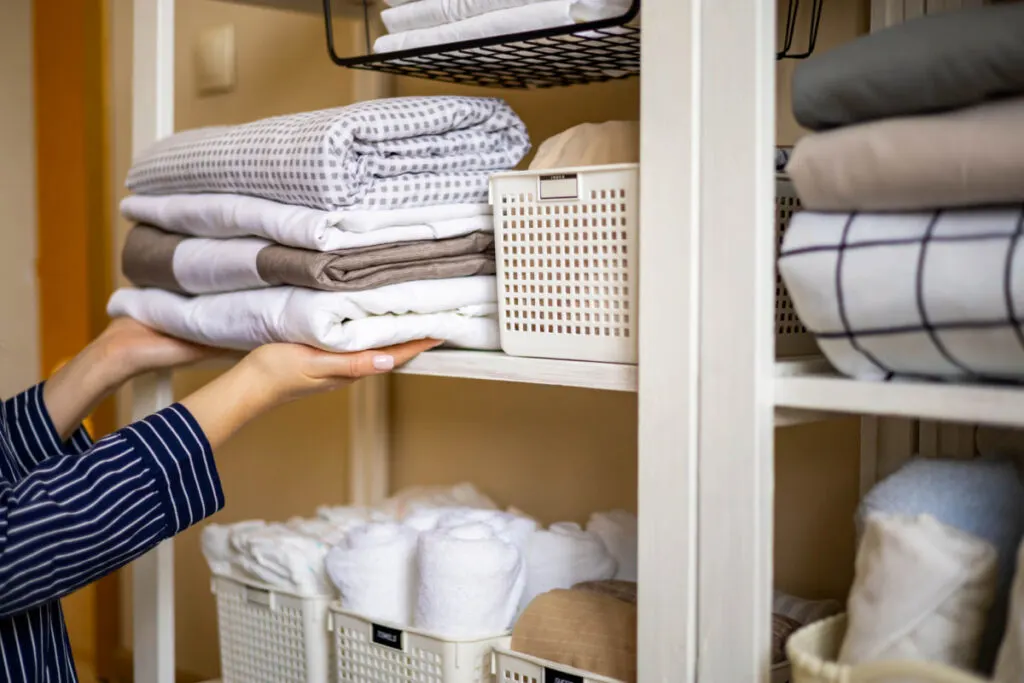 5. Tackle the Drawers, Cabinets, and Linen Closet
Remove all contents/items and place them on the counter.
Use wet wipes or cloth to wipe them down to get rid of dust, dirt, and grime that may have accumulated over time. Then sort the items and group similar items as either keep, donate, or discard.
Get rid of duplicates, and old worn-out items. But if they are still new and usable, create a box for backstock.
This is where you store products that you are yet to use and are still in good condition, i.e. not expired.
Next, use your organizers, baskets, and trays to keep everything in place. And as always, organize the items, towels, and washcloths according to what makes sense to you.
Not only will this make you feel relaxed and at ease while in your bathroom, but it will also make it easy to find what you need when you need it.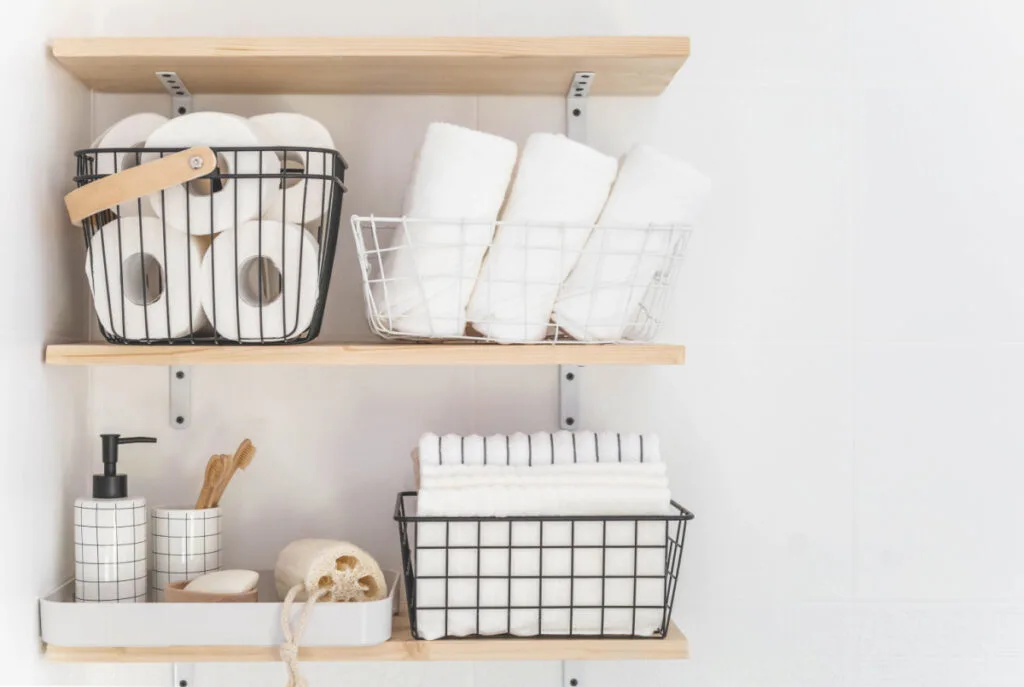 6. Maximizing Storage Space
When you are decluttering, you may realize that you lack enough storage for your items. But you can use wall-mounted shelves and hooks to maximize storage.
This comes in handy, especially if you have a small bathroom, as you can always go up and create more storage space.
Plus, you can add some fancy wall storage, like shelves made from wood, glass, or acrylic, to add some aesthetics that work as storage and decorative items.
Additionally, you can use hooks to hang towels and bathrobes instead of a towel bar.
You can also hang small baskets using hooks and store items like hairbrushes, styling products, and other small toiletries.
Still, you can double your available storage. For instance, we tend to underutilize the space under our bathroom sink because of its awkward shape.
However, you can add small shelving units or storage bins that can help you store items you do not use often or even backstock.
7. Maintenance and Ongoing Decluttering
When you have decluttered your bathroom, it doesn't stop there. You still need to maintain a clutter-free bathroom which may be harder than you think.
But if you make cleaning and decluttering a daily or regular habit, with time, you will find that maintaining a tidy bathroom comes naturally.
For example, the table below shows a daily cleaning checklist that you can use to keep your bathrooms tidy.
| | |
| --- | --- |
| Daily Cleaning Tasks | Description |
| Wipe down surfaces | Use a disinfectant cleaner or wipes to clean the sink, counter, and toilet surfaces. |
| Clean the toilet bowl | Use a toilet bowl cleaner and brush to clean the inside of the bowl. |
| Sweep or vacuum the floor | Use a broom or vacuum to remove dust or debris from the bathroom floor. |
| Empty the trash | Dispose of any used tissues, empty product containers, and other trash. |
| Put away toiletries | Return all toiletries to their proper storage location, such as a drawer or medicine cabinet. |
| Check for expired items | Regularly check for expired toiletries, medications, and other items and dispose of them properly. |
Remember, it's the small steps that lead to big results when it comes to decluttering and maintaining a clean bathroom.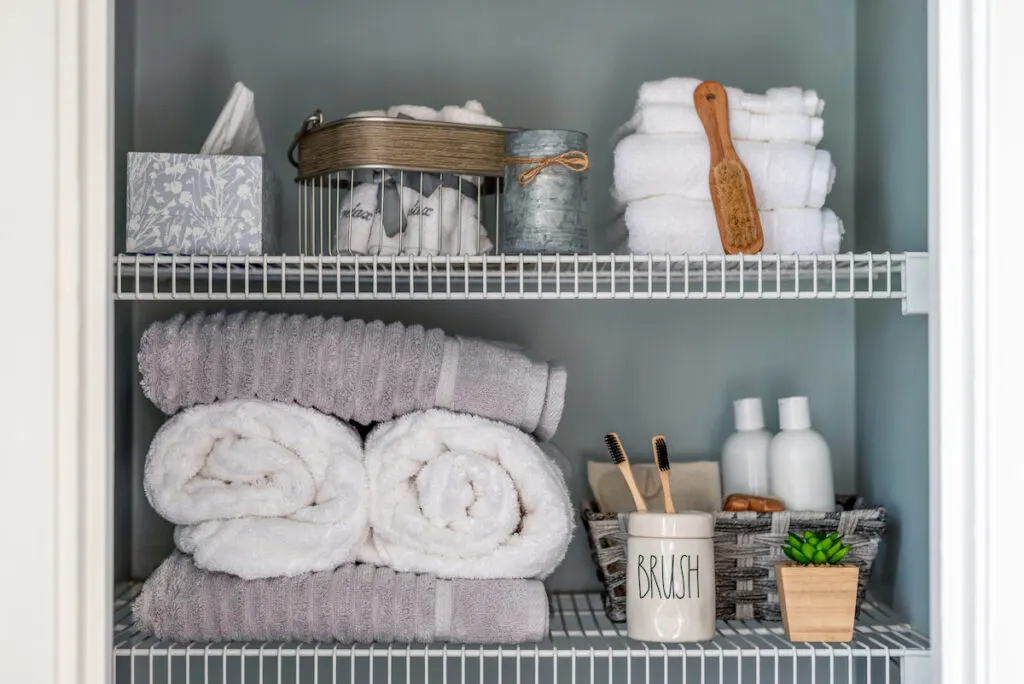 Conclusion
Decluttering your bathroom may seem like a difficult task at first. But once you start with a specific area, getting rid of stuff you no longer use or need becomes easier.
However, do not attempt to do all of it at once, especially if you're new to decluttering.
Start small, tackle one area at a time, and always return a product to its proper location. Not on the bathroom sink or counter space but where you have organized it neatly.
Because with a little effort and some strategic decluttering, you can transform your bathroom into a space that promotes relaxation, cleanliness, and peace of mind.
Resources: