*This post may have affiliate links, which means I may receive commissions if you choose to purchase through links I provide (at no extra cost to you). As an Amazon Associate I earn from qualifying purchases. Please read my disclaimer for additional details.
Growing your own fresh produce at home to feed yourself and your family is becoming more popular among many communities. The homesteading community who live off-grid and are self-sufficient generally only uses products that are organic and cause no harm to the food they grow to eat.
There are many ways to paint and seal the planter boxes you use to grow your own fresh, healthy produce to eat. While some products are safe and do not contain harmful toxins, others are not. Food safe and plant safe containers should always be used for growing fresh produce for your family.
Planter boxes are a great way to grow all sorts of fresh produce, from herbs to vegetables and fruit trees to nutrient-enriched succulents. Knowing how to grow and care for these plants could take some research, but the information is available.
We will discuss the best way to paint or seal a planter box for producing chemical-free, fresh homegrown produce.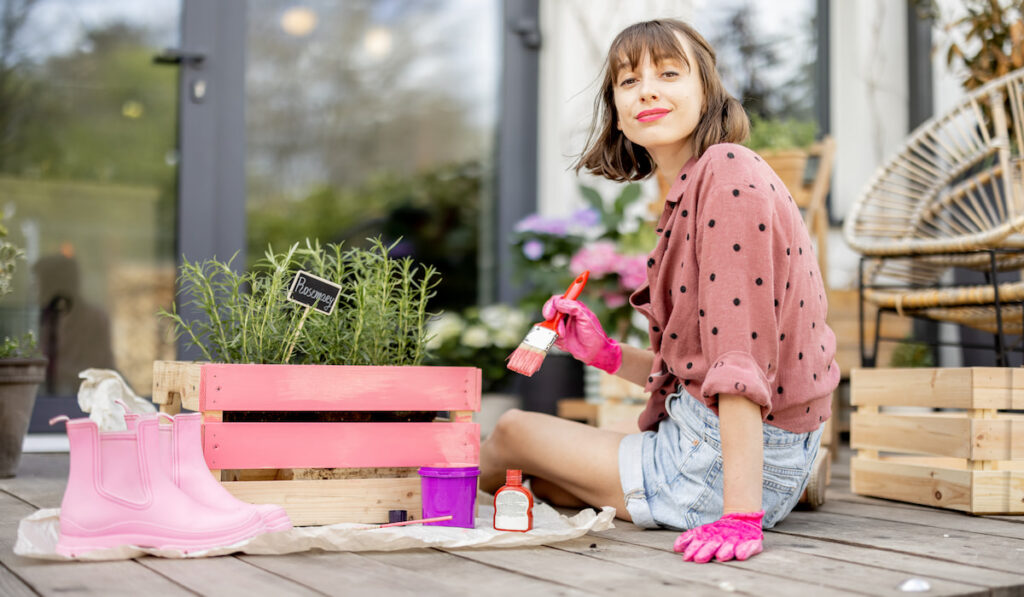 What Is The Difference Between Food Safe And Plant Safe?
Before we start, we should address this critical question as we need to know that the planter box that our food is growing in will produce food safe enough for us to eat and be chemical-free.
Most people would like to know where their food is coming from and what chemicals are going into them. With the trend of growing food at home becoming ever more popular, we see this question arise more frequently.
Some people don't have the space to grow vegetables in the garden, or they don't even have a garden at all. Planter boxes are an option for growing food in areas with limited space, but this is an option even for people with room for a garden.
Fresh produce can be grown in your own backyard in the ground or simple planter boxes on your patio or balcony, but these boxes need to be safe for the food and plants we grow in them.
What Is Food Safe?
All containers used to store or grow any food item consumed by humans have to be food-safe or food-grade safe. This means that the container cannot contain any dyes, recycled plastics, treated raw materials, or toxic chemicals of any kind that could be harmful to humans.
If you are going to purchase food planters from stores or garden centers, check the labels first, as many of them come with a warning stating that they shouldn't be used for food plants. The best wooden food planter boxes should be made with redwood, teak, heartwood, or cypress.
There are many other materials used for planting boxes. These include ceramics, stone, brick, cement, and even steel and wrought-iron. You can make or buy almost any type of planter box to suit your own unique needs and requirements.
What Is Plant Safe?
A strong chemical could be used to paint or seal the planter box. The harmful toxins could leach into the ground and be absorbed by the plant, damaging or killing the plant.
Paint or seal your plant container with a food-safe and plant-safe product, ensuring no toxin or chemical transfer of any kind to yourself and your family or to the plant you are growing to produce the food you are going to eat.
Be sure to check that the materials you will use are food safe and plant safe before using them to plant and grow your food.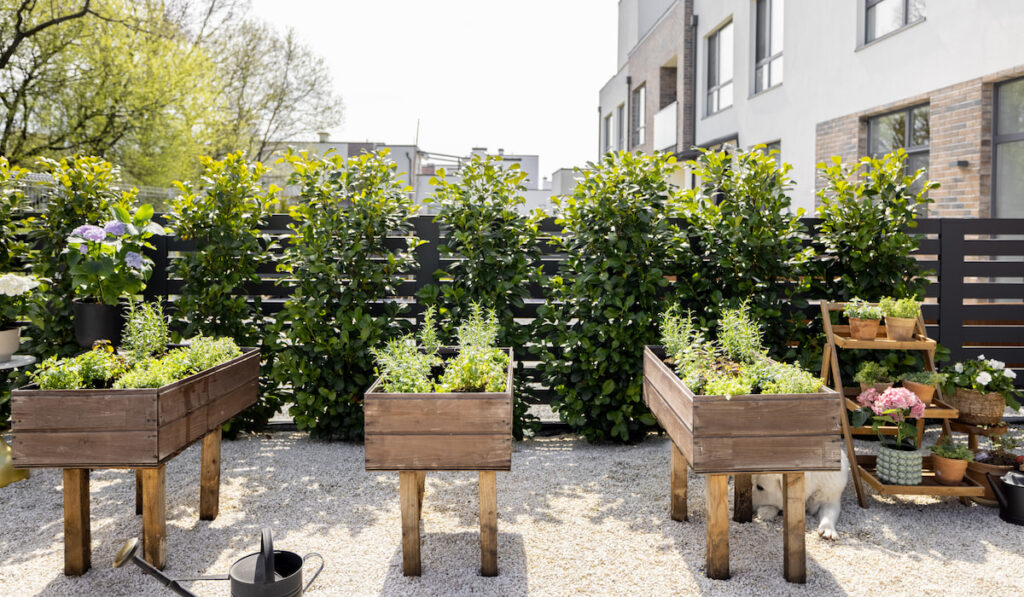 Safe Paint And Sealers For Planter Boxes
It is not ideal to use left-over paint that you have lying around from a previous DIY job to paint your planter box.
Read the paint tin's directions first to see which chemicals it contains and if it is food and plant safe. If it does not mention that the paint is food and plant safe, don't use it!
You could go ahead and try using any old paint or sealer that you have lying around your shed or garage, but with all the information available on how to get the job done correctly and which products are safe to use, why would you take the chance?
The risk of contaminating the food that you and your family are going to eat is too great. Research the job and buy the suitable materials before you start and enjoy toxin-free, fresh, healthy produce.
When growing food plants in planter boxes, avoid using copper and zinc sealants and pressure-treated wood. Planter boxes made from cement or concrete do not need sealing. All planters with a porous surface need sealer treatments before you plant any food plants.
There are many non-toxic paints and sealers available that are safe to use on your planter boxes:
1. Old Fashioned Milk Paint
An environmentally-friendly paint made from natural ingredients like clay, milk, protein, lime, and pigment. Use this product to paint your wooden planter boxes either indoors or outdoors. Food and plant safe.
Paint onto your planter box using a paintbrush.
Also sold in powder form, add water and mix to produce the liquid paint.
Water-based, safe to use on any surface.
Available from Amazon
2. Rust-Oleum Wolmans Classic Clear Wood Preservative
This product can be used outdoors on all treated or untreated wooden planter boxes. Food and plant safe.
Paint onto the wooden area.
Protects against rot and wood decay.
Water-resistant.
Available from Amazon
3. Raw Linseed Oil
The best type of linseed oil to use on your planter box is raw linseed oil and not boiled linseed oil. It is an all-natural organic product that is ideal to use in your vegetable garden as it is food safe and plant safe.
Paint onto your wooden planter box using a soft-bristled brush.
The oil can take a long time to dry – a few days or even weeks.
Protection and sealing of unfinished wood.
Available from Amazon
4. Siloxanie Wood Sealer
For outdoor use on your wooden planter boxes. Eco-friendly, food-safe, and plant safe.
Apply using a standard garden pump sprayer.
Protects against water damage, mold, and mildew.
Water-based, non-toxic, non-flammable.
Available from Amazon
5. Soapstone Sealer
An all-natural sealing product containing walnut oil and carnauba wax. This sealer can be used on stone and wood. Food safe and plant safe.
Spread onto the wood using a soft cloth.
An all-natural protector of wood.
Available from Amazon in three sizes – 4 oz, 8 oz, and 16 oz
Home Remedies For Painting And Sealing Planter Boxes
While there are many incredible products available on the market to make your life easier as a DIY enthusiast, there are as many home remedies available for those who would like to use alternative or more natural painting methods for sealing their food planter boxes and keeping them toxin-free.
Have a look at the below list of home-made, plant safe, and food safe remedies:
Mineral oil. It can be used on all wood products and often used on salad bowls and butcher blocks.
Beeswax. For use on all wood products. Melt over a double boiler, then add mineral oil. Mix, then paint onto the planter
Soy and walnut oils. A perfect drying oil for wood, concrete, slate, and soapstone.
Before starting any home project, make sure that you have all the supplies that you need. Buy enough soil and plants to fill the planter boxes and enjoy the process of growing and eating wonderful homegrown healthy produce!
Conclusion
Planter boxes can come in all shapes and sizes and are constructed from many different materials. Growing your own fresh produce can be a wonderful hobby and a means of providing fresh, healthy produce for your family.
To ensure that you are providing the best for your family, be sure that what you are growing your produce in is healthy and non-toxic.
A visit to your local garden or home store will provide you with ideas and tips on what planter boxes to use for your needs. Alternatively, check online to see what you can purchase.
Resources