*This post may have affiliate links, which means I may receive commissions if you choose to purchase through links I provide (at no extra cost to you). As an Amazon Associate I earn from qualifying purchases. Please read my disclaimer for additional details.
So you finally did it, you took the plunge and you added a turkey or two to your flock. Let me tell you, you won't regret it. Turkeys are awesome to have around. They are big birds with big personalities. So now you need to find a perfect name. I'm here to help!
I'll be honest, despite having lots of great ideas for names, my favorite blue slate hen wound up being called "Turkey". In fact, if we called her with a long drawn out "Turkeeeee" she would come running. She knew it was her name.
I'm assuming you don't want to call your turkey "turkey", so let's have a look at some great names for your pet turkey!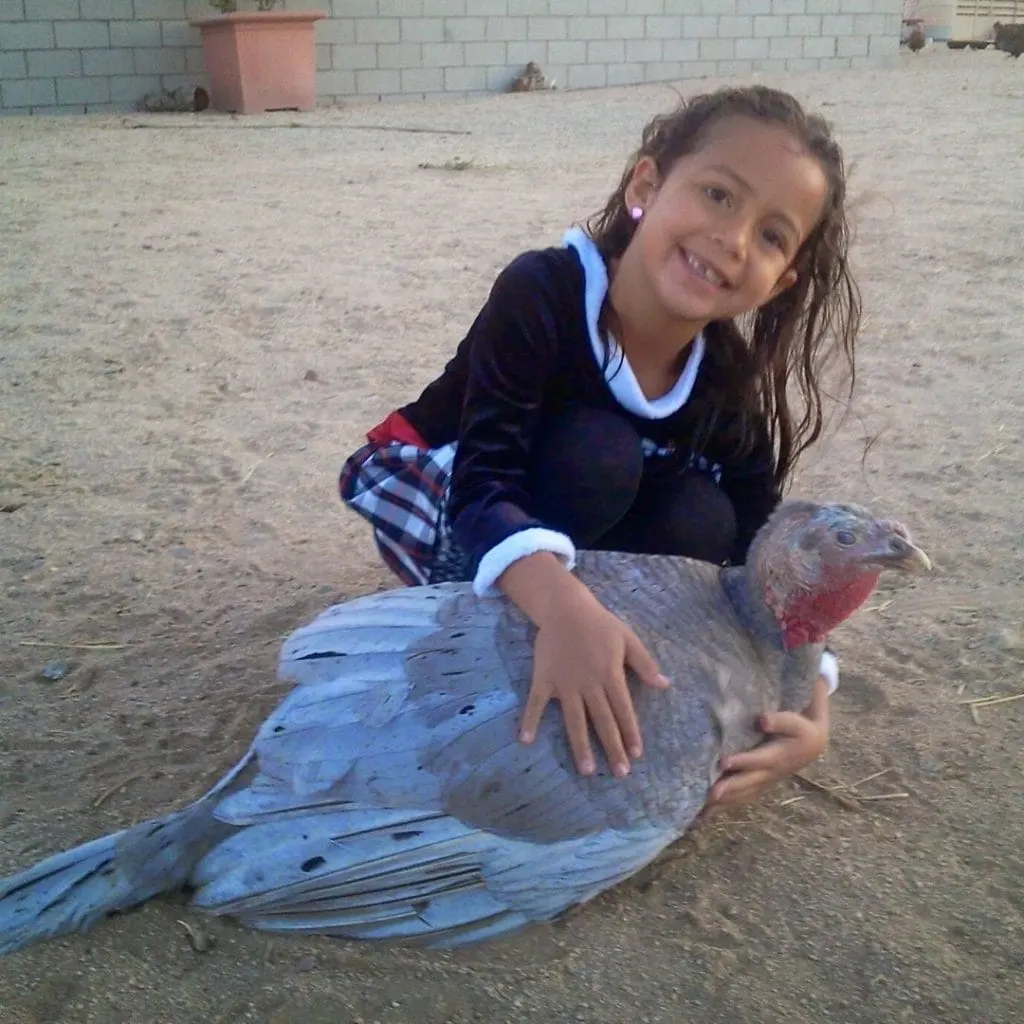 Best Pet Turkey Names
These are the top 10 best pet turkey names that you should consider!
Tom
Bertha
Tilly
Lurkey
Butterball
Vader
Aspen
Brisket
Butch
Christmas
Names for Turkeys and Groups of Turkeys
Have you ever wondered what a group of turkeys is called? Or maybe you aren't sure of the proper terminology for males vs. females. Turkeys definitely have some unique names.
What is the name for a baby turkey? A baby turkey is called a poult or a chick. While poult is the technical term, farmers will often refer to newly hatched turkeys as chicks as well.
Female turkeys are called hens and male turkeys are called toms. Baby turkeys can be called chicks or poults interchangeably. Adolescent turkeys are typically called Jake for males, and Jenny for females. If you see a group of turkeys in the wild, they are called a flock. A group of turkeys on a farm are called a rafter or a gang.
Male Turkey Names
OK, so you know you can call a male turkey "Tom". I mean, if you have only one male turkey, that kind of makes sense. Just in case you don't want to call your tom turkey "Tom", here are some great name ideas for your male turkeys.
Belvedere
Ben
Bernard
Bill
Bob
Booger
Bosco
Frank
Hoover
Joey
Ken
Larry
Lenny
Matthew (Fatty Matty)
Olaf
Peter
Rosco
Steve
Stink
Tom
Female Turkey Names
A female turkey is called a hen. That being said, you can't call her "hen". Here are some great name ideas for your female turkeys.
Adelaide
Bertha
Charity
Ellen
Evangeline
Grace
Hope
Isabella
Jennie
Lil Bit
Peace
Petunia
Pumpkin
Sally
Sandy
Susie Q
Sweat Pea
Sweetie Pie
Tilly
Vanilla
Funny Turkey Names
Sometimes, when it comes to naming a turkey, you need to have a bit of humor. These are some funny turkey names. Most will work for a tom or a hen!
Big Bird
Butterball
Christmas
Cranberry
Delicious
Dinner
Drumstick
Giblets
Gobbles
Gravy
Hamburger
Ice (In Case of Emergency)
Leftovers
Lunch
Lurkey
MRE (Meal Ready to Eat)
Pilgrim
Porkchop
Salmonella
Sandwich
Saucy
Smokey
Stewie
Stuffing
Taters
Thanksgiving
Wishbone
Zebra (perfect for a Royal Palm turkey)
Presidential Turkey Names
Since the 1940's, United States Presidents have been pardoning turkeys. While initially this only happened occasionally, President George H.W. Bush made it a tradition. Since then, each year the U.S. President has pardoned a turkey and given it a name.
These are the names of the turkeys who have received Presidential pardons:
Abe – 2015
Apple – 2010
Biscuits – 2004
Caramel – 2013
Carolina – 2009
Carrots – 2018
Charlie – 1987
Cheese – 2014
Cider – 2010
Cobbler – 2012
Courage – 2009
Drumstick – 2017
Feedom – 2001
Flower – 2007
Flyer – 2006
Fryer – 2006
Gobbler – 2012
Gravy – 2004
Harry the Turkey – 1999
Honest – 2015
Jerry the Turkey – 2000
Katie – 2002 (and the first female turkey to be pardoned)
Liberty – 2001
Liberty – 2011
Mac – 2014
Marshmallow – 2005
May – 2007
Peace – 2011
Peas – 2018
Pecan – 2008
Popcorn – 2013
Pumpkin – 2008
Stars – 2003
Stripes – 2003
Tater – 2016
Tot – 2016
Wishbone – 2017
Woody – 1988
Yam – 2005
Pet Turkey Names by Color
Turkeys come in a wide variety of colors. From pure white to solid black and many colors in between. Sometimes you can use the color of your pet turkey to help you find a perfect name.
Here are some awesome pet turkey names based on color.
White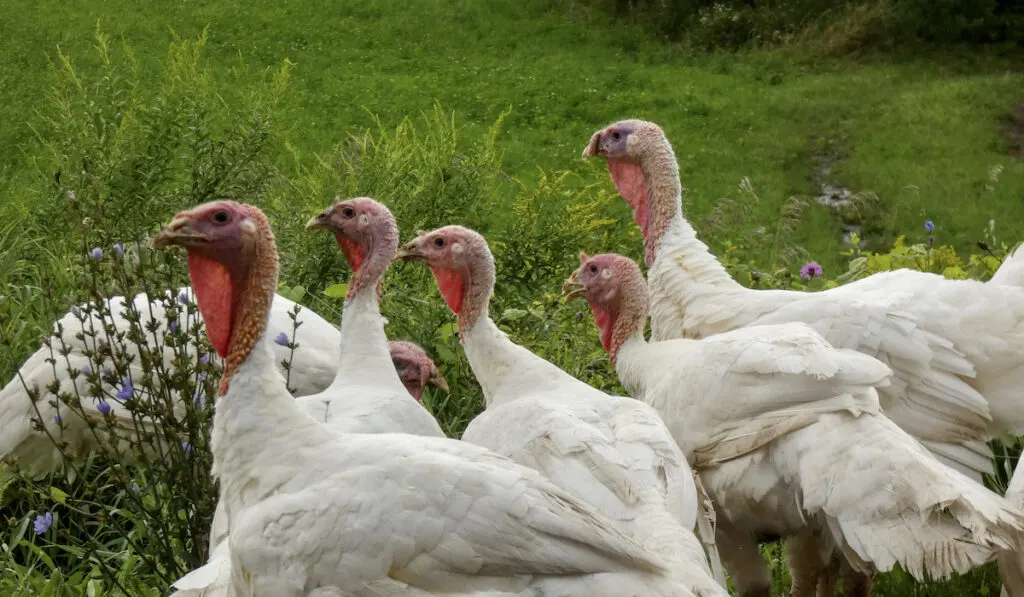 White turkeys come in a variety of different breeds including White Holland, Midget White, Giant White, Beltsville Small White,
Arctic
Alaska
Angel
Beluga
Blizzard
Casper
Cauliflower
Cloud
Coconut
Cotton
Crystal
Dazzle
Diamond
Ghost
Glacier
Greyjoy
Ice
Ivory
Lilly
Magnolia
Marshmallow
Opal
Polar
Powder
Snow
Black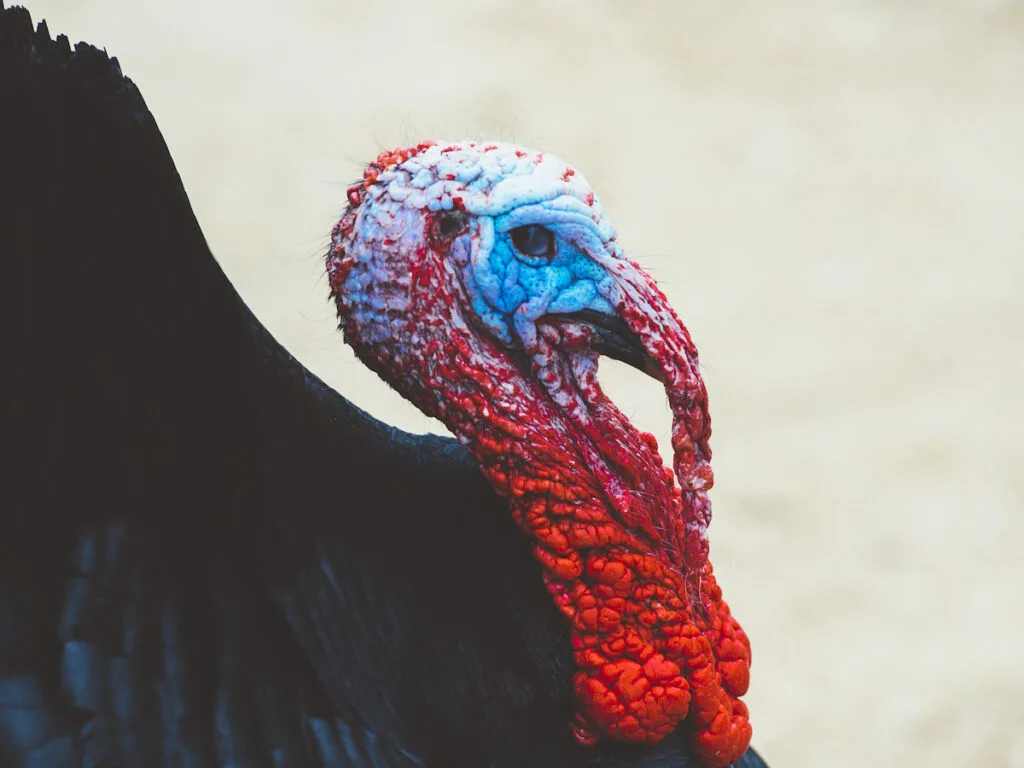 Ace
Ash
Bear
Black Bean
Black Tie
Blackjack
Carbon
Cinderella
Coal
Coco
Cola
Crow
Dahlia
Dot
Dracula
Drogon
Ebony
Godiva
Graphite
Magpie
Morticia
Ninja
Onyx
Raisin
Raven
Smoke
Vader
Velvet
VooDoo
Zorro
Black & White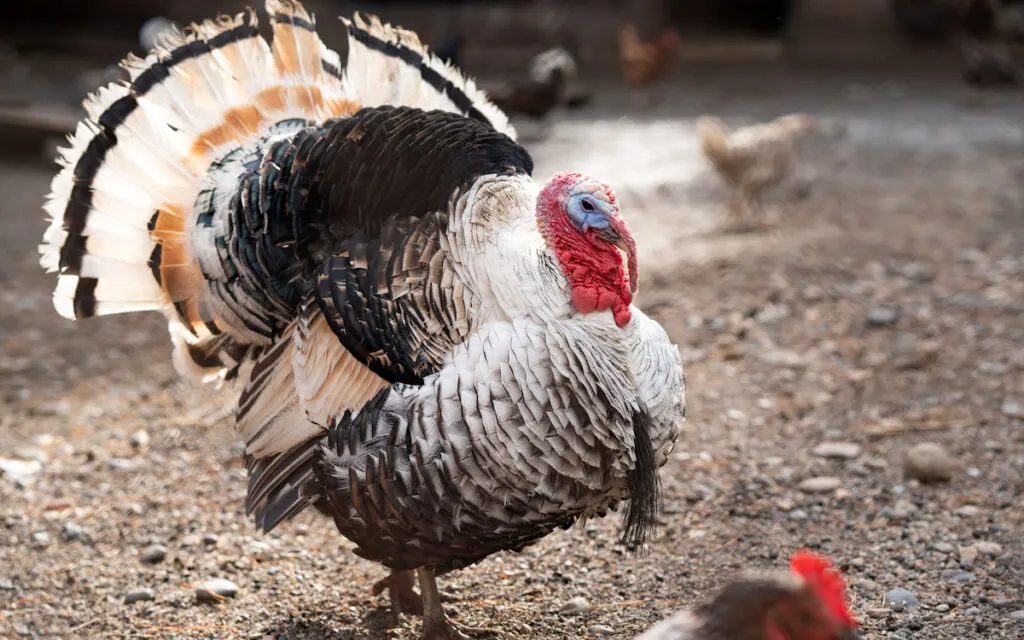 Black and white turkeys are beautiful to look at. There is something about the bold contrast between the two colors that draw your eyes. Typically purebred black and white turkeys are either Narragansett turkeys or Royal Palms.
Narragansett turkeys have more of a balance between black and white, with usually more black than white. Royal palms tend to be overall more white than black and are my favorite of the two turkey breeds.
Barcode
Chaplin
Checkers
Cookie
Cruella
Dice
Domino
Gretta
Harlequin
Inky
Magic
Magician
Magpie
Maverick
Mickey
Minnie
Orca
Oreo
Penguin
Puffin
Shamu
Skunk
Stripey
Sylvester
Trooper
Bronze
Bronze turkeys are beautiful and often iridescent. This is the color commonly associated with wild turkeys. Commercial breeds with this color include the broad-breasted bronze turkey and the standard bronze turkey.
Here are some name ideas for bronze turkeys.
Amber
Aspen
Autumn
Bacon
Bagel
Bean
Bear
Bourbon
Brandy
Brownie
Bruno
Caramel
Chewy
Cinnamon
Coco
Copper
Dusty
Ember
Foxy
Ginger
Guinness
Hazel
Honey
Kahlua
Kona
Maple
Mocha
Moose
Nugget
Nutmeg
Oakley
Peaches
Peanut
Penny
Pepper
Pumpkin
Reese
Sandy
Sierra
Snickers
Summer
Taffy
Tawny
Toffee
Tootsie
Truffles
Waffles
Whiskey
Wookie
Blue (Blue Slate)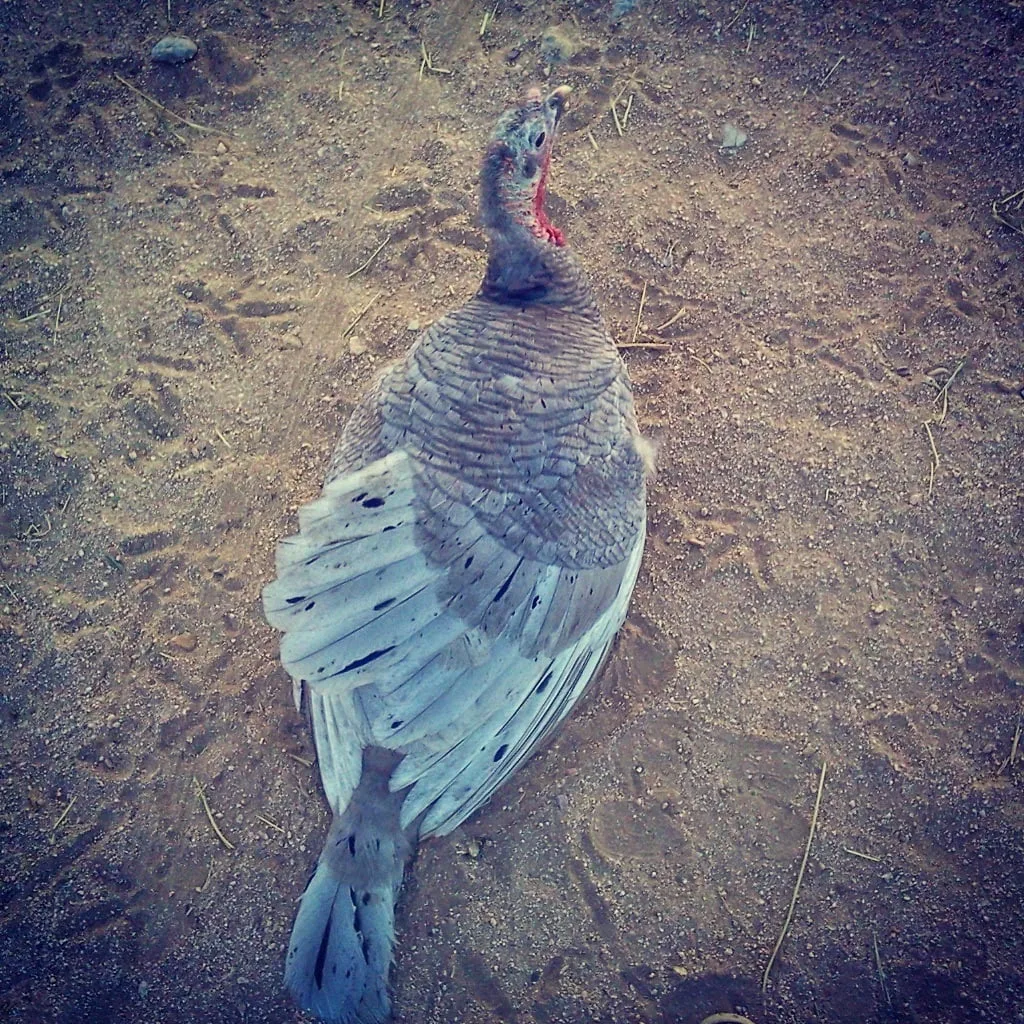 "Blue" turkeys range in hue but are typically a powder blue color. They can often resemble the color of a blue-gray sky. I particularly love Blue Slate turkeys, as I have mentioned before. In this category, I include names that are both great for blue and gray turkeys.
Aster
Azurite
Azul
Blue
Bluebonnet
Capri
Cobalt
Cookie Monster
Dolphin
Dumbo
Dusty
Eeyore
Graybeard
Indigo
Jay (Blue Jay)
Jean (like Blue Jeans)
Koala
Lapis
Pebbles
Periwinkle
Pewter
Royal
Sapphire
Smokey
Stormy
Chocolate
Labradors aren't the only thing to come in a nice chocolate color! The chocolate turkey is a rare breed of turkey that has brown feathers, shanks, and feet. In fact, according to McMurray Hatchery, they are still critically endangered.
Most of the names for bronze turkeys, above, will fit nicely for a chocolate-colored turkey as well but I've decided to include some sweet, candy-themed names for you as well!
Abba-Zabba
Andes
Bit-O-Honey
Butterfinger
Cadbury
Caramel
Charleston
Clark
Cocoa
Dove
Godiva
Goober
Grand (100 Grand)
Heath
Henry (O'Henry)
Hershey
Kit Kat
M&M
Mars
Musketeer
Nestle
Pocky
Reese's
Rocky (Road)
Rolo
Ruth (Baby Ruth)
Snickers
Taffy
Toblerone
Toffee
Tootsie
Truffle
Twix
Werther
Wonka
Zero
Red
The Bourbon Red turkey is a popular breed. It is a beautiful rusty-colored bird with white accent feathers. This is a heritage breed and absolutely a beautiful addition to your flock.
Here are some names that are great for bourbon red turkeys.
Amber
Ariel
Auburn
Autumn
Blaze
Brandy
Burgundy
Cabernet
Cardinal
Carrot Top
Cherry
Chestnut
Cinnamon
Copper
Cranberry
Crimson
Currant
Curry
Garnet
Ginger
Hazel
Lady Bug
Lobster
Mars
Orangutan
Paprika
Pepper Ann
Phoenix
Red
Redford
Rojo
Ruby
Russet
Rusty
Sandy
Related Questions
Why is a group of turkeys called a rafter?
Only groups of domestic turkeys are called a rafter. This is likely because domestic turkeys often roost in the rafters of barns and other areas.
How many turkeys are in a flock of turkeys?
A flock of turkeys is two or more turkeys.
How many turkeys are in a rafter?
A rafter of turkeys is two or more turkeys.
How many turkeys are in a gang?
A gang of turkeys is two or more turkeys.