*This post may have affiliate links, which means I may receive commissions if you choose to purchase through links I provide (at no extra cost to you). As an Amazon Associate I earn from qualifying purchases. Please read my disclaimer for additional details.
You're probably already aware that jerky tends to be made using beef or venison, but have you ever wondered what other meats are good for making jerky with?
We're going to explore nine types of meat that make delicious jerky, so you can expand your palate and enjoy this versatile food in new ways. There is almost no limit to what meat jerky can be made from, so let's explore.
1. Boar Jerky
One of the more unusual types of meat, you may find that boar is hard to get hold of, either in fresh form or as jerky.
However, it has a fantastic flavor. It is nutty and sweeter than beef jerky, so it makes for some great variation.
Its rarity also adds to its desirability, because few people have tried it. If you have access to some boar meat, try making your own, or buy boar jerky from specialty stores online.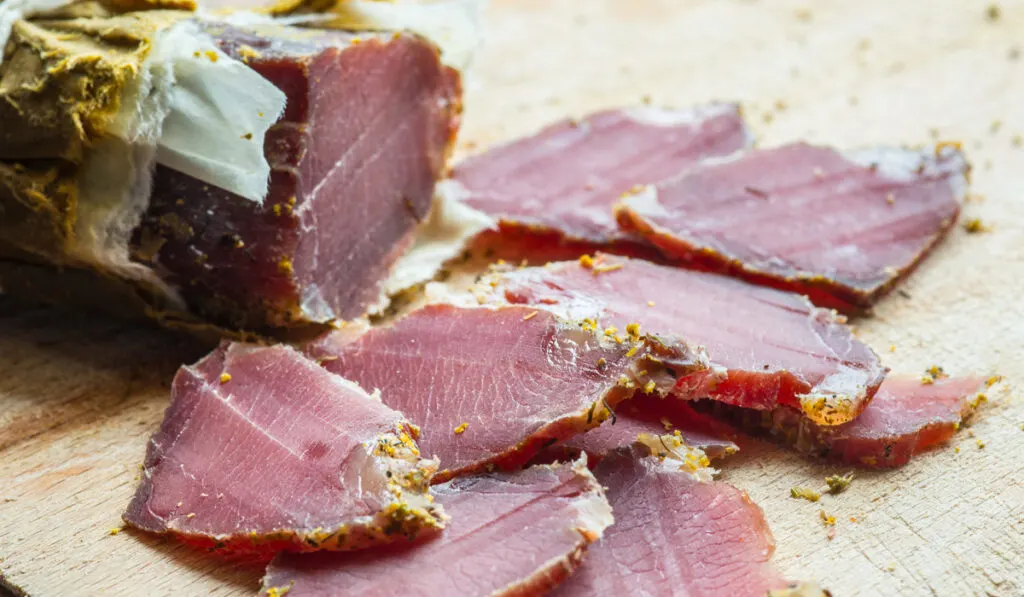 2. Alligator Meat
You probably don't think of alligators when you think of jerky, but alligator meat is perfectly good for jerky. It is also pretty healthy because it's low in calories and full of protein. This makes it good diet food.
Usually, tenderloin is used. If you wish to make this kind of jerky yourself, be aware that it benefits from mild seasoning, or you will lose the flavor. It is quite subtle, and you don't want to heavily salt or season it if you still want to be able to taste the meat.
3. Ostrich Jerky
Another unusual option, ostrich jerky tastes very similar to beef jerky and is almost indistinguishable in terms of color. Ostrich meat is full of healthy proteins, so it's a great option if you're trying to improve the quality of your diet.
You may not find ostrich meat in your local supermarket, but lots of butchers stock it. You can make it into jerky yourself using a marinade and then smoking it with hickory wood. If you want to buy ready-made jerky, you may have to look hard for a supplier, but there are some.
This is probably one of the leanest jerky meats there is, so it's good for anyone trying to keep their calories down. Try this as a snack if you prefer mild flavors, or pair it with something stronger if you like. The meat itself is very mild.
4. Elk Jerky
Elk is somewhat uncommon but easier to find than a few of the meats on this list.
If you enjoy venison jerky, try elk as an interesting alternative. It is a very lean meat, which makes it ideal for turning into jerky. Minimal fat is marbled throughout the meat.
You may find that you cannot tell the difference between elk jerky and some of the more common kinds, such as venison. Its flavor is mild and pleasant, and very similar to other commercial jerky.
You can buy elk jerky with various flavorings, including teriyaki and spicy, so don't just go for original if you want to try something new. This jerky is usually a very dark red, almost black.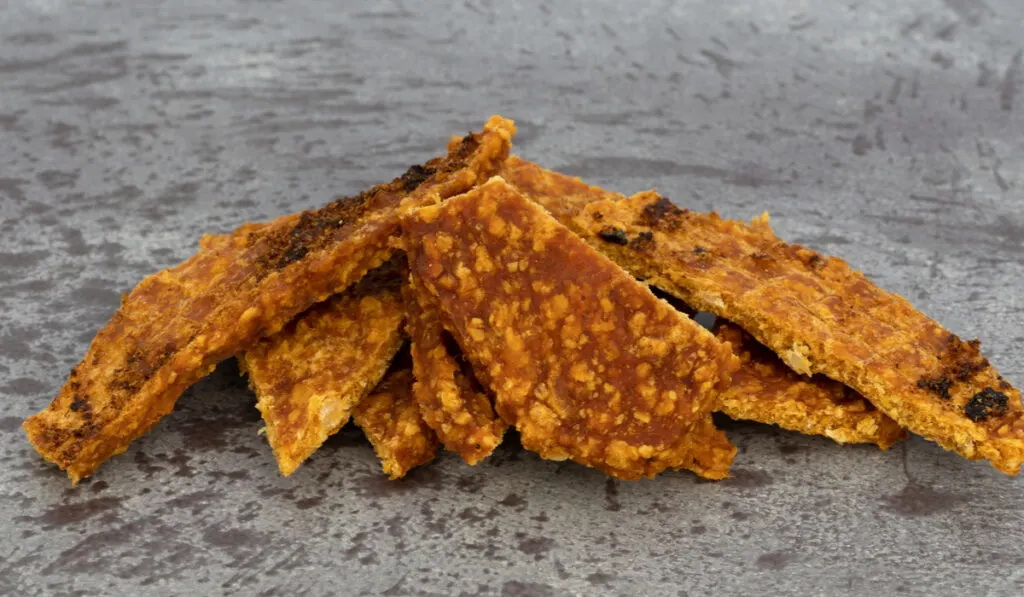 5. Duck Meat
Duck meat is wonderful when marinated and smoked, and duck jerky is therefore delicious.
It is usually smoked with hickory, and wild duck meat is thought to taste the best. This lacks any chemicals, such as growth hormones, making it preferable for many people.
In terms of flavor, the taste is very mild and slightly sweet, so it tends to be popular with those who prefer gentle meats. You can add black pepper or chili if you want a stronger taste.
6. Kangaroo Meat
Kangaroo meat is great for jerky, although the meat may be hard to come by fresh, so you might struggle to make your own (unless you live in Australia, where kangaroo meat is common). Some more expensive exotic meat stockers may supply it.
As a red meat, kangaroo is lean and full of protein and iron, as well as omega 3 fatty acids. This means it is a popular food, and it is a very good option in terms of nutrition. It tends to come in thick strips, making it satisfying to chew on.
7. Tuna Jerky
Did you know that you can make jerky using fish meat? If not, welcome to a new world of flavors.
Tuna jerky is often made using Yellowfin tuna, and this is considered superior to other kinds of tuna.
Often, tuna jerky will contain less sodium, so it's a healthy option if you want to reduce the amount of salt in your diet. The flavor is good and fairly mild. If you want to move away from traditional meat jerky, tuna is a good alternative.
It's best to look out for dolphin-friendly options.
8. Goose Jerky
If you prefer not to eat fish, goose jerky is another great choice to try.
This has a very distinctive flavor, and if you love bacon, you will probably enjoy goose jerky. It is similar in taste, but not quite as salty.
It's also high in protein and does not contain a lot of fat, so it's a great way to keep up your diet. You can again choose from a few different flavors, including teriyaki, lemon pepper, or garlic.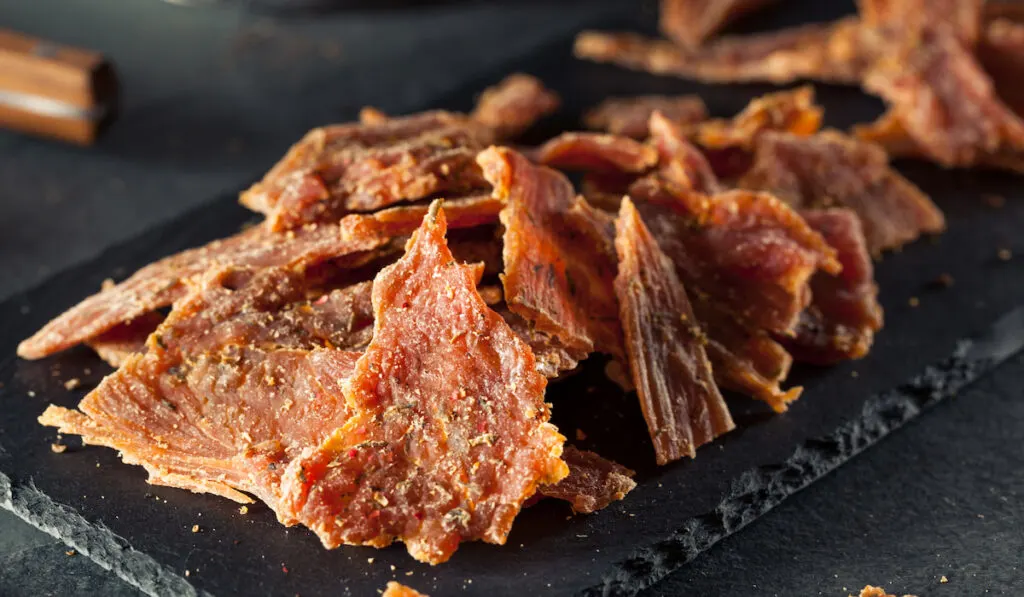 9. Turkey Jerky
For anyone who enjoys the dark meat of the turkey, this is another great option for jerky. The high protein aspect of the dark meat makes it a nutritious jerky. Turkey tends to be readily available all over the world – especially in the US, so finding it shouldn't be hard.
Turkey is often considered a specialty meat that is only eaten at certain times of the year, but turkey jerky may change that. It's got good flavor and is low in sugar. It also does not contain too many calories.
Conclusion
Jerky is made from an amazing array of lean meats, cut thin, and then cured to perfection. If you are a big fan of snacking on the go, it's well worth trying a few of these jerky options, rather than sticking to your regular beef jerky.
Resources