*This post may have affiliate links, which means I may receive commissions if you choose to purchase through links I provide (at no extra cost to you). As an Amazon Associate I earn from qualifying purchases. Please read my disclaimer for additional details.
When done right, nothing comes close to the taste and wholesomeness of fried chicken. Knowing how to best do your chicken is not only about the necessary skills needed, but also requires knowing the best flour to use for the delivery of quality taste in every bite.
So, which flour should you use for fried chicken?
There are a few options to choose from, but the most popular is all-purpose flour for its consistency in taste.
Depending on the type of fried chicken you want and the period it is supposed to last, you should carefully choose your flour to best fit your specifications and expectations.
5 Types of Flour to Use for Fried Chicken
1. All-Purpose Flour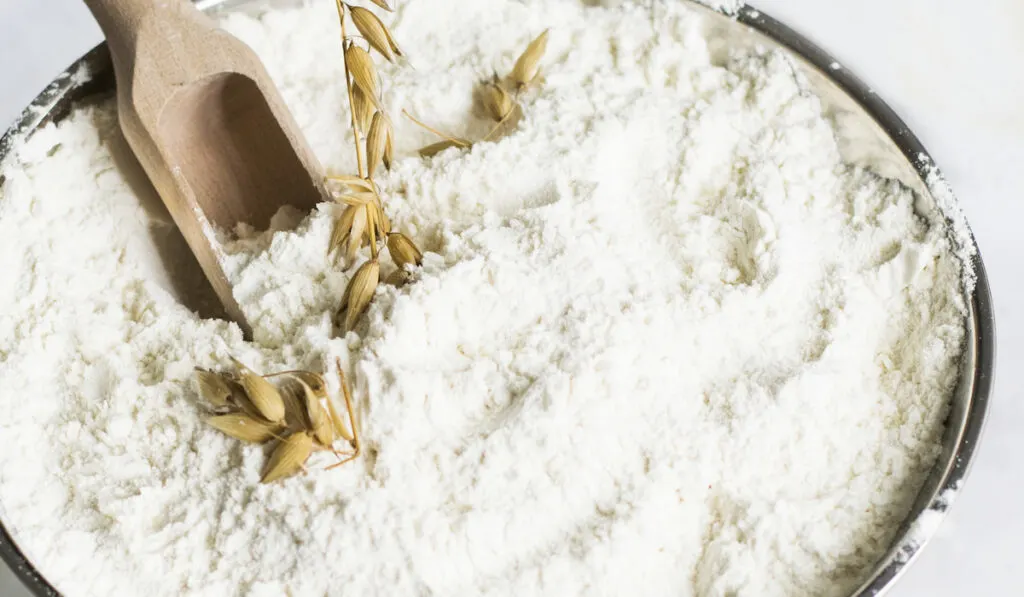 All-purpose flour is the most popular for fried chicken. This flour gives your fried chicken a golden-brown coating with an amazing flavor that can be infused and complemented with a variety of herbs and spices.
Furthermore, it can tolerate the extreme cooking temperatures needed to cook your chicken pieces through, while constantly maintaining its flavor and quality for extended periods.
2. Rice Flour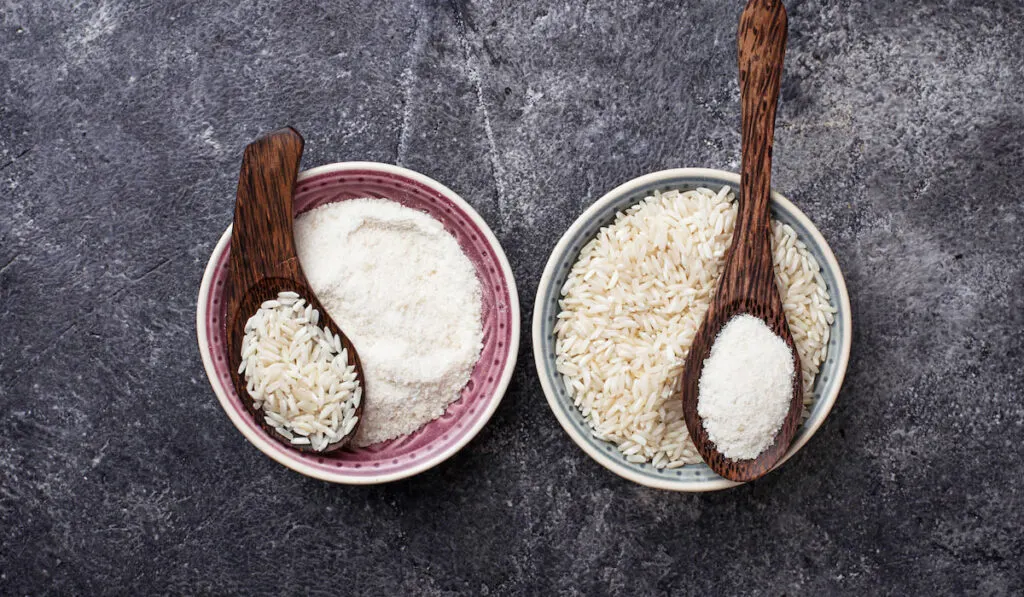 Being the most popular in Asian cuisine, rice flour is a bit lighter than conventional all-purpose flour, and therefore crisps up your chicken better than other flours when fried. Rice flour gives tempura batter a beautiful golden crisp that is sought after for the perfect fried chicken.
This product of finely milled white or brown rice is gluten-free, making it good for those on a gluten-free diet. It gives your chicken a texture that's crispy on the outside but moist on the inside.
It's also good in retaining taste and can blend well with a variety of herbs and spices.
3. Semolina
Semolina is famed for its great texture. It gives your fried chicken a crunchy and non-grainy texture.
Furthermore, it retains taste well, so you might blend or season it with some of your favorite herbs and spices before dusting it over the chicken.
4. Rye or Barley Flour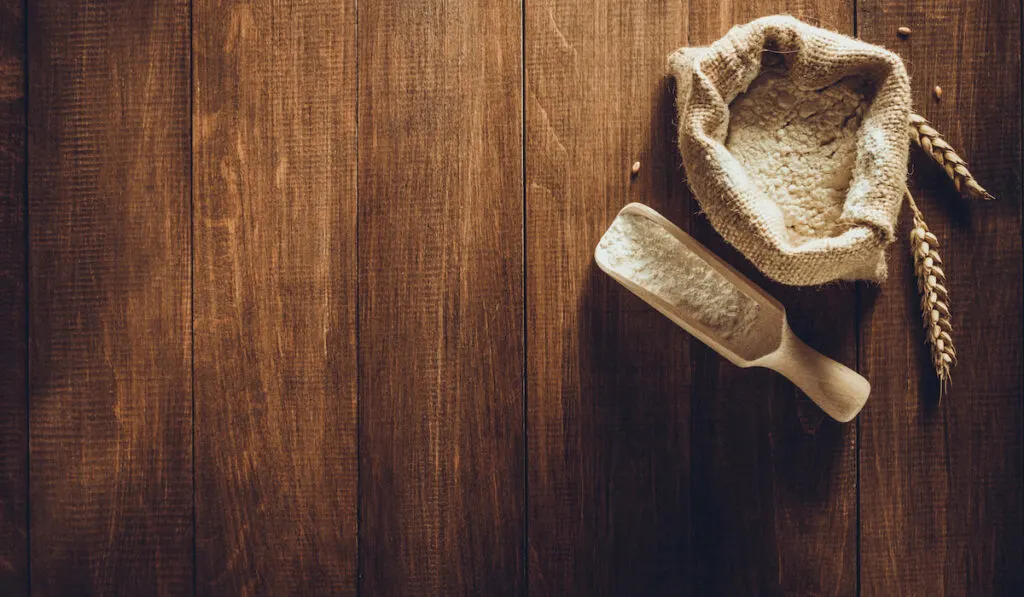 Both of these flours add a rich, mouth-watering flavor to fried chicken. They have stronger flavors and pair well with darker cuts of chicken, like the thighs and drumsticks.
If you fry the chicken for an appropriate amount of time, both rye and barley flours will impart an even richer flavor, while the addition of some salt and spices can create a savory golden-brown coating.
5. Chickpea Flour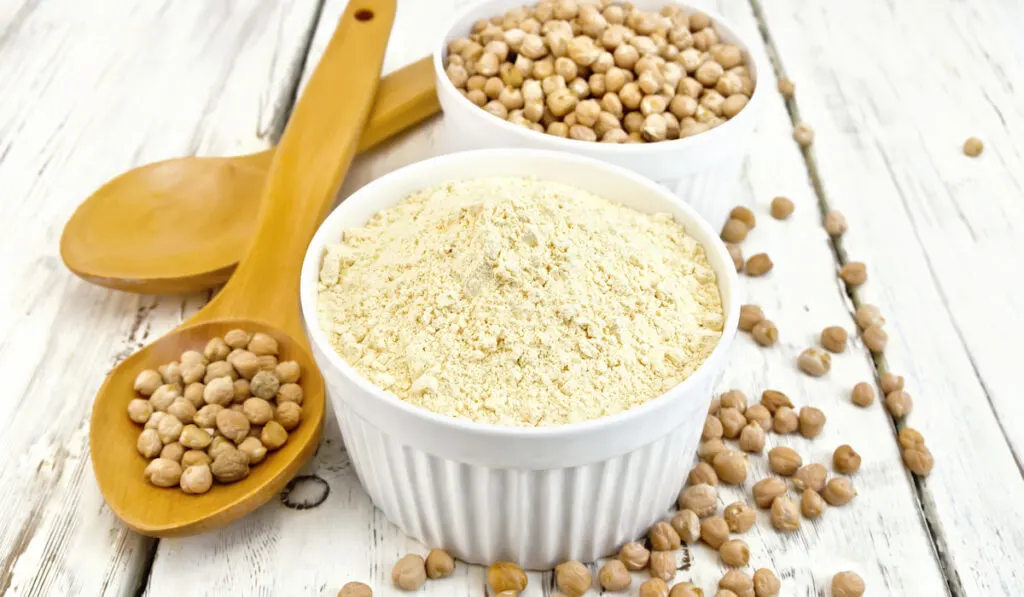 Traditionally used in Mediterranean and Indian cuisine, chickpea flour is gaining popularity worldwide. When used for fried chicken, it gives your chicken pieces a rich, earthy, and warm taste loaded with lots of nutrients.
Chickpea flour is gluten-free, making it ideal for those on a gluten-free diet. Furthermore, it's lower in calories and carbs, making it a better alternative for dieticians.
Traditionally, chickpea flour has a thick texture, but when combined with club soda, it creates a beautifully light batter ideal for the crisp coating on fried chicken
If it is not readily available, you can alternatively make your chickpea flour at home by blending and grinding chickpeas in a food processor until they become a fine powder.
Can I Use Self-Rising Flour for Fried Chicken?
What happens when you substitute plain flour with self-rising flour?
Self-rising flour can be used for fried chicken. It allows the batter on the coating to puff up even more, resulting in an extra crispy exterior. When desiring an extra crispy exterior, you can alternatively mix equal parts of cornstarch and all-purpose or self-rising flour.
You should know it is advisable to use your supply of self-rising flour faster than plain flour since the self-rising flour contains baking powder, which expires after a short while.
Furthermore, some self-rising flours have added salt and if used as a substitute for plain flour, your fried chicken may end up tasting a little saltier than expected and for this reason, you may want to avoid self-rising flour.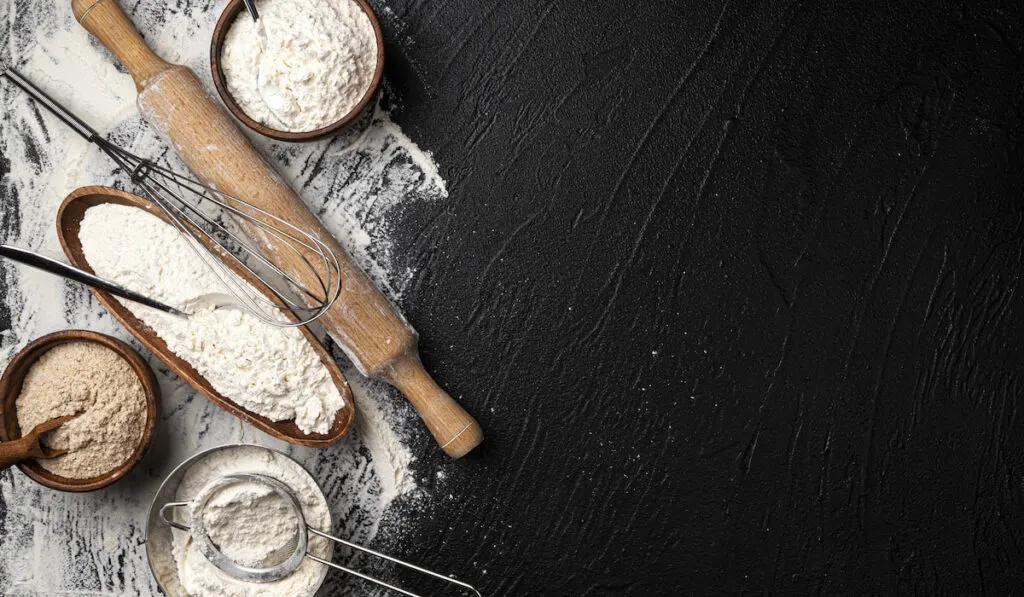 Which is the Best Flour to Use?
When making fried chicken, it is recommended to stick to the tried and true recipes. Traditionally, all-purpose flour is the best and most popular flour for a golden, crispy, fried chicken. The all-purpose flour truly lives up to its name because not only does it create a fantastic fried chicken, it can also be extensively used in a range of baking recipes.
Besides being highly tolerant to prolonged heat, all-purpose flour is good at retaining different flavors from various herbs and spices you may add to it. It also makes a good crust that holds on pretty well to the chicken pieces and does not tear off when cooked.
The all-purpose flour also absorbs less moisture and oil when frying, making your fried chicken-less greasy. Furthermore, all-purpose flour has a plain taste, making it open for experimenting with a variety of tastes and flavors. It is also readily available in stores, making it more convenient.
Do I Have to Use or Substitute Flour With Cornstarch?
For the crispiest fried chicken, cornstarch is recommended as one of the key components. The best crunch is realized from mixing both the flour and cornstarch in appropriate proportions.
However, you can choose to completely substitute the conventional flour with cornstarch, and you will still get the crispy coating.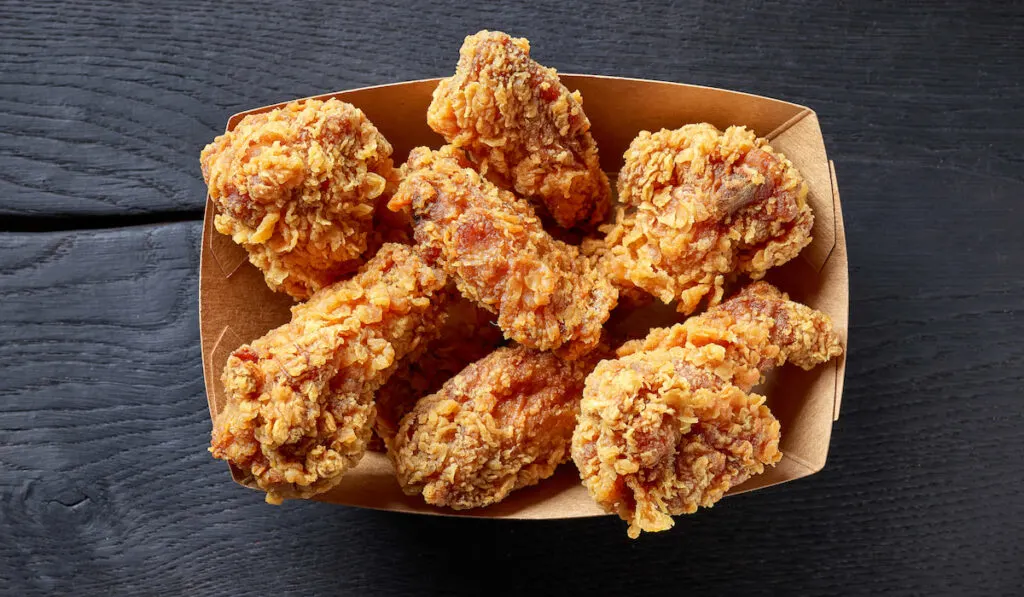 Why Your Fried Chicken Crust Falls off and How to Avoid It
Due to several reasons, making fried chicken can at times be challenging if your crispy coating keeps falling off. To overcome this, here are a few pointers to help you.
Tap off excess buttermilk or flour when coating and breading your chicken pieces.
Constant bombardment with other chicken pieces in or against the frying pan may brush off the breading, so try not to overcrowd your frying pan.
Gently pat your chicken pieces after coating to ensure the flour mixture is firmly attached to the buttermilk.
When frying, it is recommended to only flip your chicken once. You are more likely to disrupt and brush off the crispy coating if you fuss around with the frying chicken.
After dipping and dredging, it is recommended to let the chicken air dry on a wire rack. This is not only helpful in drying the chicken pieces but is also makes it convenient when preparing large batches.
Conclusion
There are a few great flour options to choose from when preparing fried chicken. However, it is always good to keep your cooking simple and maybe complement with a few natural flavors to add taste.
No matter the flour type you choose, it is always good to ensure that the coating it gives sticks well to the chicken pieces and meets your expectations.
Resources