*This post may have affiliate links, which means I may receive commissions if you choose to purchase through links I provide (at no extra cost to you). As an Amazon Associate I earn from qualifying purchases. Please read my disclaimer for additional details.
Quarter Horses continue to excel and regularly dominate the equine world in several different equestrian disciplines. Whether it is barrel racing, western pleasure, roping, cutting, or racing, there are just certain Quarter Horse bloodlines that have risen above the rest.
Quarter Horse bloodlines are ever-changing and evolving as the years, and decades, continue to pass on. The classic sires that we all know and admire have given way to new Quarter Horse bloodlines that are leading the equestrian world.
From the old to the new, here are the top Quarter Horse bloodlines for each of the major equestrian disciplines.
Halter
Two Eyed Jack
It is impossible not to discuss top Quarter Horse bloodlines in the halter discipline without talking about Two Eyed Jack. This longstanding bloodline has produced an impressive 119 Champions over the years.
Born in 1961, a sorrel stallion named Two Eyed Jack was successful in halter classes right from the start. At just three years old, he had accumulated 217 open halter points in the American Quarter Horse Association (AQHA).
He went on to win the AQHA Superior Halter Horse award and continues to be a top AQHA Champion sire. His bloodline is has more than earned a place on the list of top Quarter Horse bloodlines in halter events.
My Intention
My Intention is a breathtakingly gorgeous chestnut-colored stallion that was born in 2006.
It was his success as a halter horse along with his large, muscular conformation that convinced his owners to retire him early to become a sire. Today, this impressive Quarter Horse has numerous successful offspring that have earned more than $1 million.
The AQHA ranked him as the top halter sire in 2020, when his offspring earned $554,470 throughout the year. The My Intention bloodline is currently the top-performing Quarter Horse bloodline in the halter discipline.
Honorable Mention: Execute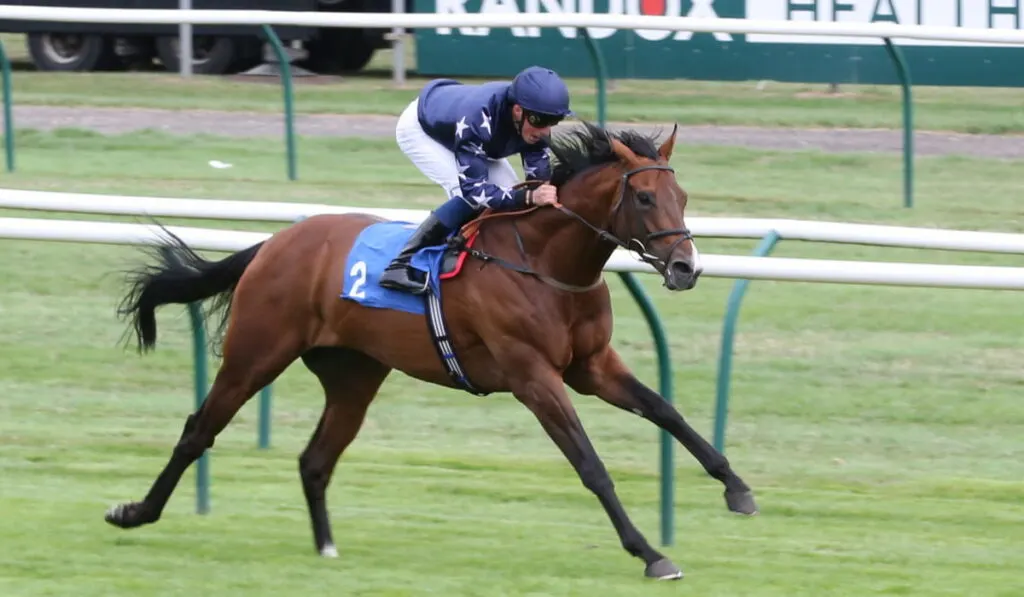 Reining
Colonels Smoking Gun
Affectionately known as Gunner by those who know him best, Colonels Smoking Gun was a shockingly beautiful chestnut Quarter Horse and a reining horse champion in his own right. He was the 1996 National Reining Horse Association (NRHA) Futurity Reserve Champion and earned $177,670 competing in reining competitions.
He went on to become a sire of reining champions, producing numerous notable offspring over the years. His offspring have won so much money, he earned the title of an NRHA Ten Million Dollar Sire.
Two of his offspring, Gunnatrashya and Gunners Special Nite ranked in the second and third positions respectively for 2020.
In comparison, Gunnatrashya's offspring earned an impressive $782,025 in 2020, while Gunners Special Nite's offspring brought in a respectable $655,128 the same year.
The Colonels Smoking Gun bloodline is dominating the reining sport on all fronts and is currently the top Quarter Horse bloodline in the reining world, in my opinion.
Cutting
Peppy San Badger
Truly a revolutionary sire of cutting horses, Peppy San Badger, also known as Little Peppy was born in 1974 and was simply destined to be an amazing cutting horse. The sorrel stallion took home first place at the 1977 NCHA Futurity, won the championship at the NCHA Final in 1981, and was inducted into the NCHA Hall of Fame.
Little Peppy's success in the arena was only overshadowed by the success of his many cutting progeny offspring. He sired multiple world championship winners and his bloodline is still highly coveted by cutting enthusiasts today.
His offspring have won over $25 million over the past several decades and his name as well as his legacy is still highly regarded by cutting participants across the country.
High Brow Cat
Born in 1988, High Brow Cat was a stunning chestnut stallion that become the leading cutting sire of all time, according to rankings by Equi-Stat. He is a NCHA $84 Million Dollar Sire, which means his offspring have won well over that amount over the years.
His offspring includes over 20 AQHA World Champions as well as 8 different NCHA Open Cutting Futurity Champions.
The High Brow Cat bloodline is by far the top Quarter Horse bloodline in the cutting arena right now.
Metallic Cat
A notable offspring of High Brow Cat, Metallic Cat is a striking red roan stallion that has dominated the sport of cutting as a competitor and a stud sire. He is a monumental cutting sire and his offspring have won more than $20 million.
Known as Denver to his owners, this stallion ranked first in the list of Top 2020 Cutting Sires according to the AQHA. In 2020 alone, his offspring cutting progeny won over $5 million.
Honorable Mentions: Doc Bar, Peppy San, Dual Rey, Once In A Blue Boon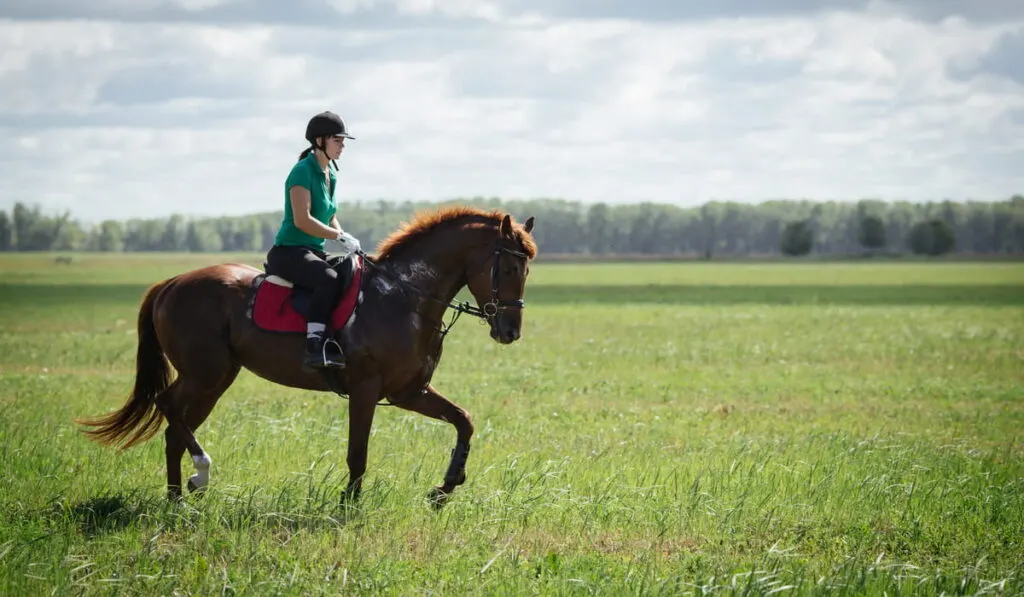 Hunter Under Saddle (HUS)
Allocate Your Assets
Allocate Your Assets is a beautiful bay stallion that was born in the year 2000, right at the millennium. He is a proven sire in the HUS discipline, with his offspring earning $61,102 in 2020.
The AQHA ranks him at the very top of the list of top five HUS sires in 2020. He had 47 successful money-earning offspring in 2020, earning an average of $1,300 each.
The Allocate Your Assets is and will remain one of the top Quarter Horse bloodlines in the HUS division.
It's a Southern Thing
Foaled in 2010, this exquisite bay may be young but he is a rather successful sire. In 2020, It's a Southern Thing had 8 money-earning offspring that brought home a combined total of $53,932.
It's a Southern Thing placed second on the AQHA's Top 5 Hunter Under Saddle Sires of 2020. Each of his offspring brough home an average of $6,742.
Honorable Mentions: Good I Will Be, Hubba Hubba Huntin, VS Code Red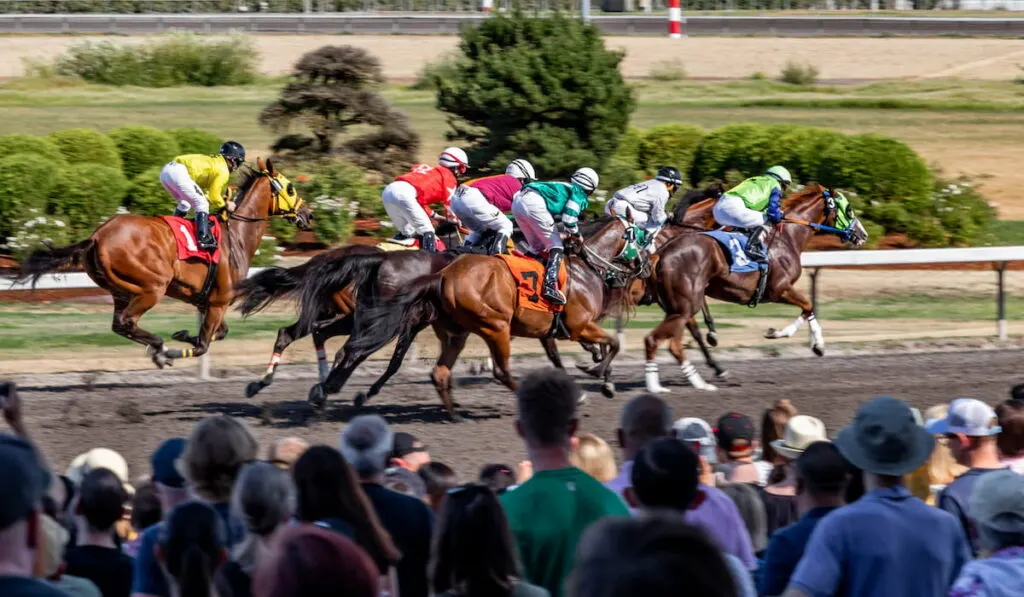 Racing
Go Man Go
Go Man Go was a phenomenal roan stallion that was born in 1953 and fought hoof, tooth, and bridle for his full registry as a Quarter Horse. He was a successful racehorse, winning the American Quarter Horse World Championship from 1955 through 1957.
His offspring became champions in their own right, winneing All-American Futurities and racing championships throughout the years.
While Go Man Go was the Quarter Horse racing bloodline to beat for many years, today there are some other notable racing bloodlines besides his.
Favorite Cartel
Favorite Cartel is an elegant brown Quarter Horse stallion whose offspring won an impressive $6,943,841 in 2020 alone. Out of 345 race starts in 2020, 156 won their races.
This top Quarter Horse bloodline has more than proven itself on the racetrack. Favorite Cartel has catapulted to the top of the 2020 Nations Leading Sire of Money Earned and has become the Leading Sire of Stakes Winners.
He ranks as the top racing sire in 2020, as determined by the AQHA.
Honorable Mentions: Apollitical Jess, Freighttrain B, and Tempting Dash.
Western Pleasure
Machine Made
Machine Made is a sleek bay Quarter Horse that was born in 2007 and has moved to the top of the western pleasure sire list determined by the AQHA each year. In 2020, he ranked in first place, with his offspring earning $253,323.
Known affectionately as Hershel by his owners, Machine Made was the 2011 Reserve Congress Champion in the Junior Western Pleasure class. His is considered a proven bloodline in western pleasure, although it is relatively new.
Honorable Mentions: VS Code Red, RL Best of Sudden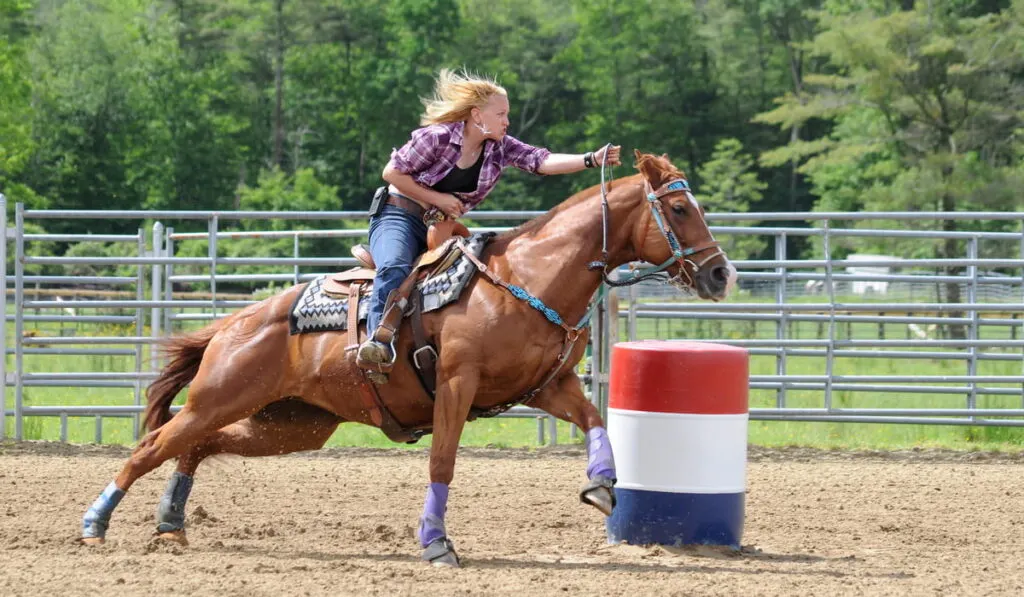 Barrel Racing

Bugs Alive in 75
Bugs Alive in 75 was a gorgeous sorrel stallion that was born in 1973 and was a spectacular racehorse. He became the top-earning racing horse in 1975 thanks to his strong starts, fast speed, and shocking amount of stamina.
While Bugs was a successful racehorse in his day, he went on to become the top maternal grandsire of barrel racing horses for many years. Bugs Alive in 75 is a top Quarter Horse bloodline that continues to produce high-quality and successful barrel racing horses.
Dash Ta Fame
Dash Ta Fame was foaled in 1989 and unfortunately, the beautiful chestnut stallion passed away in 2011, but his offspring continue to live on. Not only do they live, they have thrived in the sport of barrel racing.
His legend continues and Dash Ta Fame is ranked as the number one sire of barrel racing horses. His offspring have brought in a tremendous $44 million on the racetrack as well as the barrel arena.
Dash Ta Fame is the current top Quarter Horse bloodline in the sport of barrel racing, in my opinion.
Honorable Mentions: Blazin Jetolena, Slick By Design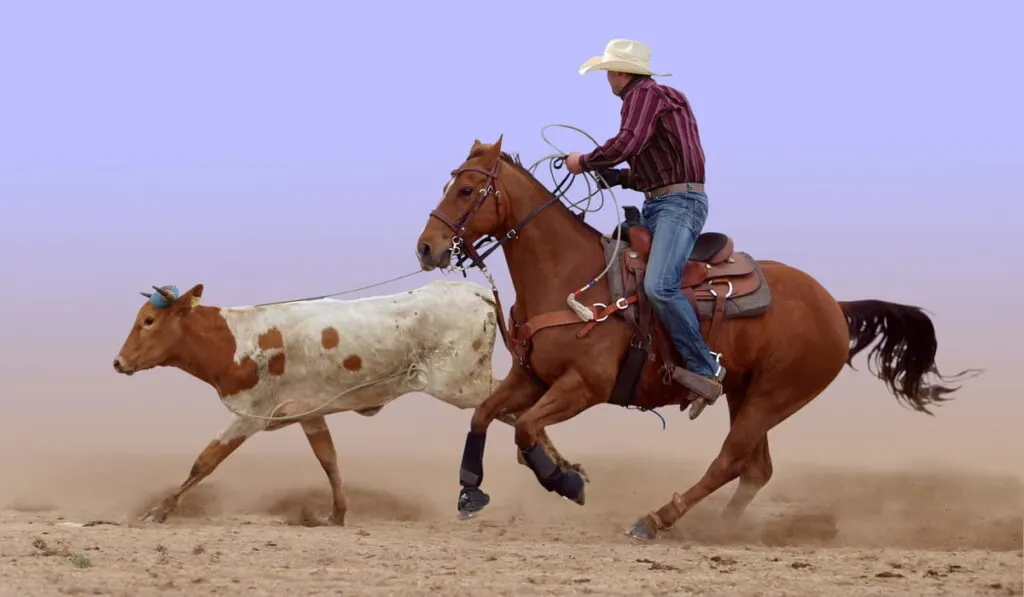 Roping
Joe Hancock
Joe Hancock was a brown stallion born in 1923 and is often touted as being one of the best, if not the best, roping horse sires ever. Although his bloodline has gained a relatively untrue reputation over the years for being rough, the truth is, Joe Hancock horses are often some of the best horses you can own.
The Hancock bloodline has cemented its place as a top Quarter Horse bloodline thanks to its numerous successful offspring.
The highest-earning team roping sire ever was Frosty Tops, a Quarter Horse that was double-Hancock bred, meaning its mother and father had the Hancock bloodline in its lineage.
Driftwood
Driftwood is another top and well-known Quarter horse bloodline in the roping world. Born in 1962, the elegant bay stallion was a successful roping horse in his own right, as were many of his offspring.
Previously known as Speedy, because of his lightning-fast speed in match races, Driftwood was able to run right out of the box and work cattle like his life depended on it. He excelled at both calf roping and team roping events.
The Driftwood bloodline, although waning, still ranks as one of the top Quarter Horse bloodlines that really set the curve for what to look for in a successful roping horse.
Honorable Mentions: Two Eyed Jack, Sun Frost, Peppy San Badger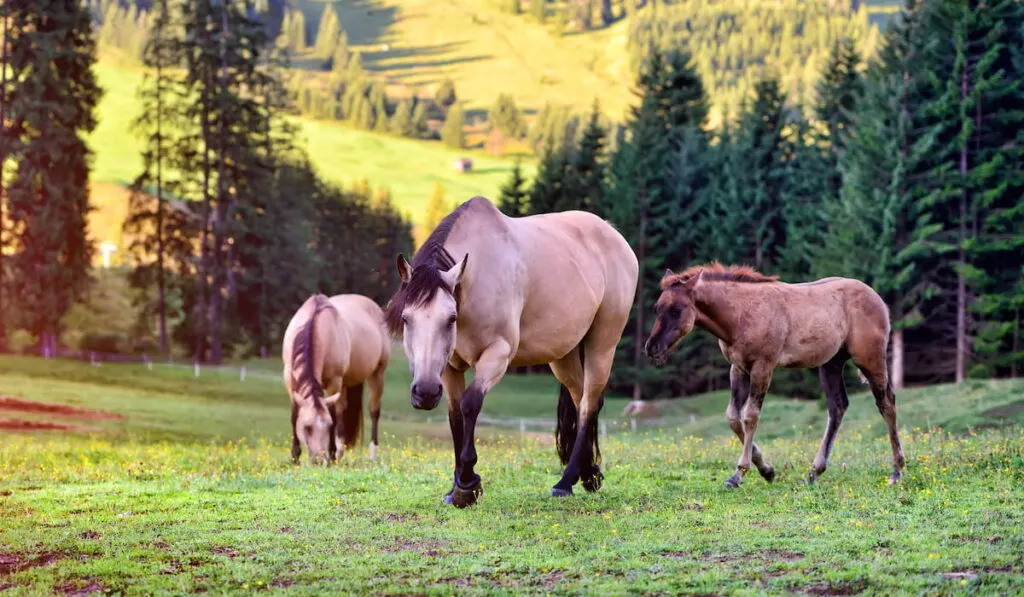 Ranch Horse
Joe Hancock
Joe Hancock may have been one of the best roping horse sires his time, but he also produced successful ranch horses as well. He produced offspring with strong statures that epitomized the look of the desired American Quarter Horse.
Time and time again, Hancock horses proved successful as ranch horses, which makes sense because they were often working with cattle. Regardless of what you think about Hancock horses, this Quarter Horse bloodline has and will remain a top bloodline on American ranches and in ranch events.
Playgun
Playgun was a gray stallion that was born in 1992 and was a successful cow-working horse in a variety of disciplines including cutting and reining. His offspring have since made notoriously great ranch horses thanks to their notable cow-sense and stocky builds.
Playgun's offspring have continued to dominate the cow-horse industry, especially in ranch and cutting disciplines, earning more than $8 million.
This top Quarter Horse bloodline can be found on many ranches and in many ranch events across the country.
Metallic Cat
Although he gained his notoriety as a cutting sire, Metallic Cat is also a successful ranch horse sire. His offspring brought home $27,243 in 2020, earning his bloodline the top position on the list of Top Ranch Horse Sires in the same year.
His bloodline is definitely one of the top Quarter Horse bloodlines in the ranching world today.
Honorable Mentions: Woody Be Tuff, Show Me A Song Joes
Final Thoughts
There are so many extraordinary Quarter Horse bloodlines that is a difficult task to narrow them down to the top ones. Everyone has their own opinion on which ones they think truly are the best, but there is truth in numbers and longevity.
You simply cannot argue with the financial earnings of proven offspring and the endurance of the tried and true classic Quarter Horse bloodlines. Although, it is always fun to have animated discussions with equestrians you know, love, and respect.
Resources:
Learning more about the top-ranking quarter horse bloodlines of our day is extremely exciting and enlightening. Here are the sources that were used to craft this list.