*This post may have affiliate links, which means I may receive commissions if you choose to purchase through links I provide (at no extra cost to you). As an Amazon Associate I earn from qualifying purchases. Please read my disclaimer for additional details.
Quite a number of people believe that barn doors cannot be locked. Hence, they offer no privacy. But in actuality, this thought is inaccurate.
Do interior barn doors lock?
Yes, they do. As long as an interior barn door is fitted with an appropriate fixture, it can be locked.
With some interior barn doors, the lock is installed only on the inside, so they can only be locked from that side. At the same time, some other types can be locked from both sides of the door.
As we already said, to lock an interior barn door, you need to install a functional lock. But what types of locks are appropriate for interior barn doors? Well, in this post, we explore your options and discuss other related topics.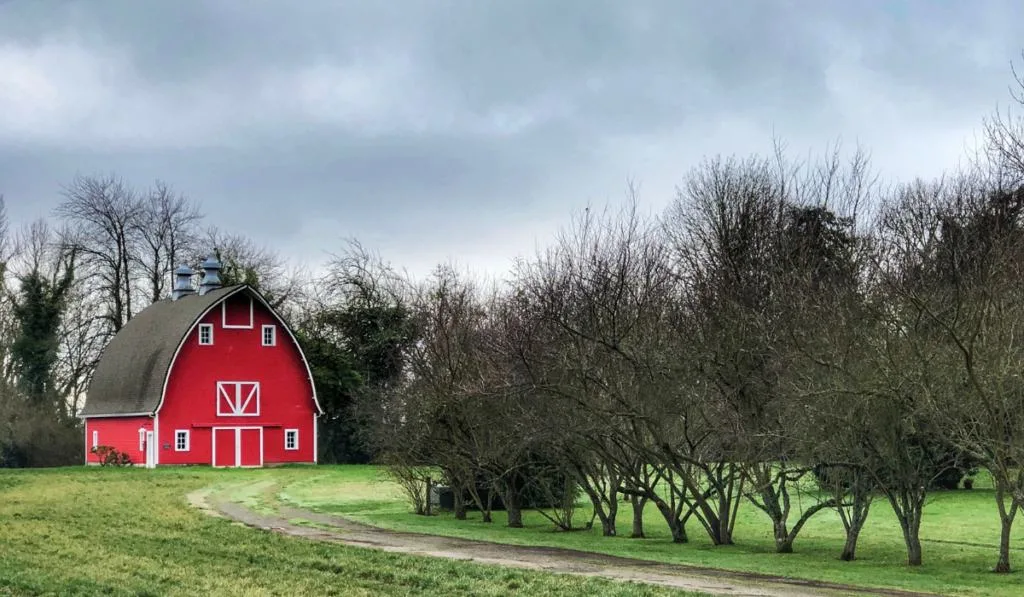 Do Interior Barn Doors Lock?
The point of having a door in part of any building is to ensure privacy. But doors alone do not ensure privacy – doors with locks do. So, it is only normal to ask if interior barn doors lock.
Interior barn doors lock as long as the right type of lock has been fitted onto them. Various factors are considered when choosing a lock for a barn door. Some of these factors include the following:
Where you intend to lock the barn door from
Traffic directions
The barn door type
The room using the door.
Different locks are suited for locking barn doors from the inside and the outside. So, when choosing a lock, you should consider where you intend to latch the door from. You should, however, note that most barn door locks are suited for locking the door from the inside.
The traffic of people through the door also matters when choosing a lock for your interior barn door. The more the traffic through the door, the more times it would be opened.
If the door is one where people walk through a lot, then locking and opening needs to be easy. For this reason, you have to choose a lock with a simple mechanism.
In many cases, the barn door type may not matter since most of them will work with any lock. Nonetheless, there are exceptions.
Bifolding doors, for instance, will only lock against each other. Also, shutter and cabinet doors are best fitted with teardrop and hook eye latches.
The room using the door is also a crucial factor to consider. The room determines where you should lock the door from.
For instance, barn bathroom doors should only be locked from the inside. This is the only way to fulfill its purpose of privacy.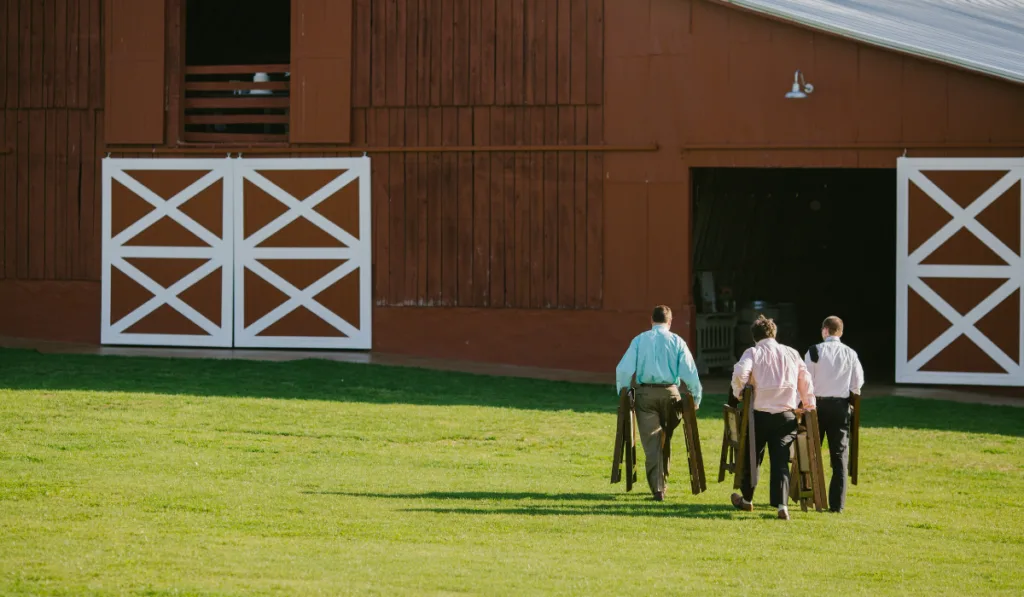 Can They Lock From Both Sides?
Where your barn door locks from depends on the type of lock you install on it. Most types of locks only lock on one side.
Nonetheless, there are options for when you want the door to lock from both sides.
Many locks are created for privacy – to prevent someone else from bursting in on you. This is why most of them only lock from the inside.
However, sometimes, you may also need the means to lock the door from outside. For instance, if you are storing valuable horse tack inside the room with the barn door, you will have to secure the door from outside.
A keyed lock with a latch would be suitable for this. They can be operated with a key on the outside and a latch on the inside.
Alternatively, you could get a regular keyed lock and lock it with a key on either side.
You can also install a one-sided lock on both sides of the door. But such installation may leave you at the risk of getting locked inside the room from the outside.
5 Types of Locks Great for Farmhouse Style Barn Doors
So, we have waxed lyrical about installing locks a whole lot in this article. Now, let us talk about the types of locks you can use for farmhouse-style barn doors.
Hook and Eye Latch
This type of lock is suited for locking the door on one side. Hook and eye latches are just as described by their name. They come as a curved hook that fits into an eye (a round latch) to secure them.
The mechanism of this type of lock is simple and straightforward. Hook and eye latch can be used to secure the door to the wall. It may also be used to secure the door to another door, as you may see in bifolding doors.
If you are looking to get a hook and eye latch, you should consider the following products:
ZXUEZHENG Cabin Hook Eye Latch Gate Door
DIMENSIONS: Hook Size: long 38 mm/ 1.5″; Hook Main Body Diameter: 2.4mm / 0.09″; Mounting Screw Diameter: 2.4mm / 0.09″; Material: Carbon Steel ; Surface Treatment: Galvanization.
FUNCTION: Ideal for fixing the position of the doors, gate and windows, wind-proof, great to control window or door open and silent holders.
DURABILITY: This solid cabin hook is made of high quality metal, solid and simple structure, anti-rust, anti-corrosion, nondeformable, passivation processed surface, top grade appearance, providing years of effortless rolling and durability.
Raswik Privacy Hook and Eye Gate Latch
Add privacy to sliding barn door, quick lock and unlock.
2 layers powder coating, durable and long lasting in all weathers, all places.
Made of solid iron diameter 5/16″, 4″ long, sturdy and heavy duty.
Can be used to latch a variety of applications: interior and exterior doors, gate, closet doors, pocket doors, cabin, windows, and so on.
Protected by Raswik No-Hassle lifetime replacement.
Sale
Barn Door Lock Heavy Duty Gate Latch Lock
【Heavy Duty Barn Door Lock/ Stronger and Durable】- Cranach screen door latch forged by upgrade superior solid thicken stainless steel 304, has been tested more than 500,000 times. With rust-resistant black powder coating barn door hardware. solved the problem of rust and break that often occurs in many similar products on the market. Cranach door latch will be harder, durable and non-fading over time. Anti-corrosive and sturdy small door hook latch is necessary you need.
【Upgraded Craft/ Keep Safe & Privacy】- Cranach hook lock is upgraded from the old style door lock, optimized for your door/gate, has longer hook and matches more accurately with the eye, open angle with the optimal curvature better than normal cabin hook, to keep security and privacy to a greater extent. Cranach door locks small but will hold your door shut firmly. A special gift for your home if you want to take care of the smallest corners in your houses.
Hasp Lock
The hasp lock is also one-sided. It comes as a slotted flat metal plate that fits over another metal plate with a loop (staple).
The slotted plate comes with a hinge and is attached to the door. Then the plate with the staple is attached to the wall or another door.
The mechanism of the hasp lock is also simple. Push the slot over the staple and let the staple pass through. After doing this, you may insert a padlock or pin through the staple to secure the lock.
If you would opt for a hasp lock, we recommend you check the following out:
Sale
JQK Door Hasp Latch Lock
【5 Inch Door Hasp Latch】 Solid 304 Stainless Steel, rust-proof and strong toughness ensuring high quality and longevity
【Protection to Anything】 Clasp lock designed for security applications on doors, chests, fridge, boxes, gates, cupboard, drawer and cabinets.
【2 Directions】 Use on left or right hand applications, stainless steel screws included.
【Give U Safety & Privacy】 Keep those pesty intruders away with this high quality door latch.
【Easy Assembling】Hardware package, Stainless steel screws included
Alise MS9-3A Padlock Hasp Door Lock Latch
[SUS304 Stainless Steel] The lock hasp constructed from h-q solid SUS304 Stainless Steel, Ensuring quality and longevity, Strong and durable, not easy to rust and oxidation.
[Safety、Simple and Practical] Simple and practical design, can be used with padlock, more secure and reliable
[Multiple Sizes/Colors Available] 84 x 39 x 23mm/3.3″ x 1.54″ x 0.92″(L*W*H); Mounting Hole Diameter: 5mm/0.2″
[Thicker Steel Material] Heavy duty thicker solid stainless steel material, strong and durable, not easy to break
[Easy To Install] Package Content: 1 x Hasp Lock and 8x Screws;It only takes a few minutes to install; Suitable for all kinds of cabinets, wardrobes, fence, drawers, barn, boxes, outdoor, Windows, sliding doors and so on
Surface-Mounted Slide Bolt
This type of lock is also one-sided. But beyond that, it is pretty easy to install, and its mechanism is straightforward.
This lock is installed by attachment to the door jamb. Once attached to the jamb, a slot is created in the door for the bolt. Then to lock the door, all you have to do is push the lever that extends the bolt outward.
The following are some of our recommendations for a surface-mounted slide bolt:
Sale
Defender Security Surface Bolt
VERSATILE SURFACE LOCK – The U 10307 Surface Bolt can be mounted vertically or horizontally and is effective for keeping doors, cabinets and closets closed, deterring kids and pets from getting in or out from certain areas of your home, and so much more.
GREAT FOR CHILD PROOFING – The surface bolt lock is a great alternative to traditional products to baby and child proof your home. It can be installed out of the reach of inquisitive toddlers and adds a level of security to many areas of your home. Great for pet-proofing too!
EASY INSTALLATION – Installation is quick and easy! The surface bolt includes a surface mount keeper and a mortise-style keeper to accommodate a variety of applications.
Premium Quality Door Flush Bolt with Strike and Screws
Solid brass faceplate, slide, strike, and screws;
Steel bolt and bolt case, Mortise type with steel rod;
Closed side panels, Spring tension lever action
Dimensions: 3/4" wide, 7/16" High, 5/8" Thick, 1-1/4" Rod Projection
Mounting hardware included
Teardrop Latch
Teardrop latches are a bit popular with barn doors. They consist of 2 pieces. One of these pieces is a slotted item that is installed into the door jamb or the wall. The other piece is a triangular item attached to the door panel.
The teardrop latch is also one-sided and is easy to use. If you would get one, try out the following products:
Sale
WINSOON Barn Door Lock
[ Durable Barn Door Latch ] – Brand: WINSOON, Material: Solid carbon steel with black powder coated surface, sturdy and corrosion resistant. Unique locking hardware designed for sliding barn doors, looks rustic and built to last years.
[ Convenient to Use] – Barn door lock set contains all necessary hardware for a quick and simple DIY project. With a control arm in the fan shaped blade, it is delicate, easy to use, works for either side of a barn door since the blade can slide both ways.
[ Useful Privacy Lock ] – Our black latch lock is a perfect choice for privacy space such as a bathroom/bedroom where you need it most. It can easily mount to door jamb/walls as the security lock for doors that open from the inside.
MARTSTANDARD Barn Door Large Size Latch Lock
Material: Made by solid steel, coated with powder at 300 degree the latch lock is very stable and durable
Dimension: Two piece fan shaped blade: 3" * 2 3/4", Groove size: 2 15/16" * 7/16". It is a large size latch lock and good for all size door
Easy Installation: All necessary parts are included in the set. Please follow the picture presented to install the latch lock
Convenient for Use: Lock for privacy space. With a control arm in the fan shaped blade, it is very easy and convenient for use
Service: We provide 24 hours customer service. Please feel free to let us know if you have any question about our product
Keyed Lock With a Latch
Keyed locks with a latch are perfect for operating the lock from both sides of the door. They come in various designs. But they are typically designed with a key lock on the outside and a latch on the inside.
If you prefer this type of lock, then check out these 2 products:
Sale
Fdit Zinc Alloy Sliding Door Locks Invisible Door Lock
【High Quality Material】The Sliding Door Lock is constructed of high grade zinc alloy and comes in electroplating finish, anti-corrosion, dust and oil resistant, durable and practical. The invisible door lock is corrosion resistance, which has investigated by 72 hours salt spray test.
【High Quality Door Lock Body】The bottom of the lock body and the cover plate are all made of thickened electrolytic plates, which can improve the corrosion resistance of the product. The door lock is solid knob, thickened and widened design, suitable for bathroom door,kitchen door, closet door and so on, easy to install, easy and convenient.
【Design for Left and Right Door】This door locks is fit for double doors, suitable for either left or right handed door. Save your time to choose the left hand door or right hand door. Provide a convenient life for you and your family.
Prime-Line Sliding Glass Door Handle Set
INCLUDES – (1) Standard reversible flush mount for left or right-handed sliding glass doors. This handle fits 6-5/8" hole spacing and only works with hook style door handles. Fits all popular flush lock punch-outs.
SELF-LOCKING – The self-locking design is easy to use and allows the shelf to easily and quickly snap into place. Once properly installed, you can trust that the shelf is secure.
EASY INSTALLATION – These shelf support brackets are easy to install. Be sure to verify peg hole diameter and shelf thickness before ordering: this item fits 1/4-inch diameter hole & 3/4-inch shelf.
Summary
If you fit a lock on your interior barn door, then you can lock it. There are various lock options available for you to choose from. Most lock on one side, while some lock on both sides. Ultimately, what you choose will depend on your preference, the door type, and the room the door is meant for.
Resources