*This post may have affiliate links, which means I may receive commissions if you choose to purchase through links I provide (at no extra cost to you). As an Amazon Associate I earn from qualifying purchases. Please read my disclaimer for additional details.
The holiday season is approaching and it comes with many festivities and of course, a lot of food preparation and eating. Jams and jellies are a versatile spread that are heavenly on warm toast in the morning paired with your favorite hot coffee or tea.
It can also be used as a glaze on your holiday ham, meats and desserts. There are a lot of wonderful and delectable jam and jelly flavors, from sweet and tangy to spicy and savory.
If you're into making your own homemade jams and jellies, be creative and inventive. You can even use frozen fruits like berries and preserve your own jams and jellies in the winter.
These sweet and flavorful jams and jellies are perfect for those cold winter days. Fill your taste buds with joy and check out these 21 delicious winter jam and jelly flavors you will love for their festive flavor.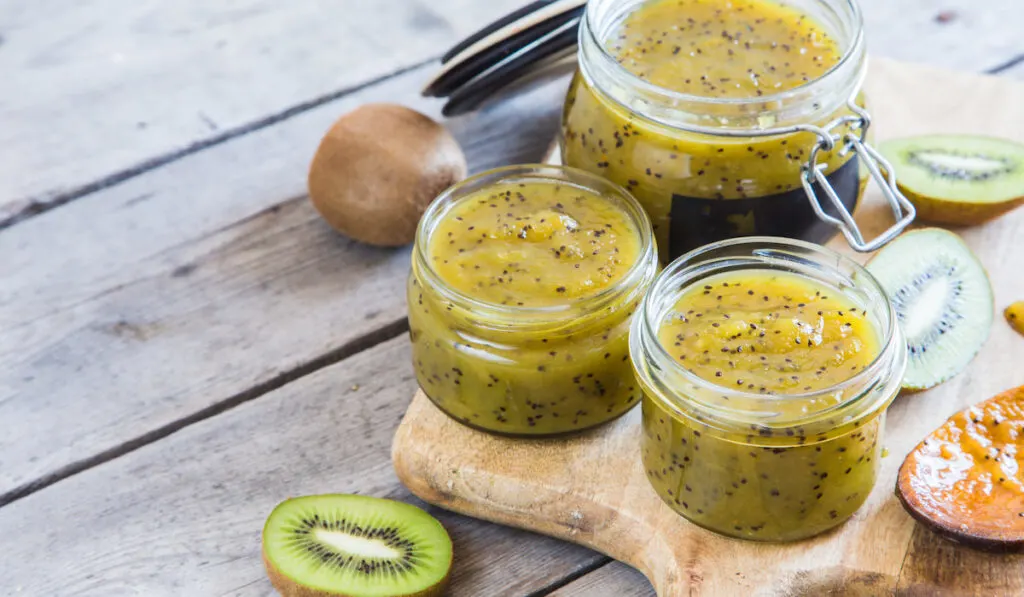 1. Kiwi Jam
Kiwi is a great winter fruit that grows in areas with temperate climates such as California and ripens from October to May.
Kiwi jam has an amazing texture and flavor and the seeds of the kiwi add a bit of crunchiness to the spread.
2. Balsamic Fig Jam
Balsamic vinegar, lemon juice, dried figs, and sugar make up this wonderful winter jam. There are so many ways that you can use this jam: as a base for pizza or flatbread, layering in sandwiches, or as a glaze for pork and chicken.
3. Orange-Cranberry Christmas Jam
The orange-cranberry Christmas jam is delicious and sweet with a fresh and zesty flavor. The reddish orange color of the jam will brighten those cold and dark winter months.
The mixture of fresh cranberries, oranges and lemon is so good on toasts, biscuits, yogurts, and ice cream.
4. Cranberry Christmas Jam
The warm, red color of the cranberries will transform you instantly to that festive Christmas season vibe.
The wine and spices such as the cinnamon, cloves and juniper berries add an extra kick and flavor to the sweetness and tanginess of the cranberries, apples and clementines. Cranberry Christmas jam is perfect for the holiday season.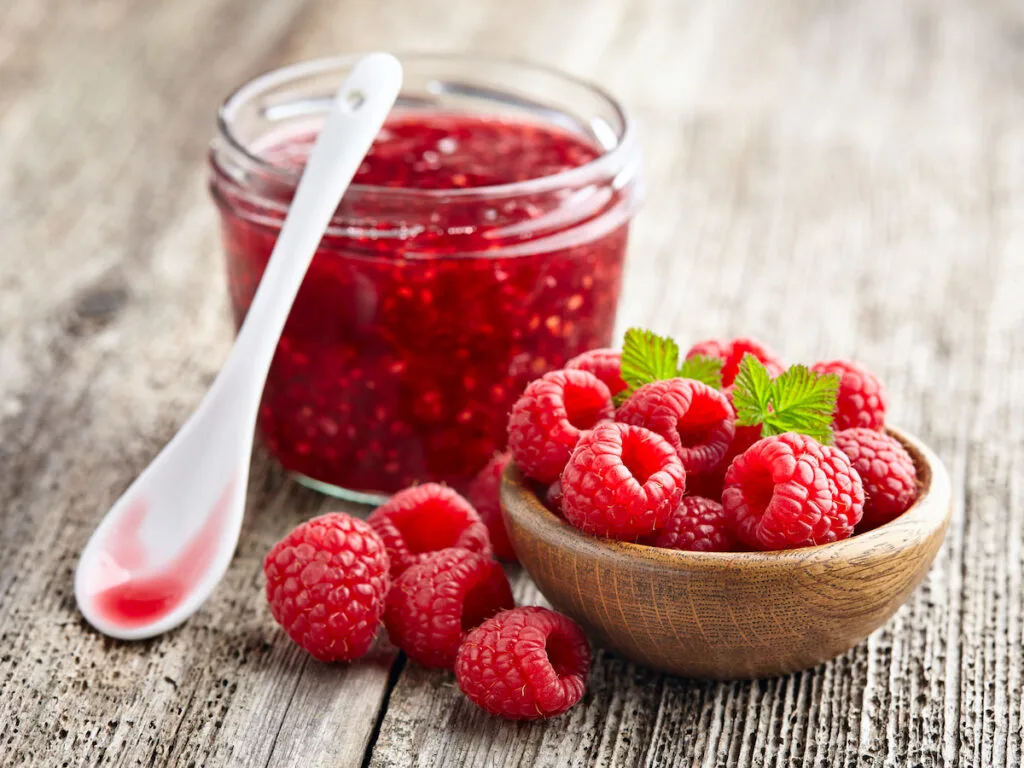 5. Raspberry Freezer Jam
Raspberry freezer jam is good to include in your morning toasts or peanut butter sandwiches and can be used as a dessert sauce as well. Freezer jams are kept in the freezer for long-term storage which retains their fresh fruity flavor.
Raspberry freezer jams work well with frozen or fresh berries. The vibrantly-hued raspberries definitely give off a festive holiday spirit.
6. Blood Orange Jam
Juicy and sweet oranges and orange zest give off a citrusy flavor with notes of pomegranate and raspberries to the jam. Blood oranges have varying shades of ruby red when you cut them open and give a dazzling color to the jam.
Enjoy with a toast or an English muffin while sipping on that hot cup of tea during the winter months.
7. Caramelized Banana Jam
Caramel and banana always taste good together and this jam makes a good use for those ripening bananas. Savor this appetizing caramelized banana jam with your morning yogurt, pancakes or waffles and pour it over your ice cream for dessert for that extra dash of sweetness.
8. Winter Spiced Blackberry and Apple Jelly
Apples and blackberries are a good combination and this winter spiced blackberry and apple jelly definitely tastes like Christmas.
The purple-red color of the jelly turns into a vibrant, festive red when spread thinly on toasts giving a holiday feel to the season. It also works well with crackers and cheese or cold meats.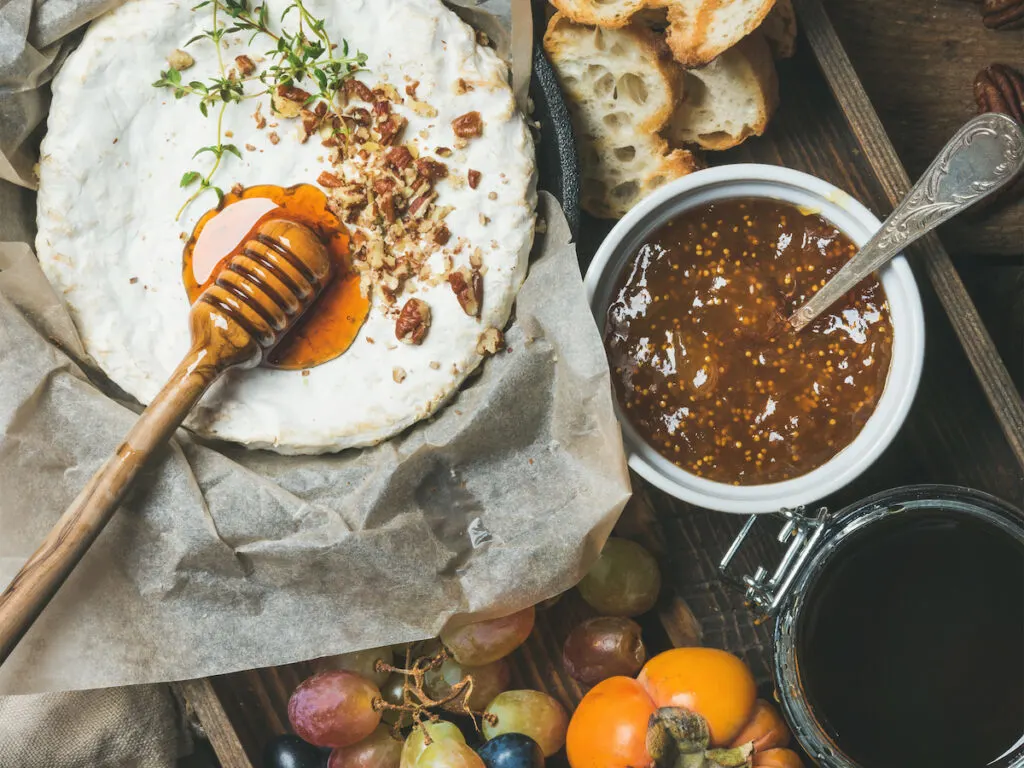 9. Persimmon Jam
Persimmons are red-brown or orange fruits that grow on trees and are good for making jams. Persimmons are also known as Kakis and have a warm and fresh flavor that will get you into the winter groove.
The unique flavor of persimmon jam uses fall spices that are pleasant, nutritious and velvety. It is a great topping for cheesecakes or can be simply spread on a toast paired with your cup of coffee.
10. Plum and Apple Jam
Preserve the taste of autumn fruits with this plum and apple jam. This thick jam is good as a filling for baked desserts such as pies and cakes.
Plum and apple jam has a sweet and tangy taste and can also be nicely spread on a hot buttered toast. With its pinkish red color and delicate flavor, this is a perfect winter jam to make those winter months more cozy.
11. Winter Spiced Cherry Jam
Cinnamon and cloves paired with cherries are a flavorful and inviting combination that is perfect for the winter months. The spicy, fruity and sweet taste of this winter spiced cherry jam is so good on cakes, puddings or even mixed in with savory sides.
The added spices on these cheerful, bright red jams will create an excellent winter flavor for the holiday season.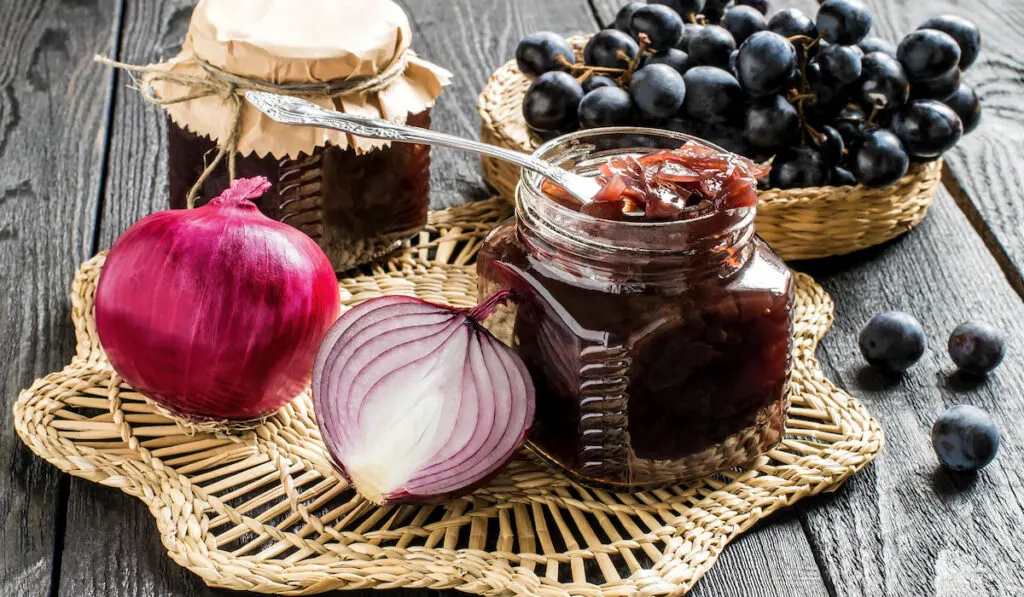 12. Onion Jam
Take a break from the fruity jams and try onion jams made from extra onions.
Onion jams are great accompaniment to sandwiches, burgers and any roasted meat that adds a rich and sweet flavor to the dish.
13. Chestnut Jam
Chestnuts are a delightful autumn fruit and are very tasty. They have a high content of healthy oils and protein.
Chestnut jams are incredible on their own in toasts or you can try it with cheese or honey. It also makes a lovely filling for chocolate cakes or simply add it with whipped cream and hazelnuts.
14. Winter Spiced Apple Jelly
Winter spiced apple jelly is a unique dessert where the spices are the main flavor. This delicious spice infused jam is lovely to enjoy in the winter.
The delicate spices of cinnamon, nutmeg and cloves livens up the apple flavor and is good to slather on biscuits, toasts or can be eaten with meat or cheese.
15. Peach and Cardamom Jam
A great jam for Christmas time with its floral note of sweet peach and cardamom. The cardamom adds a slightly exotic flavor to your regular peach jam.
The intense and slightly spiced flavor of cardamom gives a balance to the sweetness of peaches. Put this mouthwatering jam on your toast, waffles, pancakes or ice cream.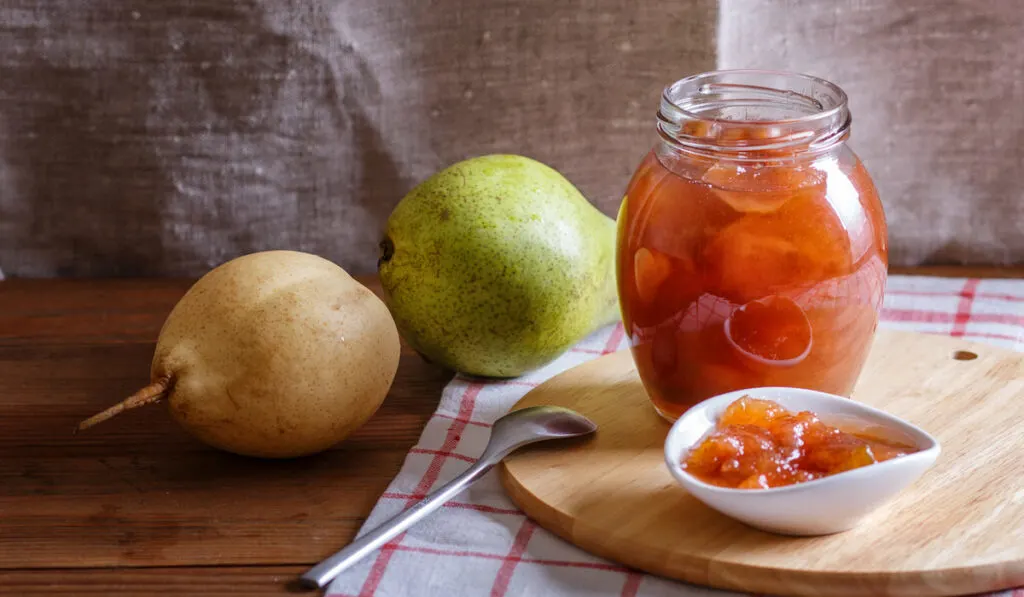 16. Caramelized Vanilla Bean Pear Jam
The sweetness of pears combined with the soft and smooth overtones of vanilla is a perfect pair for an ice cream topping or a spread to complete your sweet and savory breakfast.
This four ingredient jam combines pears, lemon juice, sugar and vanilla beans to make a decadent and flavorful jam.
17. Spiced Grape Jelly
For your Christmas morning toast, spread on some spiced grape jelly for a holiday feel. The spicy and sweet flavors of this jelly also go well with cooked meats.
18. Cinnamon Plum Jam
The warm and spicy cinnamon is a comforting delight paired with plums.
The taste and smell of cinnamon just livens your Christmas spirit and is great accompaniment to bread and butter, pancakes, waffles, crepes or smeared over a cake.
19. Jezebel Jelly
Jezebel jelly is a delicious treat in the winter season with apricot jelly, pineapple preserves, horseradish and mustard. Jezebel jelly or jezebel sauce goes well over cream cheese and crackers.
It is also great for meat dishes such as beef or chicken and is an incredible glaze for your holiday ham.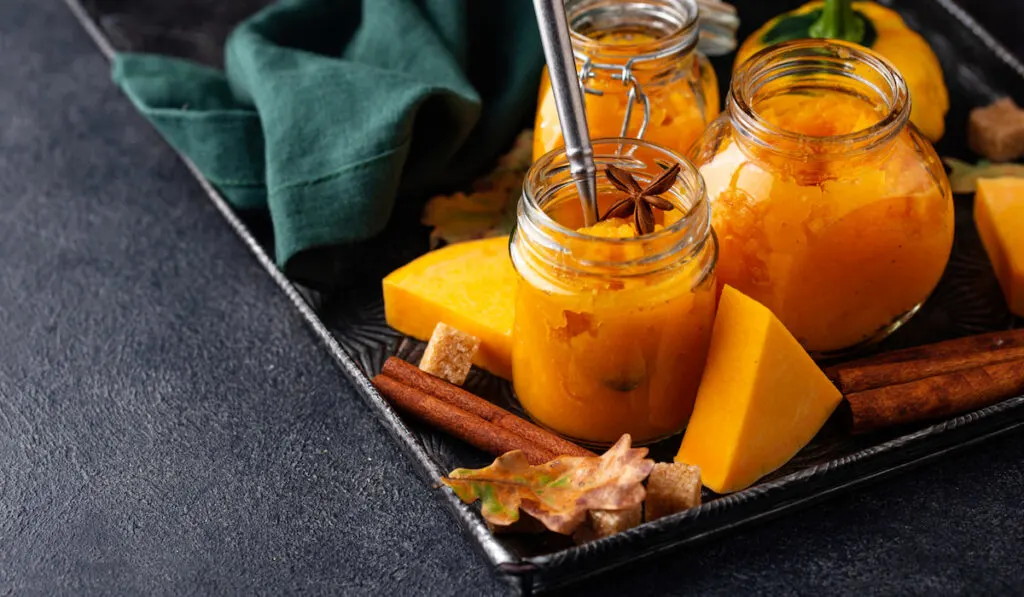 20. Pumpkin Jam
Pumpkin flavors are perfect for the holidays. The delicate flavor of pumpkin jam is good to consume throughout the winter.
Pumpkin jam is a tasty and versatile jam that has a nutty flavor and is not overly sweet. This simple jam recipe which consists of pumpkin, sugar and cinnamon is good on muffins, toasts, tarts, pies or can be served alongside a cheese platter.
21. Jalapeno Jelly
Jalapeno jelly is a perfect holiday appetizer that you can serve over cream cheese and crackers.
This Jalapeno jelly may sound strange but the spiciness and sweetness of it gives off a good balance. You can even use it as a glaze over meats and vegetables for that added jalapeno kick.
Resources: