*This post may have affiliate links, which means I may receive commissions if you choose to purchase through links I provide (at no extra cost to you). As an Amazon Associate I earn from qualifying purchases. Please read my disclaimer for additional details.
Your clock requires lubrication to keep it functioning correctly. The best lubricant for your clock is clock oil, which is specially made for watches.
You should avoid using graphite, 3-in-one oil, WD-40, or silicone lubricants. These will stop your clock from working properly.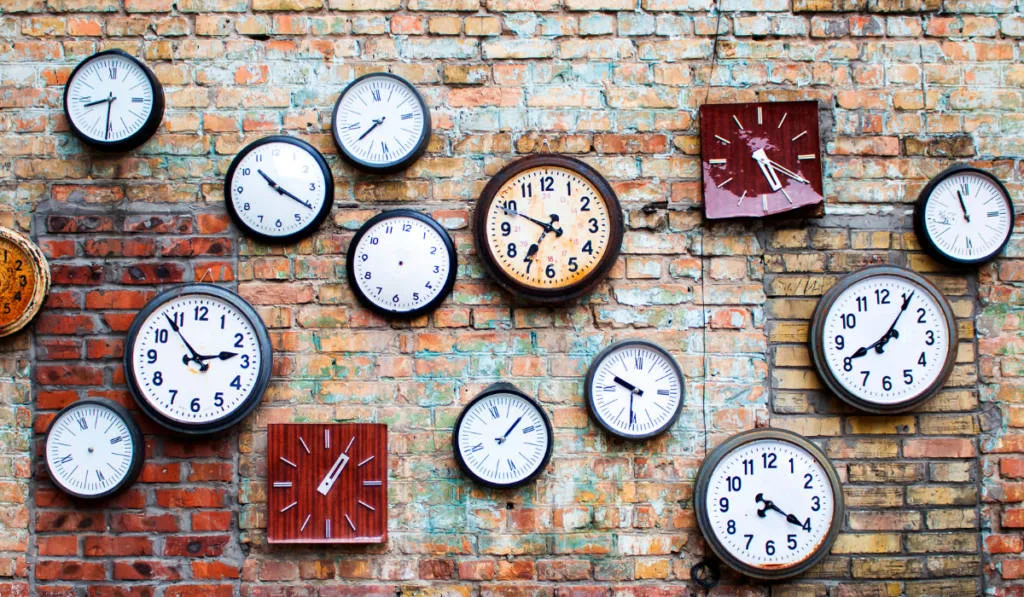 What Is Clock Oil?
Clock oil is an oil that is specifically designed to help your clock move properly and to keep it in good condition. The best clock oils on the market are synthetic and last longer than mineral oils. They also contain substances that help prevent rust.
So, how do you choose the best clock oil? This is what you should look for:
Should have the right viscosity
Lasts long without becoming thick and creating grime
Doesn't easily break down
Doesn't stain or corrode the clock
Prevents moisture
Where to Buy Clock Oil?
You can easily buy clock oil online at shopping sites like Amazon or eBay. You can also find them in mall outlets.
Should You Oil Clock Gears?
Your clock requires regular oiling after every 3-4 years to maintain the functionality of the moving parts such as the gears, levers, chimes, and cogs.
Lubricating your clock gears will extend its life and avoid wear and tear. If you don't, it will cause stretching of the pivot hole that leads to the gears slowly separating and causing the tips of the clock teeth to bend. In addition, the lack of oiling can cause you to lose the pivot, which is expensive to repair.
Using a suitable clock oil will protect your clock and will keep the levers and mainspring in good working condition. With regular oiling, the watch or clock will function properly and show the correct time.
Finding a clock oil that will properly lubricate your clock and ensure its protection and long-term performance can be a daunting task. Most high-performance clock oils are costly, but there are other alternatives you can use that are cheaper.
Some clock oil substitutes you can use to keep your clock in top condition are:
Synthetic Mobil-1
Liberty Oil
White Mineral Oil
Sewing Machine Oil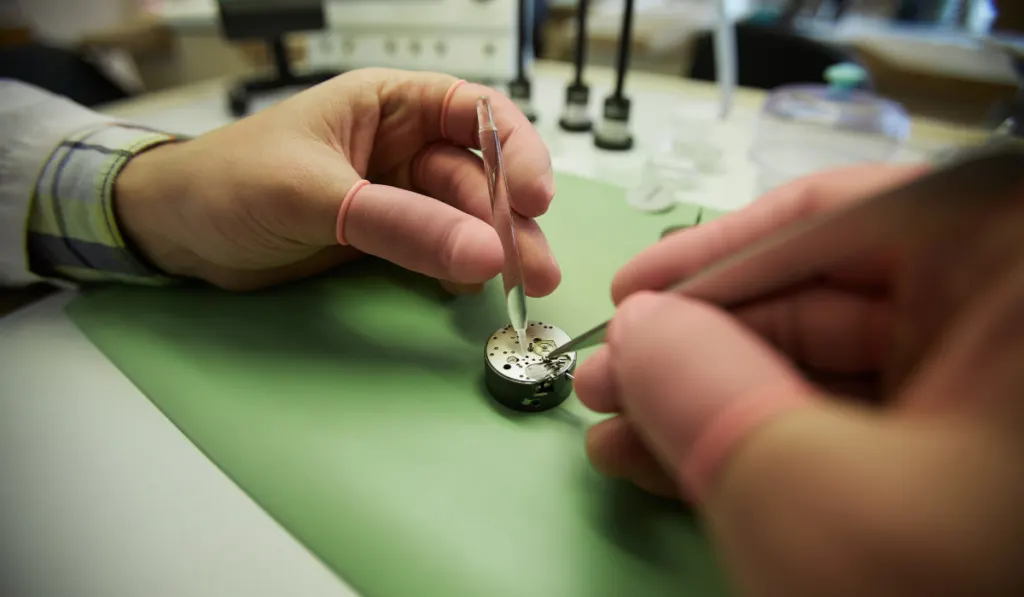 5 Best Clock Oils
There are various types of clock oils available on the market. But we've compiled for you the five best clock oils you can use that will guarantee your clock works perfectly for a very long time:
Liberty clock oil
Horace Whitlock's Clock Oil
Liquid Bearing Clock Oil for All Mechanical Clocks
Hoppe's No. 9 Clock Lubricating Oil
Priory Polish Clock Oil
1. Liberty Clock Oil
Liberty Clock Oil
100% Synthetic oil that will reduce friction between any moving surface.
Use this to replace petroleum based or spray lubricants.
Safe to use on plastics and painted surfaces.
Comes with a 60 day no questions asked return policy. If you are not 100% happy with your purchase I will refund your money.
The Liberty Clock Oil is 100% synthetic and is used to lubricate, restore, and loosen clock movements. It also helps the clock gears to move smoothly with no resistance. You can use it safely on plastic and does not corrode paint.
The Liberty Clock Oil has a 1.5-inch-long medical-grade needle tip made of a stainless-steel applicator that ensures you apply the oil with precision. This oil is a better option than using a clock oil made of petroleum.
The oil is in a large bottle of 4 ounces and a smaller 1-ounce package. Liberty Clock Oil offers a 60-day return policy in case of any complaints.
You can use this oil for different clocks:
Wall clocks
Grandfather clocks
Mantle clocks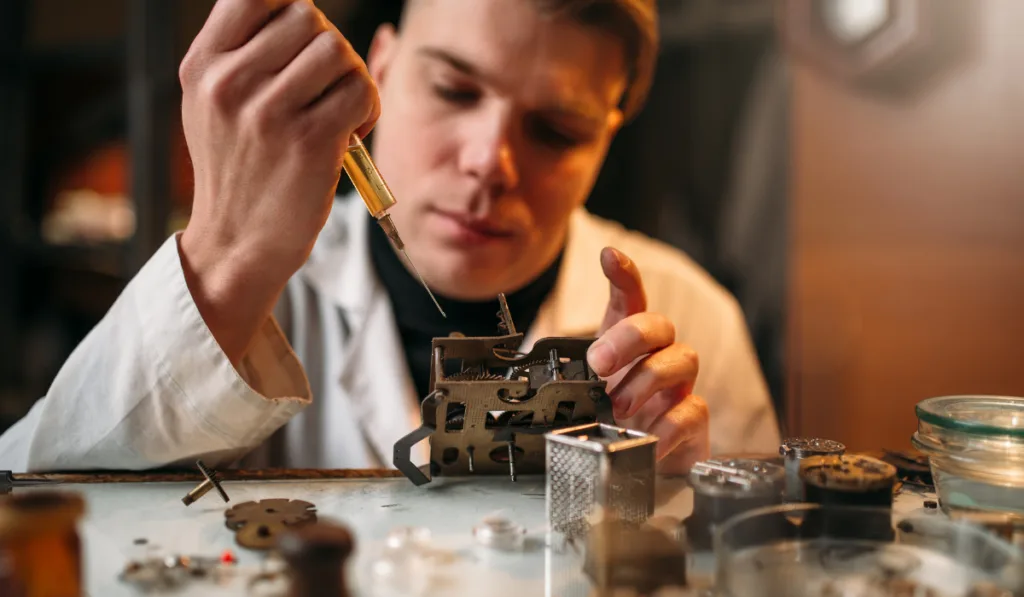 2. Horace Whitlock's Clock Oil
Horace Whitlock's Synthetic Clock Oil
A superior Synthetic Clock Oil, Won't Gum Up, Dry Out or Breakdown
Tested on over 3,000 clocks in the past 10 years with out any Sludging, Thickening or Varnishing
The best oil for Grandfather clocks, Wall Clocks as well as Mantle clocks (not recomended for outside tower clocks)
Safe for all Brass, Steel and Plastics
Horace Whitelock's clock oil is also 100% synthetic. It has the perfect viscosity for a clock oil. The manufacturers have tested this oil on more than 3000 clocks in over eleven years.
It does not thicken or build up sludge. You can also use it safely on plastic, steel, and brass surfaces, and it will not corrode paint.
The Horace Whitlock package kit has the following items:
An end cap needle tip made of rubber
An end cap Luer lock that helps in better storage of the bottle and the side of the needle
Blunt end needle that is 23 gauge and 3 inches.
23 gauge sharp-end needle that helps in the distribution of oil in various parts
A downloadable guide that contains step-by-step instructions on how to use the clock oil
This oil is perfect for:
Cuckoo clocks
Grandfather clocks
Wall clocks
Mantle clocks
3. Liquid Bearing Clock Oil for All Mechanical Clocks
The Liquid Bearing Clock Oil is 100 percent synthetic and suitable for all clocks. It has a 3-inch needle tip, which is extra long for easy application of the oil.
The oil removes rust and restores movement on stuck clock mechanisms. It also keeps the watch from building up grime.
This clock oil does not smell and does not hold dirt. It is safe for plastic surfaces and does not evaporate.
The Liquid Bearing Clock Oil has a kit that contains 3-inch, 1.5-inch, and 0.5-inch needles you can twist on and off.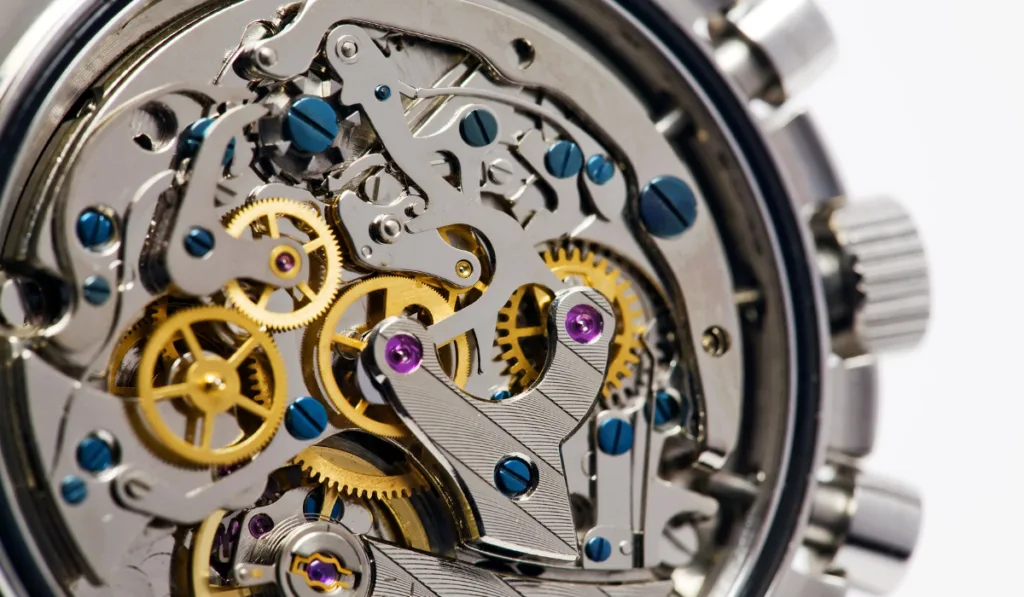 4. Hoppe's No. 9 Clock Lubricating Oil
Hoppe's Oil Combo Pack – No. 9 Precision Bundled with 2-1/4 oz Refill
Includes a full bottle of the 14.9 ml Needle Point Hoppe's No. 9 oil, and the 2 1/4 ounce squeeze bottle refill.
High-viscosity oil refined to perfection
Ideal for firearms, fishing reels, and other precision mechanisms
Extra-long lasting, Does not harden, gum or expire
One bottle of model 1003 and one bottle of model 3060. Hoppe's, since 1903.
Hoppe's No. 9 Clock Lubricating Oil is manufactured in America and comes in a 14.9-ml precision bottle. The clock oil has a high viscosity and a moisture-displacing effect.
Hoppe's No. 9 Clock Oil doesn't gum up, harden, or expire; therefore, it lasts for a long time. It can protect the clock mechanism from harsh and extreme conditions. The oil is of high quality and meets the most stringent quality requirements.
We highly recommend Hoppe's No. 9 for cleaning clocks. You can use it to remove rust by gently wiping the lead deposit without scrubbing it. It quickly and thoroughly removes lead, metal rust, and grime.
5. Priory Polish Clock Oil
The Priory Polish Oil is ideal for antique clocks because of its semi-synthetic nature.
This clock oil helps prevent rust and corrosion and is long-lasting, making it ideal when heavy lubrication is required. The oil container has a precision nozzle in a 50-ml tab.
The Priory Polish Clock Oil comes with two options:
Priory Clock Oil. The clock oil has a medium viscosity, is semi-synthetic, and contains high-purity mineral oil. It is also non-reactive and, therefore, safe for all clocks.
Turret Clock Oil is highly viscous and is suitable for large clocks or where you need heavy lubricant.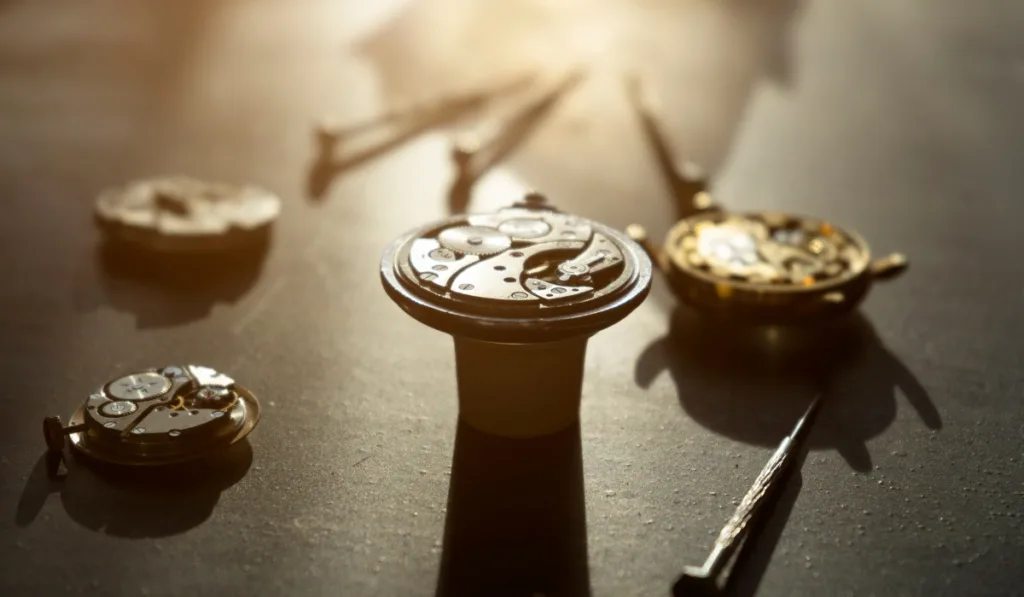 How to Oil Your Clock
1. To oil your clock, open it by lifting or sliding the hood forward. Remove the strike weight from the pendulum crutch and hold the weight cable to separate it from the pendulum.
2. Push the weight cable down and remove the strike weight. Remove the moving parts of the clock and the hands. Open the holding pins and remove the plate.
3. Put the moving parts on a surface and use a syringe to drop the oil on them. Turn the other side and put drops of oil in places such as the front plate post and weight pulleys. Use a dry cloth to clean all pivot points, pinions, and gears of any dripping oil.
4. Reassemble the clock beginning with the last part you removed and continuing until all the parts are in place, then cover the clock with the cover.
Final Thoughts
Taking care of your clock is as simple as using the right clock oil to lubricate it. Use the above information to find the best clock oil for your clock and keep it working well for longer.
Resources