*This post may have affiliate links, which means I may receive commissions if you choose to purchase through links I provide (at no extra cost to you). As an Amazon Associate I earn from qualifying purchases. Please read my disclaimer for additional details.
Chickens are known for eating most anything, and if they are left on a patch of ground for too long, they will strip it bare. It's easy to think, then, that they could get tired of processed feed. If you're looking to spice up your chickens' diets, look no further!
Below is a list of the top eleven vegetables that are not only healthy and nutritious for your chickens but taste amazing.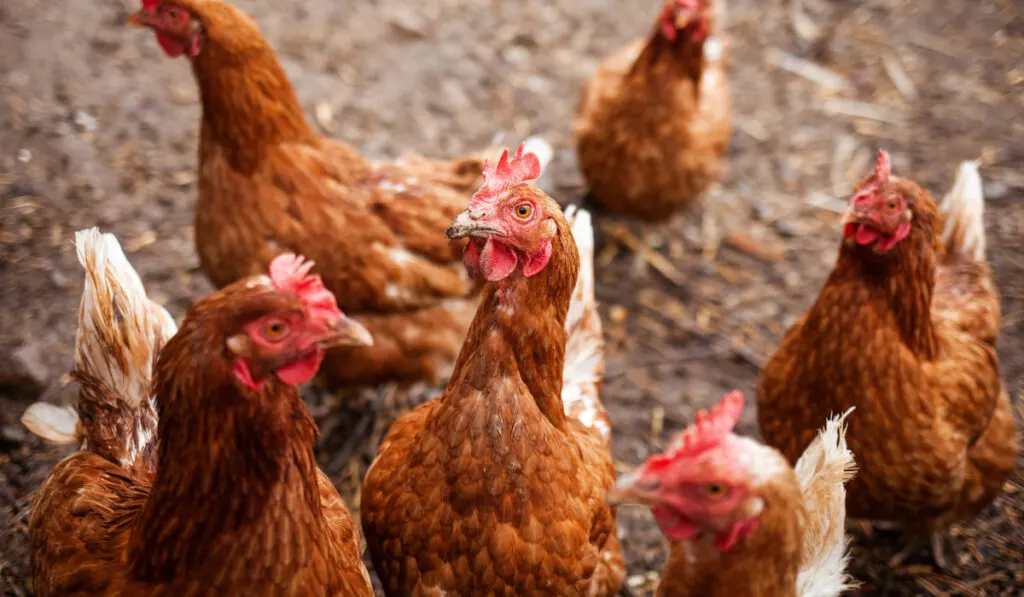 The following vegetables are sure to give your chicken a boost of energy while indulging them with safe and yummy foods. Read on to find out what you can add to your chickens' feed regimen.
Vegetable
Health Benefit
Lettuce
Lettuce is filled with an abundance of antioxidants, fibers, and calcium.
In addition, this crisp vegetable has high levels of potassium, iron, and water content.
Broccoli
Broccoli is excellent for improving and maintaining heart health while supporting the immune system.
In addition, broccoli aids in eye health.
Beets
Beets have high levels of fiber which may aid in regular and consistent bowel movements.
They contain antioxidants and may regulate blood sugar levels.
Squash
Squash is a reliable source of vitamins A, C, and B along with high levels of potassium, magnesium, and antioxidants.
Corn
Corn contains vitamins C and E. It also provides energy during cold months for keeping warm.
Cucumber
Cucumber contains antioxidants and an abundance of vitamins and minerals.
Cucumbers may regulate immune health and support eye, bone, and skin health.
Carrots
Carrots are great for maintaining and improving eye health.
These bright-colored vegetables have elevated levels of beta-carotene and may even strengthen and improve bone health.
Kale
Kale includes vitamins K and B, folate, and omega-3 fatty acids.
Kale contains high levels of nutrients, and antioxidants, and may reduce certain heart diseases.
Cabbage
Cabbage is an excellent source of vitamins A, K, and C and has the potential to improve digestion and heart health.
Peas
Peas are a great source of vitamins E and C along with zinc.
This leguminous vegetable reduces inflammation and may improve and maintain immune health.
Spinach
Spinach may strengthen eyesight and health while enhancing the immune system and boosting the body's water content.
In addition, spinach is a known superfood —packed full of nutrients and vitamins.
Lettuce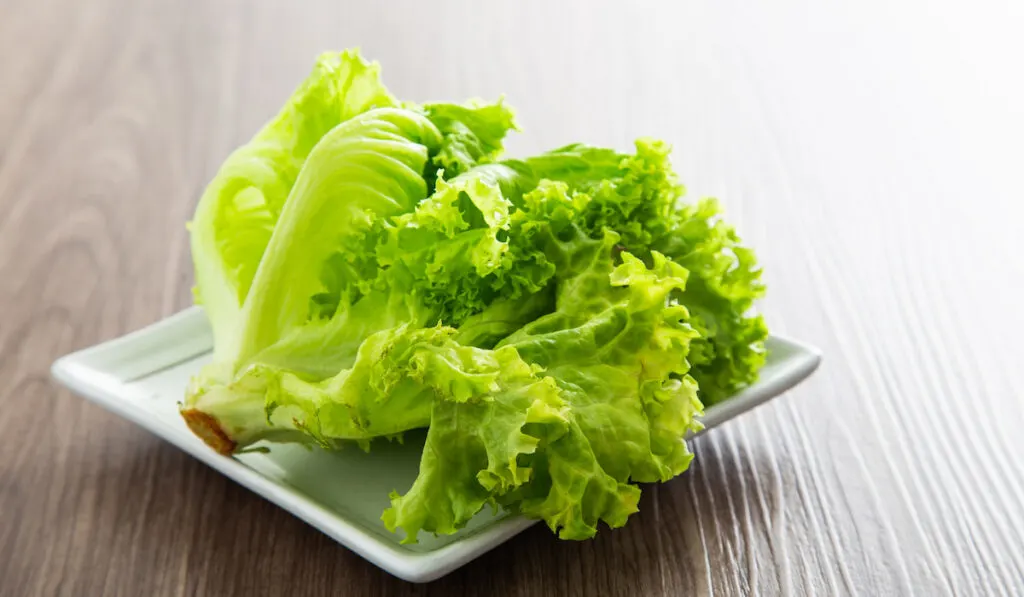 Lettuce was originally grown as a weed in the Mediterranean area over 3,000 years ago. Lettuce is wildly popular across the world and is commonly used in culinary dishes.
This leafy green includes an abundance of health benefits as it is packed full of vitamins and nutrients. Lettuce contains magnesium, iron, and calcium, essential vitamins for healthy and steady growth.
Feeding this vegetable to your chicken may aid in supporting and increasing eye health. It can help with providing water on warm days, and also contains fiber.
In addition, lettuce is an excellent food for improving bone health as well as having the potential to improve their quality of sleep.
Broccoli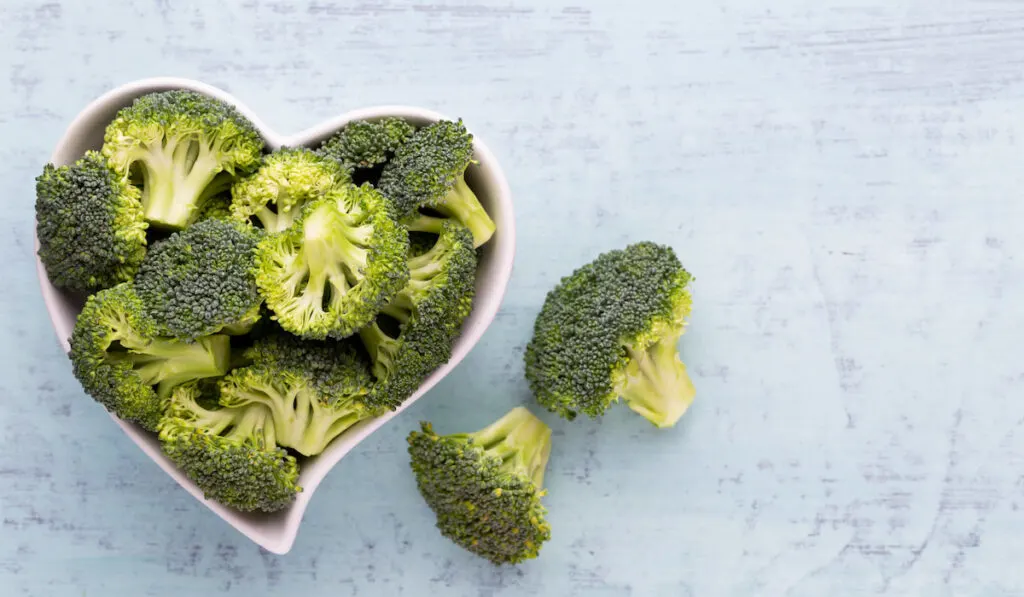 Broccoli first originated in both Asia Minor and the Eastern Mediterranean in the 1700s.
Originally used to treat consumption, broccoli is a popular ingredient in various soups, snacks, and culinary dishes.
Chickens may enjoy broccoli for its bright green color, fresh green flavor, and earthy tones.
This leafy flowering green contains a variety of minerals and vitamins, including vitamin C.
In addition, broccoli has high levels of fiber, leading to regular and consistent bowel movements.
Broccoli can reduce inflammation and increase immune health, improving and strengthening heart health.
Beets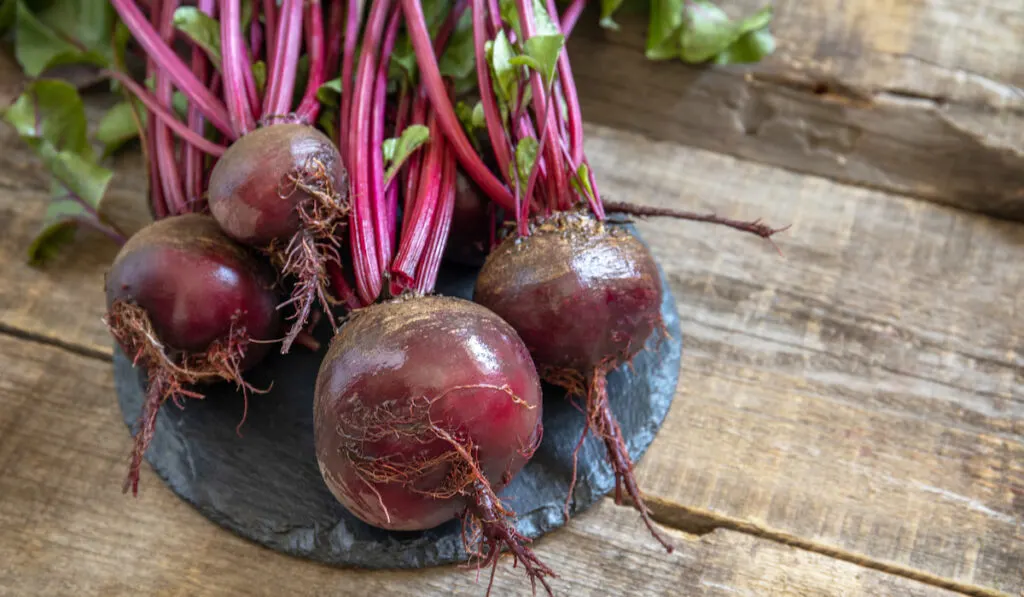 Beets first originated along the coast of the Mediterranean. Originally used for their edible leaves, today beets are found in various countries and used in a variety of culinary dishes.
Beets emit a deep purplish red hue along with a crunchy, earthy flavor.
This vegetable may be a great addition to your chickens' diet as it is fun, colorful, tasty, and healthy! Beets contain both vitamins C and A along with magnesium, potassium, and folate.
Furthermore, beets may aid in regulating blood sugar as well as having the potential to ward off certain cancers.
Be aware that when feeding beets to your chicken, it has the potential to turn their feces a bright pinkish red color. This is normal and is due to the vibrant coloring made up of amino acids within the beets.
Squash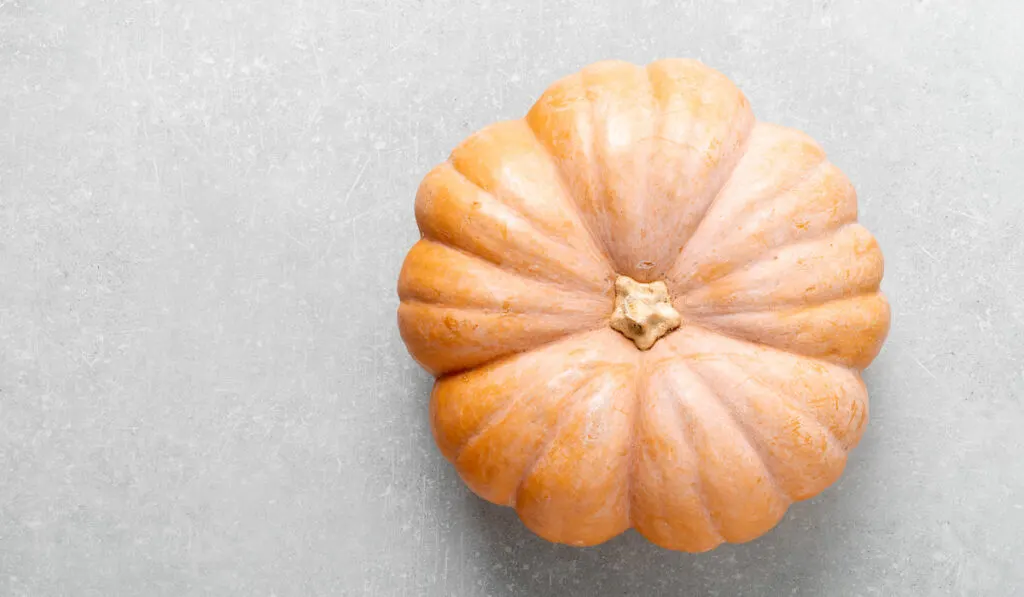 Squash first originated in Central America over 350 years ago and is related to gourds, cucumbers, and melons.
Originally used for utensils or dishes, squashes are today used as a snack, in culinary dishes, or for decorations.
Chickens enjoy squash for their frequently sweet yet subtle flavors, protein-rich seeds, and smooth textures.
Squashes vary in health benefits as they contain vitamins A, C, and B as well as potassium, magnesium, and fiber, and they aid in regular and consistent bowel movements.
In addition, squash aids in gut health, immune health, and is high in antioxidants.
Corn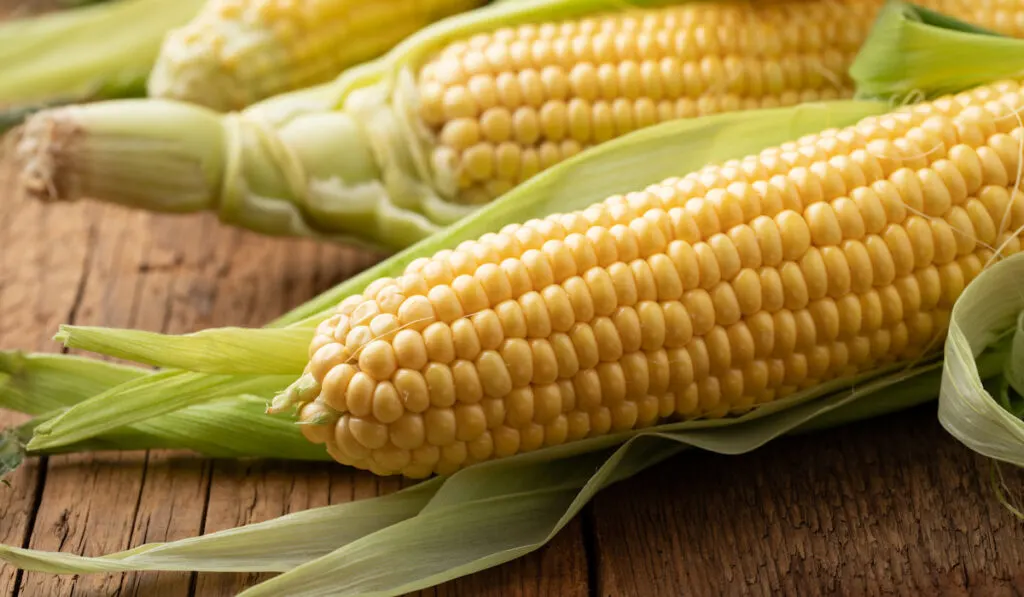 Corn first originated in Mexico over 9,000 years ago. Originally used for its nutrients and flavor, today corn is one of the most plentiful food ingredients around the world.
Chickens love corn as it is the main ingredient in many processed food mixtures. Fresh corn has a sweetish taste with a burst of creamy texture. When dried and cracked or ground, its starchy texture complements other food components.
Corn comes with an abundance of health benefits including the ability to protect cells from harm and infection.
In addition, corn includes both vitamins E and C, plus potassium, and the ability to improve and maintain eye health.
Cucumber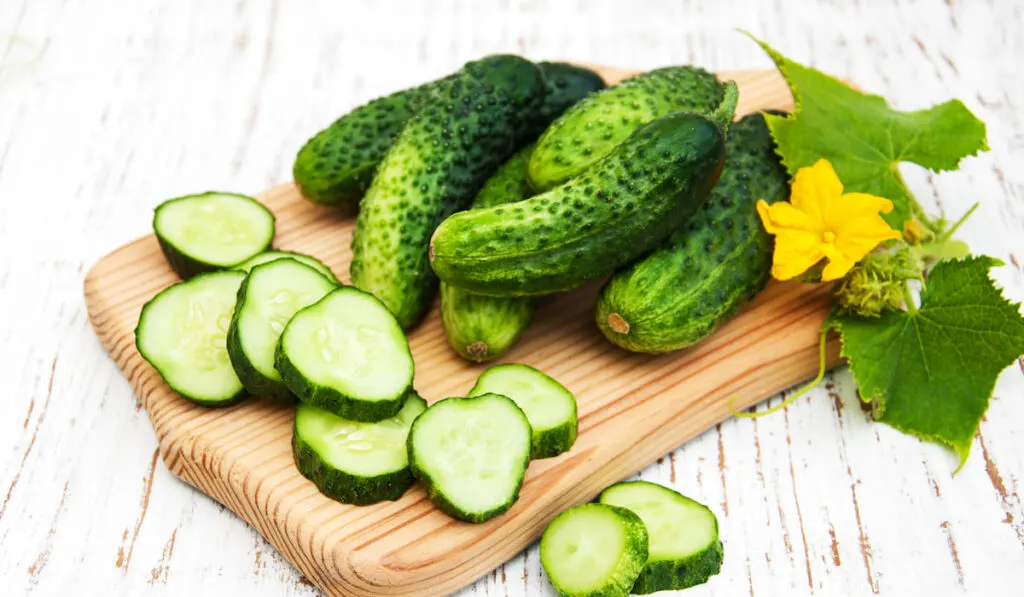 Cucumber first originated in India around 3,000 years ago.
Cucumbers are popular in culinary dishes across the world and even make a great snack!
Chickens enjoy cucumbers for their fresh taste, high water content, and crisp texture.
Cucumbers contain vitamins K and A which are essential nutrients for bone strength and growth. This vegetable is great for hydration due to its high water content.
In addition, cucumbers provide fiber and may aid in regular and consistent bowel movements while strengthening the immune system.
Carrots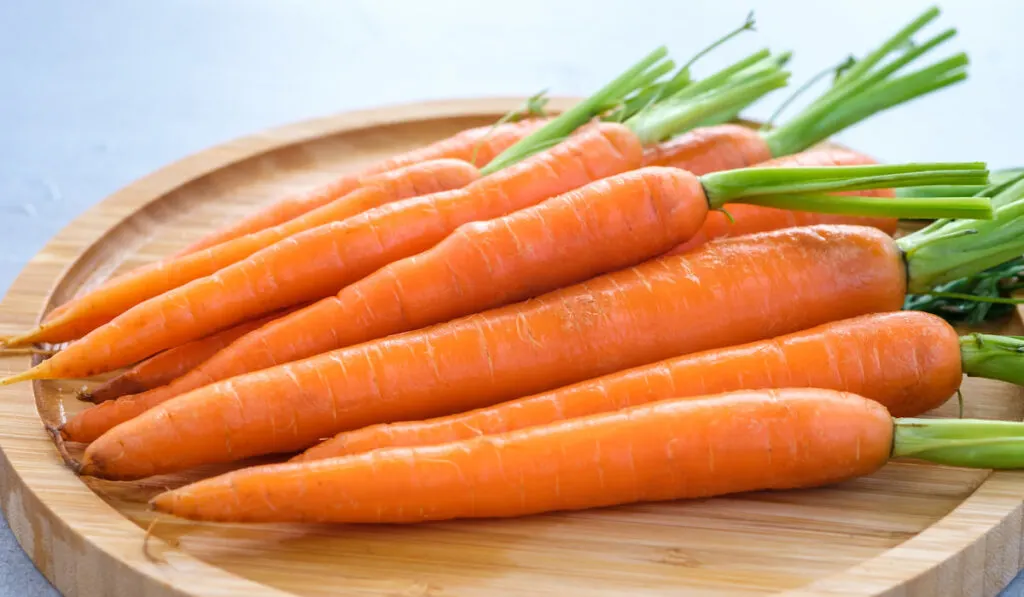 Carrots first originated in both Afghanistan and Iran over 3,000 years ago.
Originally used for medicine in Asia, carrots may have been used to be used for increasing eye health.
Today, carrots are used in various stews, salads, and as the basis of numerous other culinary dishes.
Carrots have a sweet, earthy flavor accompanied by a bright orange hue that may appeal to chickens and encourage them to eat their vegetables.
Furthermore, carrots may aid in eye health and immune health and contain vitamins A, K, and C.
Carrots are excellent at providing minerals and nutrients that allow for bone growth and strength.
Kale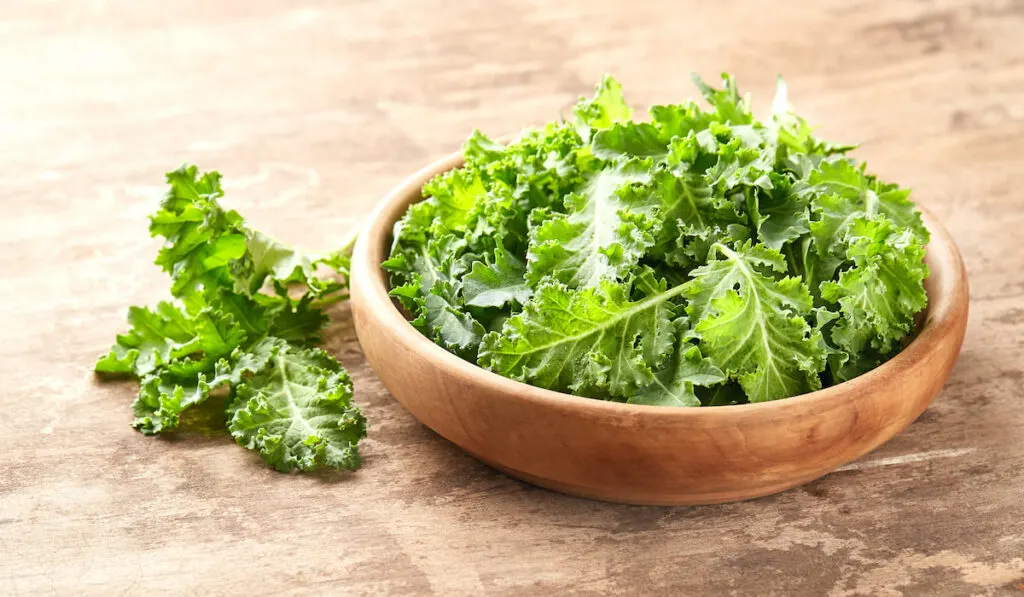 Kale first originated in both Europe and Asia Minor about 4,000 years ago. Originally used to treat consumption, it is known to be a descendant of wild cabbage.
Today, kale is a known superfood and is highly popular around the world for culinary dishes, smoothies, and more!
Kale has a crunchy and almost bitter taste, which may be ideal for some chickens, but not all will enjoy it due to its bold, sharp flavors.
Kale contains vitamins A, B, C, folate, and omega-3 fatty acids. These nutrients are essential in maintaining and strengthening your chicken's body.
Furthermore, kale has the potential to aid in eye, oral, and immune health, as well as the potential to prevent certain diseases.
Cabbage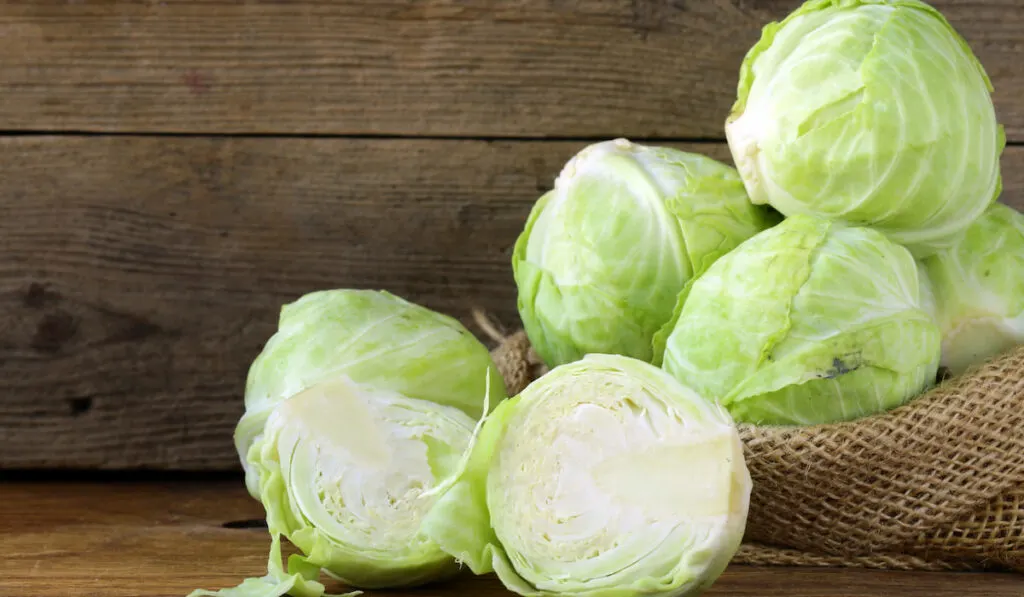 Cabbage first originated in continental Europe over 3,000 years ago. It was originally used for its ability to prevent and partially treat scurvy during long boat voyages.
Today, cabbage is used in a variety of dishes, salads, and smoothies.
Chickens may enjoy cabbage as it has high water content, a crunchy fresh texture, and a smooth, almost sweet flavor.
This leafy vegetable is accompanied by an influx of health benefits, including vitamin K, which aids in regulating blood pressure while improving digestion.
Furthermore, cabbage aids in heart health and has the potential to reduce inflammation throughout the body.
Peas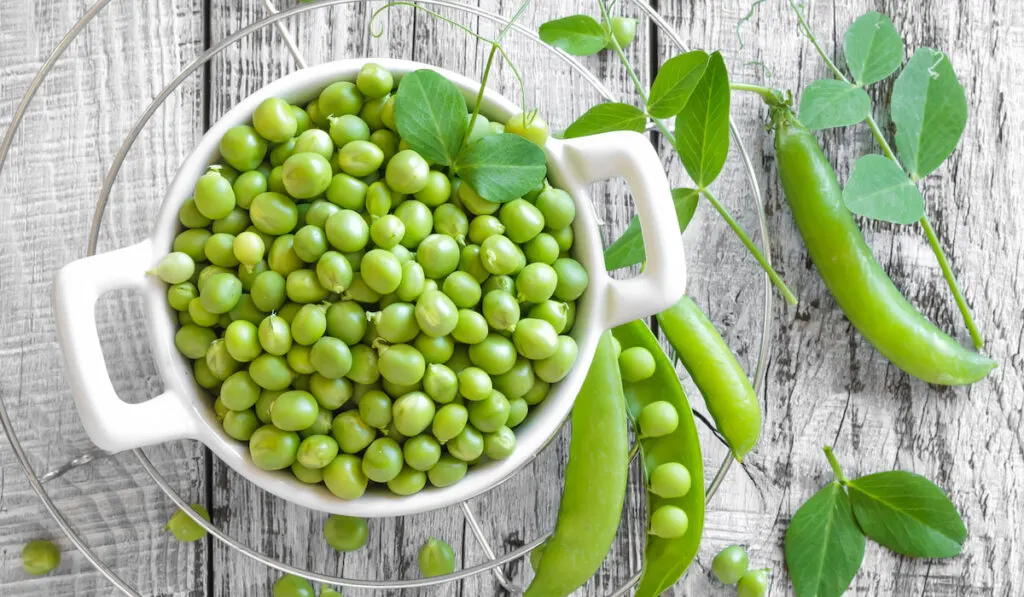 Peas first originated in the Middle East over 3,000 years ago. Originally, they were also used to treat consumption.
Today, peas are found around the world and are used in a plethora of culinary dishes.
Peas contain an abundance of vitamins C, E, B, and A, along with zinc and folate. In addition, peas are an excellent source of potassium and calcium and will strengthen the immune system.
Adding peas to your chicken's diet may aid in reducing the risk of certain diseases and reducing inflammation in the body. Furthermore, peas are a good source of protein and antioxidants.
Spinach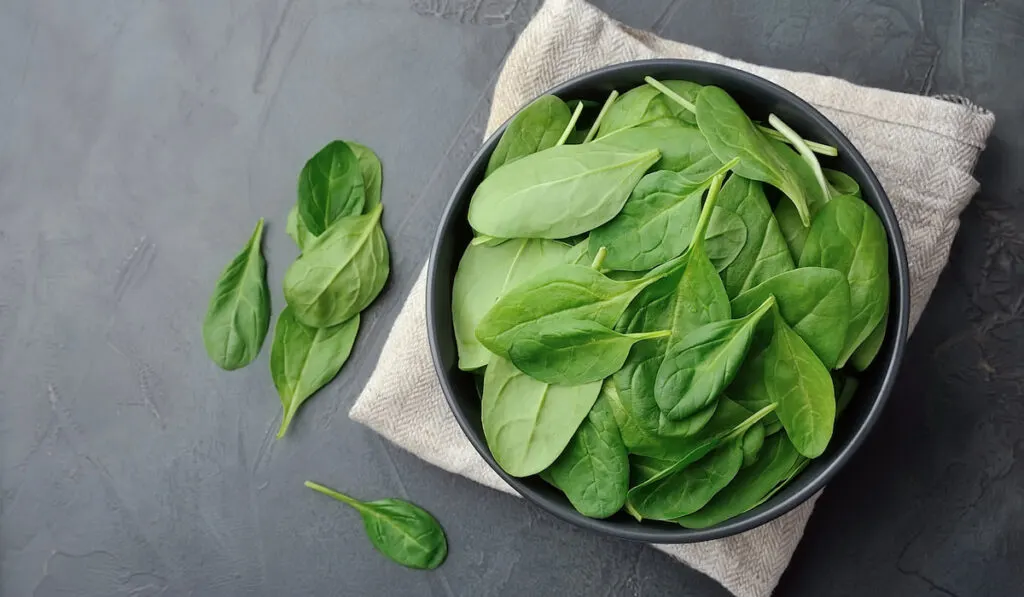 Spinach first originated in Persia over 2,000 years ago and is known to be one of the first vegetables to be frozen for extended uses. Today, spinach is a known superfood, making it a household staple that is found in a variety of dishes and smoothies.
Chickens enjoy this leafy green for its bright color and bold flavor with various sweet notes. Spinach includes various antioxidants, vitamins, and minerals.
This vegetable may strengthen the immune system, aiding in eye health, oral health, and boosting hydration.
The Benefits of Feeding Vegetables to Your Chickens
Vegetables are great as they are both tasty and provide an abundance of health benefits and nutrition.
Feeding new foods to your chickens can be an adventure if you are unaware of what their reaction will be.
Nevertheless, vegetables are a great way to sneak vitamins and nutrients into your chickens' diets and may act as treats for good behavior!
Below are the top three reasons for adding various vegetables to your feathered friends' diets.
Increased Energy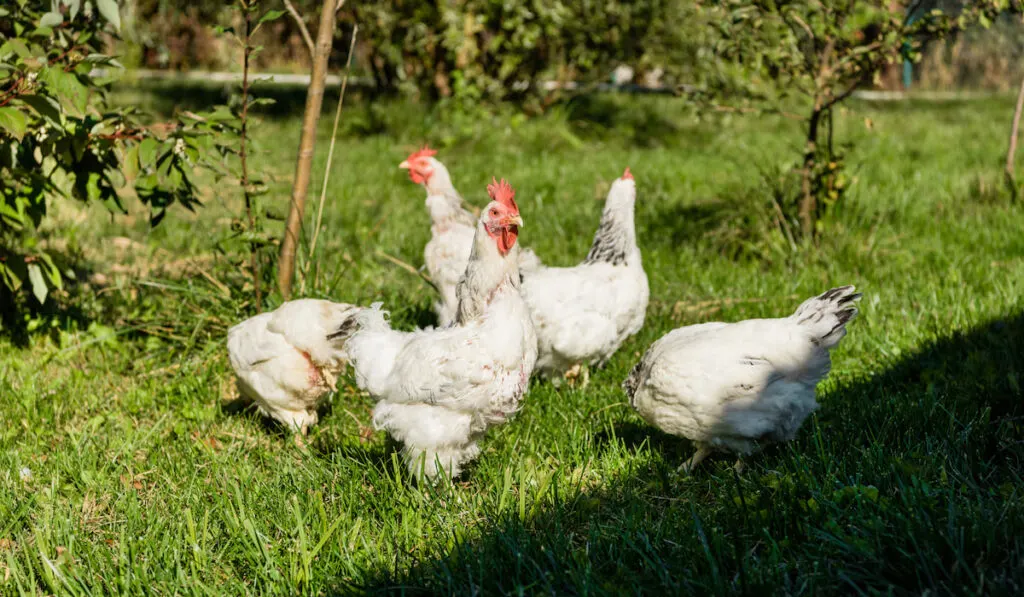 When you provide your chickens with food, they consume it and gain energy, allowing them to run around, play, and socialize.
When you add vegetables to their diet you may see an increase in their energy and activity.
Vegetables contain vital minerals and vitamins that promote body health, which in turn cleanses and refreshes the body, leading to an increase in energy and movement.
Vegetables are also low in calories, fats, and sugars, all of which may cause your chicken to become sluggish or low in energy over time.
Adding vegetables, such as the ones listed above, to your chickens' daily diet may not only increase their overall health and wellness but increase their energy as well.
By receiving this influx of vitamins, antioxidants, and minerals, your feathered friend will soon enjoy more energy and you may even see an improvement in their mood!
Improved Health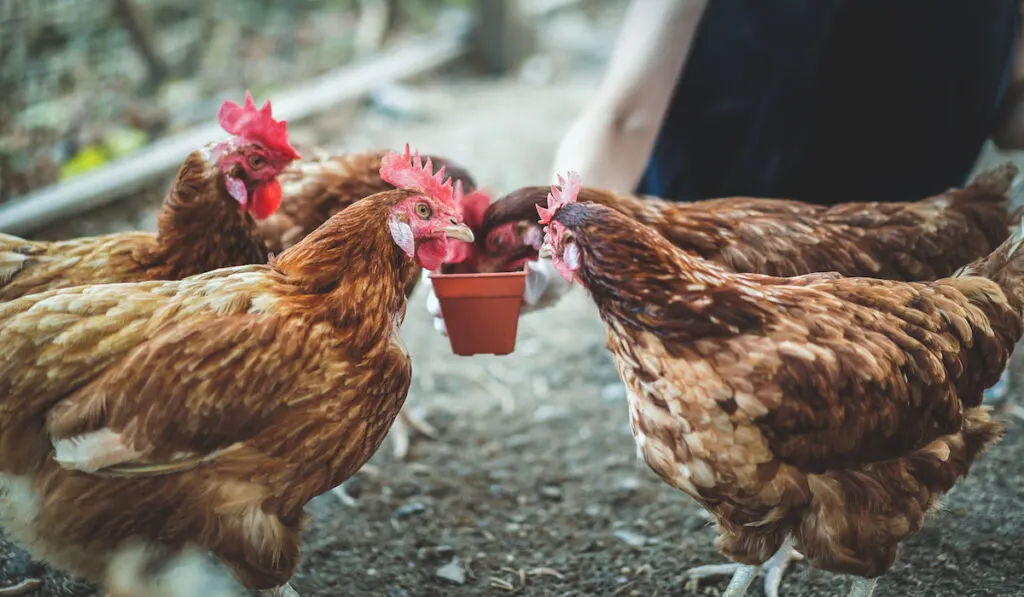 Similar to increasing their energy, adding vegetables to your chickens' diet may improve their health.
Eating a diet with a variety of vegetables allows for minerals, antioxidants, and vitamins to enter the body, and a steady diet can improve the overall health and lifestyle of your chickens.
This could be eye, immune, digestive, and heart health which allows for your chicken to potentially be happier as they are consuming their share of good nutrients found in vegetables.
If they associate a vegetable with a positive experience, they are likely to eat more of them and even demonstrate good behavior to receive more.
Feeding vegetables to your chickens can be fun and easy.
Providing them with the nutrients they need to survive and flourish benefits not only your chickens' health but may allow them to find their new favorite food!
Providing a Balanced Diet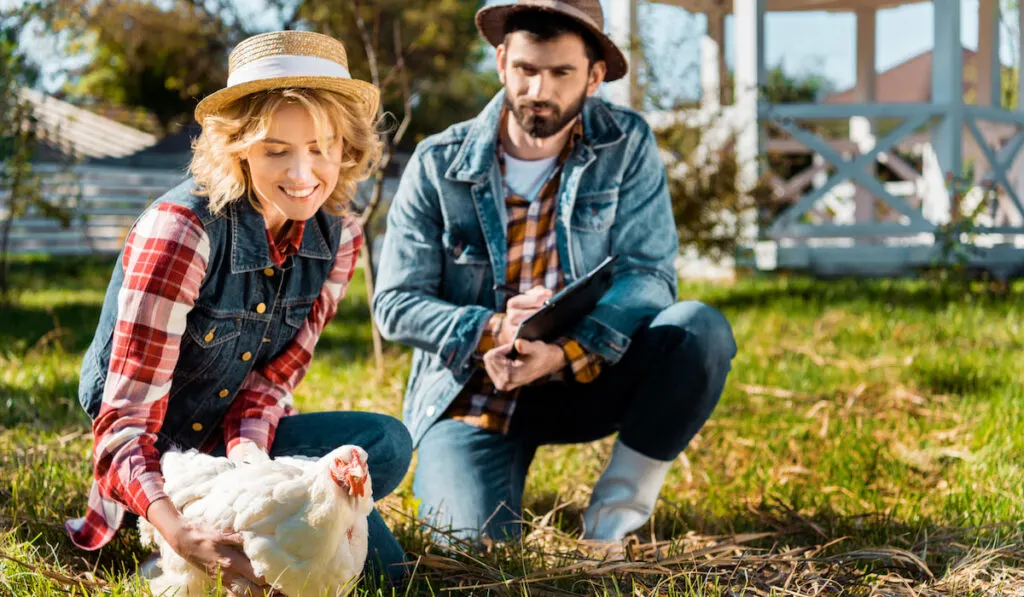 Along with a variety of health benefits, adding vegetables consistently to your chickens' feed allows for a balanced diet full of a variety of minerals, vitamins, and antioxidants, and they are tasty.
Animals need a balanced diet, they require essential nutrients; proteins, fiber, potassium, and more, and they often get this through their formulated feeds.
However, these feeds are often dried and sometimes processed, leaving out various health aspects as well as taking away freshness.
Providing your chicken with fresh vegetables daily, or close to daily, may allow them to receive these nutrients while being able to enjoy a fresh and tasty treat.
Special note
The information listed above is not a suitable replacement for medical advice.
If you believe your chicken is displaying abnormal or odd symptoms, it is best to call your veterinarian right away to ensure your feathered friend is in good health.
Resources