*This post may have affiliate links, which means I may receive commissions if you choose to purchase through links I provide (at no extra cost to you). As an Amazon Associate I earn from qualifying purchases. Please read my disclaimer for additional details.
Striving to eat healthy in this world of processed foods and artificial sugars is difficult. Healthy food is harder to find and, when found, is often more expensive than any of the junk.
You value getting nutrients every day for your body to function at its very best and for your children to be able to grow fully into their strongest, healthiest selves. However, you're not at the place where buying expensive wholesome foods is something you can afford, as much as you value it.
Hopefully, you've been able to find the right place to shop that has all of the healthy foods you want without your wallet bleeding too much. So, in your search to discover the best, affordable, nutrient-rich foods, you stumble upon oats.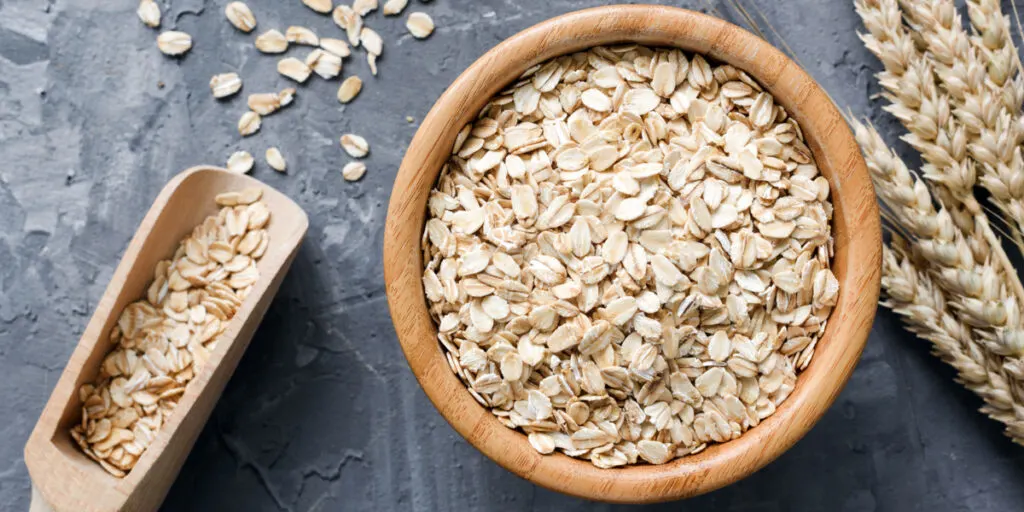 You know that oats are a great grain source rich in fiber. So you seize this new option and decide to prepare oatmeal for breakfast this week. It is not well received. Your spouse eats it out of politeness, but your kids complain or refuse to eat it entirely.
You're disappointed. This was a healthy, cheap option for meals! You know oats are good for you and inexpensive, and you want to incorporate them into your meals for your family. However, oatmeal is not the way to do it.
In this article, we'll go over 13 options for oat-based meals that are not mushy oatmeal! Hopefully a few will resonate with them, and you'll have your go-to, cheap, and healthy recipes for early mornings. We encourage you to experiment and try them out on your family.
1. Granola Cereal
Cereals can be packed with all kinds of added sugars and dyes that you don't want in your own body or the bodies of your children. Almost every cereal can be considered "sugar cereal," so we understand why you'd be turning to options other than cereal, regardless of how fast and easy it is to just pull out the bowl, the milk, and the box!
Do you still want a quick cereal in the mornings without the sugar overload? Well, you still can: use homemade granola!
If you can make your own granola, all it takes is combining ingredients on a sheet pan, spreading it onto a cookie sheet, and baking it in the oven. Leave the tray out so it can air dry for the rest of the day or overnight, giving it its signature crunchy texture.
Then, in the morning, all you need to do is the ol' pour n' pour, and you're all set to start munching!
2. Greek Yogurt and Granola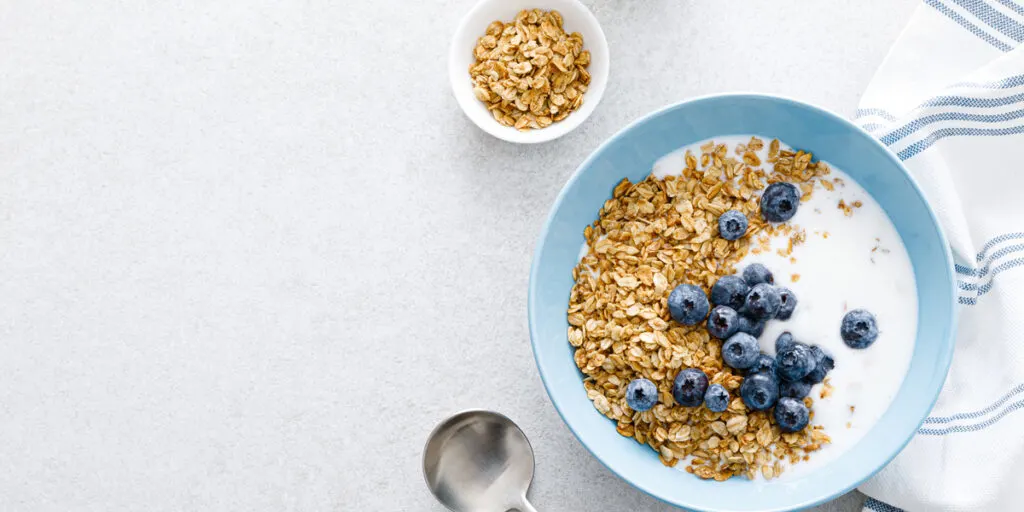 This is a great option for a meal that requires quick prep and is easy to pull out in a moment for a busy morning. You can buy granola from the store, but often it has a bunch of added sugars.
So if you need to get store-bought granola, look at the nutrition facts on the back of the granola package and check out the added sugars. Try to find the granola with the lowest amount possible.
Better, however, to just use the granola recipe above and make it yourself, or find another granola recipe online that uses natural sugars like pure maple syrup or raw honey.
You can also try flavored granola recipes, including chocolate chip, chocolate peanut butter, and apple cinnamon!
The morning of, dish out a serving of Greek yogurt into a bowl. Sprinkle your granola on top, and add any berries or other fruits for whatever flavor you desire.
3. Homemade Chewy Granola Bars
Don't have time to sit down and enjoy a meal? You can still make a form of granola but in the form of a breakfast that can be eaten on the go! Simply make the granola recipe above or your own from your research.
But instead of spreading the granola mixture out on a cookie sheet so it bakes into crumbles, use the sticky mixture and shape it into individual rectangular bars. Then, freeze or refrigerate the bars so they keep their shape until you need to pull them out the morning of!
4. Granola Bark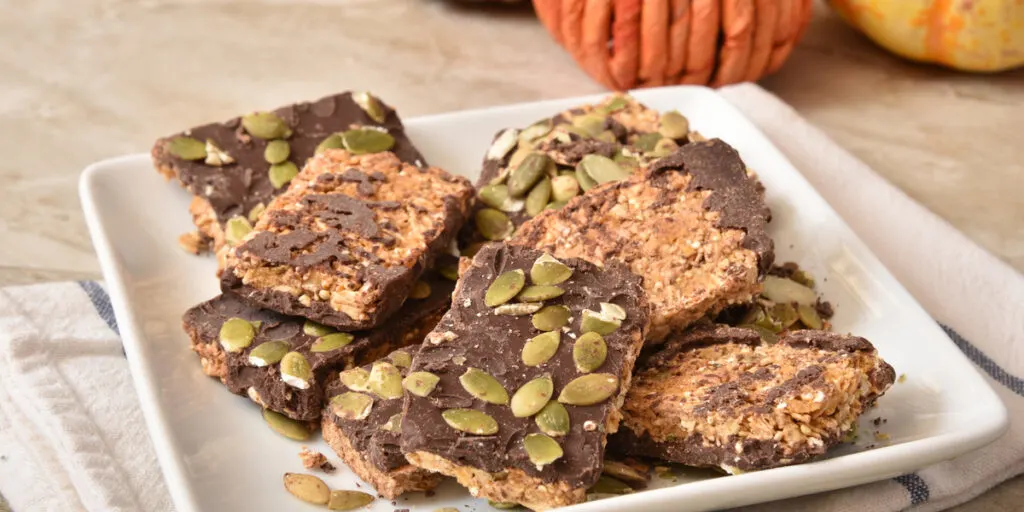 Or, you can make the above, but you do put it in the oven! It really all depends on the recipe and your family's taste preferences.
If you like your granola bars chewy, you'll want to make the above and store it in the fridge or freezer. But, if you like them crispy and crunchy, or you'd prefer them to be room temperature, then granola bark is the way to go.
Because of the softness of the granola mixture, granola bars won't keep their shape if they're left out in the pantry, turning into a gooey mess when you come back for them in the morning.
By baking the granola bars in the oven, they harden and can maintain their shape if left out overnight.
So, if you'd like to try granola bark instead, simply make granola bars and let them bake, then leave them out overnight to develop their signature crunch, and you've got yourself a quick and delicious breakfast!
5. Oatmeal Jam Bars
Want to make a fancy version of granola bars? Make jam bars! These breakfast bars are sweet, sticky things that definitely need to be eaten with a fork. Resembling lemon bars, this breakfast may be sweet, but it's absolutely healthy!
Take your favorite jam (low sugar, sugar-free, or homemade) and use it in a recipe for oatmeal jam bars. You'll make a breakfast out of your jam that's healthier than toast. This is especially good for those who make their own jams and end up having a ton leftover.
6. Berry Crumble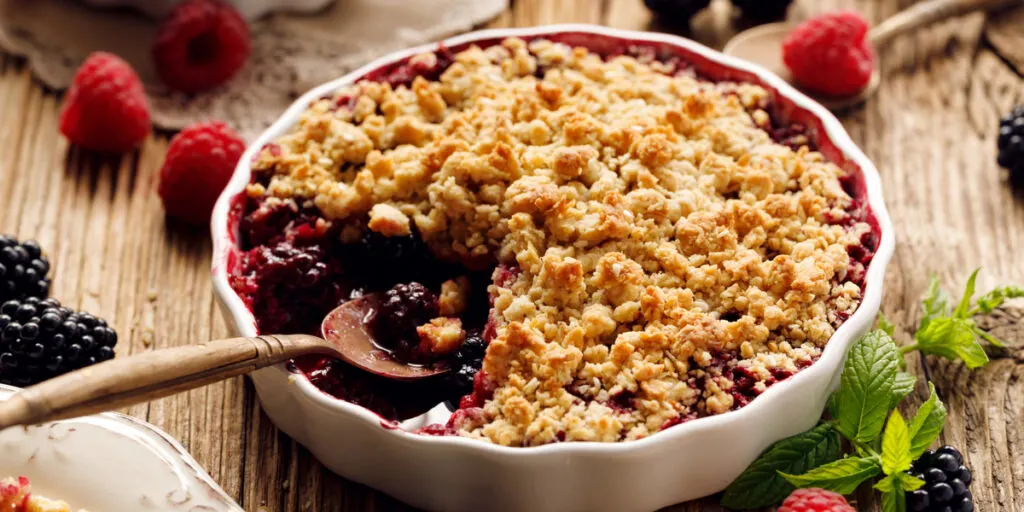 We're just slowly making our breakfast bars more and more deconstructed!
In this version of berries and granola, make your granola recipe, but use a brownie pan, add little extra ground oats, and don't spread it out as much to create a uniform layer.
Instead of having it with milk or with yogurt or with jam, take your berries and sautee them in a pan! They will begin to melt and create a juice with some bits of berry still intact. Pour this into the pan with the granola, and you've made a treat!
7. Tropical Oat Smoothie
Ever heard of blending in flaxseed with your smoothies? It's a great way to add some extra fiber to your shake. Well, you can do the same thing with oats!
Simply add oats to your favorite tropical smoothie. I promise that once blended with your spinach, pineapple, and mango, you won't even be able to tell it's in there, but the benefits will be!
8. Strawberry Crumble Smoothie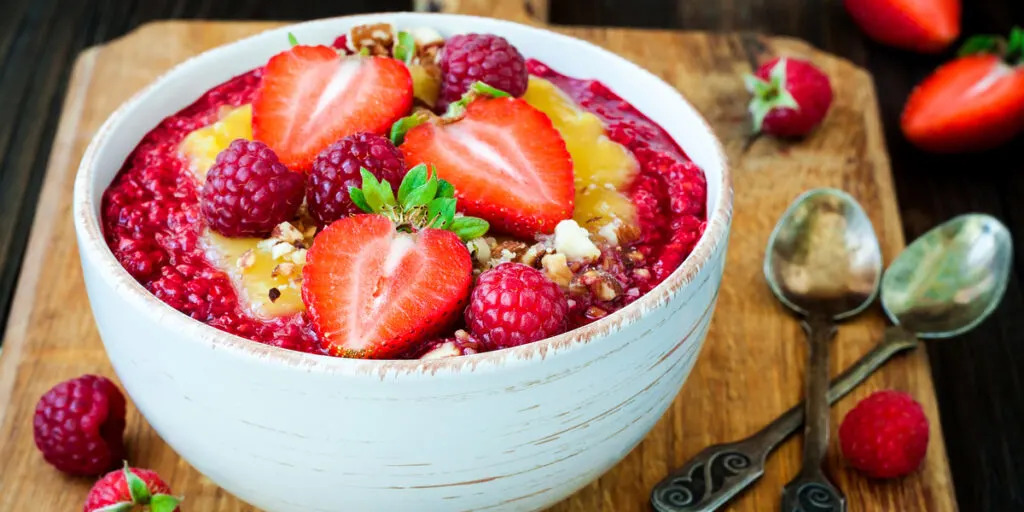 Or maybe you want a smoothie with a little extra crunch! Make your favorite strawberry smoothie, but add some loosely ground oats to it for texture. Or, to achieve a full crumble, add granola and eat the smoothie with a spoon!
9. Banana Oat Bread
When you think of banana bread, you think, "Well, it does have bananas in it, but is there anything else health-wise that's going for it?"
By adding oats to banana bread, you can increase its health benefits and make it a nutritious breakfast once again! Simply substitute a portion of the flour in the recipe for ground oats! To make it even healthier, reduce the sugar and use natural sugars instead.
10. Apple Cinnamon Oat Muffins
The same concept for banana bread can be applied to muffins!
Make your favorite muffins, but add some nutrition and fiber by replacing a portion of the white flour with oats. You can also replace white flour with flaxseed and whole wheat flour. Experiment and see what tastes best!
11. Oat Scones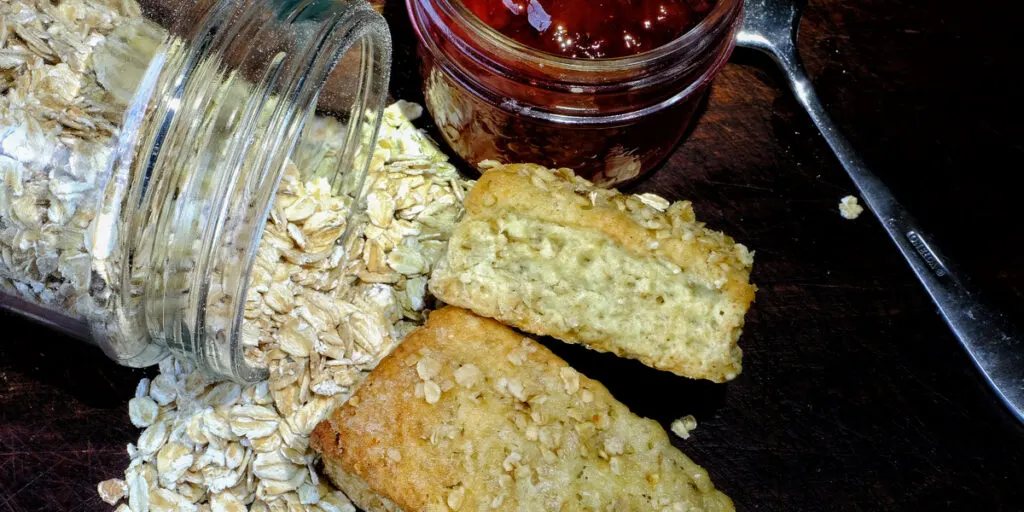 You can also replace a portion of flour with oats when you make scones! But perhaps you like the texture of the oats, and you want it to show up in your meals.
You can then grind some of the oats and leave a portion unground, or use a different flour for most of what the recipe calls for, and the rest of the oats can be sprinkled in!
There are many recipes online for oat scones that you can try.
12. Blueberry Oat Pancakes
All of your breakfast baked goods can become twice as healthy simply by replacing a portion of refined, white flour you typically use with rolled oats!
The same goes for your pancakes. There are many recipes online for oatmeal pancakes that you can use. Don't worry. They'll bake on the griddle just fine.
13. Protein Balls
These energy balls are quick and easy to make. And they're great on-the-go foods. Pack a few into a container and just pop them in your mouth when you're hungry.
Simply combine a mixture of oats, nut butter, protein powder, honey, spices, and any other additions such as nuts or chia seeds in a bowl. Roll them into balls and place them in the fridge or freezer until you are ready to eat them.
You can look up different recipes online or just experiment and find your favorite blend yourself.
Resources